30 Genius Baby/Kid Products And Gadgets
By Ryan on 06/13/2019 11:08 AM (Updated: 06/13/2019 1:43 PM)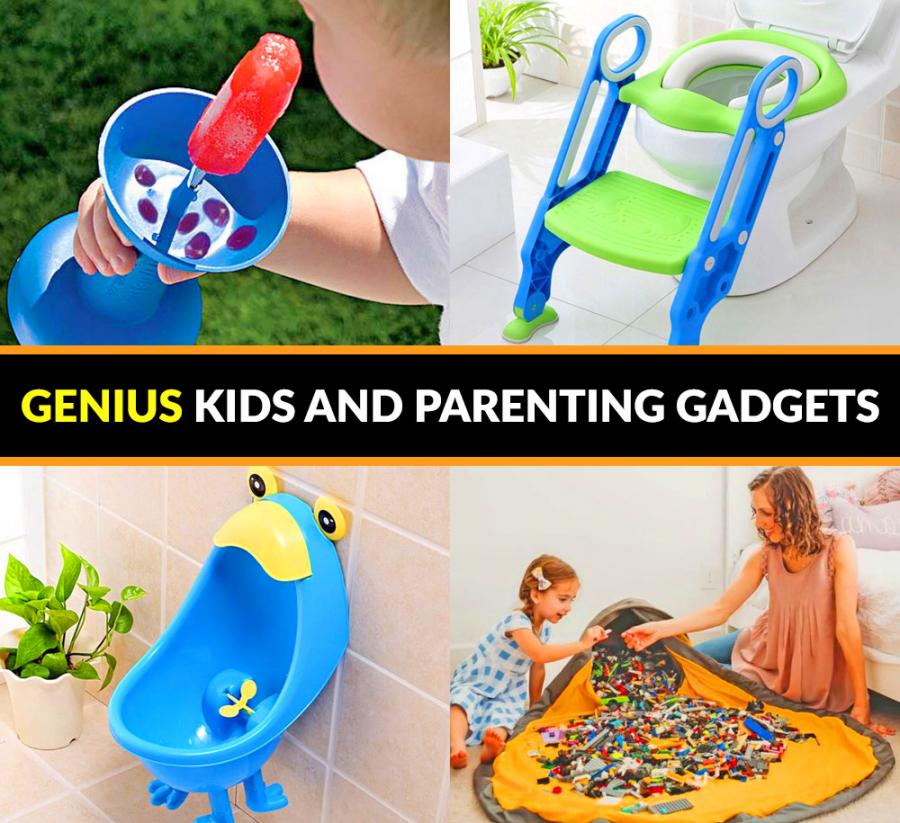 Tired parents everywhere - we know that you are constantly on the lookout for any product or gadget that will make your life just a little easier. We have scoured the offerings that are out there and have come up with this genius list of 30 life-saving items that will make life a little easier for you!
Top Five Food And Drink Gadgets For Kids And Parents
Meal time can be one of the messiest and time consuming activities of your day so why not use a few of these items to make life a little cleaner and easier?!
1. DripStik: Prevents Ice Cream And Popsicles From Dripping All Over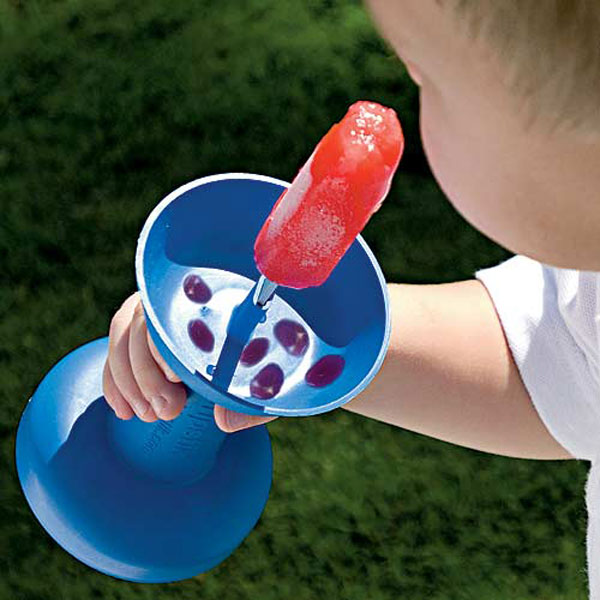 Who hasn't watched in fear as a kid slowly eats their melting ice cream cone; just waiting for the moment when the delicious treat starts to drip down onto their clothes and hands making a sticky mess that you know you'll be cleaning up for hour after thanks to those sticky hands? With the DripStick you don't have to fret when giving your child, nephew, or clumsy friend a cone!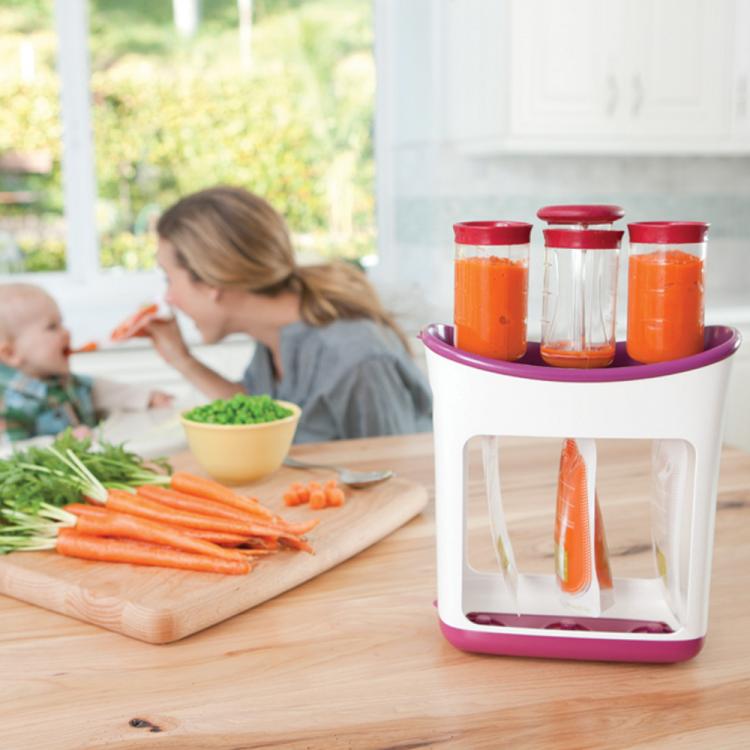 Sure, you could just buy baby food at a store, but if you really want to know what you're feeding your child, you might just want to make it yourself. This on-the-go baby food maker lets you make your own food that is stored food pouches that you can easily take with you for a meal on the go.
3. EZPZ: An All-In-One Suction Placemat and Plate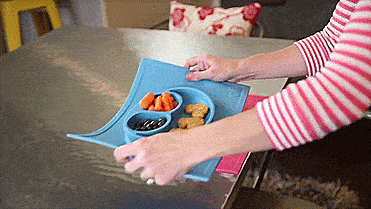 Kids seem to love picking up plates full of food and throwing them onto the ground. Maybe they weren't hungry, or maybe they just enjoy flailing their arms and food about the room. These cool new placemat/plate combos allow you to suction the entire thing to your counter, table, height chair, or whatever surface your child is eating on so that they won't be able to pick up their plate and make a big mess.
4. Kaboost: Under-Chair Booster Lets You Turn Any Chair Into a Booster Chair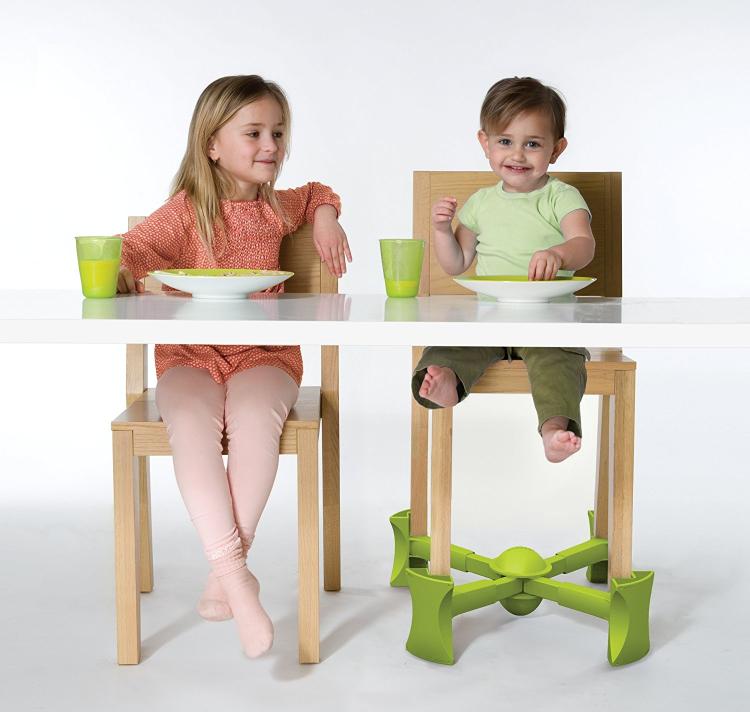 Is your child is not quite big enough to sit in a normal chair to eat their dinner, but do they want to sit in a booster seat anymore? The Kaboost is a booster seat that boosts any regular chair, and is placed directly below the chair it's boosting, so your kids won't even notice they're being boosted. Plus you won't have to have an eye-sore of a booster seat constantly sitting out, as you can use the normal chairs that sit at your table.
5. Beebo: A Hands Free Baby Bottle Holder You Strap To Your Chest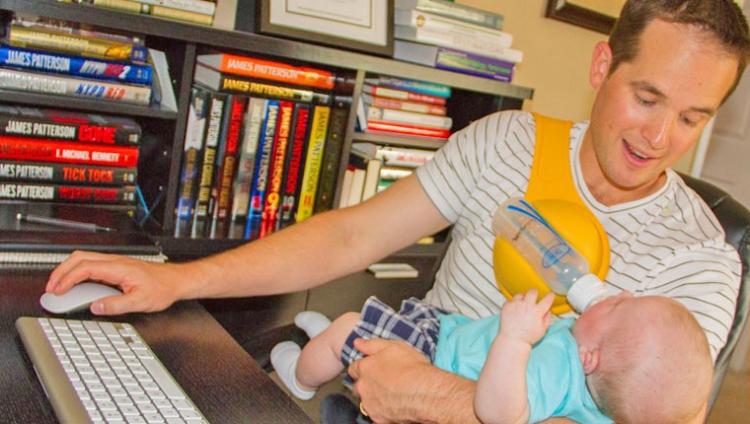 The Beebo is a hands free baby bottle holder that you can strap to your chest so that your baby can feed while you have both arms free to do all sorts of activities. Perfect for feeding your baby while you hold them with one hand and read to them with the other, sit at your desk and work while your baby feeds, or mow the lawn with one hand, read a book with the other, strap your baby to your chest and knock out three chores at once.
Top Five Travel Gadgets That Will Make Traveling With a Kid
Most of the time leaving the house without the kids in tow is the easier option, but when you must travel with your little humans, try some of these to make getting to your final destination less painful.
1. Buggy Bagrider: Lets You Tow Your Child On Your Luggage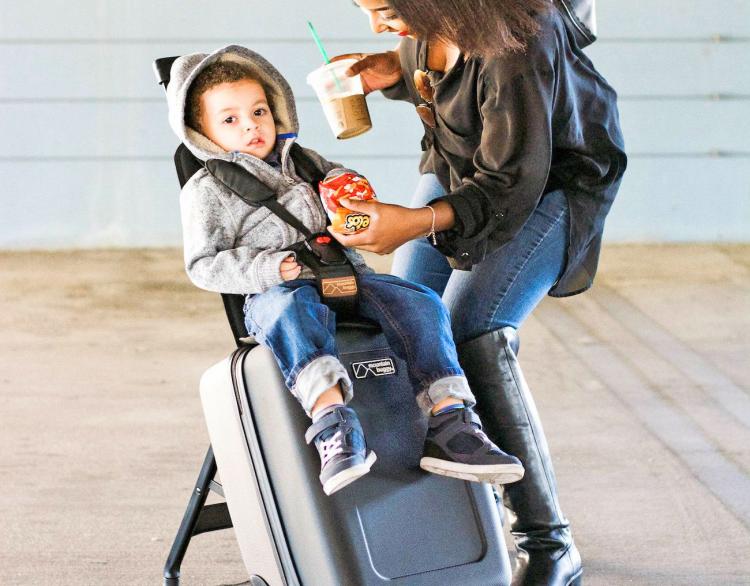 If there's anything worse in life other than having to navigate through airports with small children, please let me know. If you're looking to not travel with a stroller when flying, the Buggy Bagrider might be for you. It's a piece of carry-on luggage that doubles as a stroller! Your child gets securely strapped in right on top of your bag, and in essence, is the ultimate kids travel solution.
2. Doona: Infant Car Seat And Stroller In One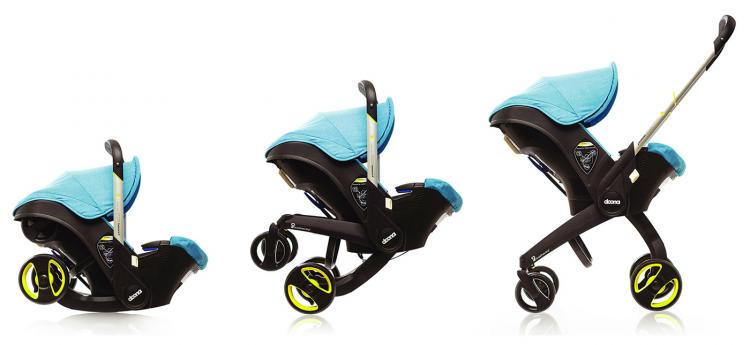 If you do need to travel with a stroller the Doona is a great travel companion! With this car seat you also get a build in stroller so there is no need to worry about getting two bulky items in your car or on an airplane. Gotta love a gadget that does double duty!
3. BedBox: Ride-On Child Luggage That Doubles As An Airplane Seat Bed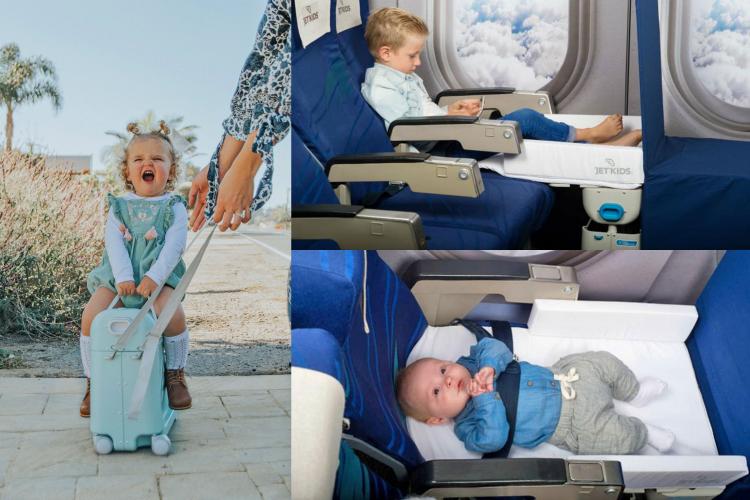 If you're taking a flight with older children the airport may not be the biggest pain point - the actual flight is where time will stand still and you'll struggle to get out alive. The BedBox is a travel gadget that children up to 6-7 years of age will love. It serves as your child's hand luggage, ride-on suitcase and bed/leg-rest, all in the very same box.
4. Pockit: A Stroller That Folds Down To Fit In a Backpack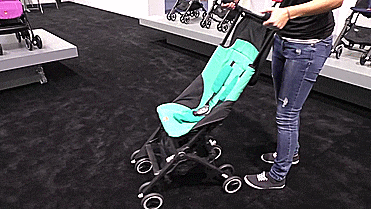 This 2014 Guinness World Record holder for most compact baby stroller is the perfect travel partner to keep around for emergencies and every-day use. Keep it in your trunk or in your travel backpack so that you are always prepared for when you might need a stroller!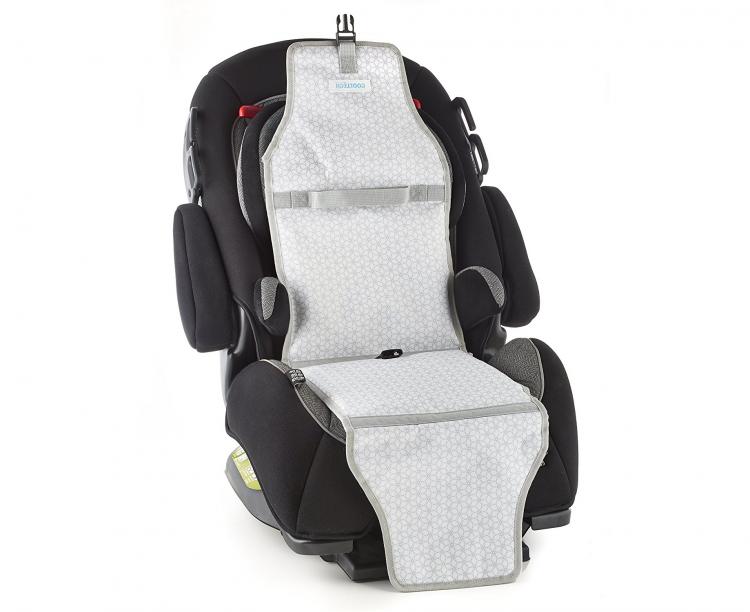 When putting your kids in their car seats, you often have to worry about how hot their car seat has gotten while it's baking inside of a steaming hot car on those sunny summer days. The CoolTech Car Seat Cooler will keep your kid's car seat at a nice cool temperature while you're away from your car to ensure a safe and comfortable ride.
Top Five Gadgets That Help Kids Learn
What parent isn't worried about their kids hitting those milestones? Wouldn't we do anything we can to help make sure they stay on track? These learning gadgets will hopefully make learning a little easier for both your little one and you.
1. Willa Walker: A Rings Set That Helps Toddlers Learn To Walk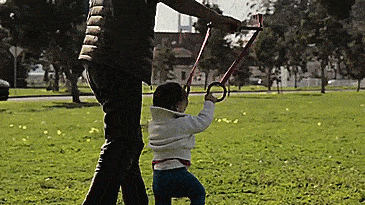 When babies are learning to walk, they obviously need support, which often results in a parent's achy back as their bent over helping their little one. The Willa Walker is designed so that a parent and the child can interact with each step. The parent holds the Willa Walker upright (without a need to bend over!), while the child holds the rings and walks forward.
2. Wall Mounted Training Urinal: The Spinning Target Will Help Your Little Man Learn How To Aim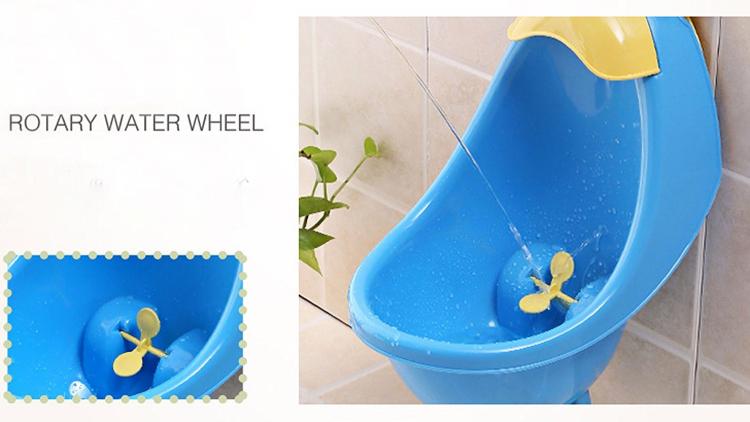 Training boys how to use the potty is a unique challenge but this urinal is here to help. You can set it on the floor or wall mount it to ensure it's at just the right height. Inside is a spinner that spins when a urine stream hits it just right. This will make your child enjoy potty training, and give them a fun activity to concentrate on to keep them peeing in the urinal.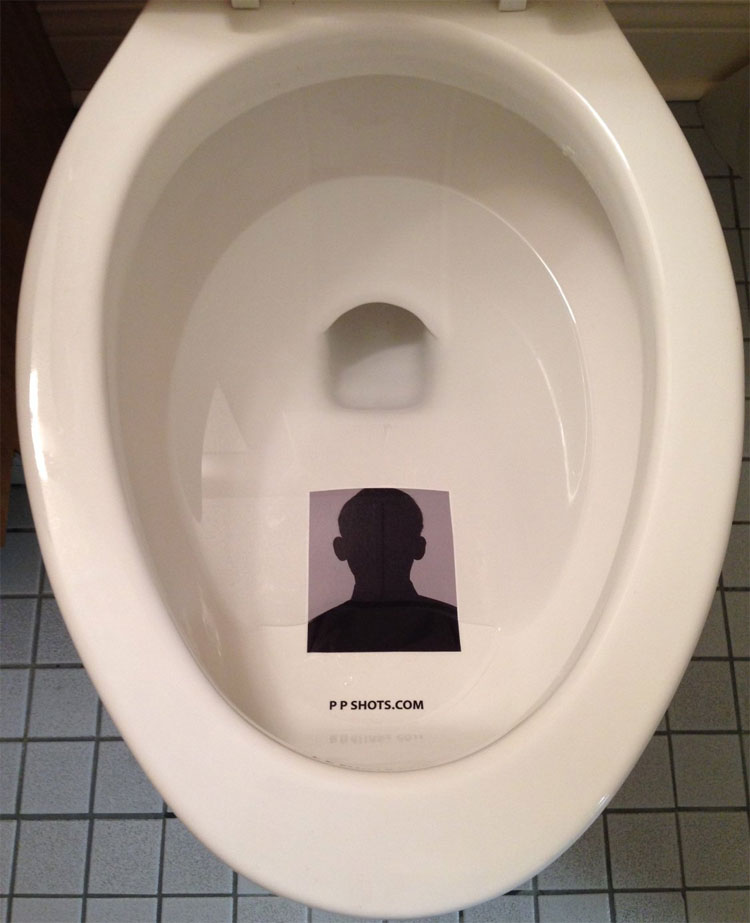 If you don't like the thought of a urinal sitting on your bathroom floor and taking up space, you may be interested in these toilet stickers. The stickers give you little man something to aim at to ensure all the urine goes in the potty, and not on the floor! This is a great option for small bathrooms that can't accommodate a special training toilet.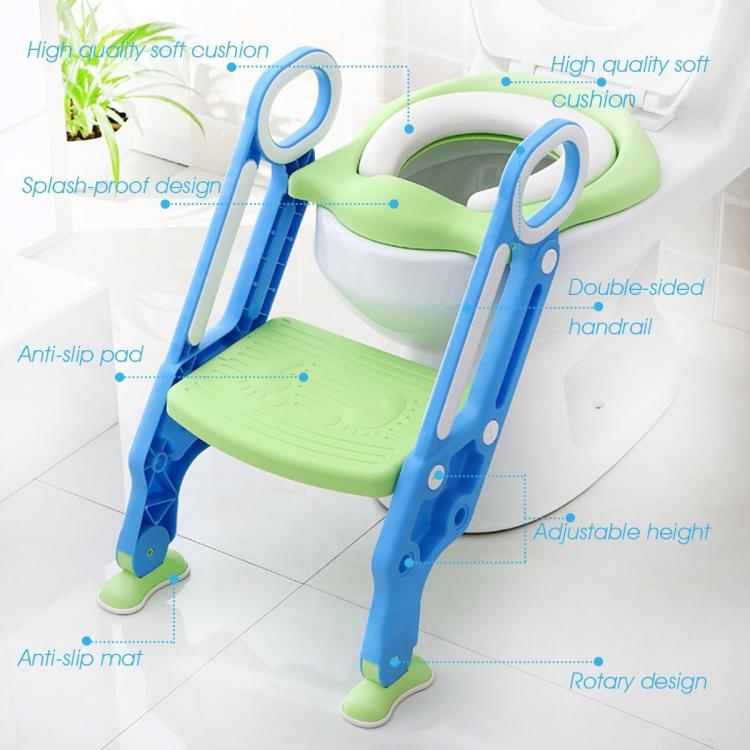 This toilet trainer makes sure your little potty-user has a safe potty experience by ensuring they get up and down from the toilet safety. Great for use if you have a tall toilet or if you have a little shorty of a kid.
5. Pencil Grips: Helps Teach Kids How To Properly Grip a Pencil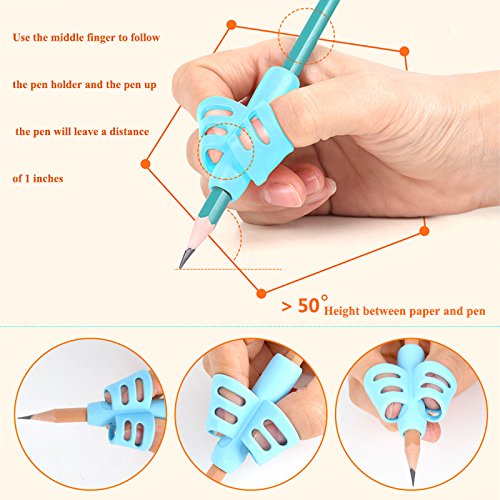 I don't know if I was not gripping pencils correctly as a child, but I always remember having a large callus on my finger right where I usually grip pencils and pens. These unique pencil grips have finger slots in them that'll show your kids exactly how to hold a pencil.
Top Five Sleeping Aids That Will Help You Get More Sleep Too
The one thing parents envy most about those without children is their ability to get a good night's sleep every night! These five items may just be your ticket to a good night's sleep again.
1. Crescent Womb: A Newborn Crib Hammock This newborn hammock attaches to your babies crib and is made to help reduce the environmental risk factors associated with SIDS (Sudden Infant Death Syndrome). By recreating and mimicking the beneficial properties of the womb, the newborn crib hammock promotes healthy development for babies by taking away dangerous hinges and electronics and recreates the posture they'd be in while in your embrace.
2. On-The-Go Baby Dome: Portable Sleep And Playard For Baby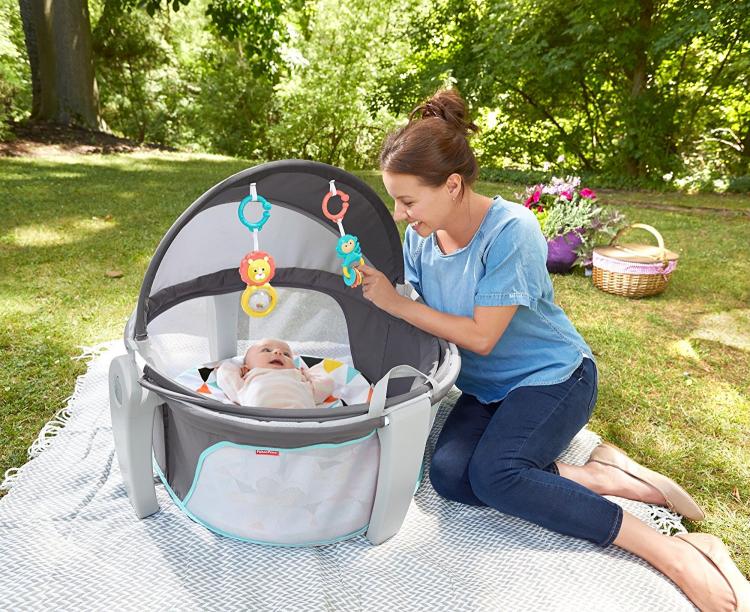 This portable circular playard completely folds flat when not in use, which makes it super easy to throw in the car, and take out whenever needed. The Baby Dome is dual purposed, as it works great as a mini playard for your new baby, plus it also works great as a napping spot for your little one.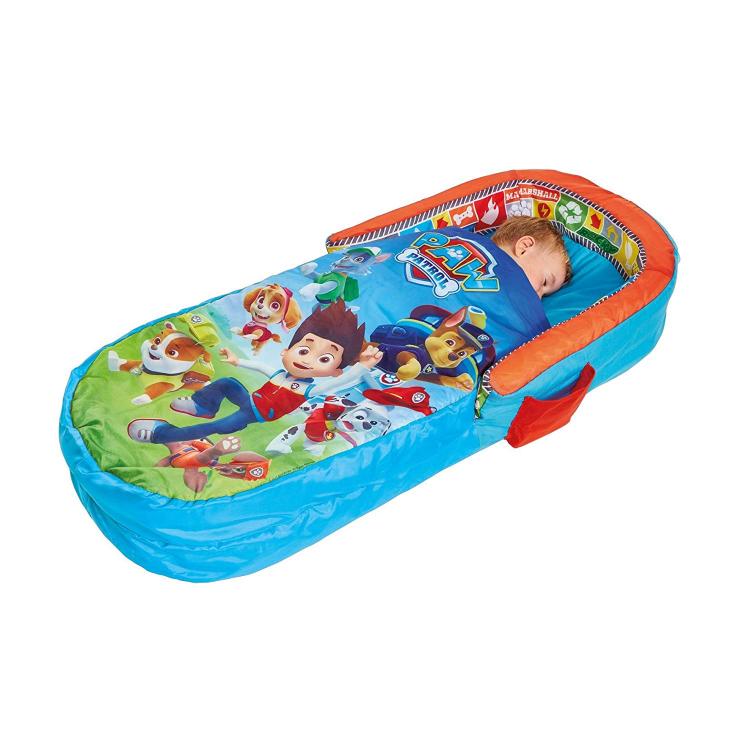 This inflatable sleeping bag bed is the perfect solution for when your little one wants to stay at Grandmas or if they just want a sleepover in the living room and you want to ensure they get a good night's sleep. A built-in headboard makes it feel like a real bed, helping your little one to get the best night sleep they can away from their own bed. And if you've got an active sleeper, no worries! This bed also includes side bolsters that will help prevent your child from rolling out of bed.
4. Doodle Duvet: It's Now Okay to Draw On Your Bed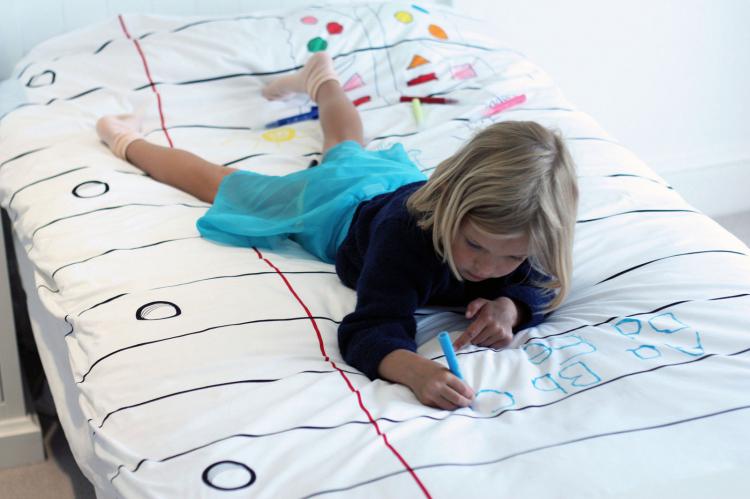 The Doodle Duvet is a is a duvet that you can draw on using special markers that can easily be cleaned simply by throwing it through the wash. Perfect for kids looking to express their artistic abilities on their bed rather than on the wall. The notepad graphic is printed on both sides of the duvet so that once one side fills up, you can flip it over and start all over again. The Doodle Duvet is made from top quality 200 thread count 100% cotton, includes an 8-pack of machine washable fabric markers, and is available for both twin and queen bed sizes.
5. SpinTails Enchanted Duvet: An Interactive Blanket That Works With An iPad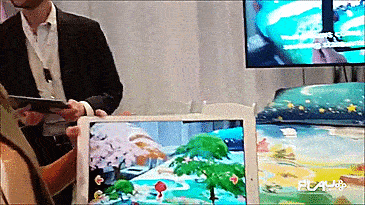 Need a bedtime story told by your blanket? There's an app for that. The SpinTales Enchanted Duvet is an interactive blanket that works with an iPad to tell stories and do other activities. This duvet is actually an enchanted wonderland! This beautifully illustrated twin duvet set for a kid's bedroom comes to life.
Fun Kids Stuff That Will Keep Them Entertained
This list wouldn't be complete without including some genius fun stuff that we thought kids would love!
1. Bunch-O-Balloons: Make 100 Water Balloons In One Minute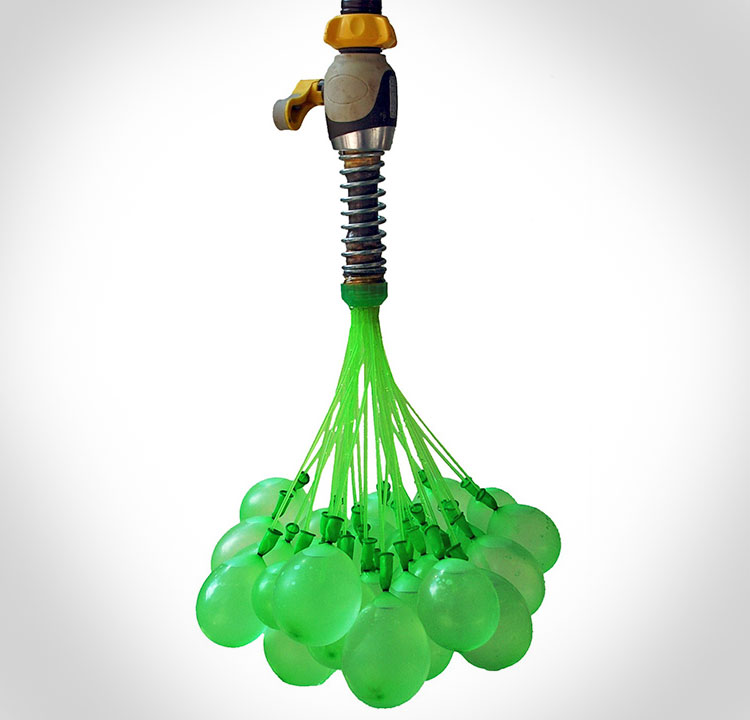 Bunch O Balloons is a device that can fill up to 100 water balloons in under a minute, which lets you spend less time filling up the water balloons, and more time throwing them. The best part is they tie themselves through a complex process known as magic.
2. SlideAway: Toy Clean-up And Storage Container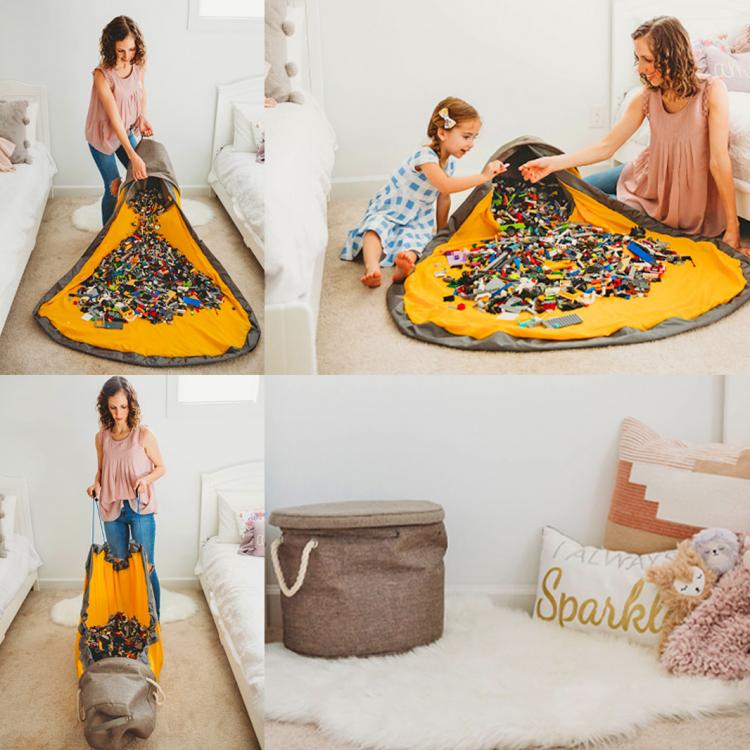 If you're sick of looking at or walking across your kid's toys strewn about the floor the SlideAway may be the solution. This storage container has a built in play mat that will help control the mess. And when it's time to clean up, you simply pull up on the mat handles and the toys will SlideAway into the container for stylish and contained bin that you'd never know was holding a ton of legos.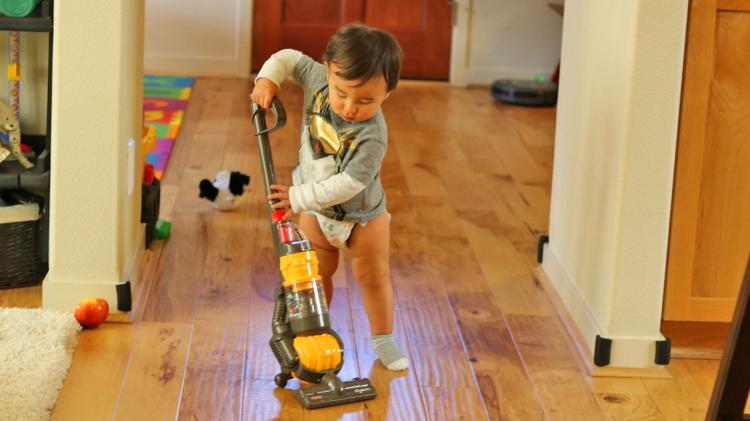 Kids love to pretend, but why not get a little help with the cleaning while your kids "pretend" to vacuum the living room? This tiny version of a Dyson ball vacuum actually sucks up small items with suction and makes vacuum noises!
4. Rocket Kids Fishing Rod: Launches a Bobber So You Don't Have To Cast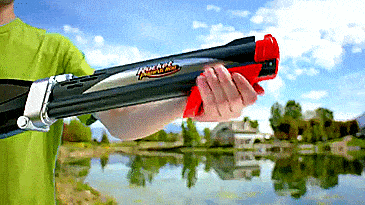 Casting a rod is hard work, I mean you have to pull it all the way back, and then pull it all the way forward, we might as well be lifting weights while we fish. This unique kids fishing rod will actually launch your bobber and lure for you so that you won't ever have to cast another rod again, and makes for the best fishing rod for kids.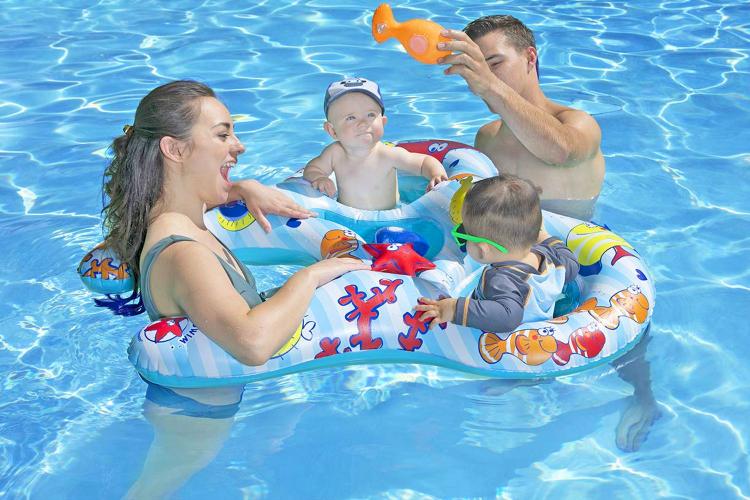 Do you have two kids that you need to keep alive in the pool this summer? This Mommy and Us pool float will be the perfect tool because you can put two children into this one float, ensuring both remain close and under your watchful eye.
Five More Cool Things For Kids and Babies
And last but not least, here are five items that didn't fall into the above categories but we thought were too cool to leave out!
1. Pop Pacifier: Automatically Closes When Dropped to Keep It Clean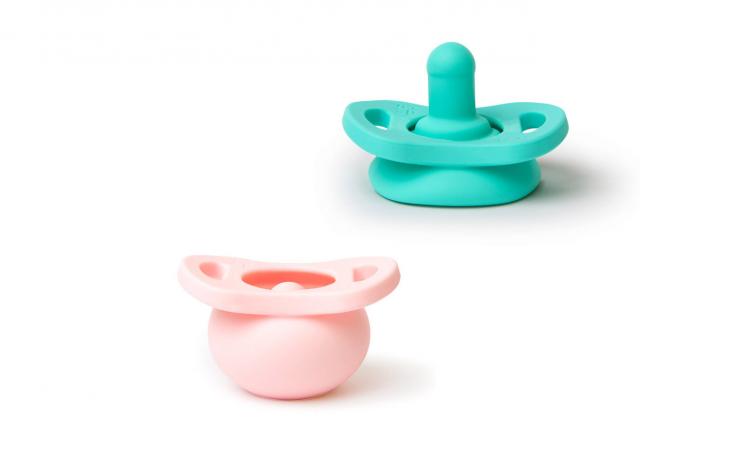 As any parent knows, germs and bacteria are one of their fiercest enemies. It feels like you're cleaning a pacifier about a hundred times a day. Am I right? Well, the Pop Pacifier will help ease your mind and keep your kids a bit more germ free. It automatically closes when your child drops it, keeping the part that goes into their mouth completely clean.
2. Baby Dam: A Bathtub Water Divider That Saves Water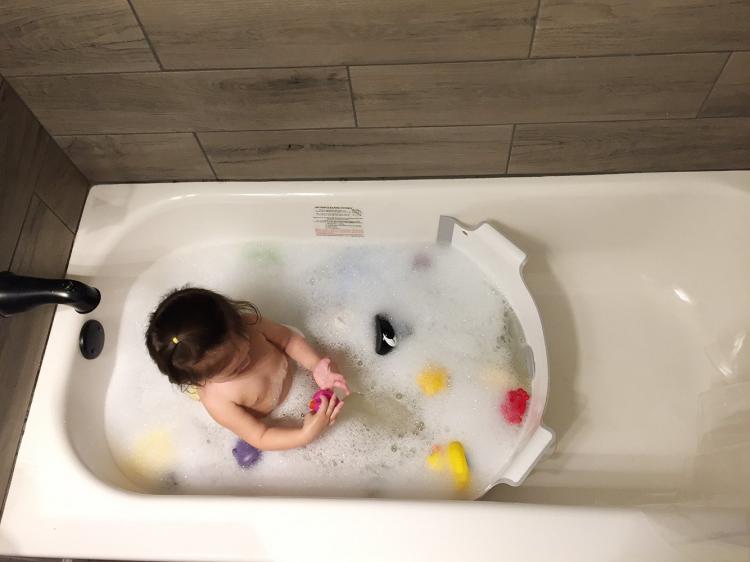 Just think of how much water you waste when you give your kids a bath in that giant bathtub. Their too big for the sink, but still too little for that giant tub! The Baby Dam is a bathtub divider that will let you give your kid a bath in just part of the bathtub.
3. Lalabu Soothe Shirt: The Shirt That Lets Your Carry Your Baby Like a Kangaroo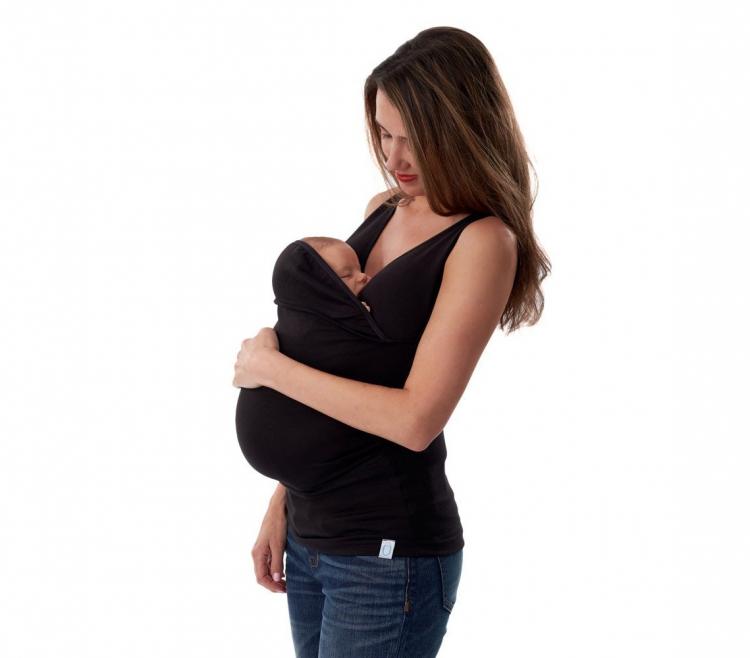 Keep your baby close with this kangaroo shirt. To use it simply pick up your baby, hold out the pouch located around your stomach area, and slip your baby inside.
4. Pacifier Thermometer: Take Your Baby's Temperature Without Them Even Knowing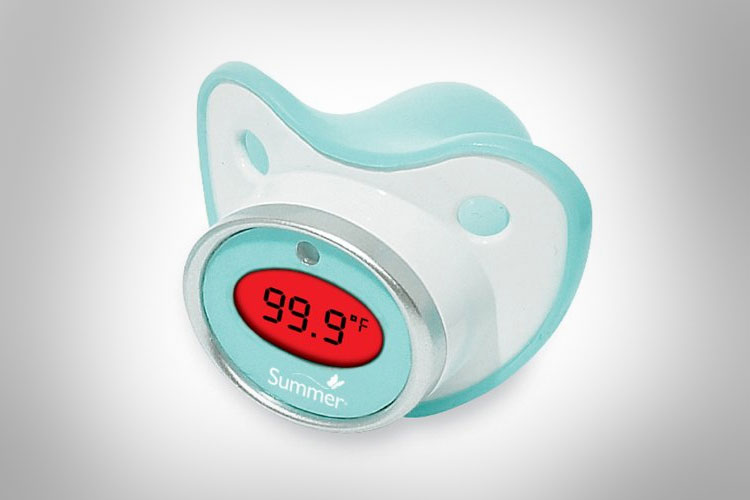 The baby pacifier thermometer is a baby pacifier that you can use to take your babies temperature. No longer will you need to try and stick a thermometer in your babies ear, or worse, booty while they are squirming everywhere. This baby pacifier thermometer will tell you the temperature of your baby, and glow red if it is too high. It has a memory recording feature to keep track of your babies temperatures over time, and will beep when readings are complete. There's really nothing worse than putting on a baby onesie that has actual buttons that you need to push in to close the onesie! Sure, the snap buttons are 100x better than the real buttons, but what would be better than snap buttons? Magnets! And that's just what this baby clothing company specializes in... Magnetic baby onesies, bibs, outfits, and more.