We Found The Coolest Tents For Camping In 2021
By Ryan on 03/31/2020 11:03 AM (Updated: 02/16/2021 8:55 AM)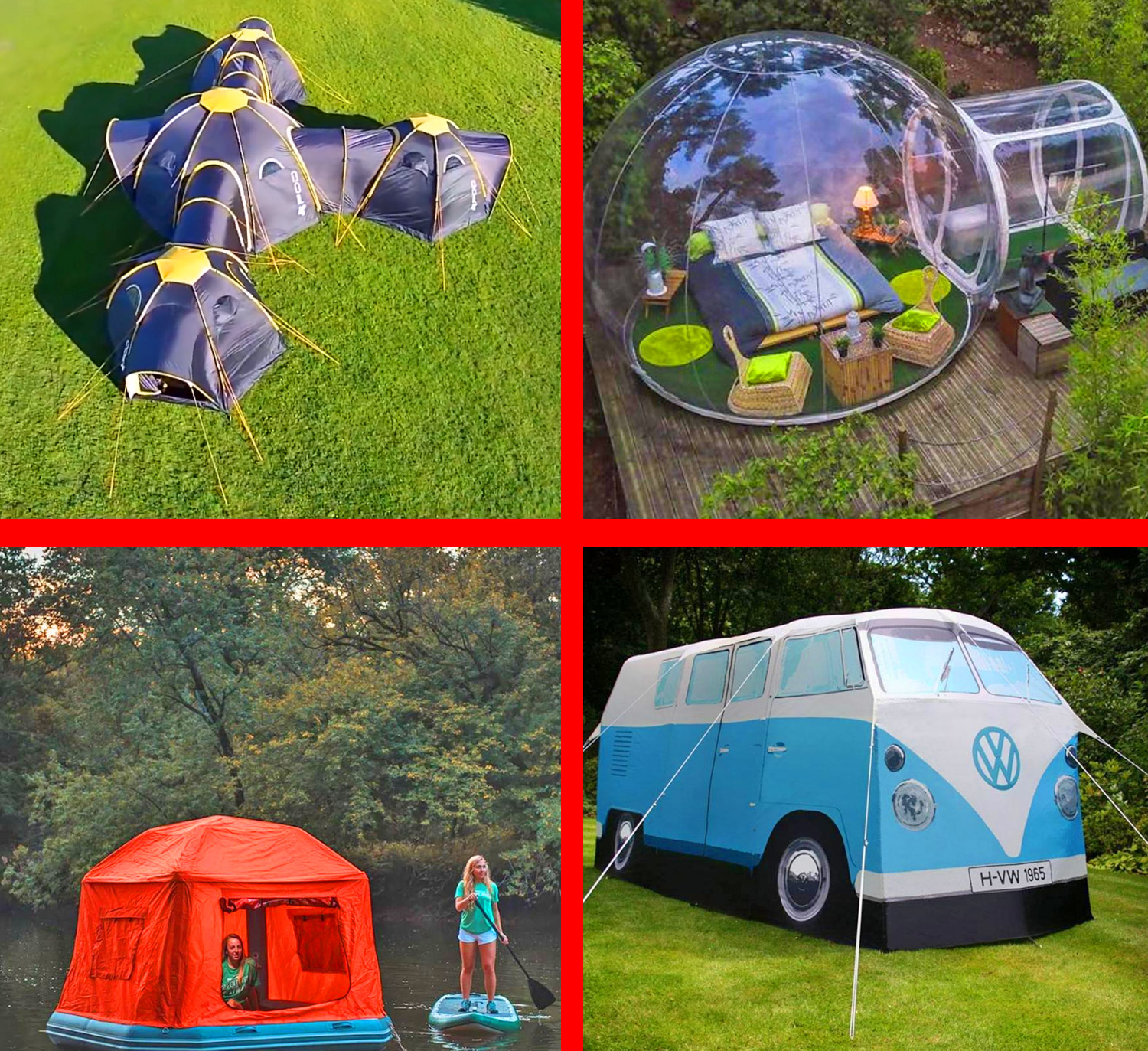 Here's the coolest tents we found for camping in 2021!
Modular Tent Pods
The Pod Tents are a new way to camp in a connected community-like environment. Each pod tent can be connected to one another using an attachable tunnel. There's an extra large pod that you can put in the center to act as a community room where everyone can join up and meet.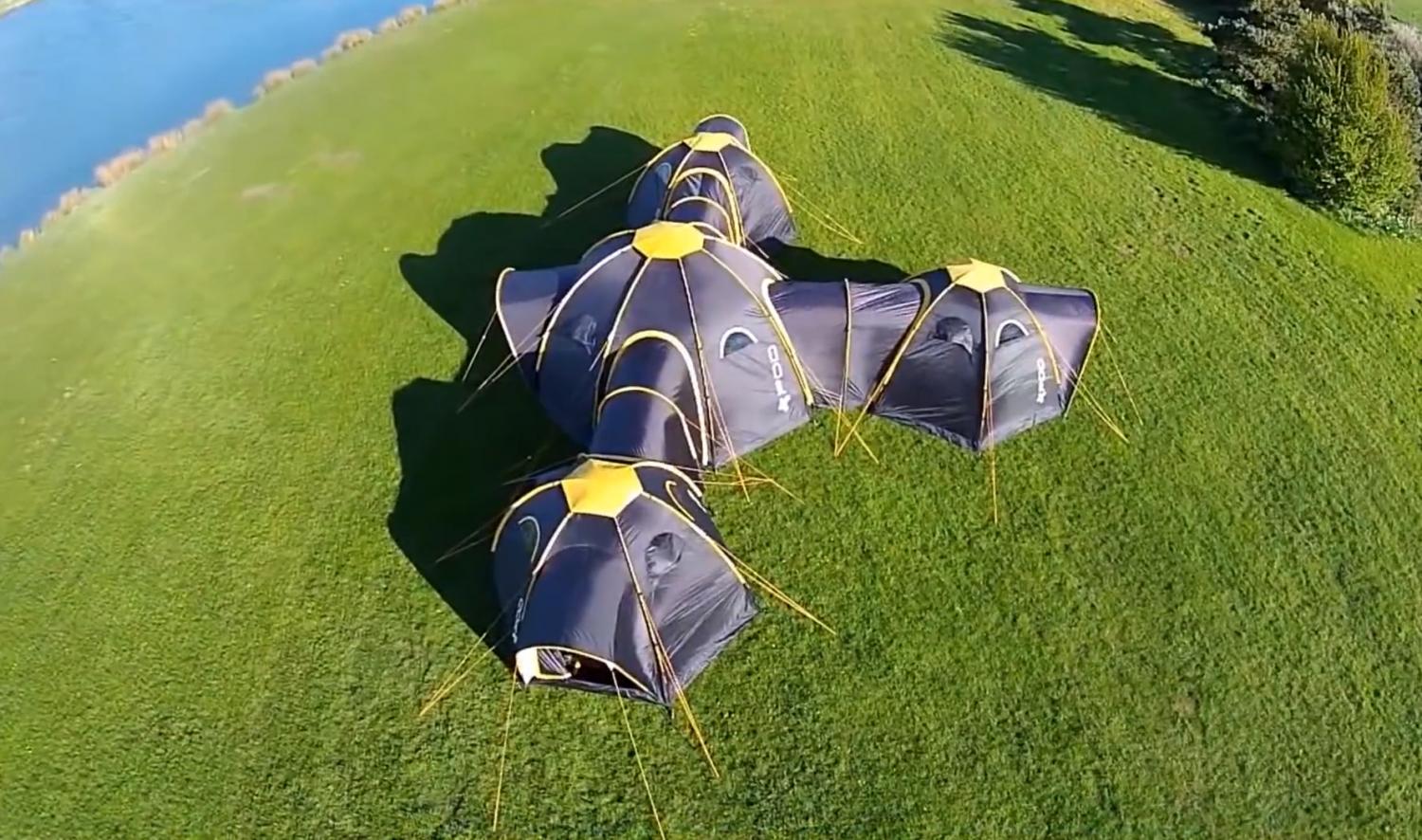 GET IT HERE
Star Wars Death Star Camping Tent
There's nothing bears love more than a tasty geek. They're like veal, with very little muscle, and little to no movement throughout life giving them a nice succulent flavor. Why not let the bears no just where they can find these delicious geeks that are pre-wrapped in a burrito casing with this Death Star camping tent. It's a perfect gift idea for Star Wars fans.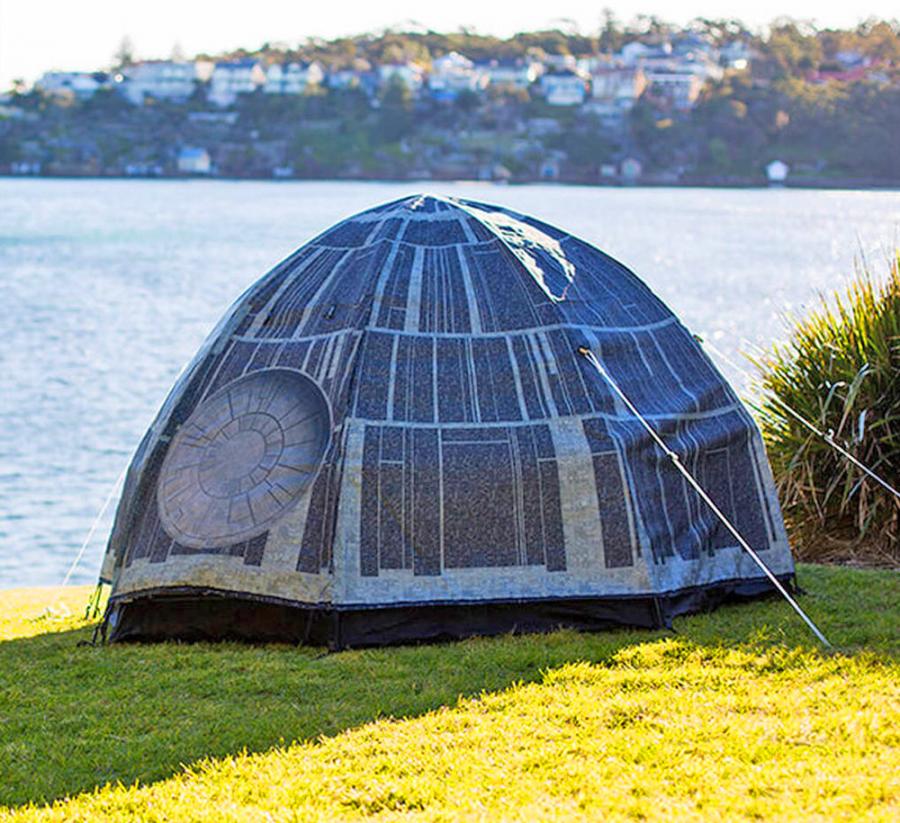 GET IT HERE
Haven Tent Is Hammock Tent That Lets You Lay Completely Flat
The Haven Tent is a new hammock tent that lets you lie completely flat when sleeping out in the wilderness. Not only that but uses reinforced sides so your not being slowly suffocated from every side while sleeping.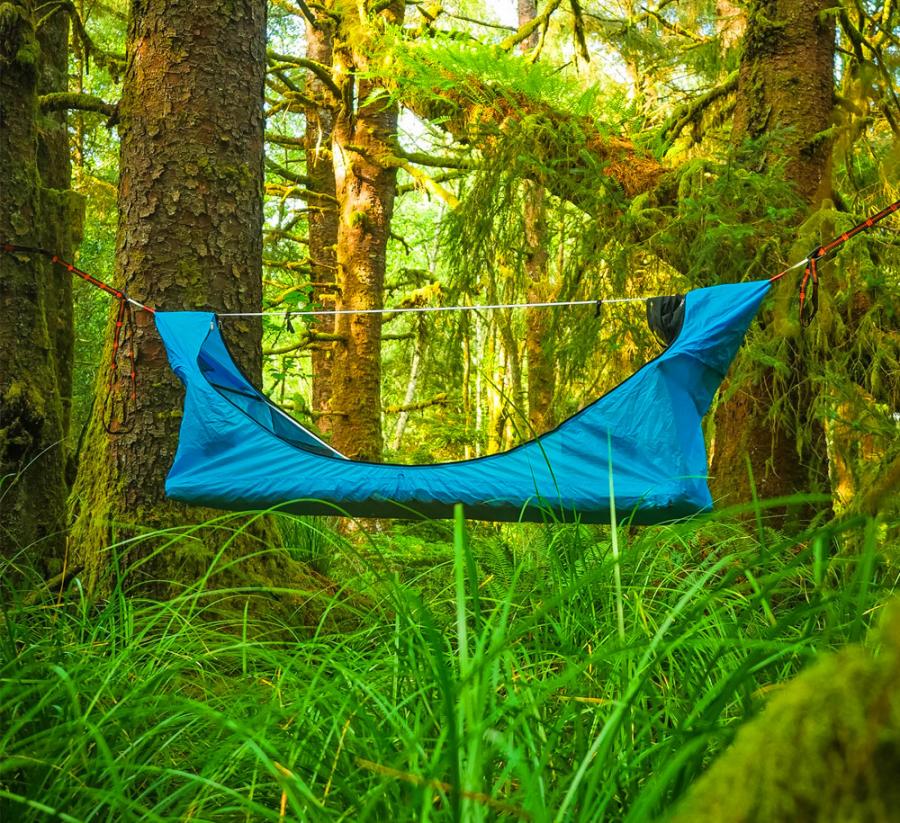 GET IT HERE
The Shoal Tent Is a Floating Tent That Lets You Sleep on a Lake
You've probably seen the Giant Floating Fishing Platform that we posted a while back that lets fisherman live on the water and acts as pretty much a mobile floating home, well now there's kind of a mini version that lets you just tent out on the water. It's called the Shoal Tent, and it's perfect for floating and sleeping on a pond, lake, river, saltwater flat, spring creek, and more.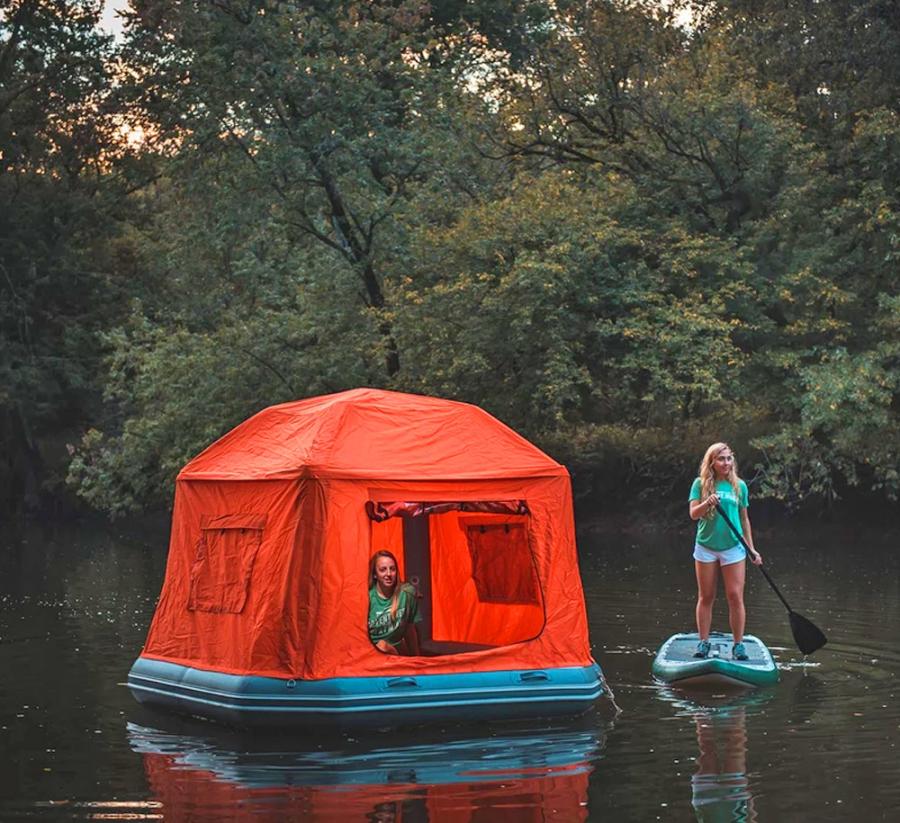 GET IT HERE
Tentsile Tree Tent Lets You Camp In The Air
Tentsile is a hammock-like tent that will hold up to three people up in the air by connecting it to three trees. Unlike a hammock that will leave the middle of your body drooping, the Tentsile is connected to all three corners of the tent and connecting in the center keeping your body much more level along with the buoyancy and comfort of a hammock.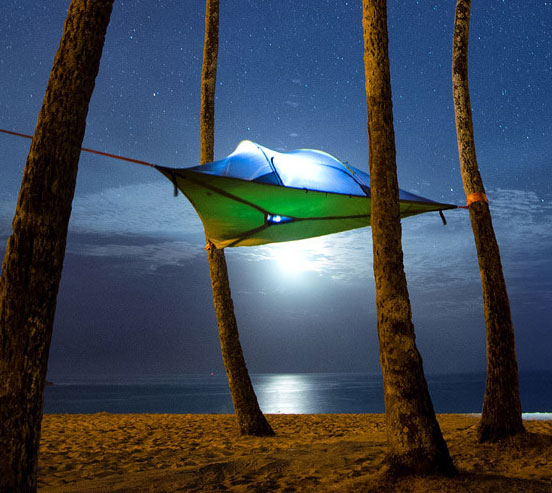 GET IT HERE
Coleman 4-Person Pop-Up Tent That Sets Up Instantly
If you're someone who doesn't like to screw around with getting things setup, and prefer to be setup and ready to open the cooler as soon as you enter your campsite, this incredible new pop-up tent by Coleman might be for you. It sets up instantly!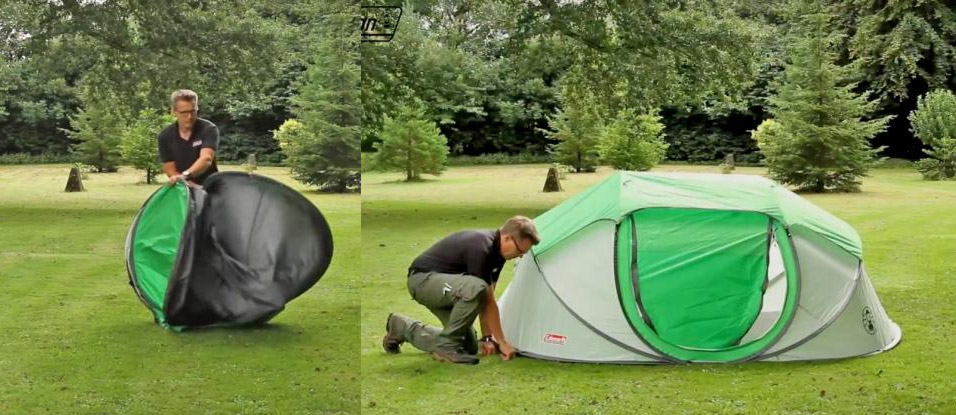 GET IT HERE
Volkswagen Hippy Bus Camping Tent
The Volkswagen Bus Tent is a camping tent that is an exact scale replica of an old 1967 Volkswagen hippy van. Now you won't have to leave your hippy van on the street when you go camping anymore, just strap it to your back, hike to your camping spot, and your van will once again have a mattress in the back, and be filled with smoke in no time. Inside the Volkswagen bus camping tent you can fit up to 4 people and is so tall that you can even stand straight up while inside of it, assuming you are no taller than 6 feet 1 inches tall.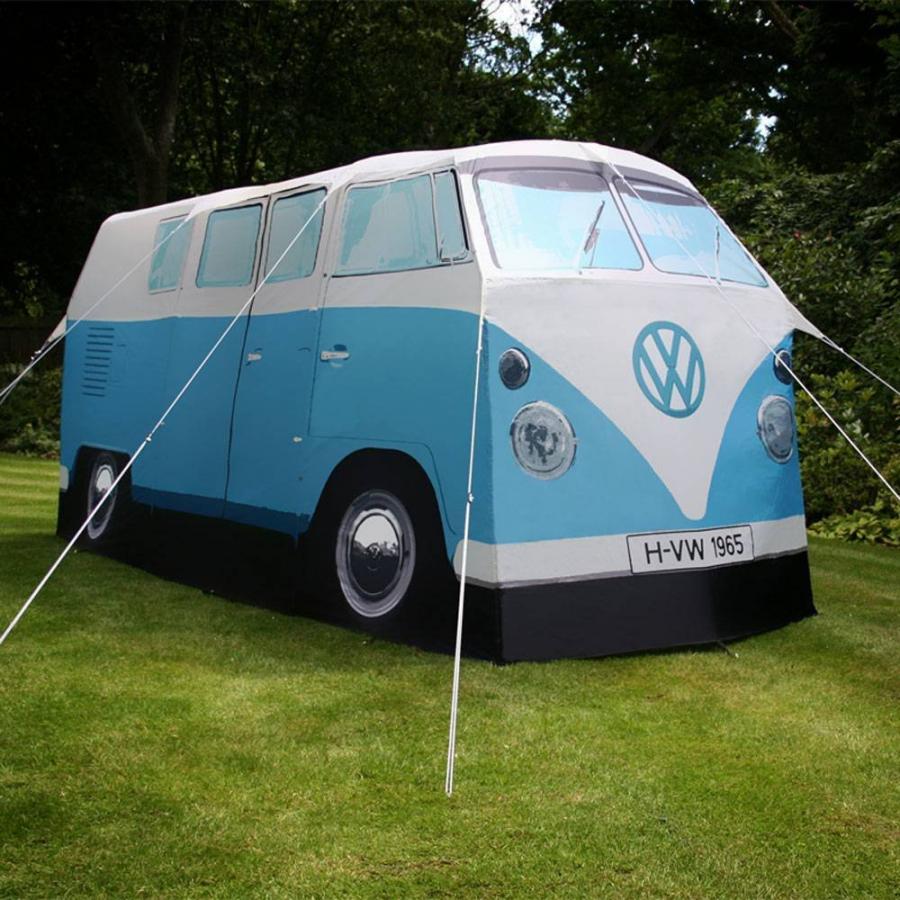 GET IT HERE
Sombra Shade Instant Shade Tent For The Beach
The Sombra Shade is a a beautifully designed sunshade that can be easily deployed almost anywhere in just a minute or two. Just pop the pole in place and fill the ends with sand to keep it weighted down!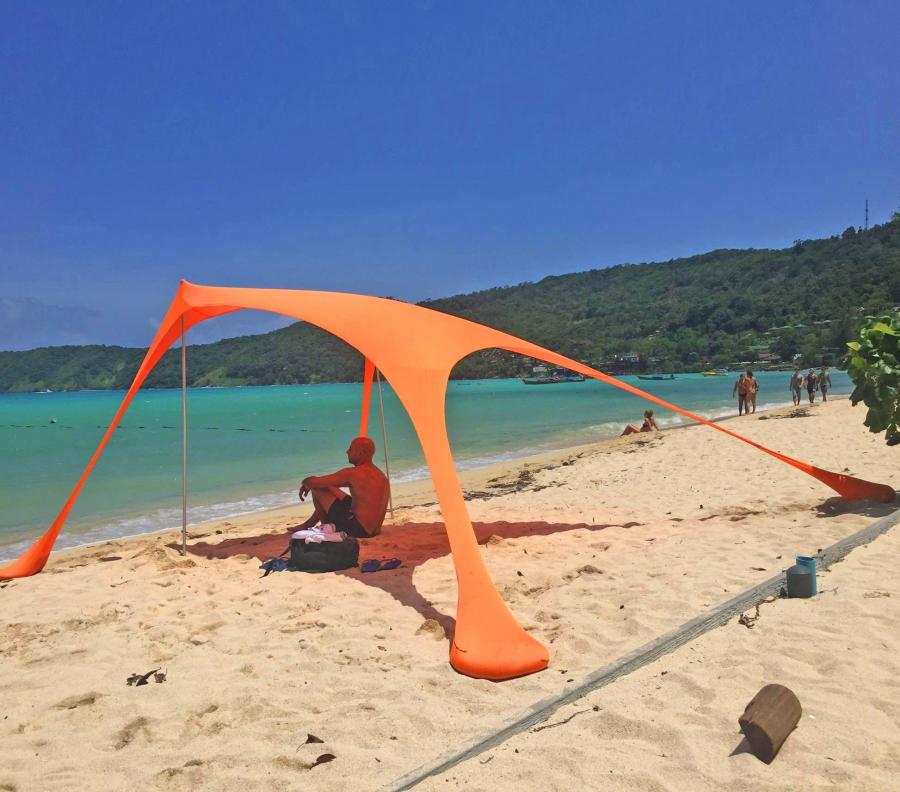 GET IT HERE
Incredible Motorcycle Tent Lets You Camp Out Anywhere While Out On The Road
Wingman Of The Road has created the Goose motorbike tent to keep you comfy at night while not weighing you down during your travels - the whole system rolls up into an easy to carry and easy to haul duffel bag size package that fits right onto the back of your bike.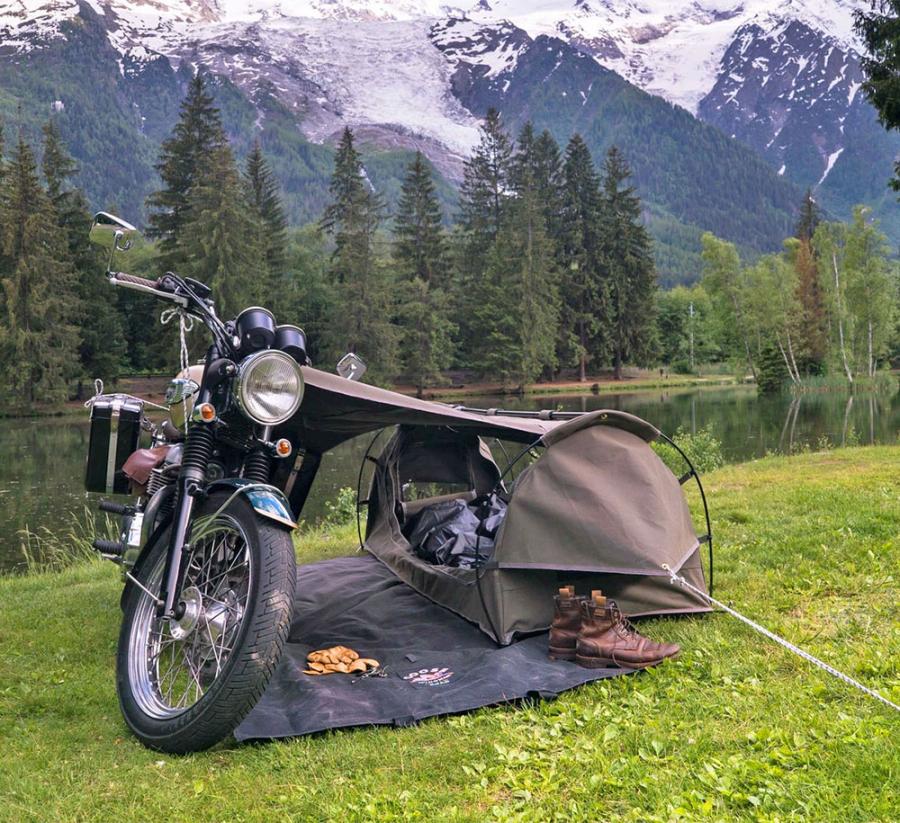 GET IT HERE
Amazing Double Tent Cot Prevents You From Having To Sleep On The Cold Hard Ground
We've featured a camping bunk bed cot in the past that's kind of similar to this, but I feel like this one, overtakes it by a long shot! Not only is this bed simply made into a camping tent, but it also hovers above the ground using the legs on the bed. It's pretty much just like a sofa bed that you would pull out of a couch, just hopefully without that metal bar digging into your back all night.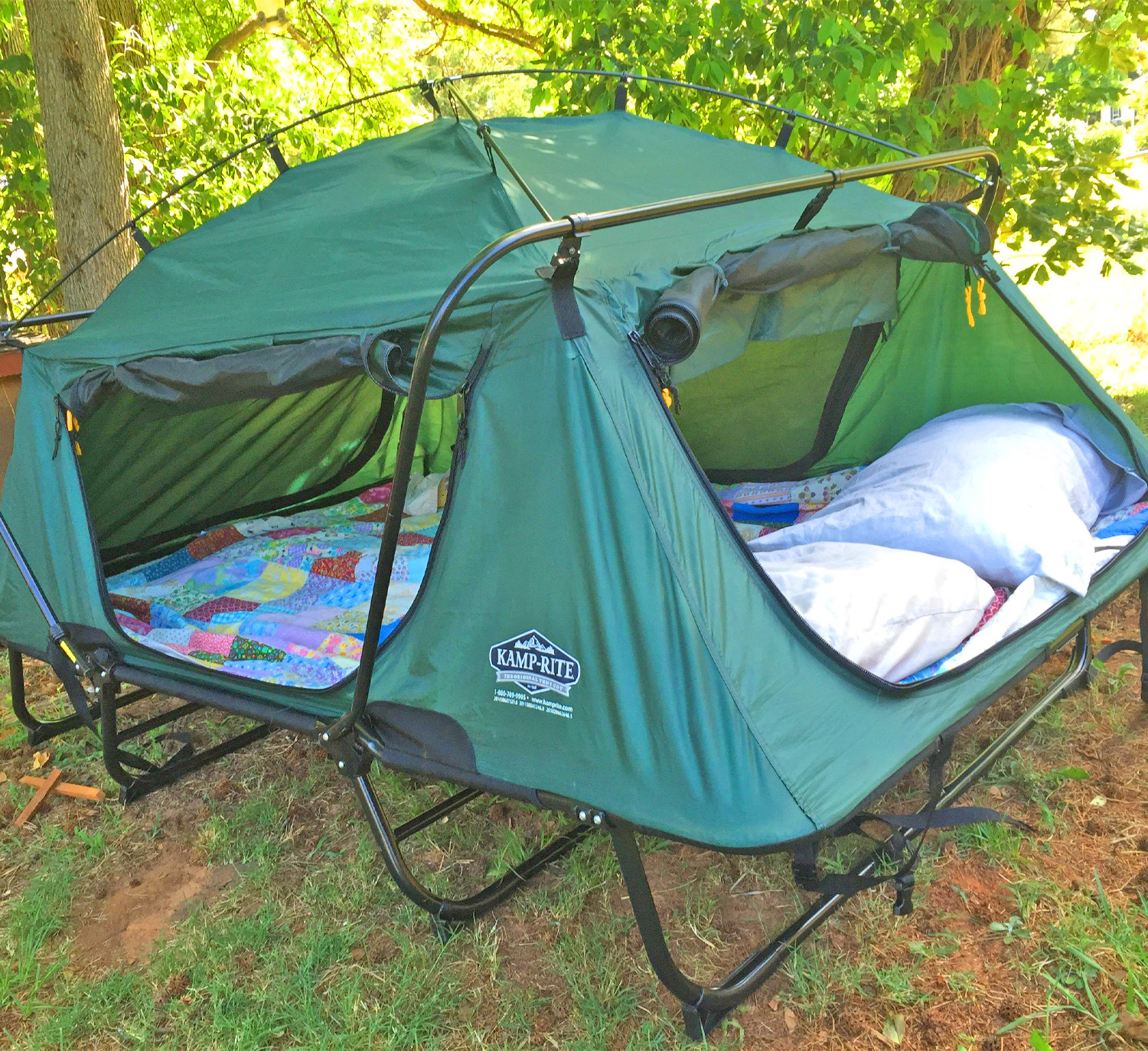 GET IT HERE
Giant House Shaped Tent With a Front Porch - Fits 10 People
Why go camping in a tiny tent that you have to lay in the fetal position in to get into, why not just bring your house with you? With the Northwest Territory Front Porch Tent you can do exactly that, measuring 18 feet long by 12 feet wide, the front porch tent has 216 square feet with plenty of room for activities.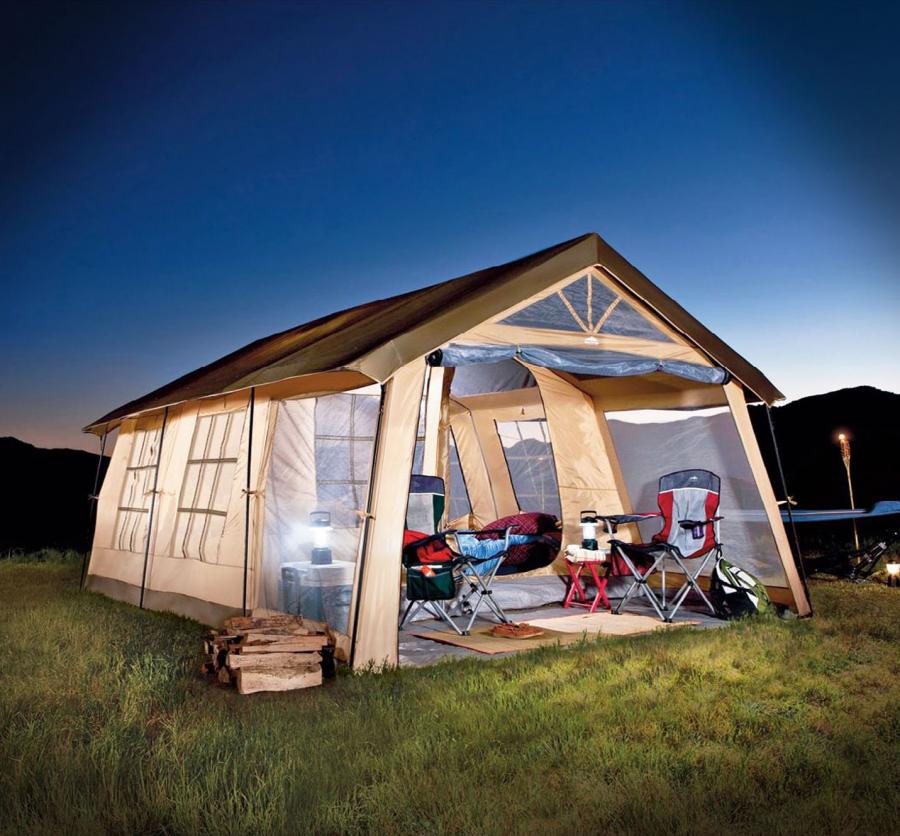 GET IT HERE
TentTube Inflatable Tent Sets Up In Seconds
We've all been there, attempting to put together a tent with no instructions or know-how. You have no right attempting to put together a tent that will most likely be put together backwards, inside-out, or you'll just snap all of the poles. This unique tent called the TentTube will allow you to assemble your tent in mere seconds, without the need for any know-how or tent knowledge at all.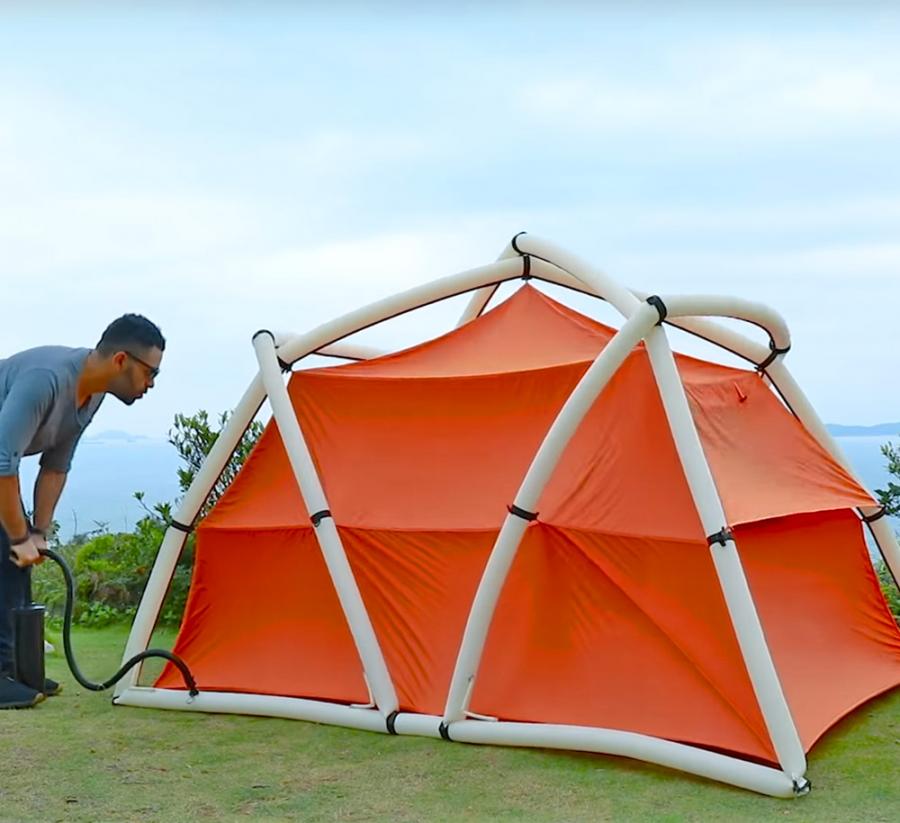 GET IT HERE
Amok Hammock Lets You Actually Lay Flat
This company made a hammock that you can actually lay flat in. It's called the Draumr 3.0 by Amok Equipment, and it places your body the opposite way on the hammock so it won't be curved while you sleep.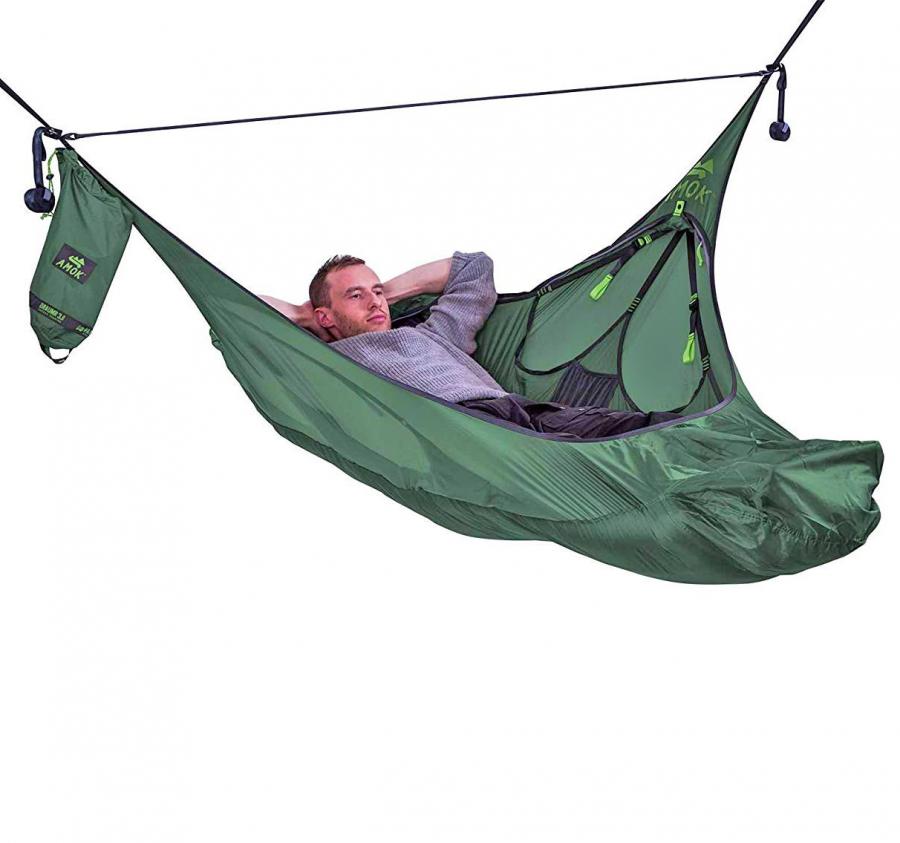 GET IT HERE
Transparent Bubble Tent Lets You View The Stars While Falling Asleep
The Bubble Tent is basically a transparent apartment that you could set up pretty much anywhere you desire all in the confines of a bubble. Made by BubbleTree, a company based out of France, the Bubble Tents where designed by Pierre Stéphane DUMAS, and allow you to view the stars while you slumber, and sleep closer to nature than you ever thought possible.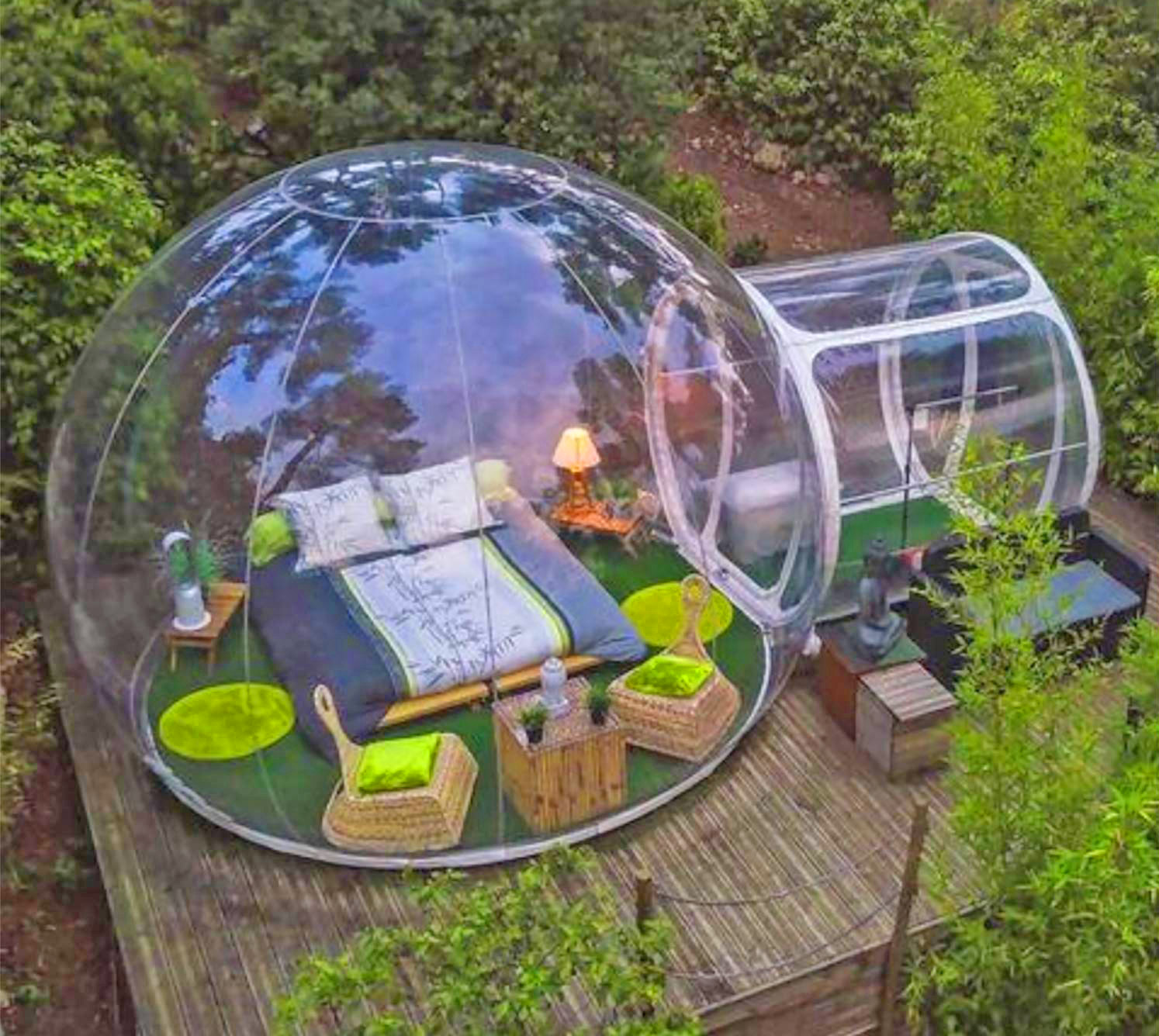 GET IT HERE
Incredible Raindrop Shaped Tree Tents Let You Sleep In The Trees
This incredible tree tent allows you to sleep up on a tree and sway in the wind while you camp high up in the air and off the ground! It's called the TreeTent, and it's shaped like a raindrop. The unique tree tent was designed and created by Dutch sculptor, designer, and canvas-architect, Dré Wapenaar.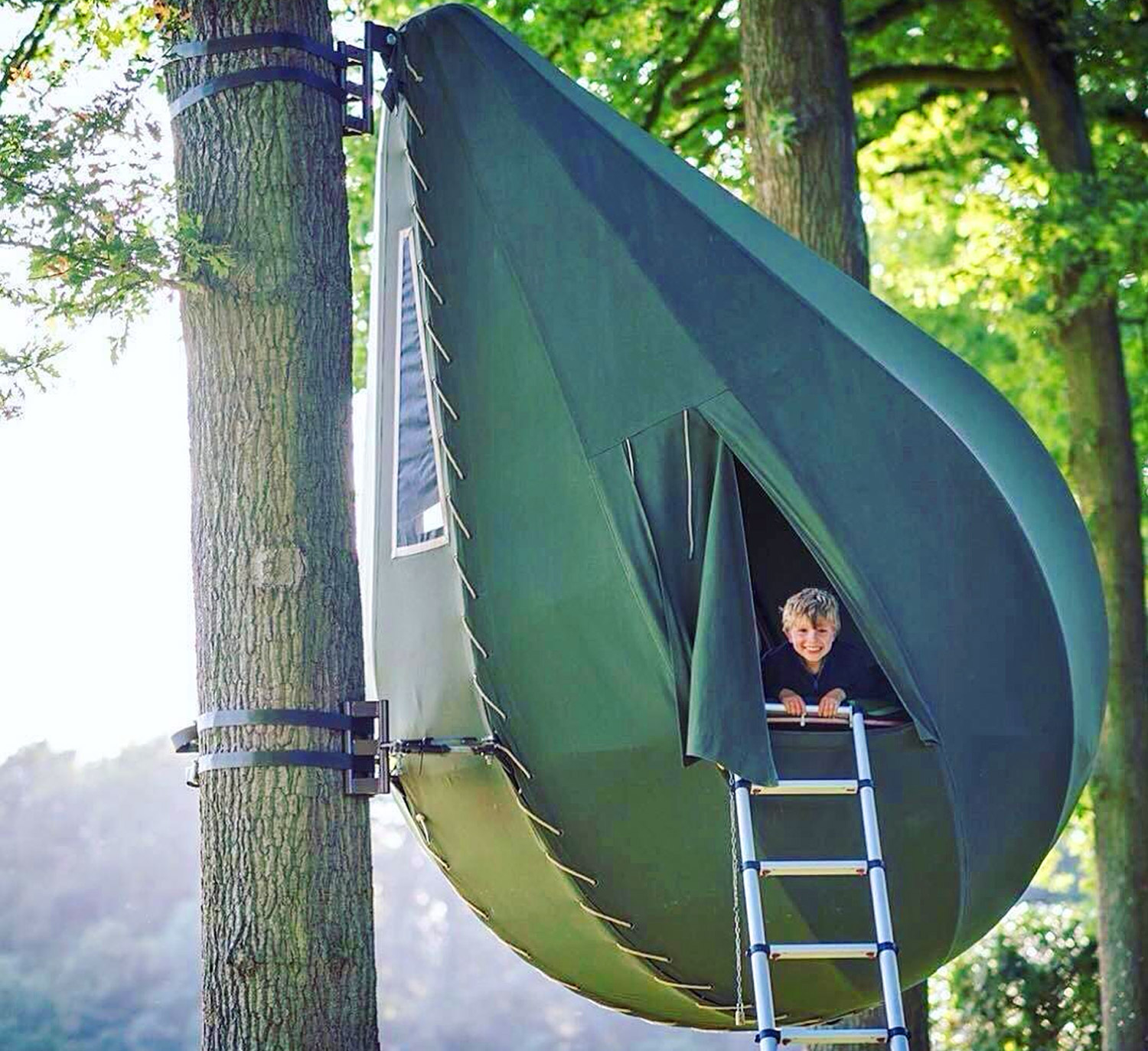 GET IT HERE