​This Human-Sized Dog Bed Will Take Naps to The Next Level
By Ryan on 01/20/2023 11:18 AM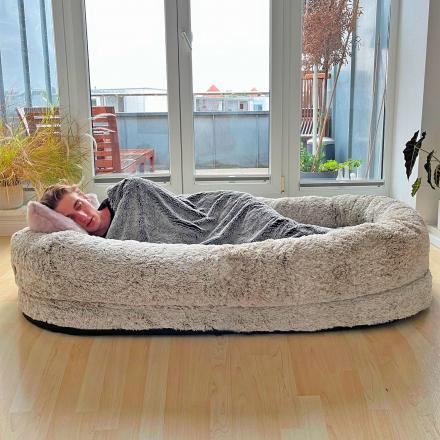 If you're a dog owner, you've almost certainly looked at your dog with envy a time or two as they lay comfily in their big, fuzzy beds. There's no doubt that it seems pretty awesome to be a dog, but one thing that humans are seriously lacking in are cozy, snuggly beds to sleep in. Sure, our beds are pretty nice, but sometimes you just need a perfectly-sized, soft enclosed space for a true rest — pretty much just like a dog bed.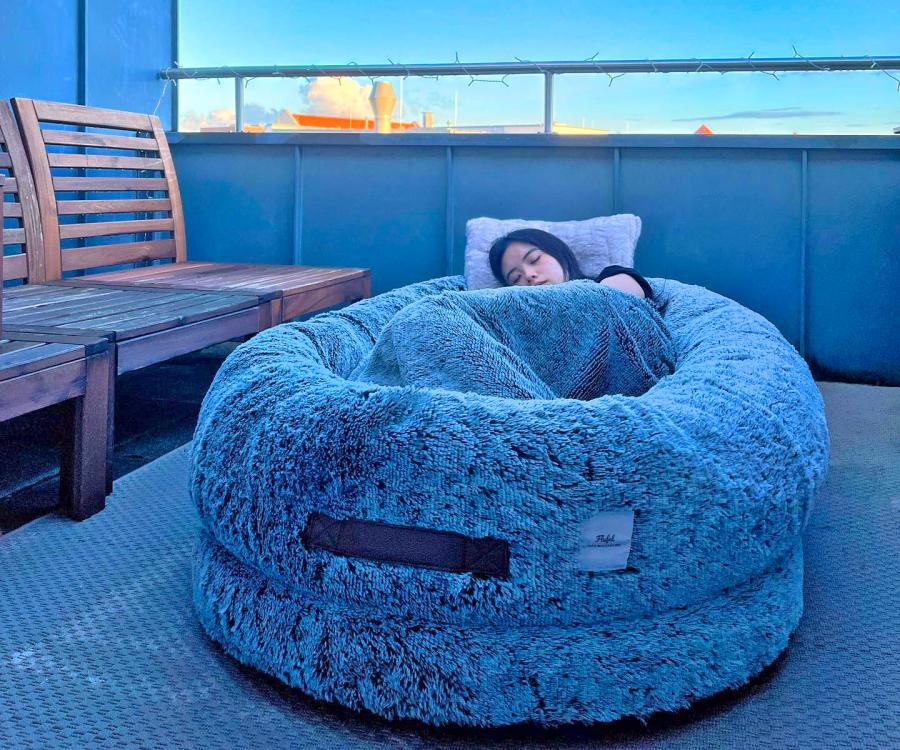 Credit: Flufel
Well, now you can have exactly that! These human-sized dog beds from Flufel will make you as happy as a dog — after a nice, long nap helps you get the rest you deserve, at least. Designed to look pretty much identical to human-sized dog beds, the Flufel Cloud Beds are every sleepy dog owner's dream. The tag on the Flufel Cloud Bed Cover even includes the slogan, "The Human Dog Bed," which couldn't really be put more accurately.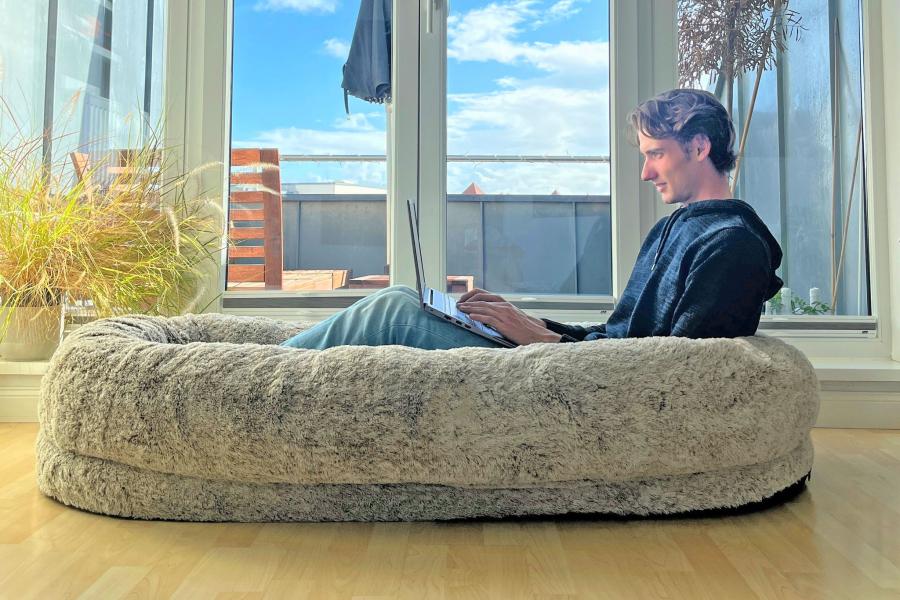 Credit: Flufel
You may remember the other human dog bed that we've posted in the past! Well, it seems the giant dog beds for human market is so big that other companies have started making them as well! Hence, the Flufel is here!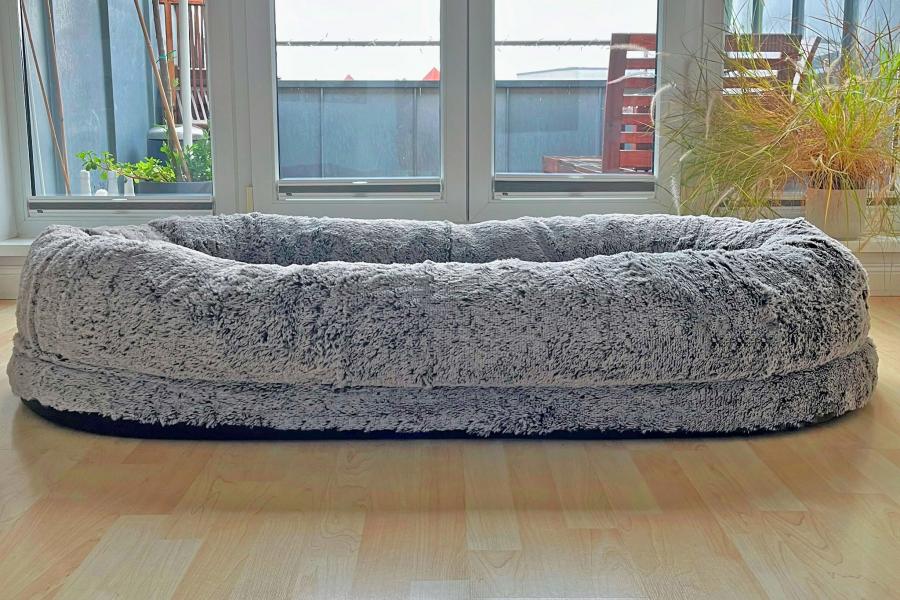 Credit: Flufel
Whether you plan to nap, read cozily at home or take it with you somewhere else, the Flufel pet bed for humans seems like an excellent option for relaxing. You can't go wrong with its soft fabric, and it may just become your new favorite spot in which to stay warm and cozy.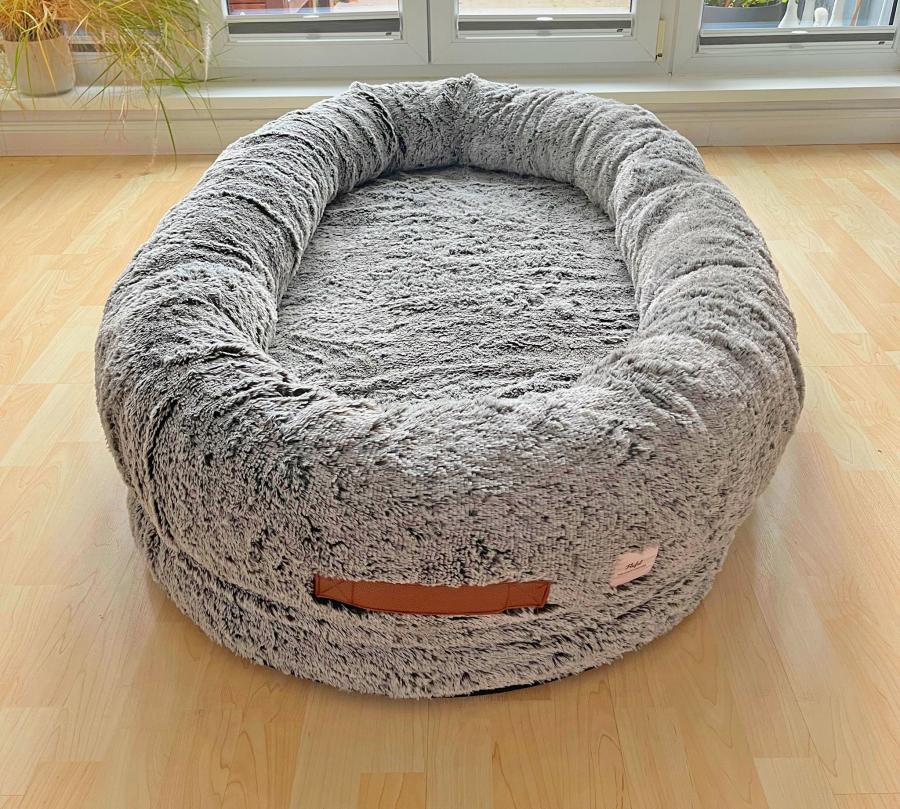 Credit: Flufel
The Cloud Bed human-sized dog bed comes in either cream beige or comfy grey colors, and the package includes the machine-washable fluff cushion, the mattress and two extra cuddle cushions. The Flufel human dog bed measures roughly 5.54 feet long by 2.98 feet wide (169cm long and 91cm wide), and it weighs right around 15.43 lbs (7kg).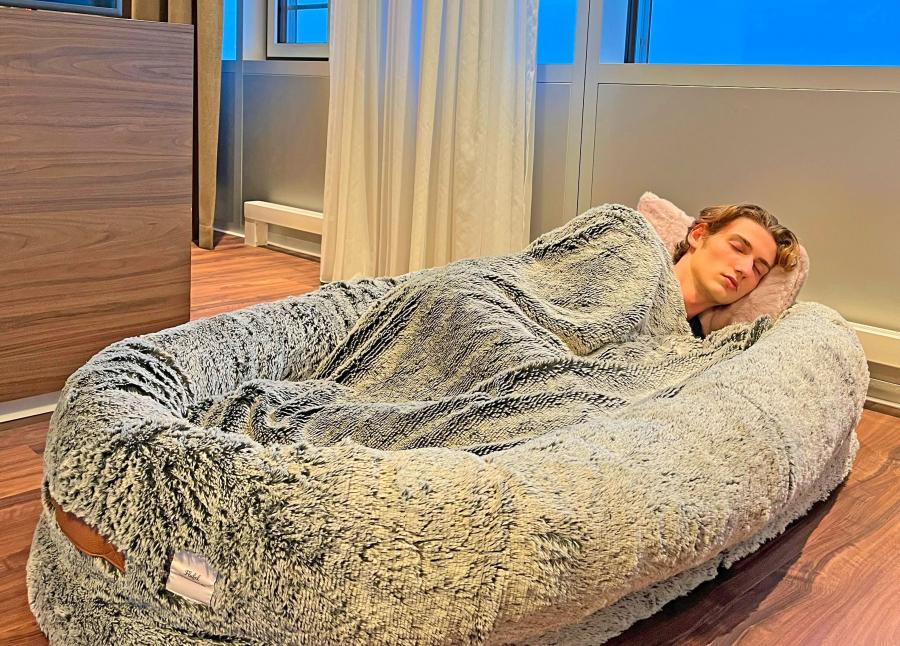 Credit: Flufel
These unique dog beds made for people are made with memory foam and orthopedic foam combination mattresses, and they include soft, comfortable plush with polyester covers.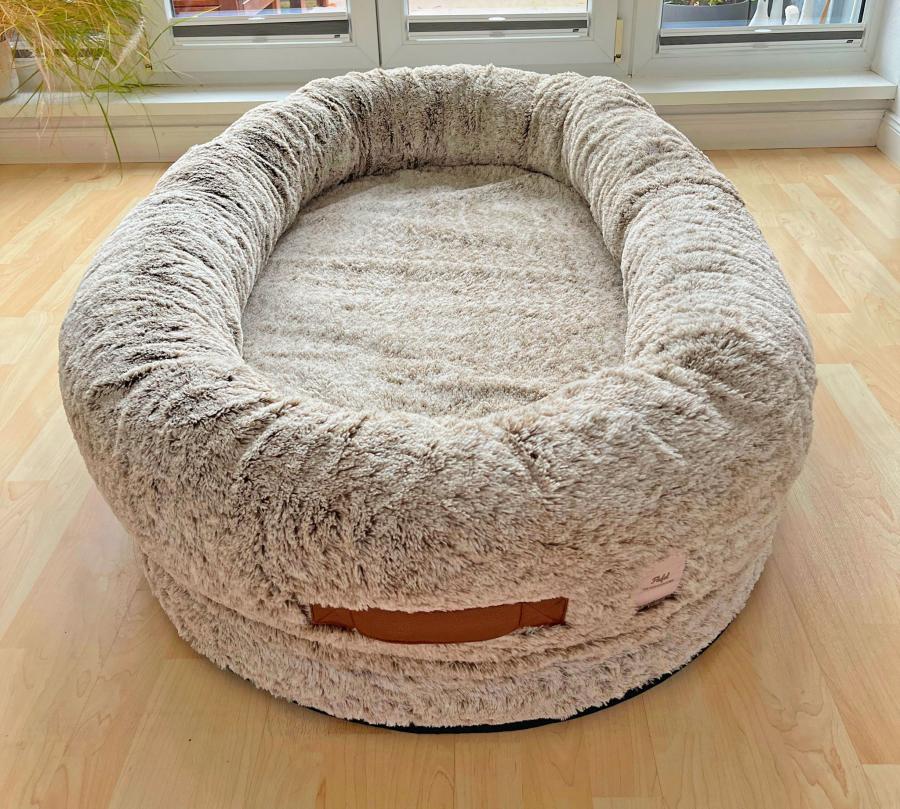 Credit: Flufel
The bottom includes a slip-resistant oxford fabric, while the bordering cushions are made from cotton and polyester taffeta. The pillow is also made from polyester taffeta and is covered in elastic wool fabric with an acrylic, polyester and spandex combo.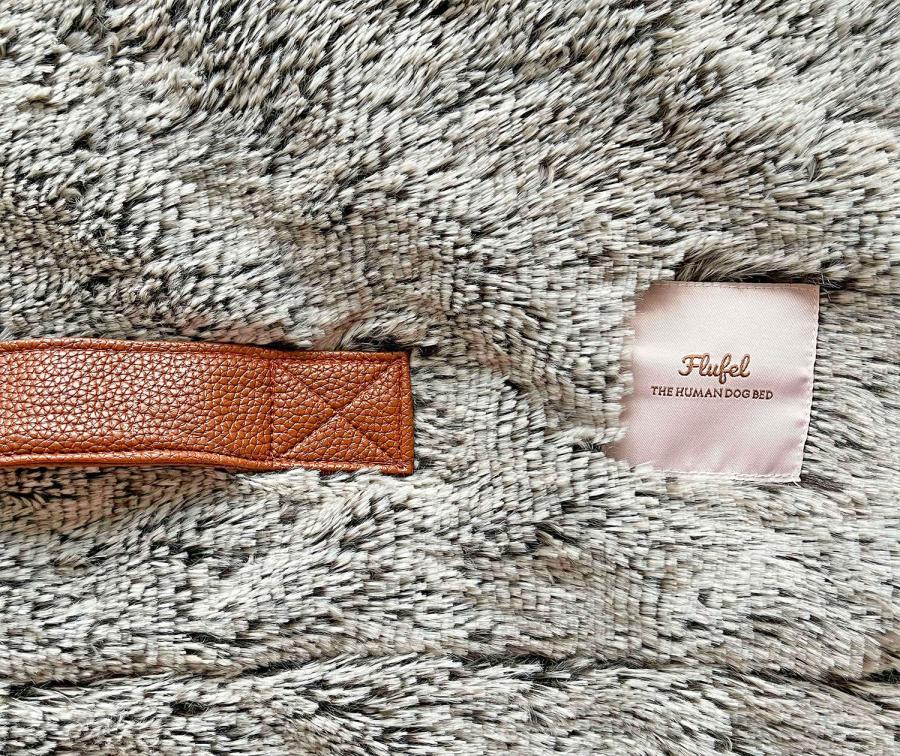 Credit: Flufel
Currently, the Flufel Cloud Bed is only available for pre-order and the first units are set to ship out in February 2023, according to the company's website. MyFlufel also says it can ship these human-sized pet beds worldwide, even including a huge list of countries where it can be delivered.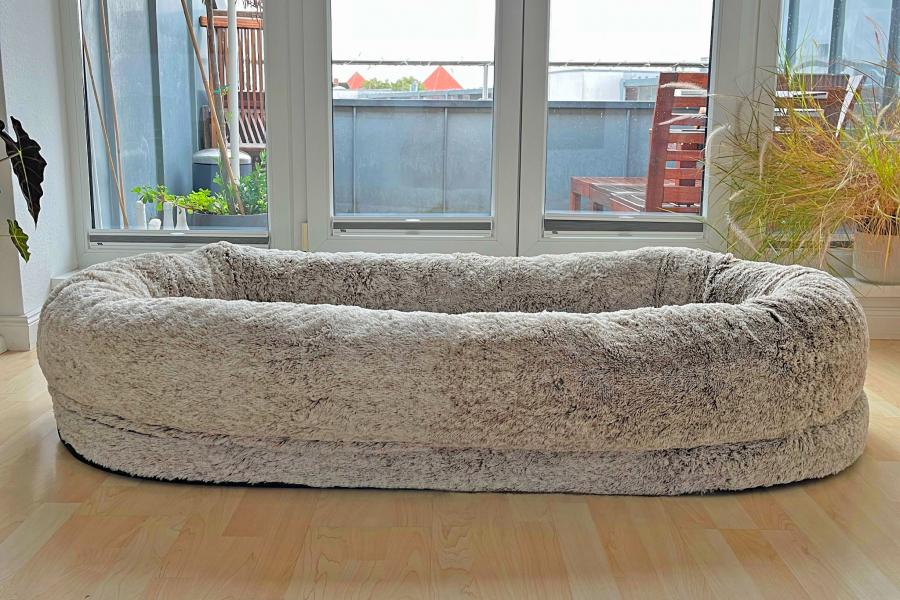 Credit: Flufel
Additionally, the company says it eventually plans to create an even larger version of the giant dog nap bed for humans in the future, after the initial product is launched. In the Flufel shop, buyers can either purchase the Cloud Bed on its own, or in a bundle with its other accessories, like the Feel Comfy Pillow, the Feel Comfy Blanket, or extra Feel Comfy Covers.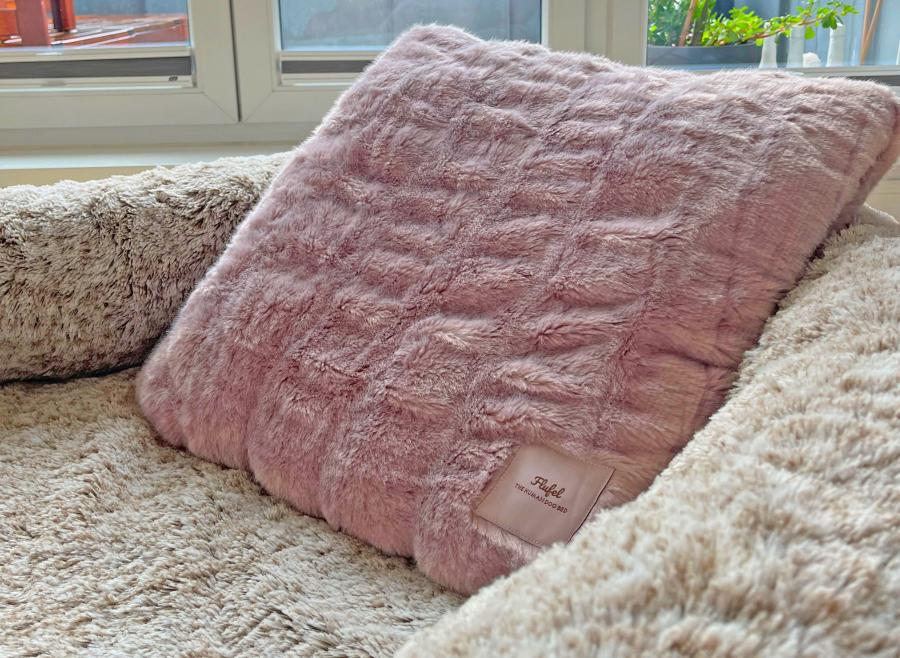 Credit: Flufel
We've featured several incredible nap items in the past, so we're qualified to say that the Flufel Cloud Bed looks super comfortable and maybe even worth the purchase. Still, if it isn't quite what you're looking for, you can check out some of our previous nap accessory features, including the Metapod sleeping bag, the giant Kirby nap pillow, the flying saucer hammock, this butt pillow or this similar concept for a giant dog bed — among many others still.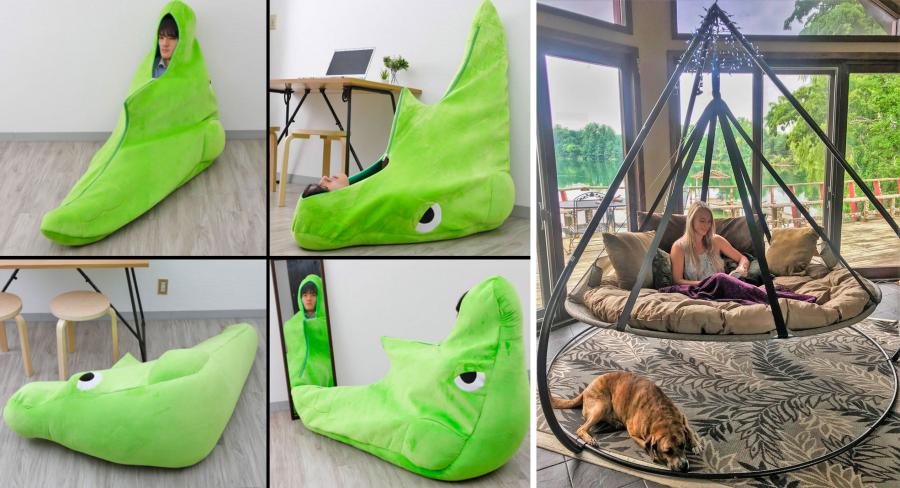 Credit: Flufel
Apparently, the Cloud Bed is also ideal for pets, despite being designed for humans. In one five-star review of the pre-order-status item, as translated from German, Andrea wrote, "The bed is very comfortable and I've been spending a lot time in it every day since I got it. My cats absolutely love it too."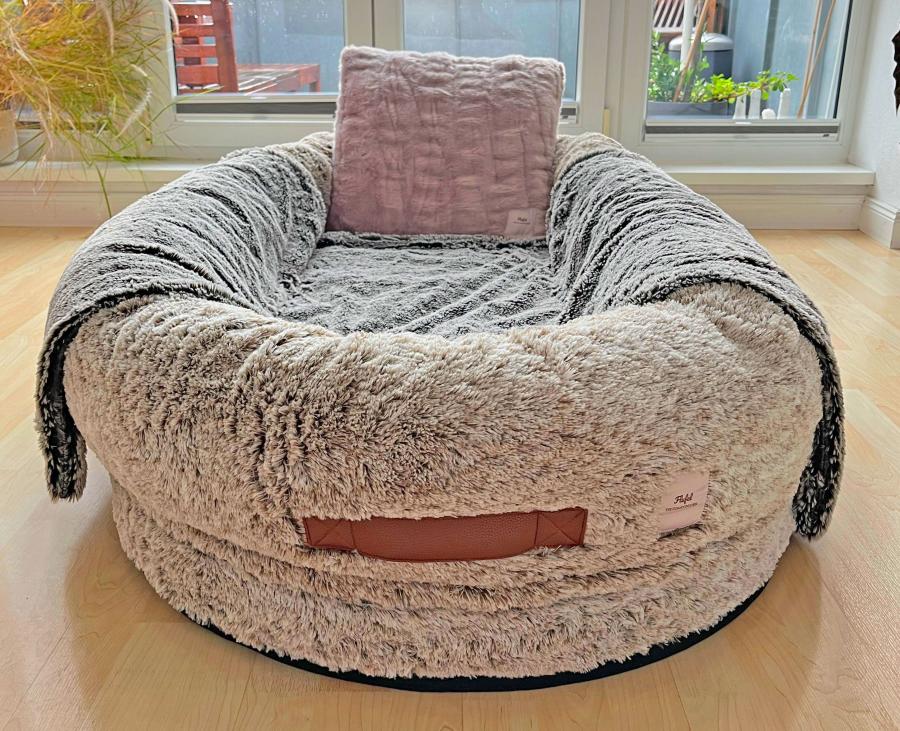 Credit: Flufel
The bottom of the human dog bed even features tons of little grippers that prevent the bed from sliding around on hardwood flooring or tile.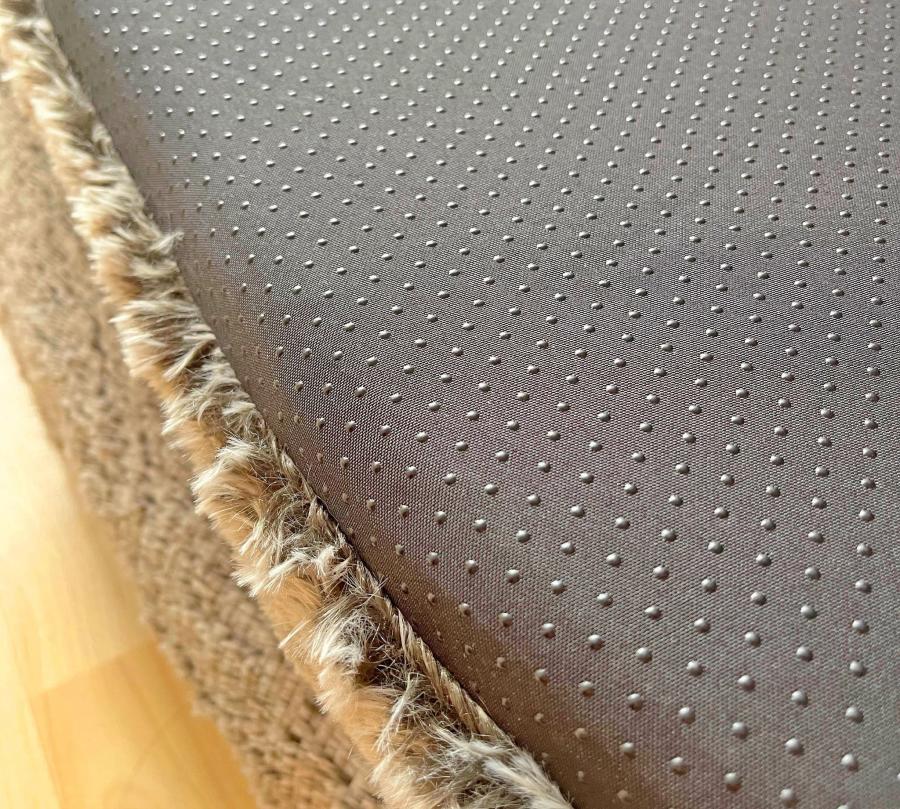 Credit: Flufel
So whether you're a nap-taker, a cozy reader or you're just looking for the most comfortable place to lay your head down once in a while, these human dog beds from Flufel might just be your best bet — and we can't wait to see the company release an even-larger version.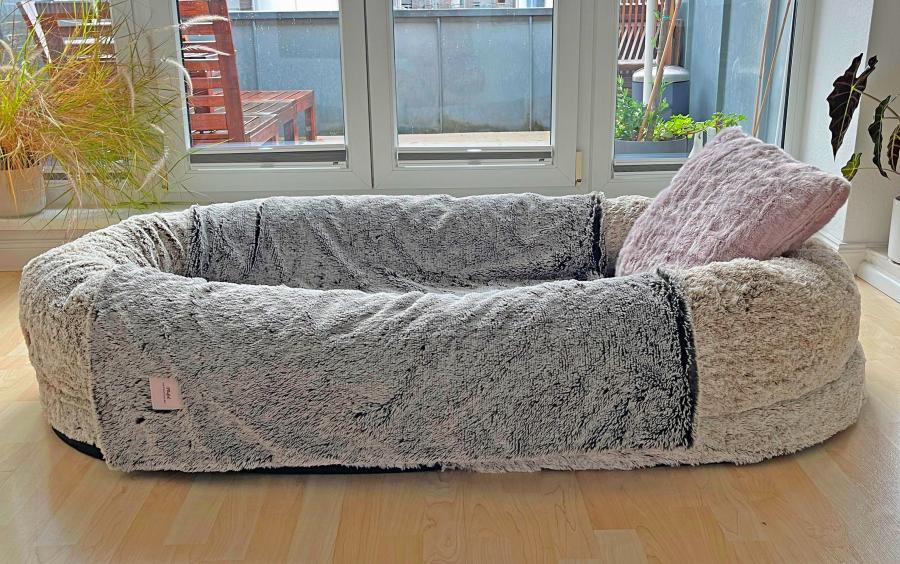 Credit: Flufel
You can pre-order the Flufel Cloud Bed, a dog bed designed for humans, directly from the company's website for around $500!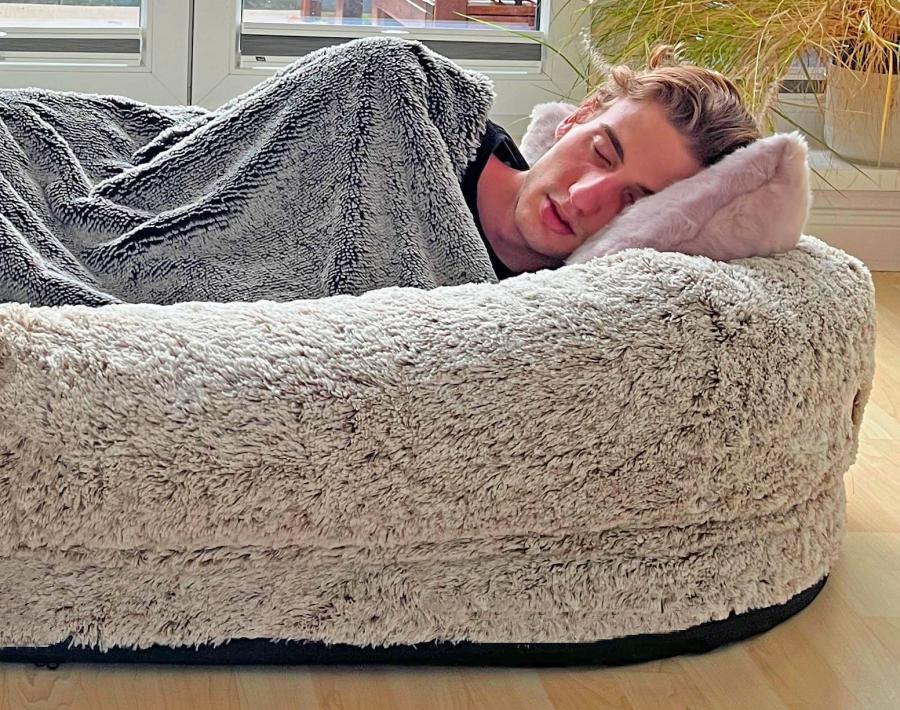 Credit: Flufel
You can also buy a bundle that comes with a comfy pillow and blanket that's perfectly sized for the human dog bed for an extra $55 bucks!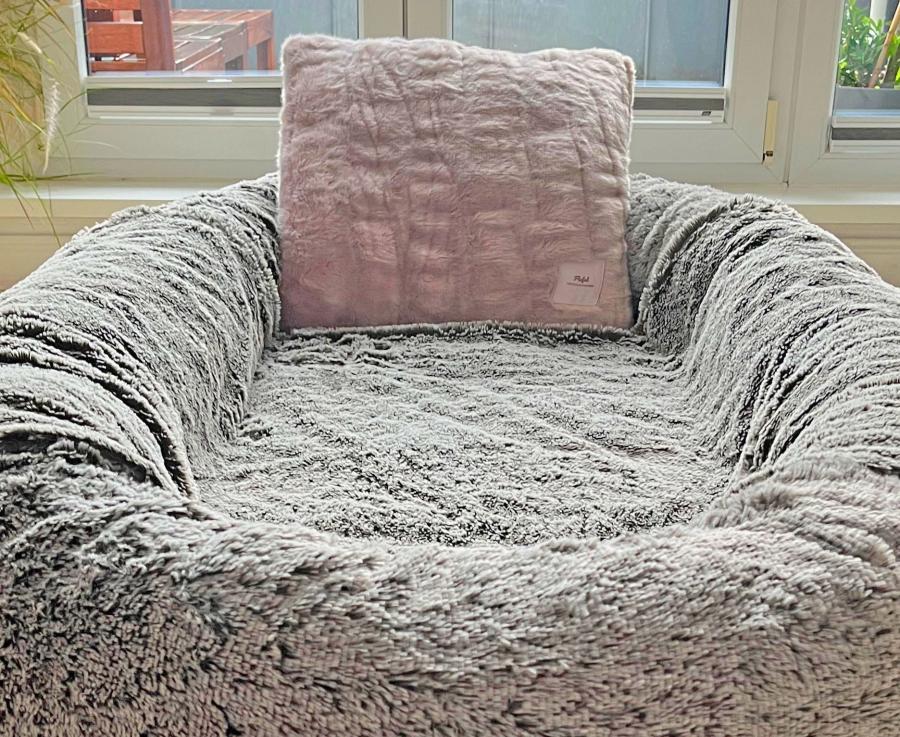 Credit: Flufel
Check out the Flufel giant dog bed for humans in action via the video below!
Subscribe To Our YouTube Channel