These 'Please Leave By 9' Party Napkins Are Here For When You Just Have To Throw a Party
By Ryan on 01/24/2023 11:32 AM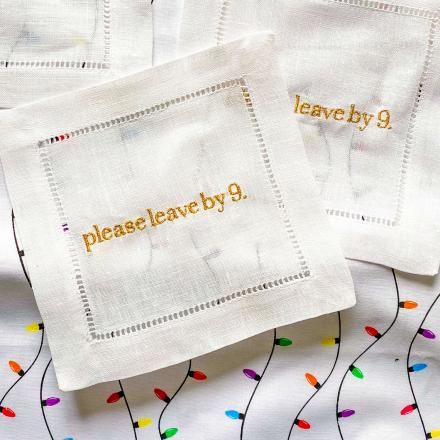 Hosting a party can be fun, especially if your guests already know how to be respectful to your place and your time. If you're a guest, being sure to throw away your trash and do your own dishes can go a long way, but most importantly, you should be sure to leave before the host starts getting tired.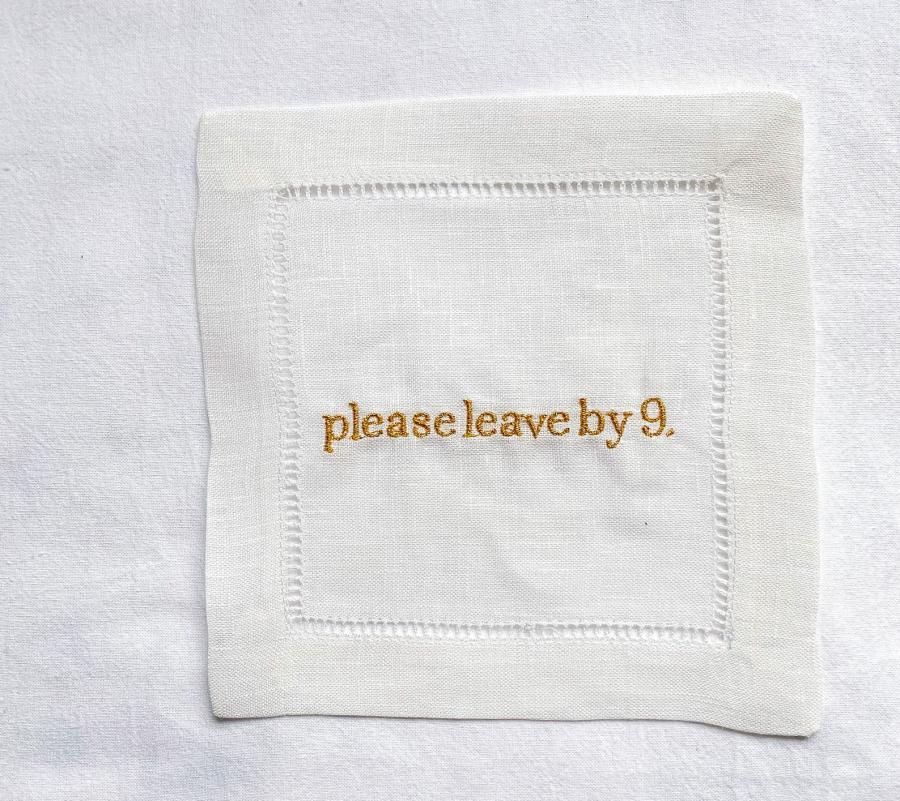 Credit: LakeLadyandCo
For those hosting, the best way to ensure you're in bed on time is, perhaps, by using these "Please Leave By 9" embroidered cotton napkins, which can be purchased from the shop LakeLadyandCo on Etsy and will surely give your guests the message you wish you could tell them directly.
No need to be coy with these sassy reusable napkins! Let your guests know through the subtle suggestion of an embroidered napkin that you value yourself and your bedtime routine. This reminder for guests will at least get a good laugh or two, but hopefully no tears or drama because you're simply trying to make it a chill evening. Either way, you'll be sure to get plenty of time to time afterward, since everyone will be leaving by 9:00.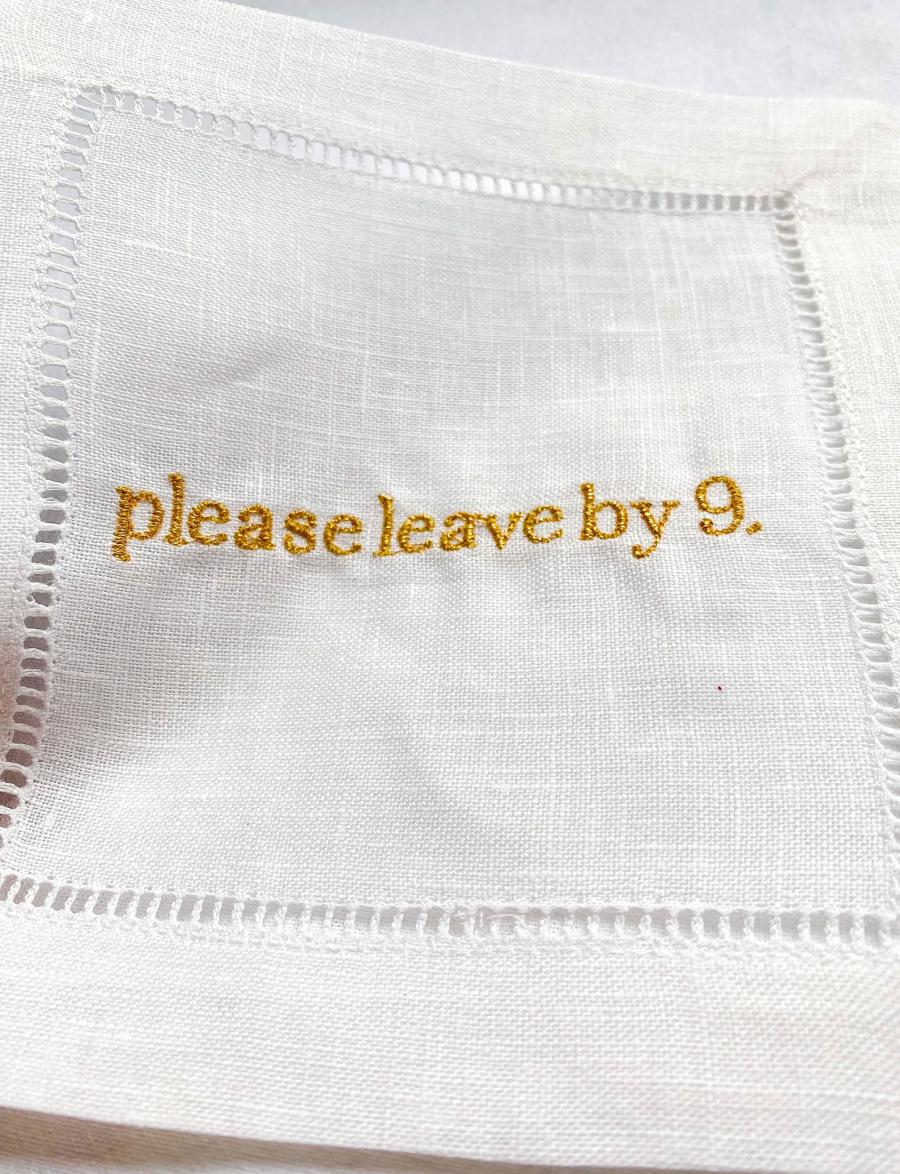 Credit: LakeLadyandCo
These adorable and sassy embroidered napkins are handmade and reusable, featuring the phrase "Please Leave By 9" message, as embroidered in the center of a border. The embroidered napkins are six inches wide and six inches long, and the shop lets buyers choose from about 45 different embroidery colors for their orders. Each purchase of the sassy embroidered cocktail napkins comes with a set of four.
The shop is run based out of Savannah, Georgia, and the owner points out that these are perfect for a number of hosting occasions, including Thanksgiving dinner, coffee, mimosas or just about any other celebration that you want to end by 9:00. The sassy embroidered handkerchiefs simply include an embroidered border of about one inch, along with the embroidered text which appears in the cocktail napkin's center. Credit: LakeLadyandCo
The fabric comes pre-shrunk, and it's recommended that these be washed on cold and dried on low-medium heat. LakeLadyandCo also notes that they may shrink a tiny bit more. Additionally, the shop encourages custom orders and says that customers wanting a specific fabric or vision should simply message the shop, and they'll be happy to try and accommodate. It also says they're happy to talk about wholesale opportunities, so if you're looking to buy in bulk, let them know.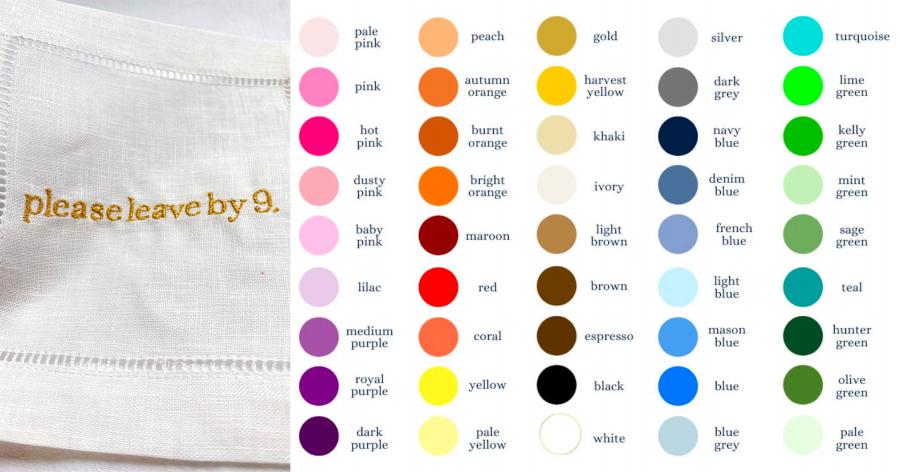 Credit: LakeLadyandCo
The embroidered handkerchiefs are well-liked by buyers, and the shop has an average of five stars on all purchases, with 66 sales at the time of writing. One buyer, Rachel, left a five-star review of the embroidered "Please Leave By 9" napkins, saying, "Loved them! Will look very cute on my bar! Thank you!"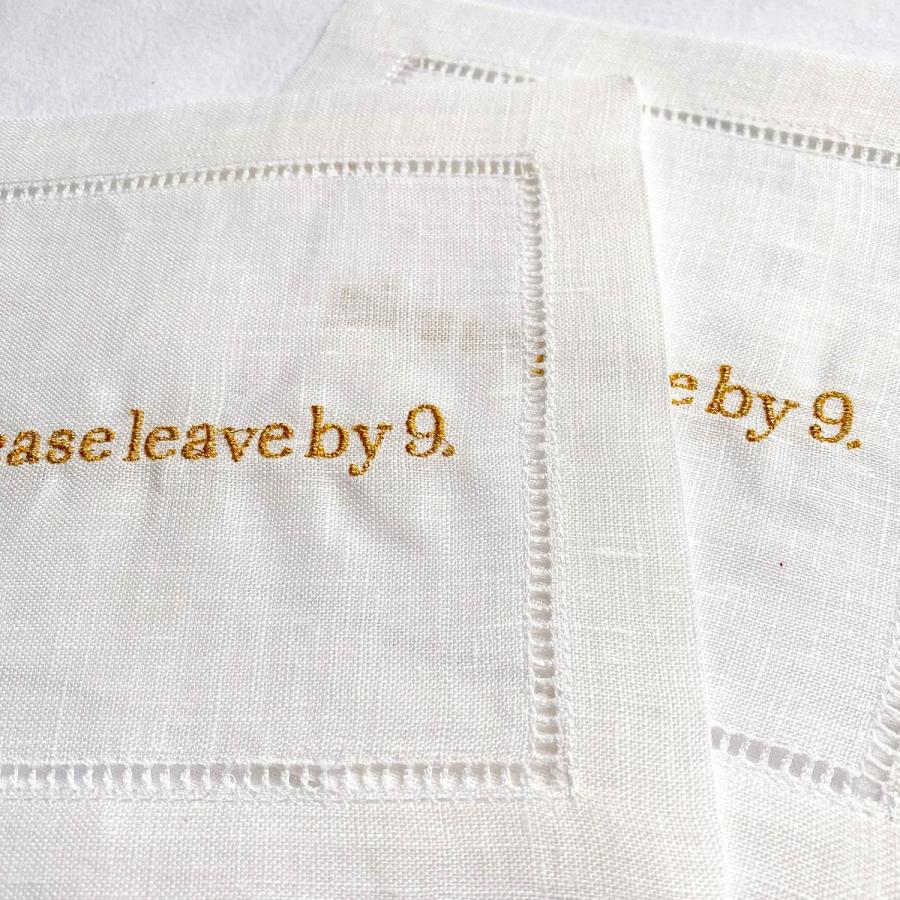 Credit: LakeLadyandCo
The custom embroidered napkins are shipped for free, directly from the shop in Savannah, Georgia, and according to the Etsy delivery estimate, they can take between 5 and 16 days to arrive from the date of purchase. Exchanges and returns are accepted by this shop, so long as they're made within the 21-day return window.
Other items that could join the sassy cocktail napkins in taking your party to the next level include this giant moscow mule mug, this wall-mouned truck tailgate bar, these attention grabbing mushroom glasses or this turkey-shaped shot tray if you are celebrating Thanksgiving.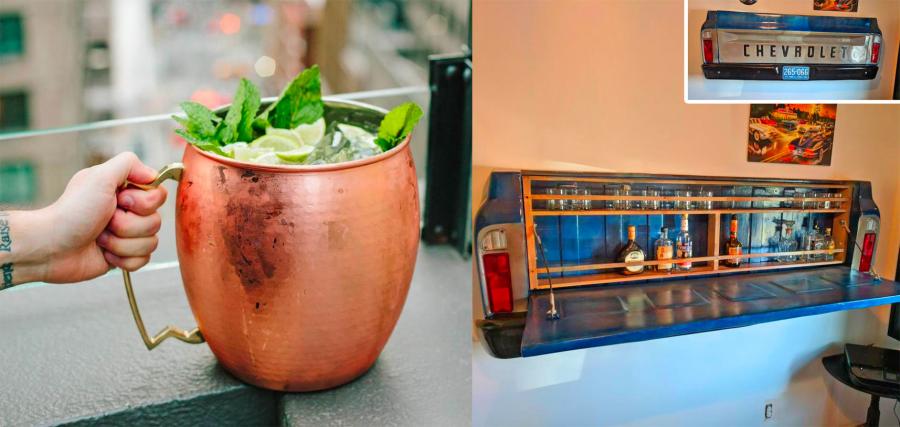 So no matter what party you're looking to host, whether it's a wedding, holiday party, book club or something else entirely, these sassy embroidered cocktail napkins may just be your best bet for getting to bed on time. And at the very least, your guests will probably get a kick out of your honesty — even if it's so indirect you're putting it on a napkin.
You can buy a set of four of these embroidered "Please Leave By 9" sassy napkins on Etsy for around $40 bucks. Credit: LakeLadyandCo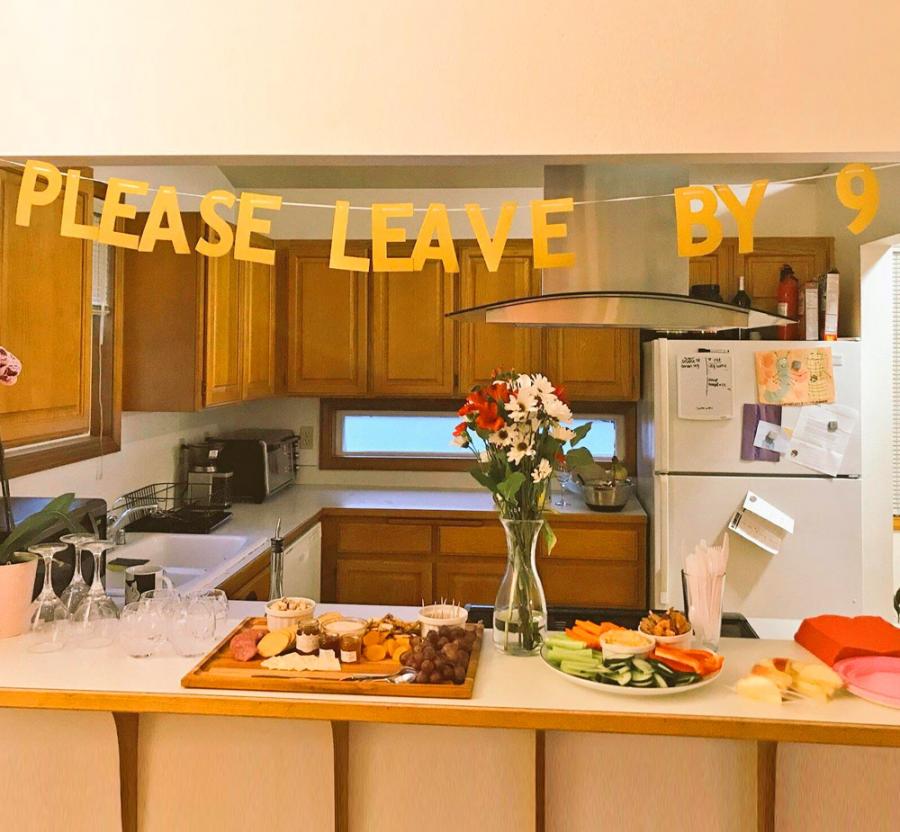 Source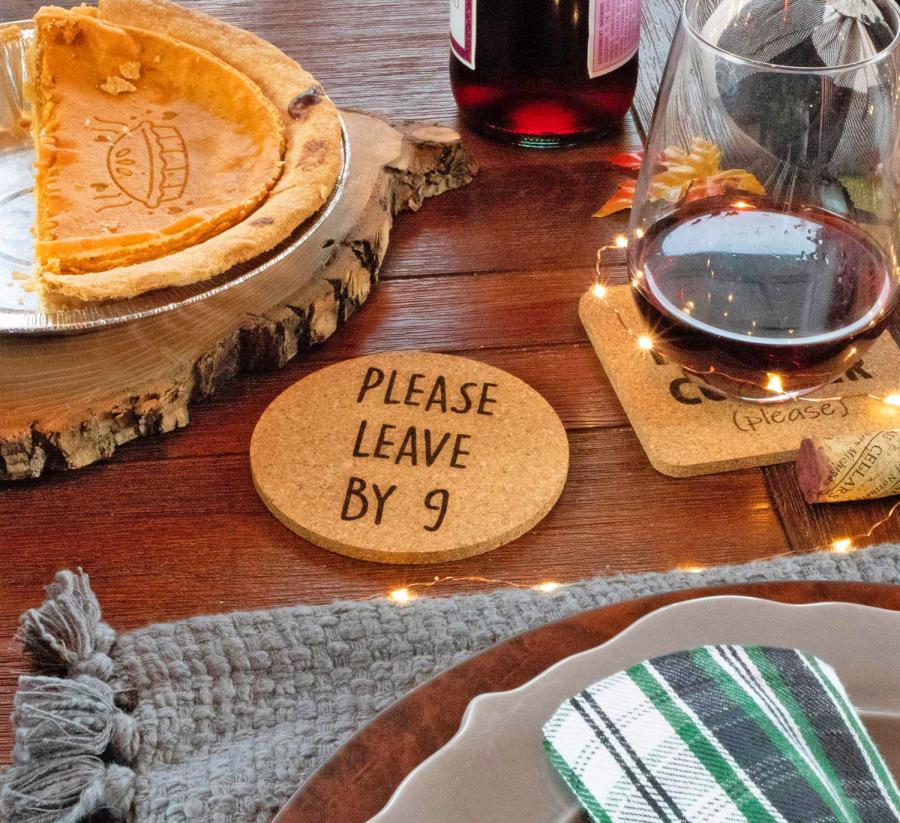 Source