Please Leave By 9 Coasters
By Ryan on 07/20/2021 9:57 AM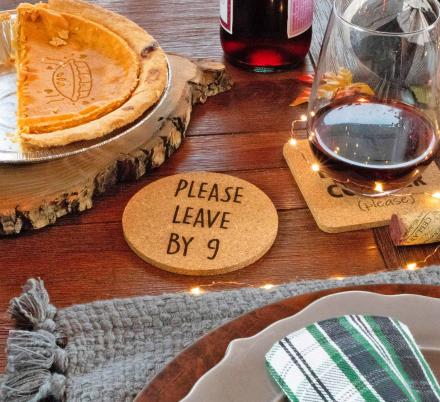 We all have that friend who leaves rings on your coffee table every time they come over for a drink or coffee. The concept of time also never seems to apply to them and they will overdo or overstay their welcome at your house. How about an ironic timepiece that will keep them at bay whenever they are over at your house. A beautiful handmade coaster to protect your furniture and remind them when the time to go is!!

Versions: Coasters | Party Banner
This coaster is made from cork and has the words 'Please Leave By 9' engrained in them. The engraving is permanent so it won't come off no matter what. Cork as a material is lightweight and super absorbent, you couldn't ask for a better material for this coaster. Glasses look good on top of the coaster, especially with that contrasting color.
There are two options for this handmade coaster, a square or a round one. The square coaster measures 4"x 4" with rounded corners while the round one has a diameter of 4", both are 3/16" thick. They are really nice looking and the size plus thickness is perfect, not to mention the well-rounded edges. The artisans really took their time on this one and the good quality is there for all to see.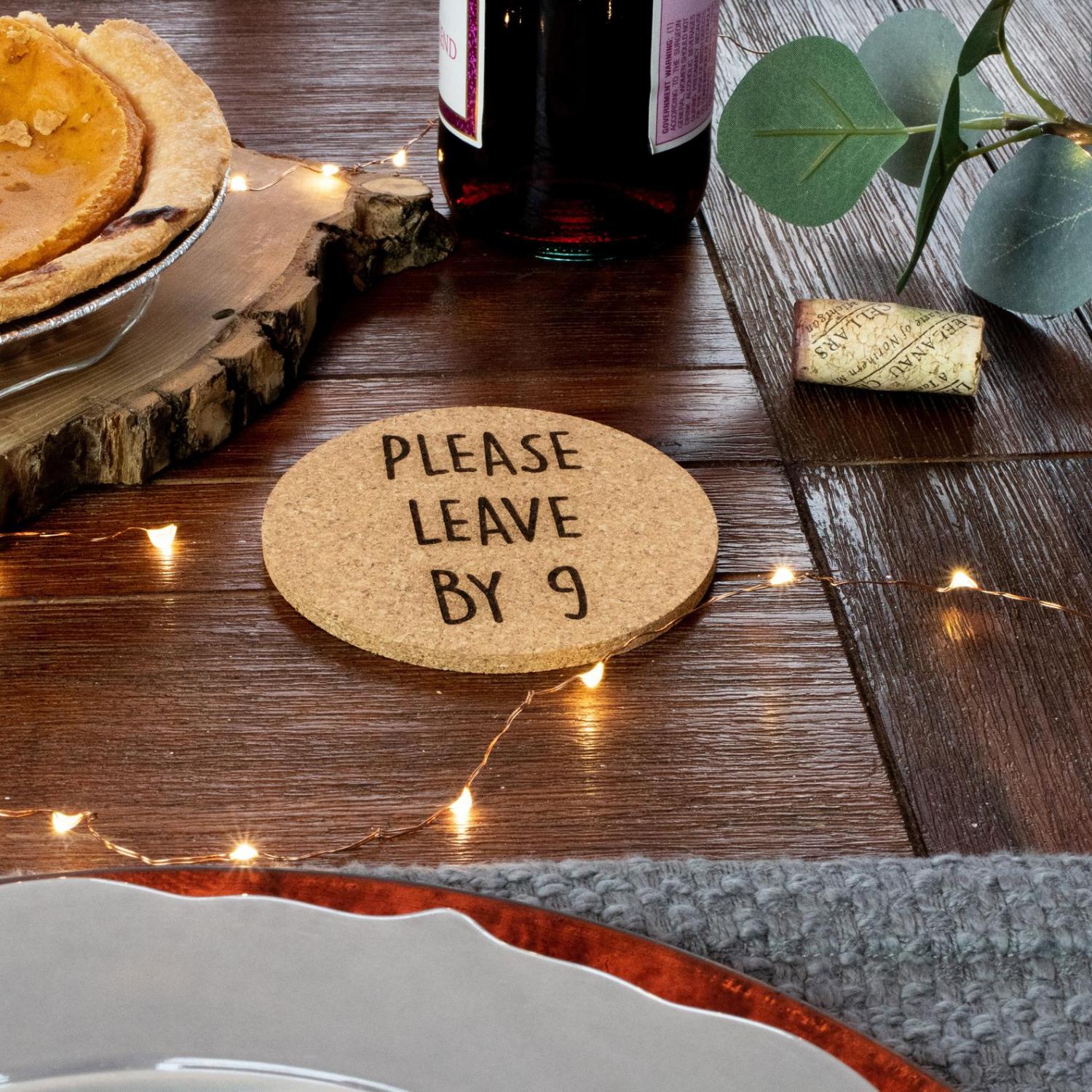 Everyone loves a personalized gift, and as one, this handmade coaster ticks all the right boxes. It's unique, sentimental, and eco-friendly too. It's the perfect gift for a housewarming, birthdays, father's day, mother's day, valentines, you name it. Think of any personal event and this wonderful craft fits the bill. The choice of words is sarcastic in a good way and will serve as a welcome reminder to the guests who visit you, who can take such levels of sarcasm.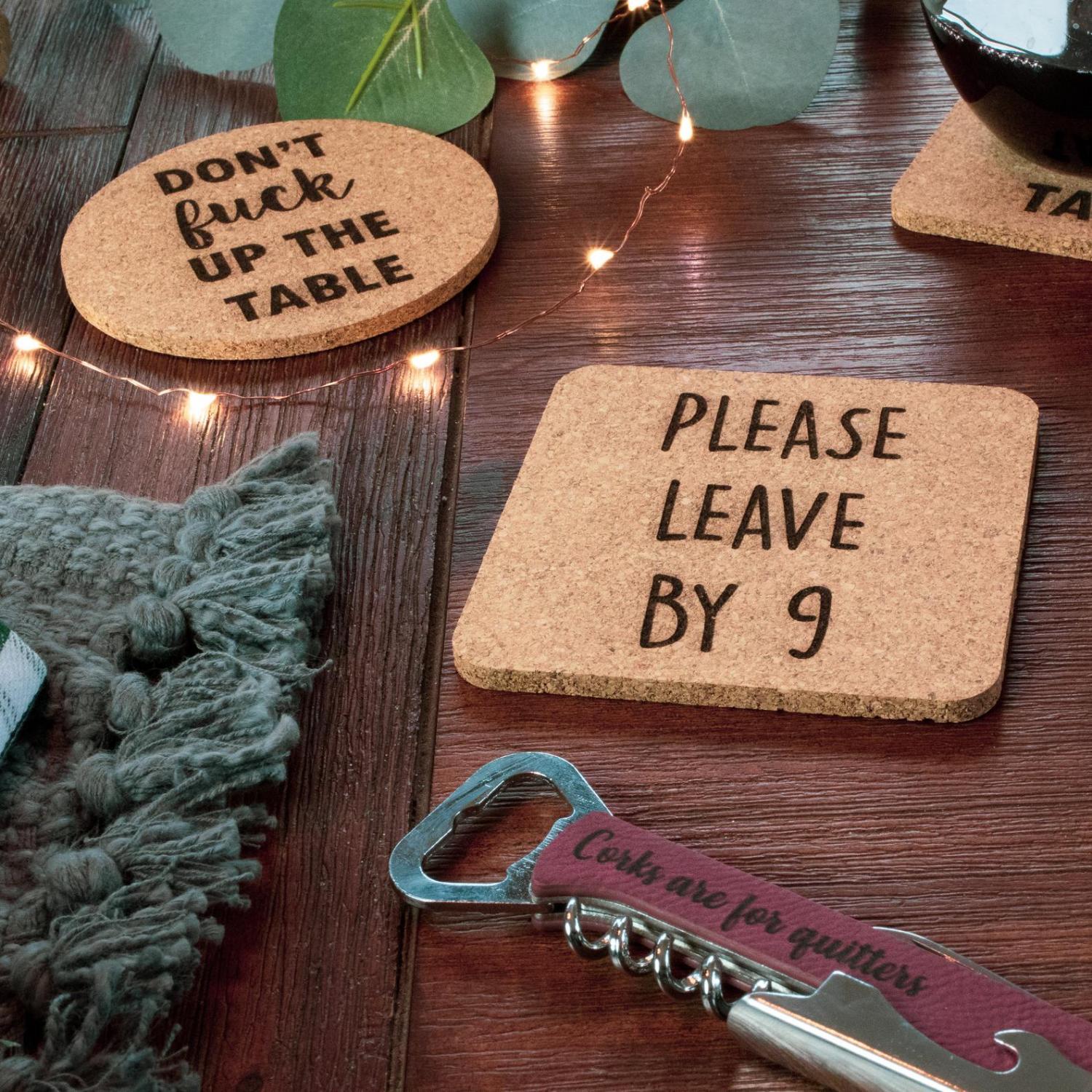 Whether you want them for yourself or for gifting someone, these coasters are of great quality. Your furniture will not be getting bruises from glasses for a very long time. With a good shape and well-rounded edges, the glass will sit well on this coaster without the chance of spilling. This is a good buy for people who love coasters or anything of quality that is handmade. There is a bulk pricing discount if you need more than 5 sets of the coasters. Contact for the bulk pricing.
The Please Leave By 9 Coasters are made entirely from cork, and are permanently engraved with text!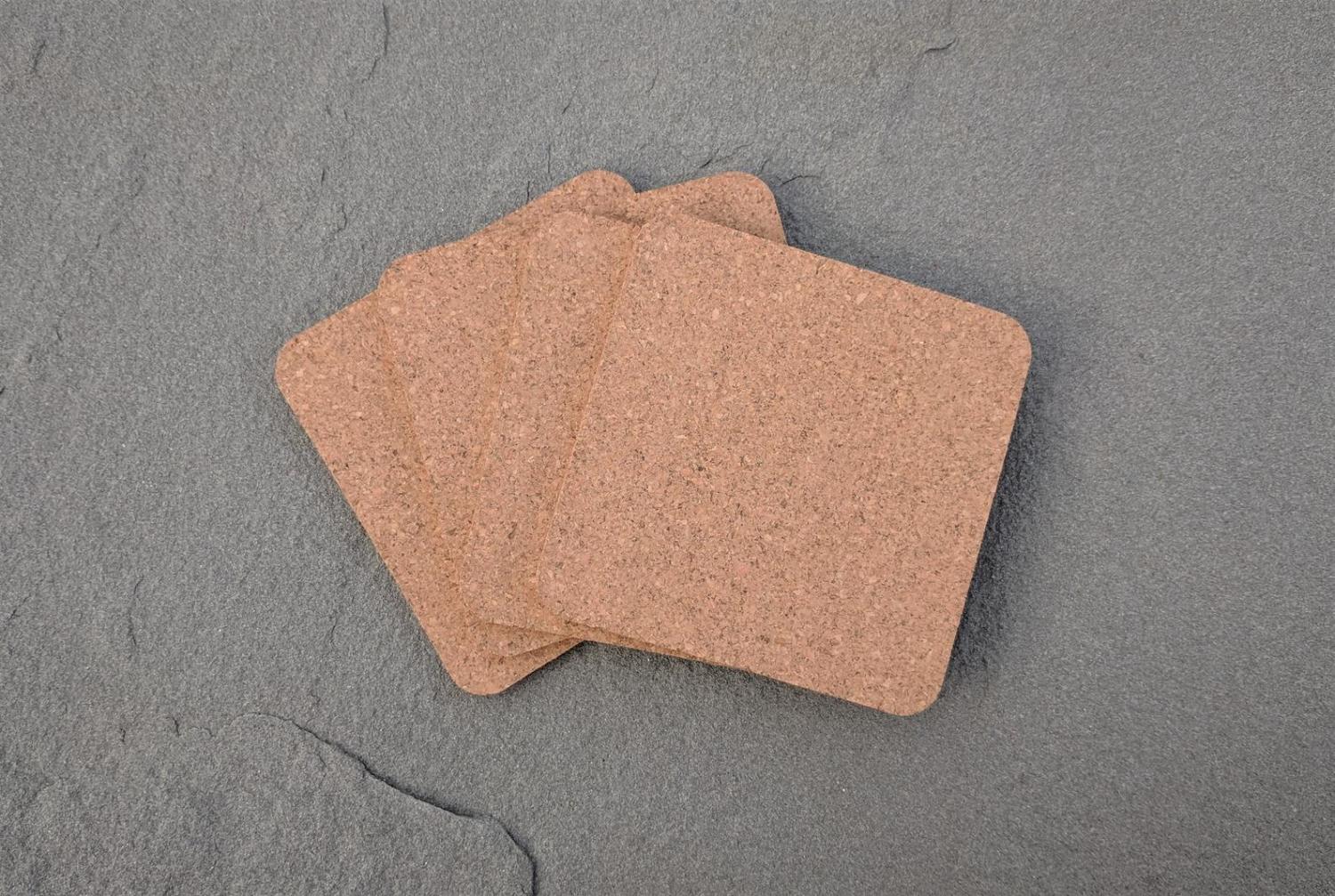 One of the biggest lessons we have learned from this pandemic is the need to support small businesses. They are the ones who continue serving our communities even when the going gets tough. Your purchase will go a long way in helping a small business grow stronger and shine a light on the promise that better days are coming. Thank you for supporting a small business.
The Please Leave By 9 Coasters come in either square or circular shapes to choose from!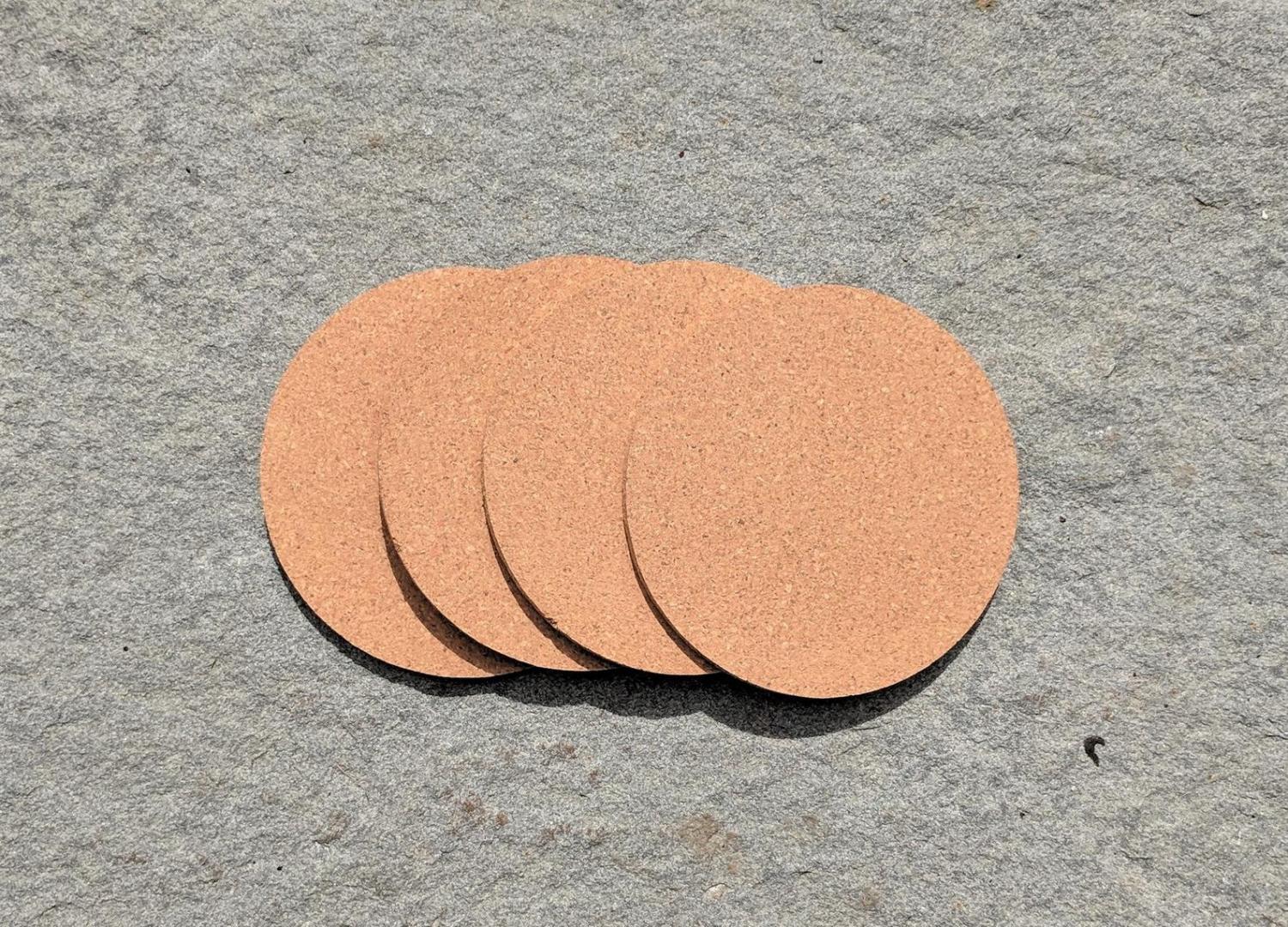 The funny please leave by 9 coasters make a perfect gift idea for weddings, showers, birthdays, anniversaries, Christmas gifts, housewarming gifts, Valentines Day, Mother's Day, Father's Day, and more!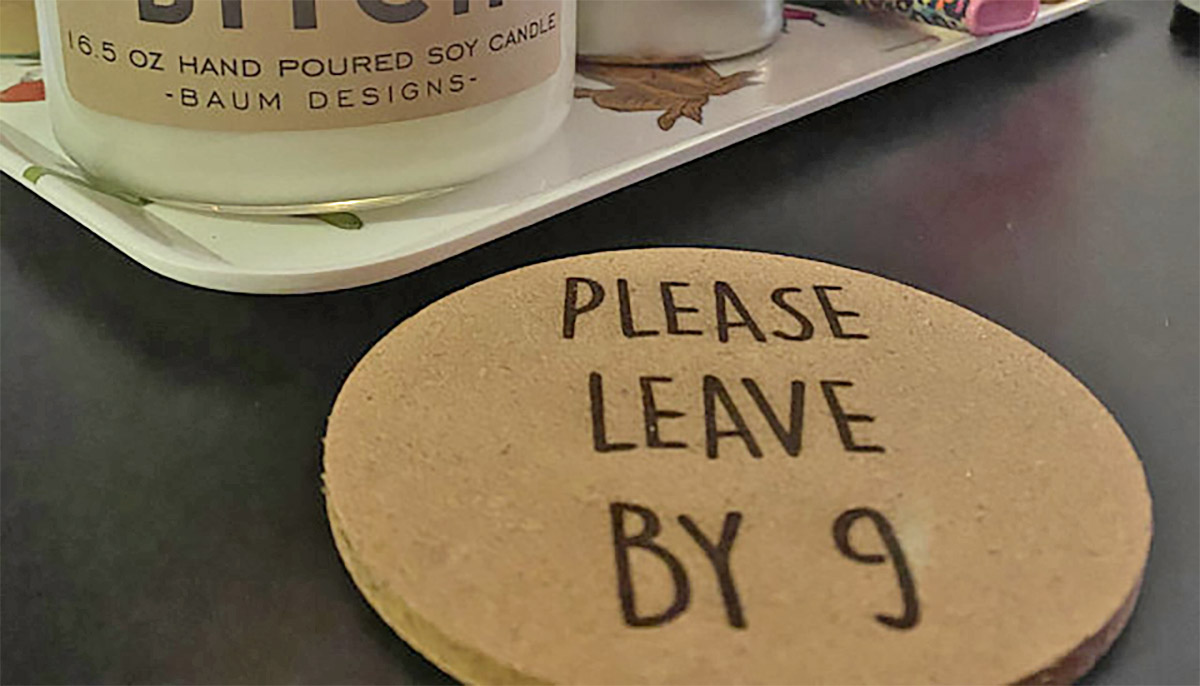 The same store offers this other hilarious set of coasters that read: "Respect My Wood"!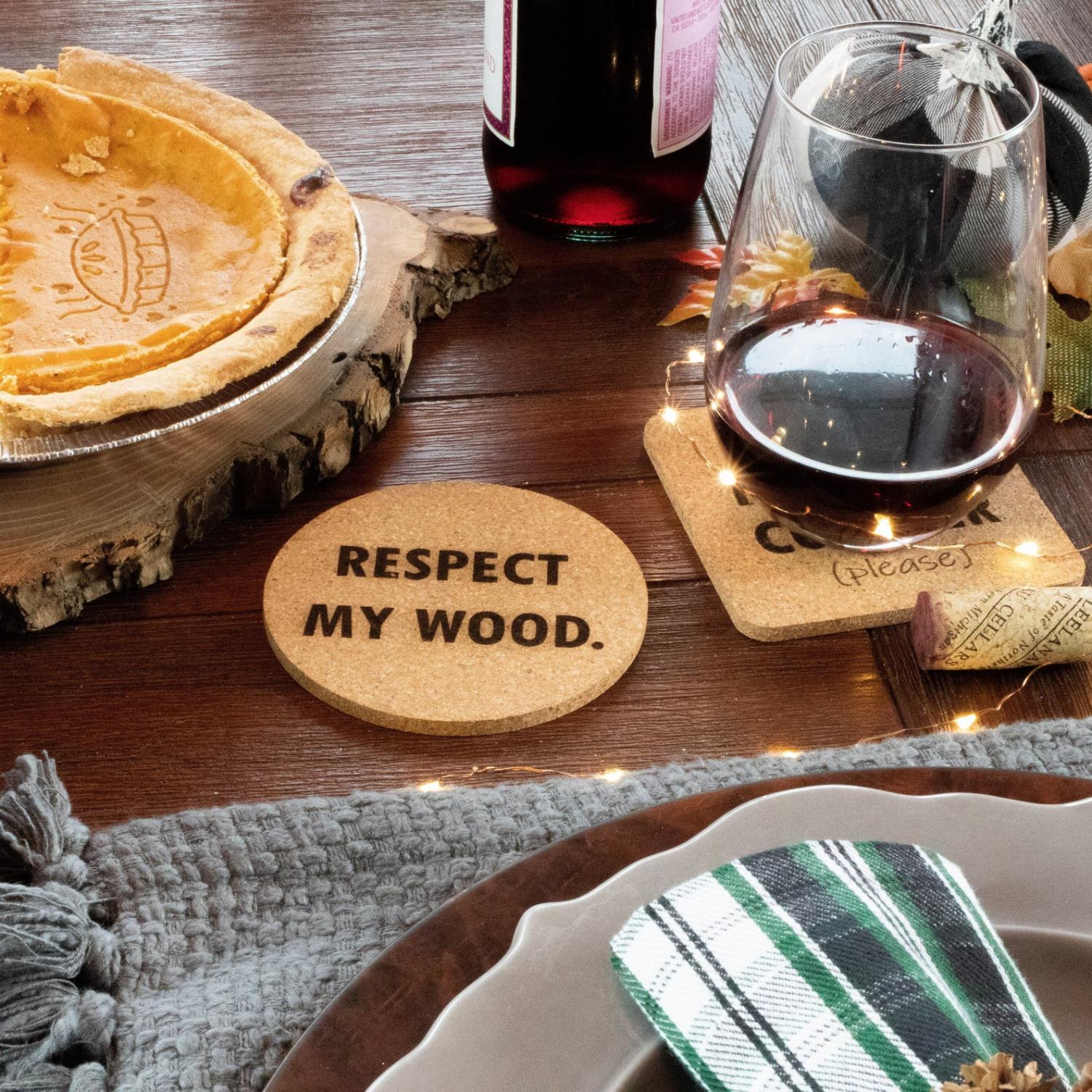 Get this one here
The cork used for the funny coasters are super absorbent, and will prevent any water stains from getting on your wooden tables!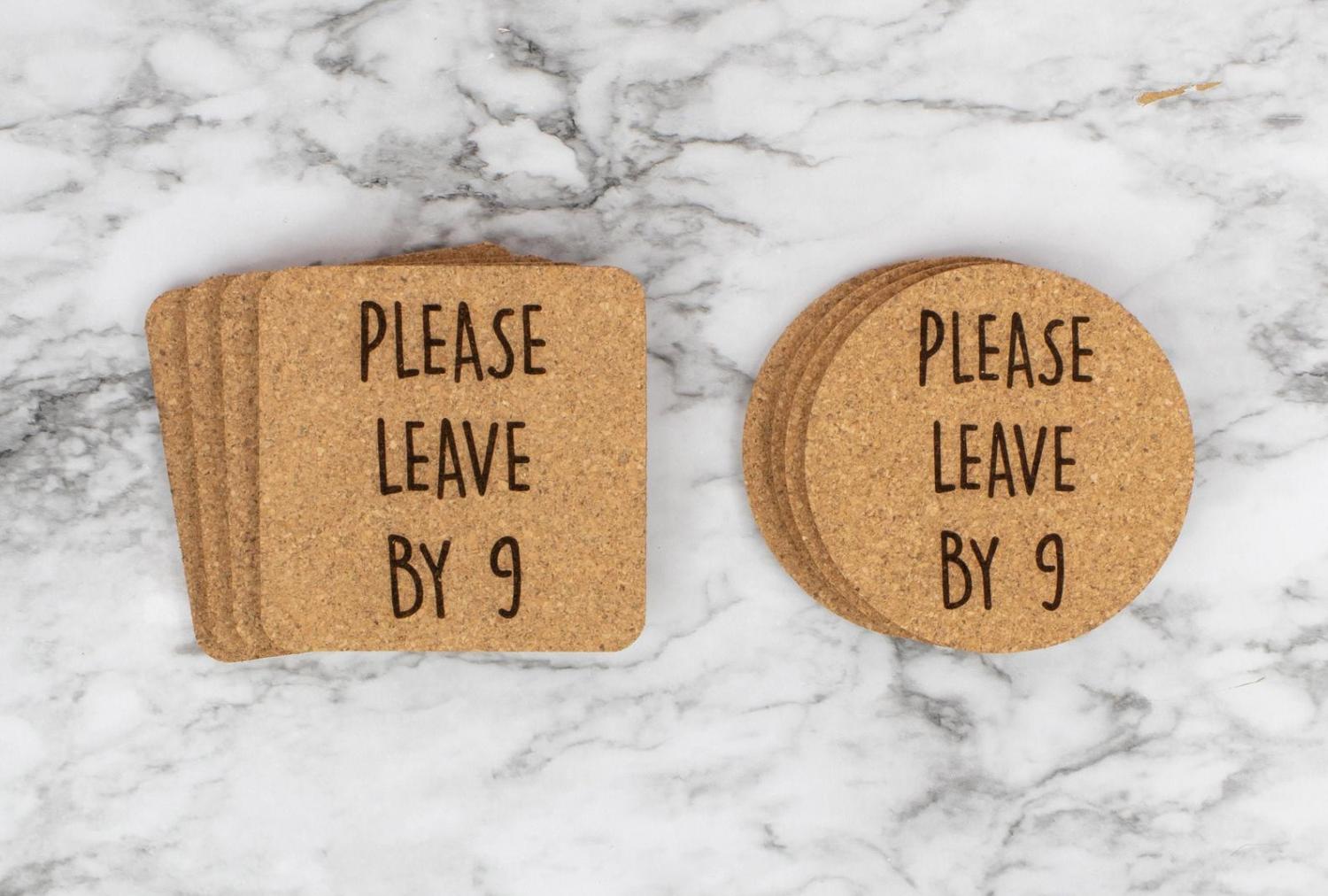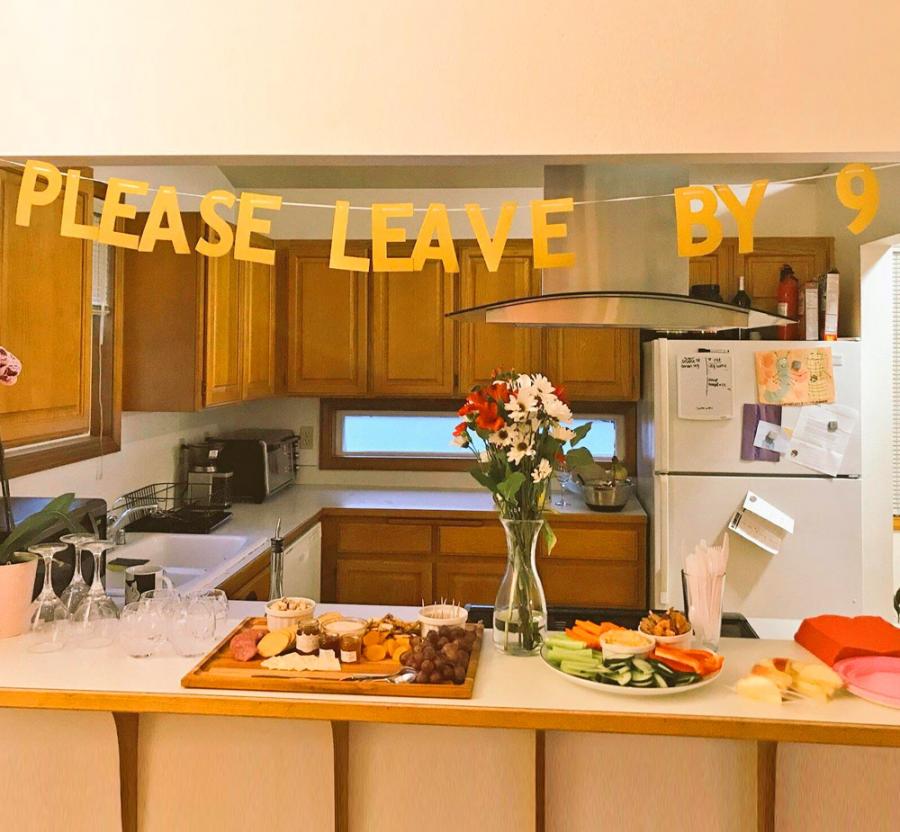 Get this one here