This Amazing Lifting Coffee Table Has 3 Hidden Ottomans And Doubles as a Desk
By Ryan on 01/10/2022 4:30 PM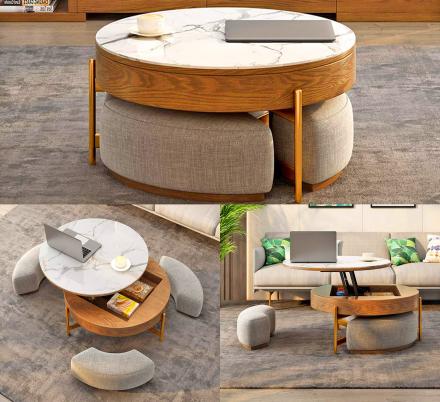 There's really nothing we love more than a product that not only has incredible space-saving design, but also serves multiple purposes. That's why we already posted about the stow-away exercise bike armchair, the ultimate bed, these incredible transforming furniture ideas, this shelf that turns into a table, and plenty more. This time around it's a rising coffee table that hides three ottomans right underneath it, plus the surface of the table rises up to easily eat a meal or work on a laptop more comfortably.
Not only does the unique coffee table hide three super comfy ottomans right underneath when they're not in use, but when you raise the surface of the table up, it also reveals a secret storage spot for placing a tablet, magazines, books, kids toys, TV remotes, and more. It's perfect for keeping a nice, tidy and uncluttered coffee table when it's not in use.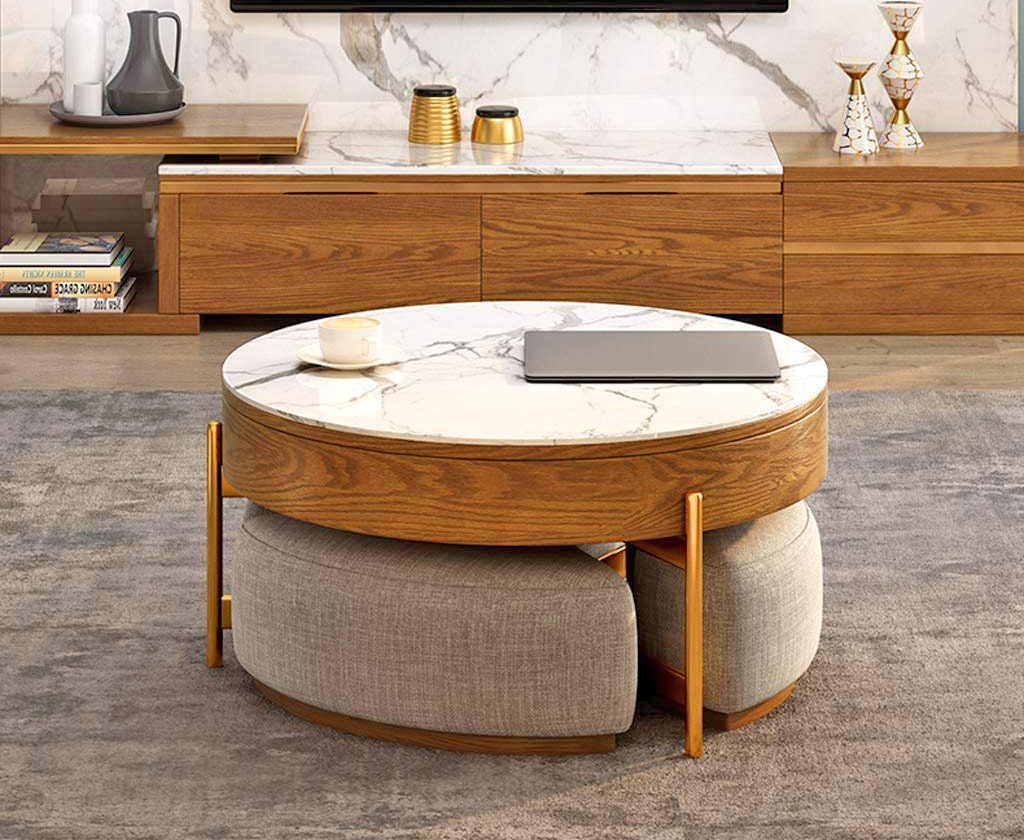 It's called the Creative Round Coffee Table and Liftable Desk and it's made and sold by Chaji. You can get the table in two different versions, with or without the ottomans that hide under the table. If you opt to not have the ottomans you'll save a few hundred bucks, but in our opinion, the hidden ottomans underneath the coffee table are what makes this unique piece of furniture so great!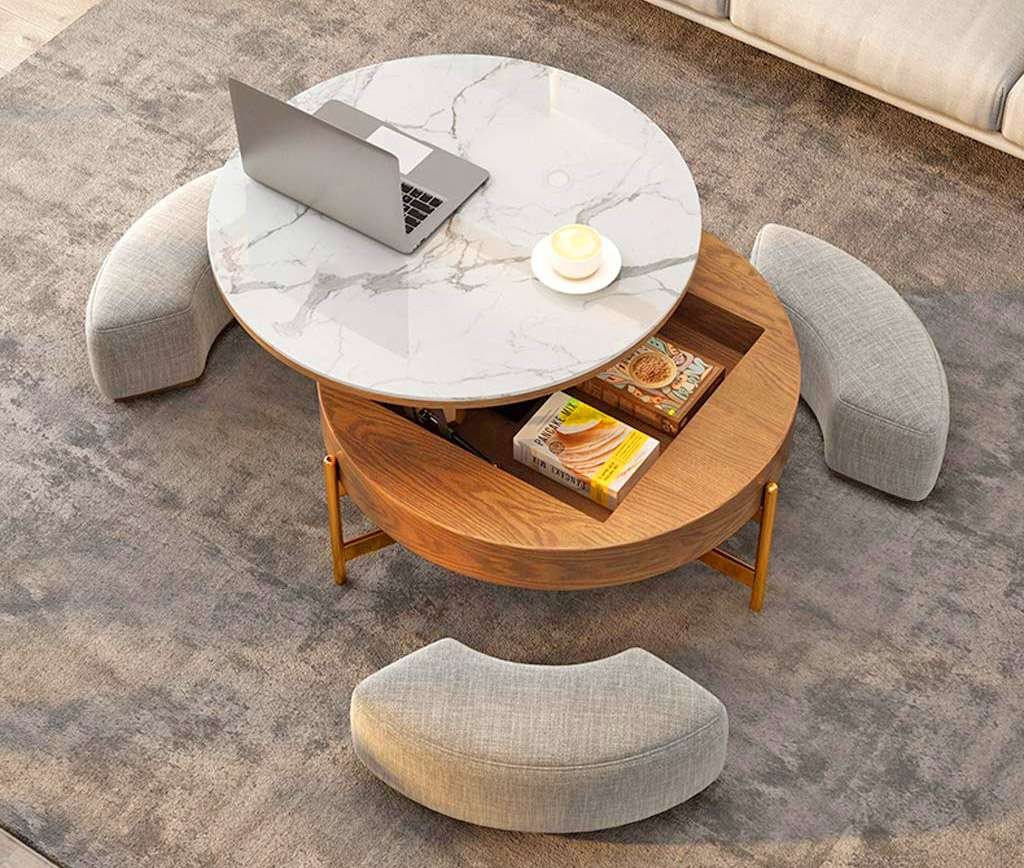 The liftable coffee table is a perfect space-saving piece that can be used as both a coffee table and a desk to get some work done on. Plus you can roll out the ottomans to relax after working, or have extra seating for when you have guests on as they can also work as benches/stools. It's a great way to add extra decor and functionality to your living room without taking up a lot of space.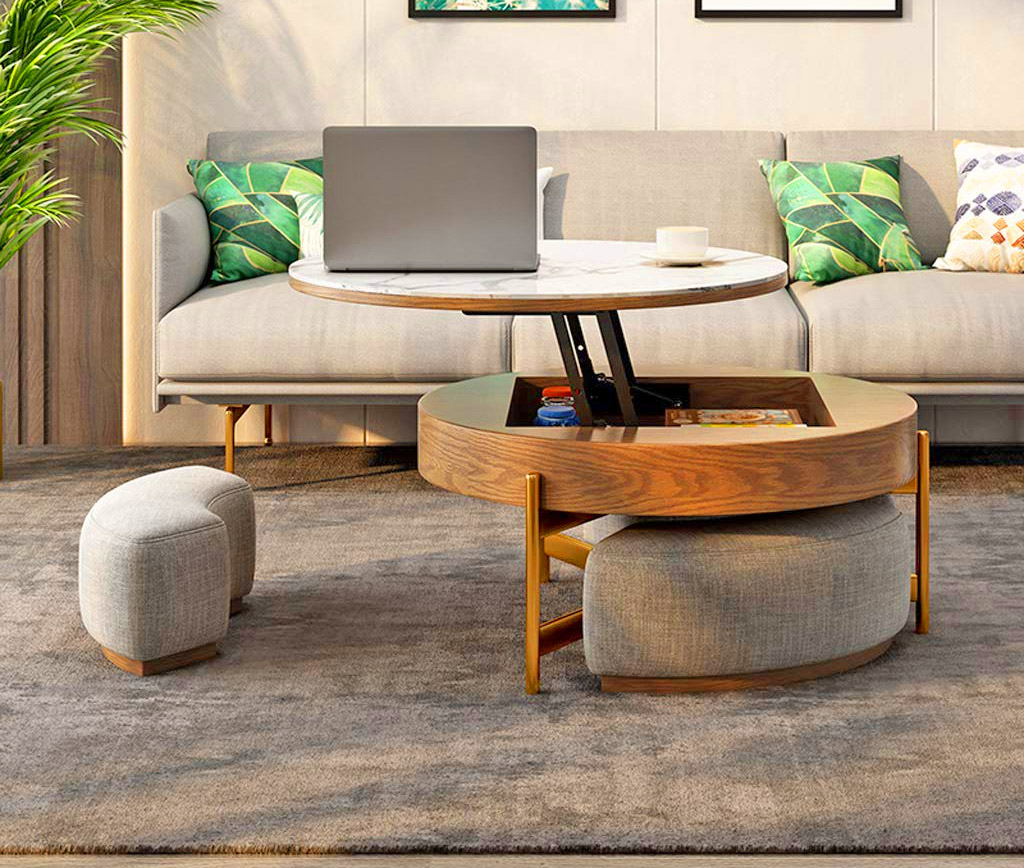 The liftable surface to the table is made from high-quality tempered glass, the base frame is made from high quality carbon steel, while the middle storage space area is made from wood. The unique coffee table will come unassembled upon delivery, so you will need to put it together once it arrives.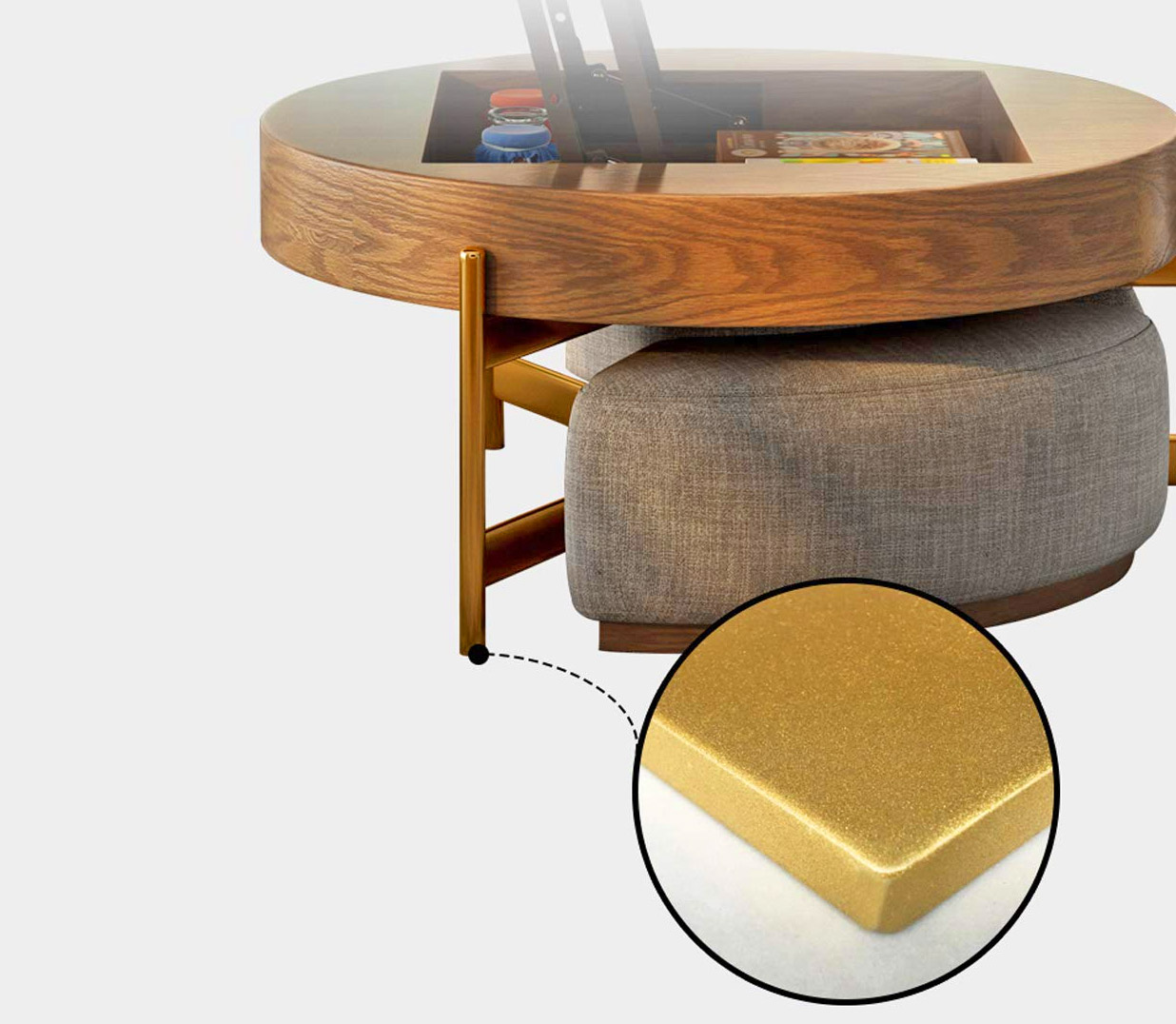 The unique coffee table comes with 3 padded ottomans that fit perfectly under the base of the table, and in total the table measures 31.5 inches in diameter x 18.5 inches tall.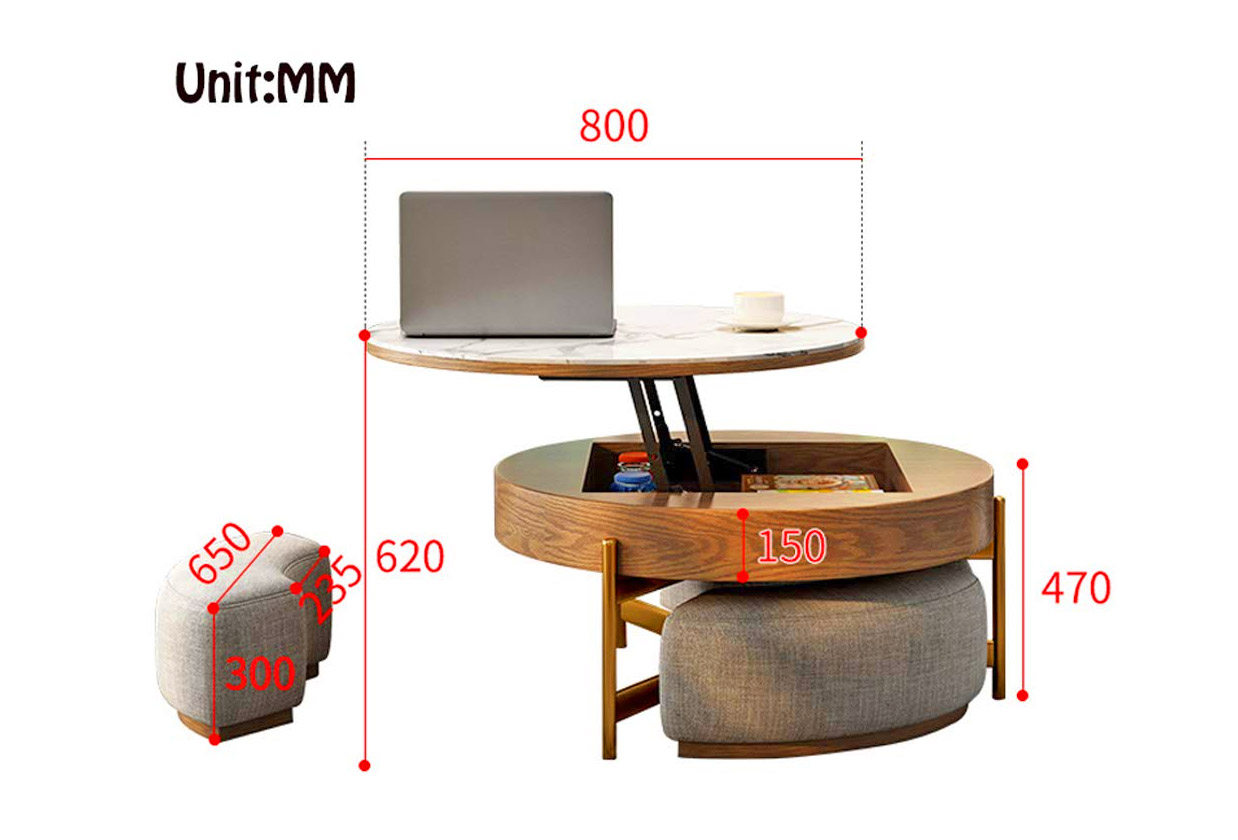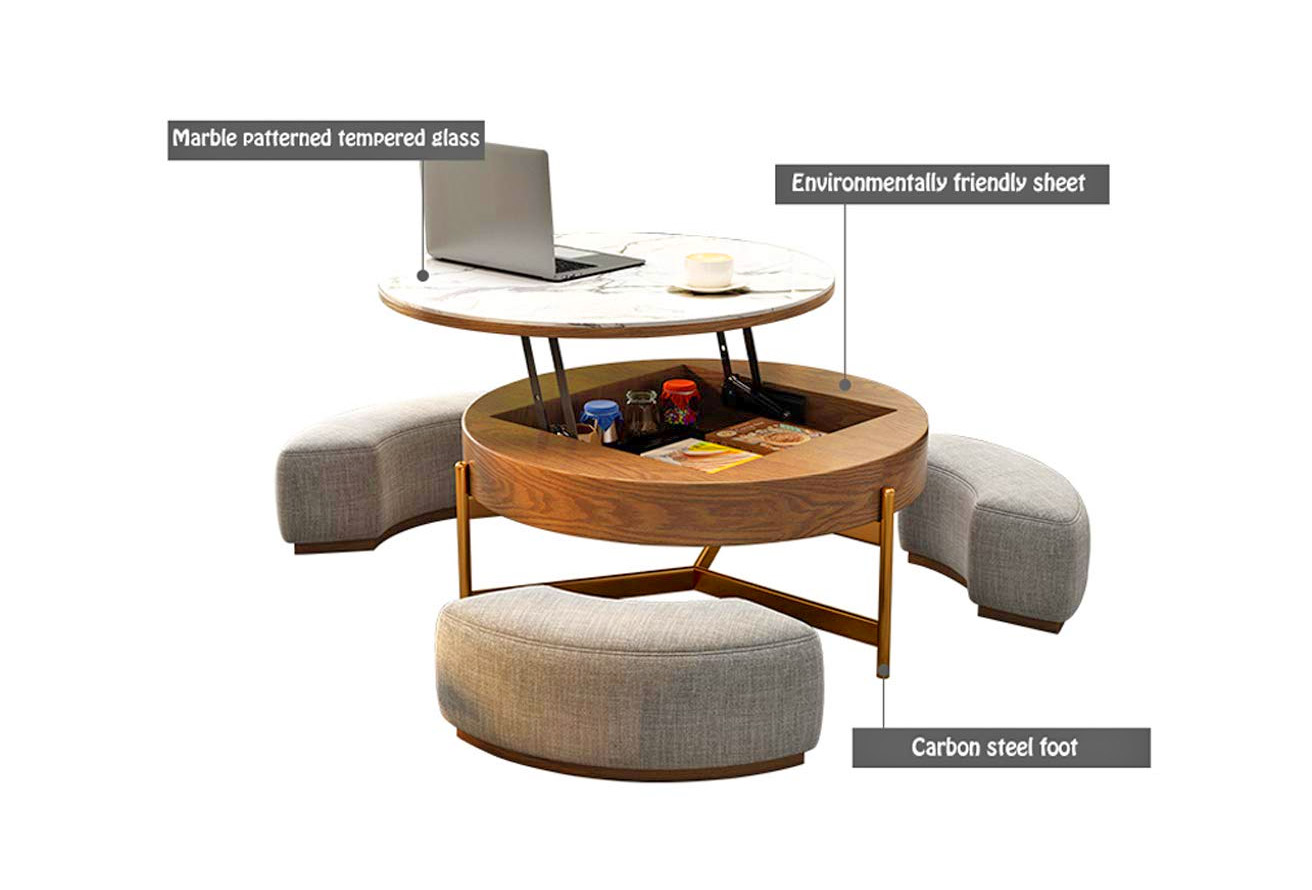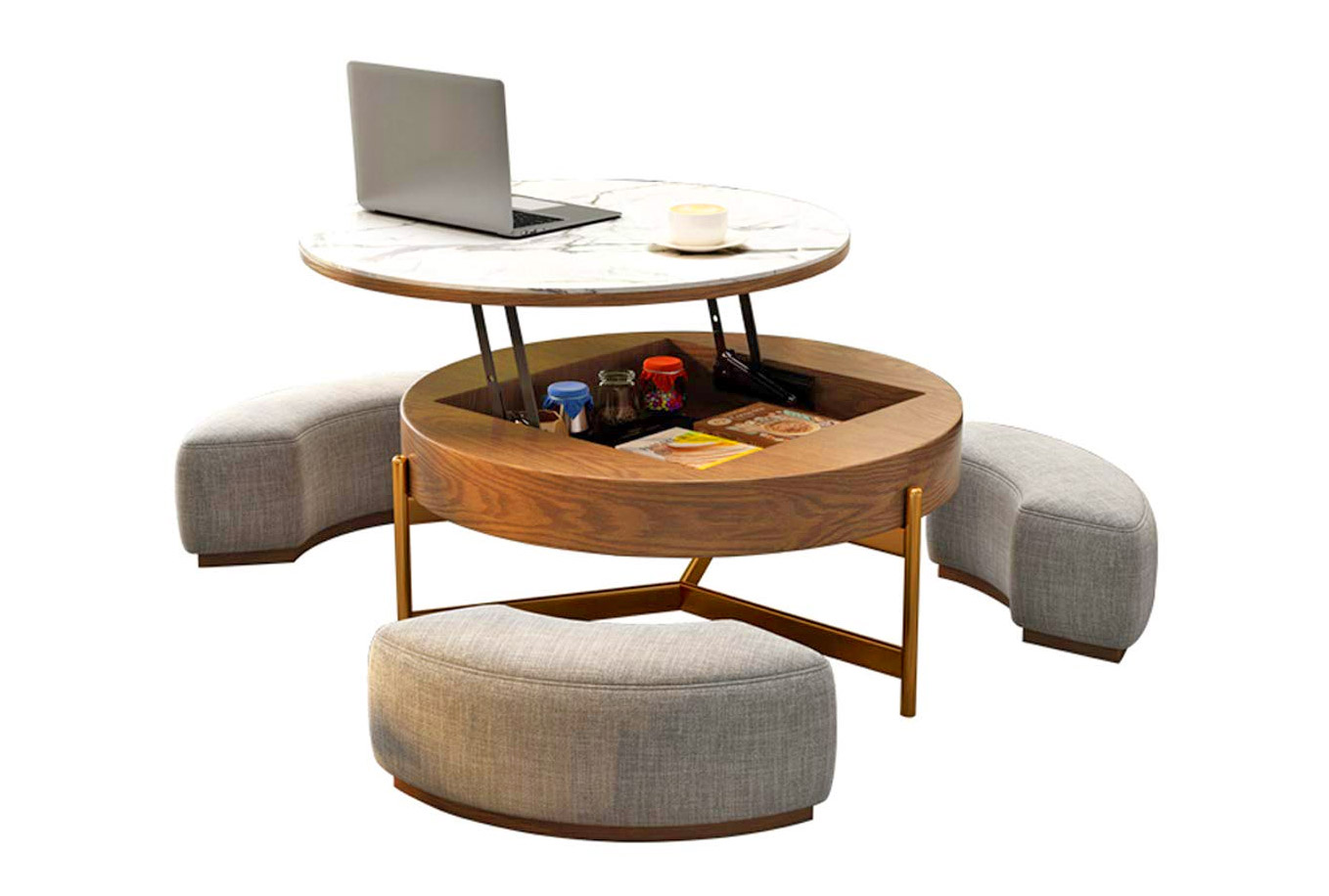 We found a few more liftable coffee tables with awesome and unique designs that you may want to check out below:
This liftable table that's made from a reclaimed wine barrel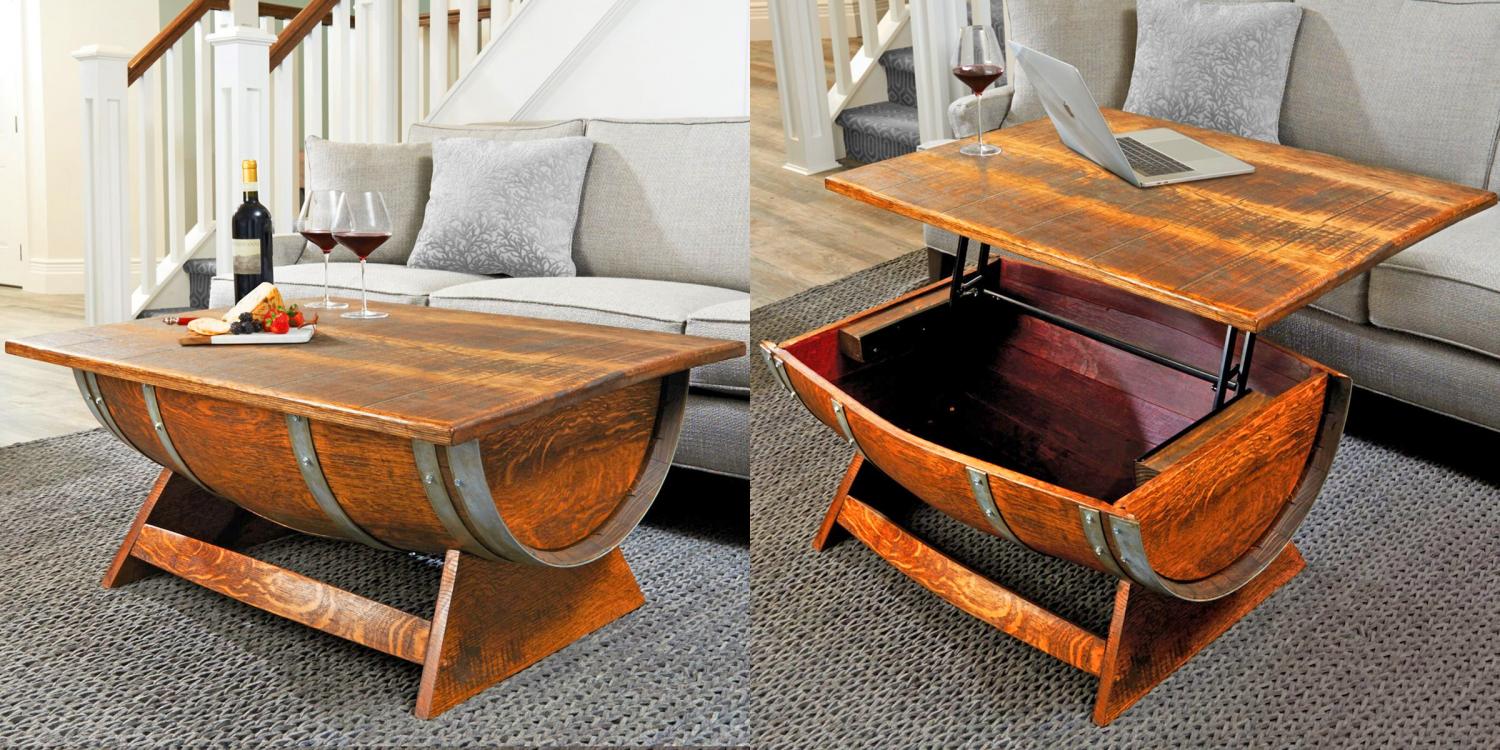 GET THIS ONE HERE
This side table that has a liftable surface that moves to the side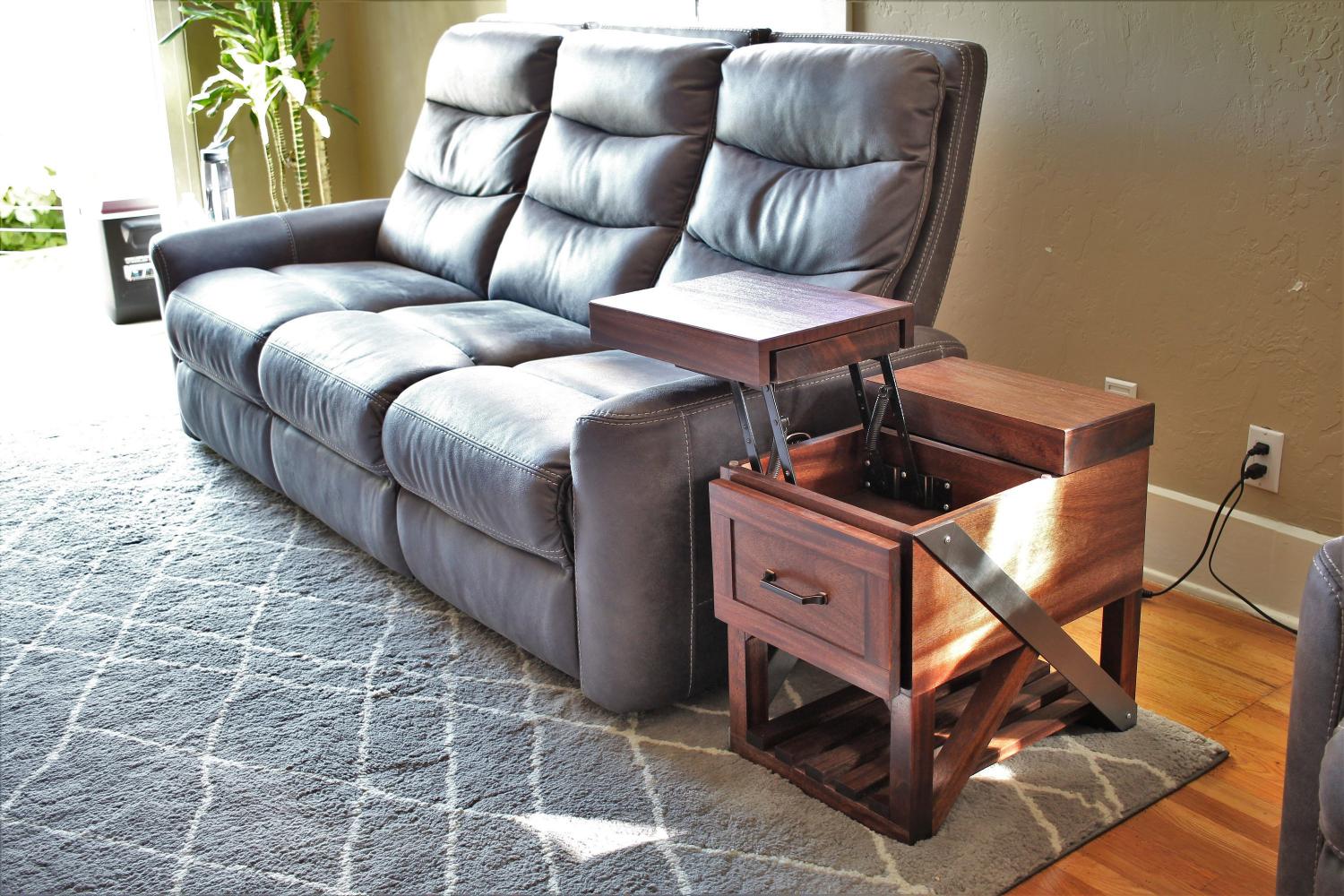 GET THIS ONE HERE
This electronic coffee table that moves automatically converts from a coffee table to a work desk with the push of a button (plus it hides little ottomans in it as well)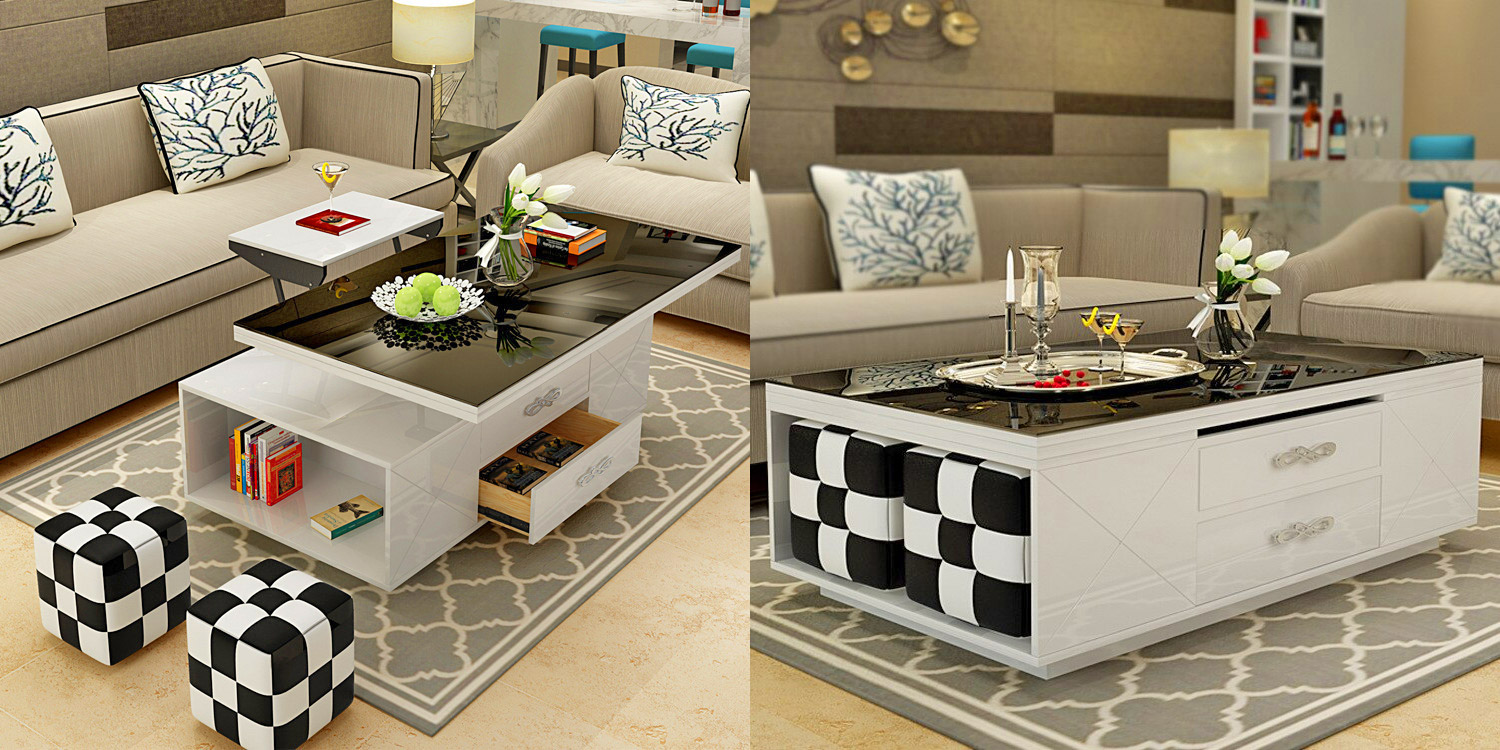 GET THIS ONE HERE
This unique lifting coffee table that has two separate lifting surfaces, one for working, and one for eating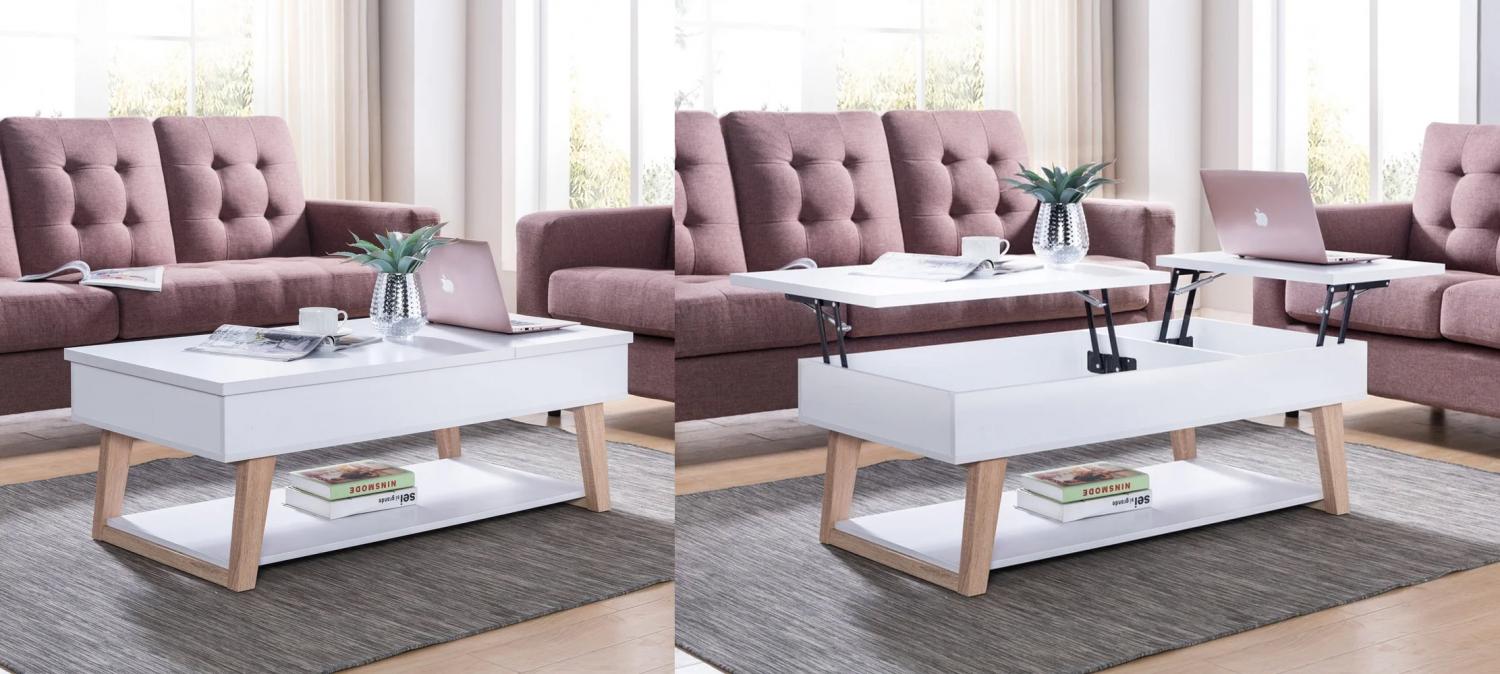 GET THIS ONE HERE
You can find plenty more unique and creative lifting coffee tables that convert into desks in plenty of places, including Amazon, Etsy, and Overstock. Some you can find that also hide little ottomans underneath them like the one featured above. Happy hunting!