This All-In-One Smart Bed Has An Integrated Recliner and Air Filtration System
By Ryan on 06/15/2021 10:23 AM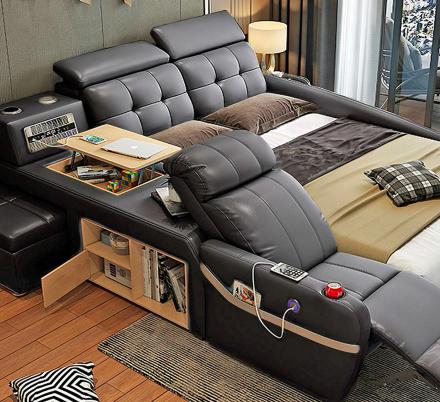 It seems like many of us have become extra familiar with our beds lately. Whether you have been working from home, cozied up with your laptop and PJs, or just allowing yourself a few extra minutes of snooze time in the morning, the bed has become a literal sanctuary, allowing us to escape the many stresses that life has been piling on us over the past year and a half. And with most of us spending more time at home than ever before, who wouldn't consider dropping a little extra cash on a new bed?

View the Ultimate Smart Bed here
Lucky for you, the writers here at Odditymall have seen a lot of amazing beds over the years, from this crazy smart bed that features an optional home theater screen to this dog friendly wooden king bed with built in staircase, but this futuristic, ultra modular Multifunctional Smart Bed from Jubilee Furniture may have just topped the list of must have beds.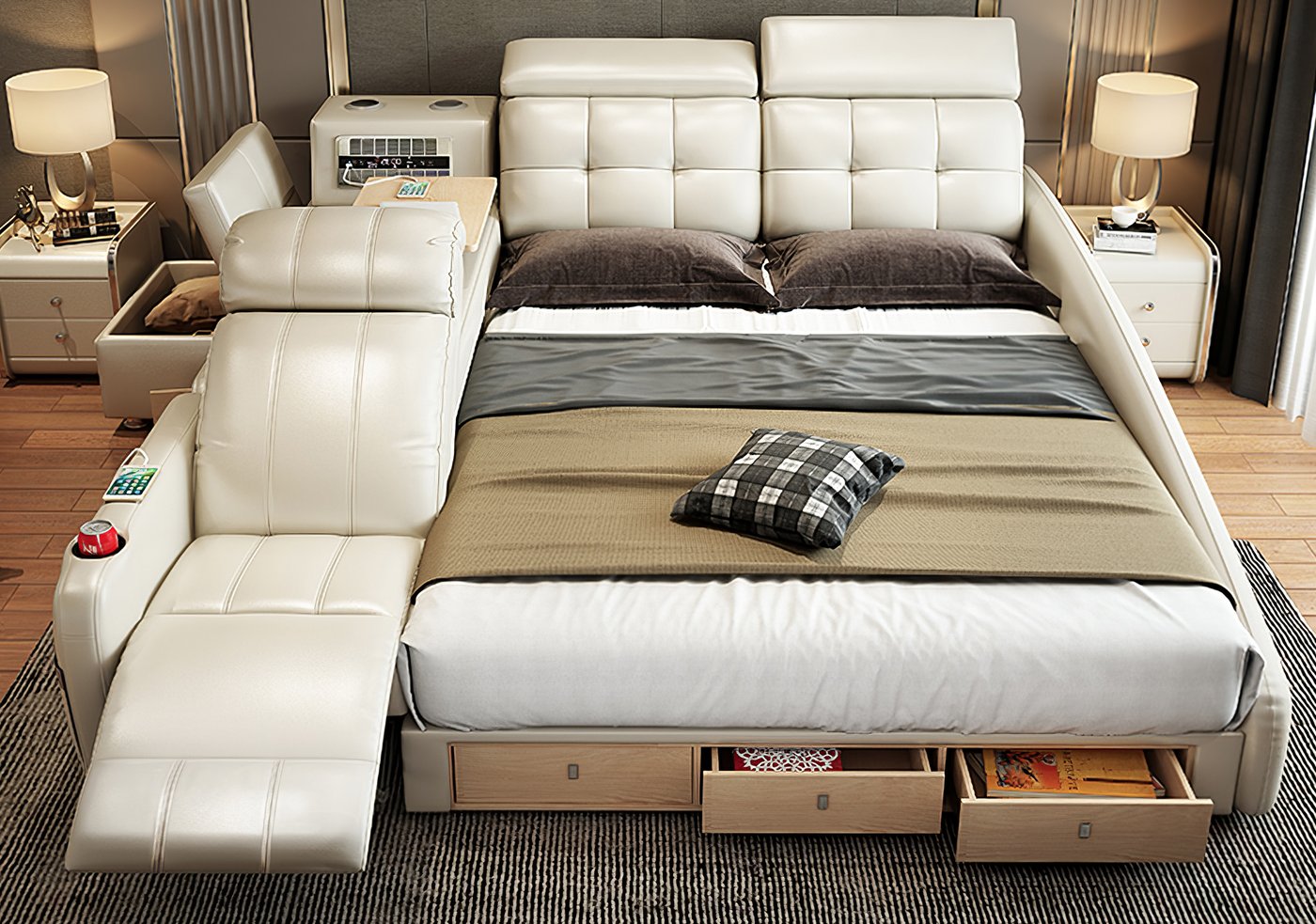 Because unlike some futuristic beds on the market, the Multifunctional Smart Bed comes with everything you need to actually live in bed.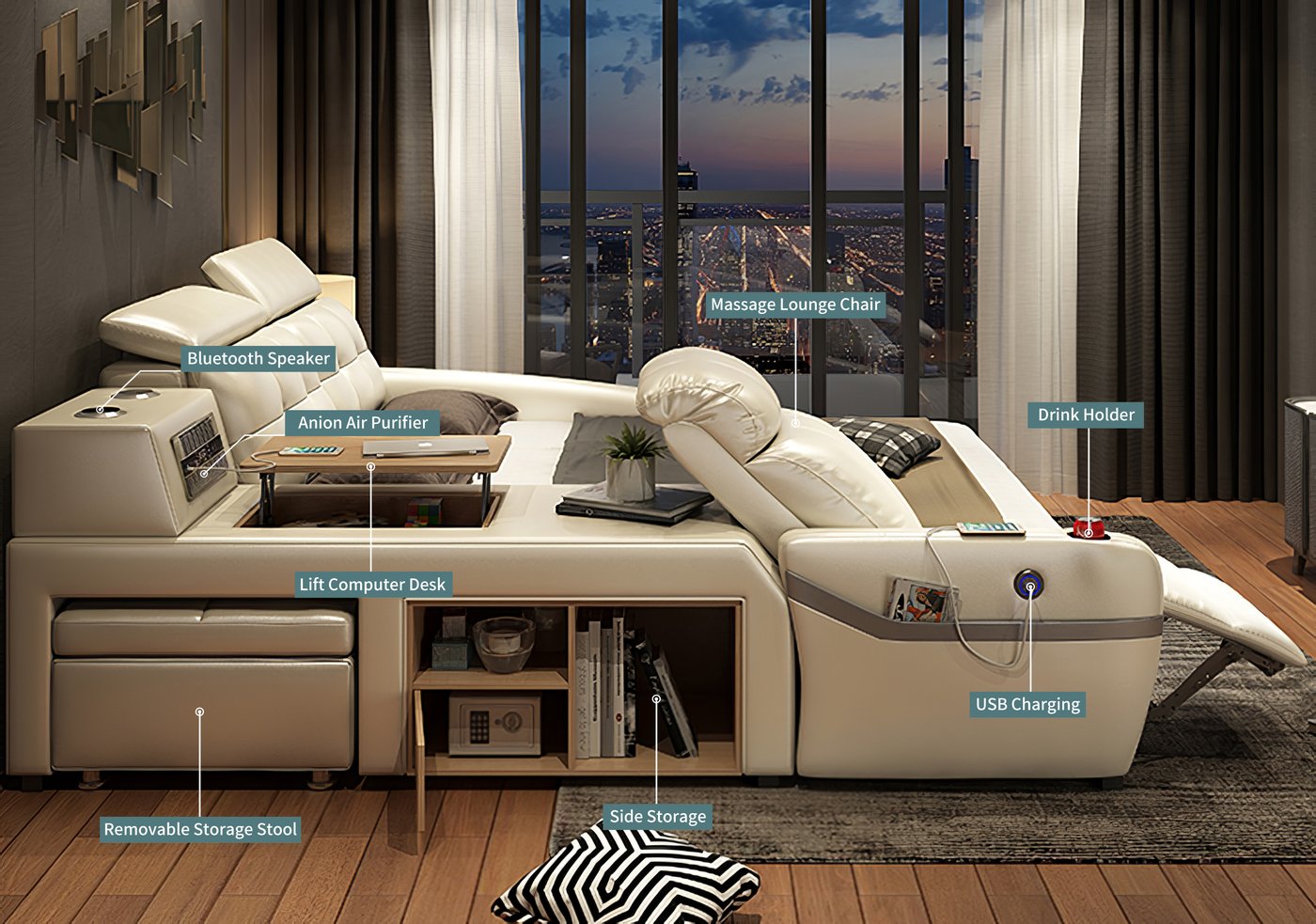 Truly redefining the concept of a home office, the Monica Smart Bed has everything you need to turn your sleeping area into a highly functional yet comfortable space for work and play.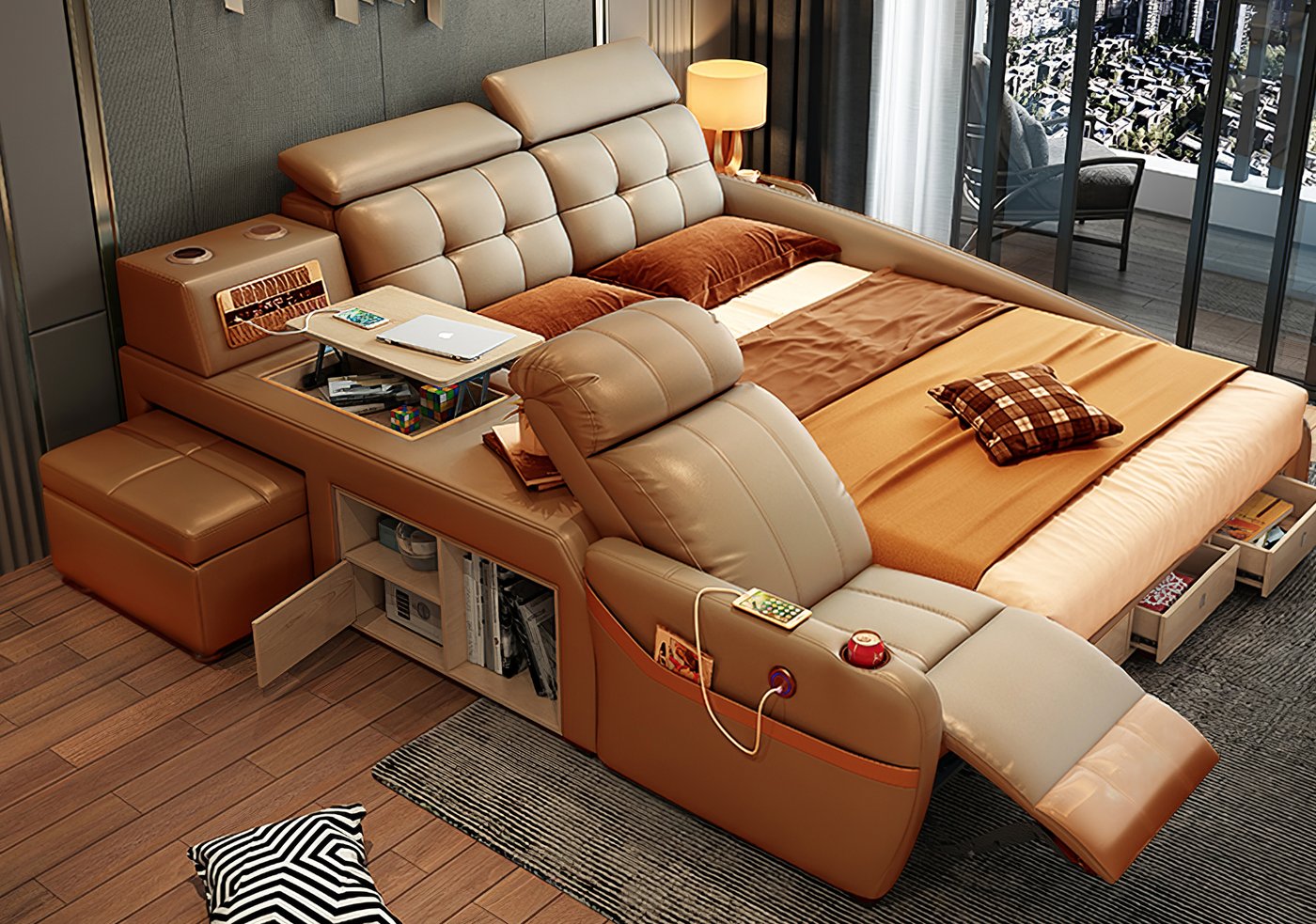 The Monica Multifunctional Smart Bed features a massage chair with a remote, Bluetooth speakers, a built in air circulation system, and a desk for your laptop. And that's just the tip of the iceberg. Check out some of the other incredible features that come with the Monica Multifunctional Smart Bed:
Integrated fan and filtration system
Drink holder
Lift top night stand (up to four)
Attached recliner
Adjustable headrests
An ottoman
Push latch drawers for extra storage
A built in bookshelf for extra storage
Device charging station with USB port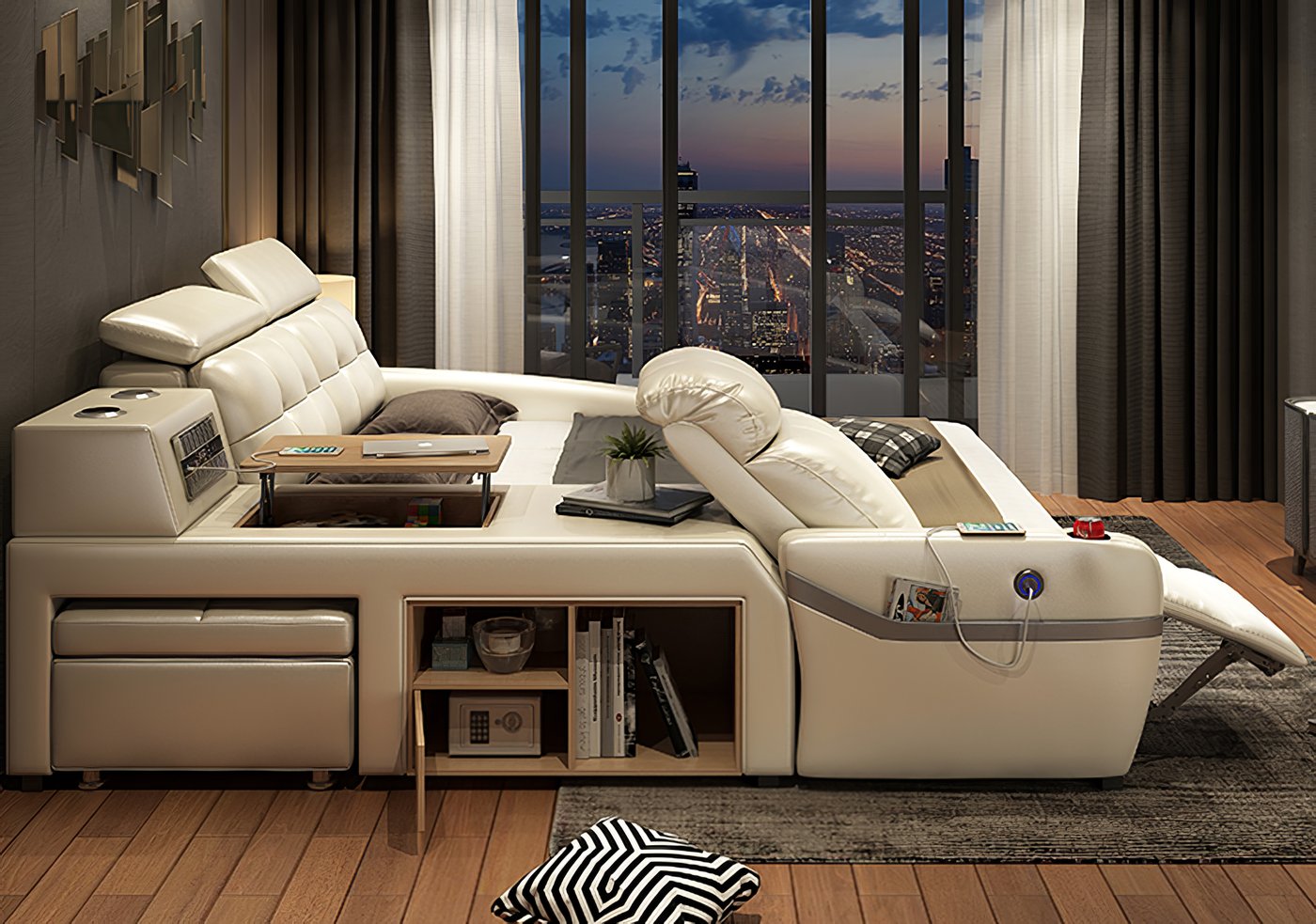 Looking at this long list of features, it's no wonder the mad scientists at Jubilee Furniture call it "an adult playground." The Monica Bed can be king or queen sized and is also available in twenty different colors, so you can show off your personality and match it with existing decor!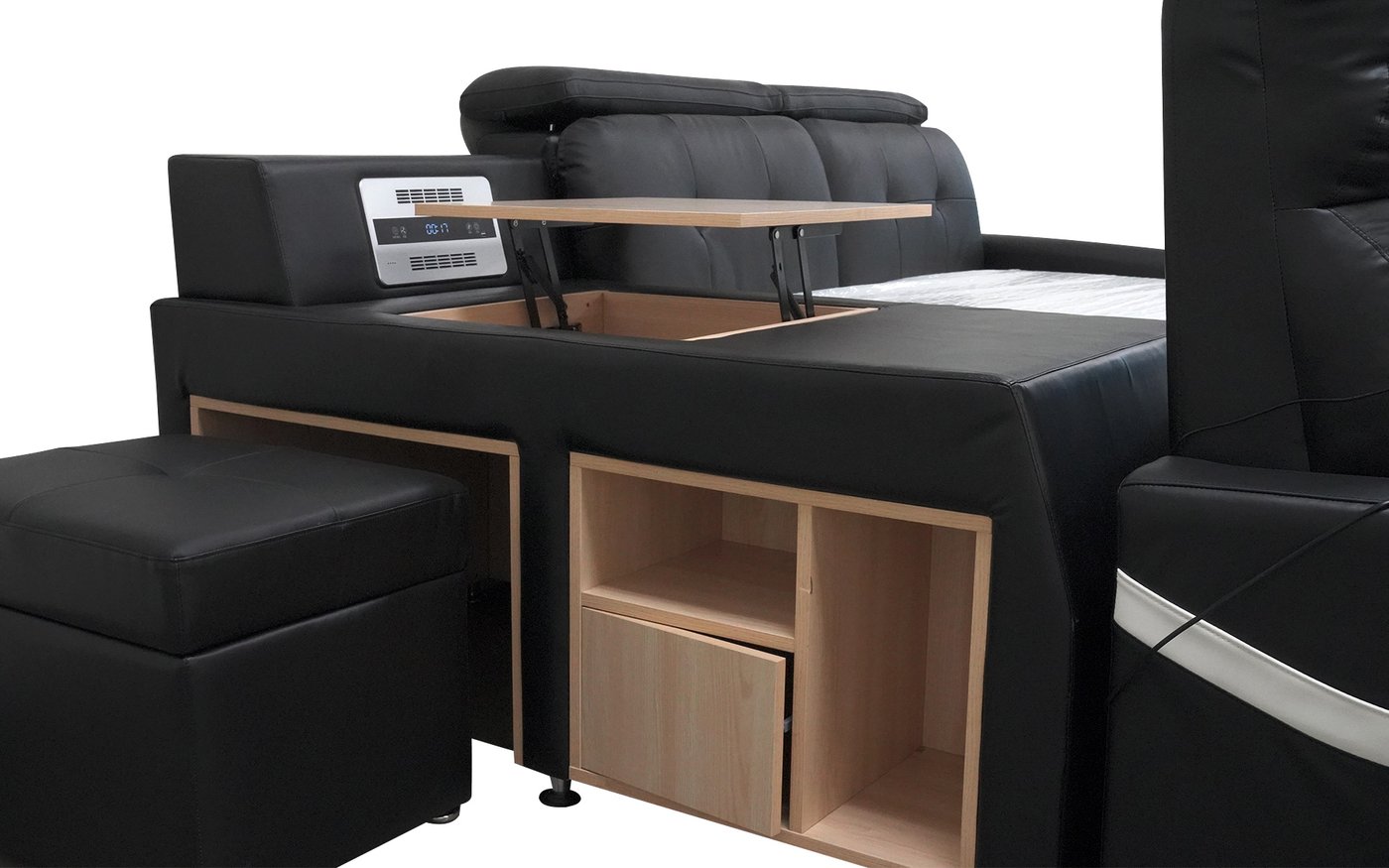 Which brings me to my next point. While obviously very functional, the Monica Multifunctional Smart bed also looks great. A lot of this has to do with Jubilee's use of Italian leather for a large part of the bed system.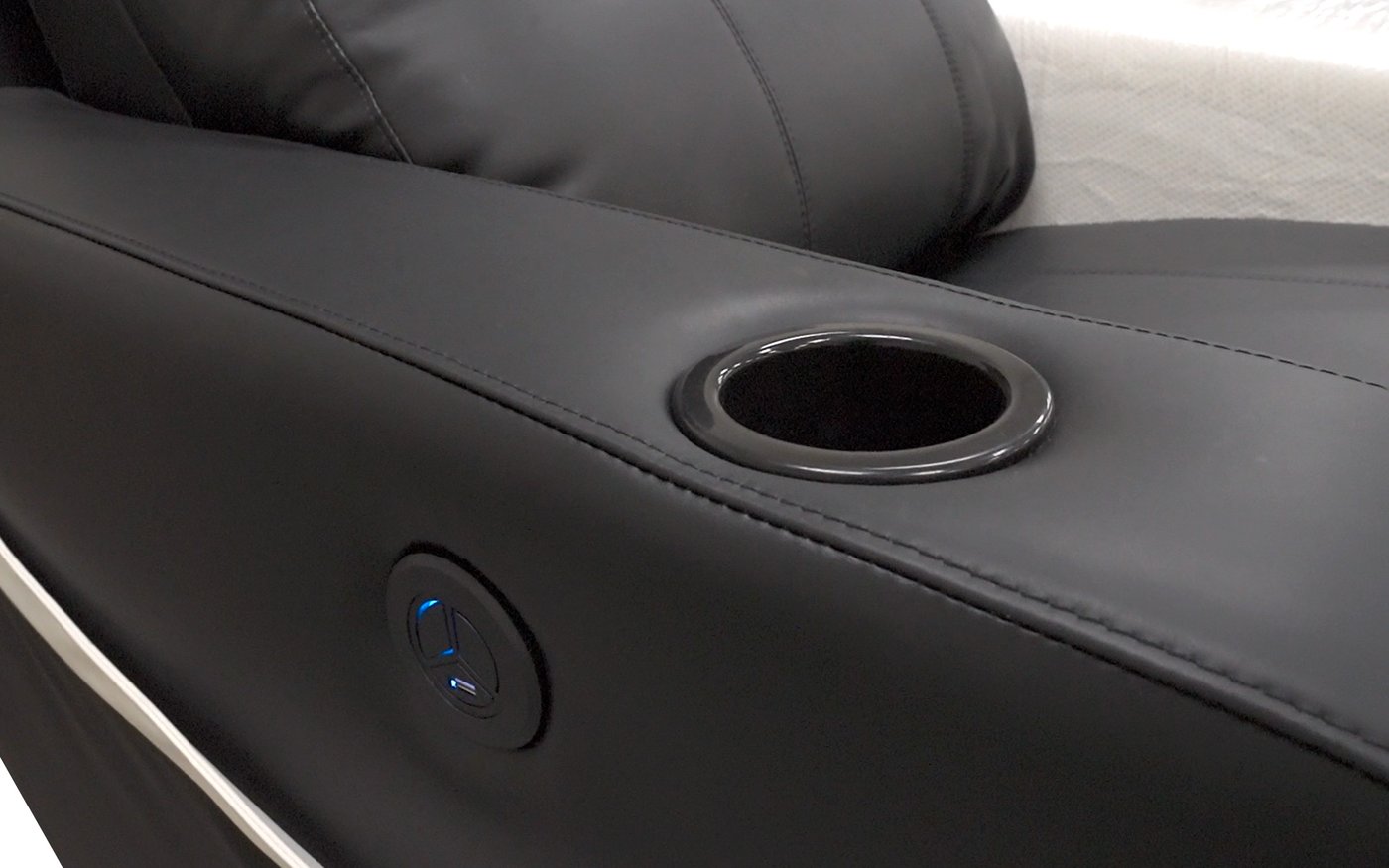 Originating in Tuscany, Italian leather is made using an age old method of tanning with vegetable ingredients, resulting in a wonderfully smooth, elastic, and long lasting leather.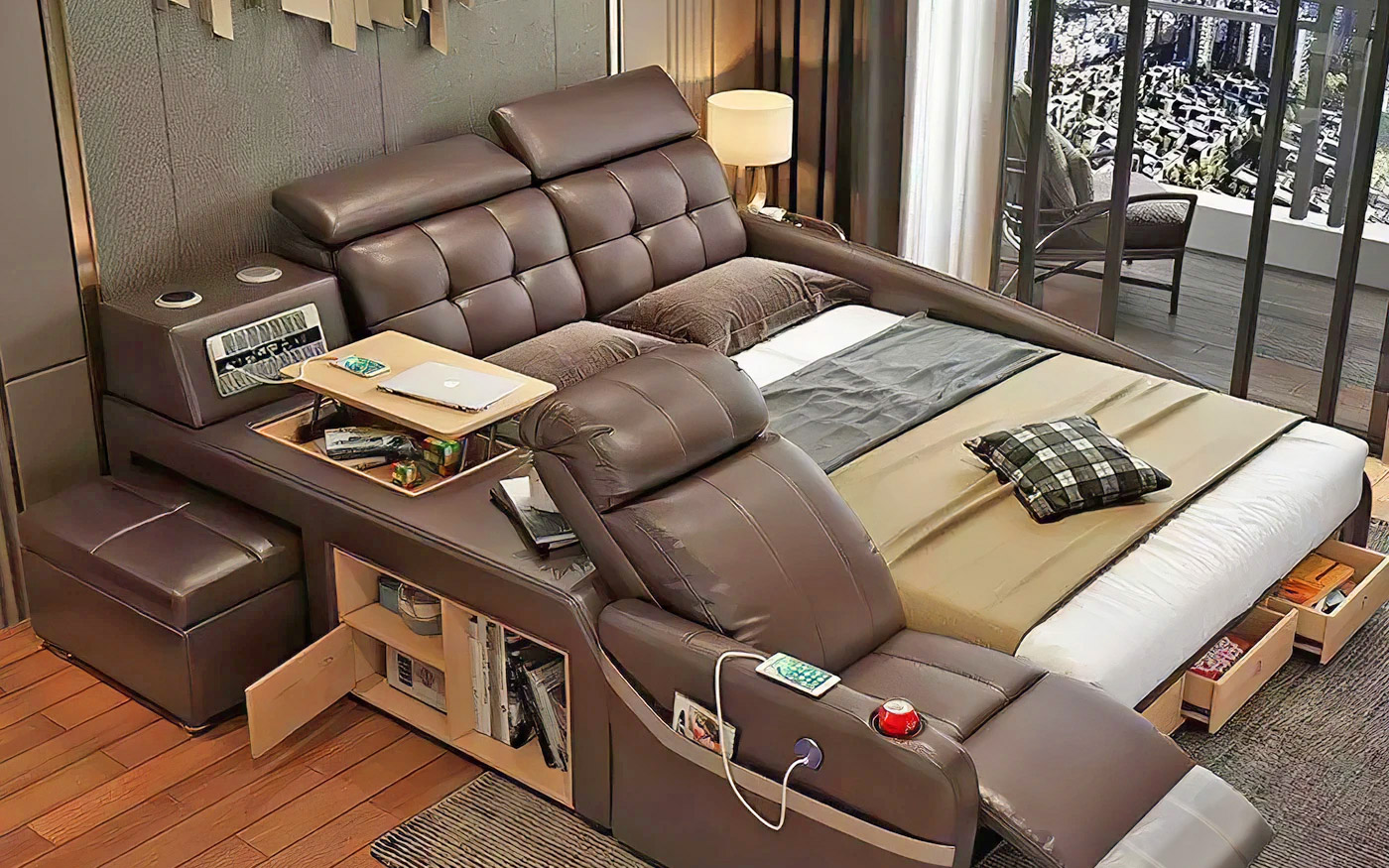 Proving their commitment to customer satisfaction, Jubilee also offers a bonded leather option for customers that may be hesitant to let their kids or pets walk all over their fancy Italian leather. This bonded leather option is also suitable for customers with leather allergies!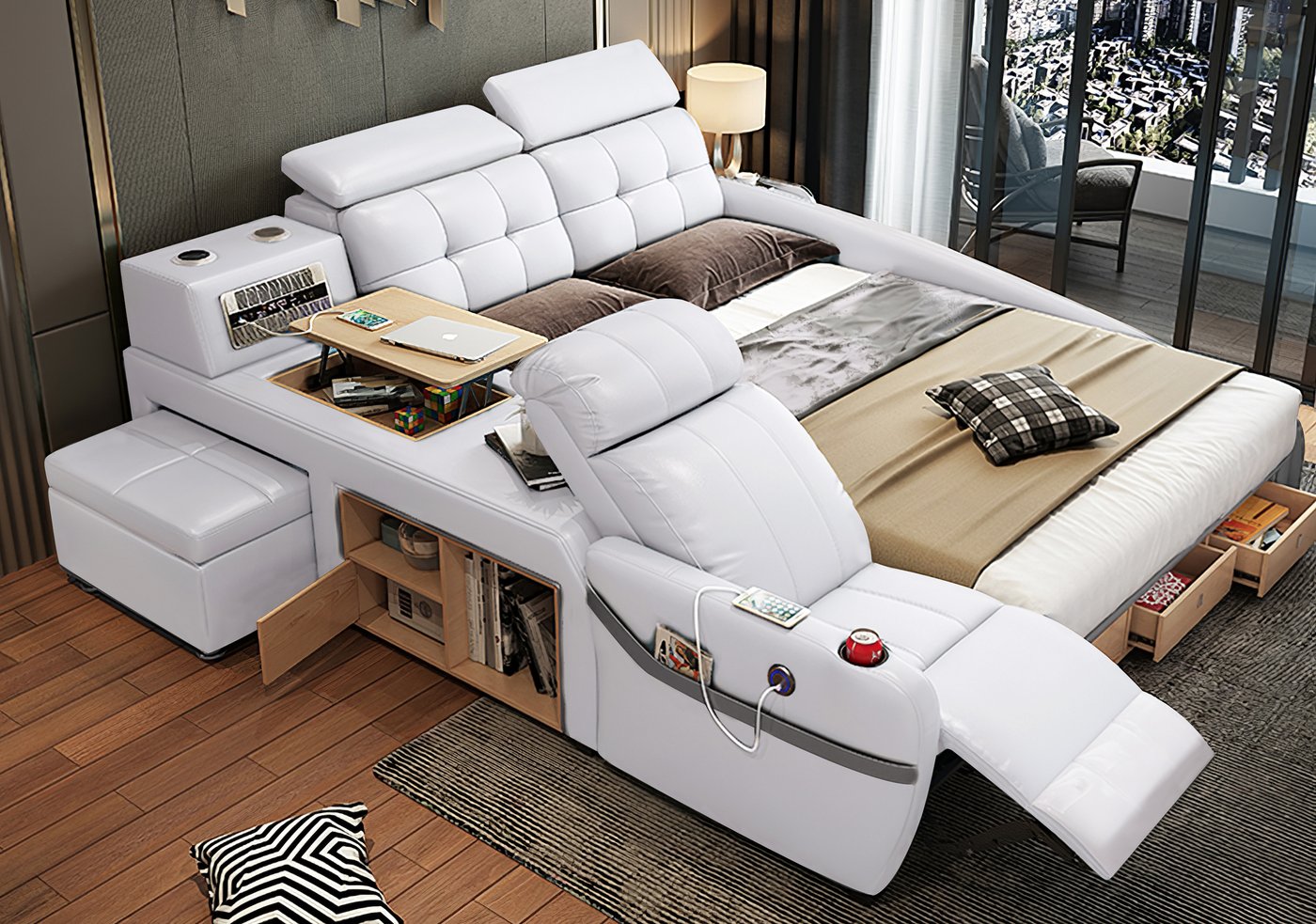 While the Monica Bed is relatively new on the market, Jubilee has been in the furniture business for over twenty years. After browsing their website, it really feels like a family business, and their attention to detail doesn't go unnoticed. While some customers noted the lengthy arrival time, reviewer feedback has been extremely positive.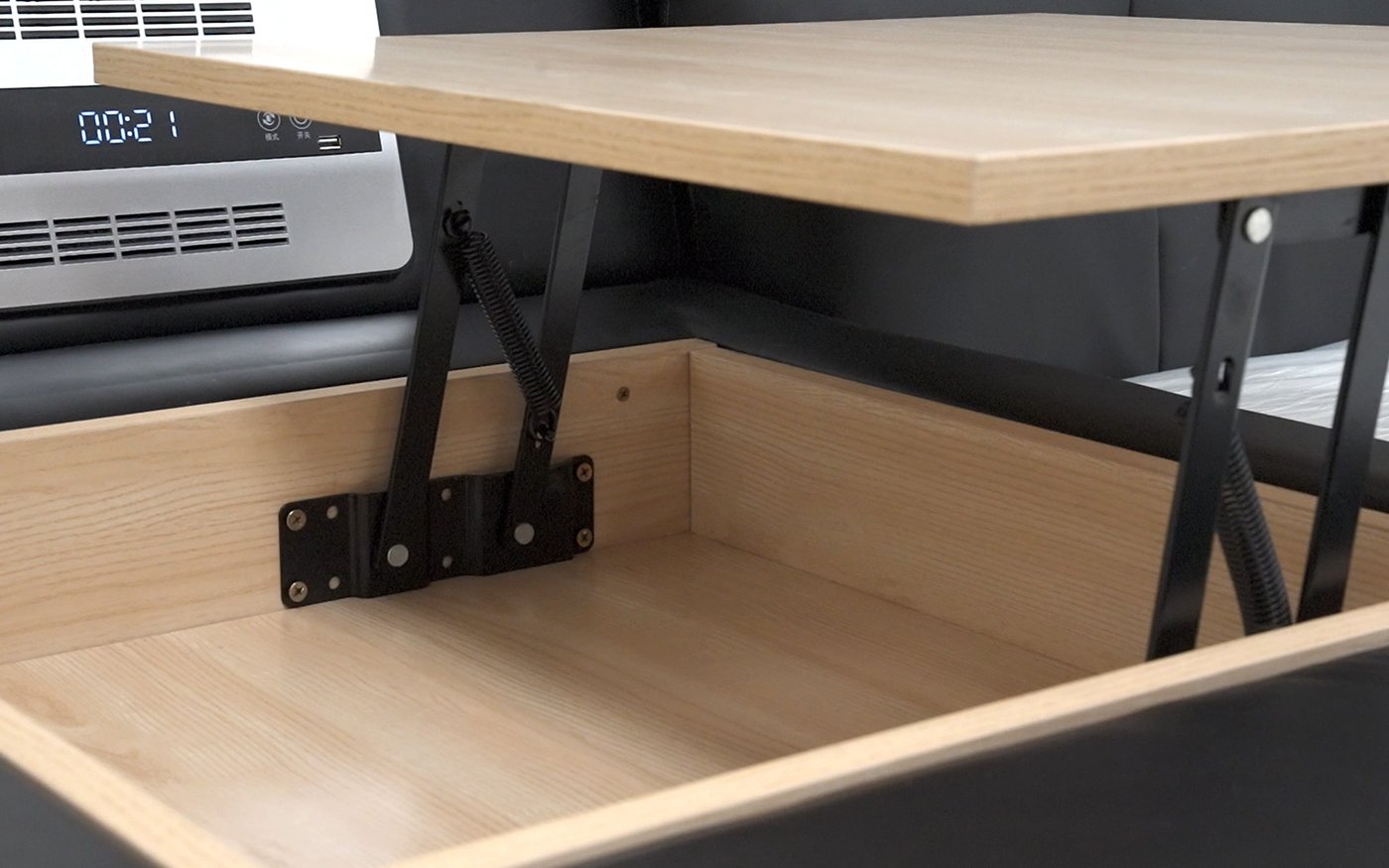 The first customer to leave a review earlier this year, a user named Lisana, stated, "Well worth it!! Had my doubts because there weren't any reviews on this one, but after talking to their sales on the phone I made the purchase and it finally got to me. glad to say this was excellent, the best bed I've ever seen and nothing came close!"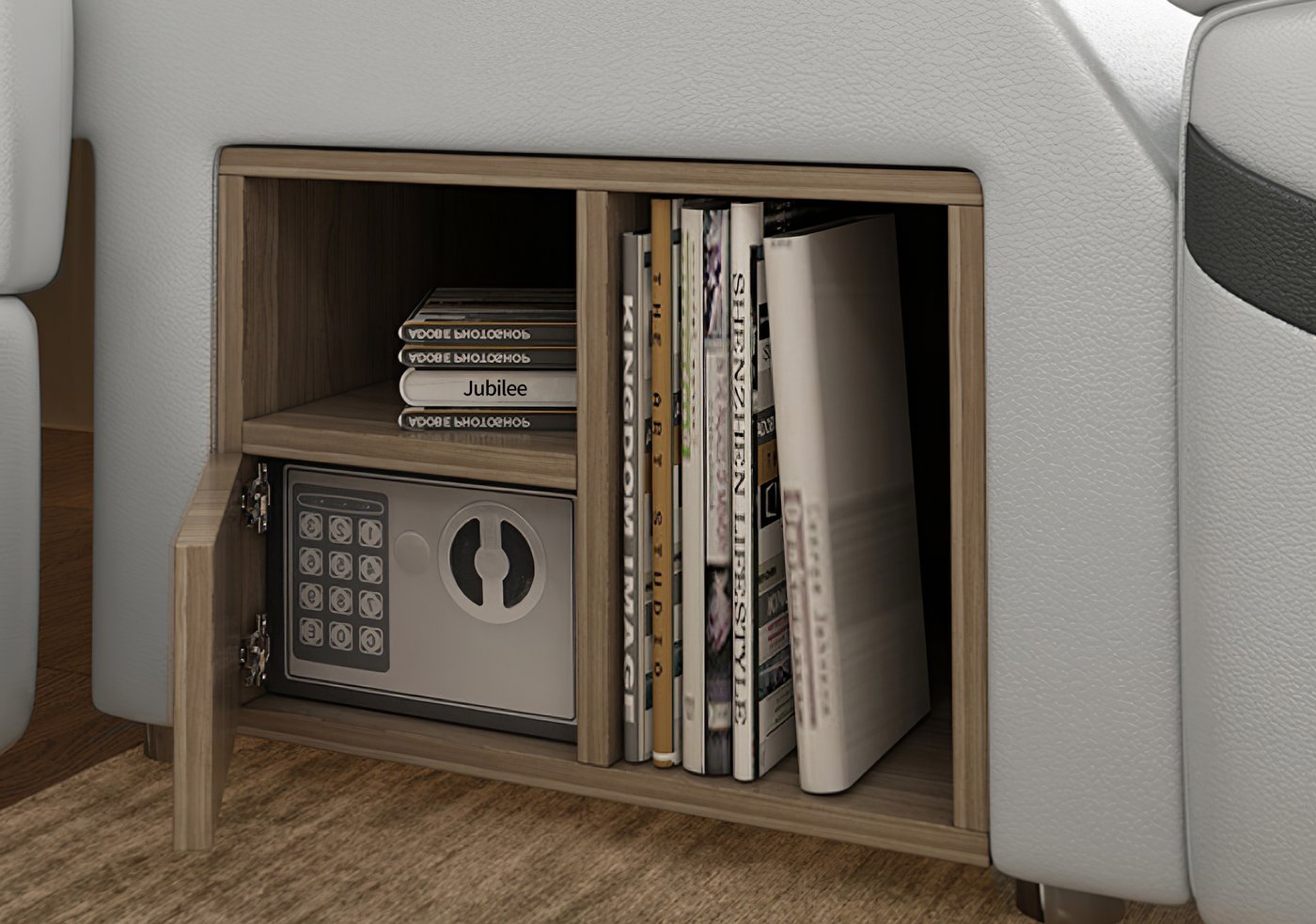 I think we all deserve to treat ourselves every now and then - and what could be better than this Ultimate Smart Bed?!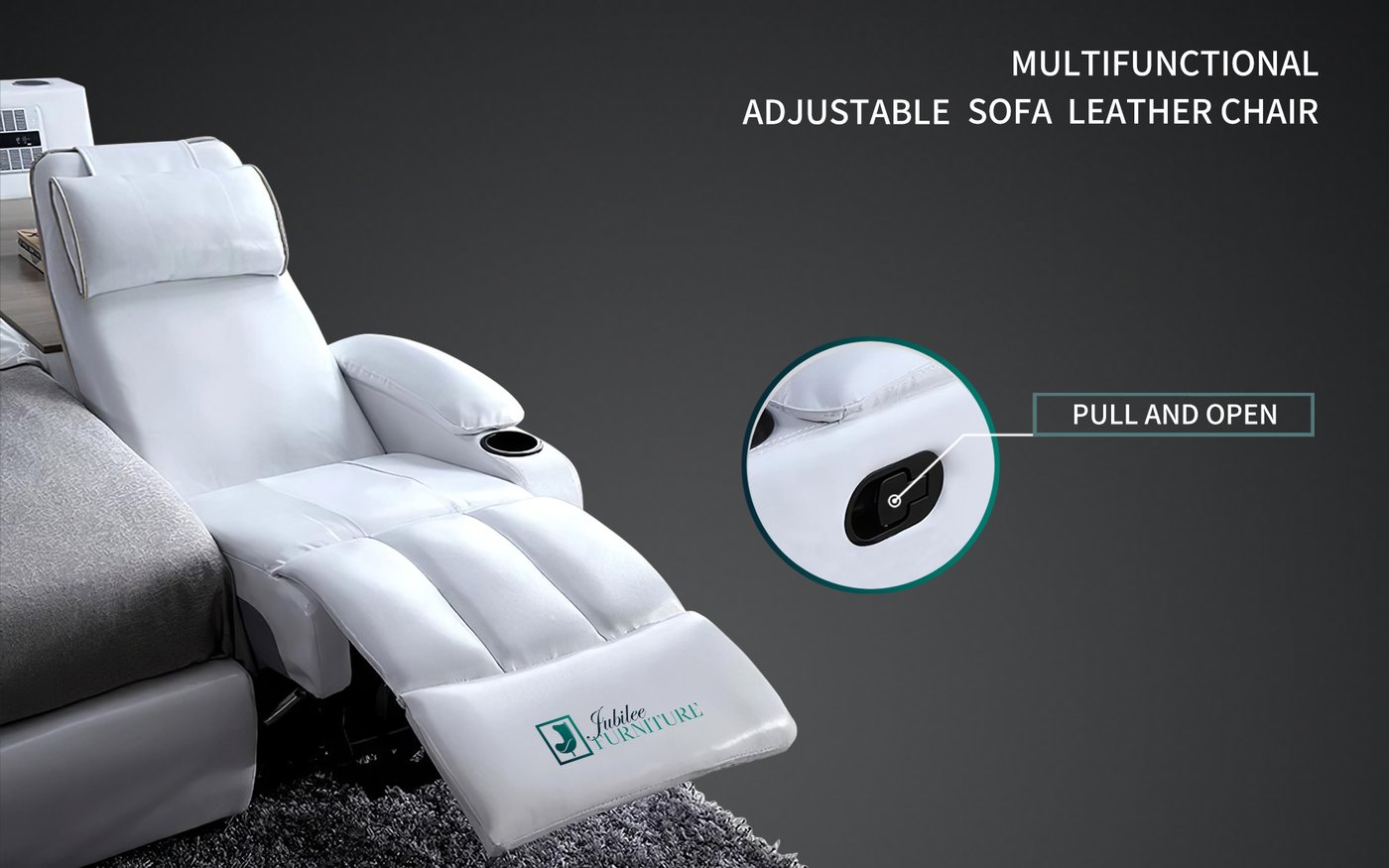 The multi-function smart bed comes in a ton of different color options to choose from!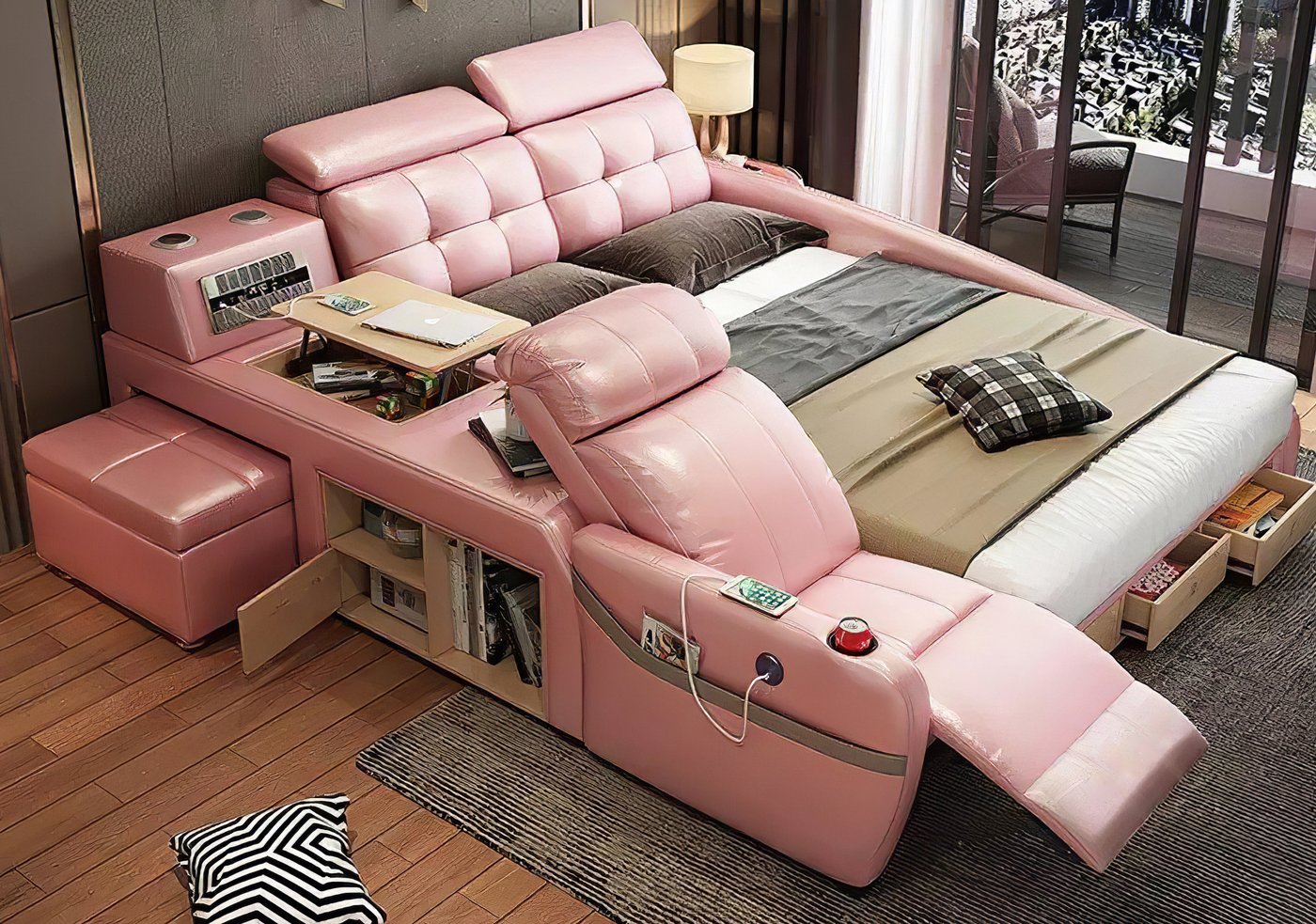 The integrated air filtration system and fan within the headboard keeps you snoozing soundly with background noise nearby, and it'll clean the air around you while you sleep!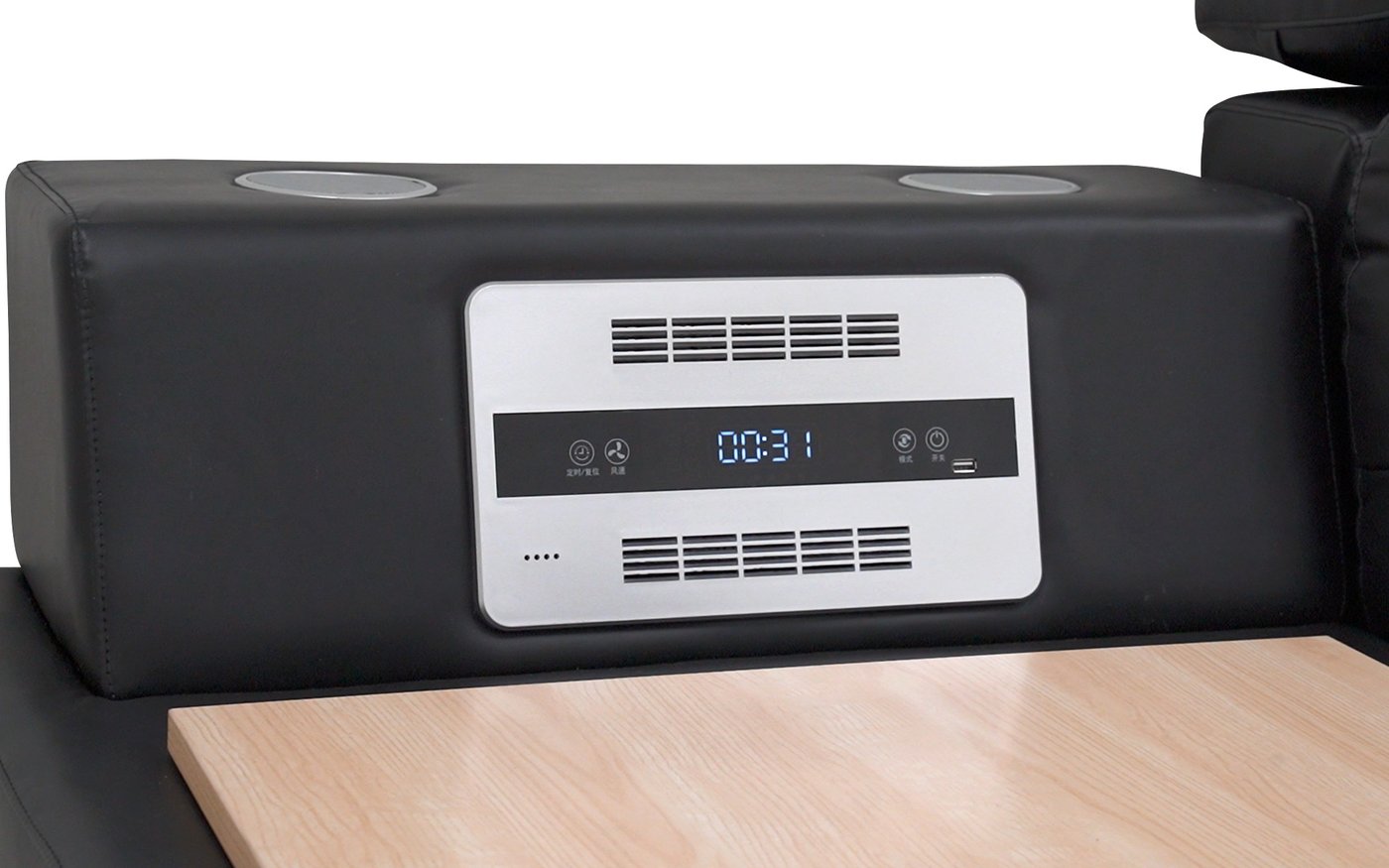 A recliner is attached right to the side of the bed, so you can go from laying down to reclining and watching TV without ever standing up!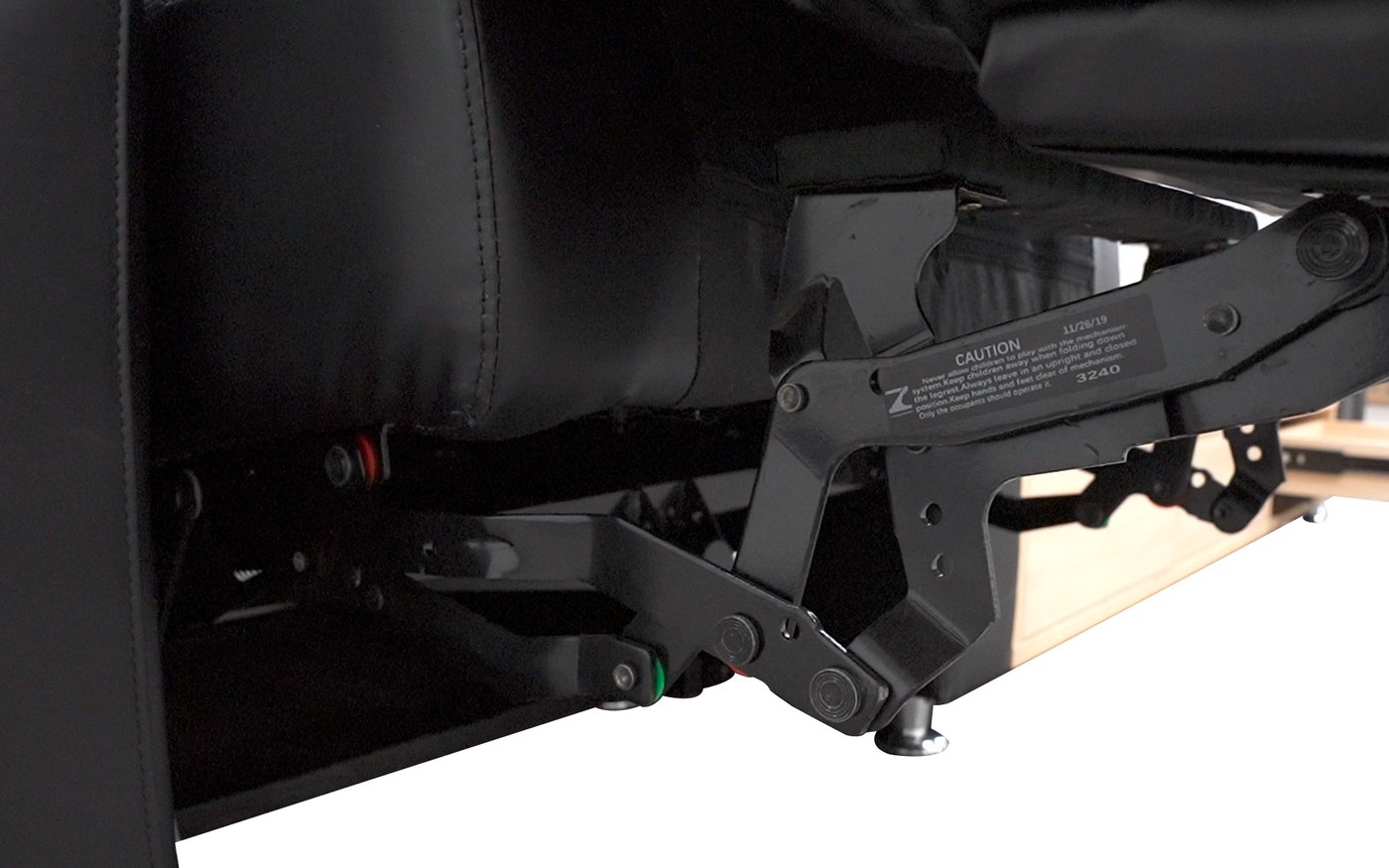 The all-in-one multi-function smart bed can fit either a king size or queen size mattress depending on which size you select!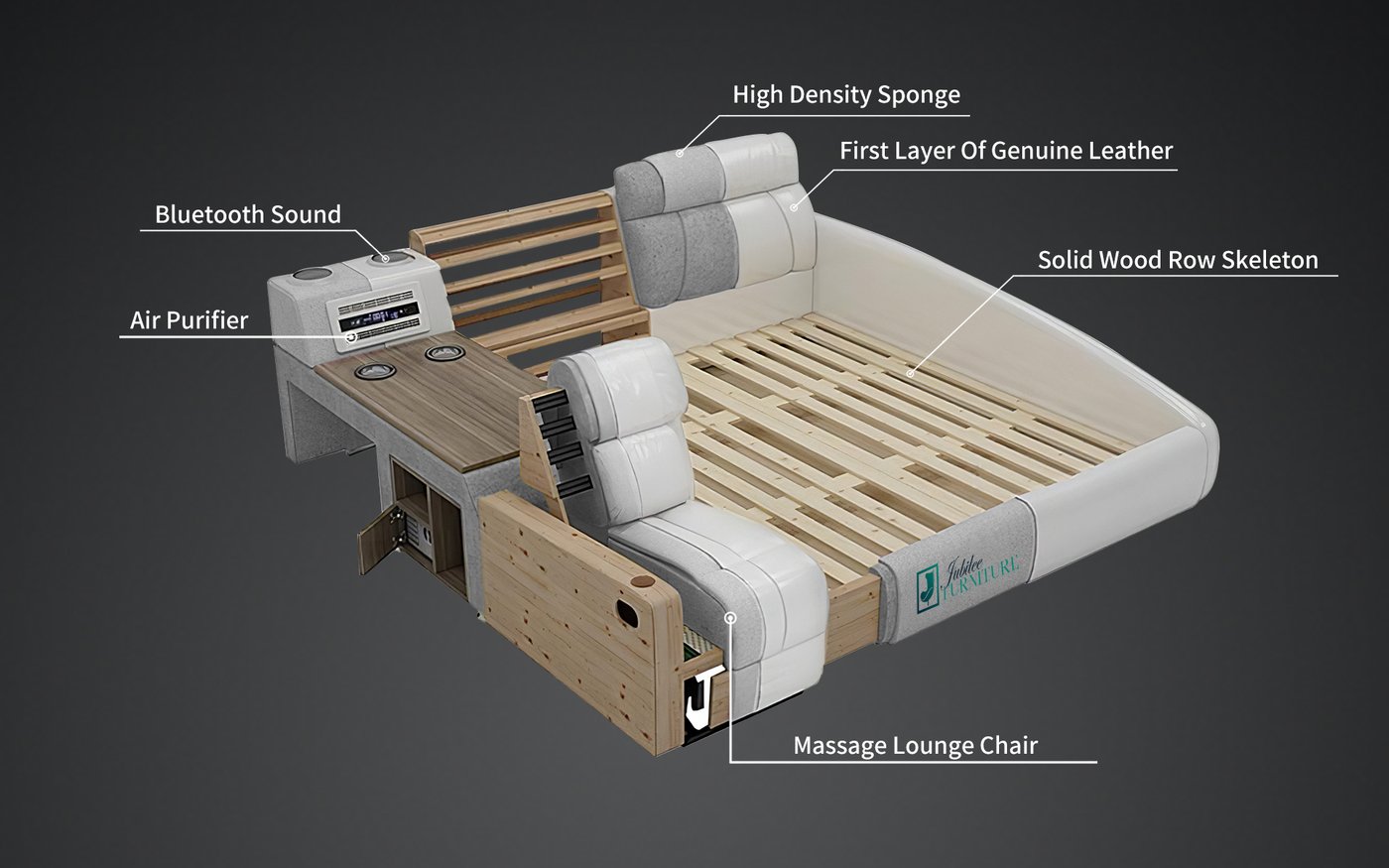 The recliner even has an electric auto-adjusting base that'll recline you or sit you back up without having to move a muscle!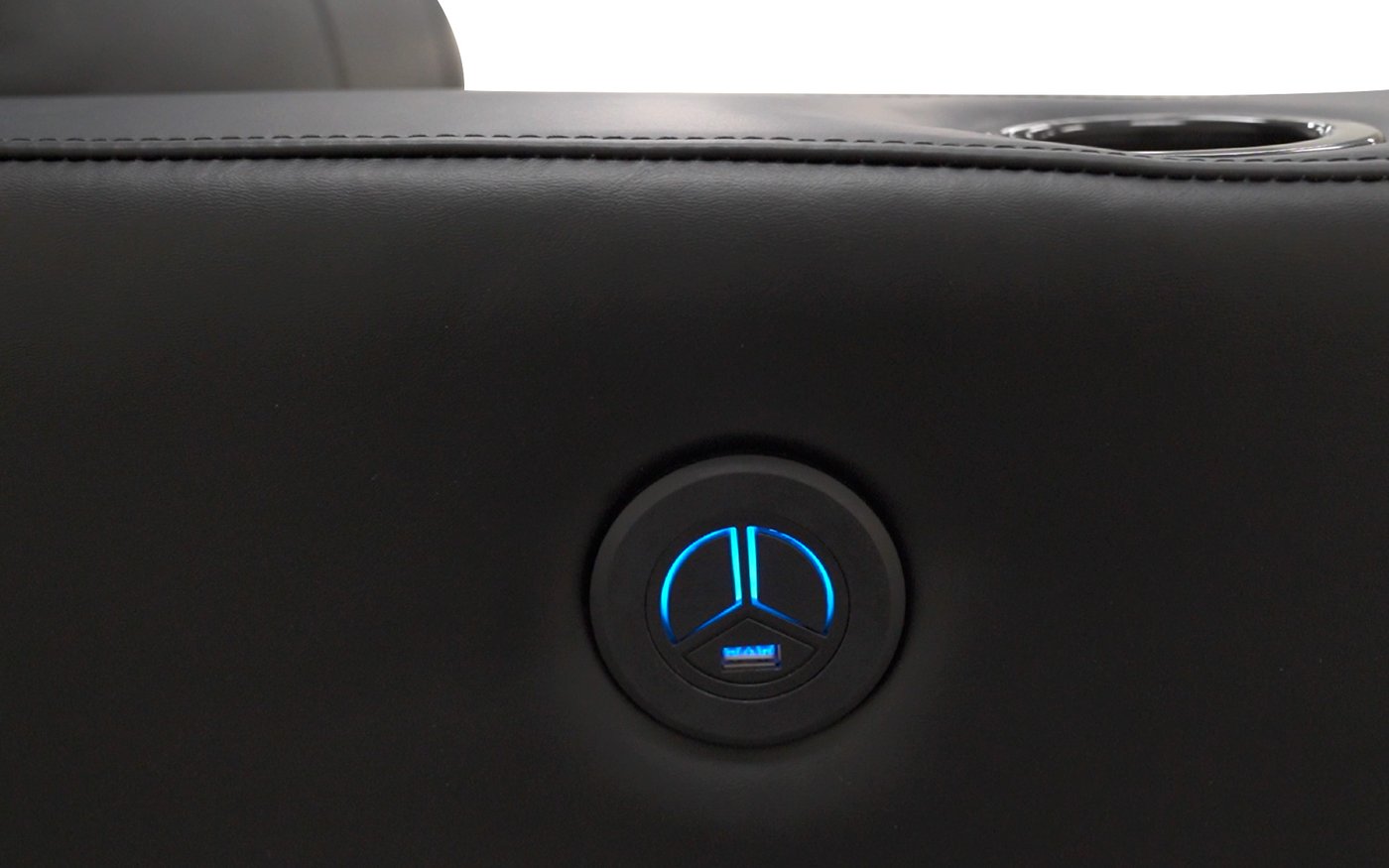 Check out a few more color options that you can select from below: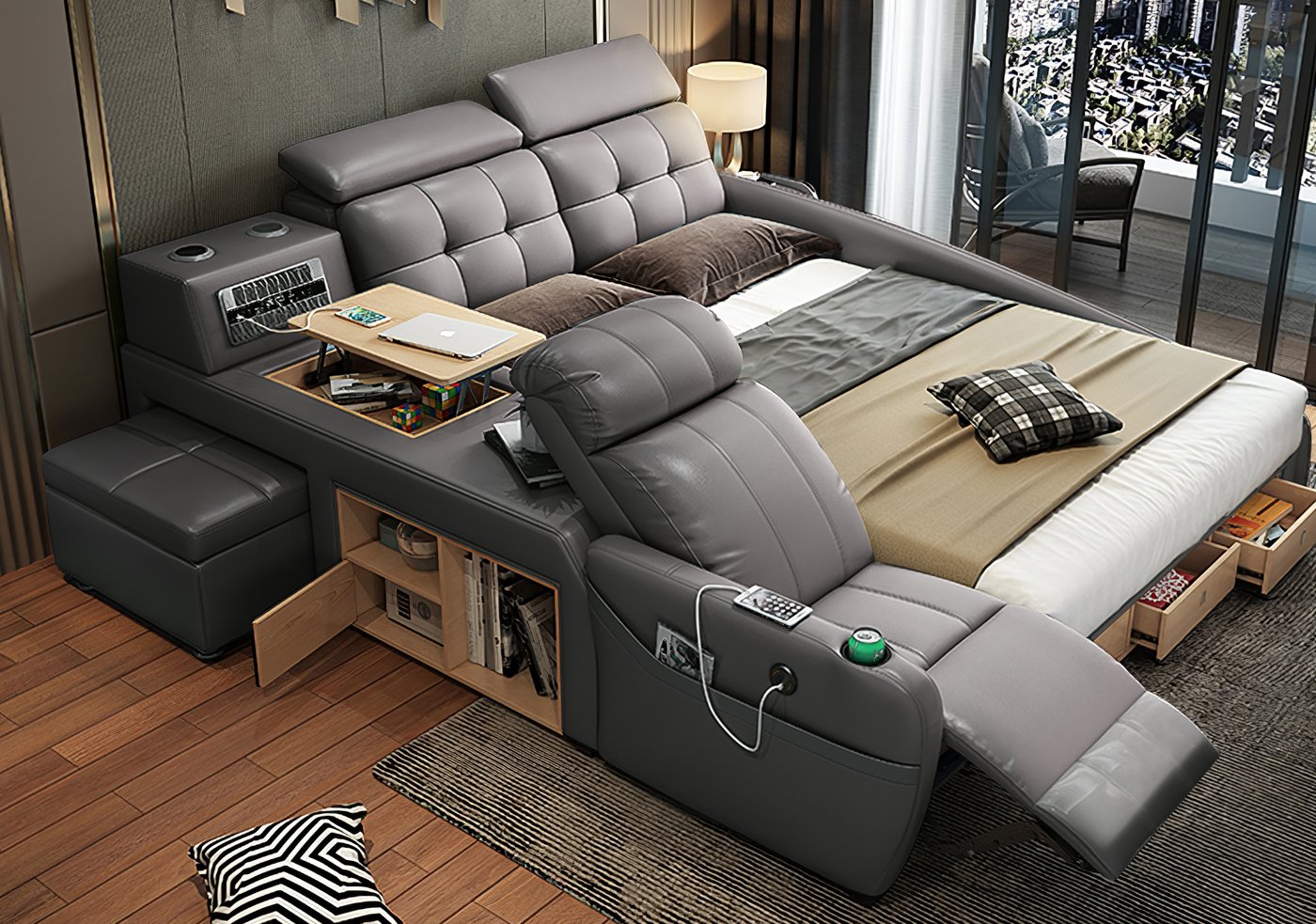 Notice all of the spots for extra storage, including under the desk, on the side for holding books, as well as drawers on the bottom of it!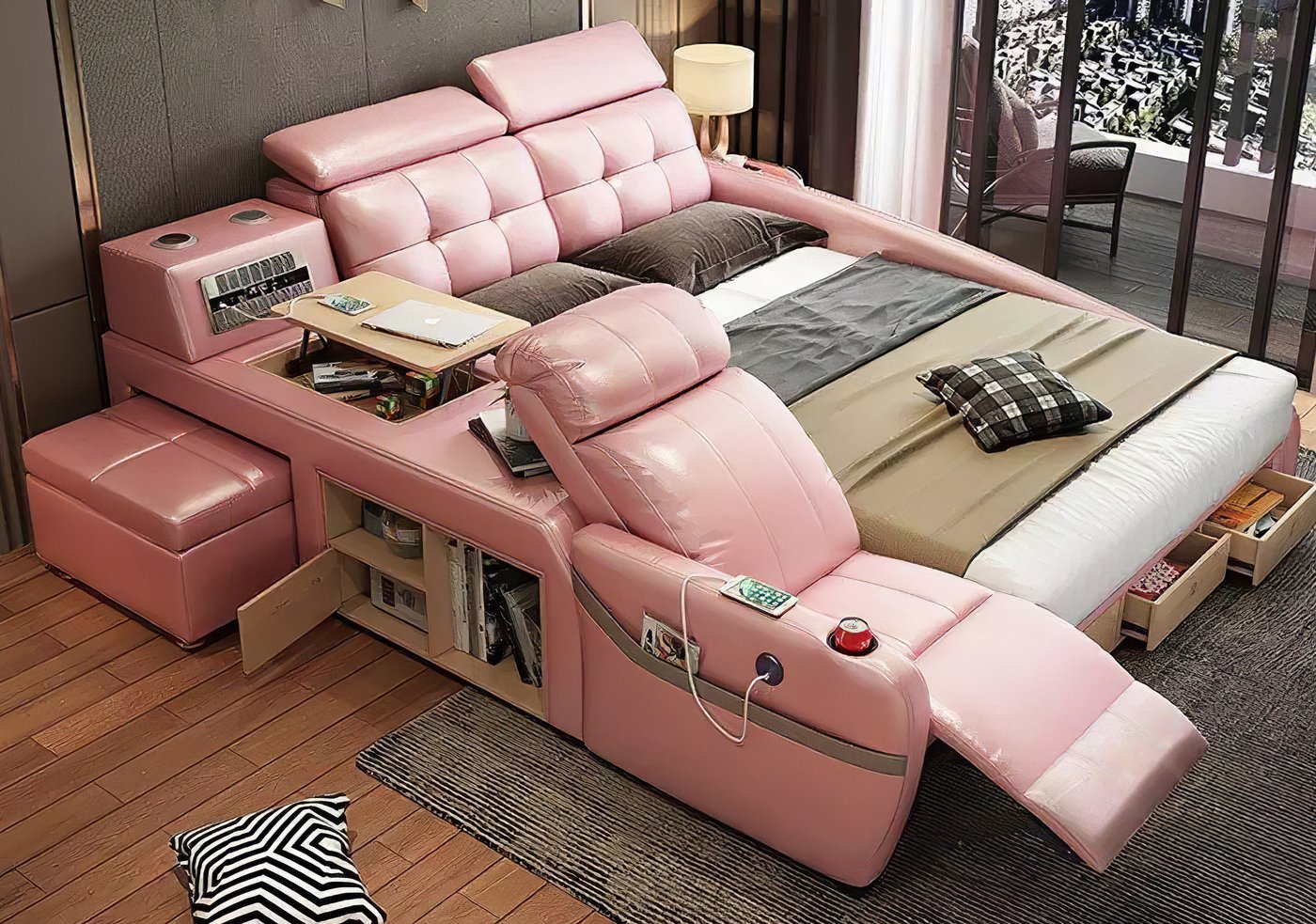 There are also multiple spots to plug in and charge your phone or tablet with various USB ports scattered throughout the smart bed!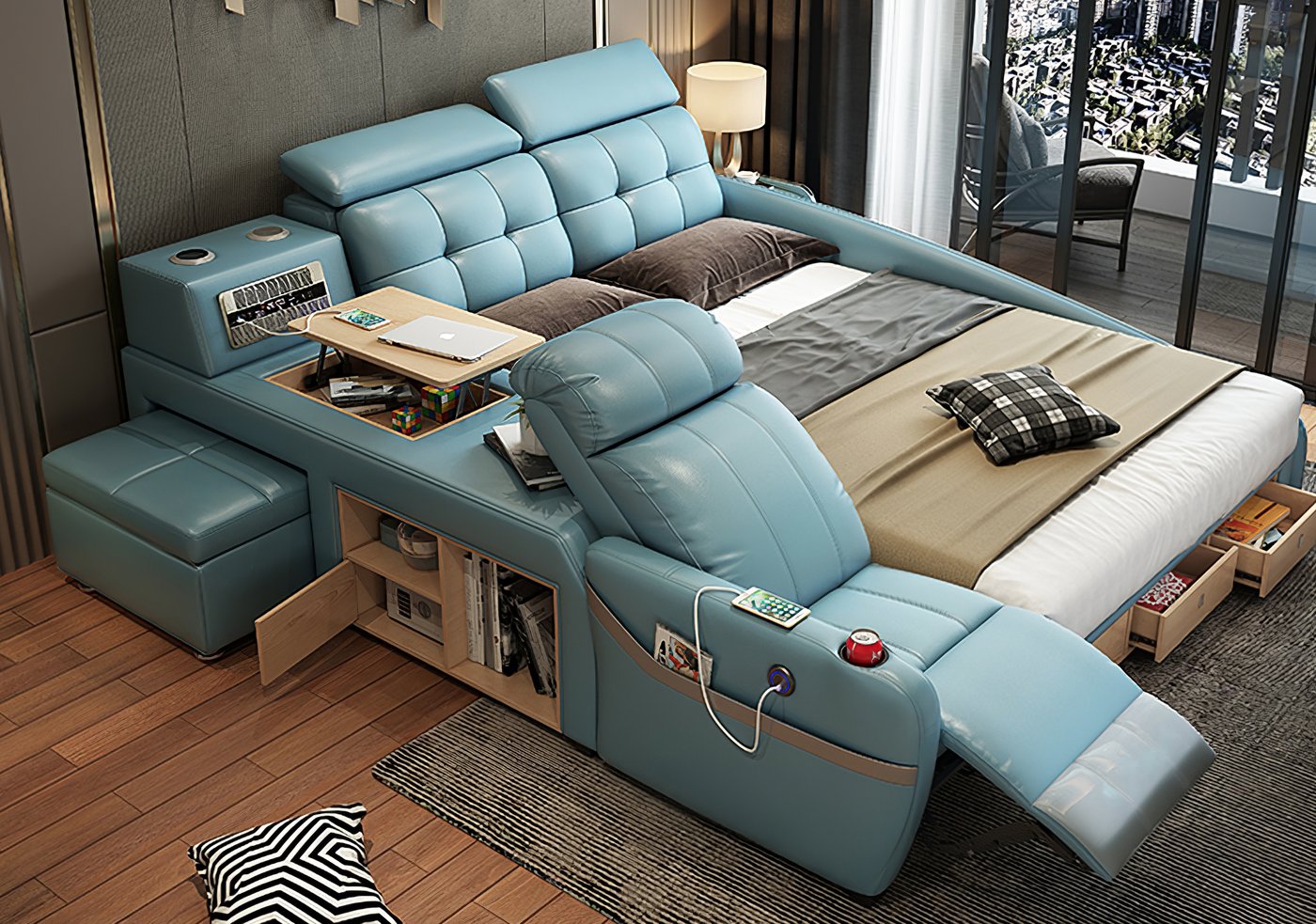 The large pillow/head rests on the top of the headboard are also adjustable so you can get into the comfiest sitting position while you lounge on your new smart bed!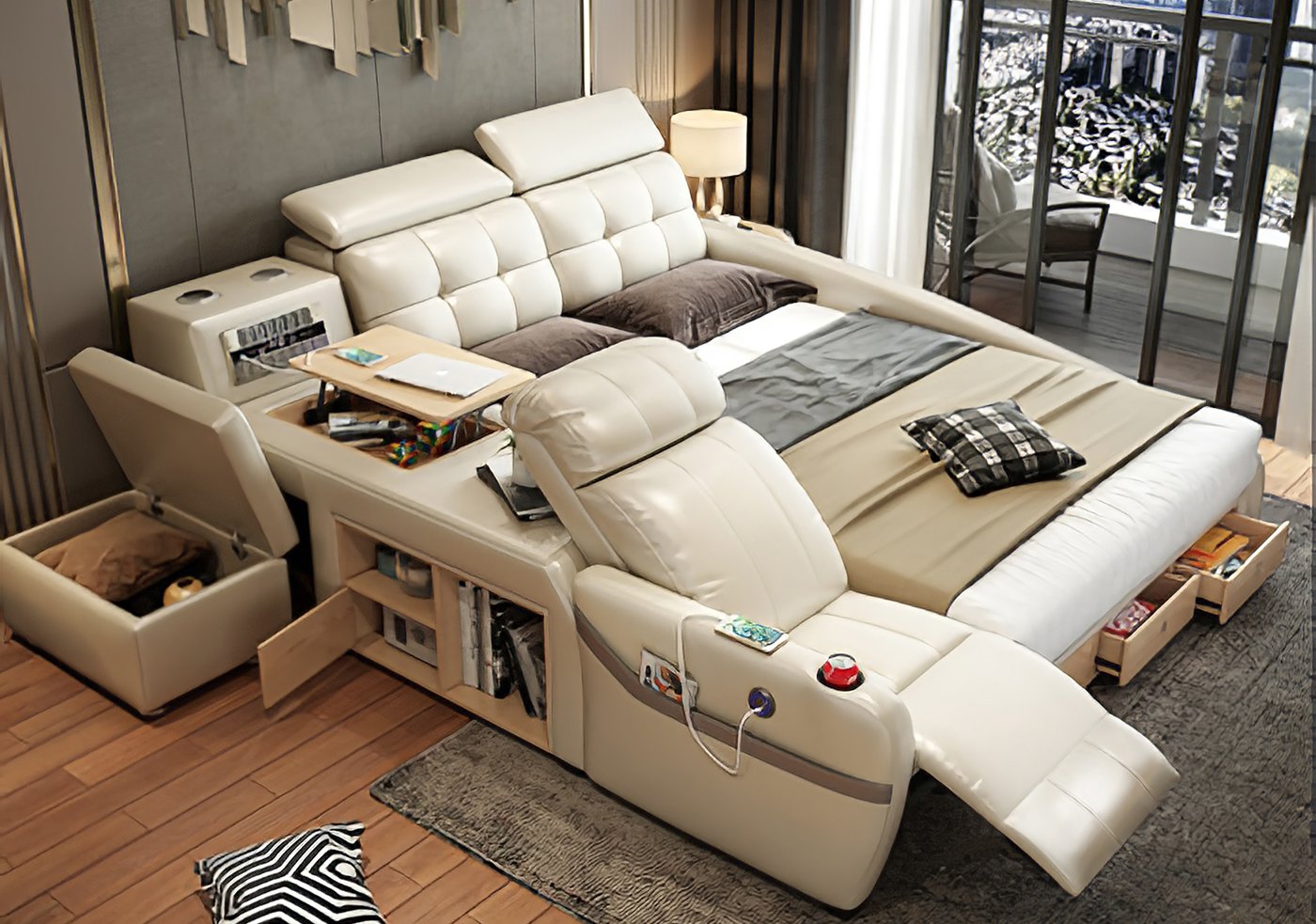 Check out the all-in-one smart bed with an integrated recliner and fan in action via the video below.

Subscribe To Our YouTube Channel