The Cat Lady Starter Pack
By Ryan on 02/14/2020 2:54 PM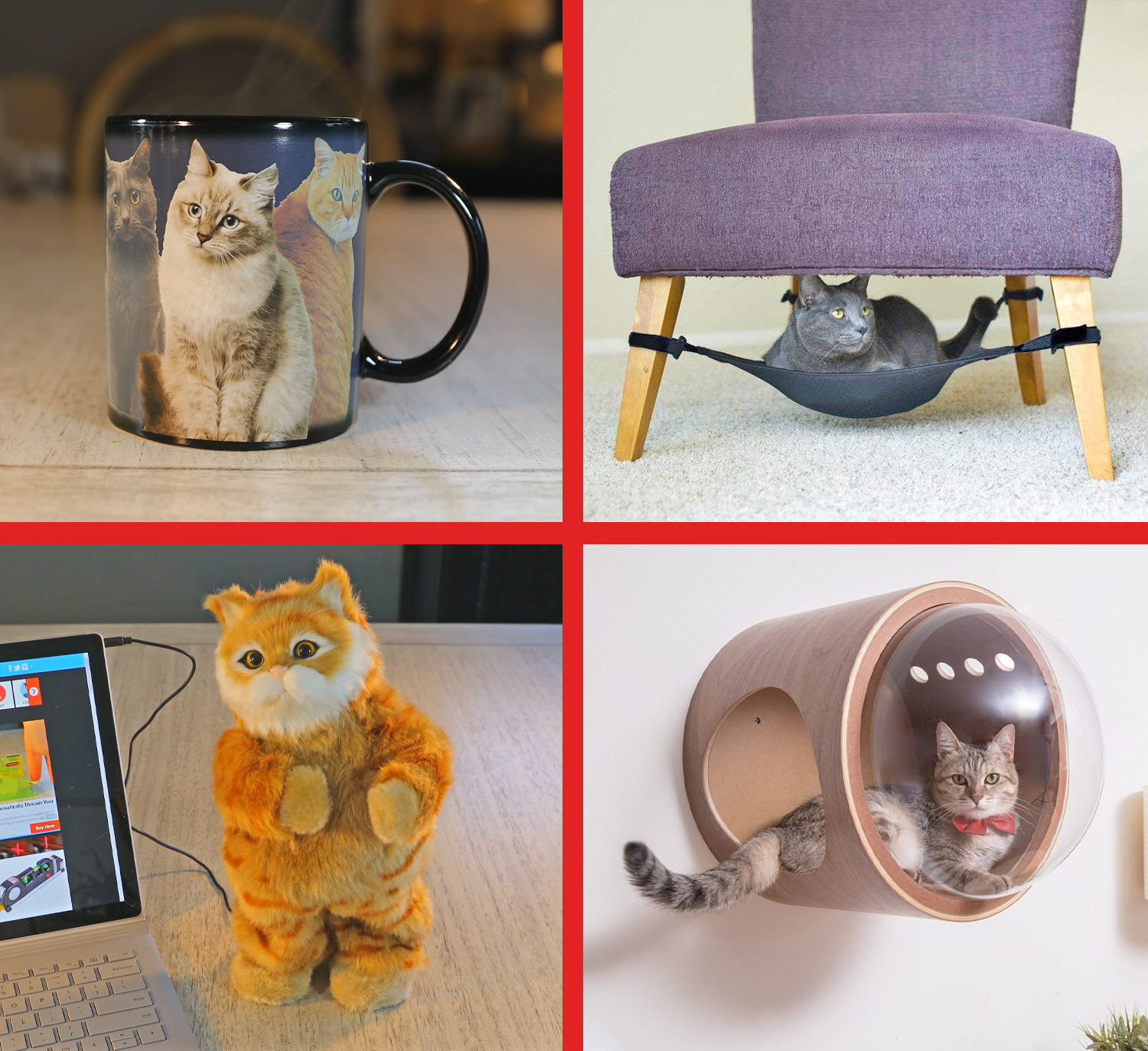 One Cat Leads To Another Heat Changing Mug
It's not a lie... One cat just leads to another. You get 1 cat, then it needs a buddy, and before you know it, you're an official cat lady. This heat changing coffee mug will help you explain to others how your life came to be. One one side of the mug it reads: "One cat just leads to another", and once you add in hot liquid, the cat on the other side of the mug is joined by many other cats.
Cat Crib: An Under Chair Cat Hammock
Pet beds are ugly, and they waste a ton of space! If only there were a way to use already wasted space to give your kitty a nice cozy spot to sleep. The Cat Crib does just that! It's a small little fabric that attaches right under most chairs, and is perfect for people who hate leaving a cat bed around the house. Plus, if you do already have a cat bed, chances are they don't use, and instead sleep in the box that it came in.
Dancing Cat Speaker - Robotic Moving Cat Dances To Your Music
I've seen a lot of cool speakers in my time, but never anything like this. Forget all other speakers. I have found the ultimate speaker every cat lover needs in their life. Once you experience the Dancing Cat Speaker there's just no going back. This robotic cat dances to your music. Now that we have combined the power of cats with speakers, this is the only speaker you will ever need.
Cat Paw Chair Socks
Once you become a cat person, it slowly takes over your life, with one thing after another eventually becoming cat themed. Each purchase you make becomes about your cat, and all of your friends on Facebook tag you in cat posts. You don't know how you got there, or how long the road you took to get there was, but here you are buying cat feet socks for all the chairs in your home.
KittyKorner Turns Corner Of Door Into a Cat Pass
If you're looking to keep your door closed, yet give your cat free-reign of the house, you may want to install a cat pass on your door. But if you're looking to not make a giant unsealable hole in your wall, your options are a bit limited. That is until the KittyKorner came around. It's a way to turn the corner of your door into a hinge which you can close or keep open for your cat.
Cat Head Massager Tool
Once you've reached optimal cat lady status, there comes a time in your life where you think it's necessary to start massaging your cat's face. Luckily, someone has already created a cat face massager, and it is most likely the most specific niche product you could think of. How it works is, the device has a couple of rollers on each side of two prongs, and you simply place your cats face in between the prongs and roll it up and down.
Cat Butt Tissue Dispenser
Cats are the best. They run the internet. Everything about them is awesome. Even their butts. You need this Cat Butt Tissue Holder in your life. You just do. This fun and humorous tissue holder lets you do something that you could never do with your real cat, which is pull tissues from it's butt. Uh, not that you would want to of course. It's both disturbing and fun.
Realistic Cat Body Shoulder Bag Purse
If only there was a way to carry around your cat with you all day without have to deal with the repercussions of how naughty your cat will actually act in public. These hand bags are made to look like real cat bodies, except instead of a playful cute little kitty, you get a lifeless cat carcass with it's innards scooped out so you have a place to keep your lipstick, car keys, and wallet.
Wall-Mounted Bubble Window Cat Bed
You've probably seen the window mounted cat beds we posted a while back, but what about those cats that just want to watch you and what you do all day? This wall mounted cat bed has a giant bubble window on it that gives your cat a beautiful view from a great vantage point. It's called the MYZOO Spaceship Gamma, and it'll bring your cat into the future while also providing the greatest lounging spot in the house.
Fluffy Cat Head Tissue Dispenser
You've seen our list of the quirkiest tissue dispenser, but it appears we've missed one. Similar to the cat butt tissue dispenser that we posted a while back, this tissue dispenser represents the other side of the cat! It's a tissue box cover that's super fluffy and looks like the tissue is coming out of the cats mouth. Or maybe they ate some tissues!
Indiana Jones Cat Bridge - Hanging Rope Bridge For Your Cat
Whether we'd like to admit it or not, we've all been there. We've all wished we could cross one of those rickety rope bridges from Indiana Jones, while jumping to safety right before the bridge snaps off the edge of the land. Well, now at least your cat can with this Indiana Jones Cat Bridge.
Window Mounted Cat Bed Gives Your Kitty A View While They Lounge
Much like how you like to gaze out at the world while you sip your coffee in the morning, your cat also likes a view while they lounge around the house. Even though they're not allowed outside, they should still be able to peek out at the world with stupendous views in-between naps throughout the day. This little kitty pod lets you mount a cat bed right to your window, so that your cats entire wall is the window to the outside world.
Cat Shaped Ice Cube Tray
The cat ice cube tray takes you one step closer to your life goal of becoming a cat lady. No longer will you need to drink your lonely sorrows away with regular cubed ice, you can now drink yourself to a lonely depressing state each night with the company of your cat at your side and cats in your drink, keeping your liquid cool.