Being sick is no fun, and neither is having allergies. Both require you to blow your nose a lot and generally feel yucky. Lucky for you there are many fun tissue dispensers out there that will make you laugh and feel just a little less awful. Your tissue holder should be fun, quirky, and make great conversation pieces. Feel better people, and keep your sense of humor while blowing your nose with the following list of the best quirky tissue dispensers ever made!
1.) Mount Fuji Kleenex Box: Your Tissues Look Like an Erupting Volcano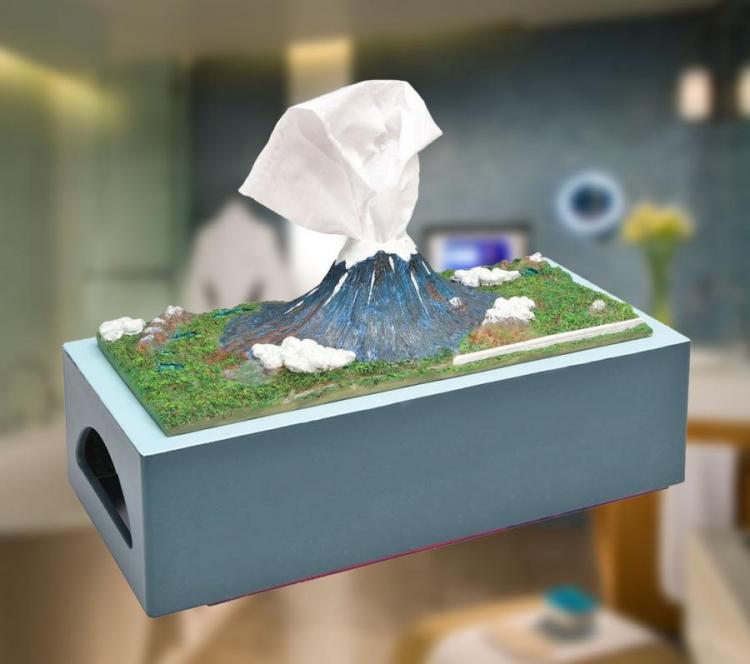 When you're feeling sick with the flu and your nose just keeps running, you need the power of Mount Fuji. That's what this tissue box delivers. It's a fun decorative box that holds a mountain of tissues for when you need them most.
$

29.98
Buy Now
Link directly to this item
2.) Rocket Ship Tissue Dispenser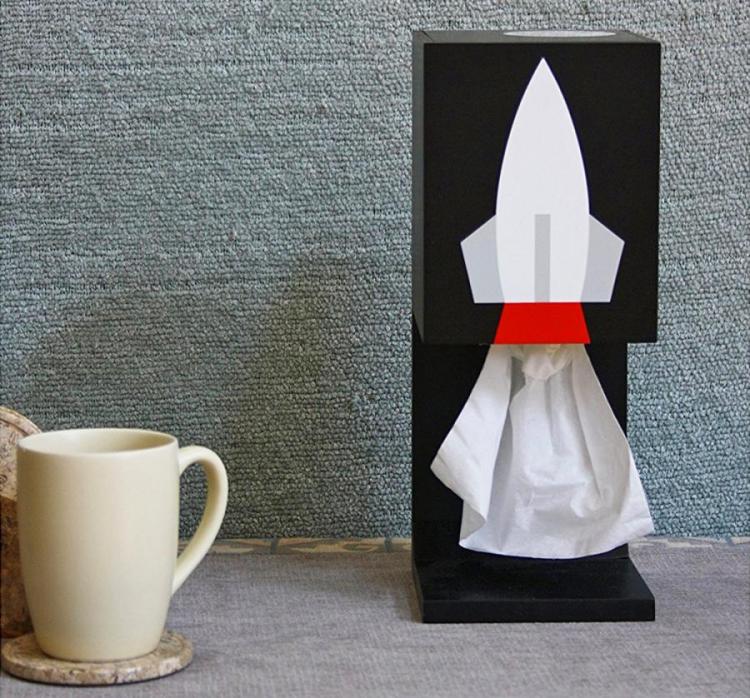 This Rocket Ship Tissue Dispenser is the perfect way to decorate your tissues and make them into something special. It's perfect for a kids room, but will liven up any room. The tissues look like the rocket's exhaust as it blasts off to adventure.
$

24.95
Buy Now
Link directly to this item
3.) Mini Shipping Container Tissue Box That's Made From Actual Metal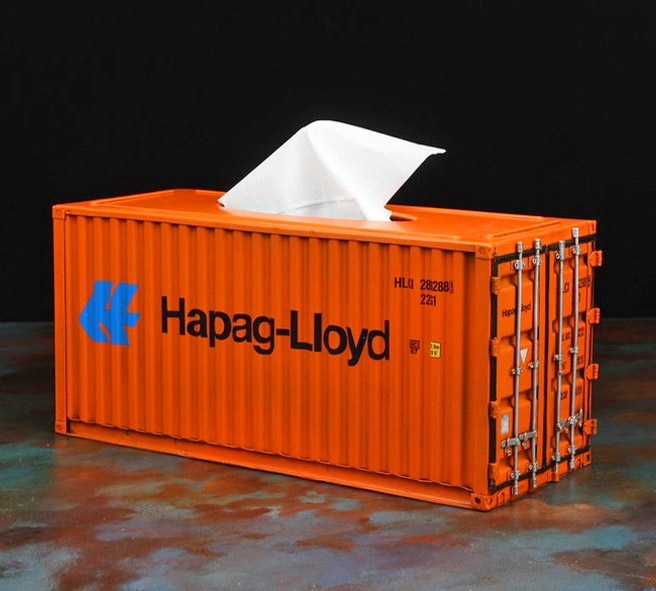 If you like your decor to have more of an urban feel, or that of a shipping dock, check out this Mini Shipping Container Tissue Box. It looks authentic because it is actually made of metal. This is a manly bit of decor that makes girly tissue boxes look tough.
$

69.00
Buy Now
Find on Amazon
Link directly to this item
4.) Cat Butt Tissue Holder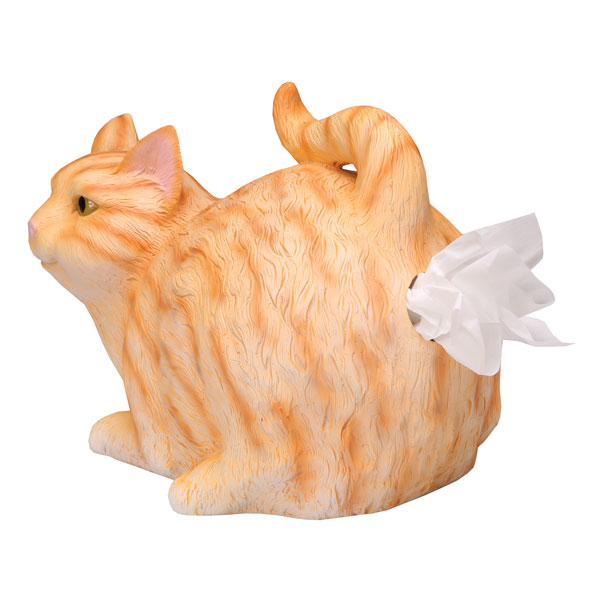 I know that cats are loving and adorable, also very helpful, but I didn't know that you could grab a tissue from their butt when you need to blow your nose. You learn something new everyday I guess. This is the best tissue holder for cat lovers. Also the weirdest. Which is why we love it obviously.
$

29.95
Buy Now
Link directly to this item
5.) Dog Butt Toilet Paper Dispenser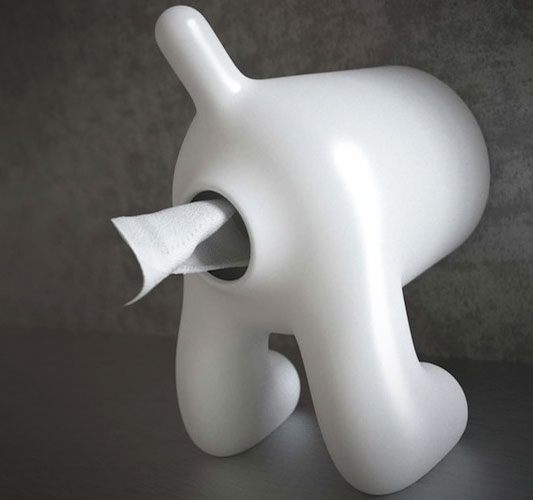 No, that's not a second wagging tail. Those are tissues. In a dog's butt. Score another feat for man's best friend. This guy is always there to provide a soft tissue to a runny nose. Well, his butt is always there. Just waiting. Good boy. I hope that didn't hurt, I just needed a tissue really bad. didn't mean to yank so hard.
$

19.99
Buy Now
Link directly to this item
6.) Shotgun Shells Tissue Box Cover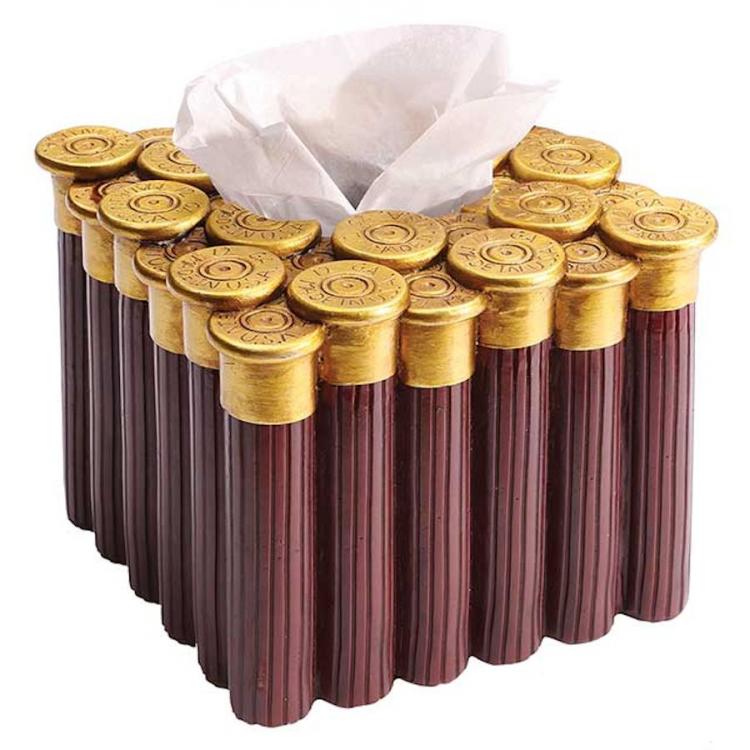 Boom. This Shotgun Shells Tissue Box Cover is maybe the manliest tissue box cover ever. Because you need a lot of ammo when you have a runny nose and you don't want to have to reload often. This is the perfect man gift for the guy who has everything.
$

19.95
Buy Now
Link directly to this item
7.) Digging Dog Tissue Holder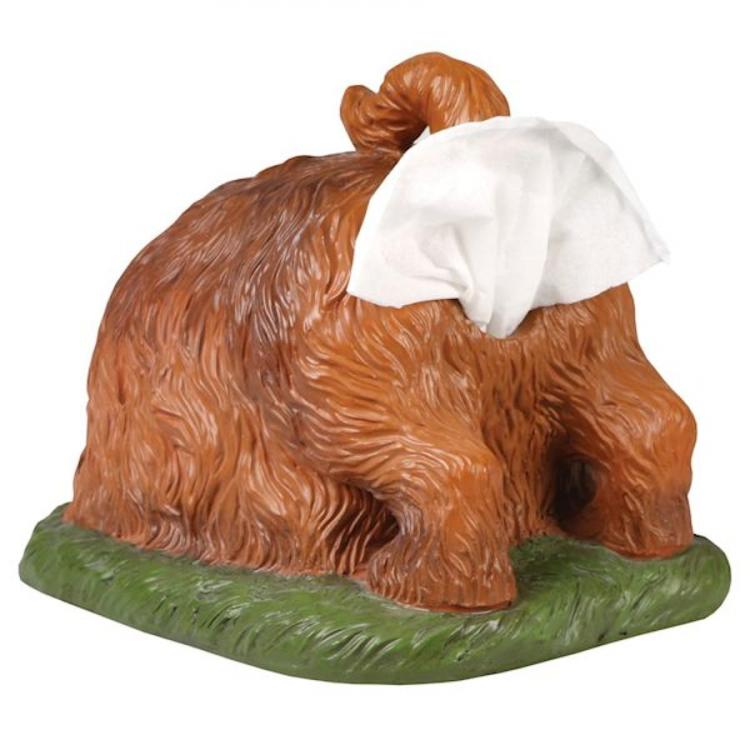 Dog lovers will love this Digging Dog Tissue Holder. You've seen your dog digging in your yard just like this, but I bet you've never grabbed a tissue from it's butt. Now you can. Whether that's a good thing is up to you. This will get people talking in your house.
$

24.95
Buy Now
Link directly to this item
8.) Robot Toilet Paper / Tissue Dispenser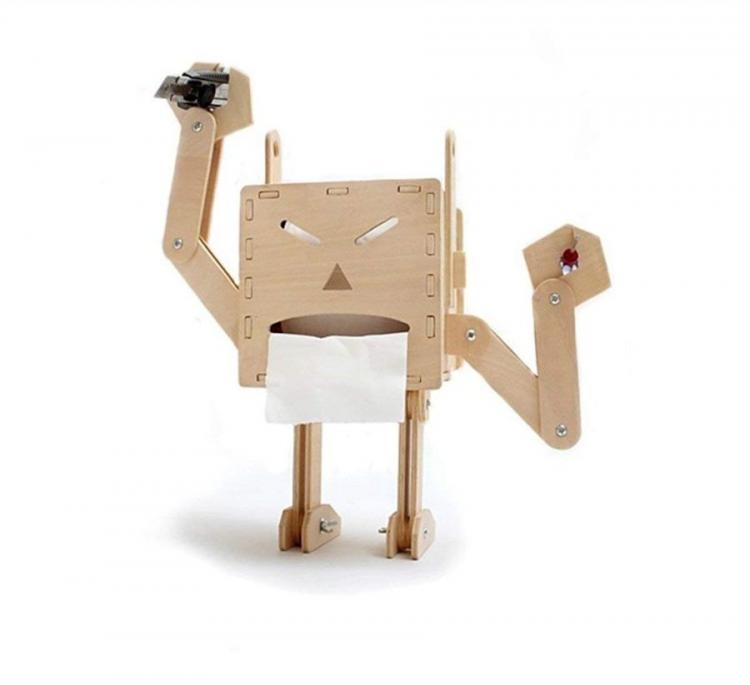 Finally, a robot that helps you when you need some TP. That's the kind of robot that I can get behind. He has different faces that can be displayed, depending on how he feels about his TP handling job at any moment. It works with tissues as well.
$

40.00
Buy Now
Link directly to this item
9.) Shakespeare Tissue Dispenser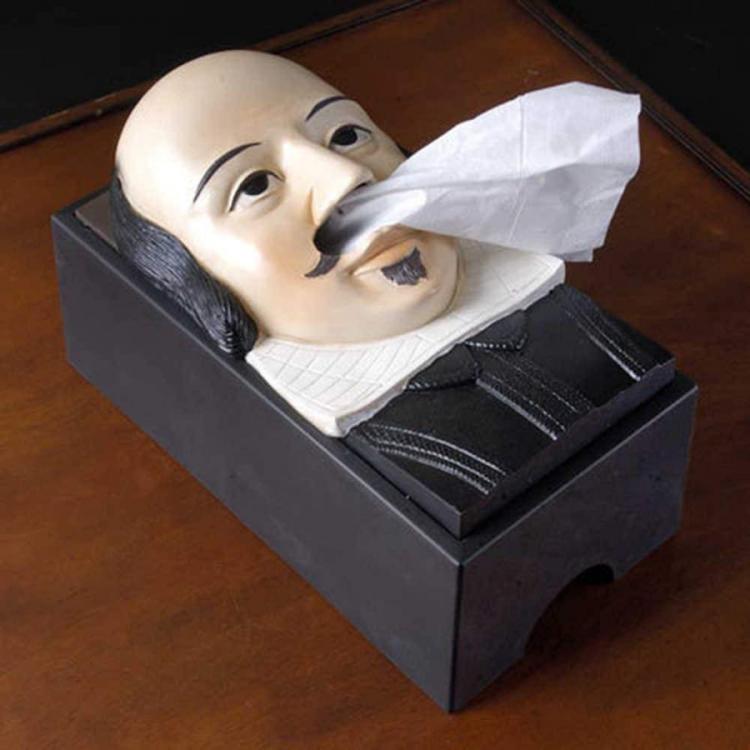 To blow or not to blow your nose. That is the question. And this Shakespeare Tissue Dispenser will help you to answer it. Is it nobler to suffer the slings and arrows of outrageous fortune, Or to take arms against a sea of mucus? Find out with some help from the bard.
$

41.49
Buy Now
Link directly to this item
10.) Tiki Tissue Box Holder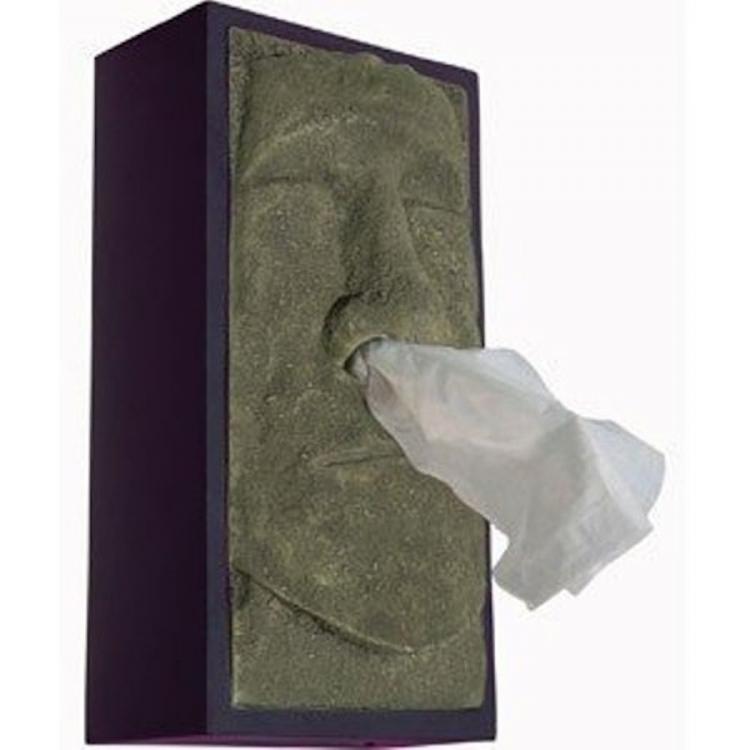 This Tiki Tissue Box Holder makes it look like a tiki statue is sneezing and the tissue is blowing in the wind. It looks like one of those Easter island statues. This is a fun and whimsical tissue box holder for anyone who likes to keep things fun.
$

22.95
Buy Now
Link directly to this item
11.) Bare Butts Tissue Holder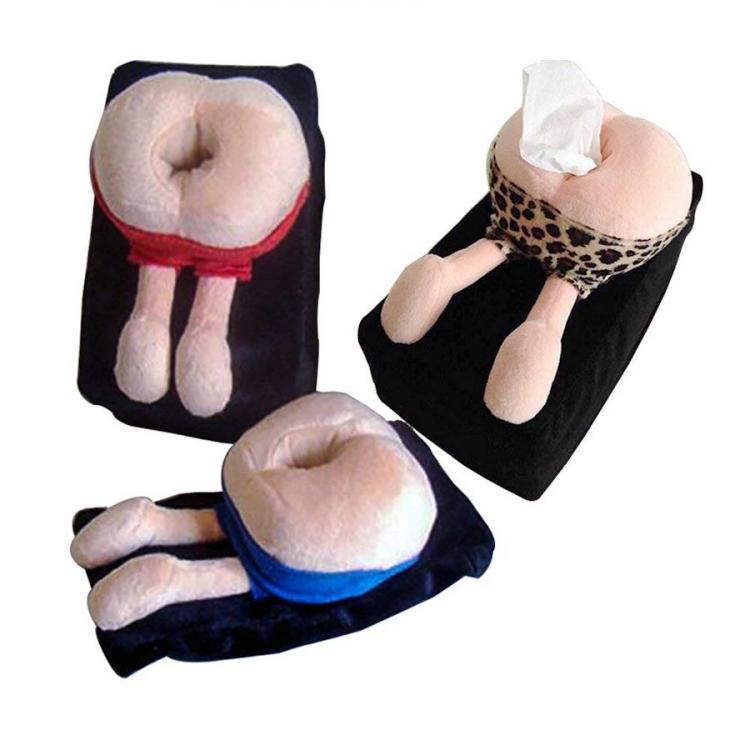 Get these Bare Butts and put them around the house. Then when you need a tissue, pull one from these keisters and do your thing, while trying not to laugh. Your friends and family will laugh for sure when they see them.
$

15.89
Buy Now
Link directly to this item
12.) BONUS: Santa Clause Toilet Cover With Integrated Tissue Box Holder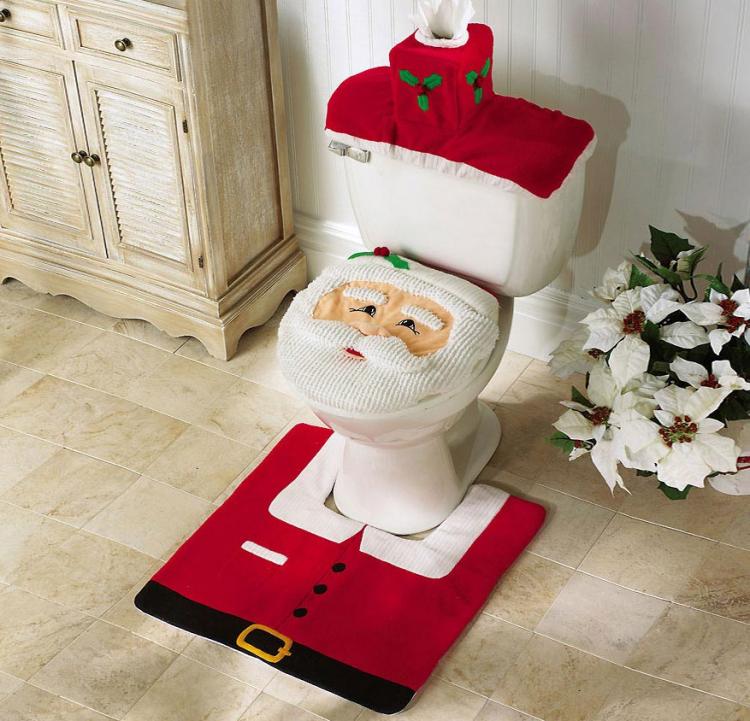 Although this isn't JUST a tissue box holder, I think it should still fit into the list quite nicely. This Christmas you can dress up your toilet to look just like Jolly 'Ol Saint Nick, and get a perfect place to grab your tissues right on top of your toilet!
$

12.99
Buy Now
Link directly to this item