The Rat Barrow Is The World's First Ride-On Motorized Wheelbarrow
By Ryan on 03/26/2020 1:44 PM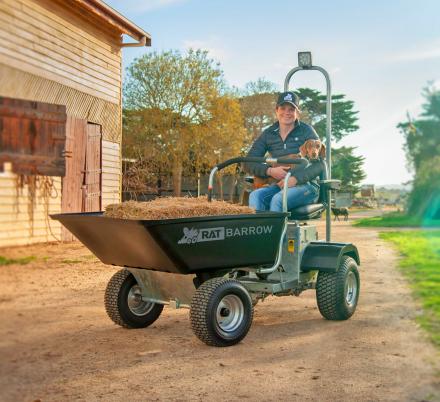 As someone who's used a wheelbarrow once, I like to consider myself a bit of an expert in the field. And let me tell you, wheelbarrows are pretty horrible to use! Not only are they tough on the back, but it's also pretty tough to push heavy loads through on tougher terrains, since you only have one wheel! Someone invented a much better wheelbarrow solution, and it's called the Rat Barrow. It's a motorized wheelbarrow that you can ride on, and best of all, you don't have to balance anything while using it.
Invented by Peter Boulton, an Australian dairy farmer who created it to help his wife who works in their 300 head farm in Gippsland, the Rat Barrow is the World's first ride-on wheelbarrow. It offers a super safe and stable ride while with incredible maneuverability while hauling around heavy loads up to 440 lbs in weight.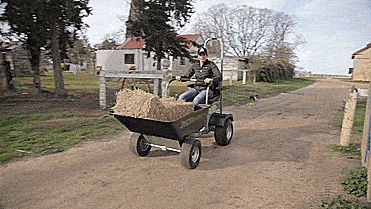 A handle just behind the loading tub acts as a steering wheel for the wheelbarrow. It's then controlled with a gas pedal like a normal car along with a brake pedal to the side of it. A 12 W LED light on the top of the frame can provide light to the surrounding area when while you're working in the dark or later into the evening.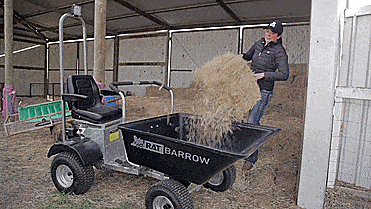 The ride-on wheelbarrow is powered by a key-start Briggs and Stratton engine along with a Tuff Torq K47 hydrostatic transmission that makes for a super smooth ride. It's made with a galvanised steel frame, and can travel at speeds of up to 6 mph. A forward-tipping tub makes it super easy to unload your haul wherever you want it.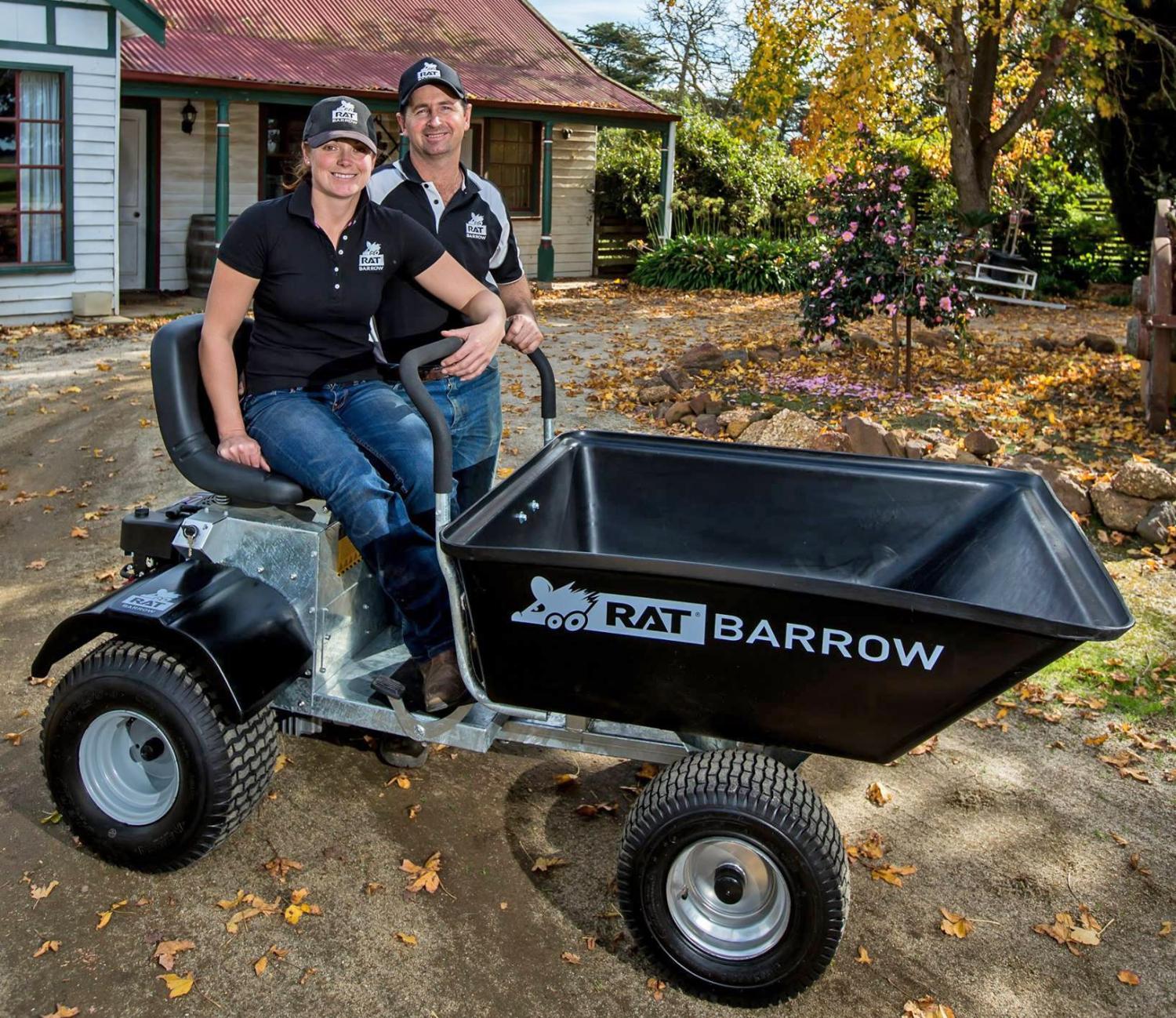 There are also some accessories you can use in tandem with the ride-on wheelbarrow, including the previously mentioned LED light bar, a poly-tub trailer that you can haul behind you for more hauling capacity, along with a mesh-floored trailer as well.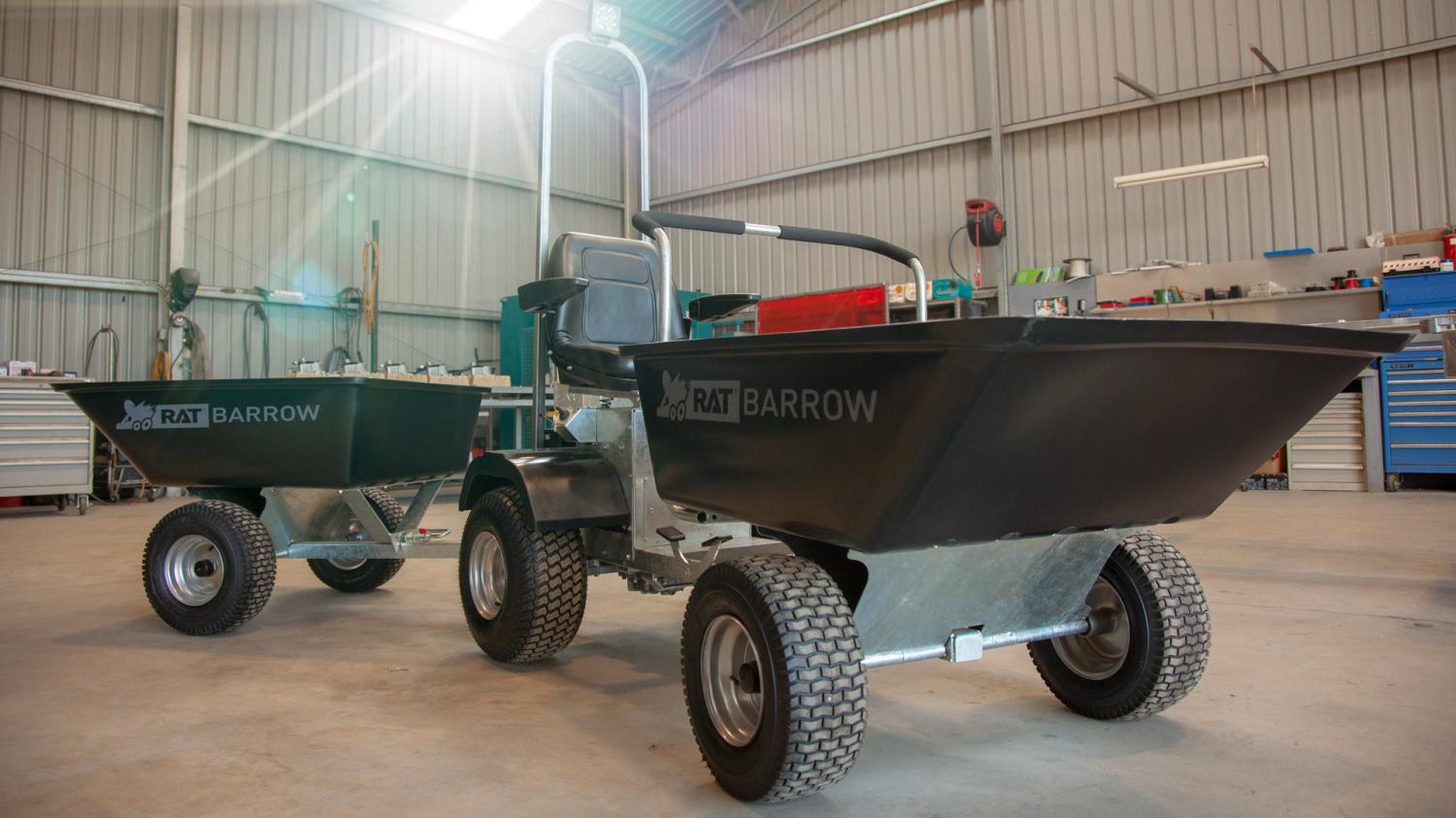 Rat barrows biggest feature is its simplicity. The key start Briggs and Stratton engine with automatic choke and fixed throttle means a quick start every time even on frosty mornings.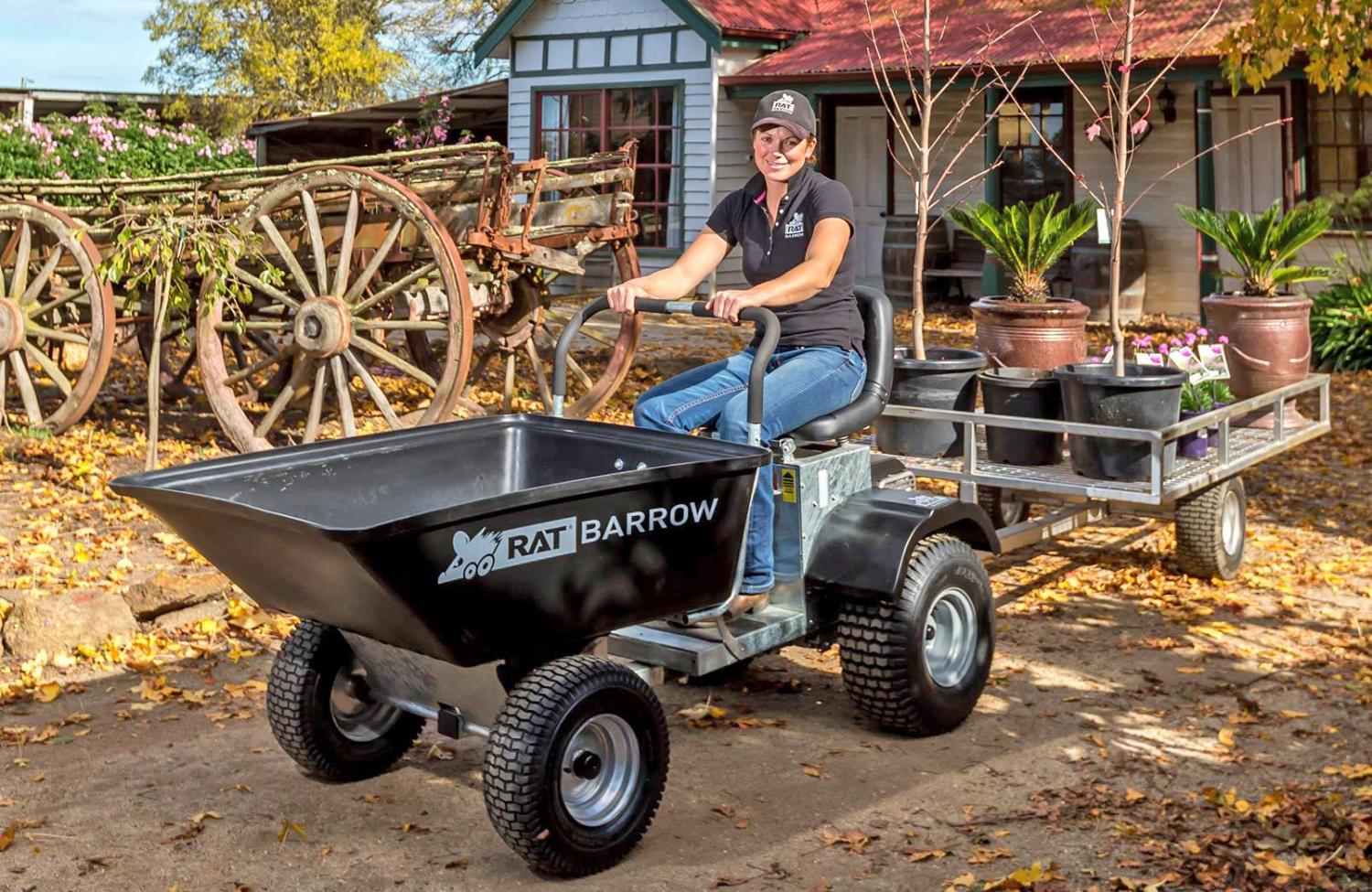 "The single variable speed pedal for forward and reverse makes operation a breeze. A large 7lt fuel tank reduces the need for regular refueling, and a transparent fuel gauge window allows the operator to see fuel levels at all times."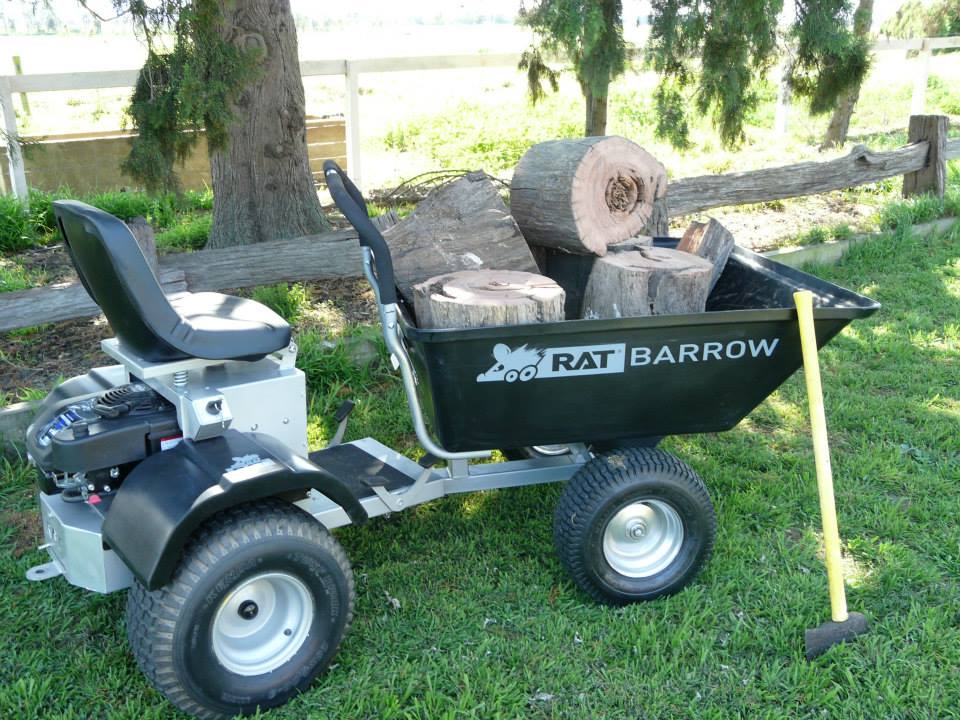 "Tipping large loads is made easy by the balanced load, free tip design. Taking lawn clippings, horse manure or garden pruning' s from A to B has never been easier. The Rat Barrow has no problem with heavier loads such as fire wood, soil or sand and feed bags can be transported and or tipped with ease."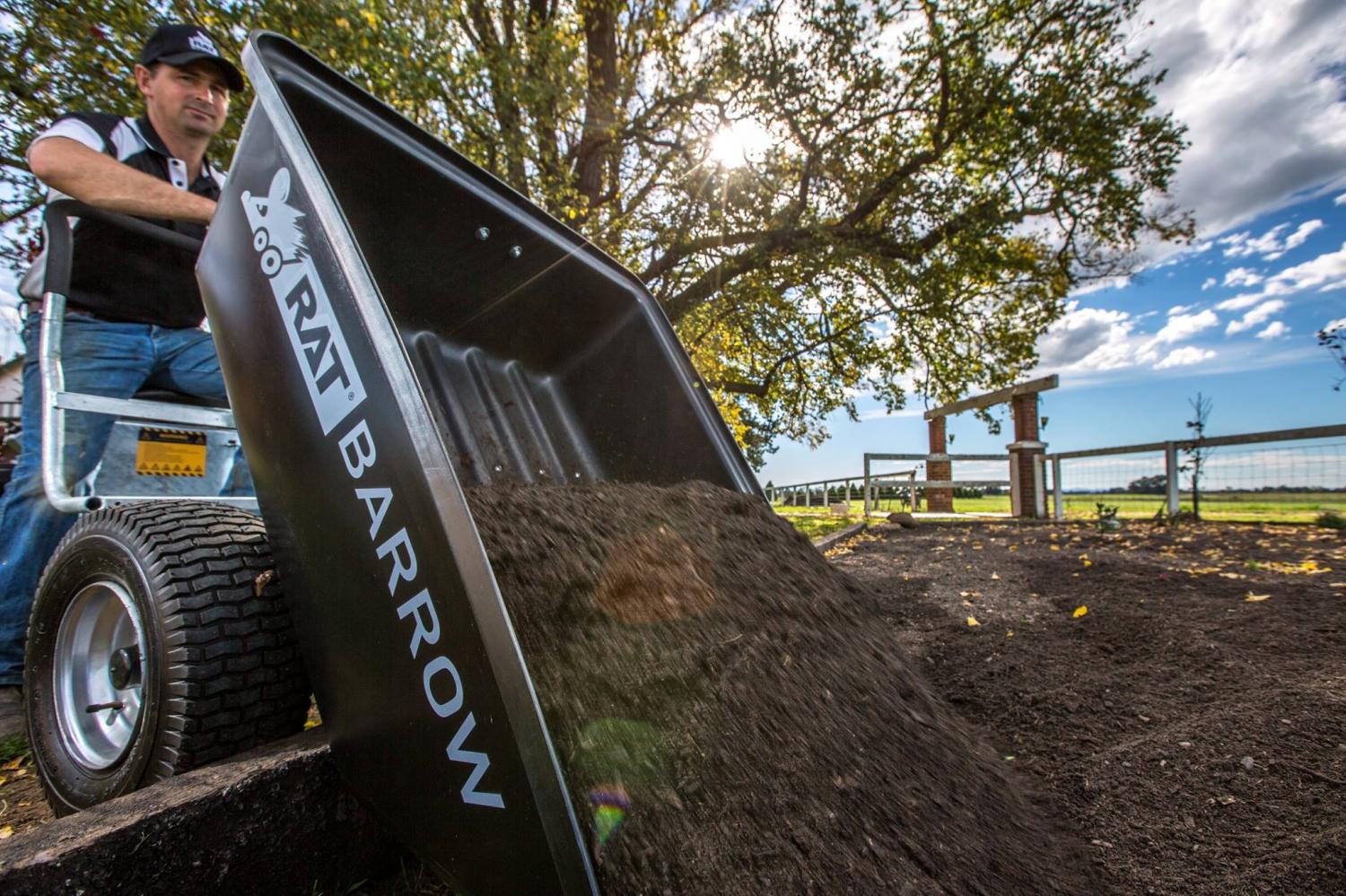 Check out the Rat Barrow ride-on motorized wheelbarrow in action via the video below.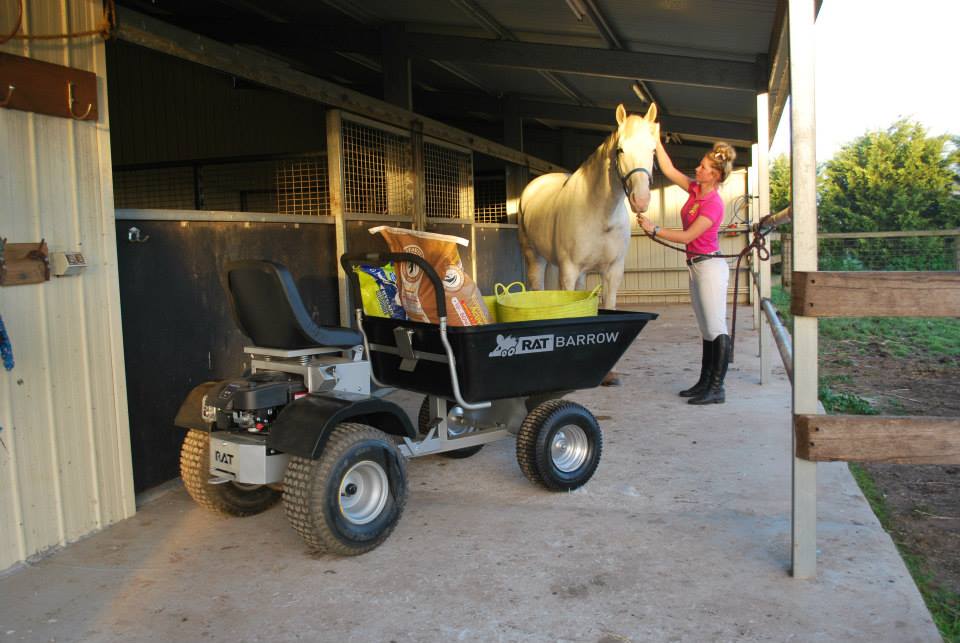 All image credit to Rat Barrow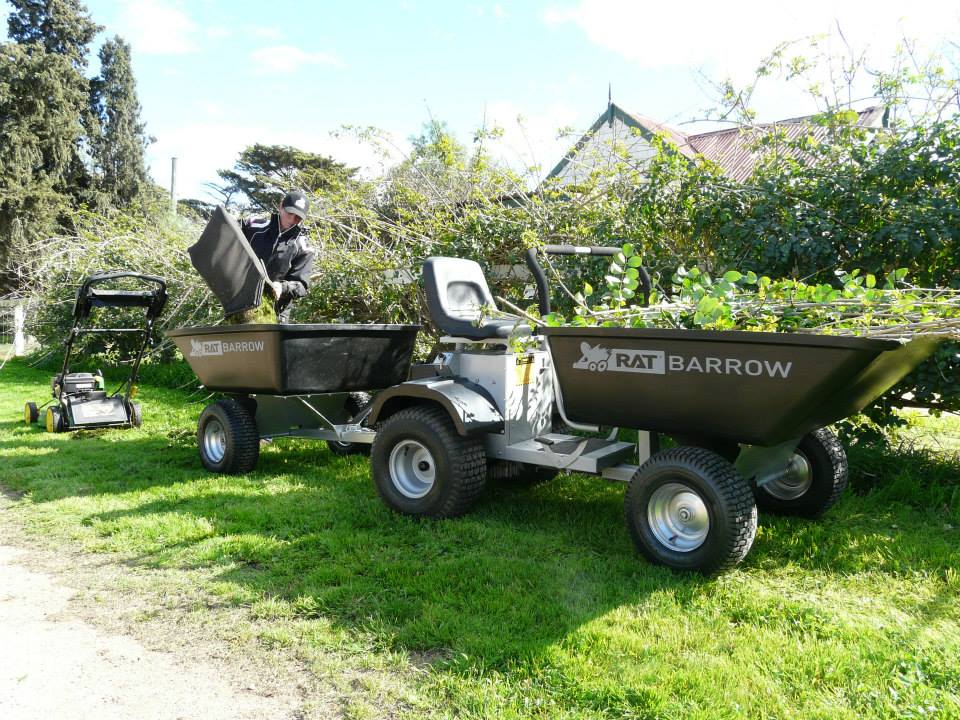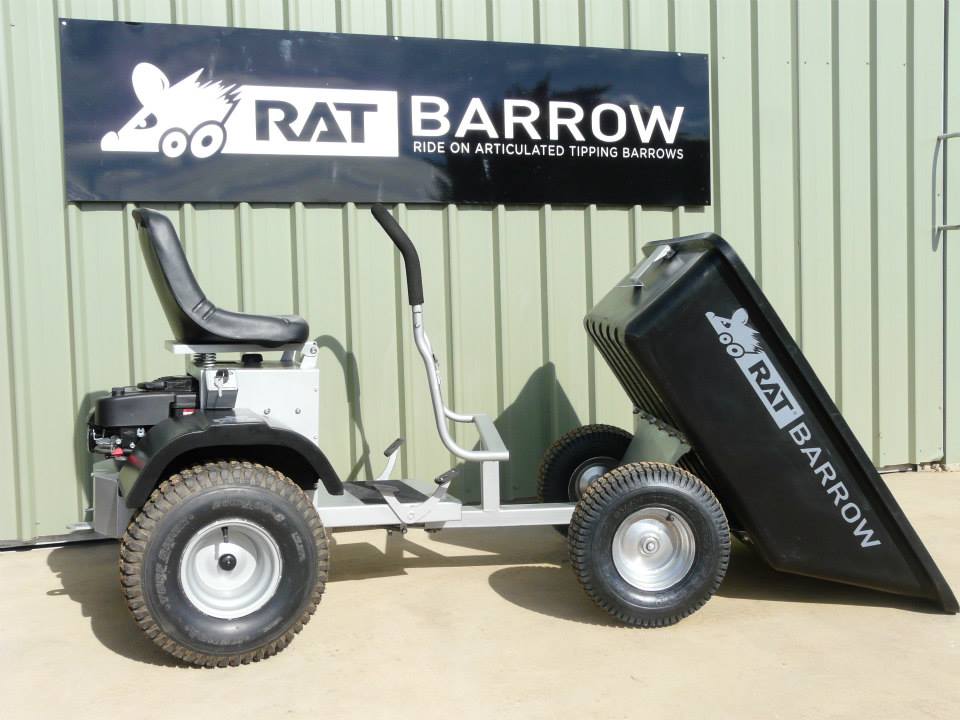 All image credit to Rat Barrow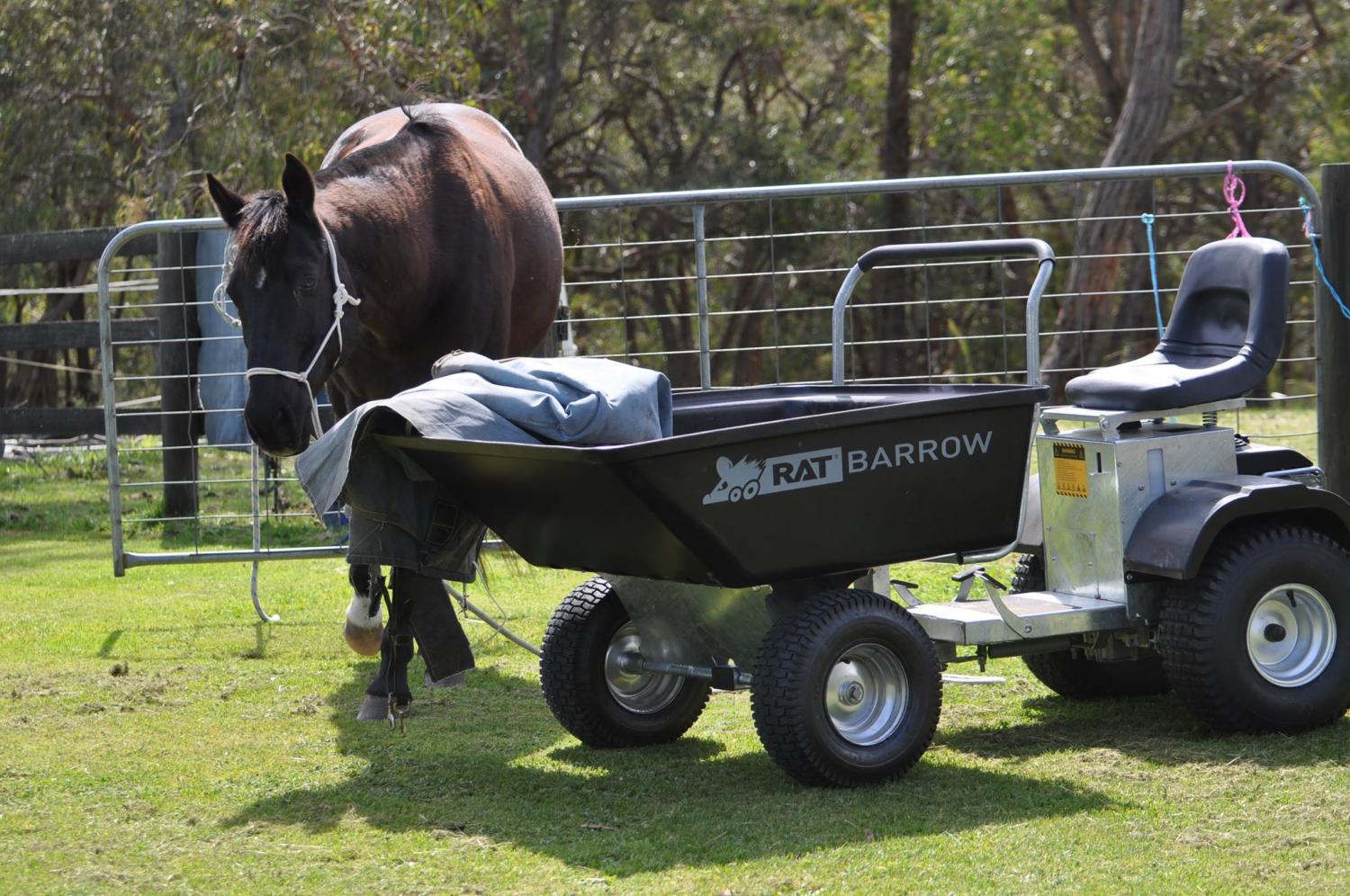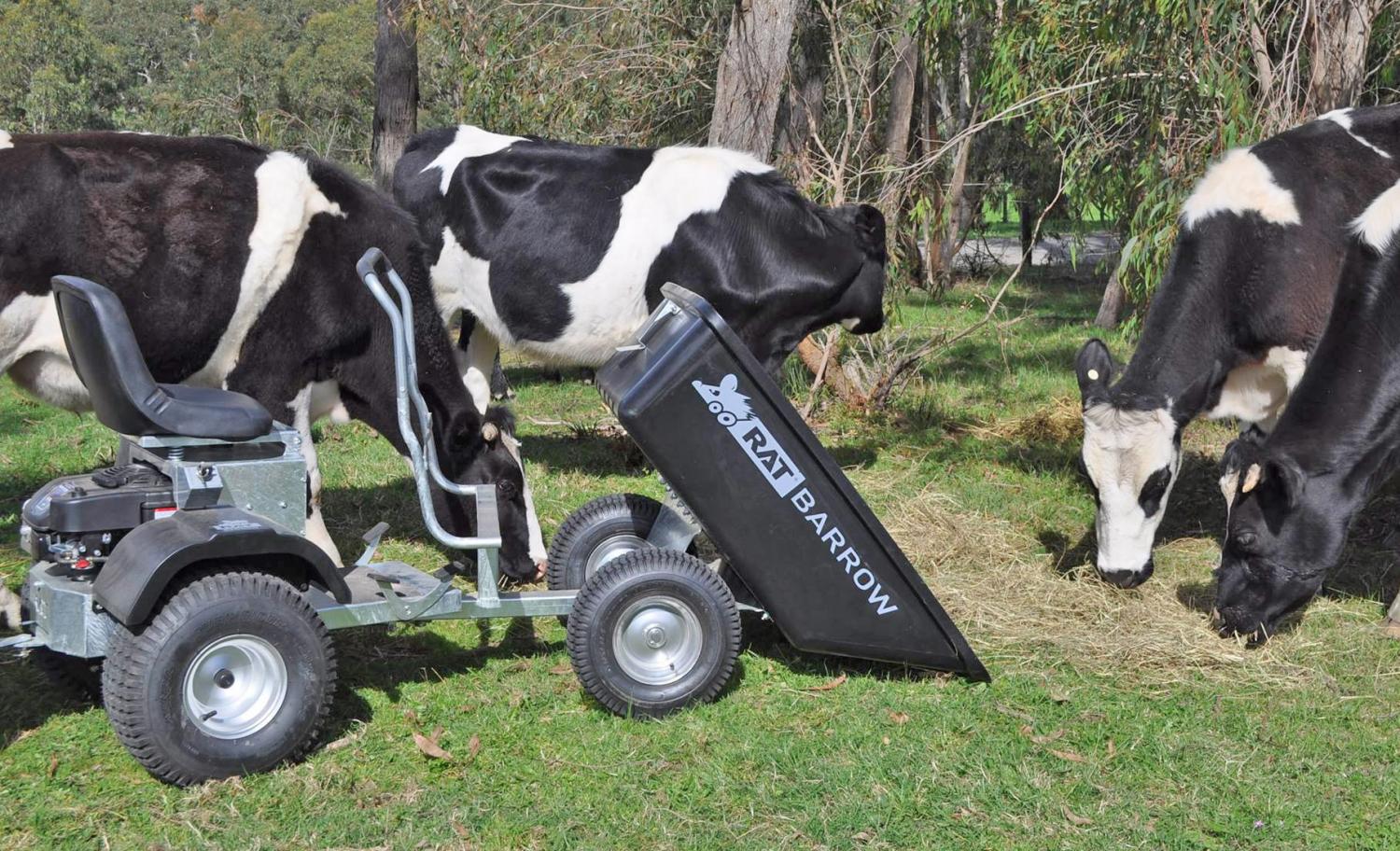 All image credit to Rat Barrow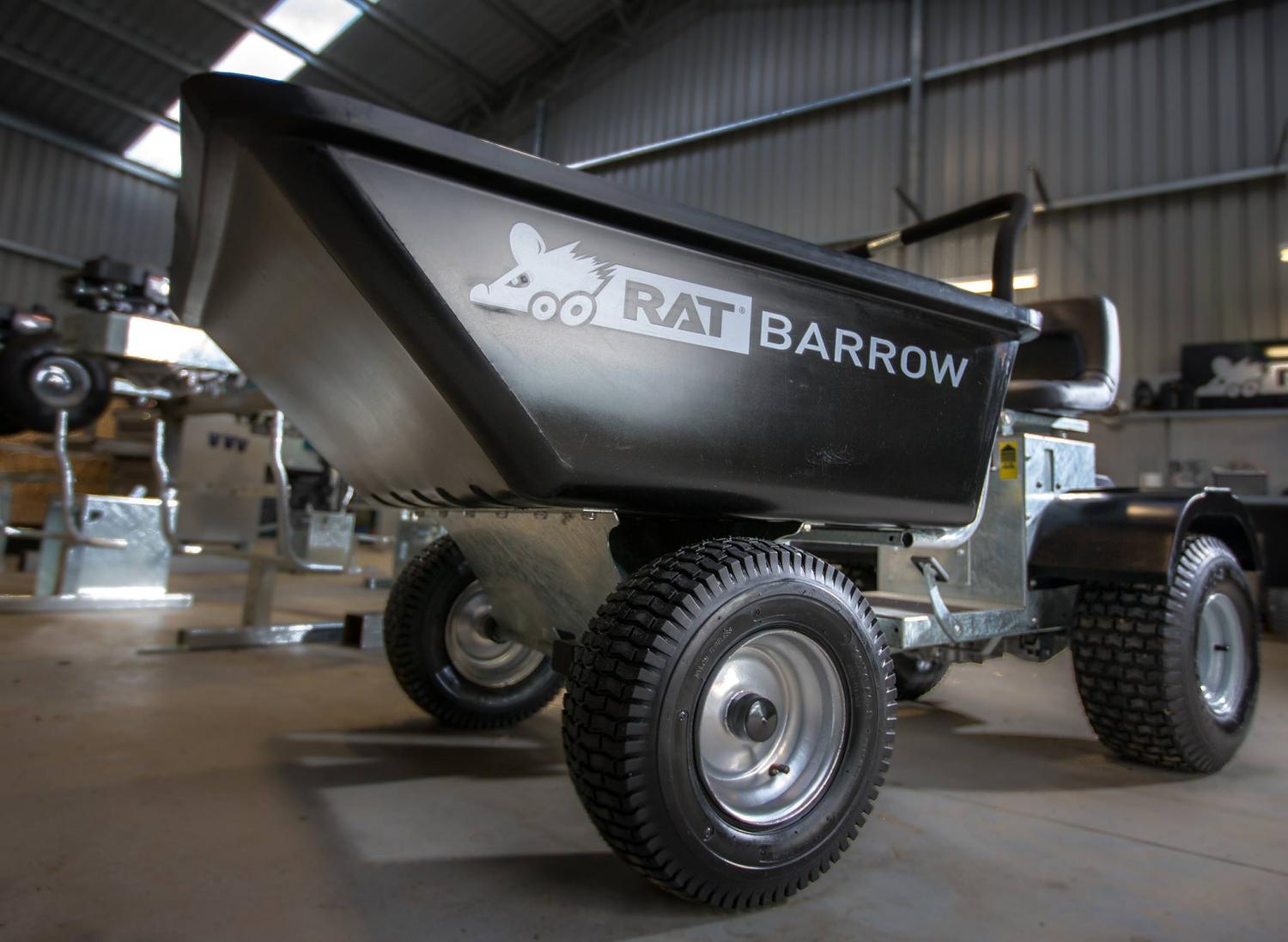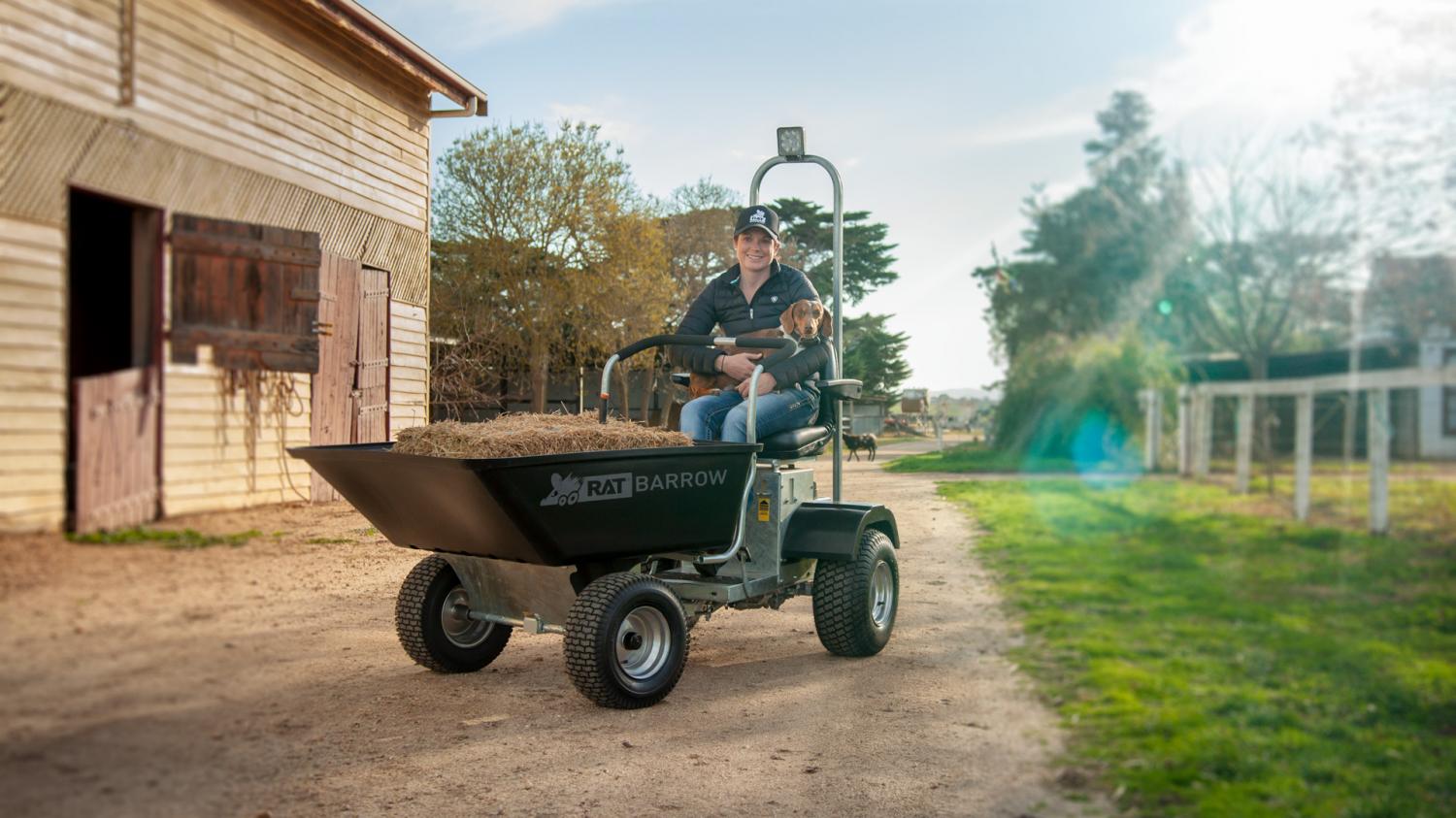 The rear towable tub tips backward for easy unloading.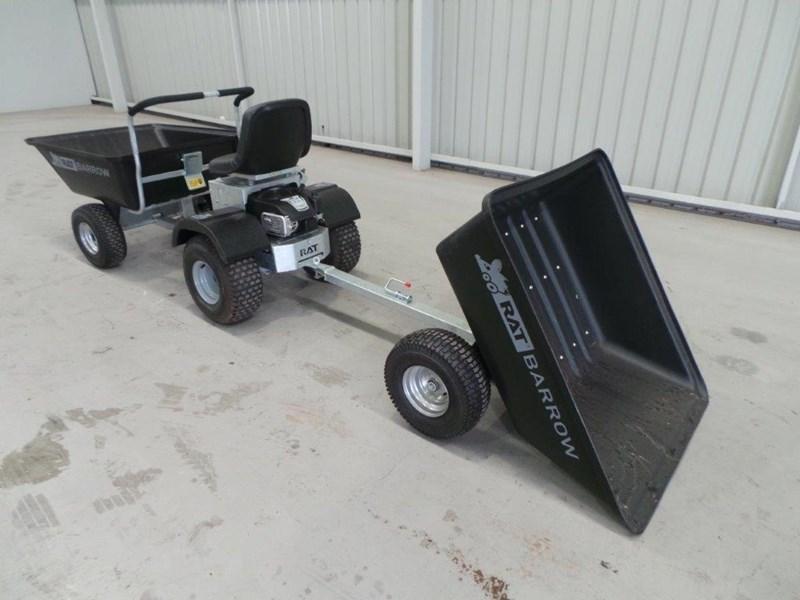 Subscribe To Our YouTube Channel