There's Now Teletubby Hooded Onesies That Let You Become Your Favorite Teletubby
By Ryan on 04/17/2023 9:13 AM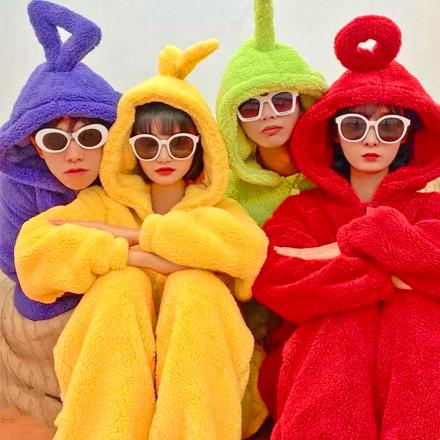 Teletubbies is a classic kids' show that came out of the 1990s and early 2000s, and it's not that surprising that it has developed such a robust fandom. Whether you're looking for a group Halloween costume or just an individual outfit from your favorite Teletubbies character, we've got just the thing for you with our next feature.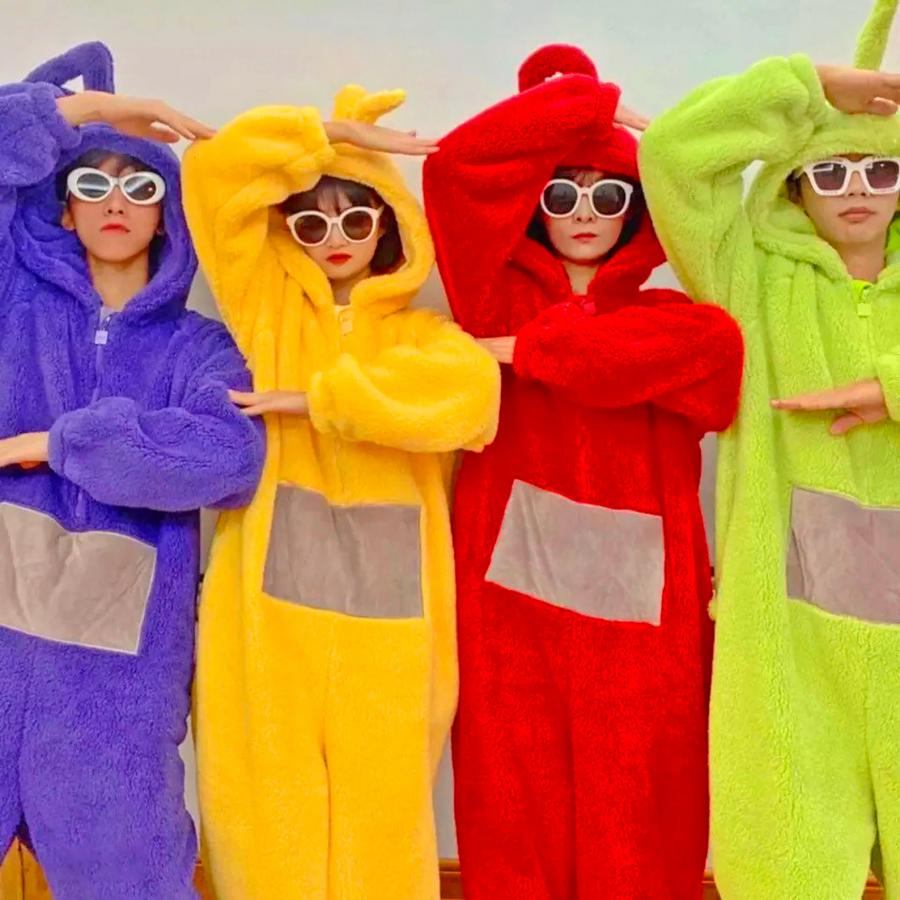 Credit: Wicked Threads
Check out these Teletubbies onesies, which can be purchased in any of the show's four main characters. These Teletubbies onesies look super warm and comfortable and even include hoods, making them a perfect option for group Halloween costumes on cold nights — or for helping your inner child feel comfortable enough to sleep at night. Either way!
These costumes look just like the Teletubbies' outfits in the show, all the way from the shapes on top of their heads, down to the screens on their belly. The fabric looks very soft and could make a great option for just relaxing at home, too. Credit: Wicked Threads
When worn with the hood up, each of the character's specially-shaped antennas appears on top of their hoods. These include Tinky Winky's triangular antenna, Dipsy's straight-line antenna, Laa-Laa's curly antenna and Po's soap bubble-blowing circular antenna.
The Teletubbies hoodie onesies listing offers onesies to represent Tinky Winky, Dipsy, Laa-Laa and Po, colored in purple, green, yellow and red, respectively. These Teletubbies costumes also come in sizes ranging from small to extra large, featuring, all the different shapes on the top of the hood that you'd find on each Teletubby. Credit: Wicked Threads
These Teletubbies costumes are made from a polyester fabric and many buyers say they're comfortable and of great quality. The onesies also appear to have a zipper on the front, from the costume's collar area down to the Teletubbies' belly screens.
The Hong Kong-based shop offers a number of different Halloween costume ideas in addition to the Teletubbies onesies, including dinosaurs, aliens, other varying onesies and more. It also has an overall shop rating of 4.2 stars with 517 reviews, and buyers of the Teletubbies onesies generally have high praise for the product. The shop also welcomes buyers to message them in case of any questions or a need for additional information about the costumes. Credit: Wicked Threads
One buyer, Josephine, also the costumes run a little small, though she still left a five-star review, saying, "Very soft and cozy. They do run small. I got a medium and it fits me pretty well, but the site says my measurements would have fit a small." Delivery of the Teletubbies pajamas is estimated to take up to roughly 5 weeks to arrive, depending on where you live. Credit: Wicked Threads
Along with these Teletubbies hoodie costumes, we've featured a wide range of incredible onesie options in the past that you also might appreciate. These include the Spongebob onesie, these junk-in-the-trunk bean bag onesies, the giant knitted onesies for optimal warmth, or the always-incredible Star Wars wearable sleeping bags. Whatever you hope to use these Teletubbies onesies for, whether at home or at your friend's Halloween party, you're sure to be comfortable, warm and stylish — no matter which of these adorable characters you choose for your costume. Credit: Wicked Threads
You can snag these Teletubbies hooded onesies from their Etsy shop on Etsy for around $50 bucks! Credit: Wicked Threads