These Resin Rings Feature Beautiful Miniatures Inside Them
By Ryan on 04/10/2023 9:18 AM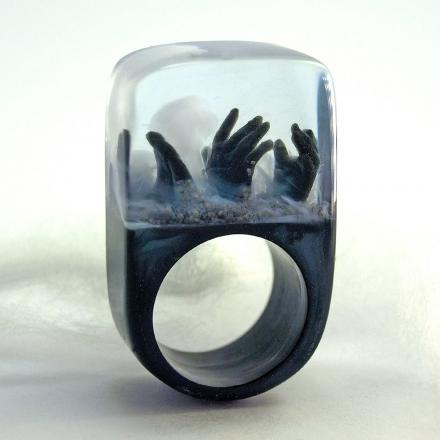 Today's online marketplace has more jewelry to offer than ever, with individual makers now able to market and sell their own products through sites like Etsy. Those who are looking for resin jewelry are in luck, with our next feature coming from a Germany-based maker whose wide range of beautiful resin rings offers stunning miniatures and several unique designs.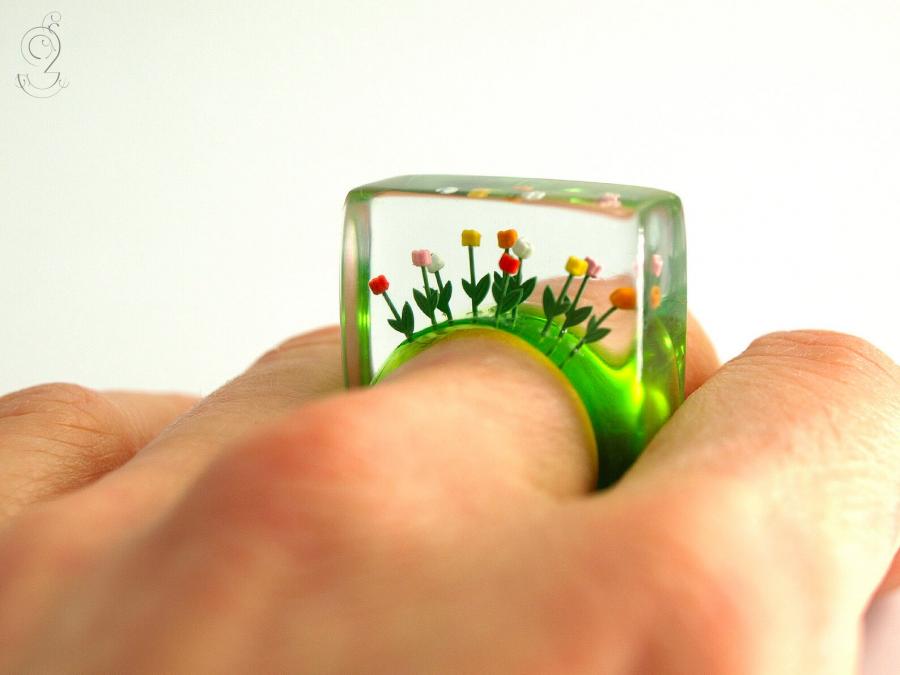 Credit: GeschmeideUnterTeck
Introducing the GeschmeideUnterTeck store on Etsy, a shop dedicated to incredible resin rings which include several different miniatures and scenes inside them — ranging from flowers, to animals, to hobby items, and more.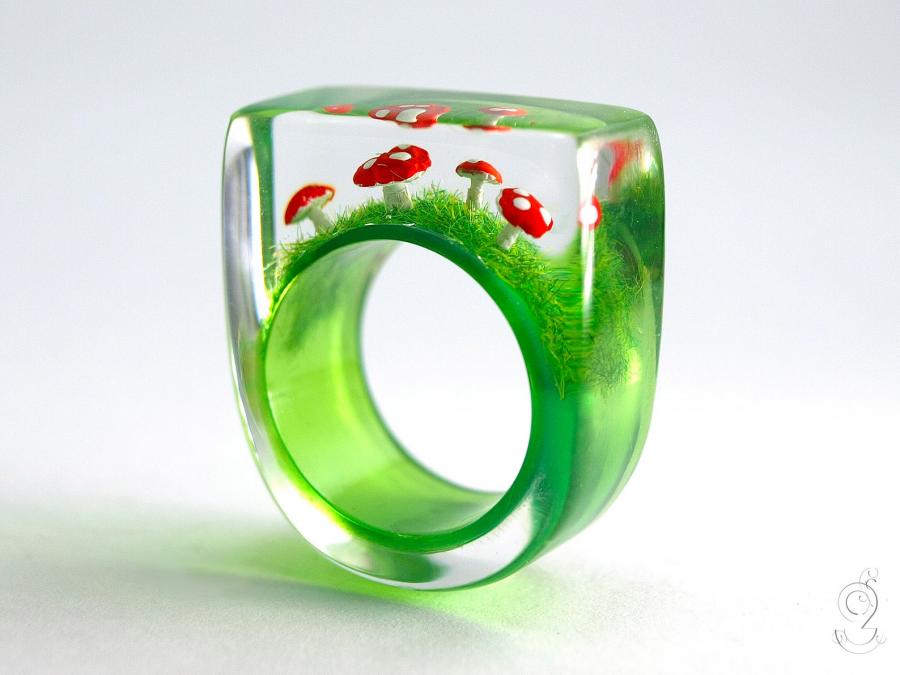 Credit: GeschmeideUnterTeck
Some of these beautiful resin rings also include interesting abstract imagery, bearing interesting combinations of clear and colorful resin designs. Credit: GeschmeideUnterTeck
Take this adorable resin mini-tulip ring, for example, which includes a green resin ring and a clear top showing colorful spring tulip miniatures inside. Credit: GeschmeideUnterTeck
This particular ring can be purchased in sizes ranging from 5 ¼ to 12 ¾ (16mm to 22mm), or you can select the "other" option for custom sizing. Credit: GeschmeideUnterTeck
Like most of these resin rings, the green band of the "Tulips from Amsterdam" ring has a reflective quality that frames the multi-colored tulips at certain angles. This is a great option from the shop for springtime, offering white, orange, red, yellow and pink miniature tulips. Credit: GeschmeideUnterTeck
If sea life is more your fancy, this blue aquarium resin ring is an Etsy pick and an Etsy Design Awards Finalist, and it's not hard to see why. This resin ring has an impressive blend of textural elements, with a combination of cute fish, sand, stones, and moss, all laid beautiful on a blue resin ring. Credit: GeschmeideUnterTeck
You can also select between gold and silver or orange and silver fish, and the shop notes that these rings can be personalized with specific angles (round vs. squared, etc.), sizes, colors and overall contents. Credit: GeschmeideUnterTeck
Another great springtime option is this rounded resin bunny ring, which features a clear resin ring, with a little bit of artificial grass, one cute rabbit, and a few flowers. Credit: GeschmeideUnterTeck
One buyer noted in the reviews noted that the shop owner, Isabell, was happy to "swap out the bunny for a sitting fawn," so it seems like the sky's the limit with customization options here. Credit: GeschmeideUnterTeck
Other awesome options from the shop's resin ring collection include a cherry pie, a pair of paper boats, brown bears, geese, a miniature person working at a sewing machine, a miniature person chewing bubble gum, sewing supplies, mushrooms, maki sushi, and so much more. Credit: GeschmeideUnterTeck
Some of the designs also include more or less transparent bands, like this ice cream bomb resin ring with a cute matte pink and polka dot band. Credit: GeschmeideUnterTeck
All of that to say that it seems like Isabell can bring almost any theme to life with her collection of resin ring designs, so it might be worth looking for something specific that suits the style of you or the person you plan to give the ring to. Credit: GeschmeideUnterTeck
And if in doubt, you might even be able to reach out about something completely custom to see how the shop can bring your idea to life. Credit: GeschmeideUnterTeck
In one five-star review of the resin sewing basket ring, Mélanie said, "Always beautifully made, I bought my first 4 years ago and it is still beautiful." Credit: GeschmeideUnterTeck
These resin rings with miniatures remind us of an old feature with a similar concept: these resin landscape rings, which include beautiful wooden bands as the base. Other great ring options from the past include the classic and recently featured chess board ring, this car grill ring, or this avocado ring holder box for popping the big question. If you are in the market for a resin ring, whether you're looking for something abstract, like this white gold leaf resin ring, or something cute and specific, like this family on a bench ring, you might be able to find what you need from GeschmeideUnterTeck on Etsy.And even if not, you'll almost certainly stumble across something you love along the way. Credit: GeschmeideUnterTeck
You can buy one of these resin rings with miniatures inside them from GeschmeideUnterTeck on Etsy for around $123 bucks, available in 77 different styles! Credit: GeschmeideUnterTeck