This Nicolas Cage Face Mug Is Truly a National Treasure
By Ryan on 01/10/2022 3:02 PM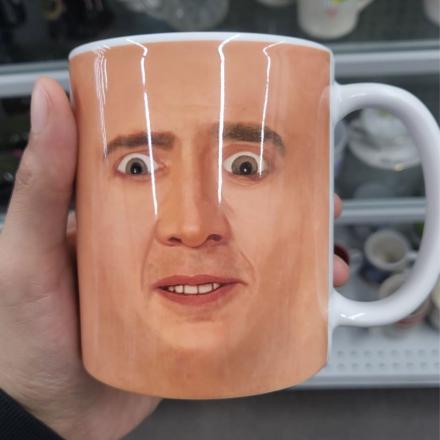 We all know if from his movies that are not called movies, but Nicolas Cage movies. His infamy will surely live on forever, especially now that his face is now plastered on a coffee mug! Forget about the Nicolas Cage face sequin pillow case, the Nicolas Cage face bikini, or even the Nicolas Cage face Christmas ornament. That's right, his cute and creepy face is printed on this mug like a meme. His beautiful mug is wrapped around the entirety of the mug in probably the creepiest way possible! Best of all, it only appears when hot liquid is added, so you can creep everyone out that uses it!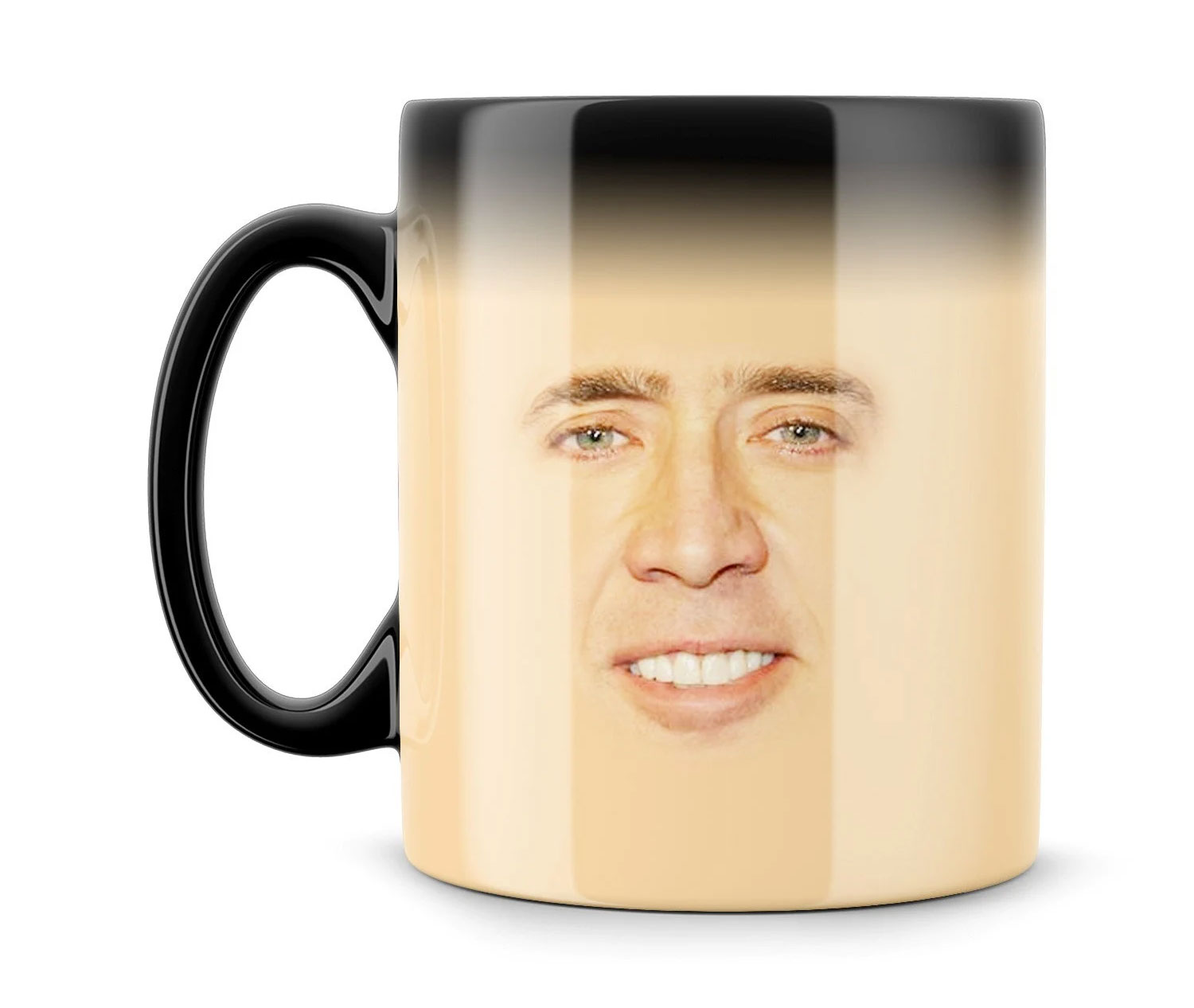 This mug has a Nicolas Cage face printed on it and it's perfect for starting your day right. The mug is made from high-quality ceramic and it can be used at home or in the office. It has a capacity of 11 ounces which is ideal for that caffeine kick in the morning. The mug can also be used as a pencil holder, desk accessory, or you can gift it to a Nicolas Cage fanatic. The special design due to the excellent craftsmanship of the mug allows you to have a good grip on the mug and avoid accidental spillages while holding it.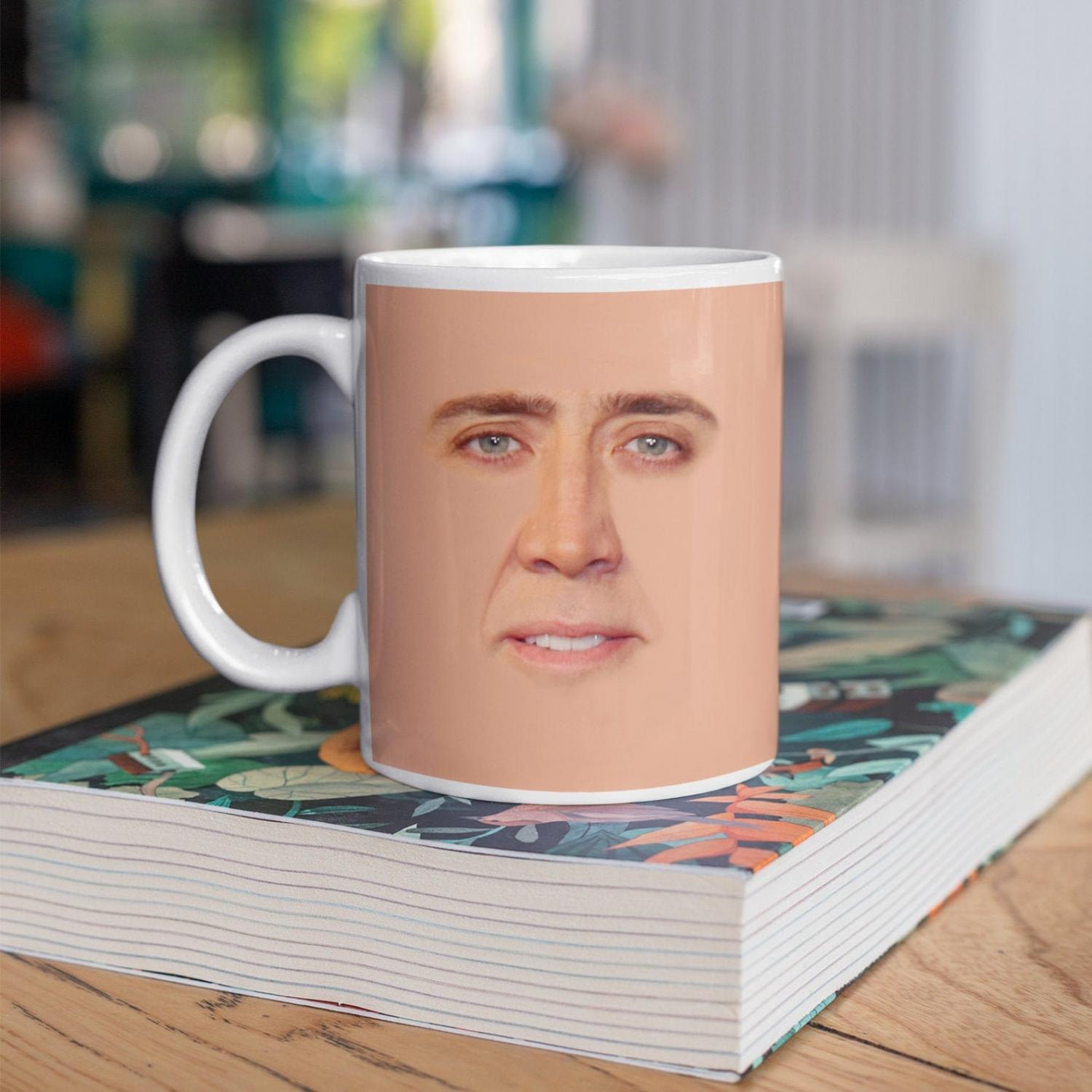 Get this version here
The quality of the ink print is amazing, do not expect the mug to fade or undergo deformation. There are bright and vivid colors on both sides of the mug, the pattern is cute which when coupled with the high-quality ceramic results in this masterpiece. The moderately thick ceramic and independent handle ensure that the holder of the mug is comfortable holding it no matter how hot or cold the beverage is. The mug is great for tea, coffee, or hot chocolate, it's versatile enough for the beverage of your choice.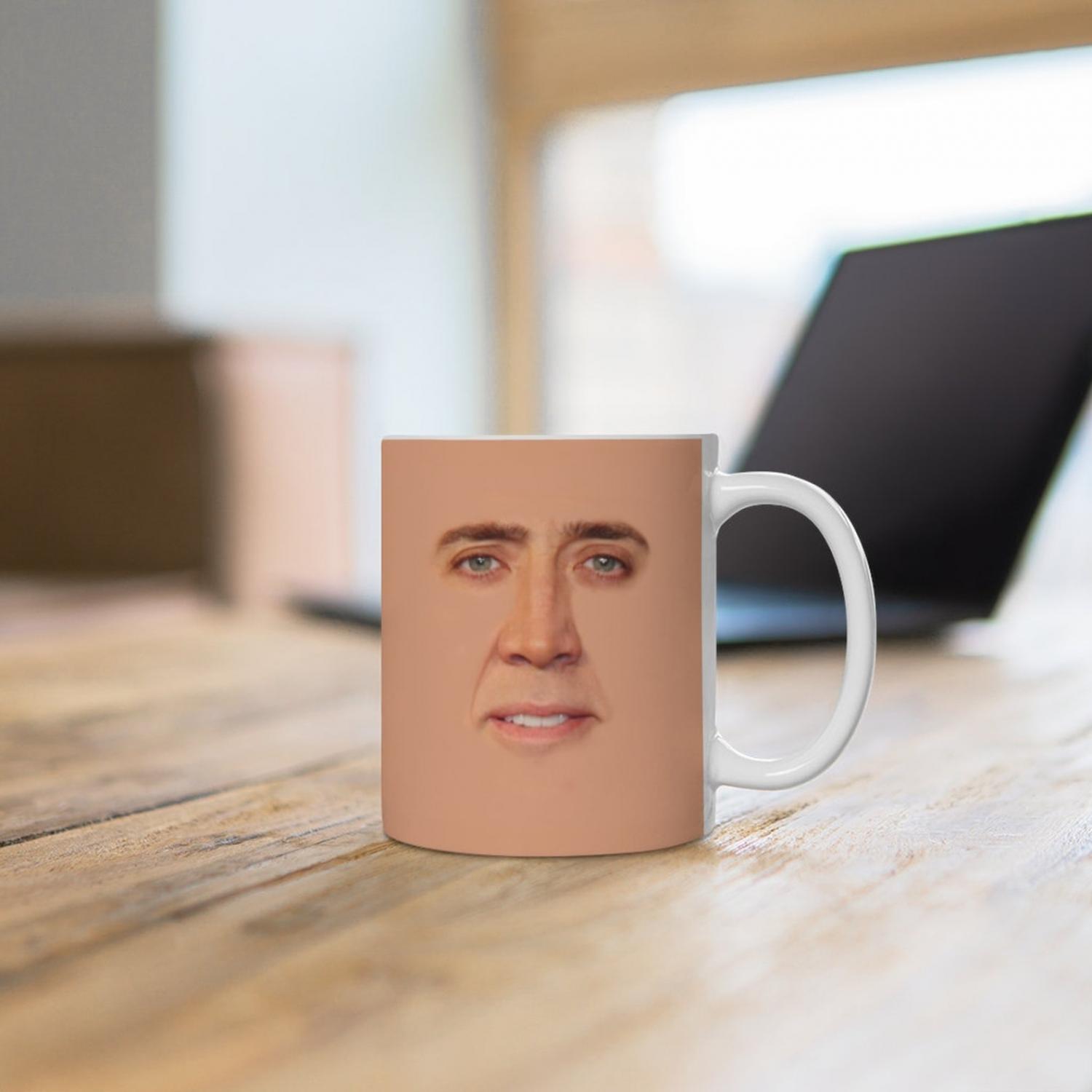 Get this version here
As a gift, this mug is ideal for a housewarming or you can gift it to a Nicolas Cage fan. It shows you're willing to put in extra effort to get a personalized gift, which adds a nice touch to it. The mug is unisex and can be used or gifted to a man or woman. The print will definitely make an impression and the mug comes well-packaged like a gift. A hand wash is recommended for the mug because of the special heat-sensitive coating. Get this version here
What better way to enjoy a nice relaxing morning while having a sip of your favorite beverage than with this Nicolas Cage face mug!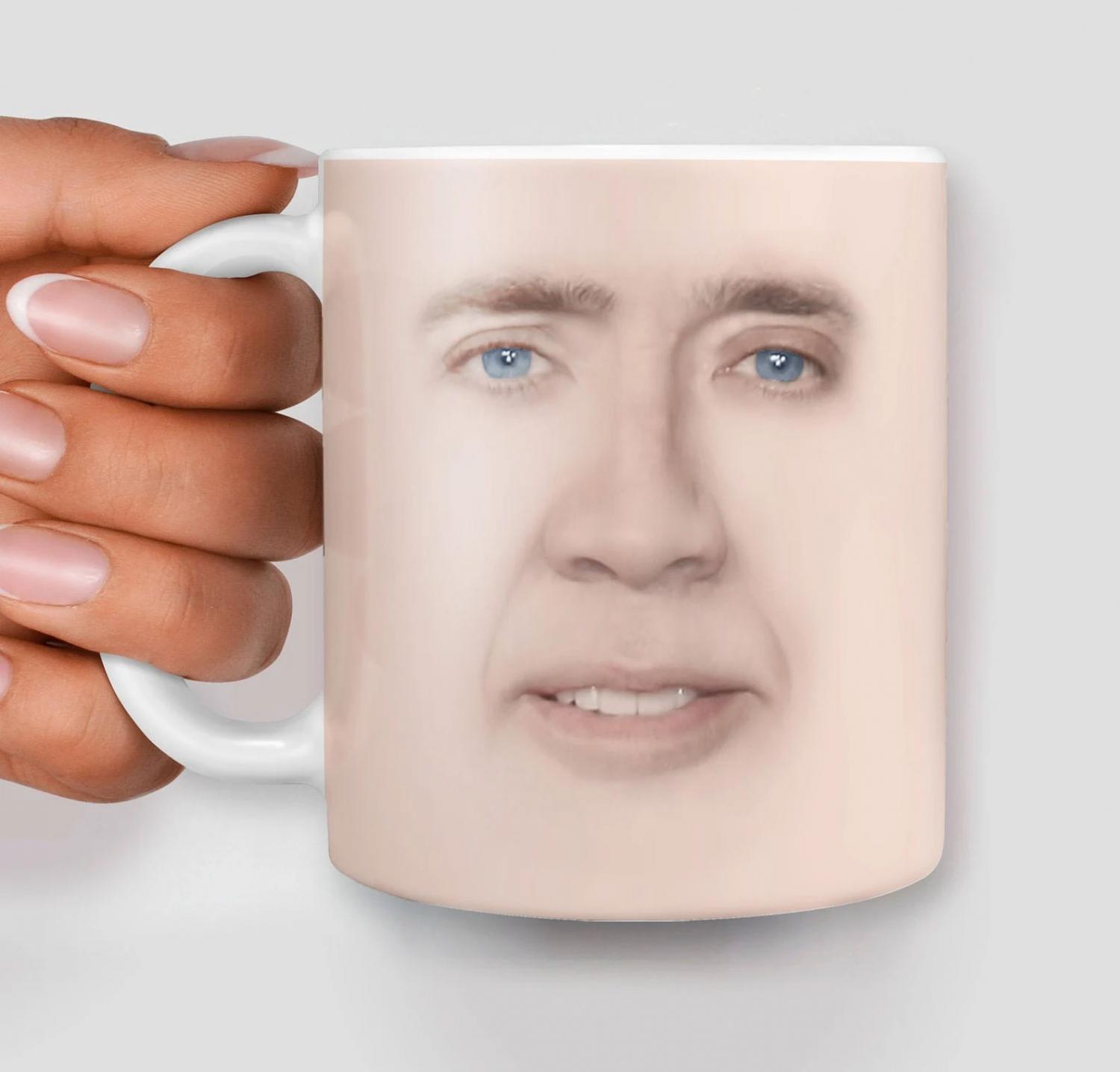 Get this version here
Facebook user Jasmine found a sweet Nicolas Cage face coffee mug at her local Goodwill and she just had to bring it home!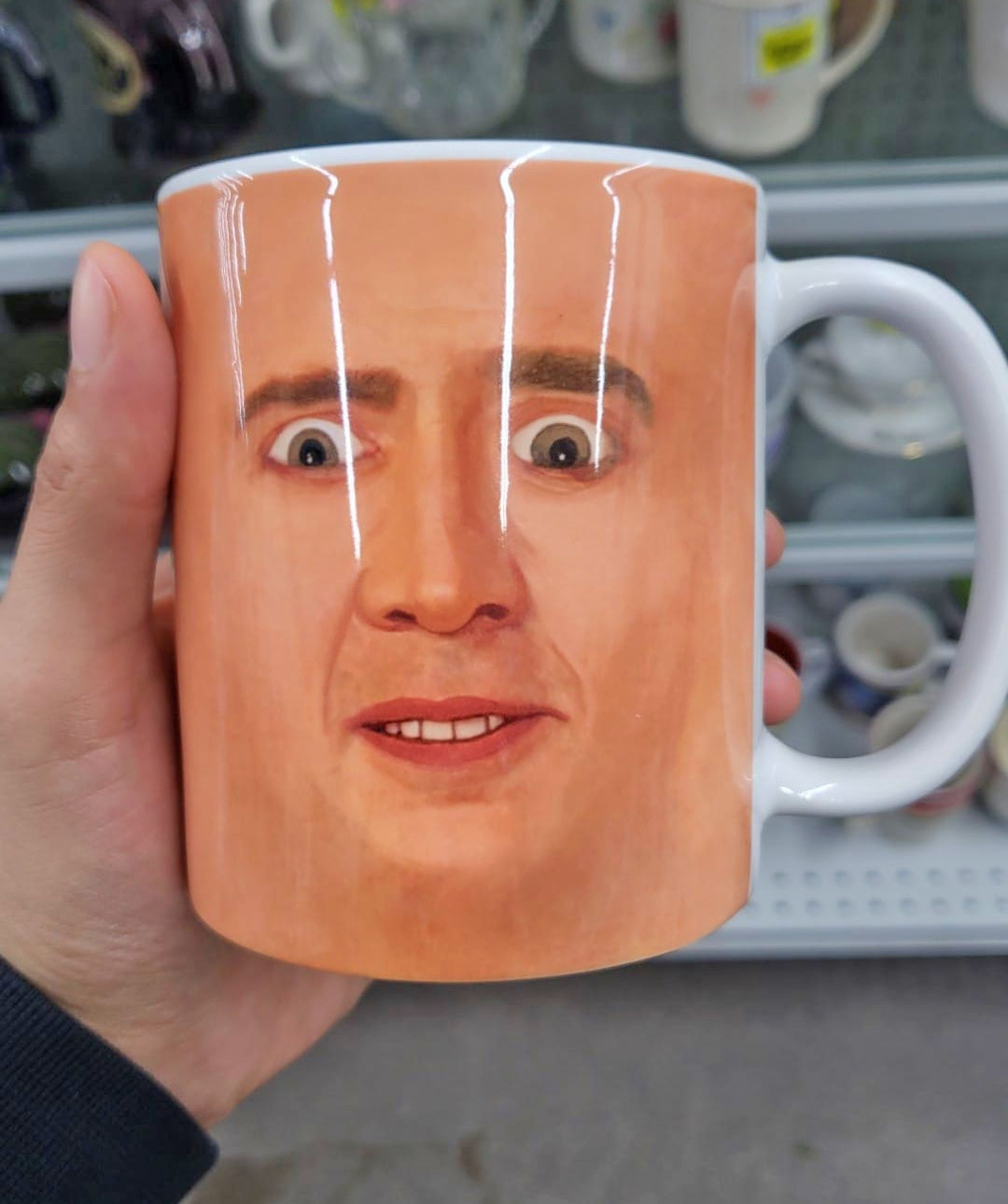 "Found this absolute gem at a Goodwill in WI. Not sure if it's coming home with me yet 🤣
Update: I bought it"