Lawn Chair With iPad Holder
Date Published: 06/16/2014 9:25 AM
There's nothing quite like sitting outside with the wind blowing through your hair, with birds chirping in the background, the warm sun shining on your body, surrounded by the natural beauty of the Earth, while staring at a fucking screen playing Candy Crush Saga. But in case you are stupid enough to play such a mind numbingly horrendous game while sitting outside surrounded by friends or family, why not prop up your tablet for you so that you fat saggy arms don't have to hold up such heavy device while you waste away your life. Although, it is better than playing Candy Crush indoors, so I'll give you that! The lawn chair with a tablet holder is an outdoors fold-able lawn chair that has a flexible arm attached to it so that you can hook up your tablet to it and have it hold it for you in any position you prefer, and will support any tablet ranging from 7-10 inches in size.
SITE ANNOUNCEMENT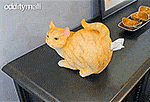 We Are Giving Away 6 Cat Butt Tissue Dispensers
The Tablet Lawn Chair comes equipped with a water-proof pocket on the right side of the chair, along with a cup-holder to hold your beer or soda, can support up to 250 lbs of chubbiness, is made from 600-denier polyester fabric with a steel frame, and measures 34.5 inches x 33 inches x 30 inches when deployed.
If you enjoy being a fat lazy bastard, be sure to check out these other necessities: