This Genius Knife Drawer Locks Your Knives and Stores Cutting Boards
By Ryan on 06/05/2019 9:59 AM (Updated: 06/05/2019 12:40 PM)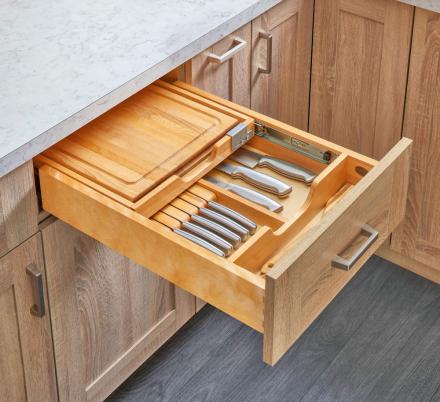 If I could replace my kitchen with all thinks Rev-a-shelf, I would... You've seen their Tupperware organizing cabinet, the heavy-appliance lifting station, and their blind corner cabinet system. Next up is this unique knife organization and safety drawer. It's the 4KCB Series knife drawer that not only locks the knives, so kids can't access them, but it also stores your cutting boards right on top of them.
The 4KCB knife storing drawer uses a unique lock tab on the edge of the knife organizer that you can slide to unlock. Once unlocked the entire top of the knife organizer slides backwards so you can easily access your knives. Your cutting boards also slide backwards so you don't have to remove them to access your knives.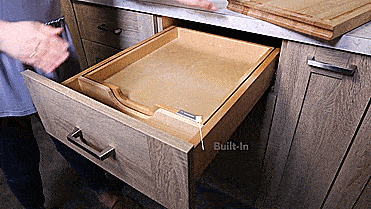 What cabinets are the 4KCB knife drawer compatible with?
The unique knife drawer with lock is compatible with 18 inch, 21 inch, and 24 inch face frame cabinets, along with 18 inch full access 3/4 inch sidewall base cabinet drawers. You'll just need to select your cabinet sizing from the drop-down on the purchase page.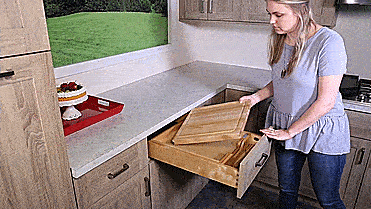 The 4KCB knife drawer is a complete system that replaces your entire drawer, you'll just need to add on your front drawer plate to match your entire cabinet design. This means all of the components of the system are included, including the knife organizer, sliding lock system, the cutting board holder, and knife lock. There's even an area in front of the knives to holds a few extra kitchen utensils.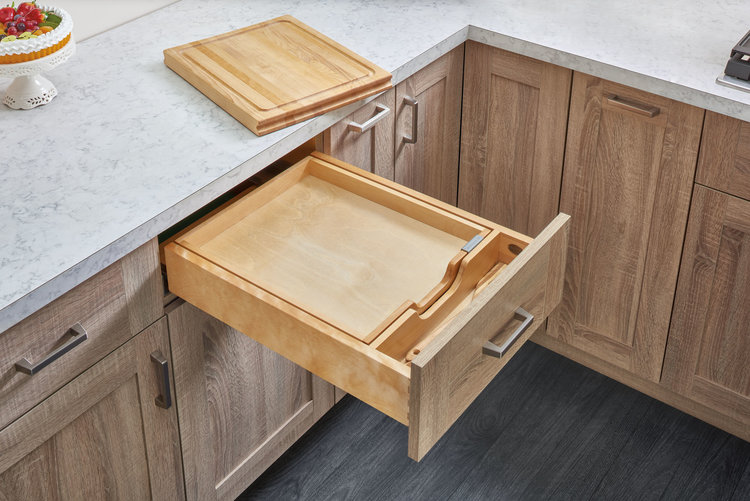 On the left side of the knife organizer, it holds 6 knives securely in place, whereas an area on the right lets you loosely rest larger knives that won't fit into the knife organizer. The knife organizing drawer system also comes included with 1 wooden cutting board that fits perfectly over the compartment on-top of the knives.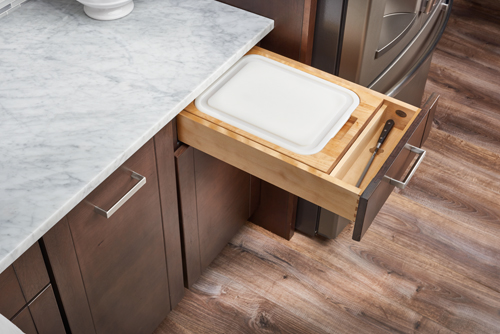 The knife organizing and locking drawer is super easy to install, is made using maple wood along with a semi-gloss finish, is rated for 110 lbs, uses BLUMOTION soft-close technology, is TSCA Title VI compliant, and uses 8 door mounting brackets.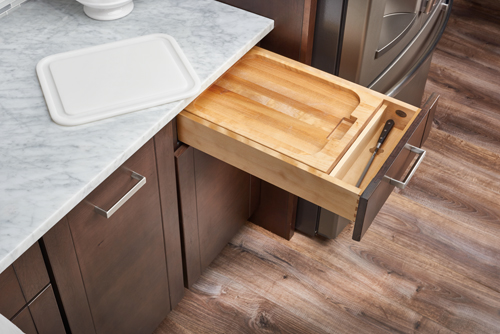 Check out the knife drawer organizing and lock system in action via the video below.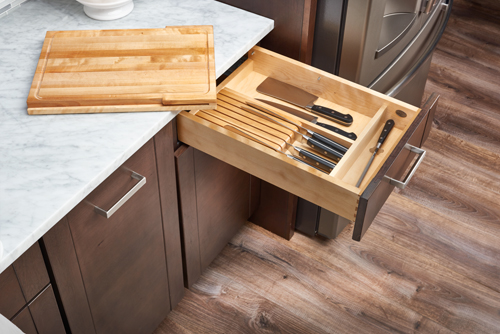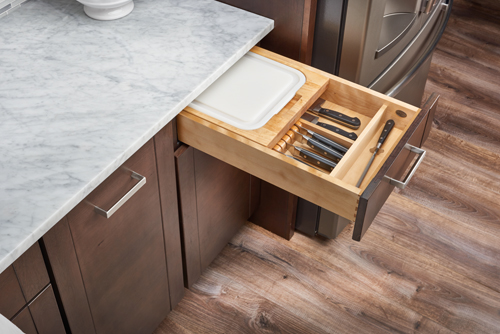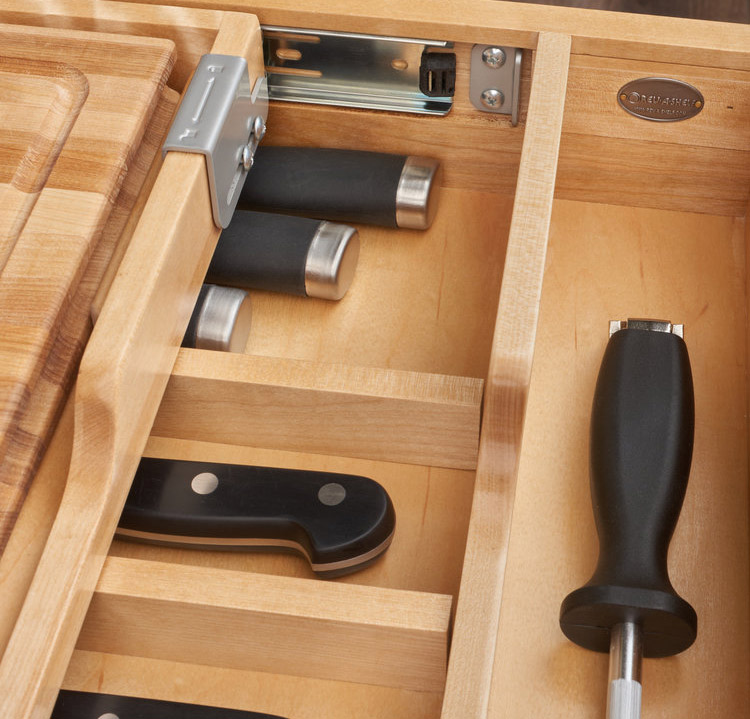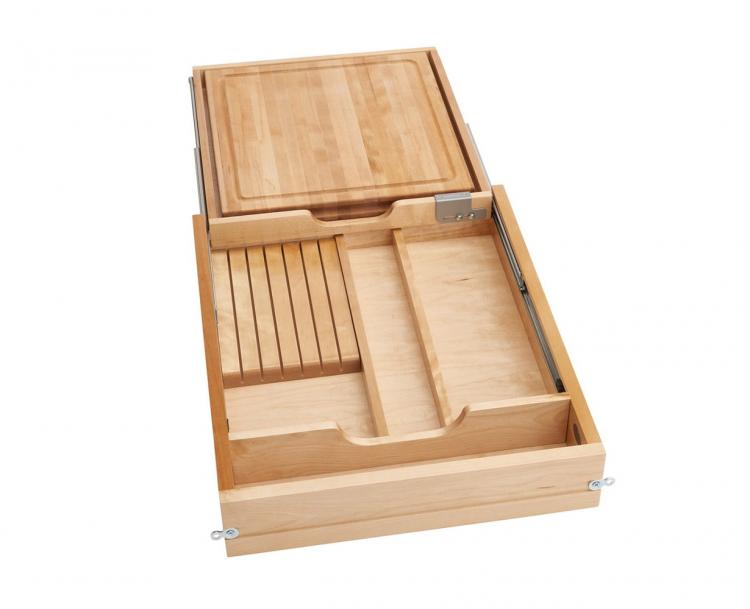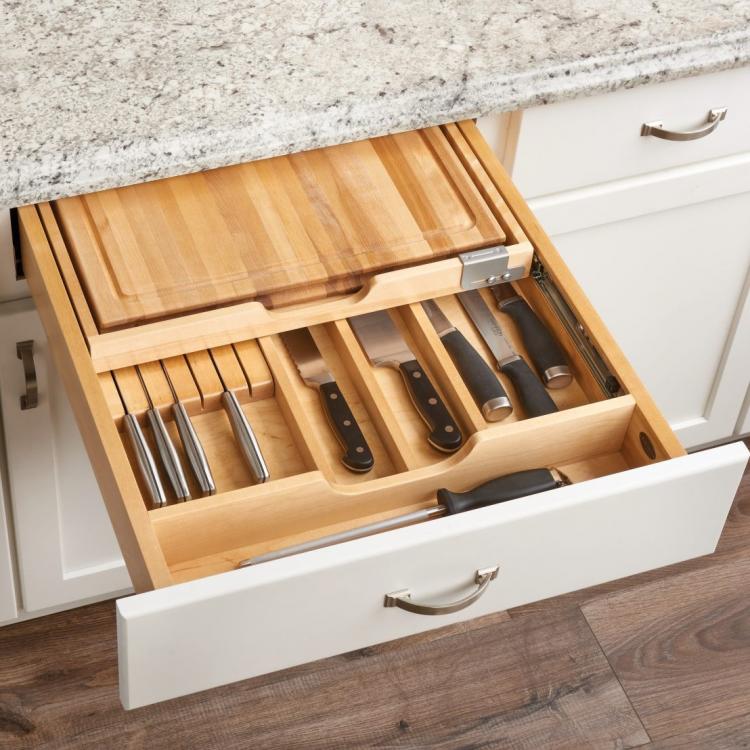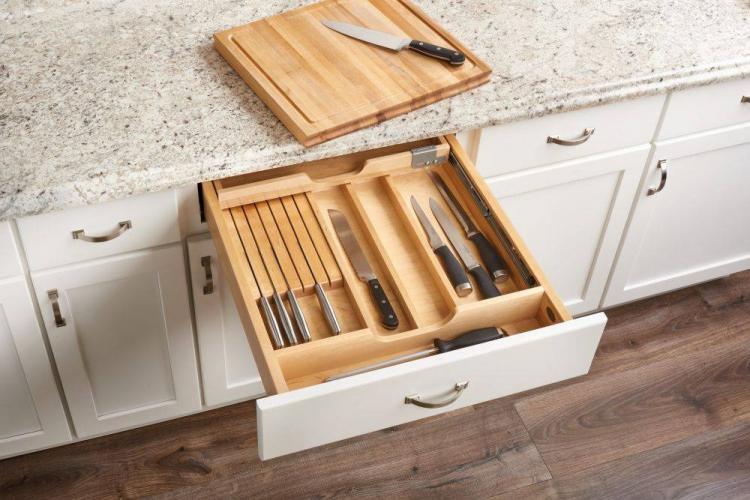 Subscribe To Our YouTube Channel