This Massive Thor's Hammer Whiskey Decanter Holds Almost 1 Gallon Of Liquor
By Ryan on 02/21/2023 11:24 AM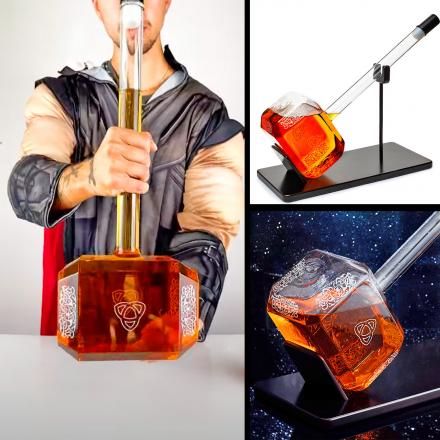 When it comes to Marvel characters, Thor is definitely up there as one of the more popular heroes in the bunch, though he wouldn't be who he is without his hammer. Marvel fans who drink will likely be able to appreciate this next OddityMall feature, and especially those who love the character Thor and his iconic hammer Mjolnir.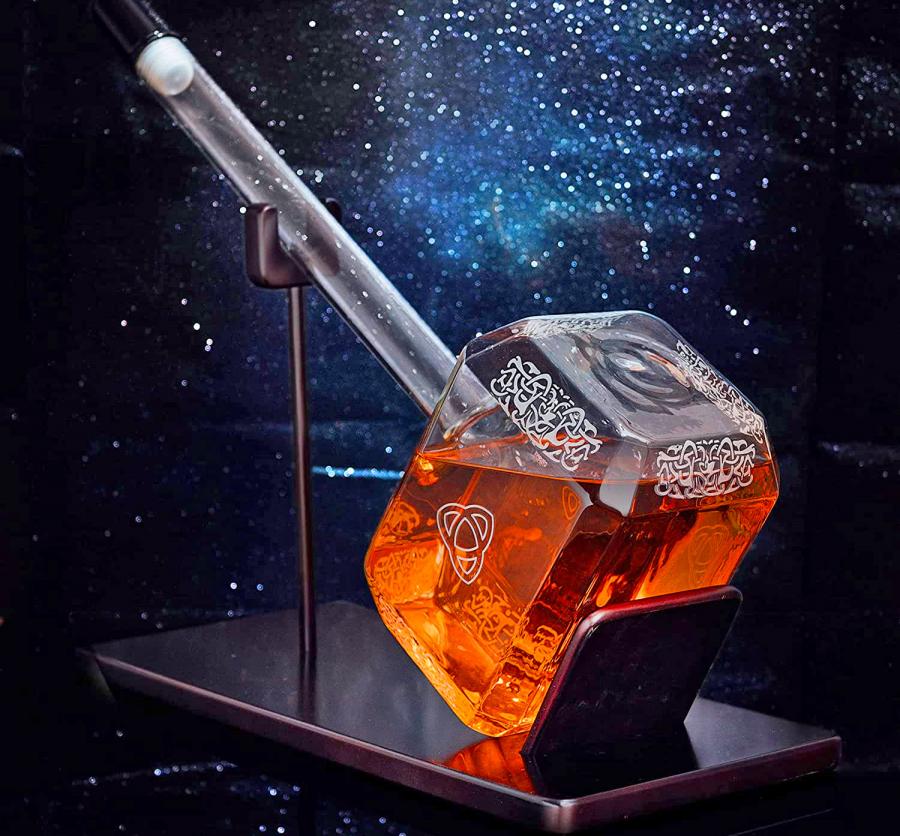 Now, you can get totally hammered by Mjolnir with the help of the spirit of your choice and this incredible Thor decanter.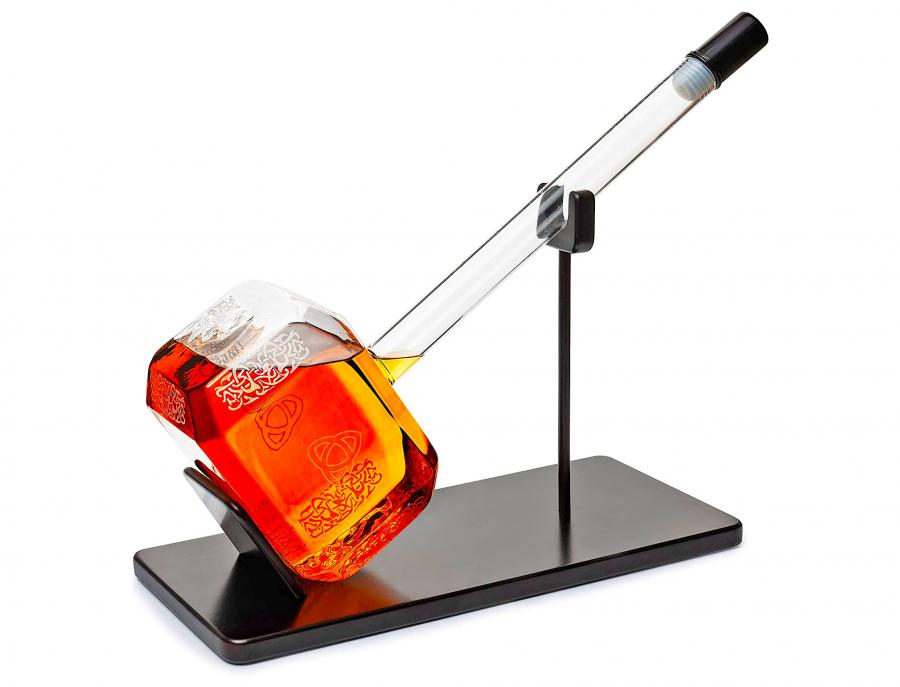 This Thor whiskey decanter from The Wine Savant on Amazon is a great option for Marvel fans, featuring a clear replica of Thor's hammer Mjolnir as made from glass. The handle of Thor's hammer also acts as a pouring spout, with the head of the iconic weapon holding the liquor of your choice — whether wine, whiskey, water or something else entirely. The Mjolnir whiskey decanter includes a simple stand on which the carafe sits while storing liquor. The Thor decanter also includes engraved designs on the hammer's head, just like the ones seen on Thor's hammer in the Marvel cinematic universe or in the classic comics. When stored on the stand, the whiskey decanter sits with the head of Thor's hammer down, emphasizing its vast weight and the honor and worthiness required for anyone to be able to wield it. While it doesn't include the magical enchantments seen in the films or comics, this Thor "magically" make you more drunk each time you pick it up and pour. This decanter can store up to about 123 ounces (3,500 ml) of liquid — plenty to get you and your friends really drunk at least a couple of times — and it measures about 17 inches tall by roughly 4 inches wide (~43 cm tall by 10 cm wide). The Marvel decanter is also glass-blown from a borosilicate glass, according to the shop, and it's heavy-walled for added durability. Even if you use this Thor decanter as a decorative piece, it's sure to quickly grab the attention of anyone who is familiar with the God of Thunder's contributions to the Marvel universe. Many buyers of the Thor hammer decanter remarked that it turned out even larger than expected, and no one's complaining about more whiskey in the bottle! In a five-star review of the Thor decanter entitled 'I won Christmas,' Brittany wrote, "This was WAY bigger than I had anticipated and it is GREAT!" If you're not much of a drinker, then you might also enjoy this hammer of Thor water bottle instead, or this Thor's hammer tool set. Others have also shared their praises for this Thor's hammer toilet paper holder, which pairs great with all those nights you'll spend in the bathroom after Mjolnir is done with you! Now you too can age like fine wine just like the exiled God himself with this hammer of Thor decanter — or you can at least maintain a nice steady buzz while you age. Whether you identify more with Thor, Loki, or someone else in the Marvel universe, this Mjolnir decanter is a great way to remind you and your guests of the incredible story of Thor each time you drink. You can snag one of these giant Thor's hammer wine/whiskey decanters from Amazon for around $100 bucks! Check out the giant Thor Hammer decanter in action via the video below!
Subscribe To Our YouTube Channel