This Giant 7-Person Tropical Island Lake Float Is The Ultimate Way To Party On The Water
By Ryan on 02/24/2022 1:35 PM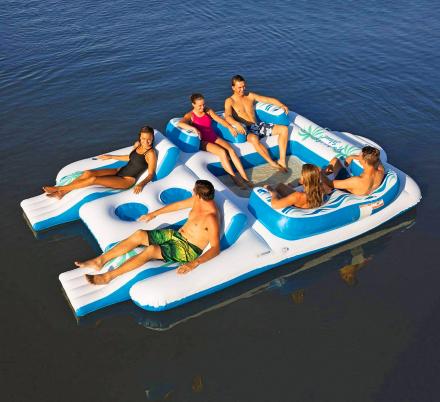 We certainly love a good giant float for the lake, especially when they can fit the whole crowd of people you may be with up at the cabin! If you've already tried the giant unicorn lake float, the life-size speed boat lake float, or the giant 18-foot airplane lake float, then it may be time to check out this incredible tropical island lake float that fits up to 7 people! It's called the Tropical Tahiti Floating Island 7 Person Inflatable Raft, and it looks to be the perfect way to relax on the lake water after a long week of work!

Versions: Design 1 | Design 2
Have you ever been partying on the beach or beside a pool and wanted to take the fun out into the water? Sure – you could go for a swim, but then you have to go through the effort of putting down your drink and drying off when you're done, rather than just taking it with you and enjoying the sun. Now, you can float and drink with six of your best friends in the middle of the small body of water of your choice.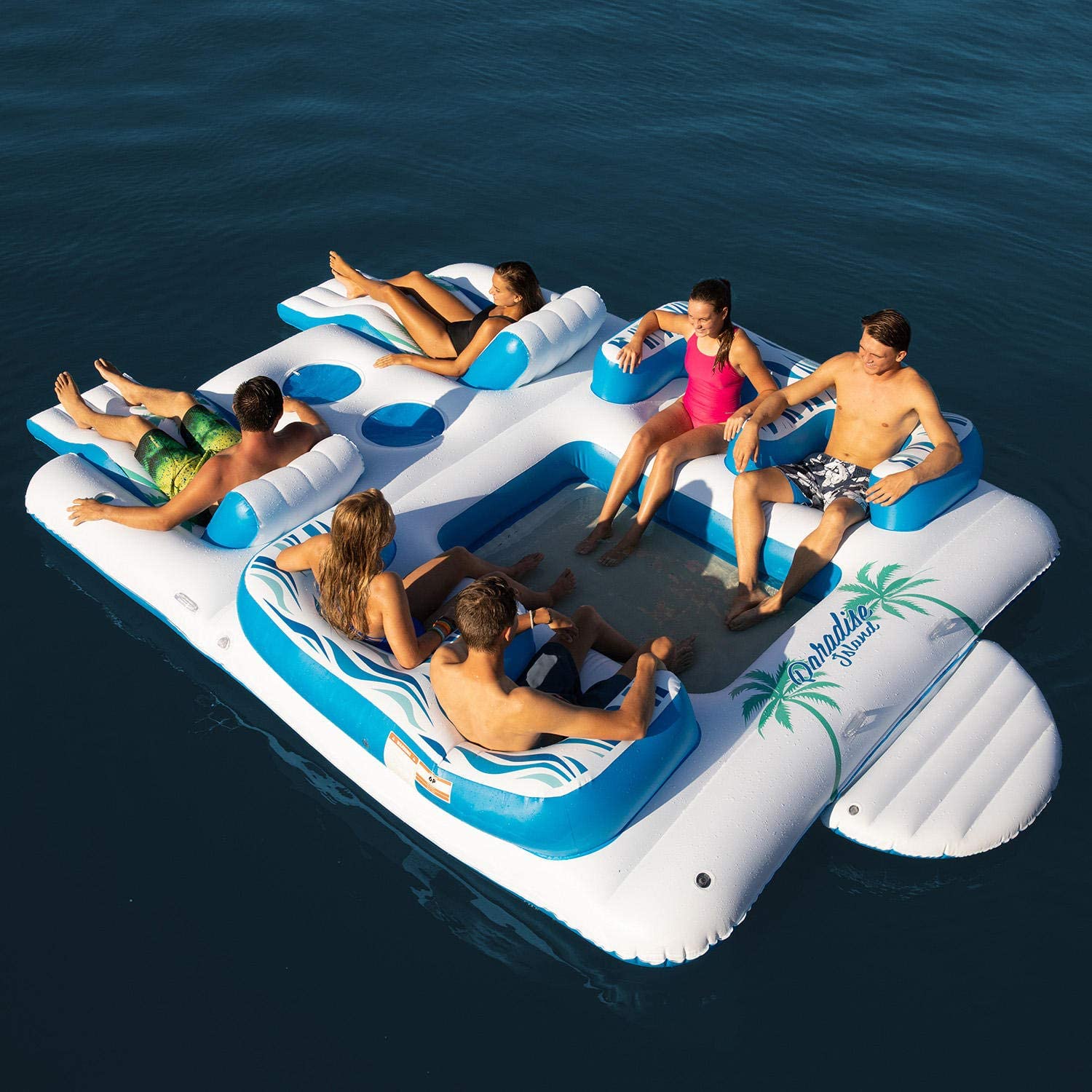 The giant 7-person lake float is perfect for hanging out in and around the water, without having to put down your drink.
Manufactured by Tropical Tahiti, this float joins the Odditymall ranks of this 6-person floating table island, as well as the inflatable patio deck island for those that prefer to get the deck-style island in the mix. While this inflatable floating island doesn't feature fake hardwood or a table in the center like the aforementioned models, it does feature enough built-in seating for 7 people, including 5 bench seats and 2 lounge seats.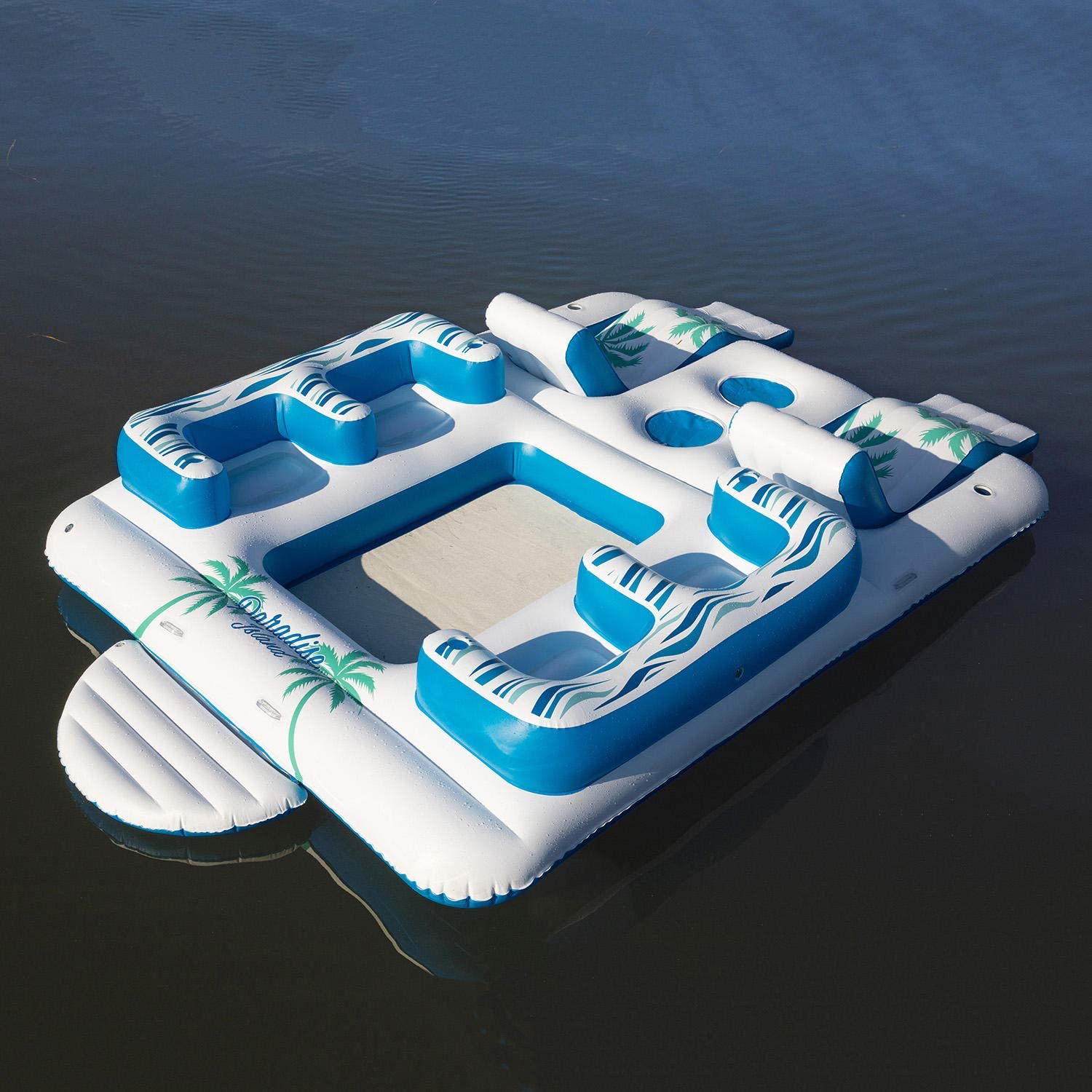 This inflatable island float also includes eight cup holders and two built-in coolers, making it the perfect marine party-mobile – although it doesn't include any kind of motor, so it's less of a mobile and more of an inflatable floating island.
Still, this huge inflatable relaxation raft is one of the biggest inflatable islands available today, measuring roughly 172 inches by 134 inches and 34 inches tall when inflated. The package for this 7-person raft measures roughly 24 inches by 21 inches and 10 inches thick, weighing nearly 55 pounds.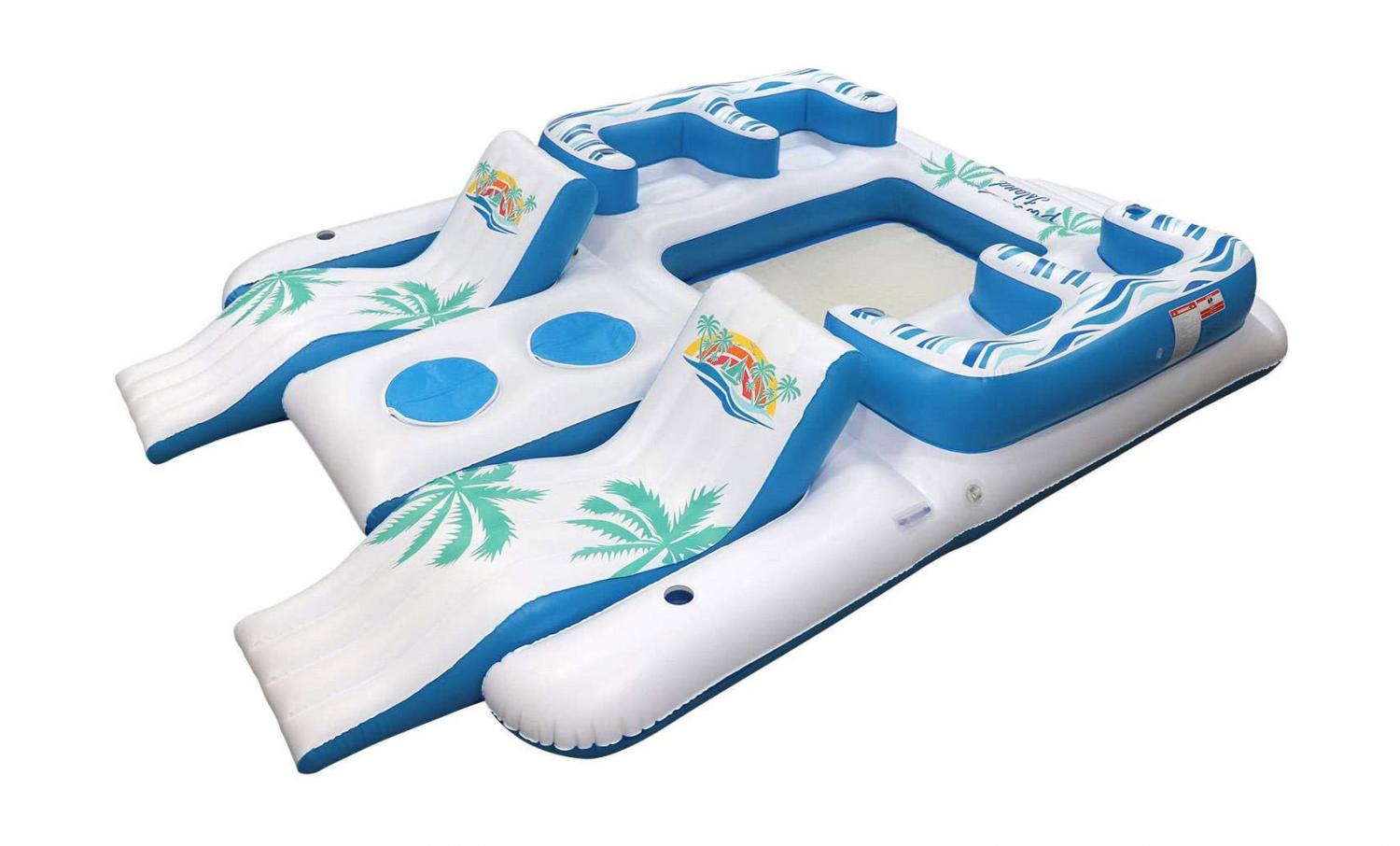 This party raft also includes a small step to make getting in and out of the water convenient, just beside the area with 4 bench seats.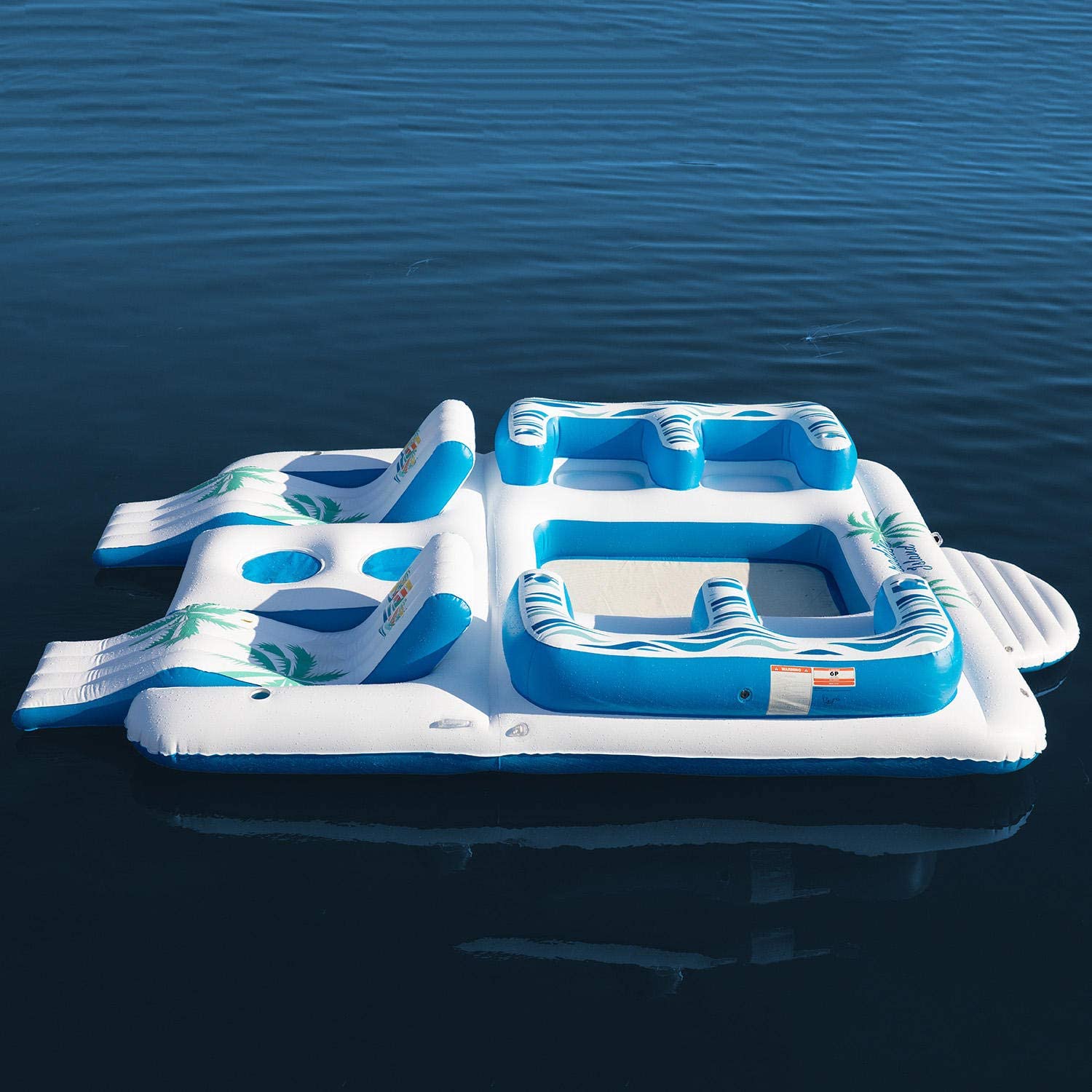 One buyer, Donald, purchased this to use alongside a boat, and it works great as such. In a five-star review of the inflatable party float, Donald wrote, "Great product at a good price. We bought it so our boat wouldn't be so crowded when we anchor out. Easily holds 8 adults with coolers. The only downside is that it is on the heavy side and takes about 8 minutes to blow up."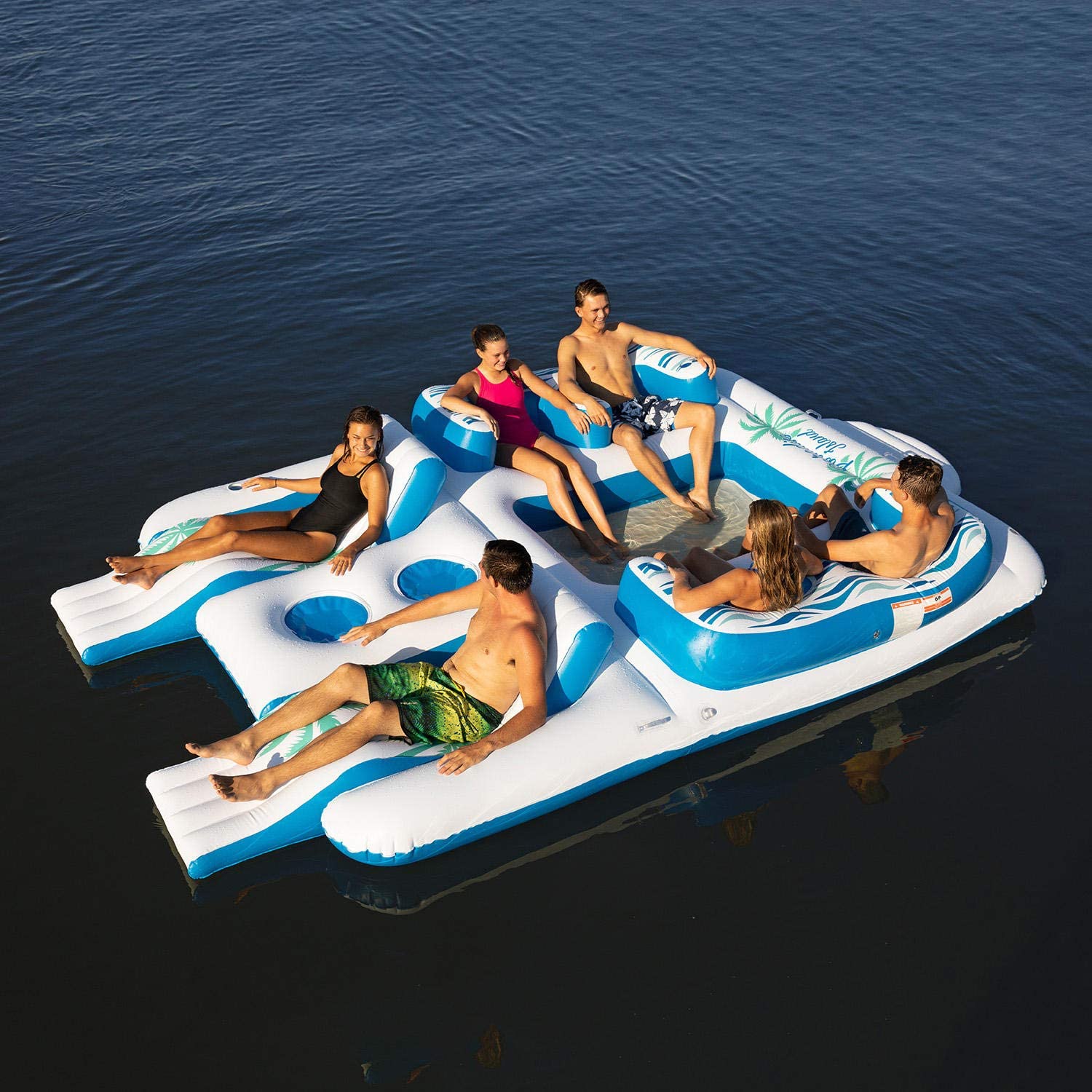 Whether you decide to use it with your boat, in your pool, or near the shore of your favorite small body of water, the Tropical Tahiti inflatable floating island is the perfect celebration float to help you and your friends soak up the sun all summer long.
The floating island lake float comes with 2 built-in drink coolers so won't have to get back onto land anytime soon!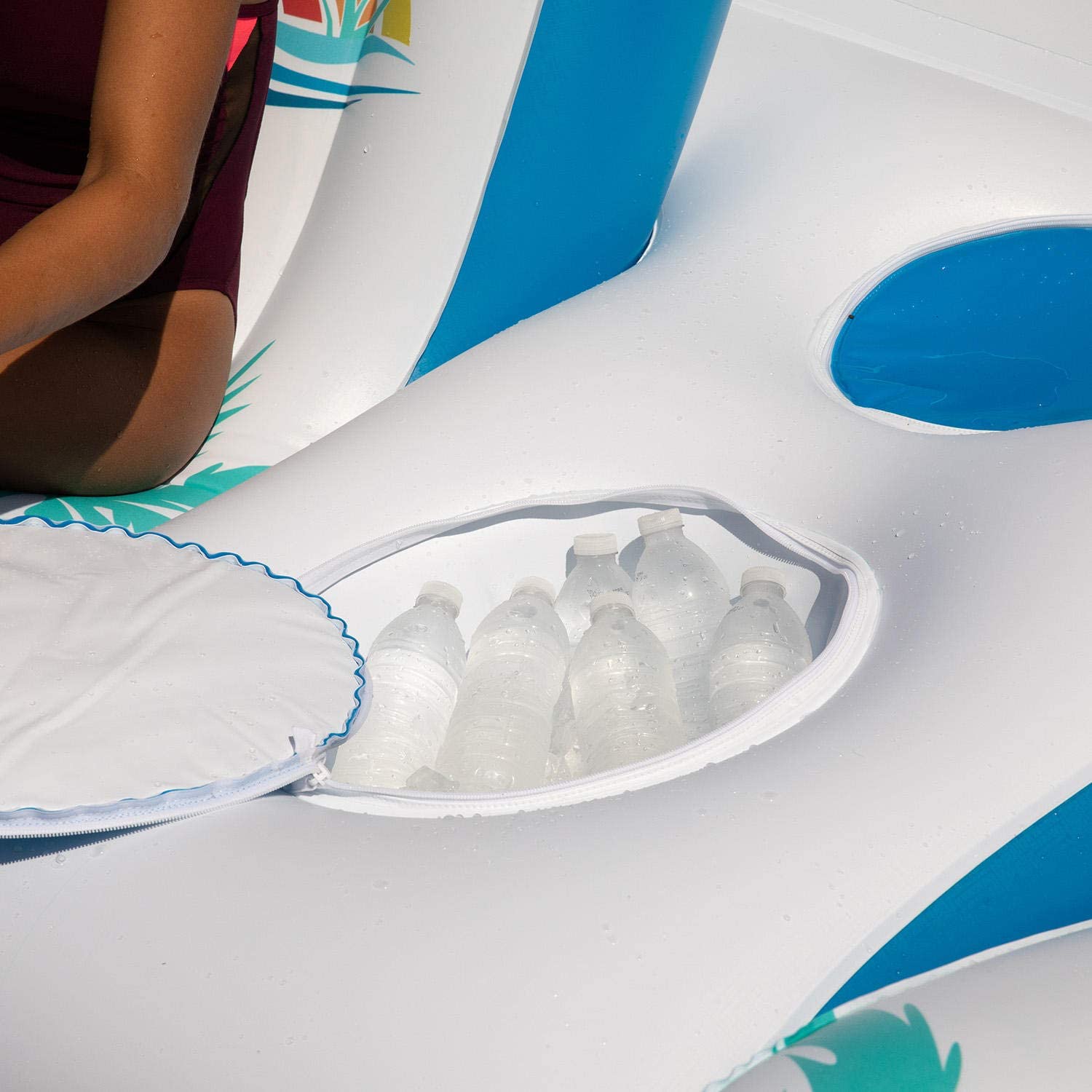 The same company also makes a similar tropical island lake float that fits around the same amount of people, but it's just designed a bit differently. You can check this version out here on Amazon. This version features 2 built-in drink coolers, and cupholders a-plenty!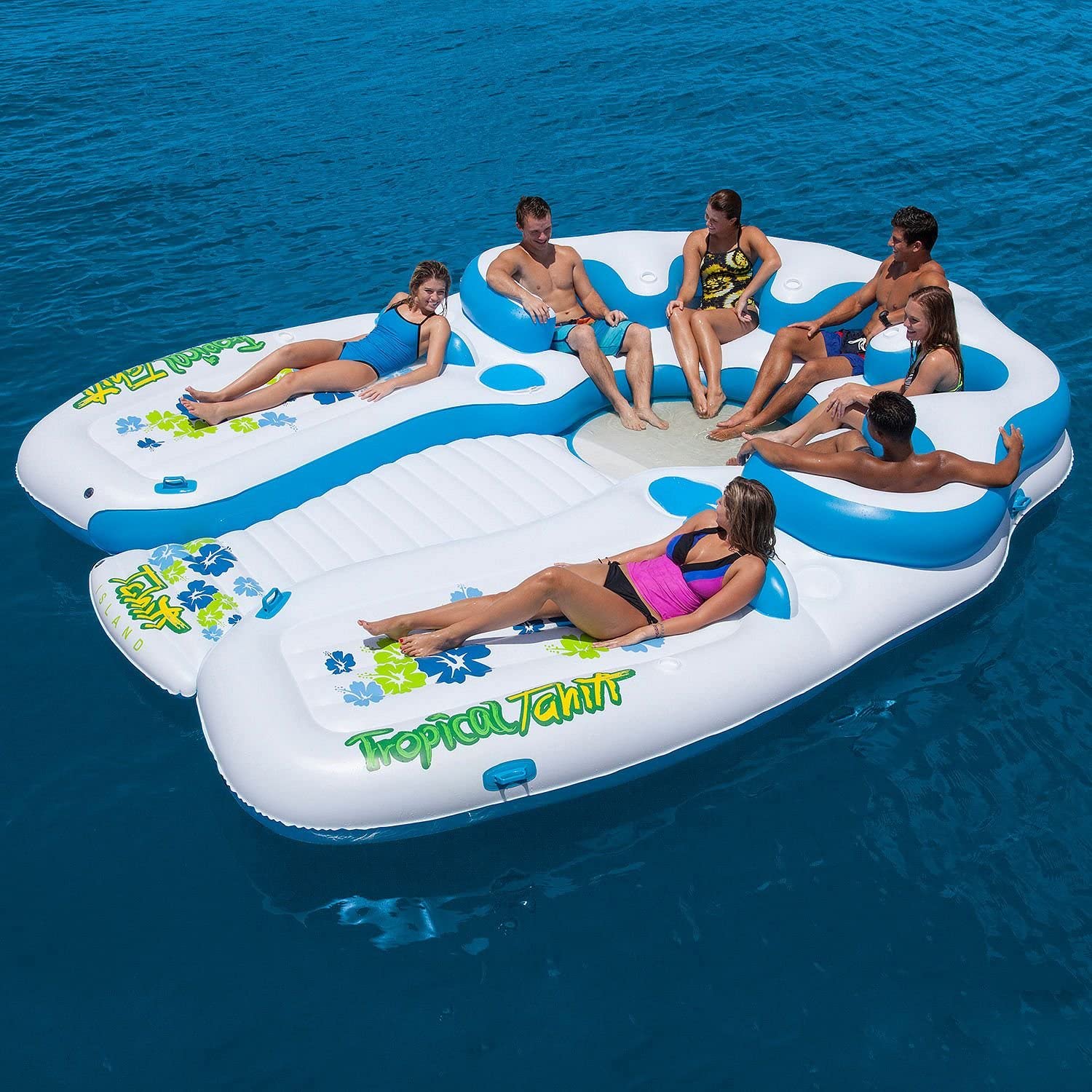 Get this version here
This giant lake float comes with a total of 8 integrated cup-holders placed around the float!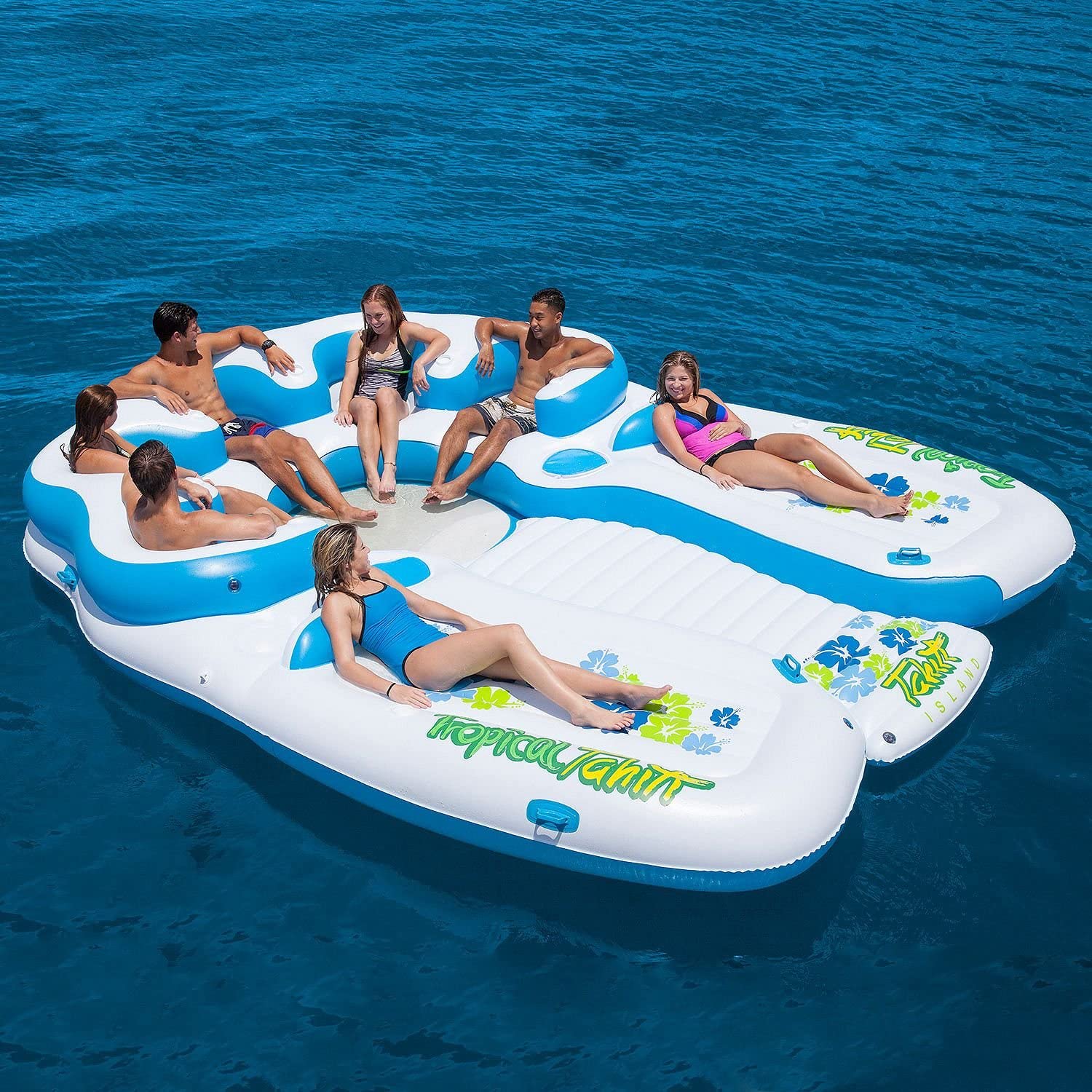 The seating area for 5 on the back of the lake float allows everyone to dip their toes into the lake water!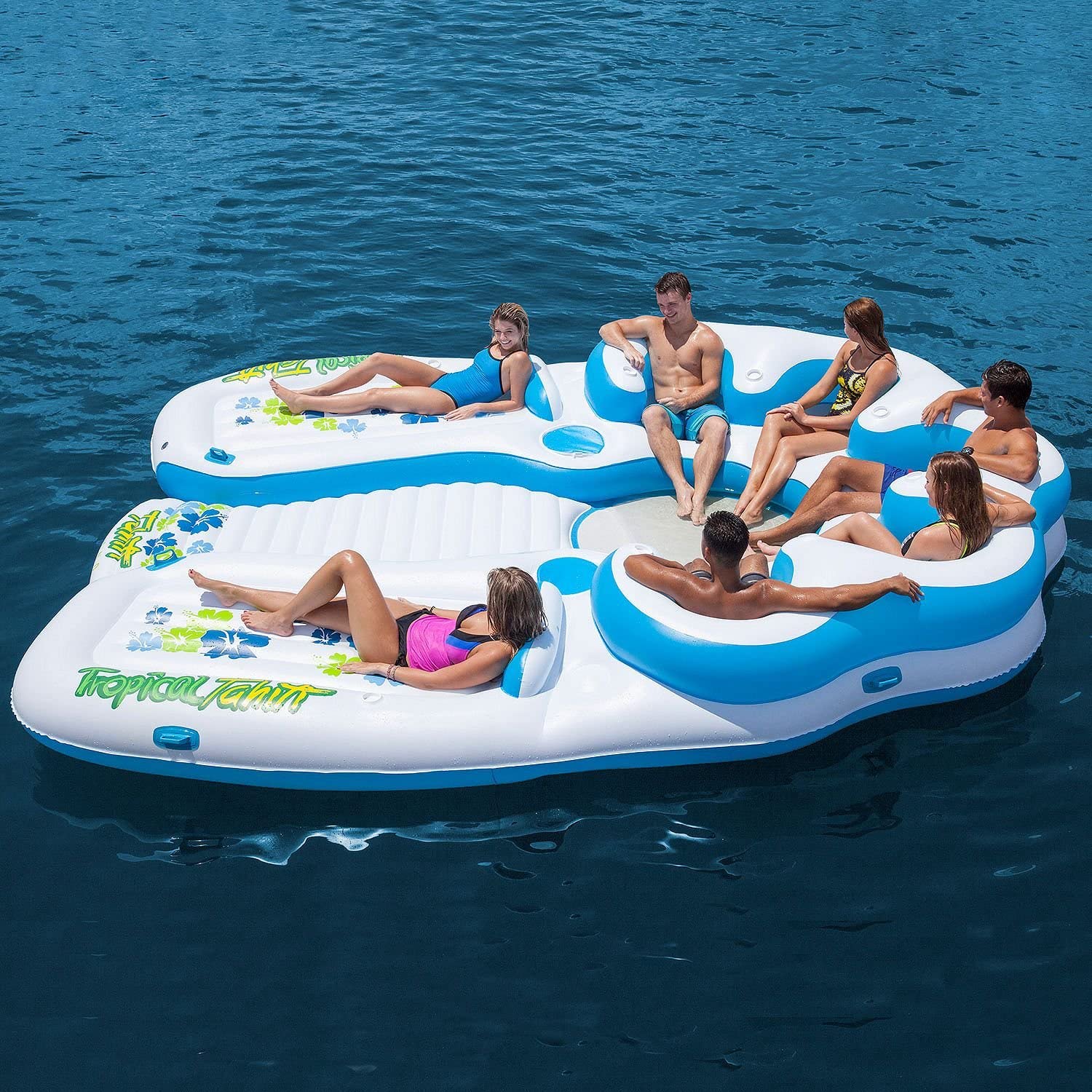 The lake float comes with a large deck with 2 sun-tanning spots for lounging and taking in the sun, along with comfy seating for 5 behind it!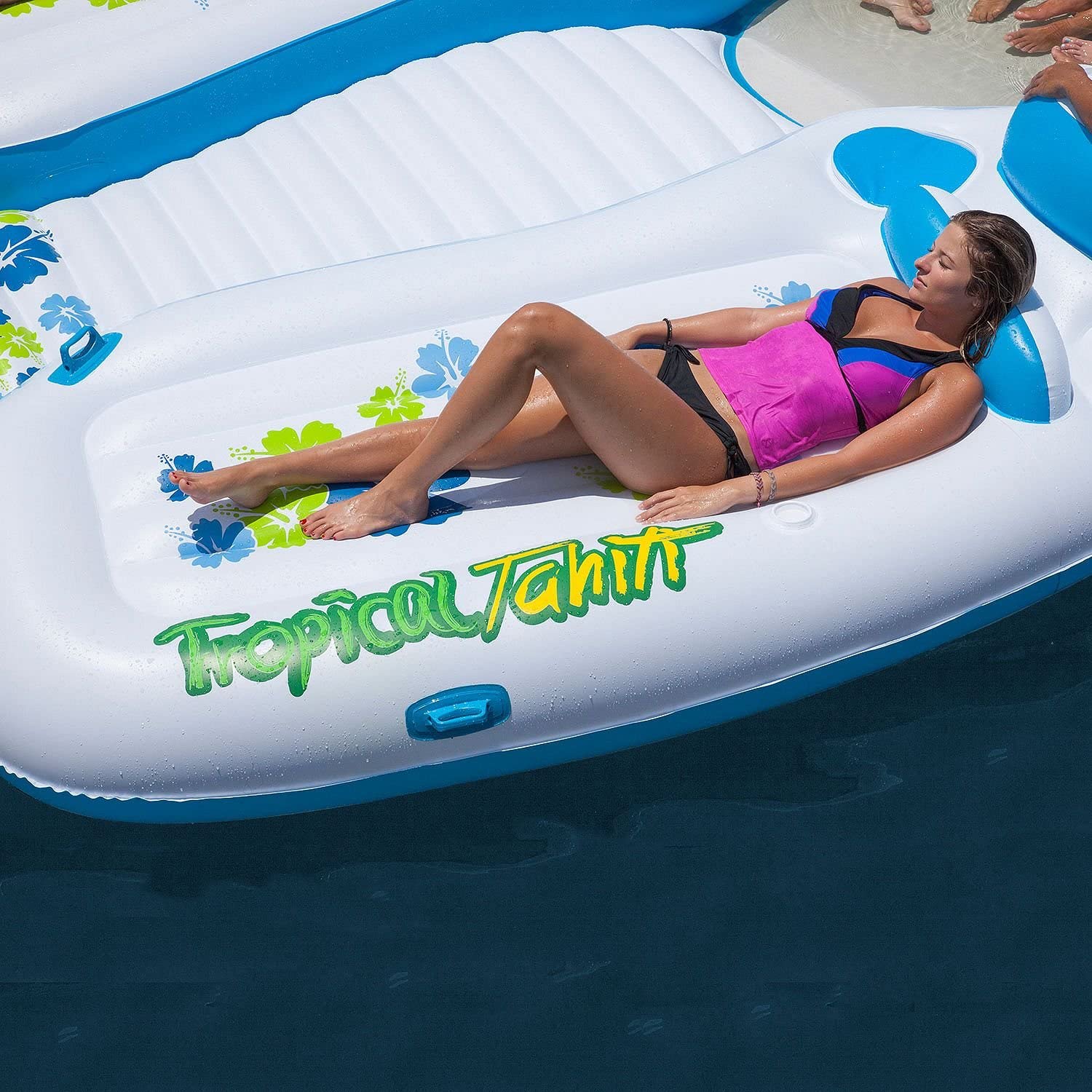 Each arm rest in the seating area has it's own cup-holder!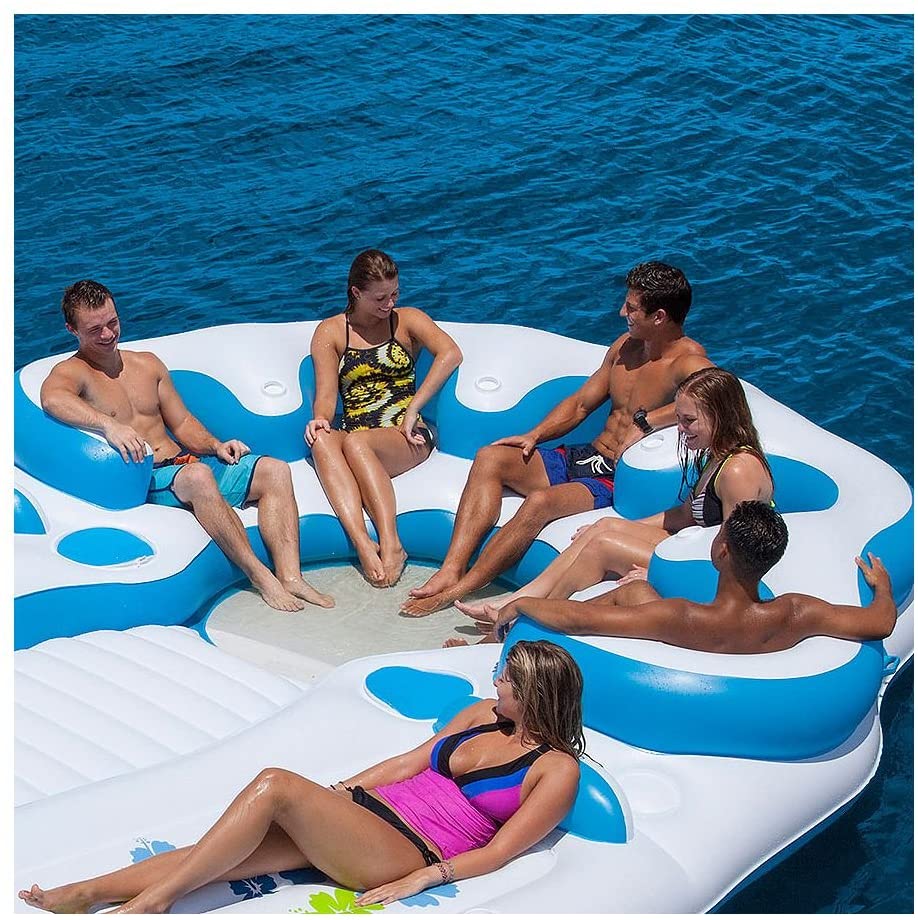 This version of the lake float also comes with 2 built-in drink coolers located behind each sun-tanning lounge!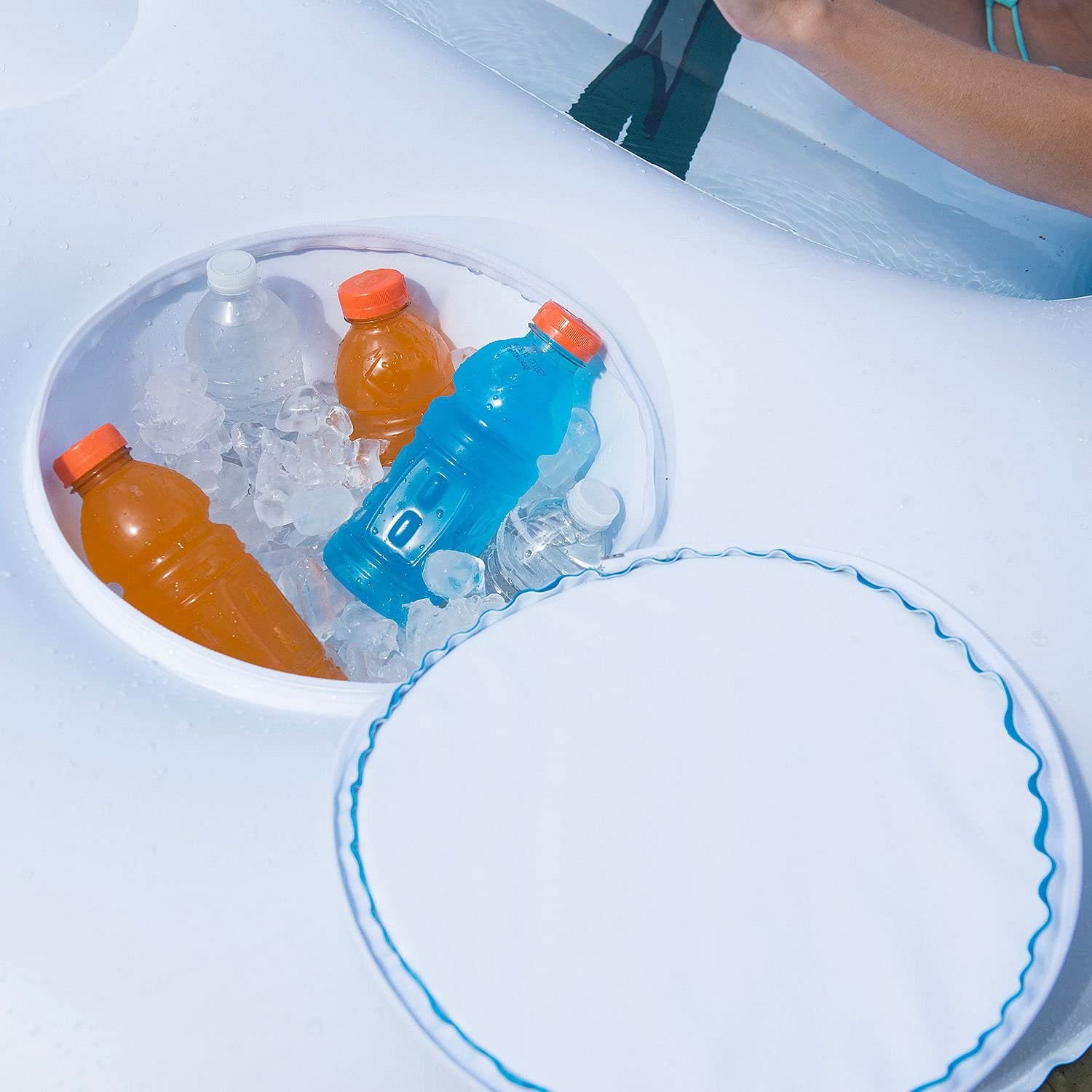 The giant party island lake float is quickly inflated using any standard air-pump!