This Adjustable Kids Cupholder Snack Tray For The Car Is Perfect For Family Road Trips
By Ryan on 02/15/2023 8:42 AM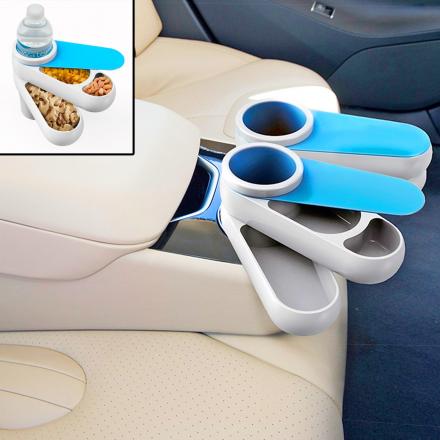 Life today is incredibly busy for most people, and for those with one or more kids, this is even more true. Running from work to take your kids to and from school, to sports practice, to music lessons and more can be exhausting, and sometimes the car ride between locations is the only chance your kids may get to eat. Unfortunately eating in the car can cause a mess, which adds "cleaning the car" to your already-busy schedule.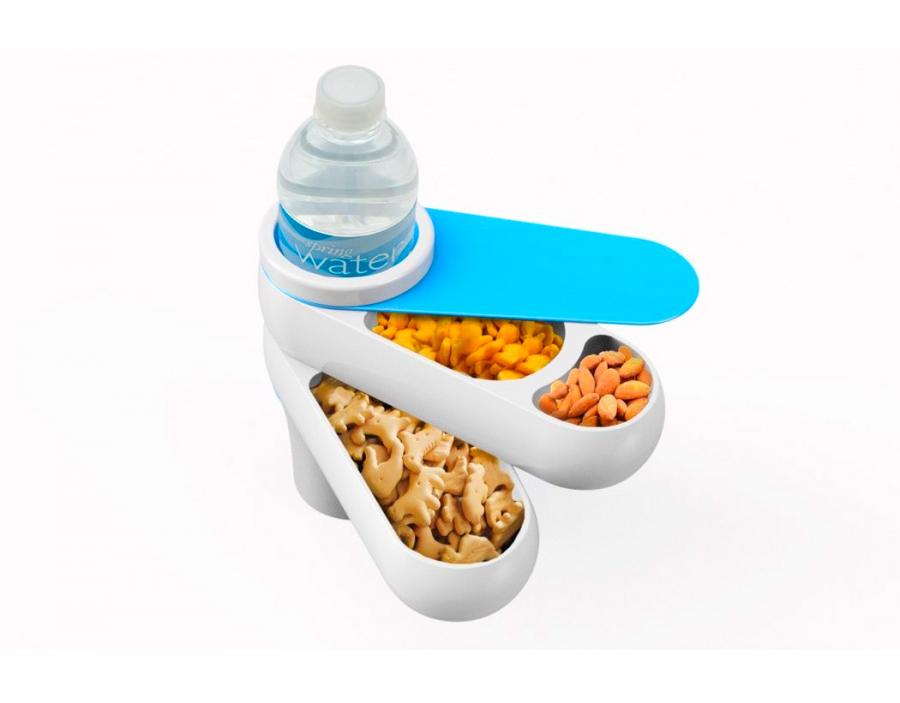 Credit: Alexis Michael
However, those looking to reduce their child's messes in the car will appreciate the next OddityMall feature, which is a portable snack pack designed for preventing food from getting all over the car.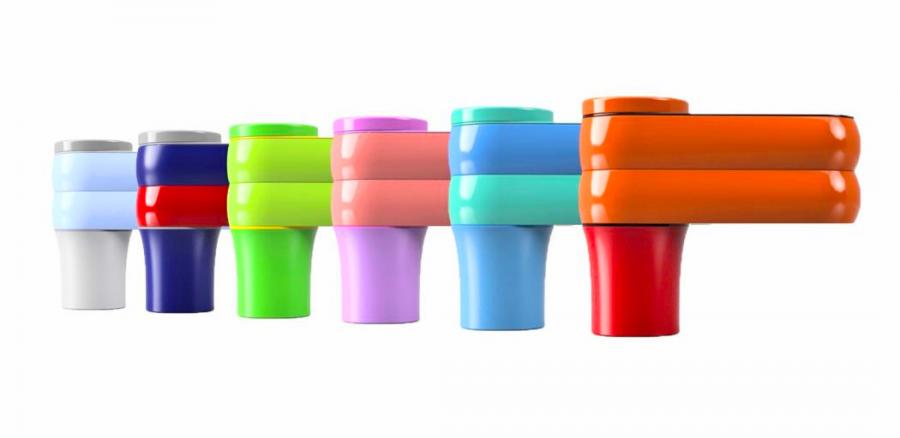 Credit: Alexis Michael
Introducing these awesome Lunch on the Go: Snack Cups featured on Yanko Design, which are perfect snack packs for kids or adults that fit into a vehicle's cupholders and include enclosable compartments for stopping spills. These convenient car snack packs come with multiple snack compartments, and a hole in the center for water bottles and other beverages — so you don't even have to sacrifice your cupholder. Credit: Alexis Michael
Designed by Alexis Michael, these anti-spill snack cups for the car are perfect for kids and adults alike, making it easy to snack on the road without making a mess. These cup holder snack cups include three useful snack compartments in differing sizes, even letting you separate different snacks. Each compartment is also lined with a smooth internal surface, making them easy to clean. Credit: Alexis Michael
These portable snack packs for the car include two layers of snack compartments, the top one of which includes two separate compartments in small and medium sizes, and the bottom of which features a single larger snack compartment. Both compartments and the top lid section can be independently rotated so that you can access all of your snacks at once, just one of your snacks, or you can close them up for a bit in transit on bumpy rides. Credit: Alexis Michael
As for small features decreasing spills even more, the rotating trays include magnetic enclosures to keep them from rotating on their own. Additionally, each snack compartment includes carefully designed convex walls, meant to mitigate spills from loose snacks as the vehicle is driving. Credit: Alexis Michael
The design of the snack pack's bottom is about the size of the average travel mug, and it includes a slight taper, making it suitable for the vast majority of cup holdersizes. The bottom of the multi-compartment car snack cup also has a gripped silicon base to prevent the container from moving around in larger cupholders. Credit: Alexis Michael
The snack compartments themselves are fairly deep, offering a good amount of room for various dry snacks. The three snack compartments and the cup holder center compartment of the mobile snack cup are also all insulated, so you can keep things warm or cold to your liking. The snack packs also come in a wide range of color combinations, so you can pick colors that you or your child will resonate with. Credit: Alexis Michael
These cup holder snack pack enclosures are especially perfect for long road trips with kids, though you may want to add a few other great car products if you are going to be on the road for a while. Some great options to pair with the vehicle snack packs include this backseat car cooler and organizer for kids, car storage pocket, these pullout tail light storage compartments, or these portable car toilets for going both number one or number two without stopping. So no matter where you're headed in your car, you might want to consider cutting down your time spent cleaning up after your kids with the use of these cup holdersnack packs. You'll thank us later for all those rides in the car without messes to clean up later, or perhaps it's Alexis Michael you should thank. Credit: Alexis Michael
It appears as though this product is still in a concept phase, so there's not currently anywhere you can purchase it just yet, as well as no estimated price. We can only hope that something similar comes to fruition soon! Credit: Alexis Michael