These Custom Pullout Taillight Drawers Offer Unique Storage For Drinks, Guns, and More
By Ryan on 02/06/2023 8:55 AM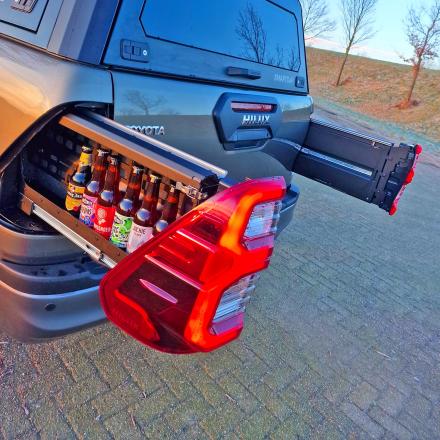 Having a vehicle usually offers folks some storage options, especially in trucks with large beds, SUVs and other full-size vehicles. However, if you're camping, moving or you have a smaller vehicle, the allotted storage space may not be enough to pack away all your needs. There are a handful of ways to add storage to your vehicle for extra space, and one such way we've just discovered involves a creative use for a vehicle's tail lights.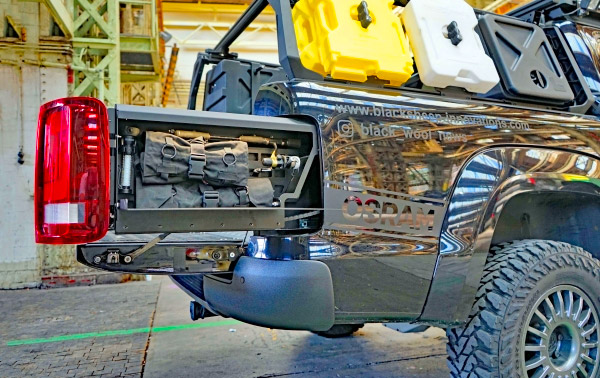 Credit: blacksheep-innovations
These retractable tail light storage compartments from Black Sheep Innovations can be pulled out from the rear brake lights, hiding away an ergonomic storage space that's perfect for tailgating, camping and more.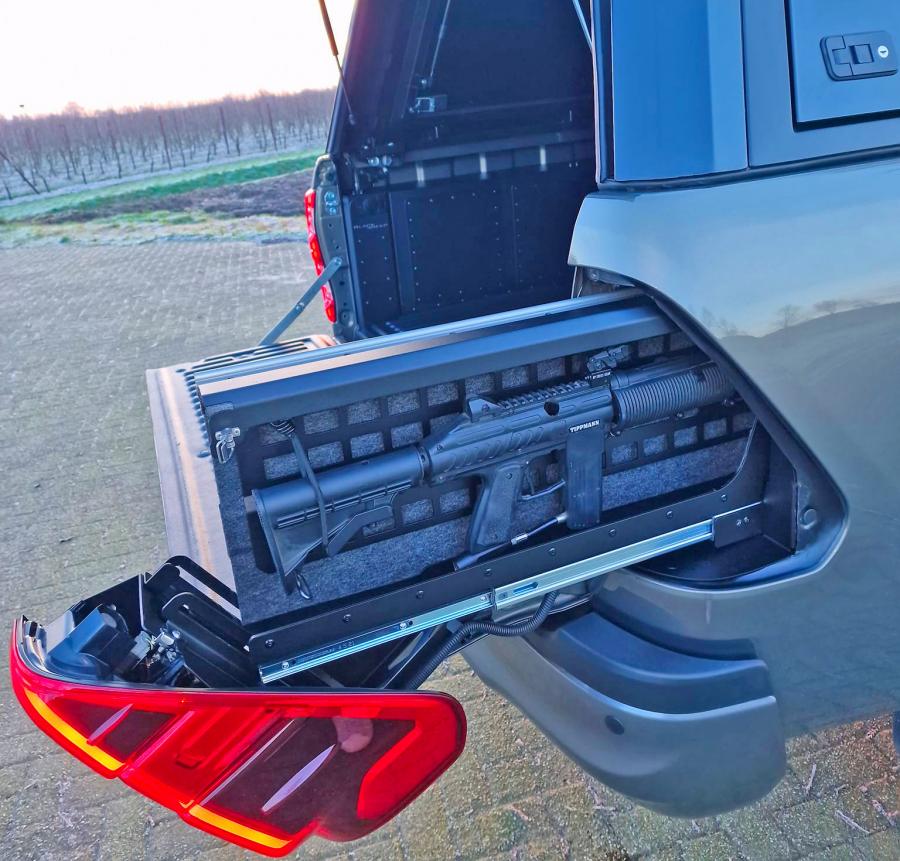 Credit: Saris4x4
The storage space behind these tail lights is the perfect size for beverage containers both large and small, and other objects that are cylindrical or are easy to fold up into a small, thin shape, such as clothes, tarps and other small objects. Credit: Saris4x4
The vehicle in the part listing is a truck, including tall, rectangular tail lights that have been modified to be able to be pulled out of the truck's body about as far as the tailgate when it's in the down position. Credit: blacksheep-innovations
The hidden taillight storage area includes a simple track on which the compartment slides, as it's taken in and out of the vehicle's body behind the brake lights. Credit: Saris4x4
The hidden truck tail light compartment includes a slanted grate in front of the storage area which can be retracted to reveal the stored goods inside. Credit: blacksheep-innovations
When using for storage, simply slide the tail lights back into place, leaving the storage compartments to rest safely within your vehicle's body and/or truck-bed lining. Credit: blacksheep-innovations
Black Sheep Innovations also includes a number of other styles of pull-out rear light storage options, including some designs which open up to the outside instead of the inside, and one that's made to easily fit a rifle. Credit: Saris4x4
The different designs largely look to be outfitted onto trucks and jeeps, with a wide range of potential product options ranging from gun storage and armor to simple bed liners. Credit: Saris4x4
The shop also appears to offer a wide range of similar storage and tailgate products, with some of the listings even showing off the ultimate breakfast tailgate mod, complete with a gas stove, and both small and large storage compartments in the middle and on the right of the open tailgate. The setup looks perfect for camping, and it can be seen in use with a Moka Pot coffee maker alongside the taillight storage container. Credit: blacksheep-innovations
The Black Sheep Innovations rear light storage pull-out compartment comes directly from the company in Sweden, though the shop also says they can ship worldwide. It also notes that users should select their local currency and enter their phone numbers in the account settings to get parts shipped even more quickly. Credit: blacksheep-innovations
If you're in serious need of storage and the rear light storage compartment isn't quite what you're looking for, we've got a few other potential options that could help you out. Credit: blacksheep-innovations
A few potential options include these awesome tailgate tents and pop-up car tents, the camping BBQ grate which saves space by mounting onto your rear spare tire or this classic truck bed camping tent, all of which could be great in addition to the tail light storage compartment. So wherever your next trip is taking you, whether you're camping, road-tripping or just cruising around, keep beverages and other items safely stored in these hidden brake light storage containers. Credit: blacksheep-innovations
It's about time that you got more use out of those tail lights, and storing your favorite camping and tailgating accessories is a great way to do it. Credit: blacksheep-innovations
You can snag these cool retractable tail light storage compartments for your truck or vehicle on the Black Sheep Innovations website for around $3,660 bucks! Credit: blacksheep-innovations
Check out the unique pullout taillight storage drawers in action via the video below!
Subscribe To Our YouTube Channel