The Z-Triton Is a Tricycle, Boat, and Camper all In One Electric Recreation Vehicle
By Ryan on 08/09/2022 12:44 PM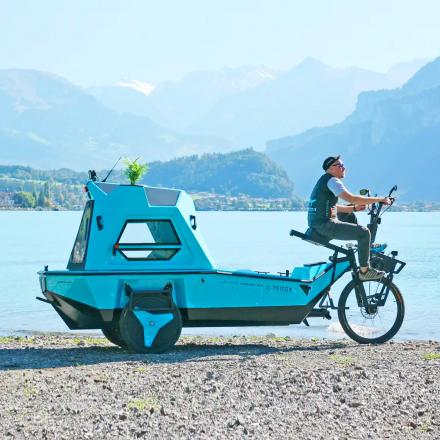 Man, it's a great time to be a cyclist. Nowadays, there's a bike for just about every situation. Deep snow or wintry conditions? Why not try this electric bike and snowmobile hybrid or this slightly goofy car-shaped e-bike? Do you want to take your bike to a day at the lake? This hydro bike lets you ride on the surface of the water like an athletic Jesus. You can even pretend you're riding a horse every time you take your bike for a spin with this galloping coconut attachment.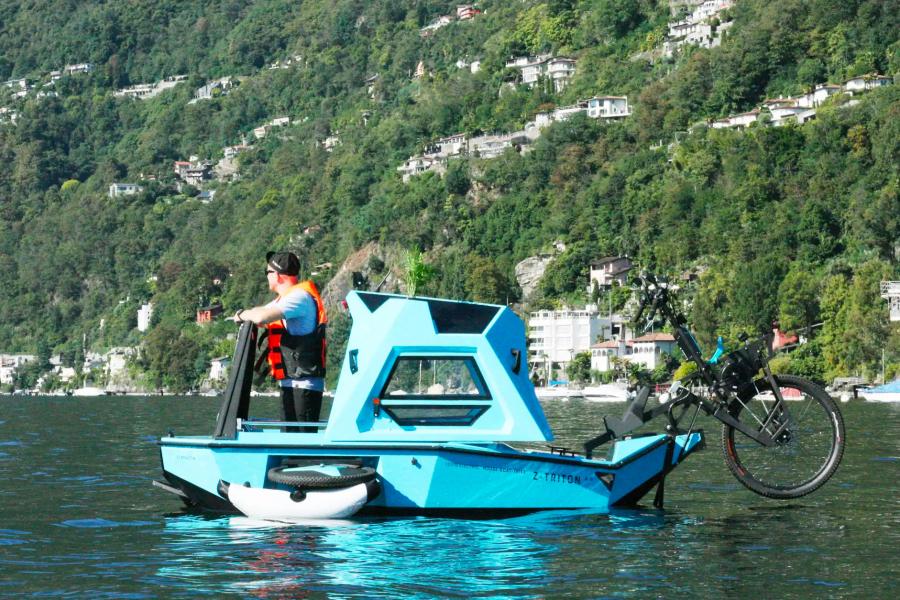 Credit: Z-Triton
Indeed, if you love biking, the options are limitless. I never thought we could top the cycling products that we've shared in the past, but today's bike is really the icing on the cake. Fasten your seatbelts, ready your oars, and allow me to introduce you to the Z-Triton, an amphibious tricycle that's also a camper AND an electric boat.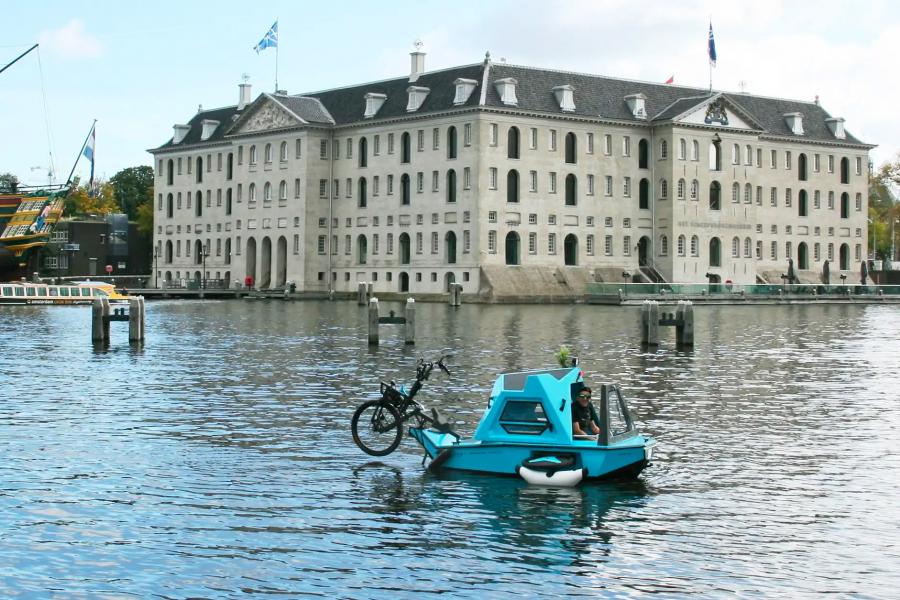 Credit: Z-Triton
The Z-Triton has basically everything you need to camp, bike, and boat anywhere on Earth. The strange-looking vehicle has a front part that resembles a traditional pedal-powered bike, while the rear section is a spacious camper that comfortably sleeps two people.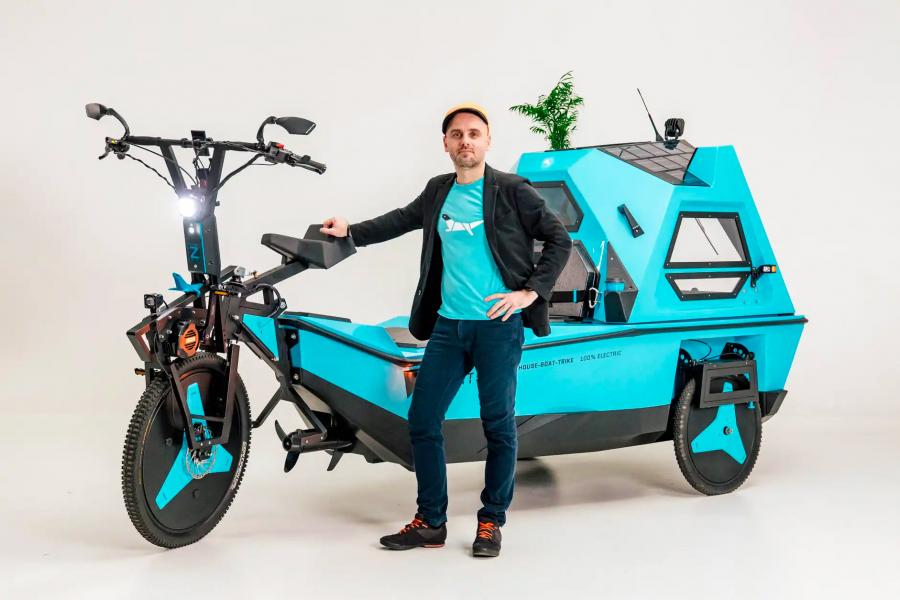 Credit: Z-Triton
The camper's interior has a control panel with USB charging for your phone, GPS, and a built-in sound system. There's also a folding table for preparing meals and a cooling and heating system for those chilly nights in the great outdoors!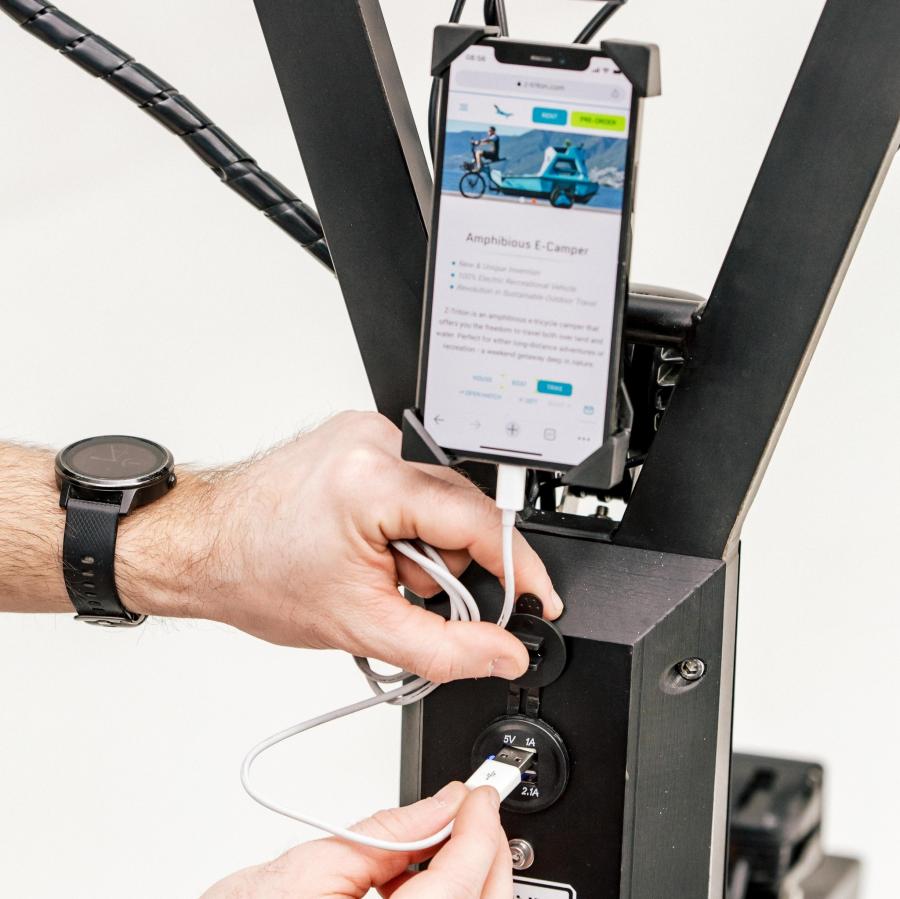 Credit: Z-Triton
The Z-Triton's electric motor powers both the bike mode and the boat mode. Integrated solar panels on the roof provide extra juice should you need it, and the lithium ion electric battery pack should allow you to travel 50km (around 31 miles) by land and 20km (around 12 miles) by water on a single charge.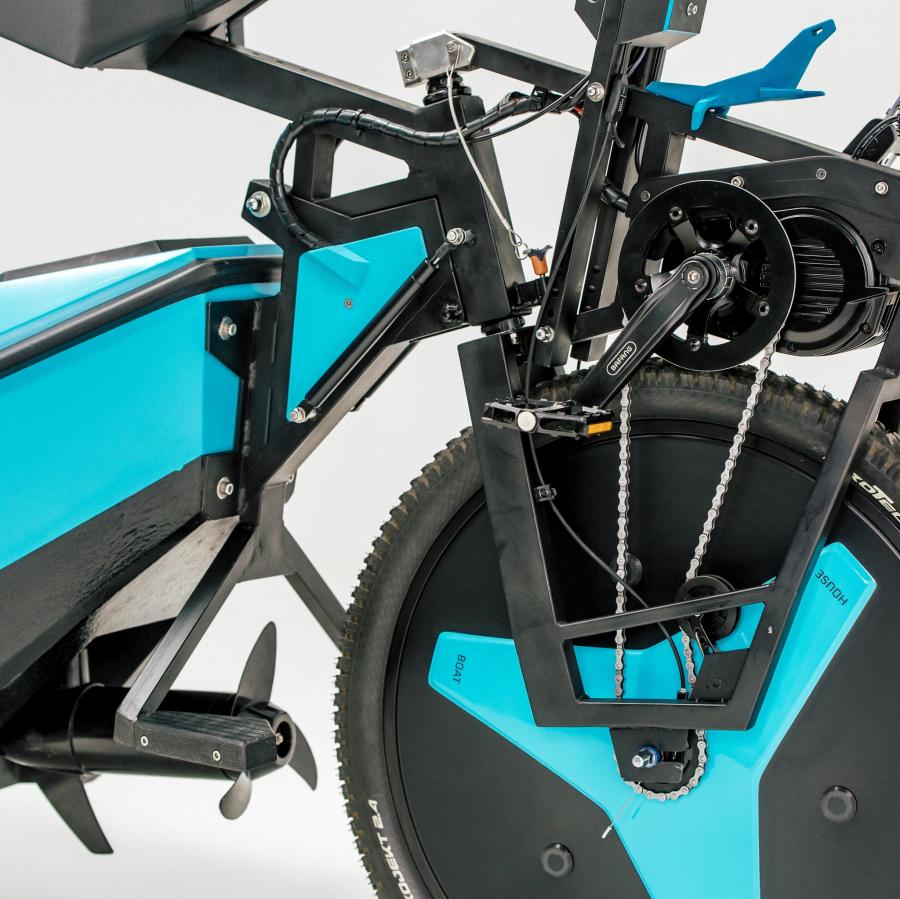 Credit: Z-Triton
Speaking of traveling by water, the Z-Triton can convert from bike to boat mode in about five minutes, as seen in this video.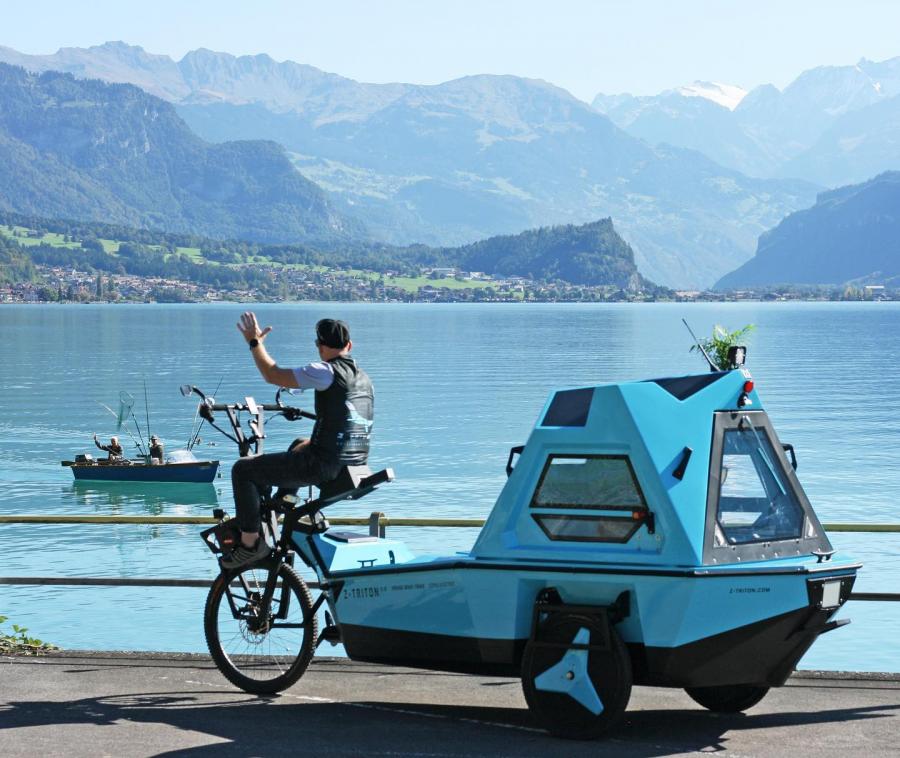 Credit: Z-Triton
Boat mode allows for steering in the cabin, with a removable steering wheel, horn, and even headlights!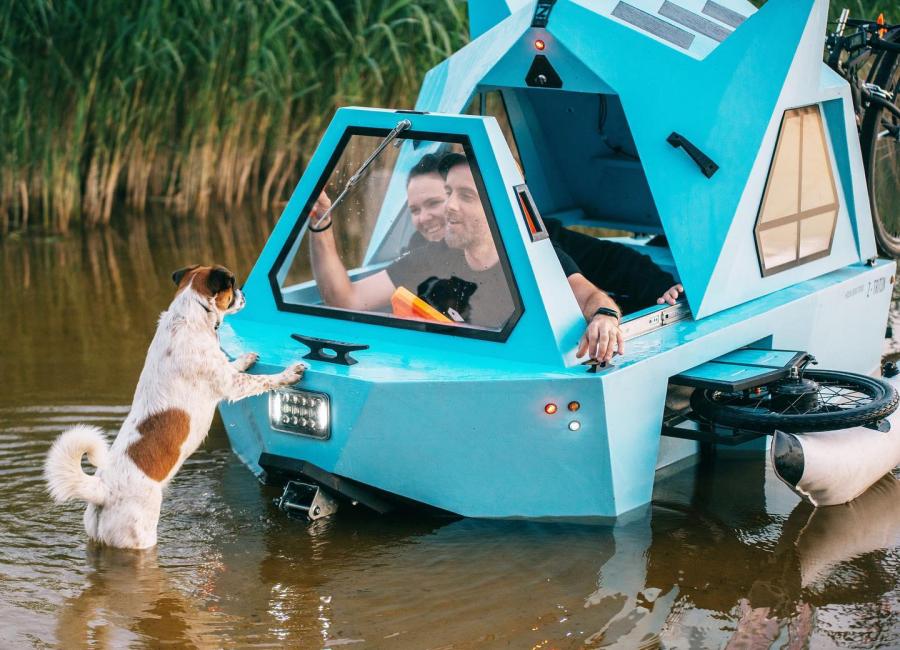 Credit: Z-Triton
This bike and houseboat hybrid measures 3.6 meters in length (about 12 feet), 1.2 meters in width (approximately 4 feet), and 1.5 meters tall (about 5 feet), but it's light enough that just about anyone who's fit enough to ride a bicycle could haul it around with ease!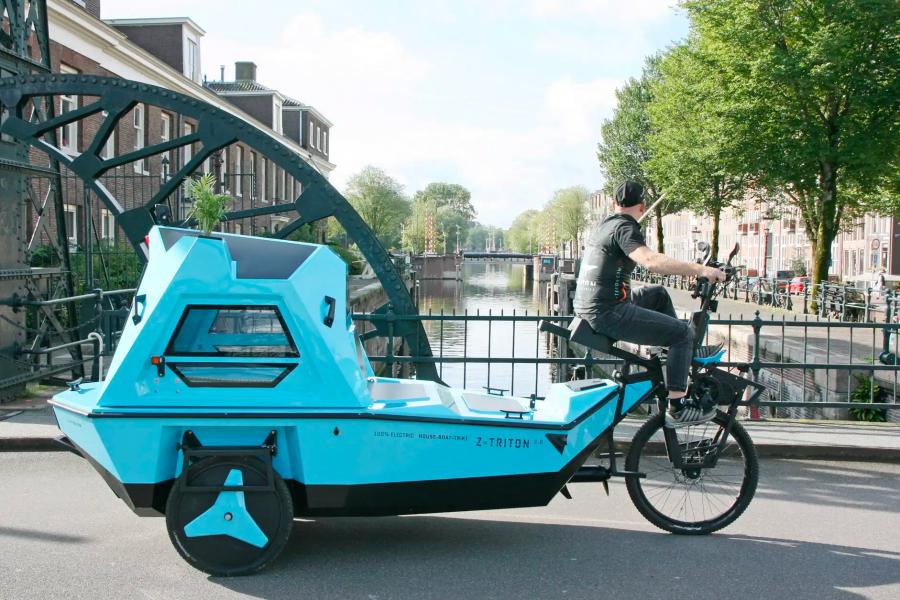 Credit: Z-Triton
The tricycle, boat, camper hybrid is perfect for hunting or photographing wildlife on the water!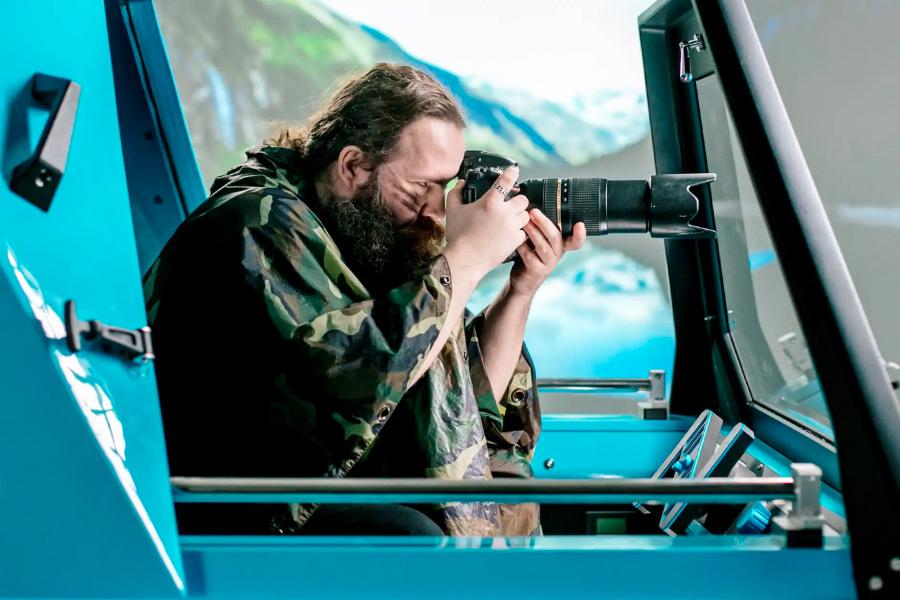 Credit: Z-Triton
The inside of the Ztriton converts into a bed at night where it can comfortably sleep two adults.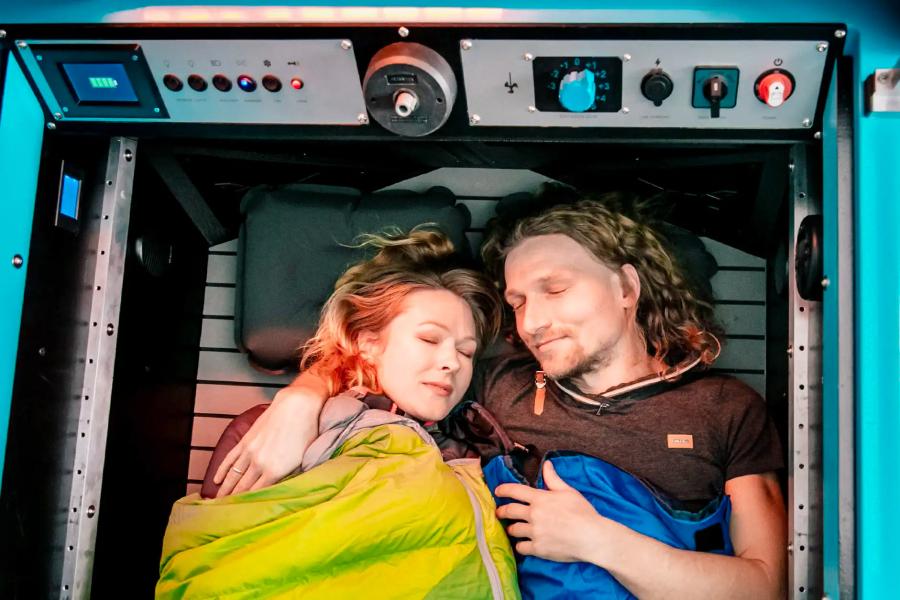 Credit: Z-Triton
The electric motor and battery on the tricycle offers around 12.4 miles of range when on water, and 31 miles of range when on land using the bike with electric assist.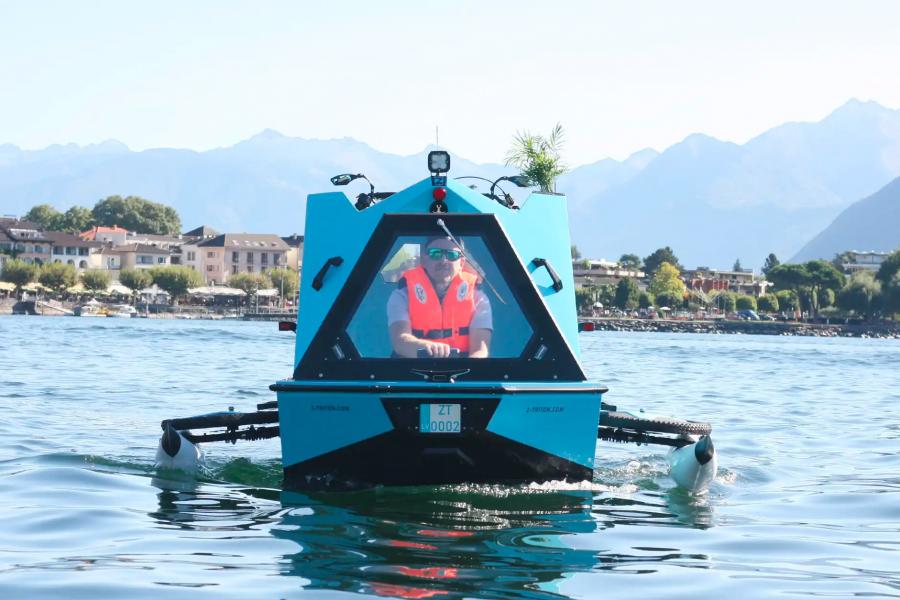 Credit: Z-Triton
The inside area of the camper/boat hybrid can be converted into a table with seating area for two to enjoy a meal!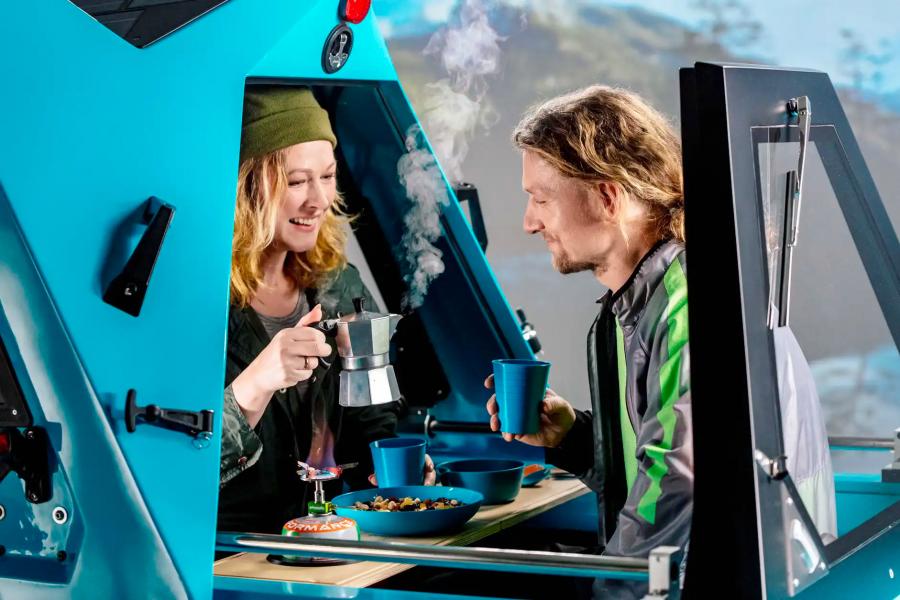 Credit: Z-Triton
Though the Z-Triton does have solar panels on the top of the roof that help slightly to keep the battery charged, it's not sufficient for long term use, and you'll still need to plug in and charge the boat trike when the battery is low.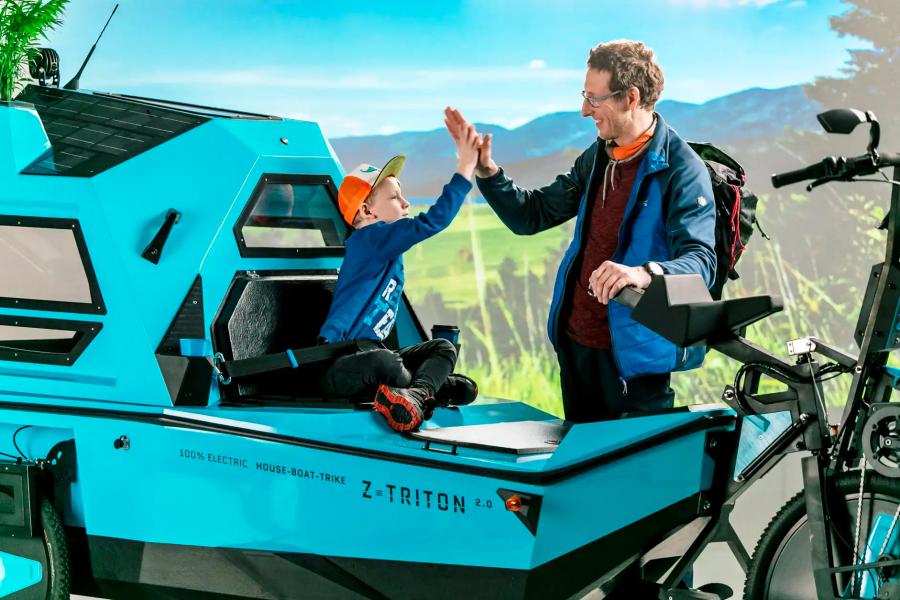 Credit: Z-Triton
The bike boat hybrid comes with a charging cable to charge the internal battery, which will work with any standard 220V socket! If you ever get one the U.S. you may need to use a converter unless they offer a different charging cable to U.S. customers.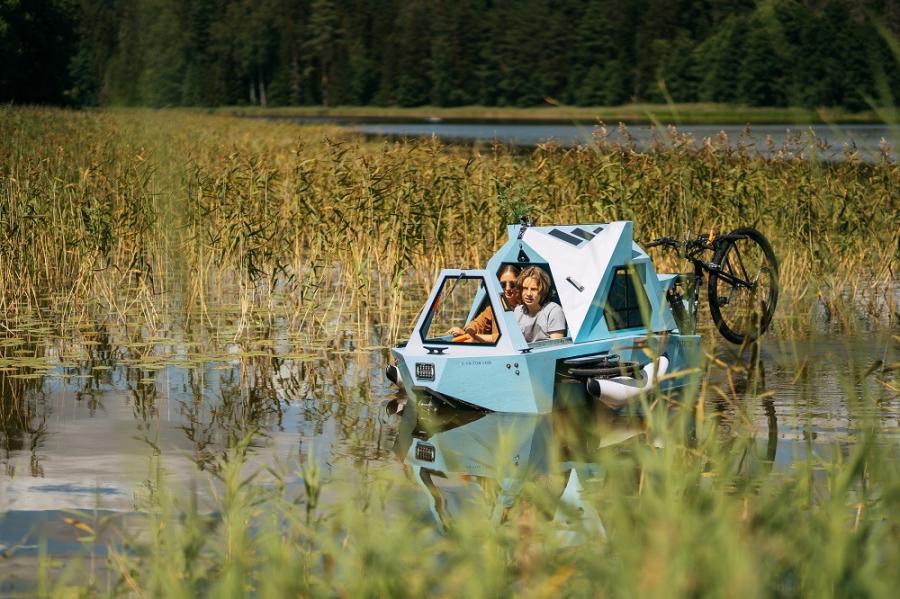 Credit: Z-Triton
The Z-Triton is big enough to fit 2 adults and one small pet!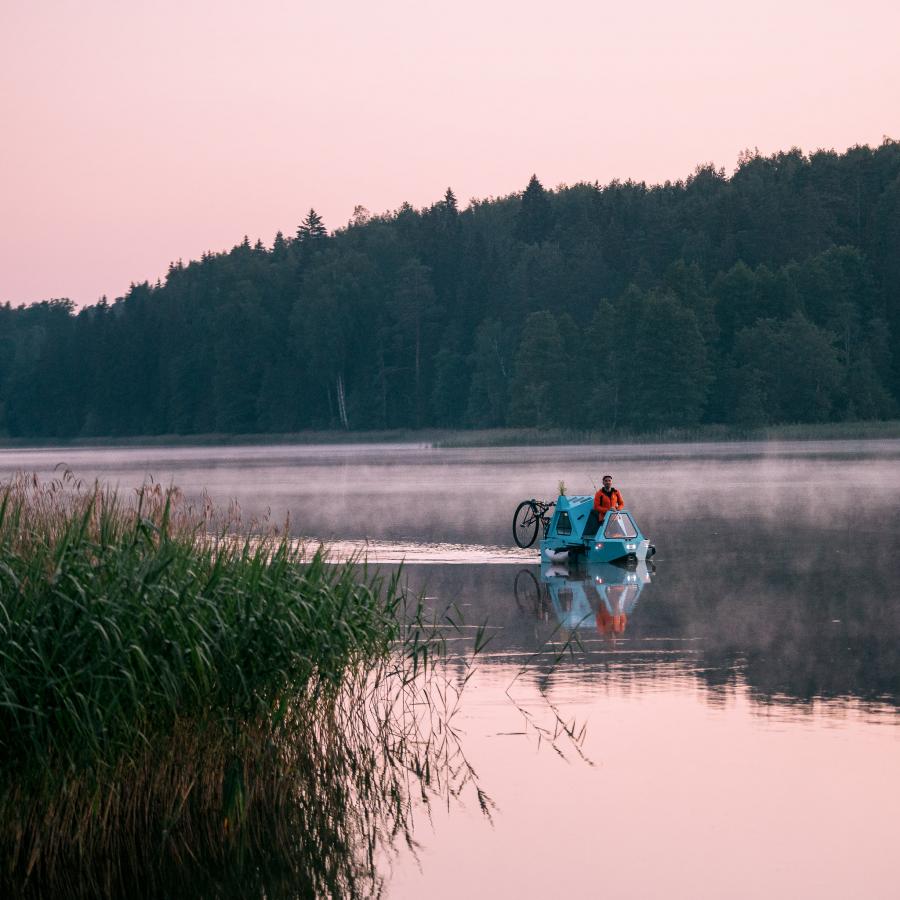 Credit: Z-Triton
No worries if the battery runs out, as you can simply pedal the bike to the nearest outlet to get the battery charged again!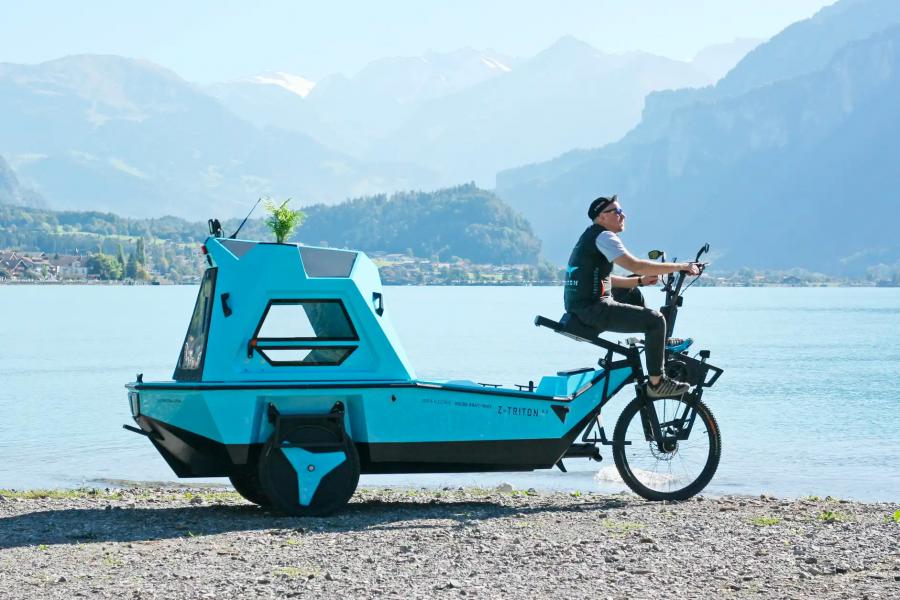 Credit: Z-Triton
The Z-Triton is currently just a prototype and the designers haven't provided any updates since projecting a 2021 release.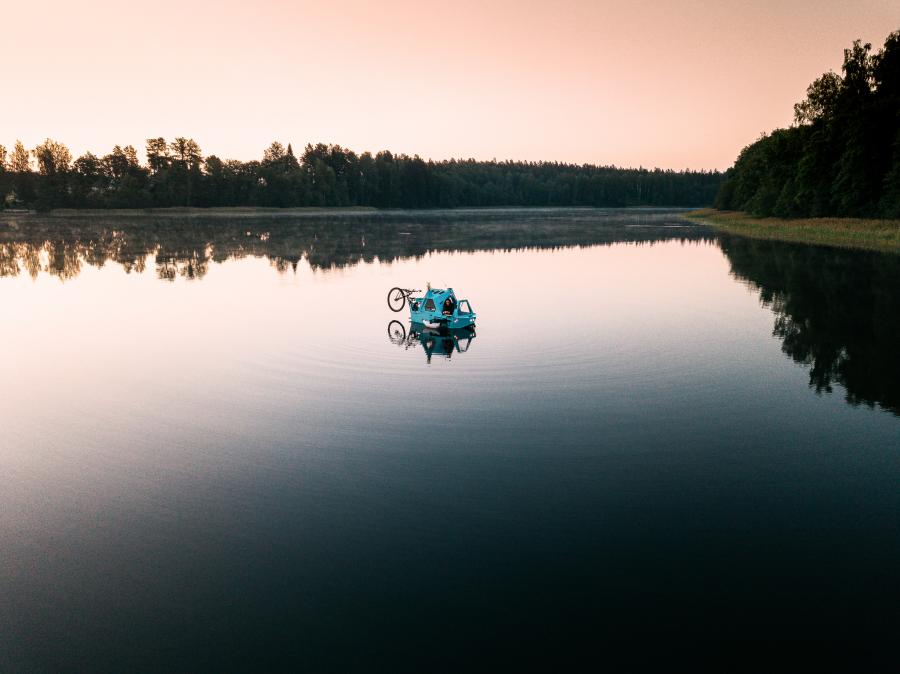 Credit: Z-Triton
Once it finally hits the market, however, the estimated price of the Z-Triton is 14,500 EUR, or around $16,000 USD. That's not too bad considering you're getting a boat, a camper, and a bike all rolled into one!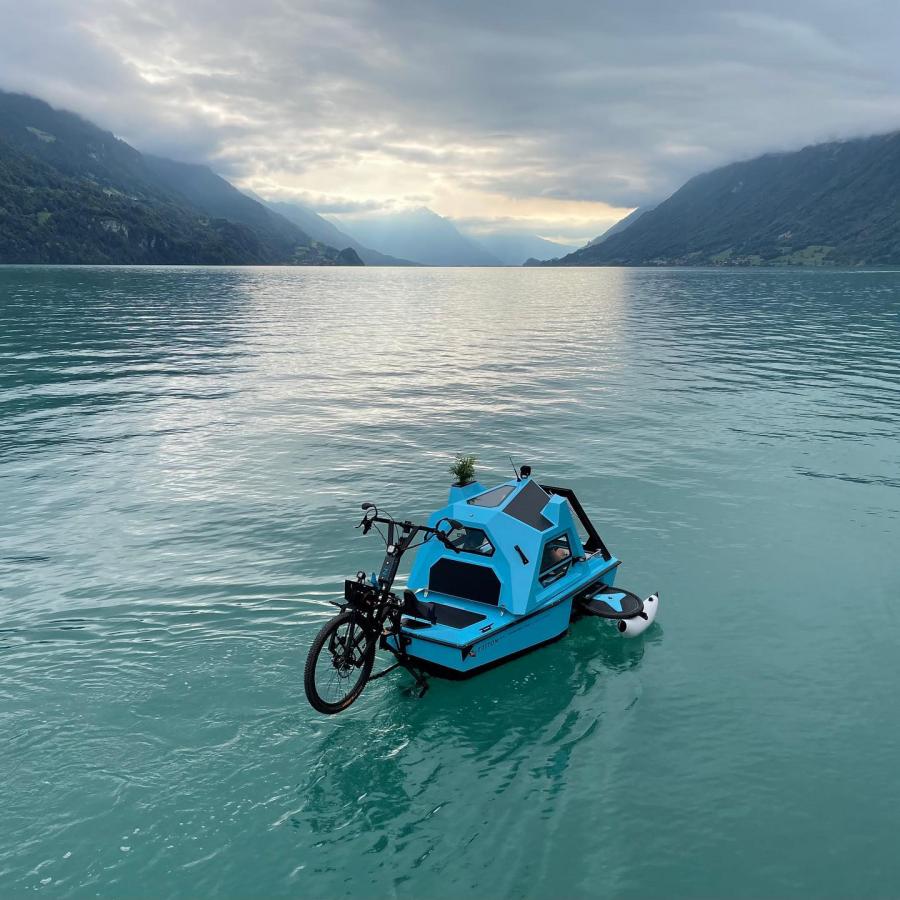 Credit: Z-Triton
Check out the Z-Triton house, boat, and bicycle hybrid in action via the video below!
Subscribe To Our YouTube Channel