These Giant Xbox and Playstation Controller Coffee Tables Are Perfect For Any Game Room
By Ryan on 02/18/2020 11:56 AM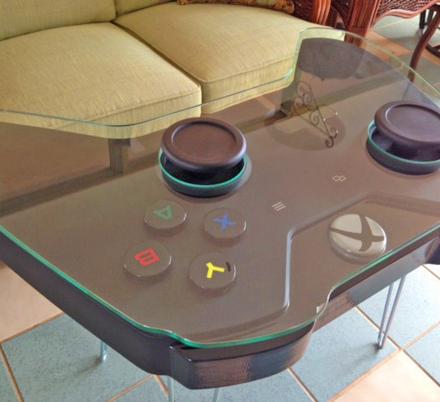 If you consider yourself a gamer and you don't have either the Nintendo 64 coffee table, the working Atari pong coffee table, the Nintendo replica controller coffee table, or one of these replica Xbox controller coffee tables, it's time to rethink your life choices! This company makes incredible giant replica gaming controllers that you can use as a coffee table in your gaming room, or perhaps your living room if your wife allows it!

Versions:
Xbox | Playstation | Xbox red | NES
Created and sold by Etsy store WoodCurve, the giant Xbox controller coffee table is completely handmade and is inspired from the real controller used on the Xbox One. Though the design is altered to offer a completely flat surface on top rather than a rounded on (minus the buttons and joysticks).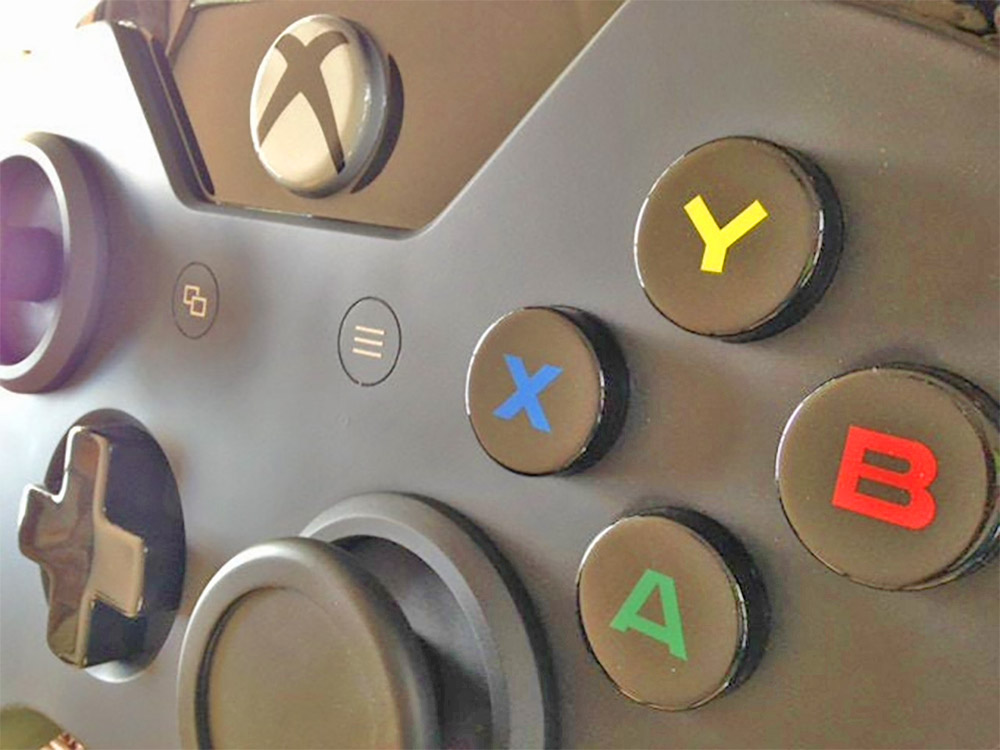 You can also get an optional glass topper for the controller that offers protection and a flatter surface since it hovers above the buttons. The glass table-top does have holes for the joysticks to still pop through. By default the glass topper doesn't come with the controller, though you can add it on by mentioning it in the notes when purchasing for an extra $375.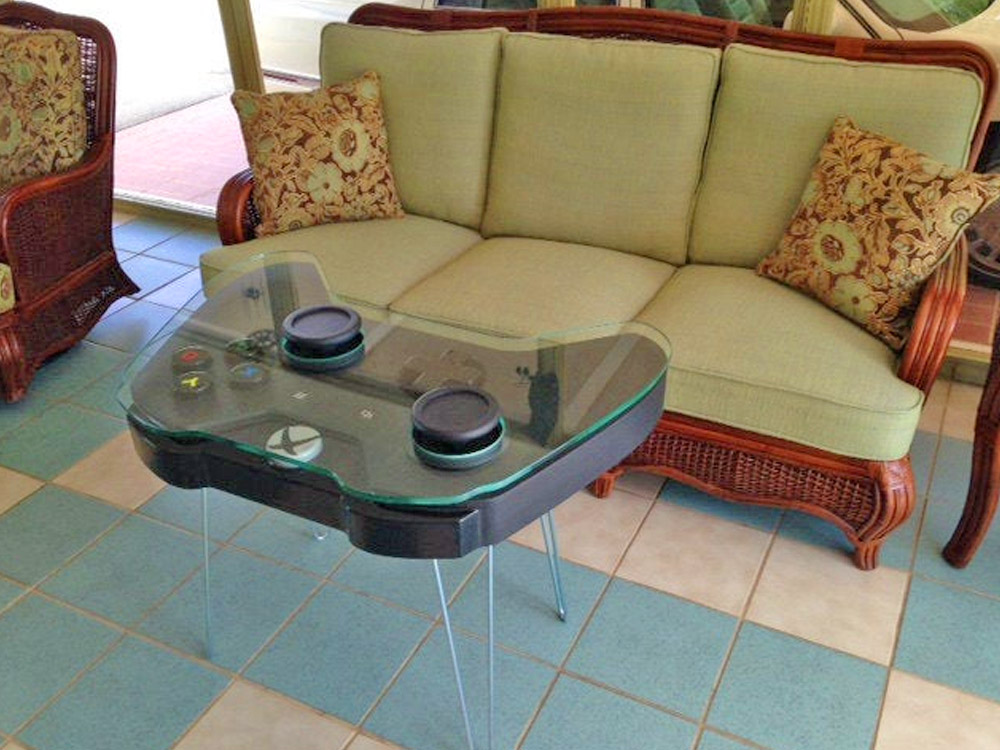 I can only image the joysticks on the Xbox controller coffee table are moveable, because if not, there would really be no point in selling these. Since the first thing people will want to do upon seeing the table is move around the joysticks. There's no mention of being able to actually use the giant Xbox controller to play a game, but we can only assume this is not an option. Though, if it were an option, we would pay large sums of money for this.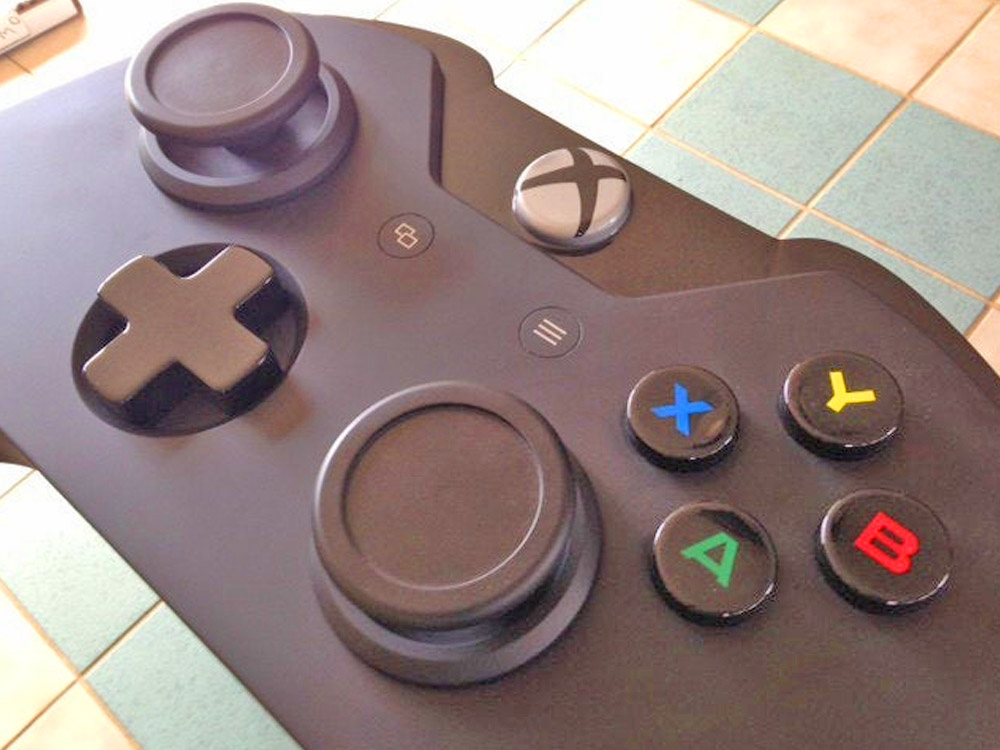 To note: the old Nintendo NES controller coffee table that we featured a while back was actually a functioning remote that you could actually use to play a NES game as it can plug right into your console. Granted it wouldn't be easy, but it would be incredibly fun to pair up with someone to play a game of Mario while one person manages the D-pad while another takes control of the buttons. Sadly, this item is no longer available that we can find anywhere. If you're a bit of a DIYer, these instructions on Instructables go though how you can make your very own functioning NES controller coffee table.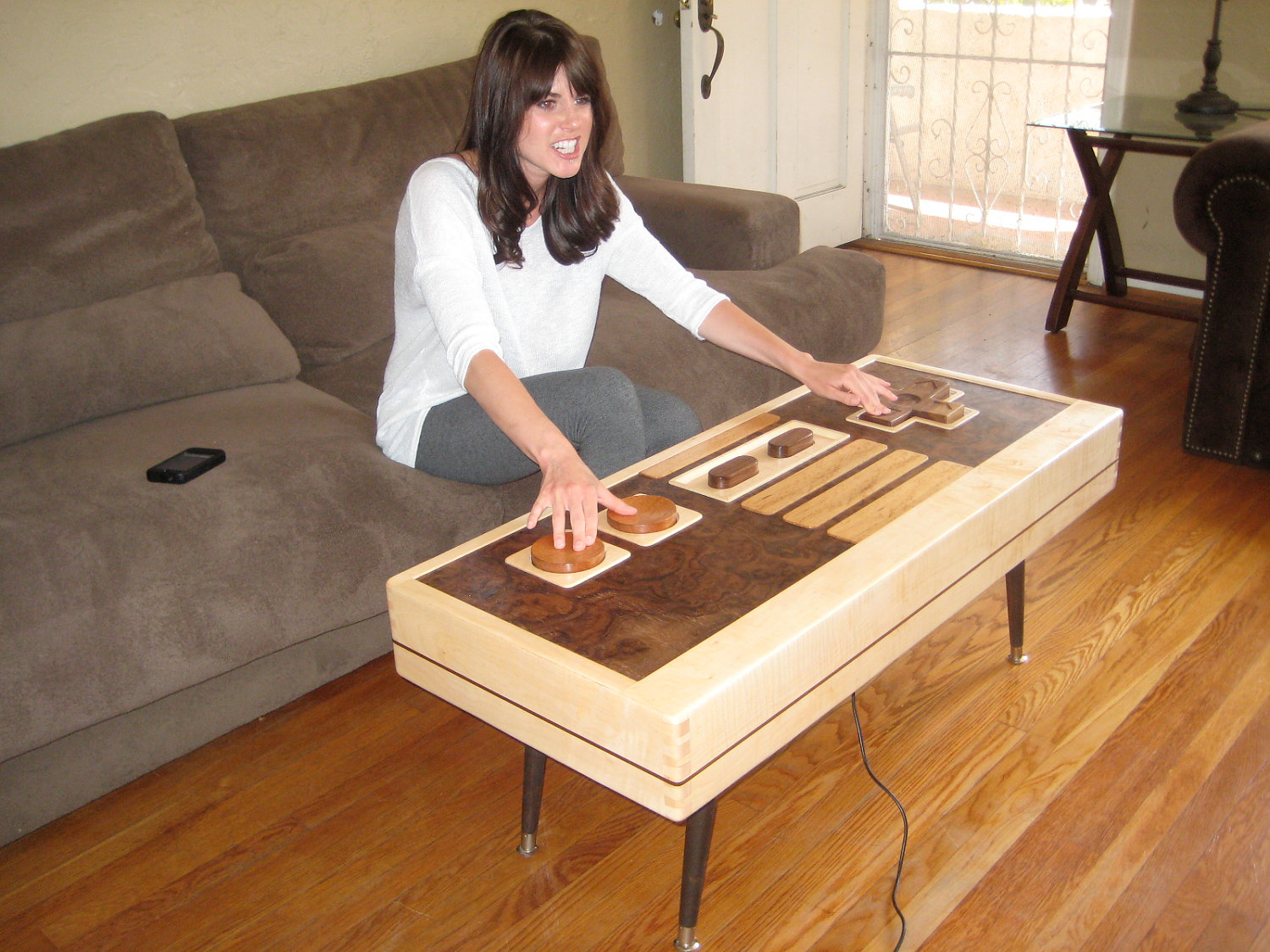 When ordering the giant Xbox one controller coffee table, you can select a preferred color along with the height of the legs. You can specify the height of the legs to perfectly match your preferred height against your couch, you can also specify the color of the legs or Zinc plated legs.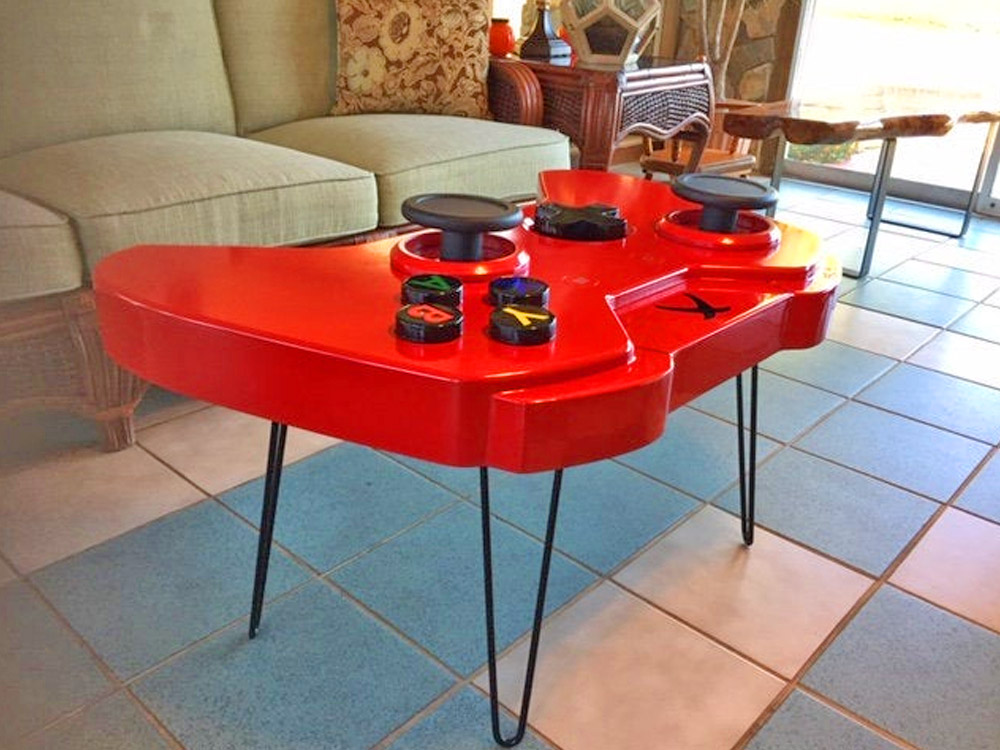 The Xbox controller coffee table is made from wood, and measures 39 inches long x 26 inches wide x 20 inches tall (default height). The buttons on the table are all coated with marine ultra clear epoxy, and the knobs/joysticks are removable, featuring a threaded steel stud and threaded insert on table top.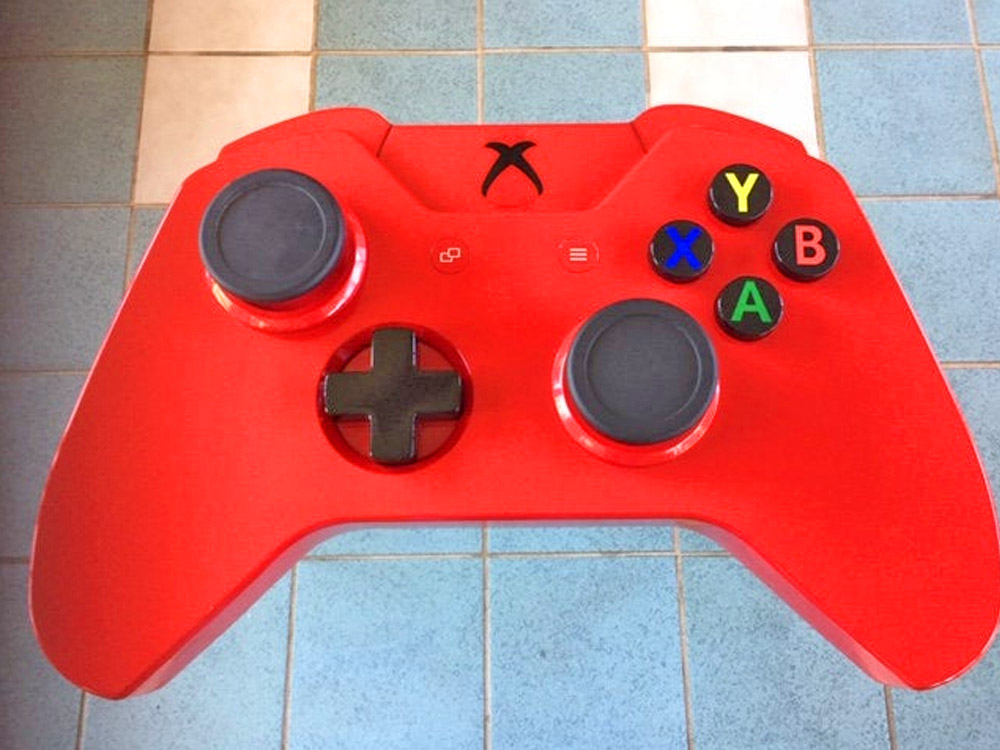 If you prefer Playstation over the Xbox, the same company also offers a giant Playstation controller coffee table, either one would be an awesome addition to any game room!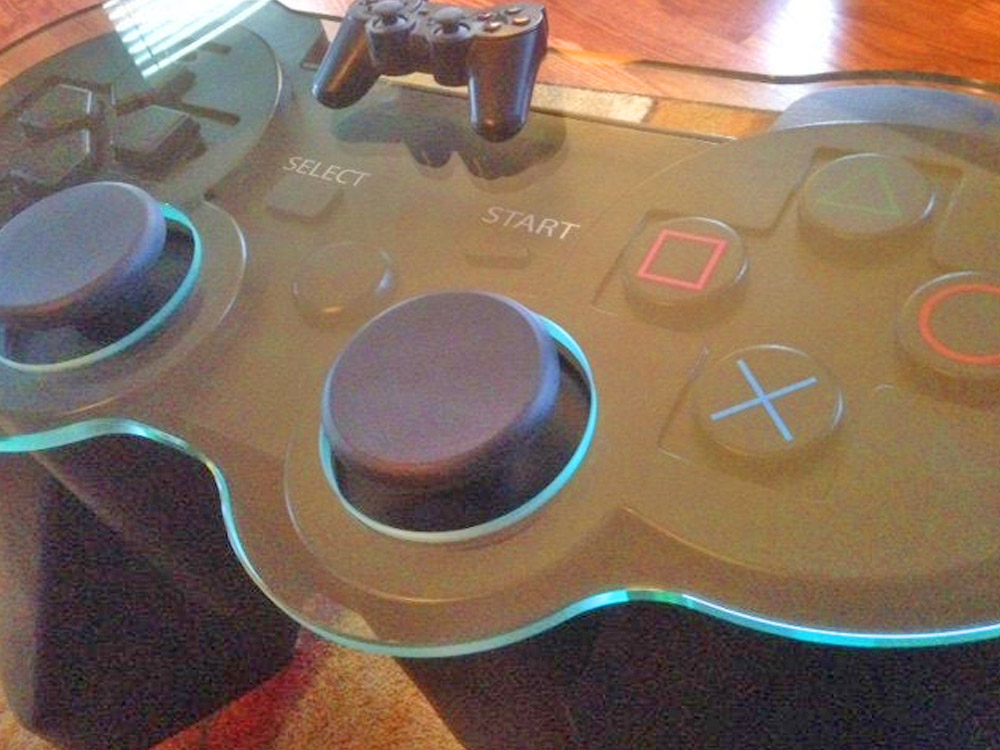 The cool thing about the giant Playstation controller coffee table is that it has a hidden cabinet on the side of it where you can store all of your games!