This Truck Bed Tent Makes A Super Quick and Portable Camping Experience
By Ryan on 01/04/2022 10:54 AM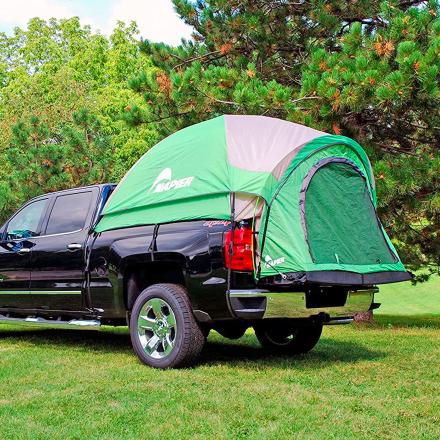 Camping has come a long way over the last few years. Not only can we enjoy the great outdoors with clever innovations like the modular quick cabin and the donut shaped tent, but if you own a pick-up truck you can make the camping experience even easier with inventions like the Napier Backroadz Truck Bed Tent!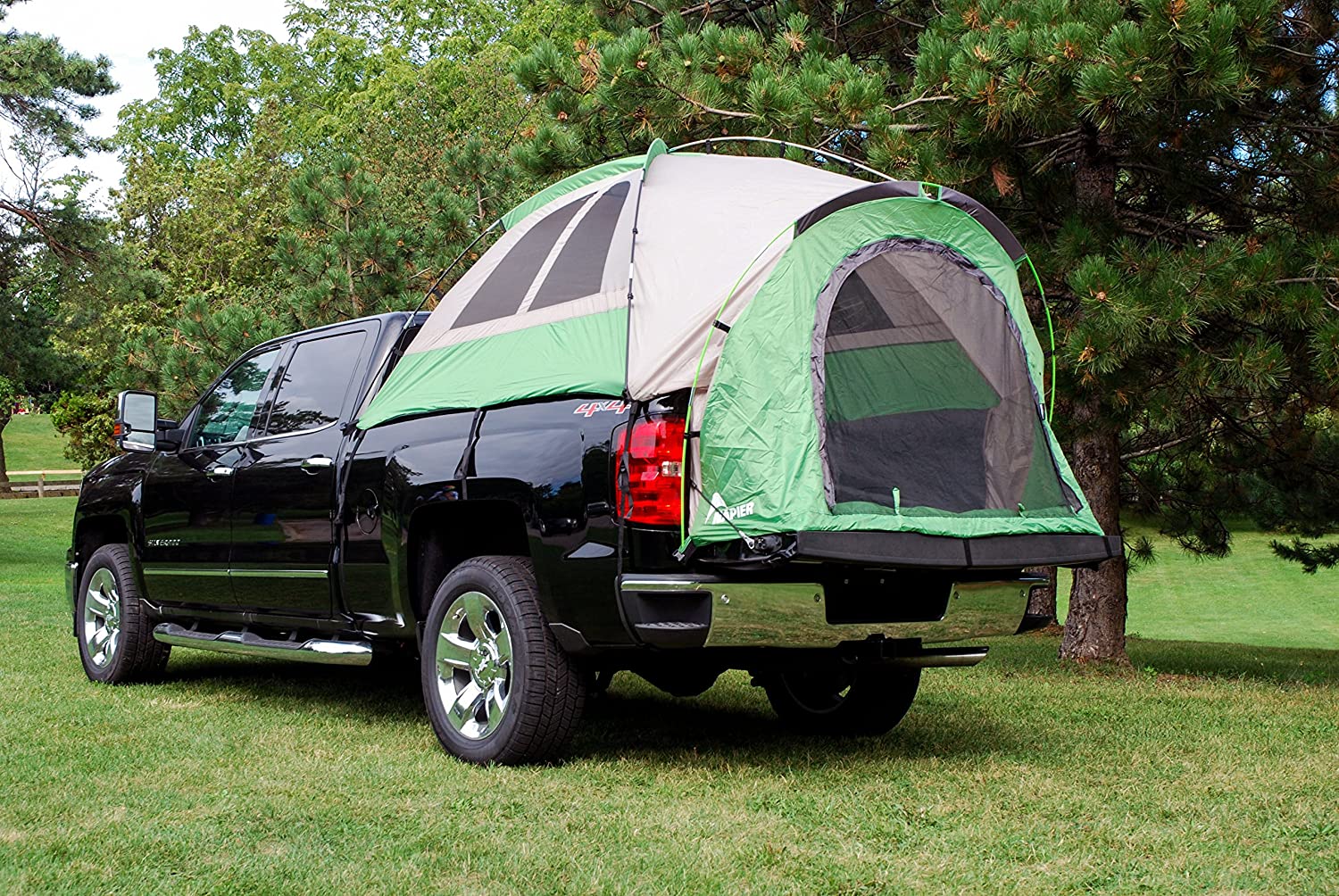 Kind of like the truck bed air mattress and the rooftop expandable tent that we've shared previously, the Napier Backroadz Truck Bed Tent can be easily attached to your vehicle to protect you from the elements while camping. No more muddy footprints or pesky tree roots stabbing into your spine all night while you're trying to sleep.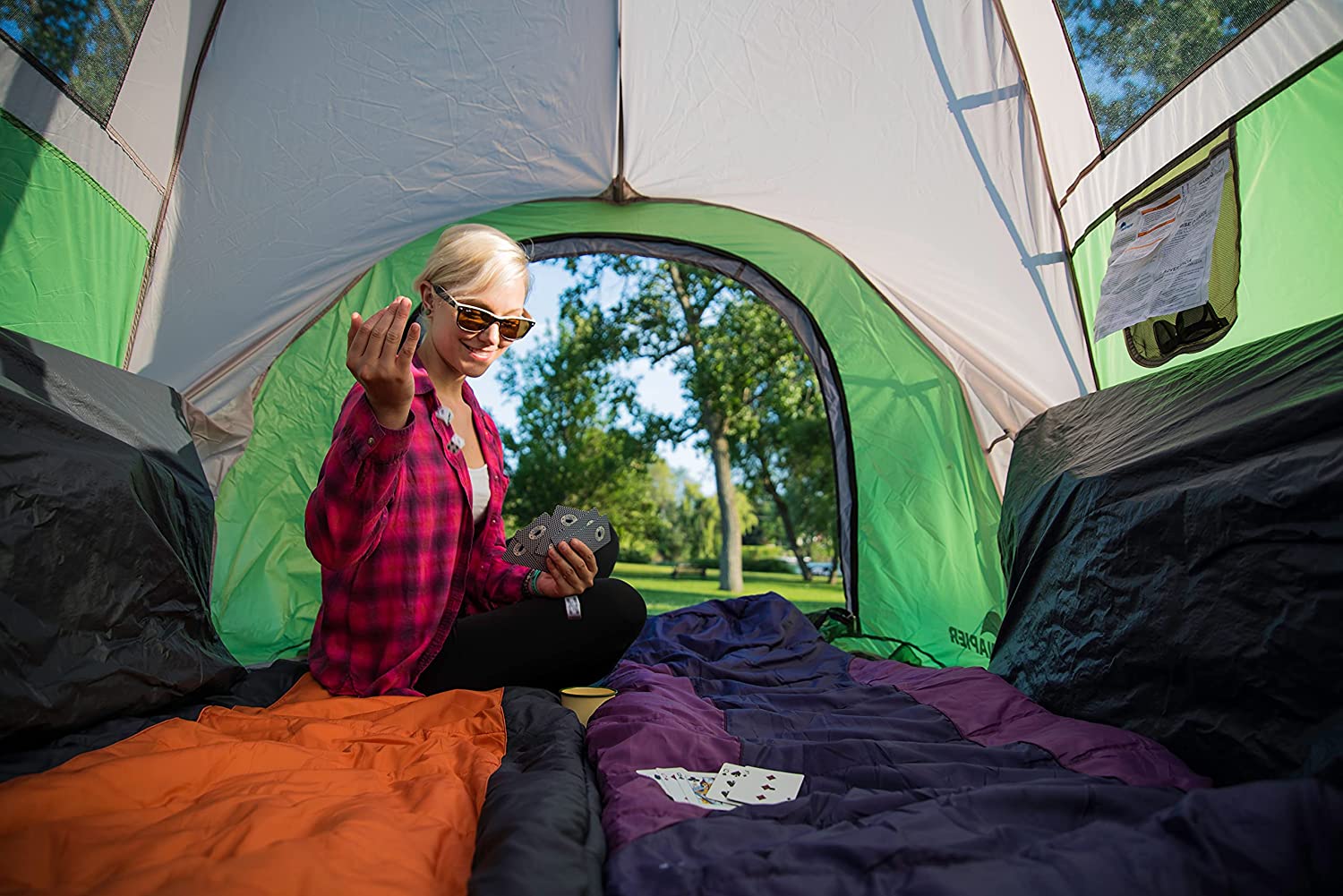 The Napier Backroadz Truck Bed Tent will fit on most pick-up trucks (even ones with built-in tool boxes and bedliners) and it is constructed from durable polyester fabric. It's big enough to hold two campers comfortably and features a rainfly to keep you toasty and dry, even when the weather's bad.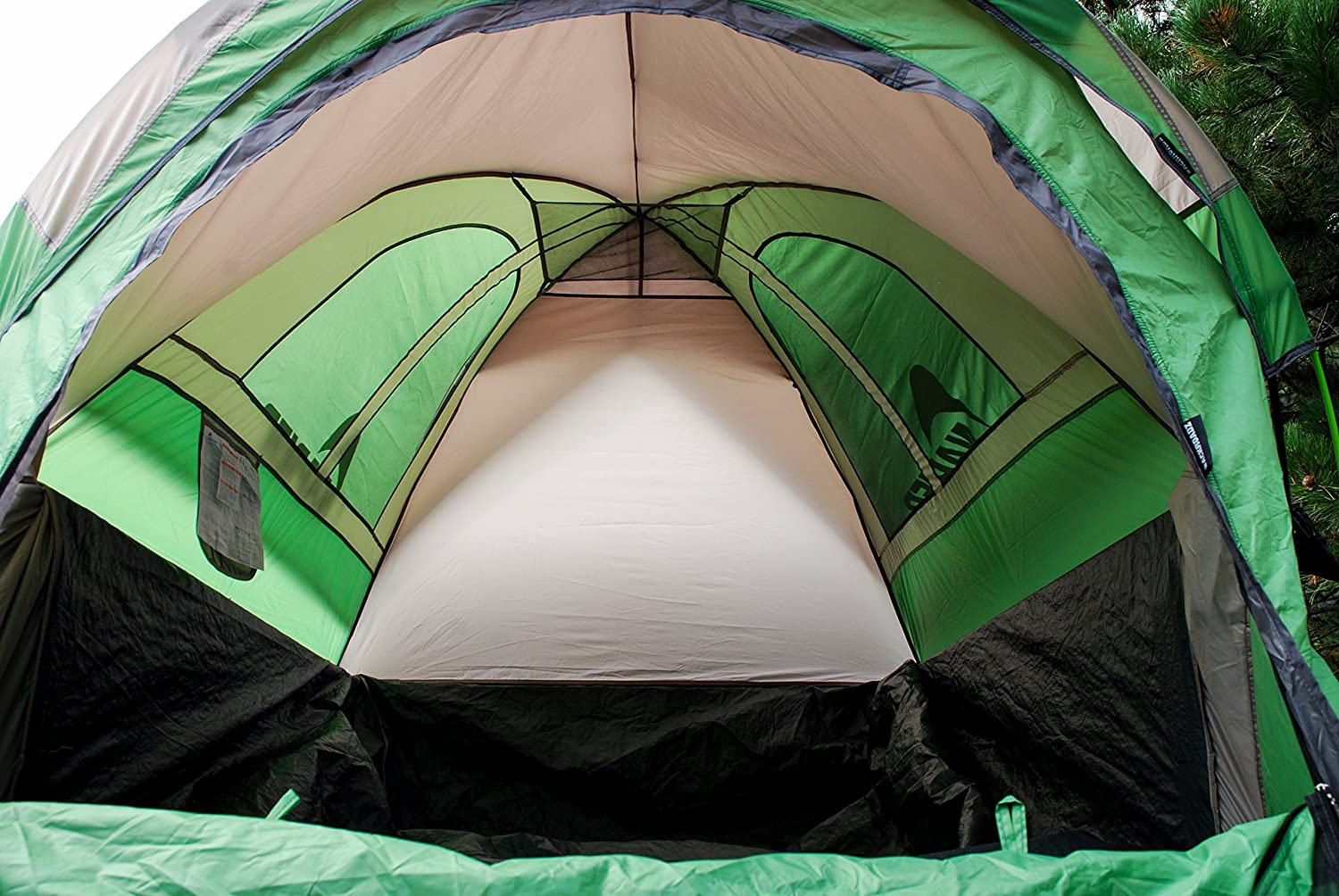 Unlike other truck bed tents, this bad boy has a full tent floor. Once set up, the interior is spacious and features a 5.6 foot tall area of head room for all you tall people. The whole tent weighs less than 4 pounds so it's portable and easy to stash under a car seat. It even comes with a built-in lantern holder!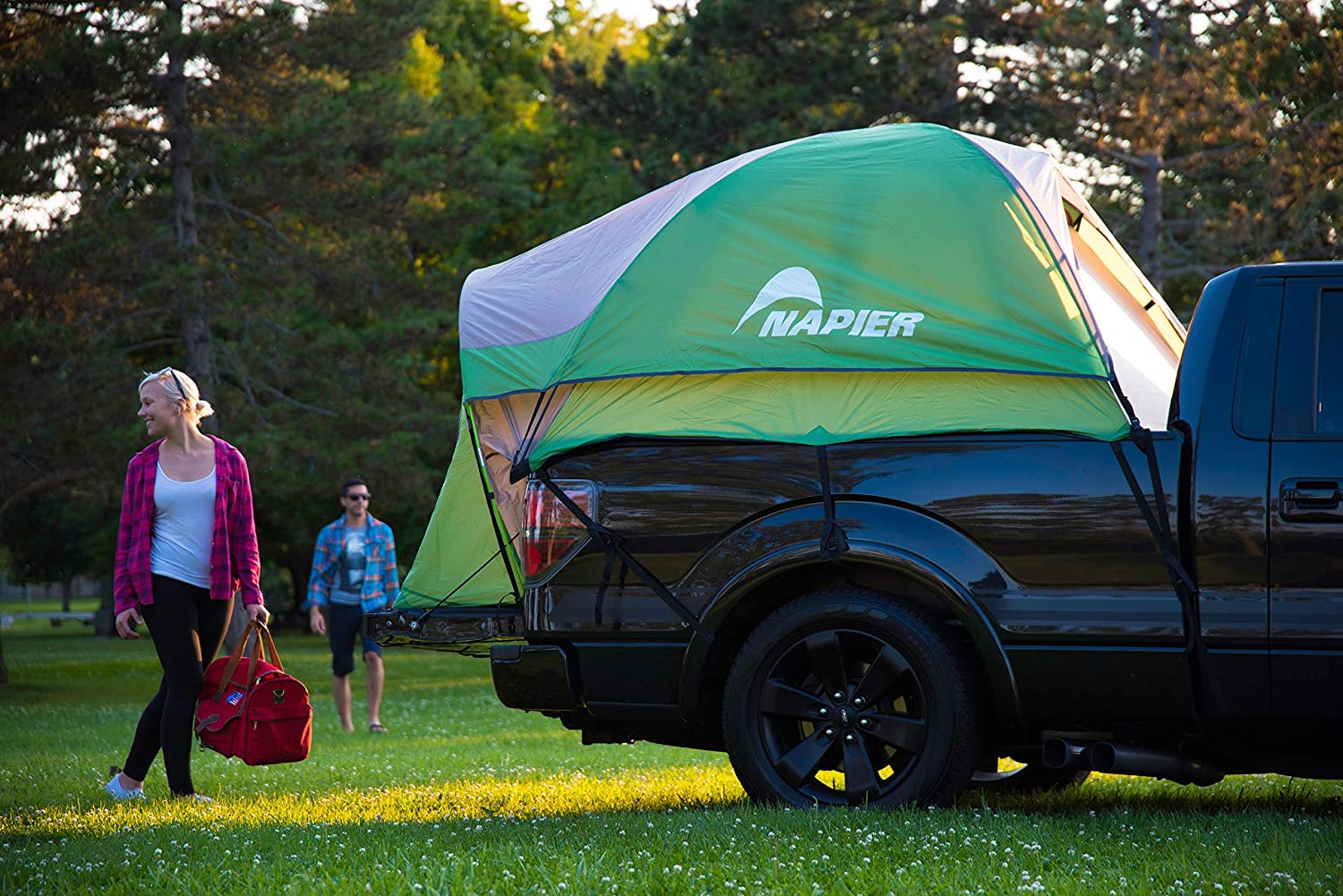 We all know truck owners can be pretty particular about truck stuff, so it's nice to see that folks are enjoying the truck bed tent. One satisfied reviewer named Di Di has been using the Napier Backroadz Truck Bed Tent for over a year and has taken it on a wide variety of adventures.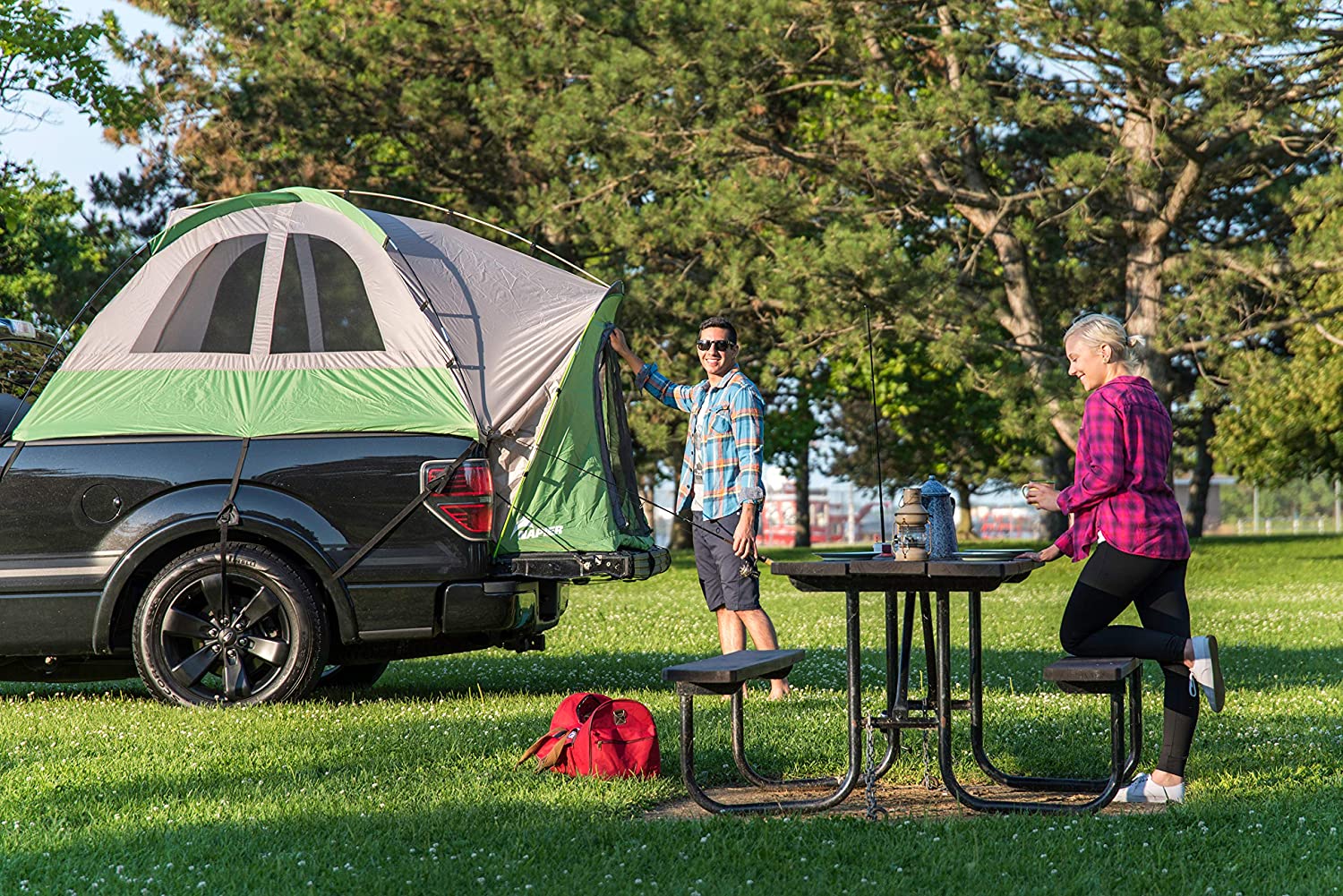 Not only have they used the tent in over 100 degree weather, but they've camped in conditions that dropped below zero! According to their five-star review, "It's been windy, rainy, dusty, you name it. We camp two adult humans and three dogs, one of them a Mastiff-Rottweiler. This tent travels well, keeps the weather out, and sets up easy (even with one person). We've been able to camp some rough terrain that wasn't feasible before with a ground tent. It takes down easy, and fits back into its bag!"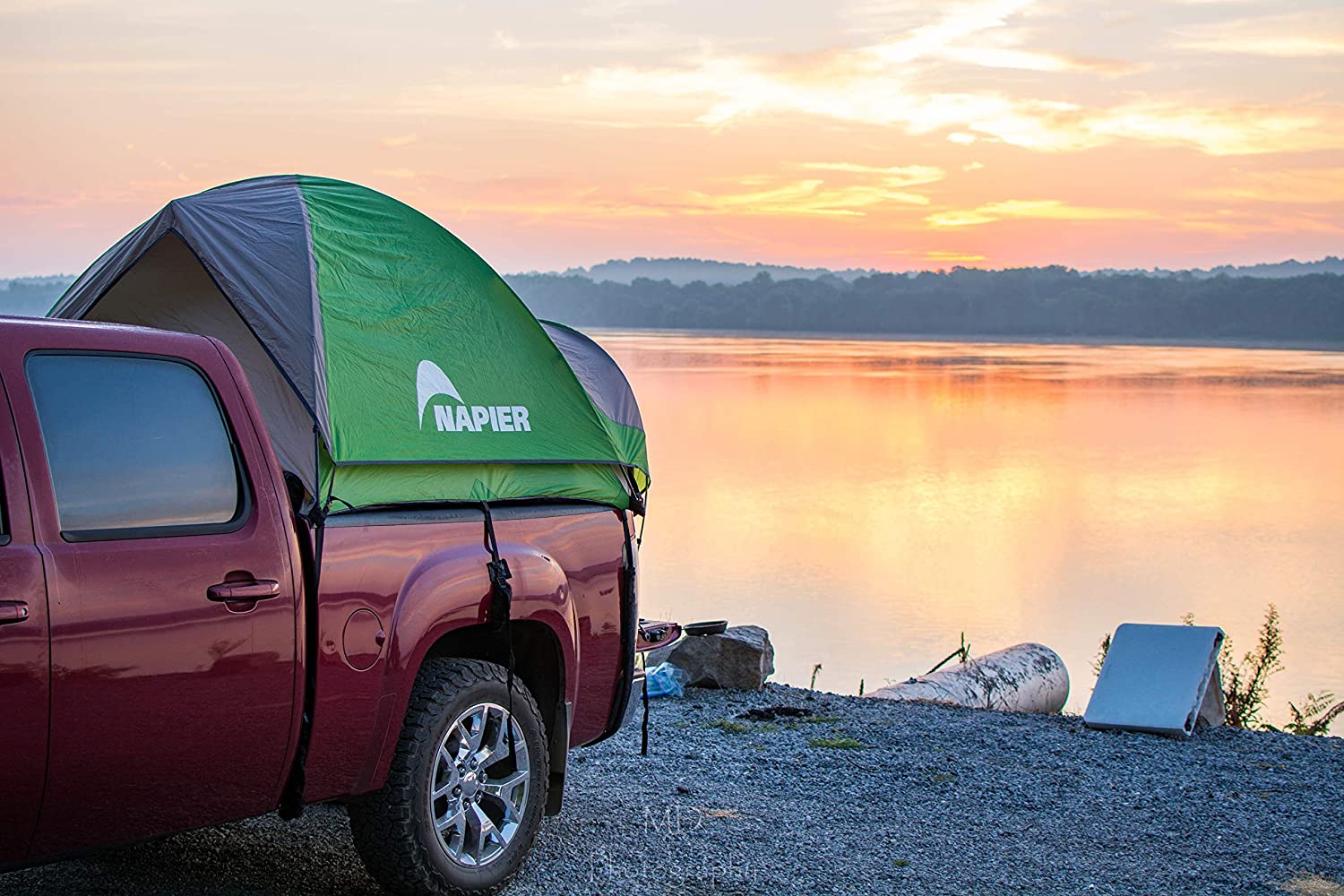 That's high praise, indeed! The Napier Backroadz truck tent is available in four different sizes so you can choose the tent that's going to fit in your truck bed. The full size short bed is suitable for truck beds that are 5'5" to 5'8", the full size regular is for truck beds that are 6'4" to 6'7", the compact regular size is for truck beds that are 6' to 6'1", and the full size long is full extra big truck beds that measure 8' to 8'2".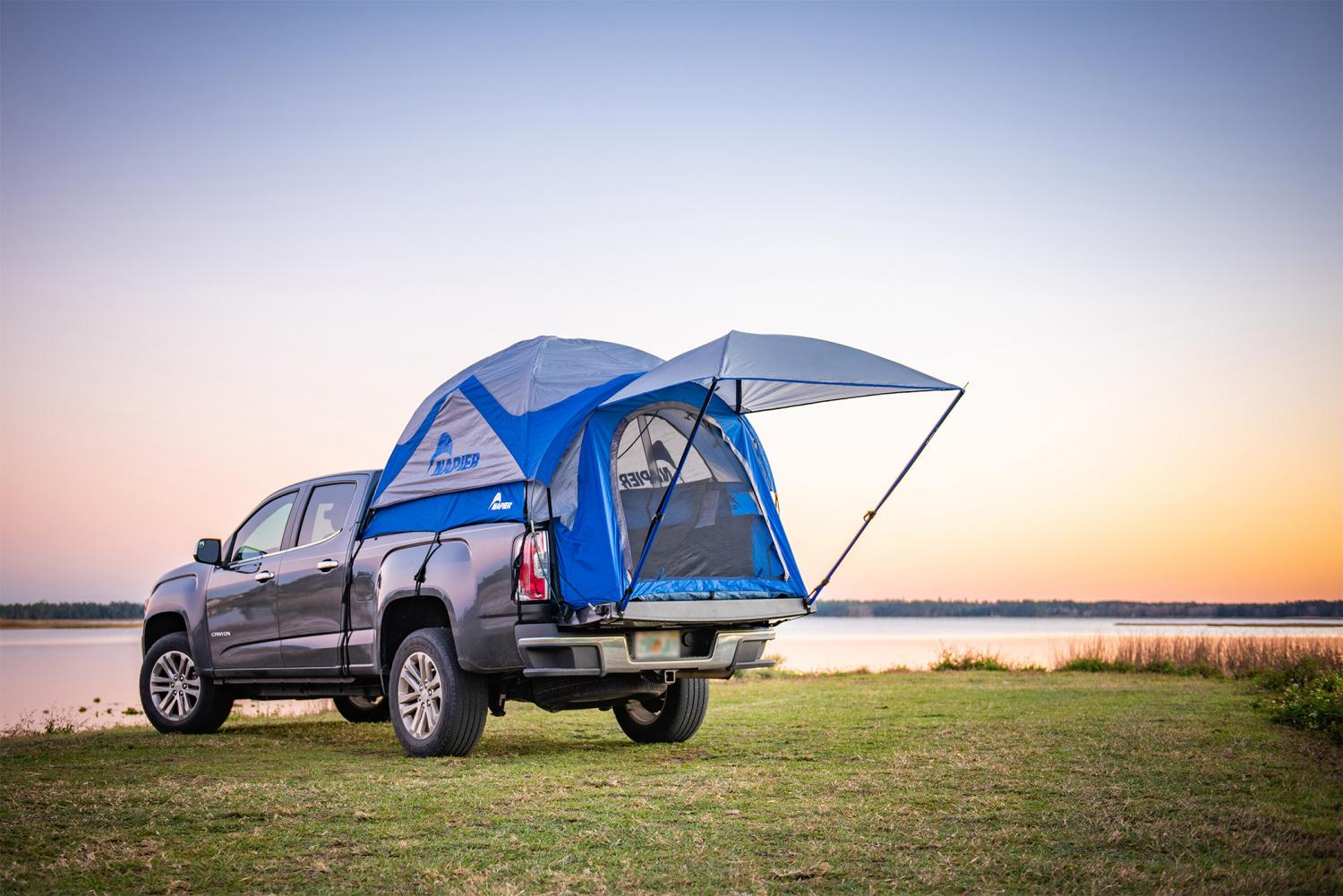 While the exact cost depends on the size you choose, you can snag one of these super convenient truck bed tents for around $144.99 to $159.99!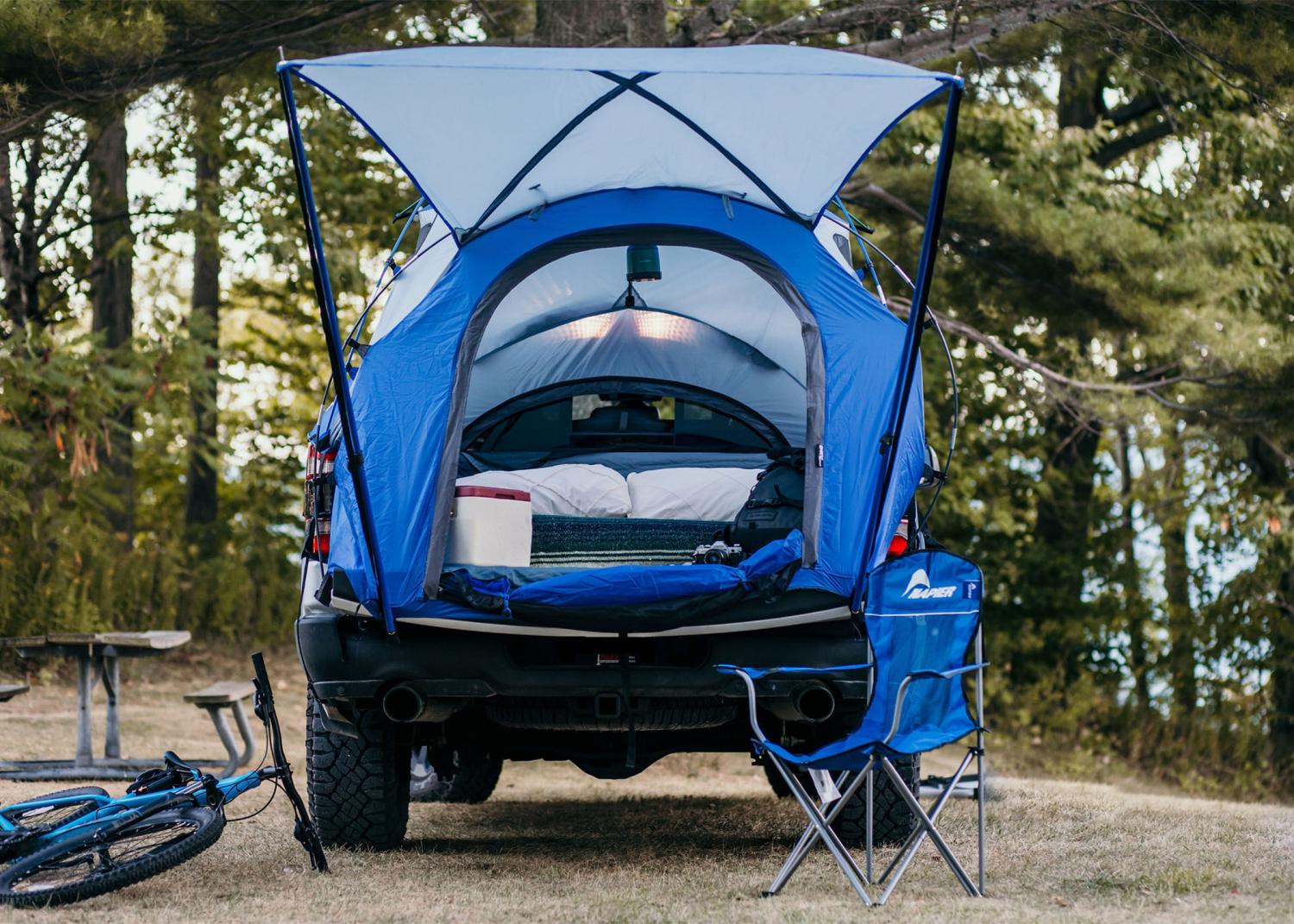 Napier also sells another version of a truck be camping tent that's called the Sportz Truck Tent, and this version has a handy attachable extendable awning!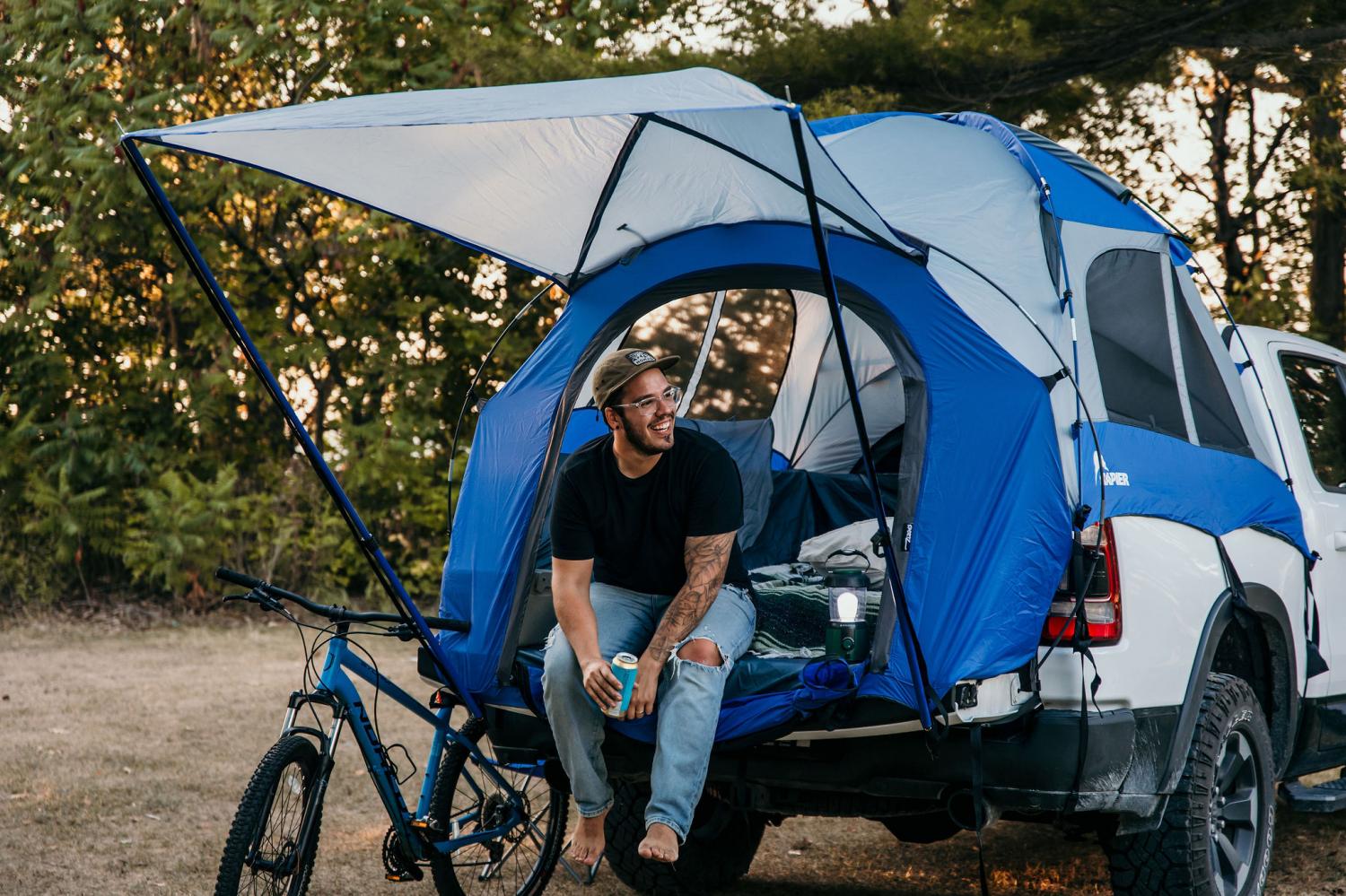 The unique truck bed camping tents can comfortably sleep 2 adults and has plenty of head room so you won't need to constantly stay lying down while inside!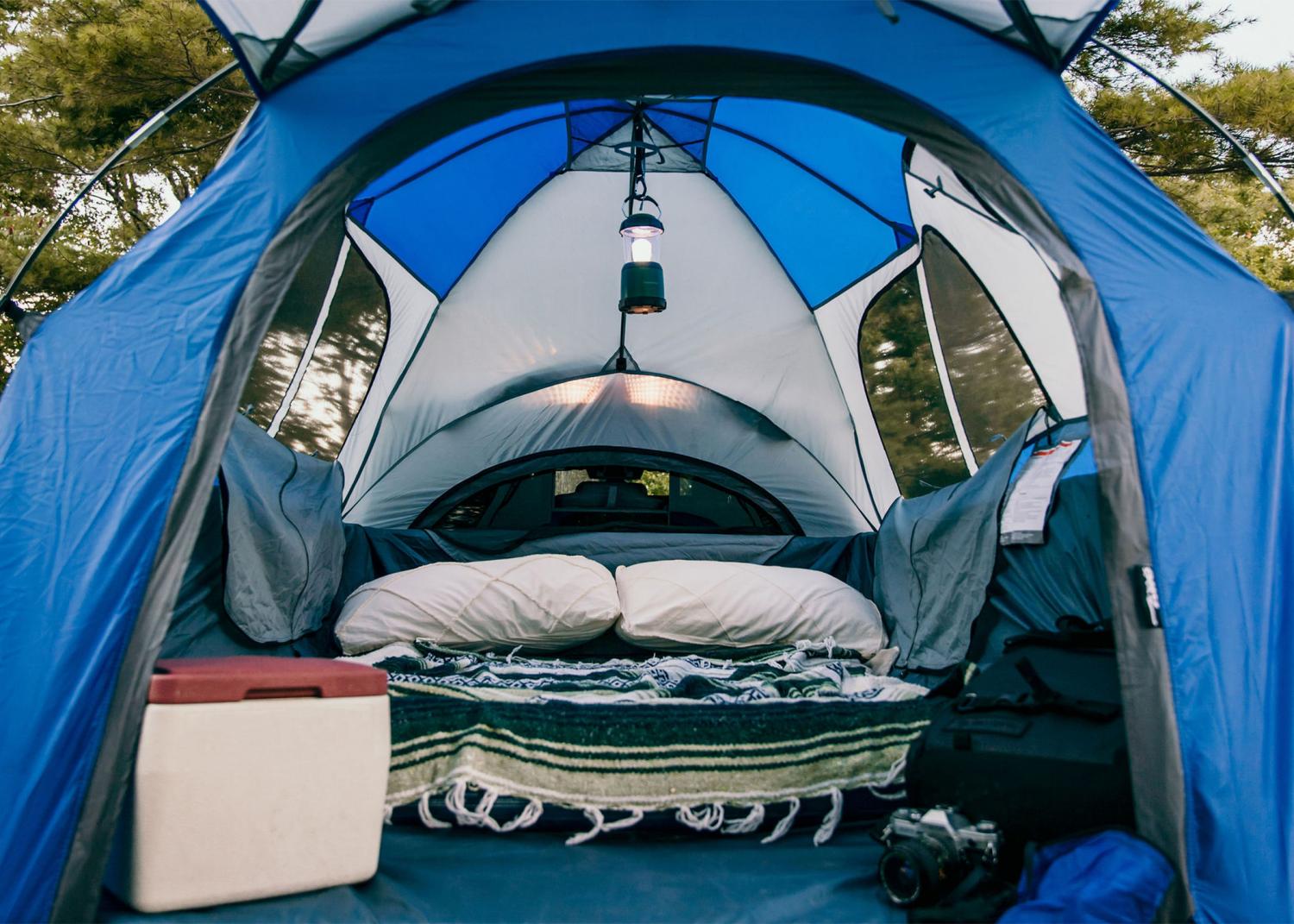 The huge 4 x 4 foot attachable awning will protect against the sun and rain! This allows you go keep the tent door open in light rain while still enjoying the views around you!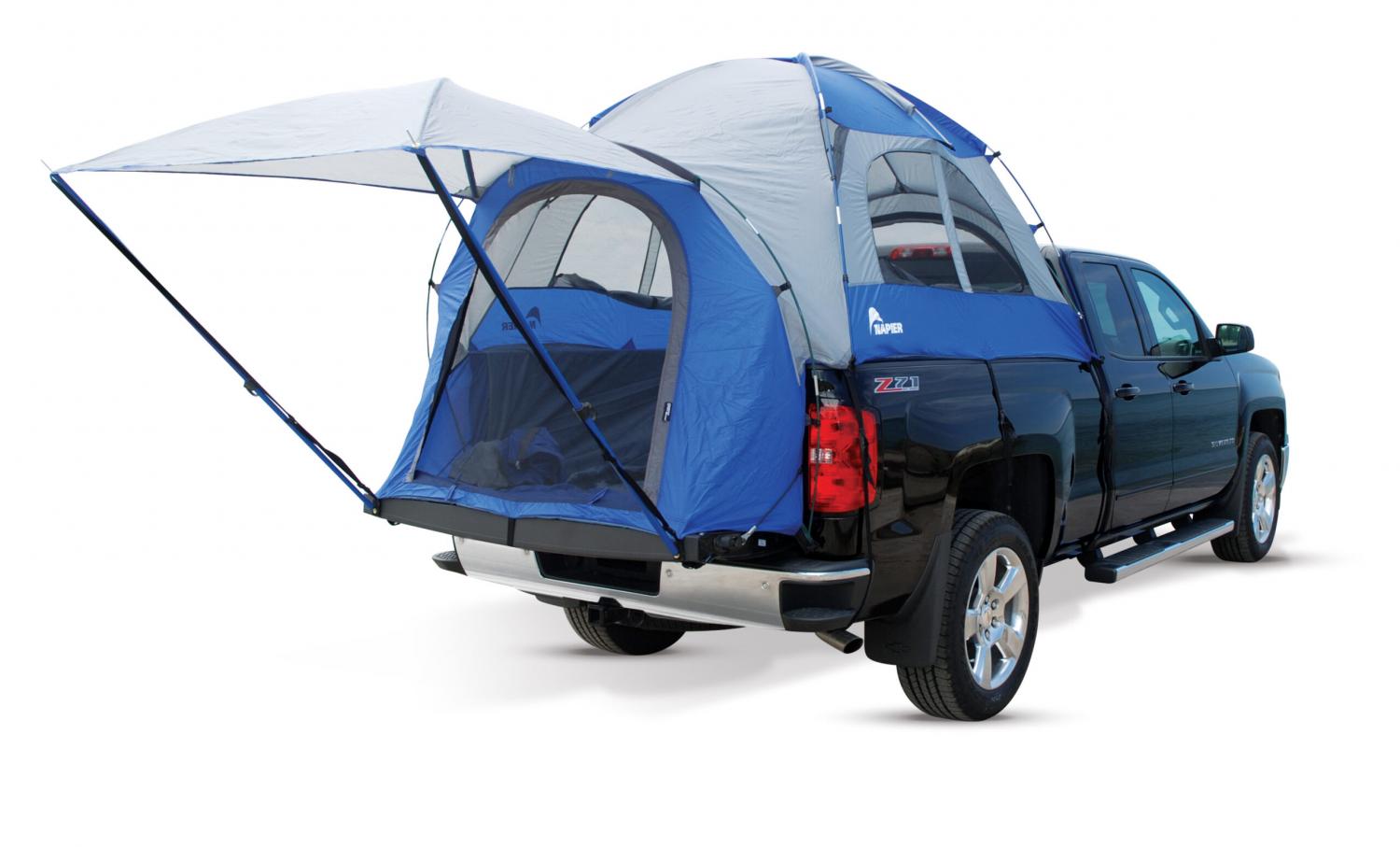 Other features of the truck bed camping tent, include a gear loft, gear pocket, and a lantern holder on the ceiling of the tent for hands-free lighting at night!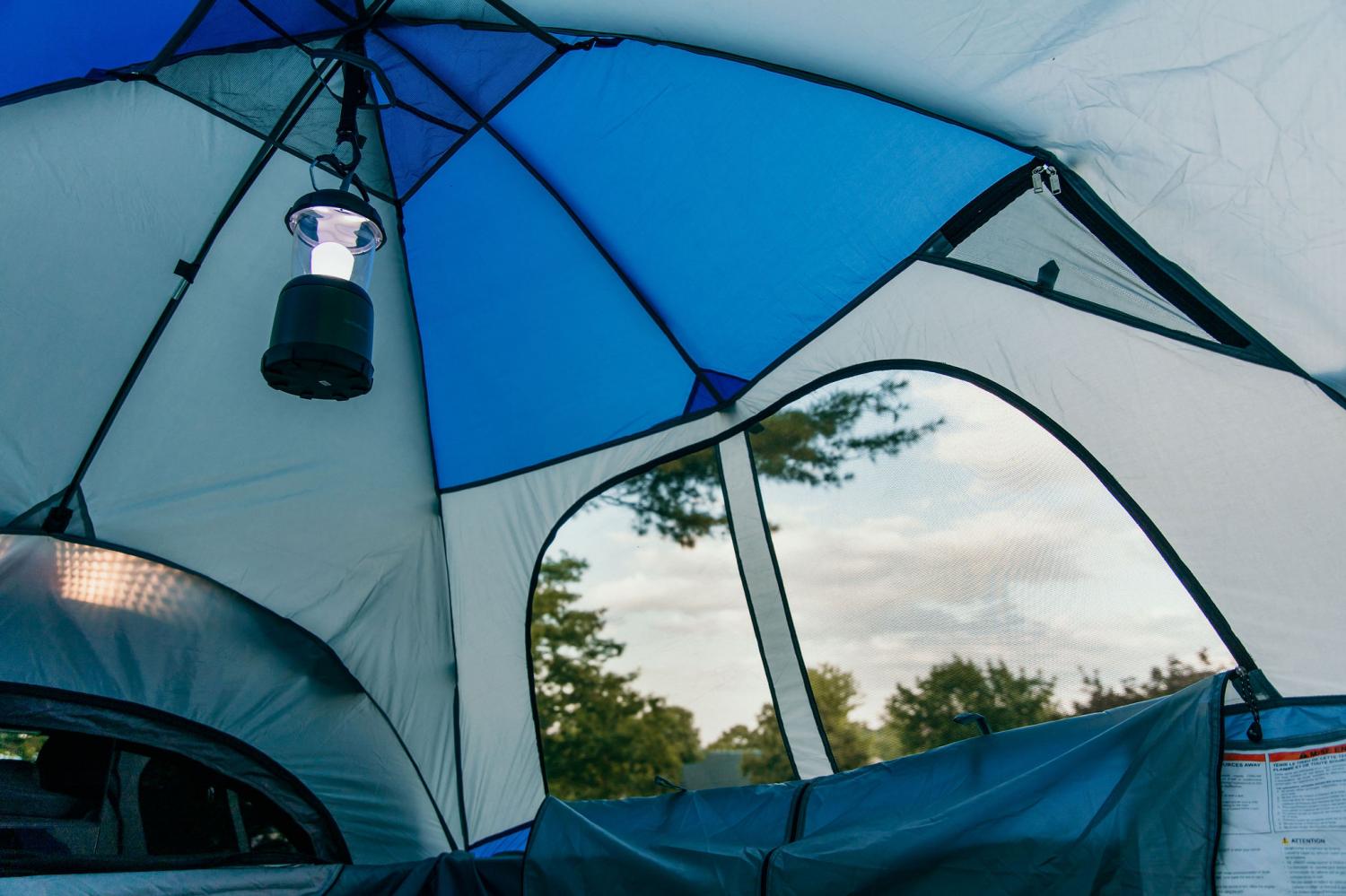 There's 2 mesh windows on each side, along with a large entrance door which offers optimal ventilation while inside!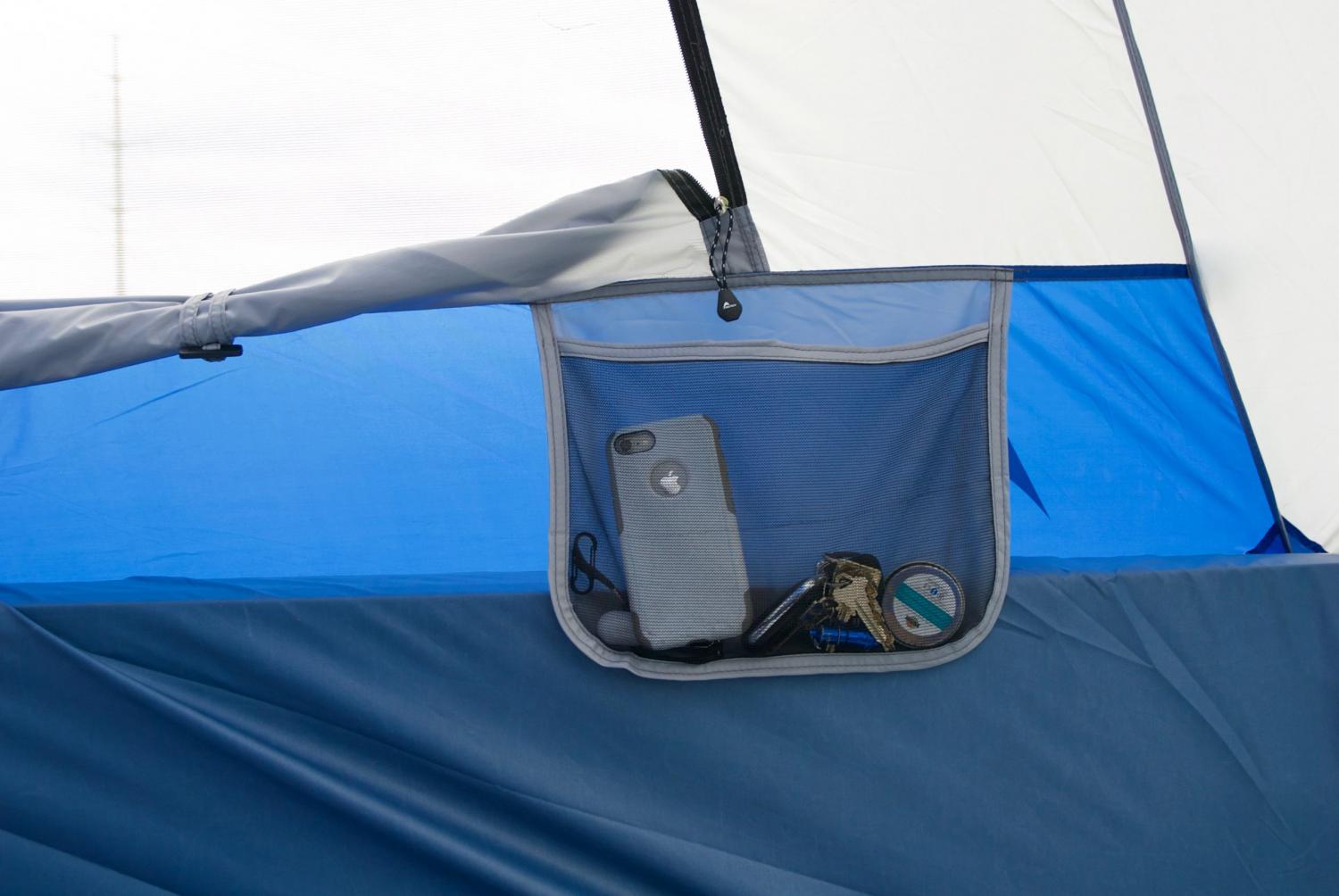 Check out the Napier truck bed tent in action via the video below.
Subscribe To Our YouTube Channel