Switchboard: A Sleek Wooden Coat Rack With 25 Optional Hooks
By Ryan on 02/24/2016 7:20 AM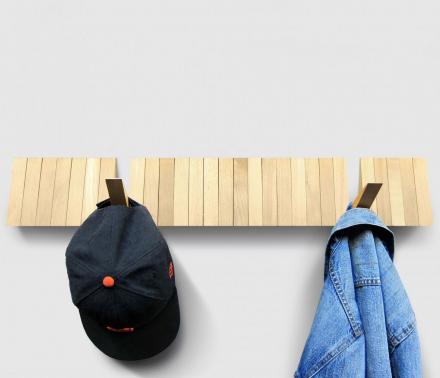 Switchboard is a sleek, modern designed, wooden coat rack that consists of 25 triangular shaped hooks that fold down to hold your jackets, purses, hats, and whatever else you might hang on a coat rack. Although it would probably be tough to be able to use all 25 of the coat hooks due to whatever is hanging on them would get in the way of the hook next to it, you could still probably get good use out of at least half of them. The Switchboard wooden coat rack is easily installed using 3 screws that are hidden behind 3 unusable hooks that blend in with the rest of them.
Designed and created by ILoveHandles, a unique product design shop based out of Portland Oregon, the Switchboard would certainly add a modern touch to your otherwise outdated entry-way. Products of their's that we've featured in the past include their unique cantilever silverware that's designed so that the head of each piece does not touch the surface they're resting on, along with the wrist ruler which is a bracelet that doubles as a ruler.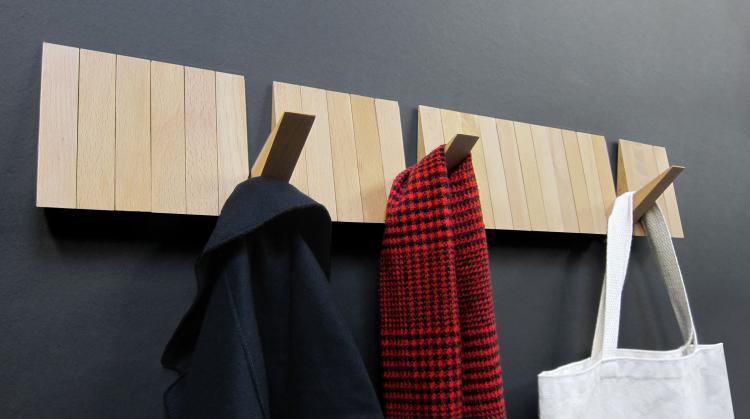 The modern Switchboard wooden coat rack is made from Beech wood, and measures 30 inches long x 5 inches tall x 1 inch thick.