Wrist Ruler: A Wristband That Doubles as a Ruler
By Ryan on 01/28/2015 8:35 AM (Updated: 06/12/2017 11:31 AM)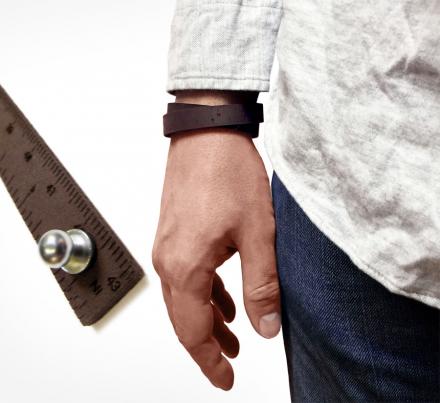 The Wrist Ruler is a leather wristband that doubles as a ruler, so if you're ever stranded in the wilderness and you need to measure a stick for whatever reason, just take off your bracelet and start measuring.
Perfect for the carpenter who forgot his ruler at home, measuring berries in the wild to see if they're the right size to be edible (is that a thing?), aligning objects on your desk so that they're the perfect distance away from one another when your OCD kicks in, or maybe you need to measure some personal things while in the bathroom.
Not only will you always be prepared for a measuring emergency, but just think how classy you'll look while wearing a ruler around your wrist...
The Wrist Ruler is made the USA from leather, contains a nubbin on one end of the wristband with a hole on the other which is how it attaches to your wrist, and comes in sizes ranging from 15 inches long to 18 inches long.