Sign Language Wall Clock
Date Published: 02/13/2015 3:31 AM
Buy Now

@Amazon
Find on Ebay

The sign language clock is an analog wall clock that has 3D figures of hands doing the ASL equivalent sign for each number on the clock. Finally deaf people worldwide can now tell the time with ease by looking at the sign language clock, no more of these confusing numbers to interpret and calculate to figure out the time. A perfect gift idea for a teacher of the deaf, a deaf person, collectors of unique clocks, or just someone who really loves hands, the sign language clock even offers customizable colors to use as the back drop. The colors include blue, purple, green, turquoise, cream, black, white, pink, yellow, red, orange, or just natural wood if that's what you're into. Plus you can choose the colors of each hand, just see the color chart and let the seller know which color you would like for each hand in the 'notes to seller' section.
SITE ANNOUNCEMENT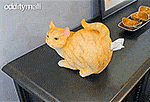 We Are Giving Away 6 Cat Butt Tissue Dispensers
The sign language ASL wall clocks are handmade from resin, wood, and clock parts, the ASL hands are hand-sculpted from clay, the hands of the clock only come in gold color, and the clock measures 12 inches in diameter.