This Classy Leather Chess Set Rolls Up For Easy Transport
By Ryan on 11/23/2015 5:17 AM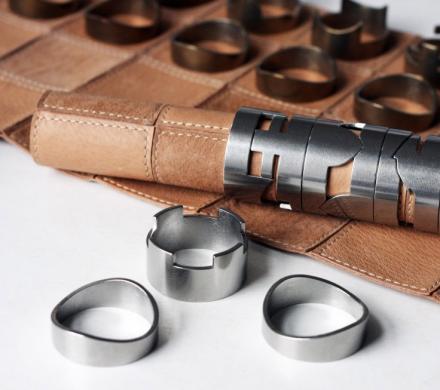 This fancy chess set is made using a suede leather board along with ring-like playing pieces that allow you to roll up the leather board and put the chess pieces around the board to keep it fastened. Perfect for playing a classy game of chess on the go, the leather roll-up chess set is actually extremely expensive at over $600, but if you're one of those chess freaks that just loves the game so much you're willing to spend this amount of money when you could just pick up a crappy plastic board at Walmart for $3.99 that will probably fall apart the first time you use it, or you're someone who collects unique chess boards, this leather roll-up chess set might be for you.
Designed and created by Raw Studio, a design studio based out of the UK, the leather roll-able chess set lets you add a stunning piece of design to your home, plus everyone will think you're super good at chess since you own a super expensive chess set that looks like it was used by the Native Americans. The beautiful design of the chess set not only allows you to roll it up and put the pieces over the roll to take it anywhere, but the pieces are actually designed to interlock with one another so that it forms an almost seamless piece of steel around the rolled-up chess board.
The chess board is made from suede leather whereas the pieces are made from hand polished and heat treated stainless steel, and comes in a preservation grade box which is made by third generation box makers in London. The steel pieces can be cleaned with a non-abrasive soft cloth, whereas the suede-leather board can be cleaned using a specialist brush. The chess set measures 16 inches x 16 inches when laid flat, and measures 9.44 inches long x 3.9 inches wide x 2 inches deep when boxed up.