There Are Now Convertible Office Nap Desks That Let You Secretly Sleep At Work
By Ryan on 12/18/2019 9:53 AM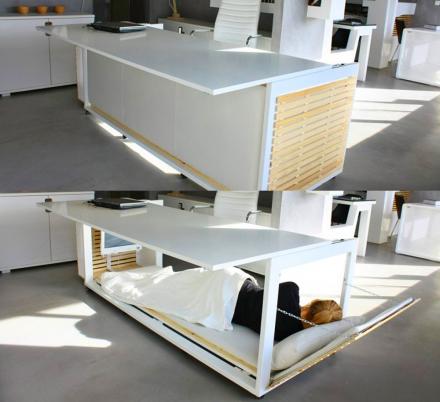 You've probably seen the under-desk hammocks that let you sleep at work not-so-inconspicuously, or perhaps the lay-flat office chair that lets you nap out in the open and be proud of it. Well, now there's an entire desk that's dedicated entirely to napping inside of it... quite similar to how George Costanza from Seinfeld had to hire a carpenter to craft his own little napping bed under his desk at work at the Yankee's stadium.
The incredible napping desks are made by Studio NL, an architecture and design studio based out of Koropi, Greece. Not much information about the desks are provided by the company, but it seems to be a one-off design they made for a client, and the project was aptly named "Working Hard".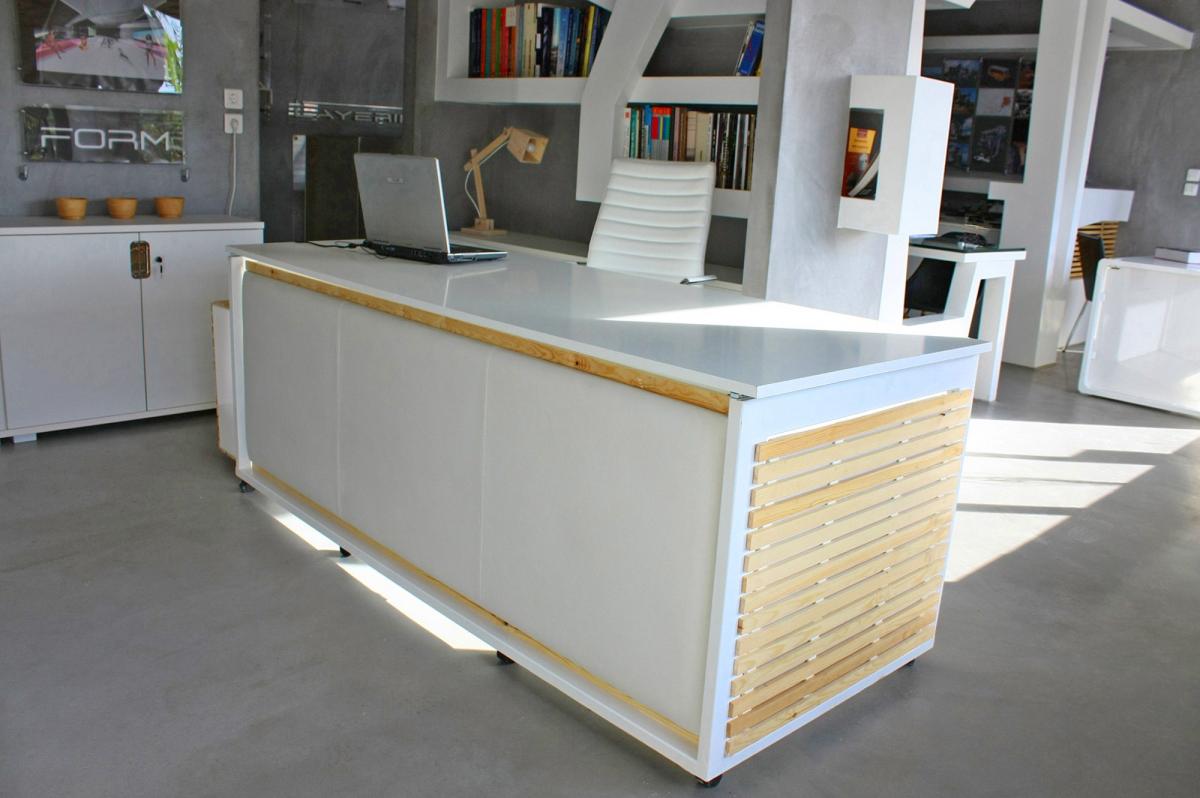 On the website Archilovers, the designer of the product did mention the following details about the nap desk:
The main concept was to comment on the fact that many times our lives are "shrinking" in order to fit into the confined space of our office. Eventually, I realized that each civilization may have a very different perception of things depending on its social context. For example, this desk could be used for a siesta or for a few hours of sleep at night on those days when someone struggles to meet deadlines. The project was named after the dimensions of the prototype (2,00 meters long and 0,80 meter wide =1,6 s.m.). The prototype is made of metal, lacquered wood and solid wood and white leather.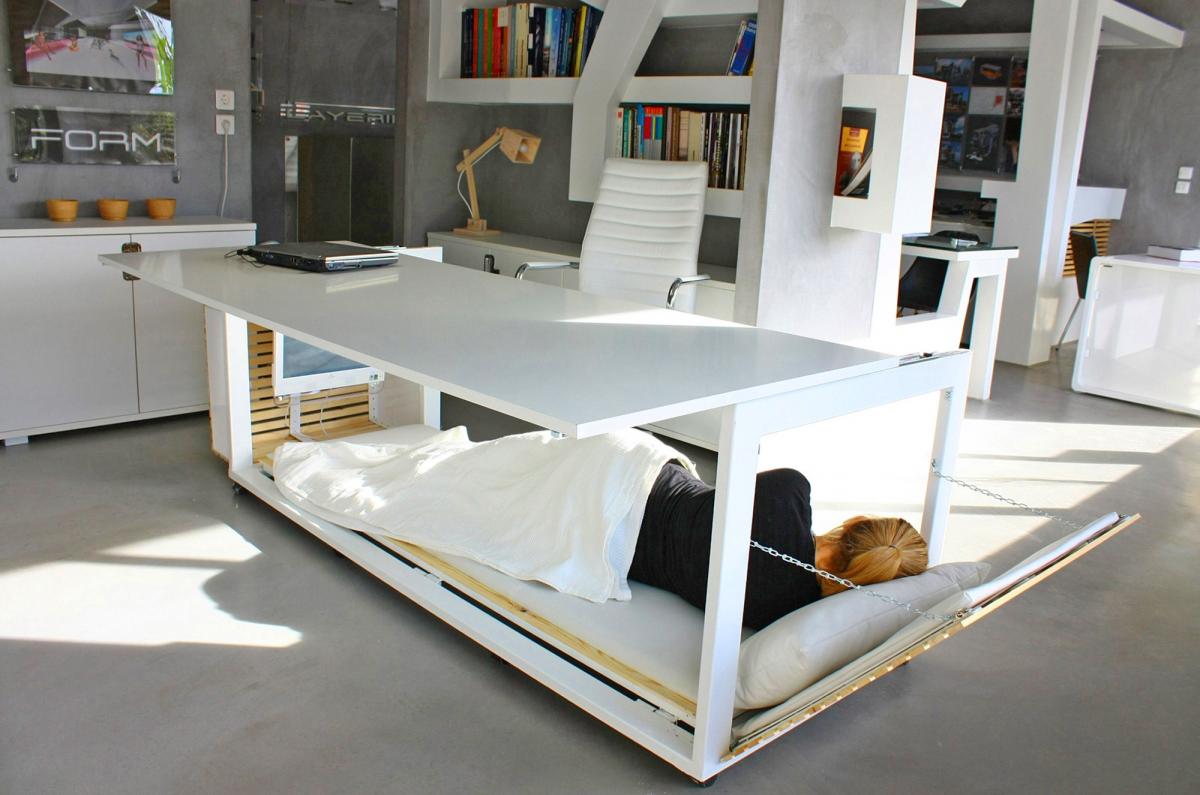 There was no mention of George Costanza in that description, but we can only image that was his or her source of inspiration. There's really no mention of a price or cost of the convertible office napping desk, but since it seems to be kind-of a one-off design, chances are it'll be pretty spendy to get it custom built by the design company.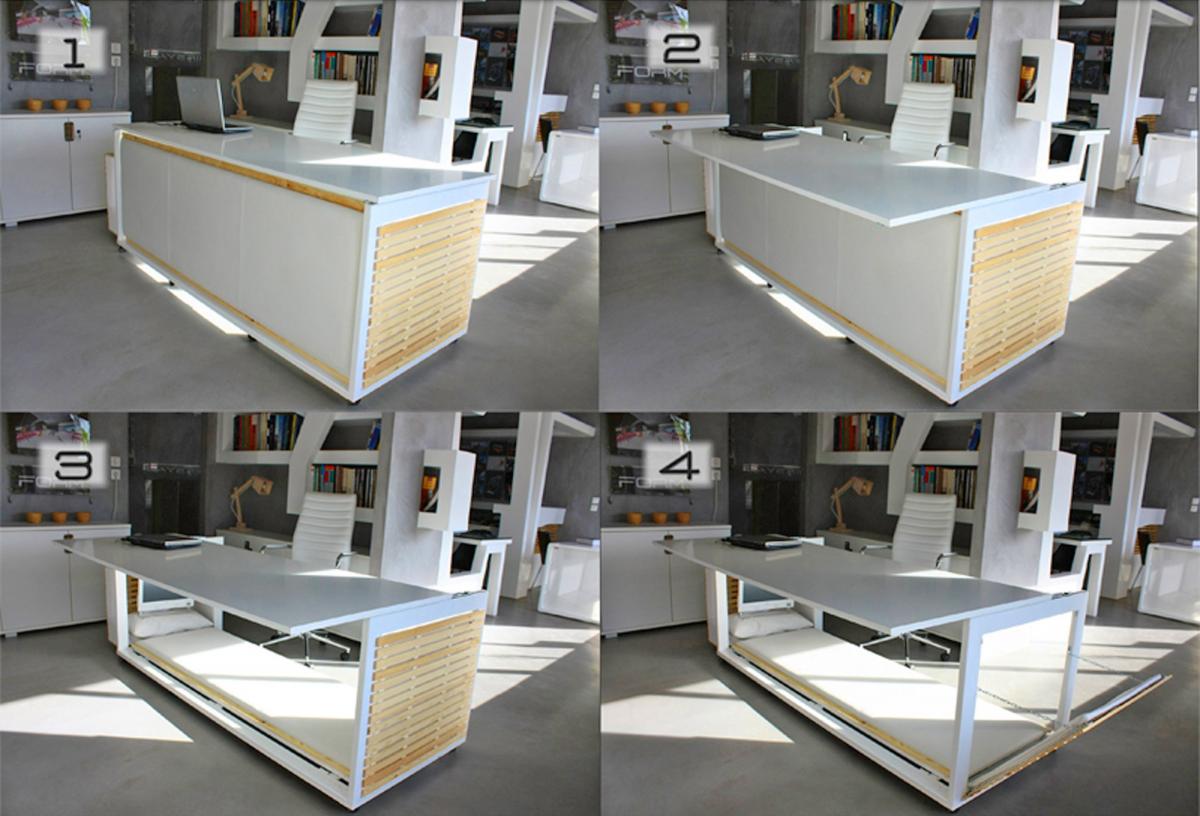 How it works is, the office napping desk moves and folds away to reveal the pre-made be inside the innards of the desk where a mattress, pillow and blanket can be used to take a little siesta, or perhaps use to sleep at work when you have some hard deadlines to make and you have to work very late into the night. To convert the desk into a napping area, just slide the top plate of the desk forward, fold up the sides, and get to napping. Once inside you can fold the sides back down to nap in secret or just be super cozy secluded away while you catch some Z's. The far side panel of the desk folds down just slightly and is held up using chains if you'd like to get a little air-flow through the napping area while you sleep. The opposite side of the inside of the desk even has a screen where you can just watch a movie or some Netflix while you're not working or perhaps you're the kind of person that needs a TV on in the background while you sleep.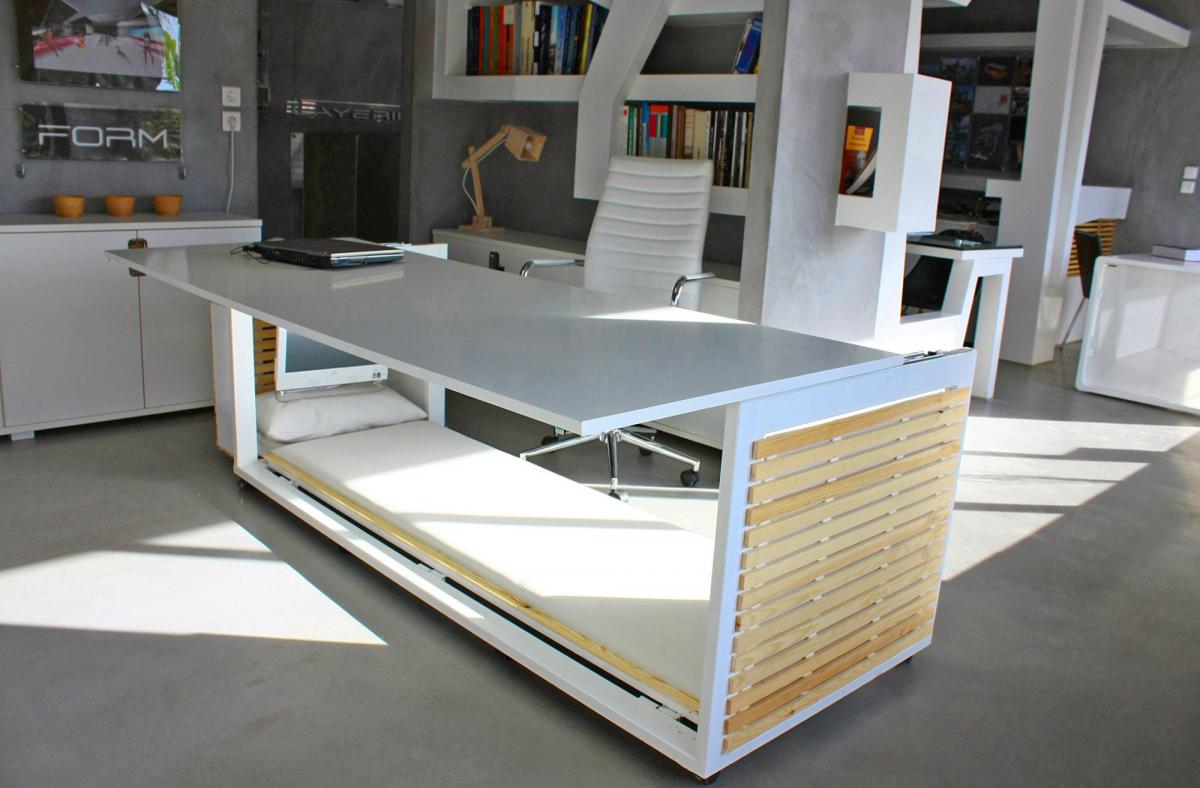 The incredible convertible desk by Studio NL is a marvelously designed modern desk that would surely make Georgey-boy proud, though probably not at the price you'd pay to get it... Hopefully the office napping desk will fully come to market one-day and we can all enjoy the benefits of getting a little extra sleep while on a break at work.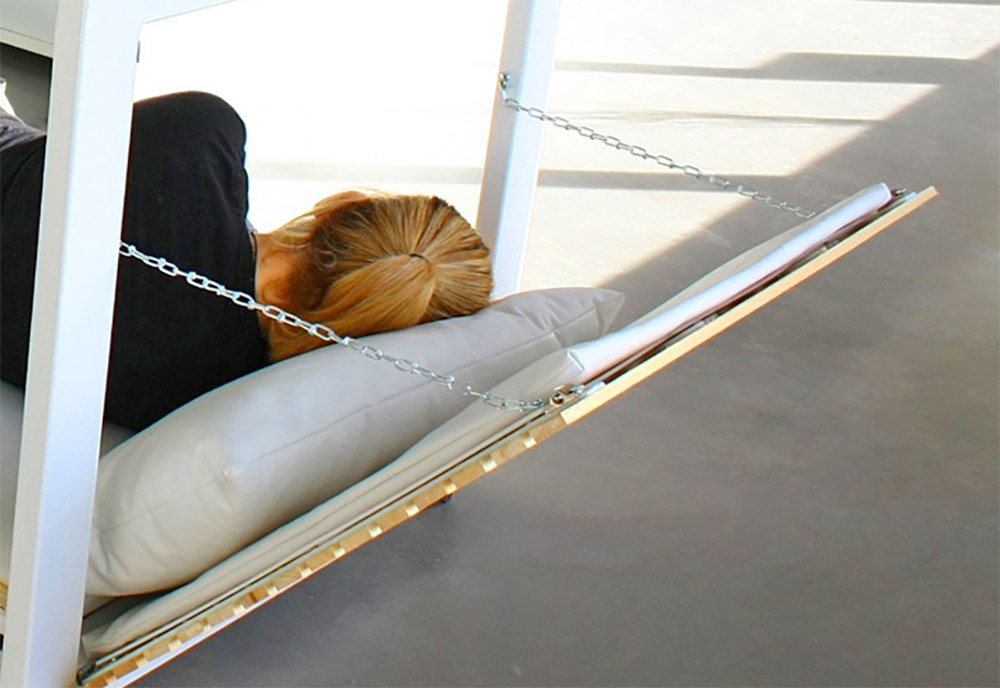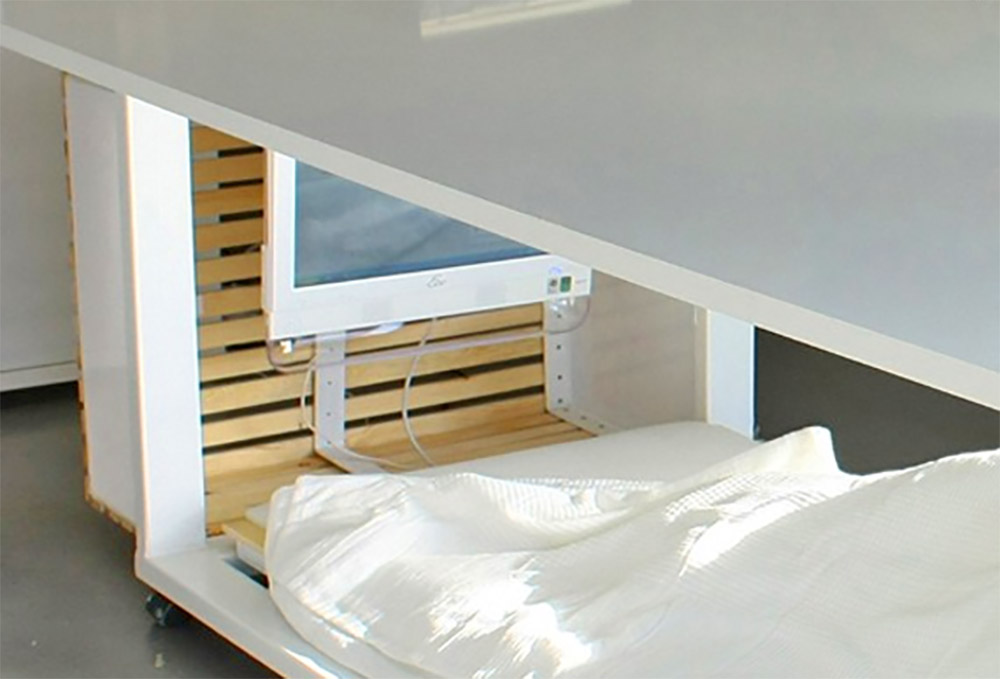 If you're more into hammocks, perhaps this under-desk hanging hammock office napping area might be more for you.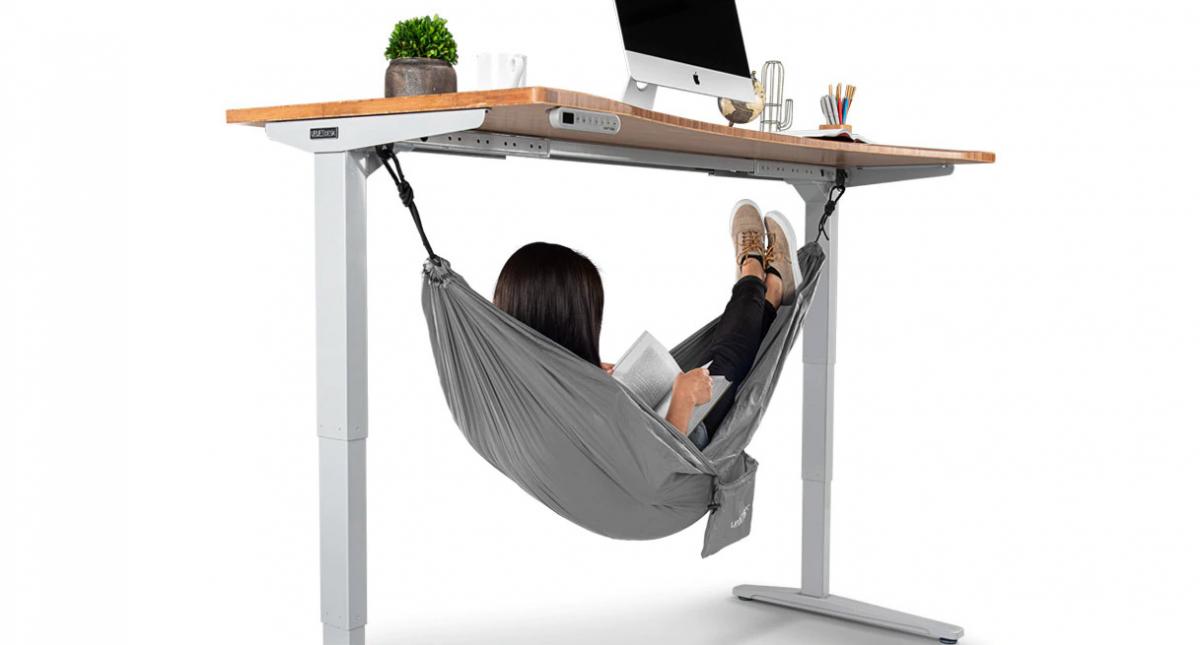 Or perhaps this amazing office chair that lets you lay completely flat for quick naps at the office might be more up your alley...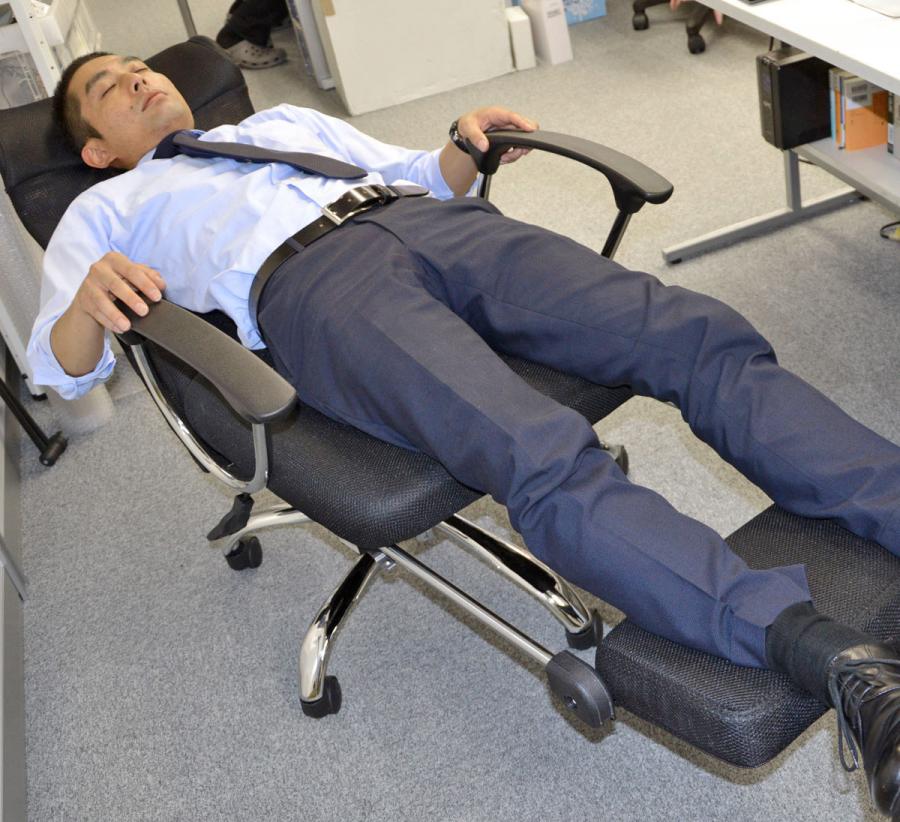 Or if you're extra lazy, and can't seem to get out of your chair and prefer to sleep while sitting, this handy... hand will hold you head up while you nap at your desk. Or I guess it's also good for just getting some better posture while you work.