Mat Walk: A Bathroom Mat With Built In Slippers
Date Published: 01/12/2015 8:40 AM
Do you ever wish you could get out of the shower, immediately throw on your slippers, and trudge around the bathroom as if you had your pants around your ankles? Well now you can with the Mat Walk. The Mat Walk is a bathroom mat that has built in slippers so that you can slip them on right after you get out of the shower, and has just entered our top 10 list of worst inventions ever. Drying your feet is not hard, simply wipe the tops with a towel, step on to your bathroom mat, and boom your feet are dry. There is really no reason to be dragging a bathroom mat around your feet, unless your goal is to just look like a complete idiot, although I guess it could be a way to clean your bathroom floor.
SITE ANNOUNCEMENT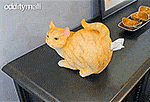 We Are Giving Away 6 Cat Butt Tissue Dispensers
Designed by Paolo Ulian, an Italian designer for Droog, the bathroom mat with integrated slippers are made from 100% cotton, and measures 23.2 inches wide x 37.4 inches long.