Light-Up Jurassic Park Heels With Giant Mosquito Stuck In Amber
By Ryan on 07/07/2021 10:21 AM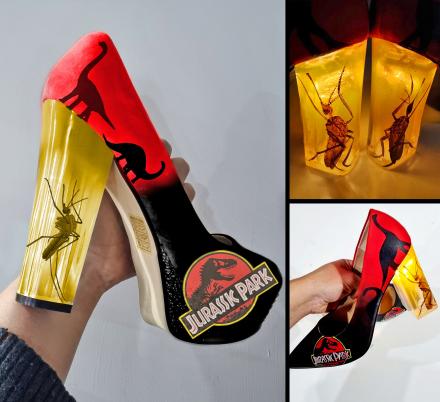 Life uh.. finds a way. And thanks to OddityMall, I've found a way to fill my house with a ton of Jurassic Park-themed stuff. Not only do I terrify my guests by having a wall bursting velociraptor in every room, but my favorite pastimes include walking all over town spinning my mosquito stuck in amber walking cane (you know, the one John Hammond used) and spending all day sitting on my dinosaur office chair.
Okay, maybe I'm exaggerating a little bit (so what if I don't have a velociraptor in every room?), but I gotta say I am pretty pumped up about being a clever girl (or boy) in these incredible Jurassic Park high heel shoes!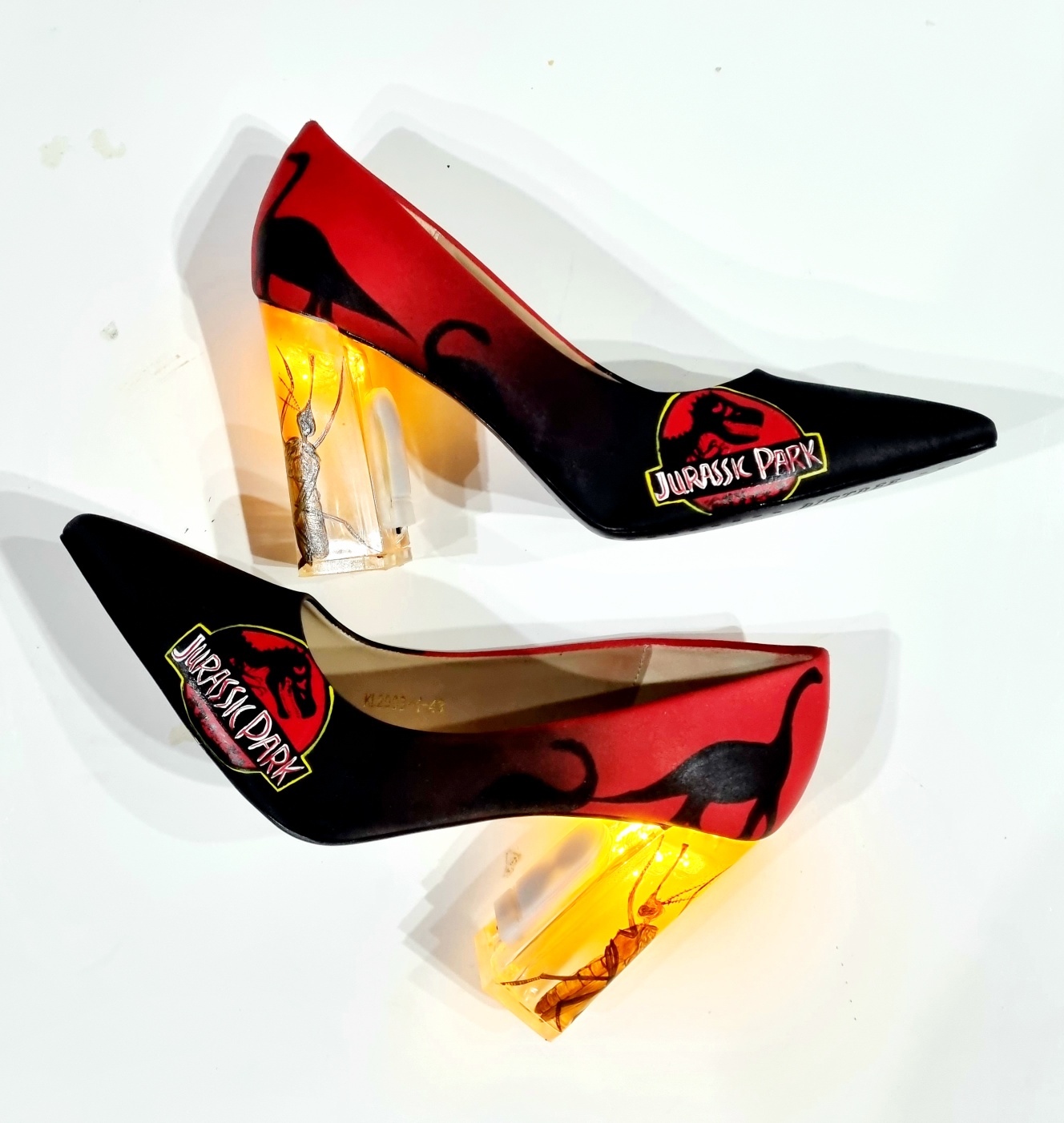 Designed by Ghoulish Shoes,these Jurassic Park high heels are complete with amber colored heels that display a mosquito! In case you don't remember, the mosquito stuck in amber is how they retrieved the dino DNA in the movie franchise.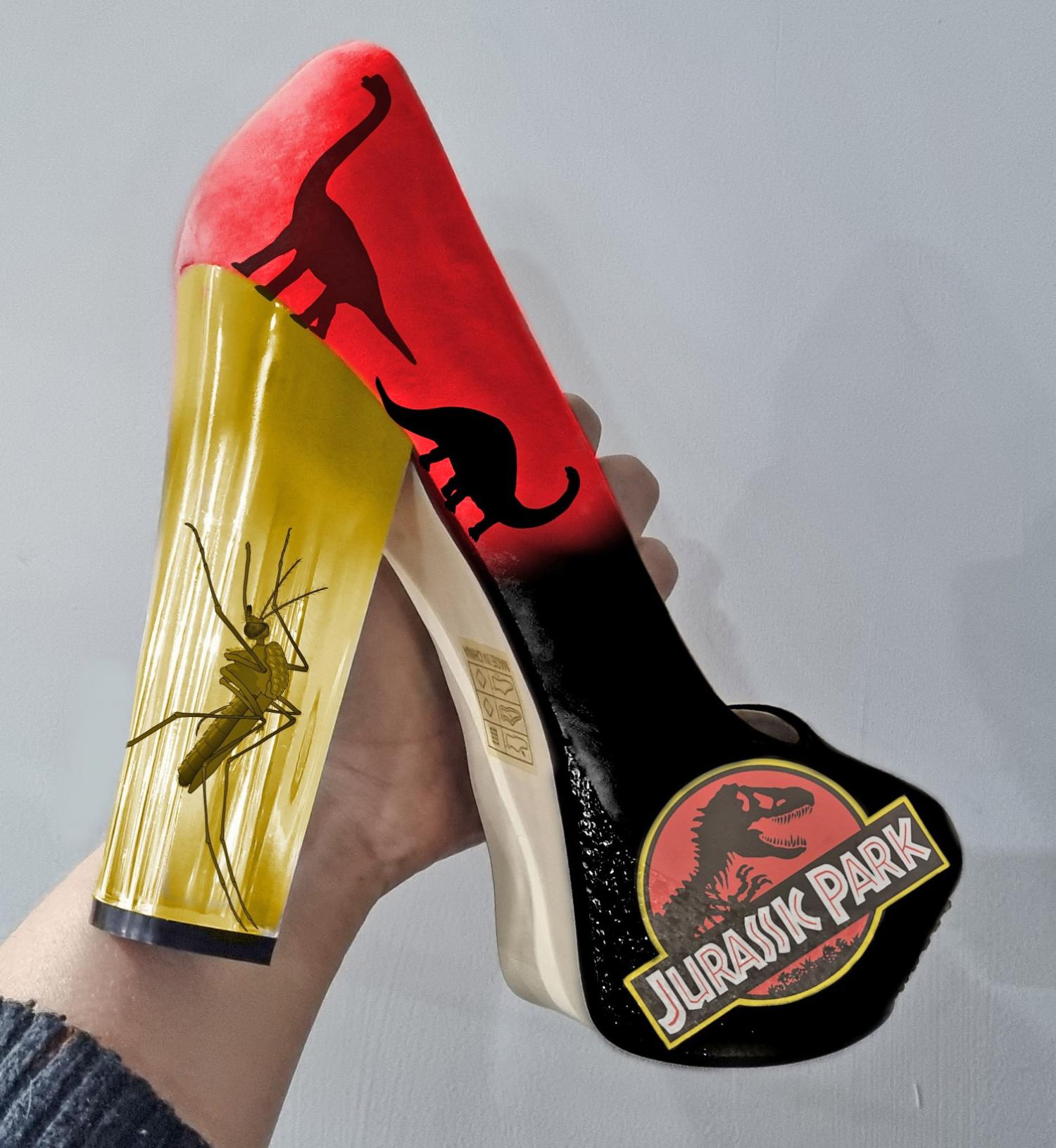 Not only do the block glass heels feature a mosquito stuck in amber, but they even light up! There is a switch to turn the heel lights on and off under the shoe, and it's easy to change out the batteries.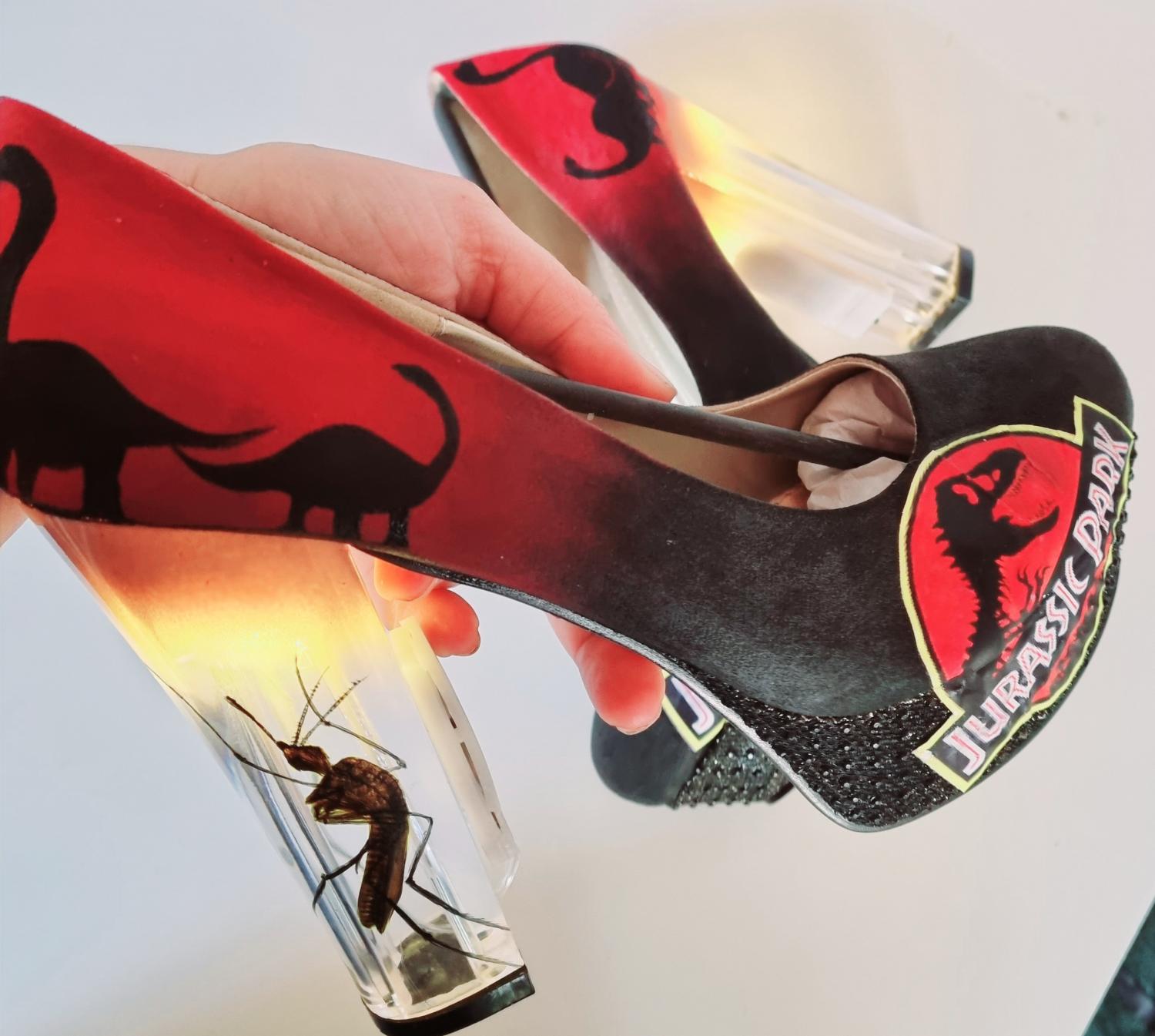 The stunning 4.7 inch glass heels are so tall that even Bryce Dallas Howard's character might hesitate to flee from dinosaurs in them, but that shouldn't stop you from strutting your stuff all over town in these bad boys. You'll be fine, just remember to "hold on to your butts''!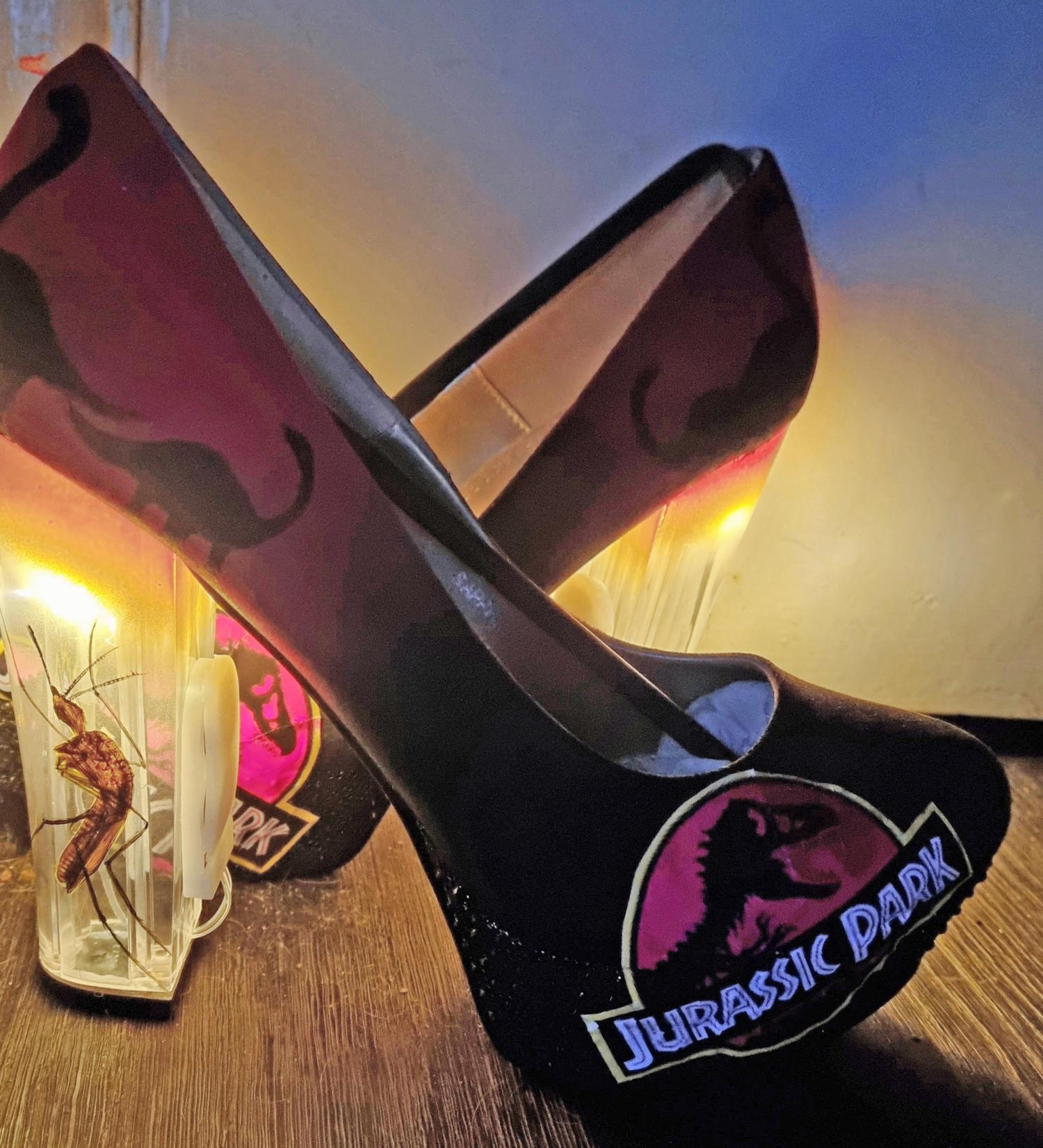 The Jurassic Park high heel shoes are hand painted and sealed for wear, so not only are you going to look great, but you're also supporting a super talented UK-based designer.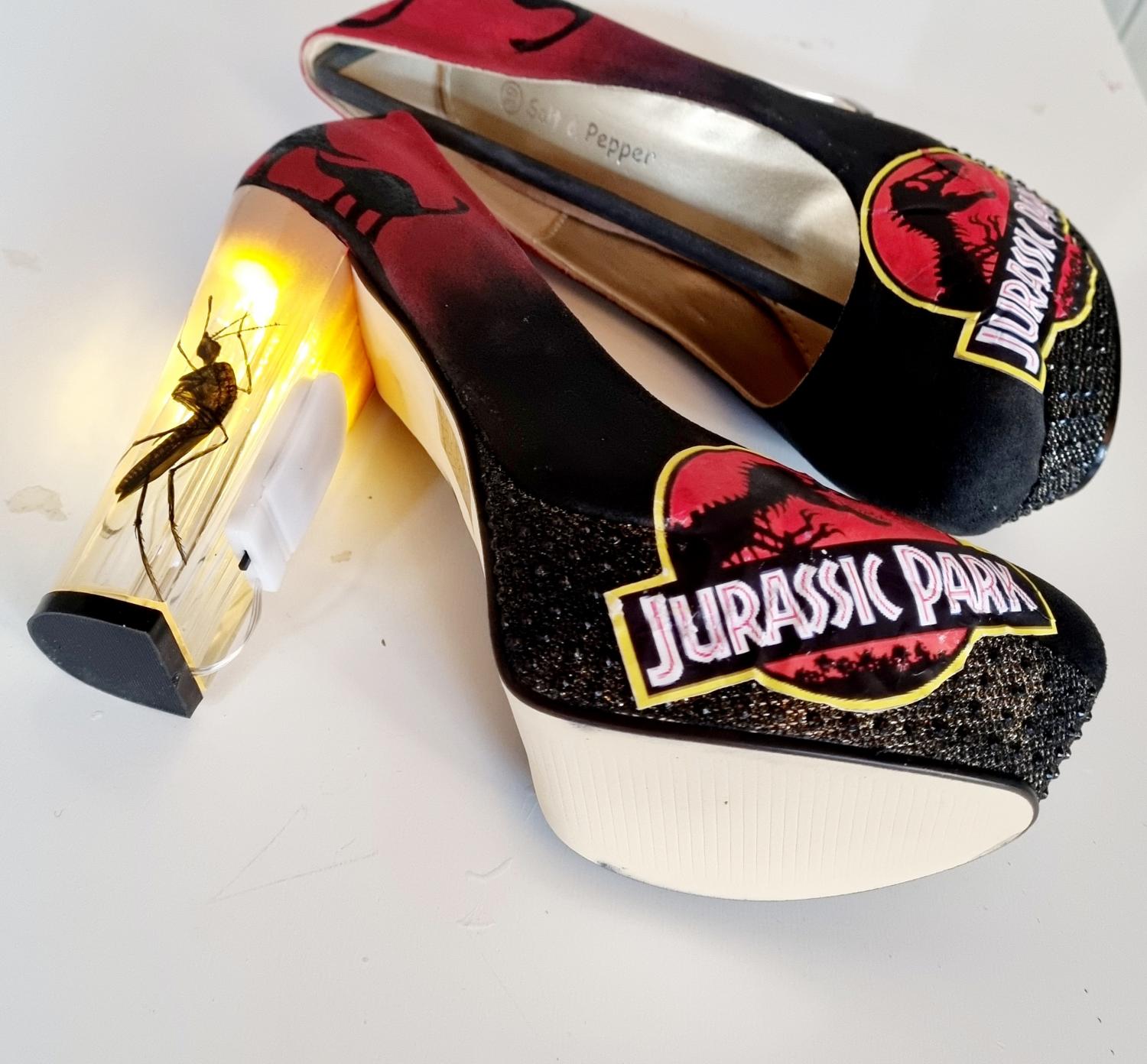 Customers are loving these shoes too! One reviewer on the Ghoulish Shoes' website, named Dawn, even got a pair for a Jurassic Park themed wedding!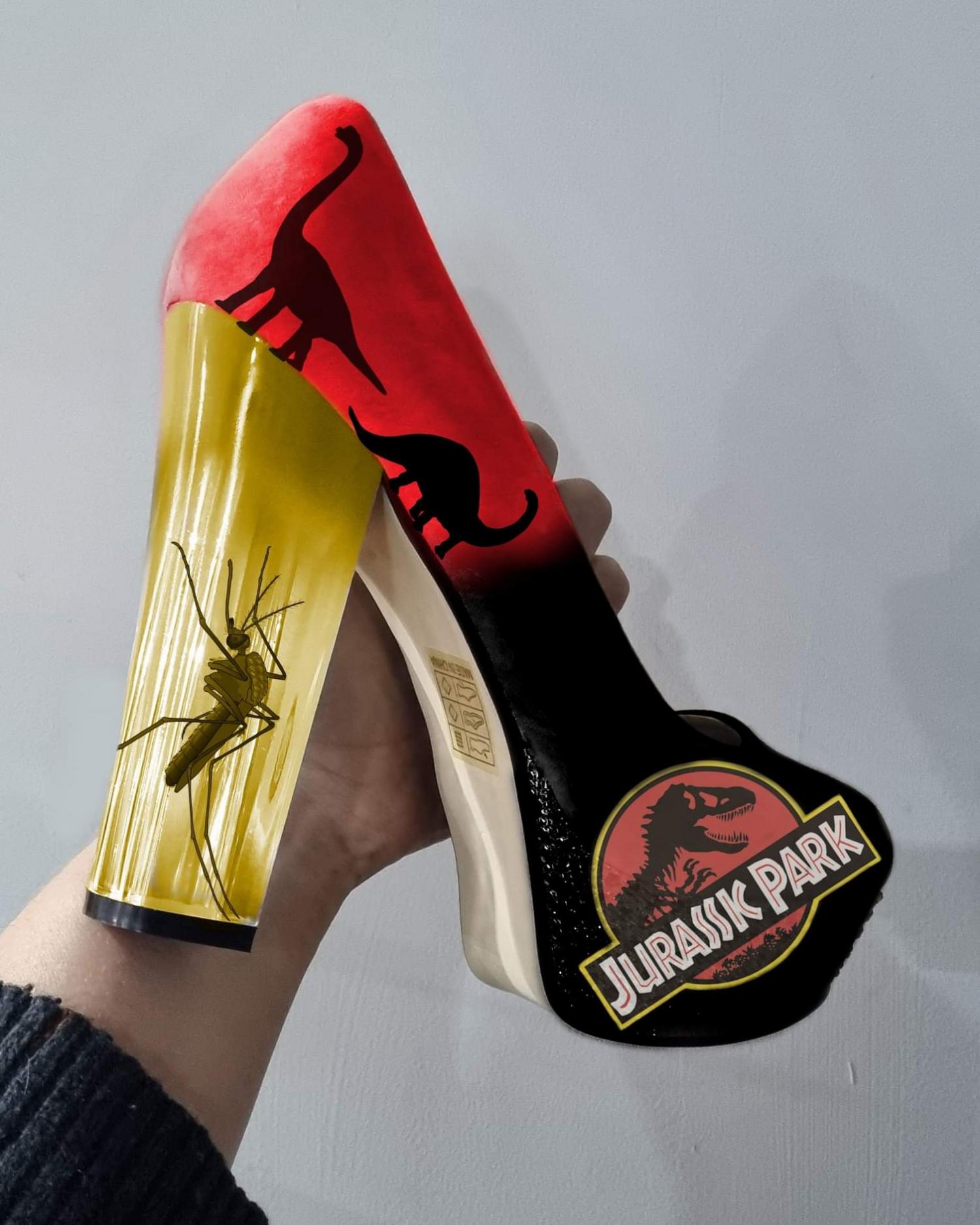 Because each pair is specially designed for Ghoulish Shoes, they can take up to 10 weeks to design and ship, but they're clearly worth the wait. In the meantime, 10 weeks is enough time to watch Jurassic Park about 840 times, so you better get to work now!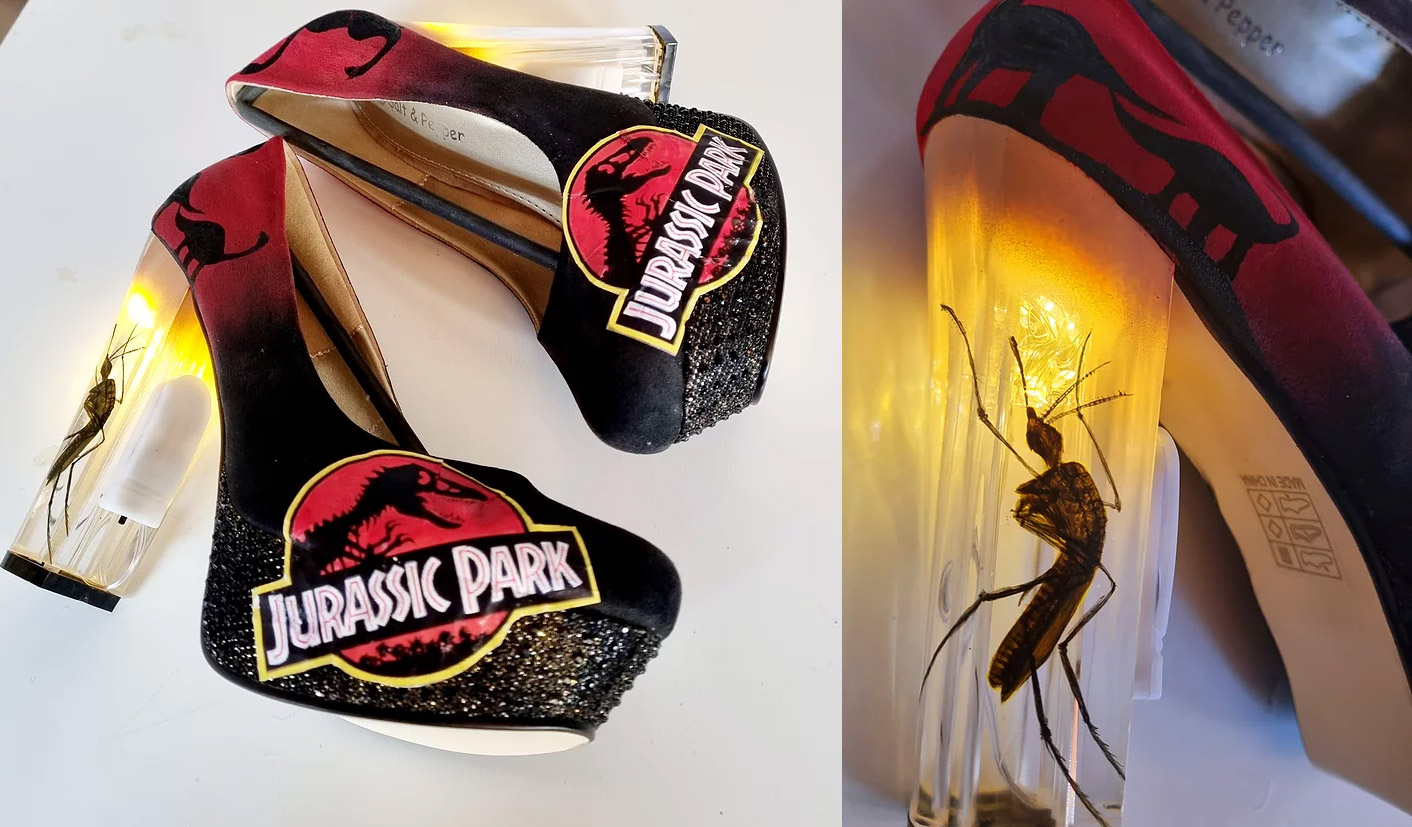 There's an easy on/off switch underneath each heel to turn the light on or off!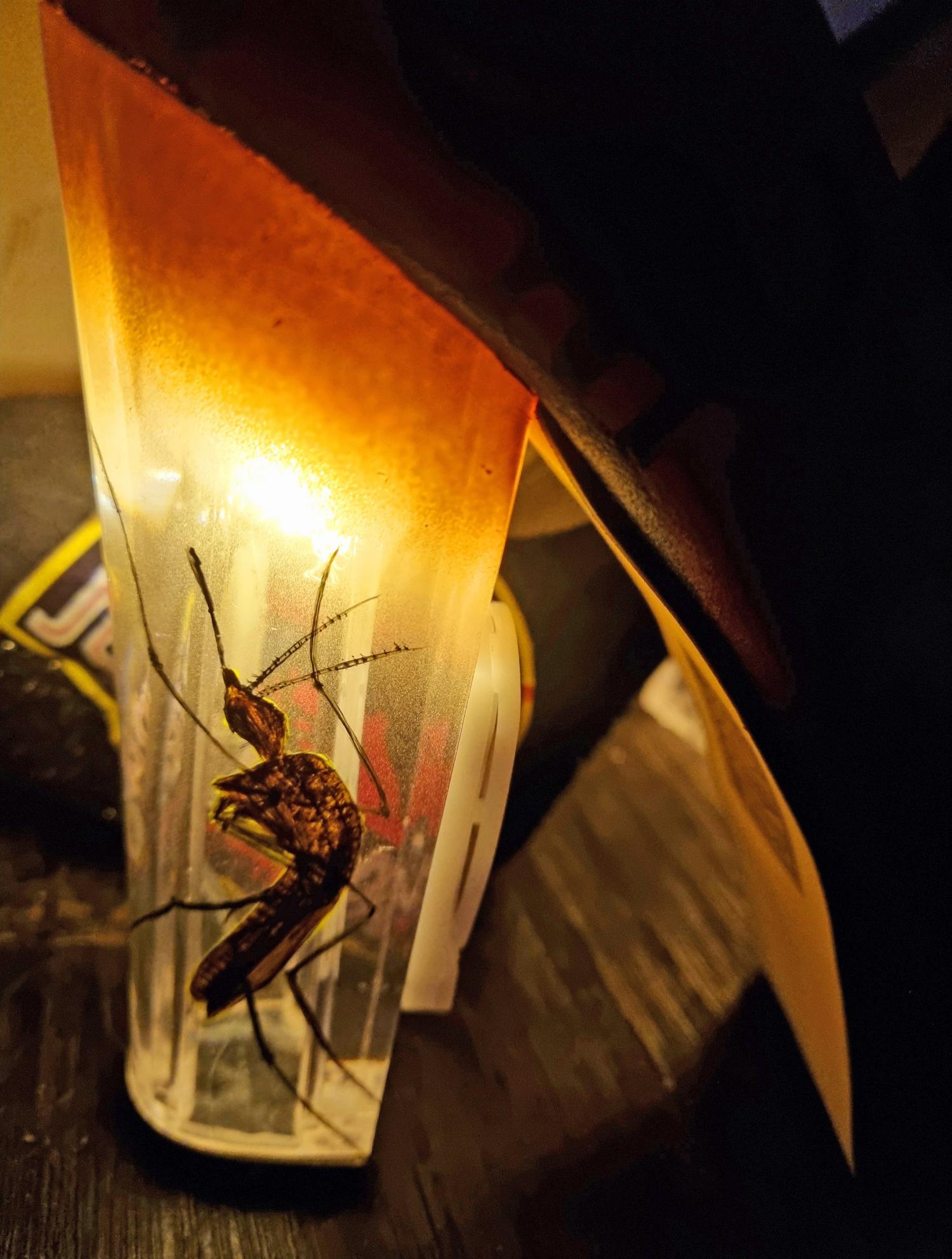 There's a few different versions of the Jurassic Park heels by MyGroovyShoes, so check them all out to see which one you like best!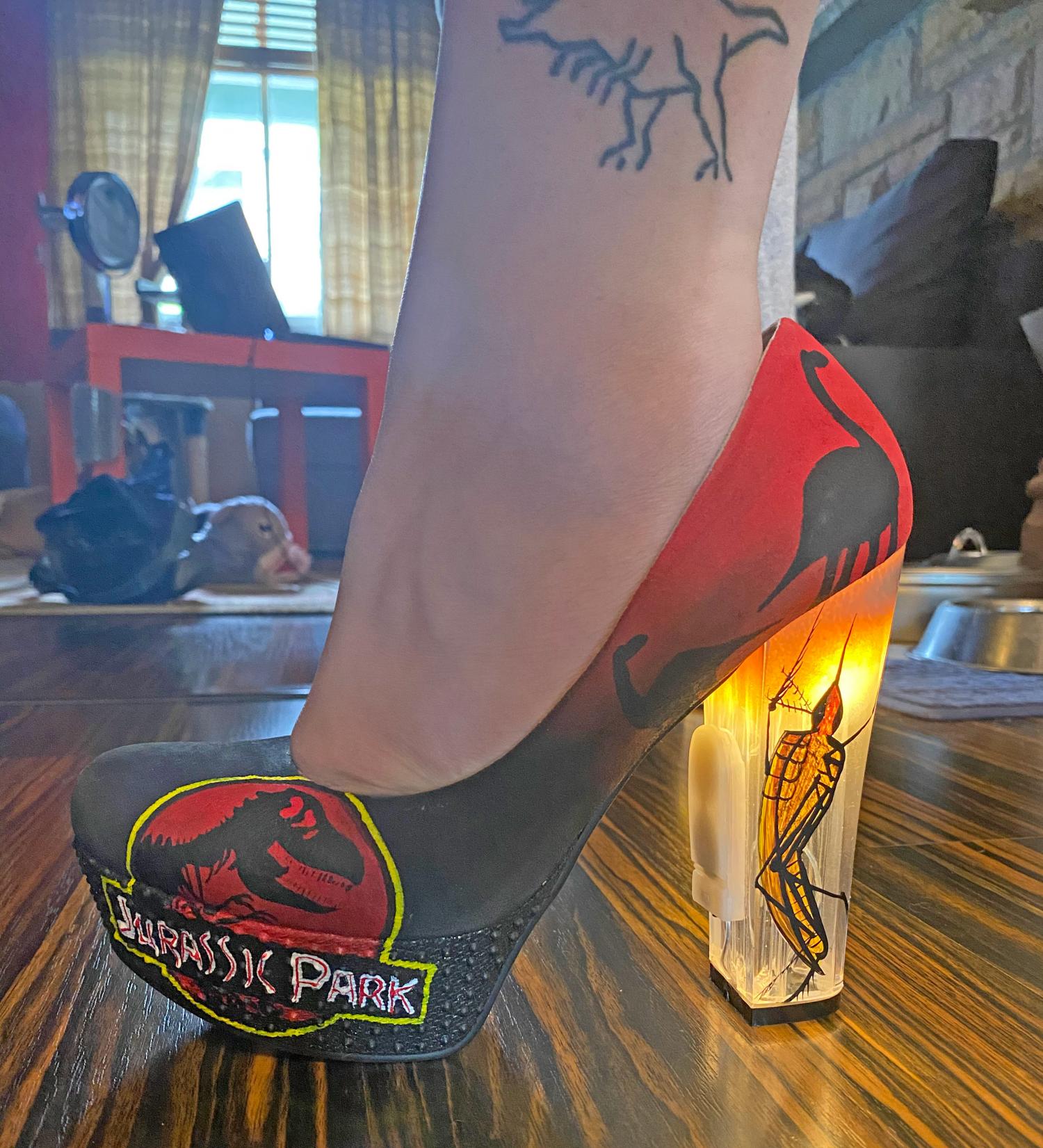 Each light-up Jurassic park heel has an easy to change battery so no worries if they run out of juice!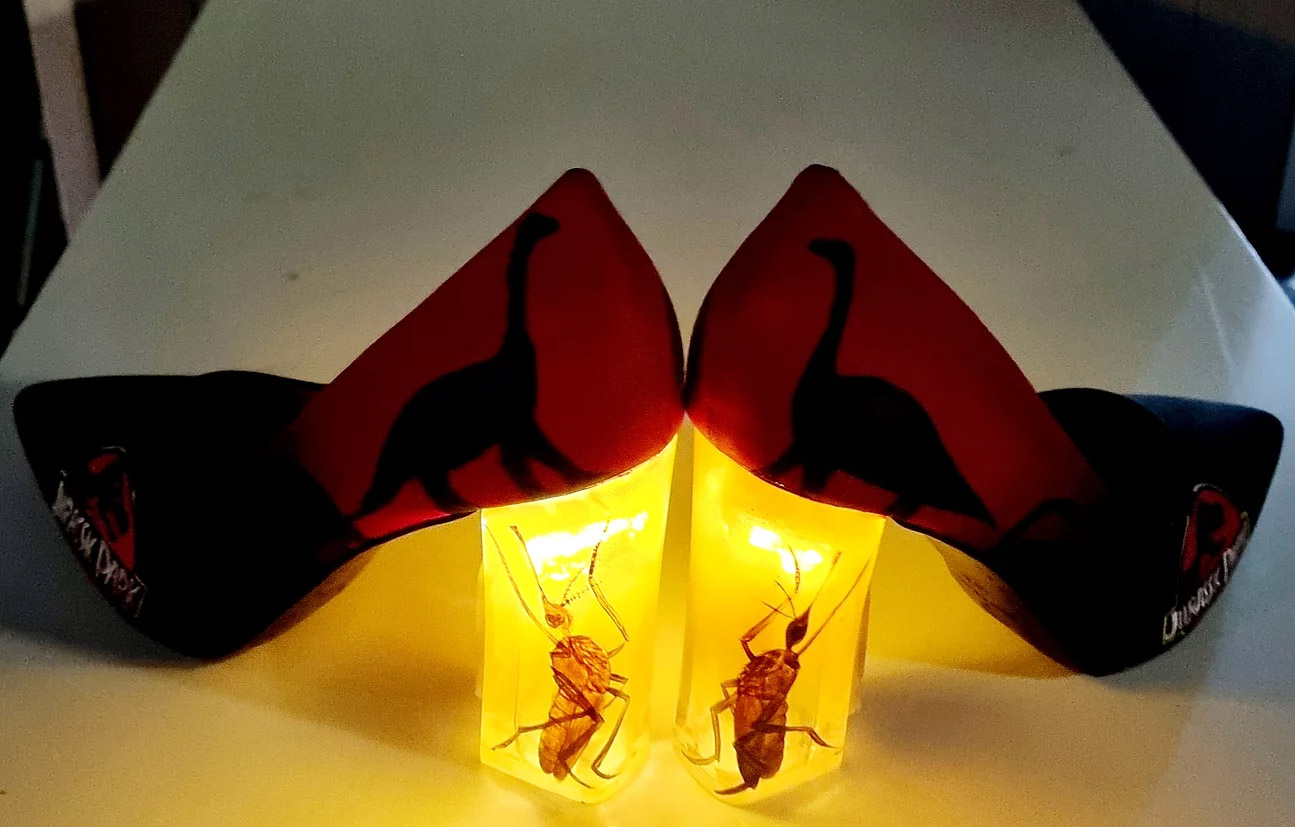 The Jurassic Park heels come in sizes ranging from UK Women's 3 to UK Women's 8, but they do also offer custom sizing!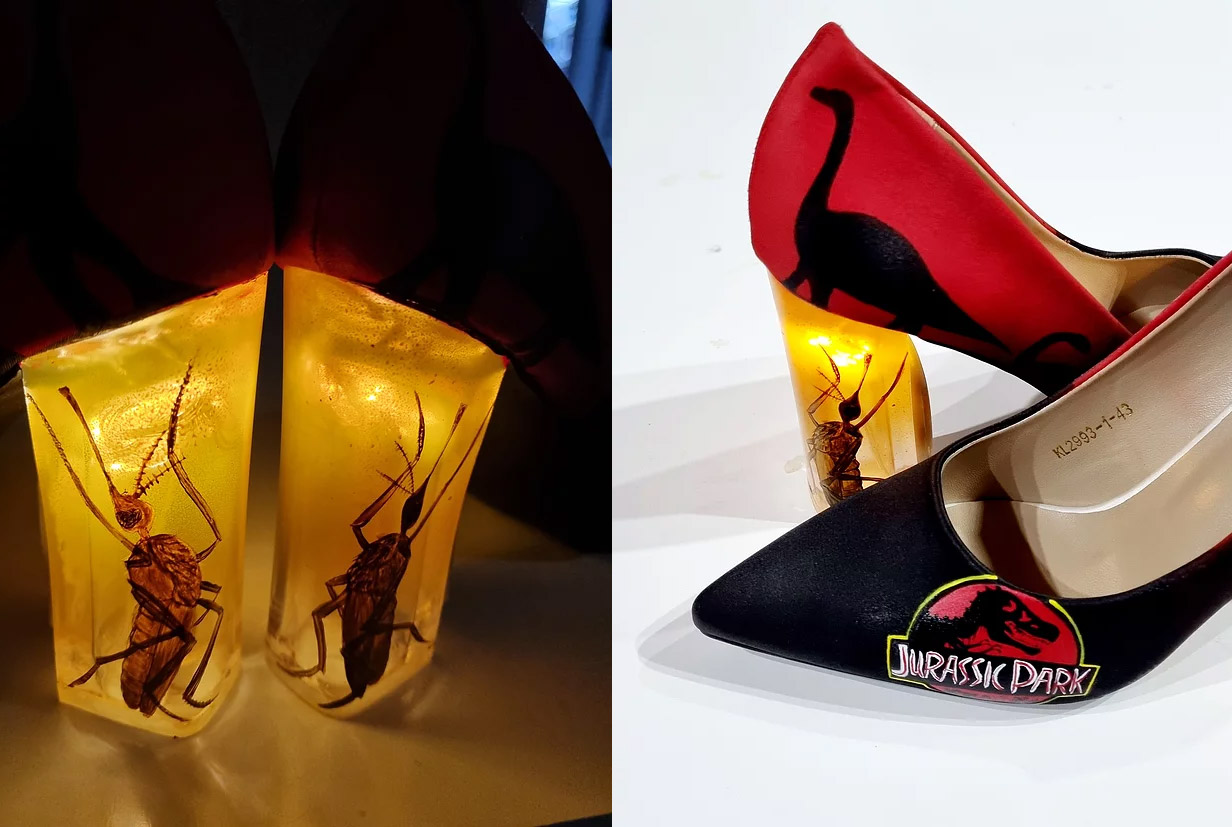 The Jurassic Park heels are the perfect way to show the world just how much you love the classic Dino movie!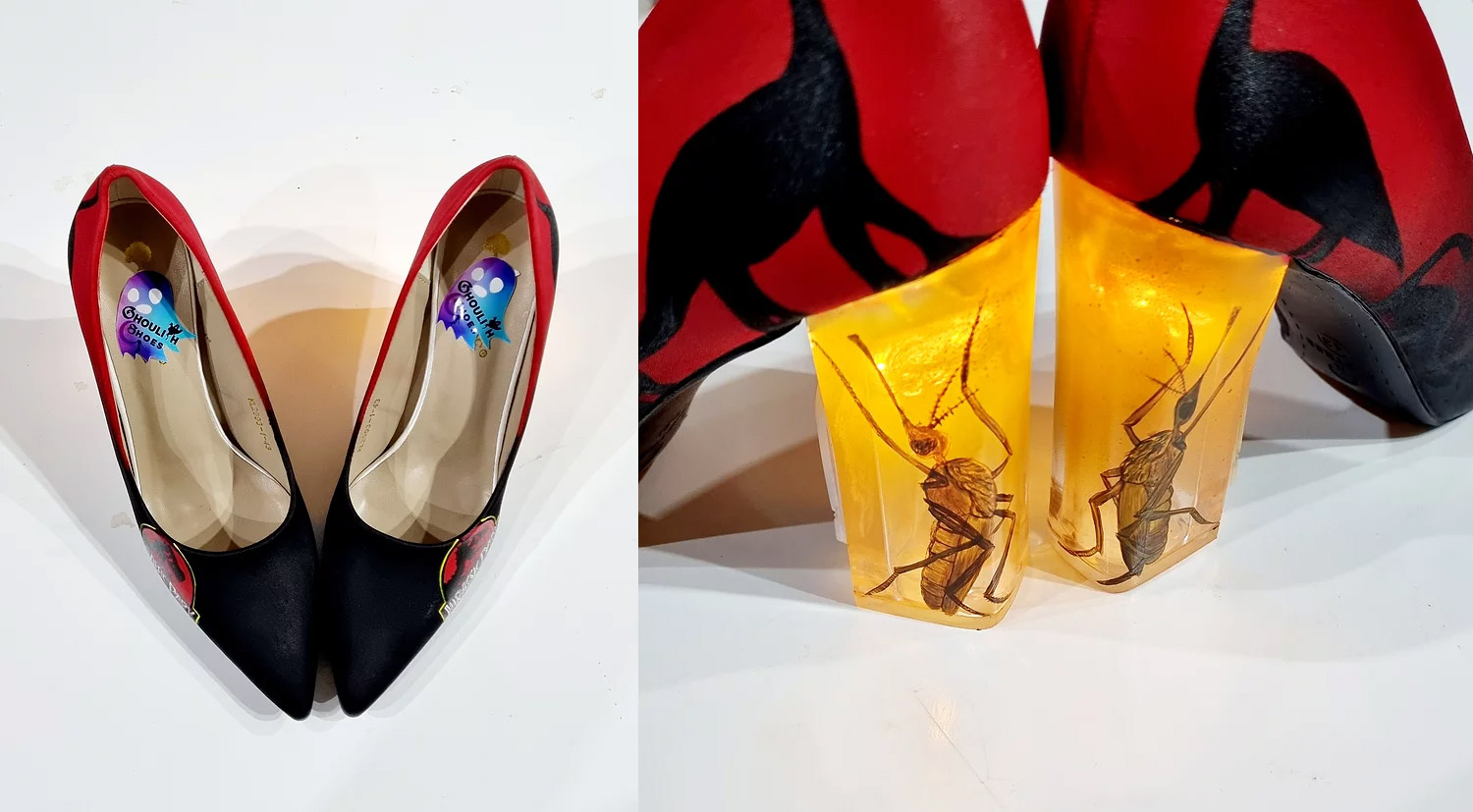 The Jurassic Park heels are made with block glass heels, and features a 4.7inch heel!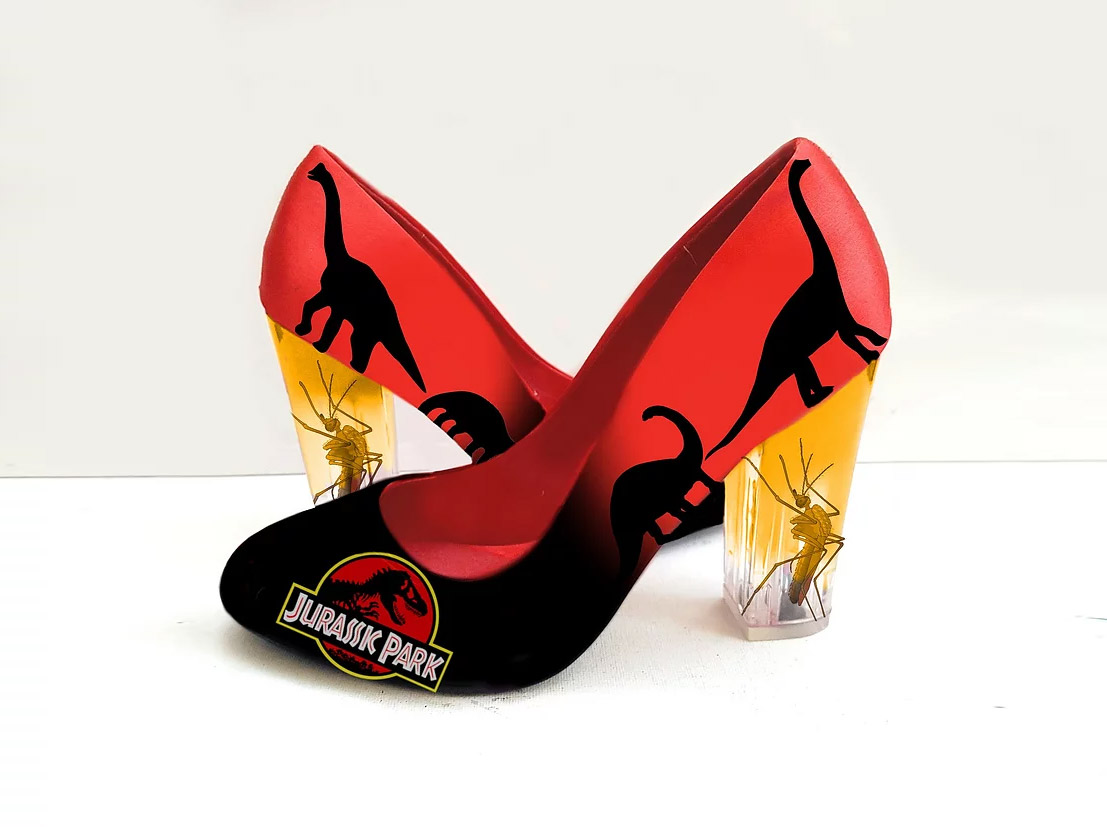 Check out the light-up Jurassic Park heels with a mosquito stuck in amber in action via the video below!
Subscribe To Our YouTube Channel