Goth Crocs Are Now a Thing, Yes It Was Inevitable
By Ryan on 04/08/2022 10:51 AM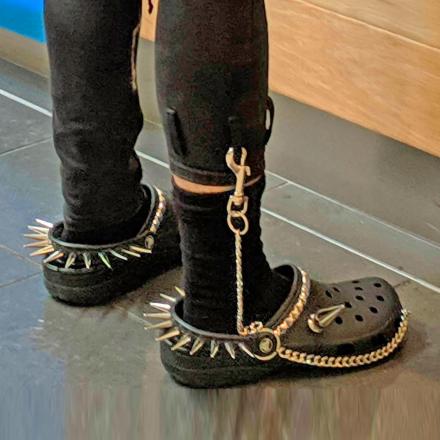 Goth CrocsGoth style is back in fashion and The Cure and Joy Division fans have never been happier. Crocs, however, have never gone out of style, and modern charms for the shoes are now more expressive than ever — letting goth Crocs fans finally enter the light.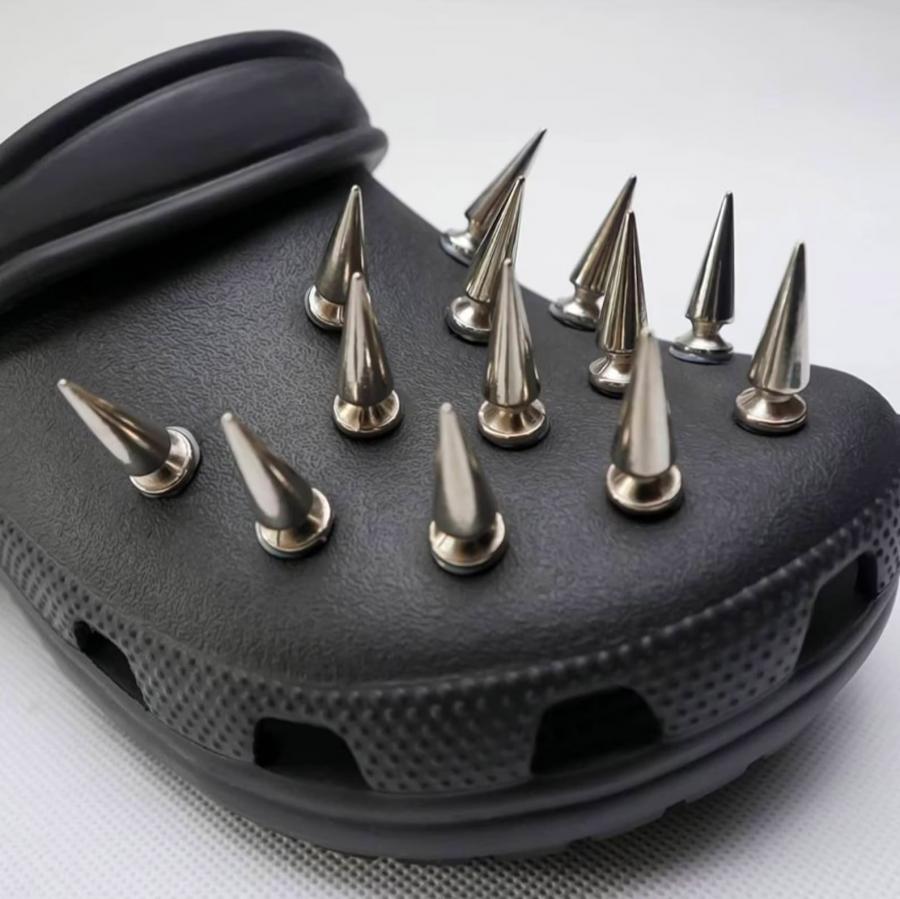 Source
If you think it's about time you let your goth and punk roots shine, these goth Crocs charms are the perfect way to do it, featuring studded Crocs jibbitz that plug directly into the holes in your shoes.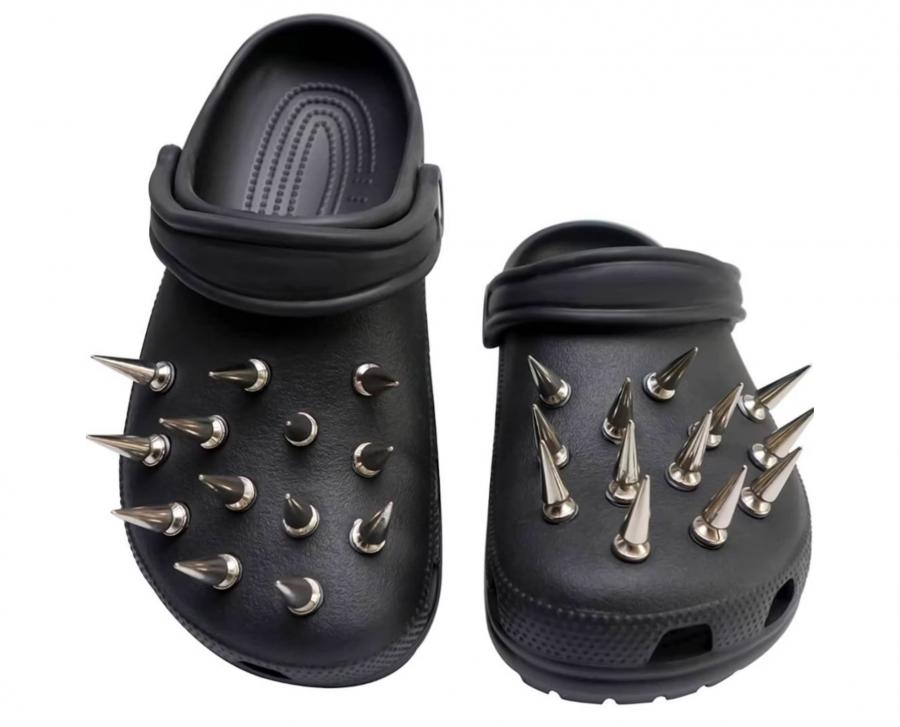 Source
These studded Crocs charms come from the shop 1000UniqueGoods on Etsy, and they offer an excellent set of Crocs jibbitz for anyone looking to bring out their moodier side. The listing is only for the charms themselves, so you'll have to supply your own Crocs to add the studs to.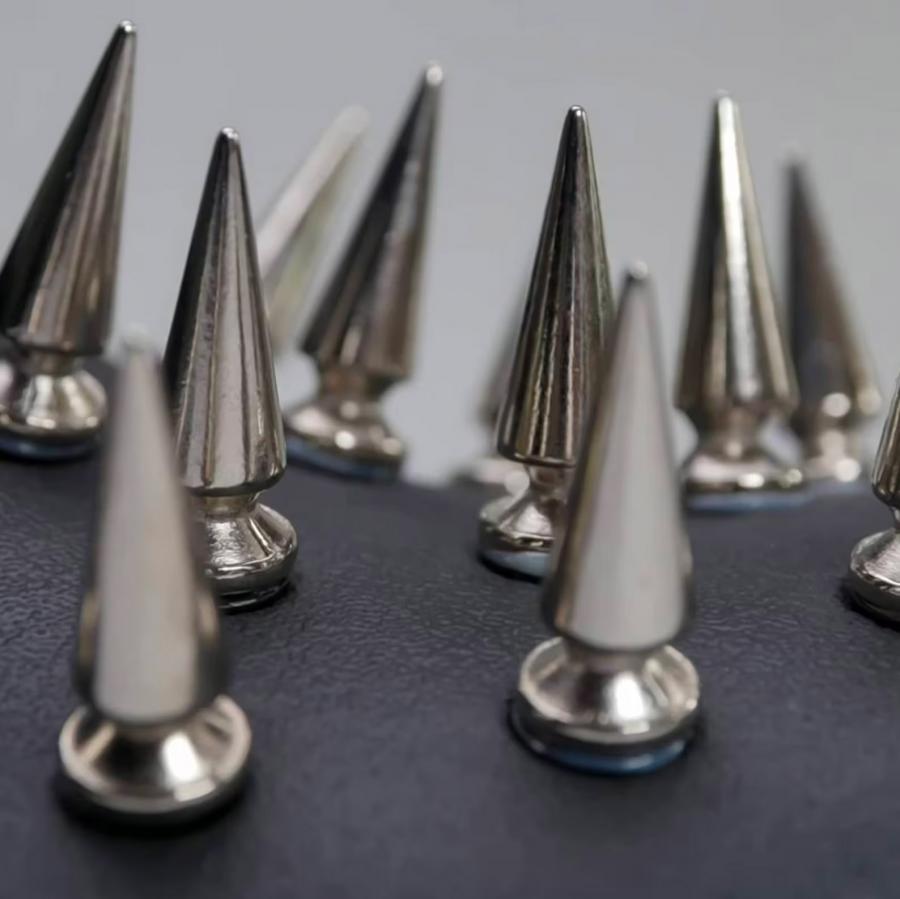 Source
These goth Crocs charms are made from a combination of plastic and stainless steel, and they're reminiscent of stud belts. You can buy these metal spike Crocs charms in quantities of 5, 10, 13, 20 or 26 — the last of which can fill up an entire pair of Crocs shoes.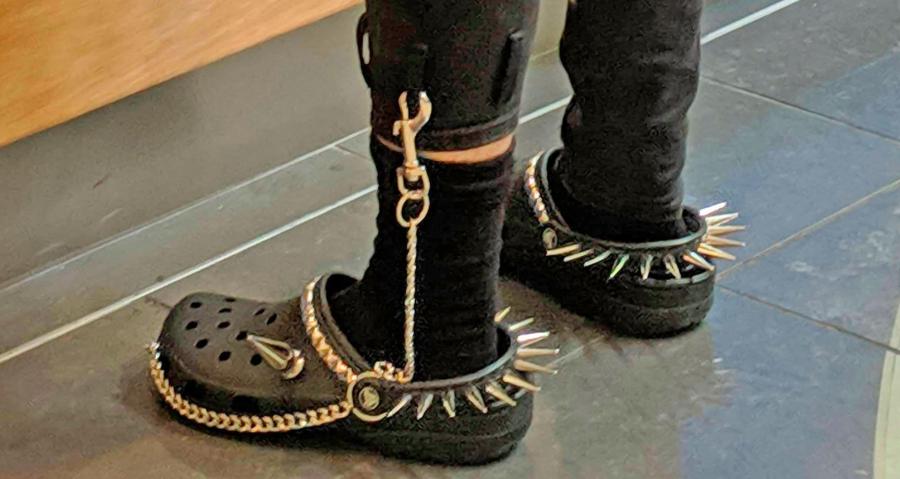 Source
At about 2 inches long and 1 inch wide, these goth and punk Crocs charms are small and unobtrusive while still being eye-catching and complementing to any alternative style quite nicely.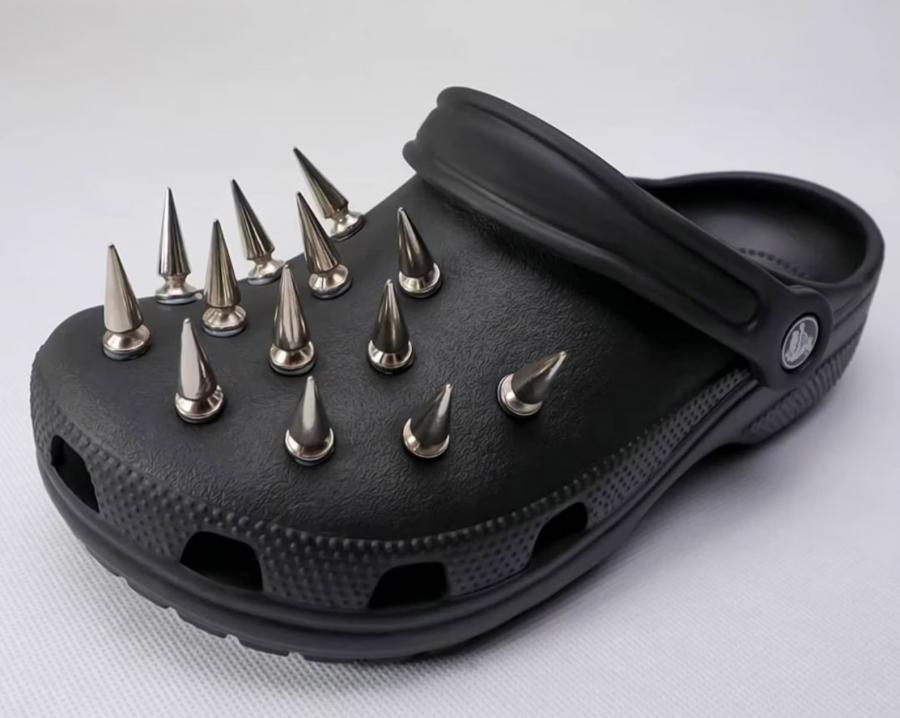 Source
The shop says they're handmade, recycled and made to order in what it calls a gothic studded style. Purchase also comes with additional parts, including glue, extra backings for the Crocs goth jibbitz and a few additional spikes for some buyers.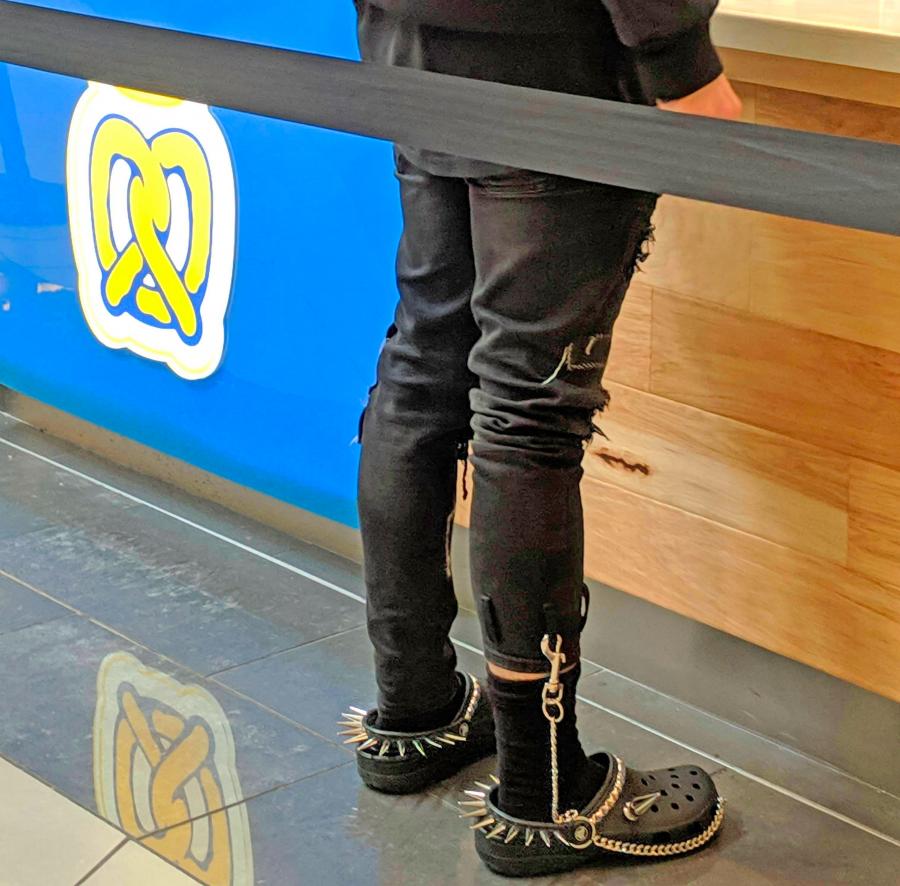 Source
Kat Williams shared a five-star review of the spike charms on Etsy, saying, "The spikes came very quickly! She also included super glue, spare jibbit backings, and bonus spikes. Would definitely order again".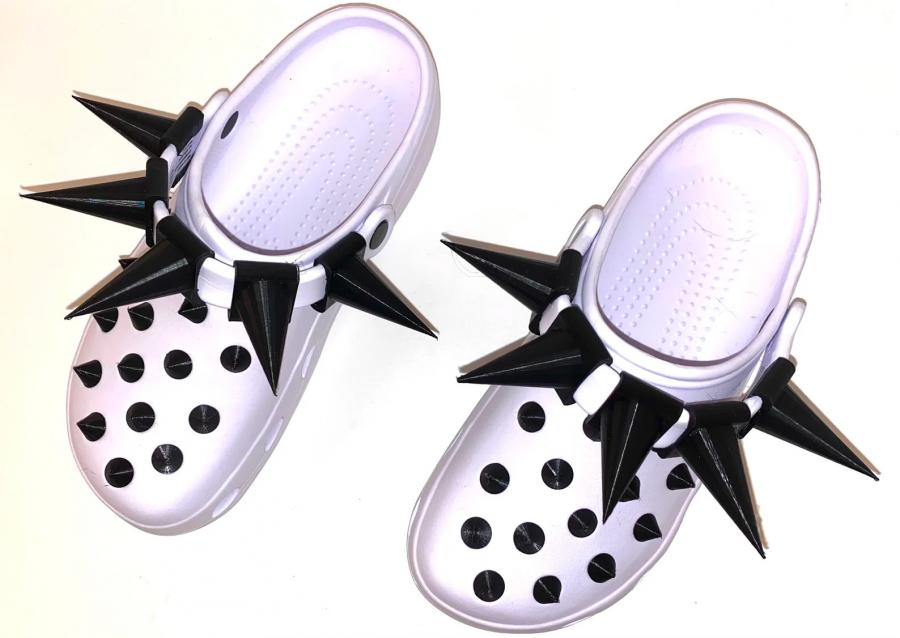 The spiked Crocs charms ship from Ridgefield Park, New Jersey and take roughly between 6 and 15 days to arrive, according to the shop's estimated arrival tracker.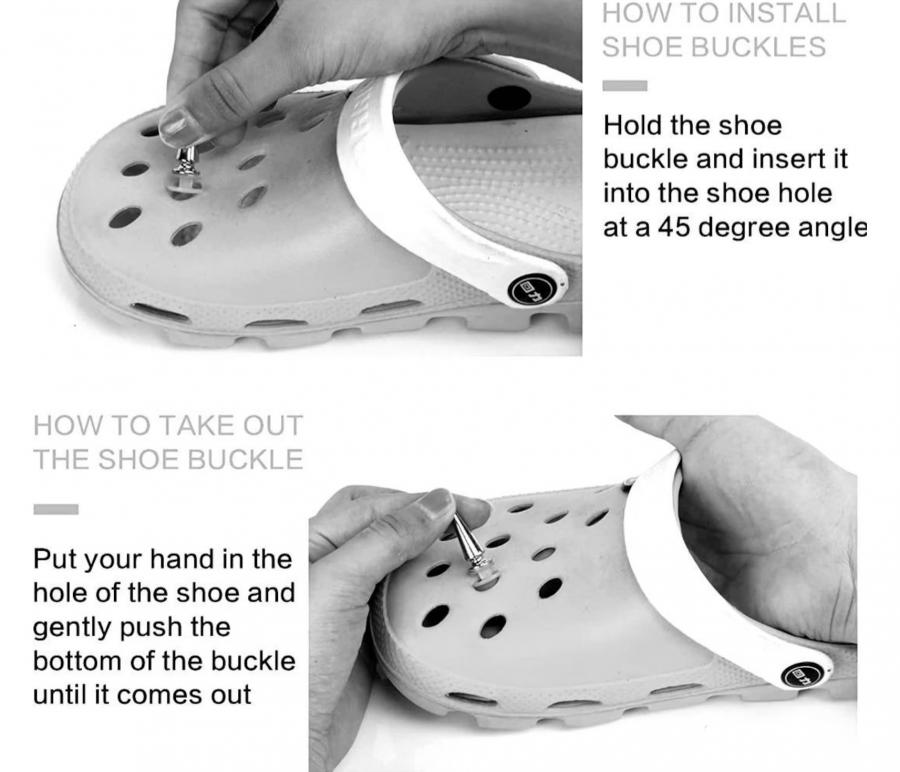 Source
It is worth noting that these goth Crocs jibbitz include small pieces that may be a choking hazard for small children and are best used only under supervision. The shop also makes sure to warn that they aren't toys, and shouldn't be used as such.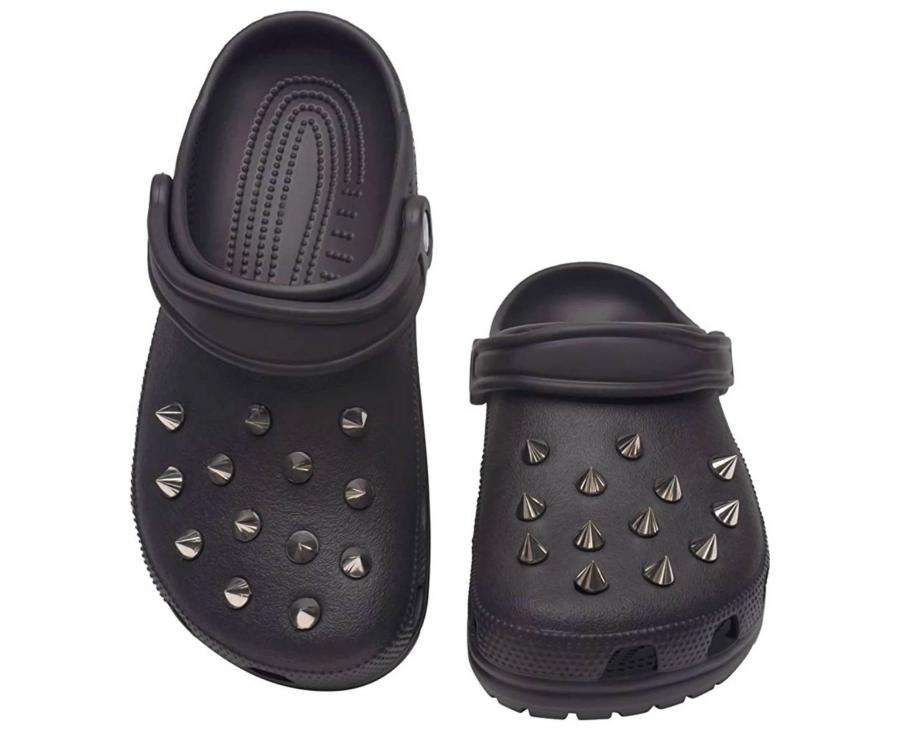 Source
These aren't the only stylish Crocs spike charms out there, though, as depicted by other goth and punk Crocs jibbitz, in addition to some Crocs looks we've featured on OddityMall in the past.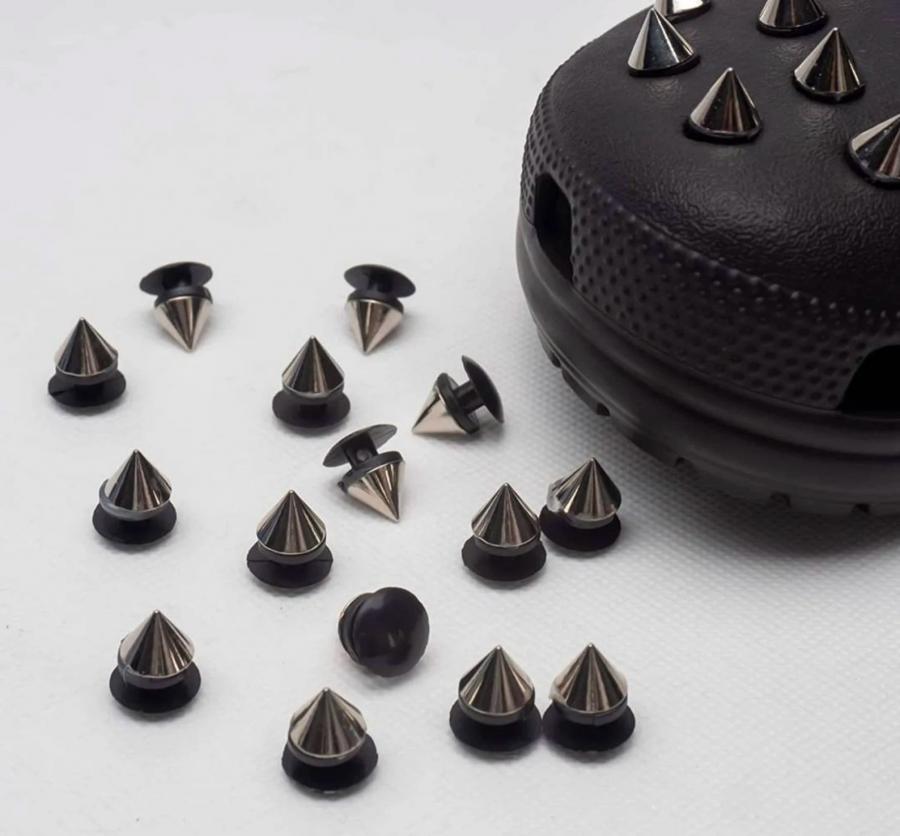 Source
Still they might one of our favorite sets of Crocs charms yet, which is saying something since we previously featured both the cowboy Crocs spurs jibbitz and the wholesome, yet ridiculous ranching cowboy boot Crocs. The goth Crocs aesthetic is far less western than either, which could be good or bad depending on who you are!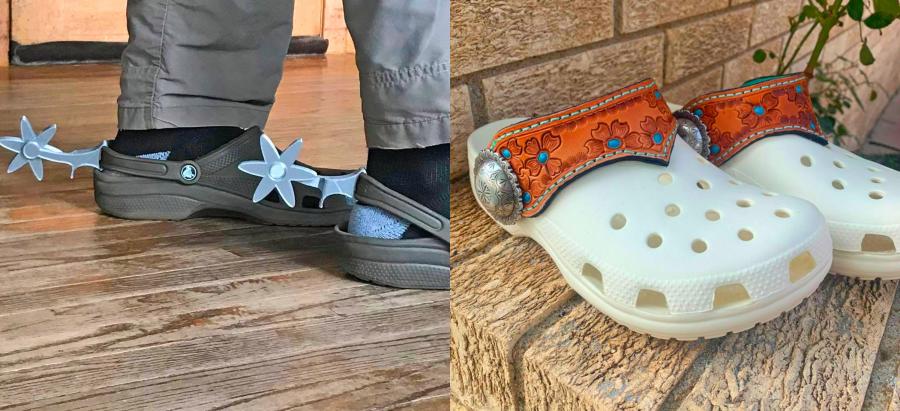 However, if you prefer a more punk Croc charm style, you can choose from a selection of items sold by BLXXs on Etsy — another frontrunner for our favorite Crocs looks. Like the other listing, this one only offers the charms themselves, not the Crocs, though it does offer a wider selection of options to choose from than the first one.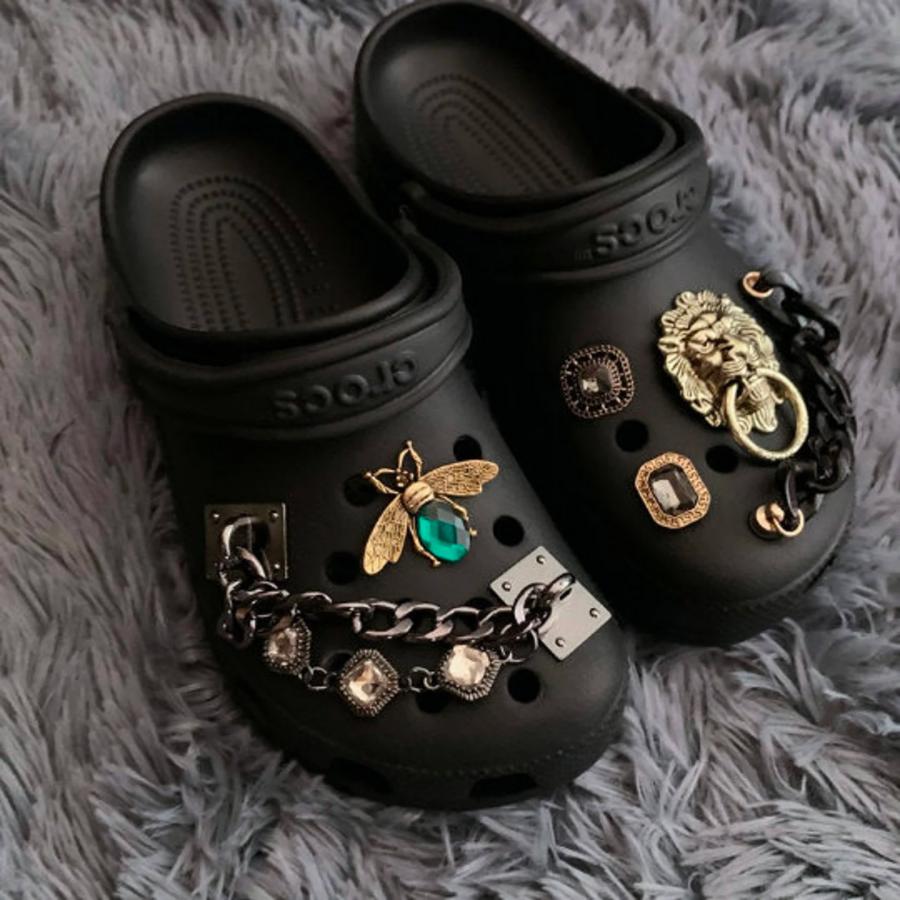 Source
You can either buy this set of punk Crocs charms with all the pieces — including a lion head, two jewels, two chains and a bug — or you can purchase single pieces separately in quantities from 1 to 109.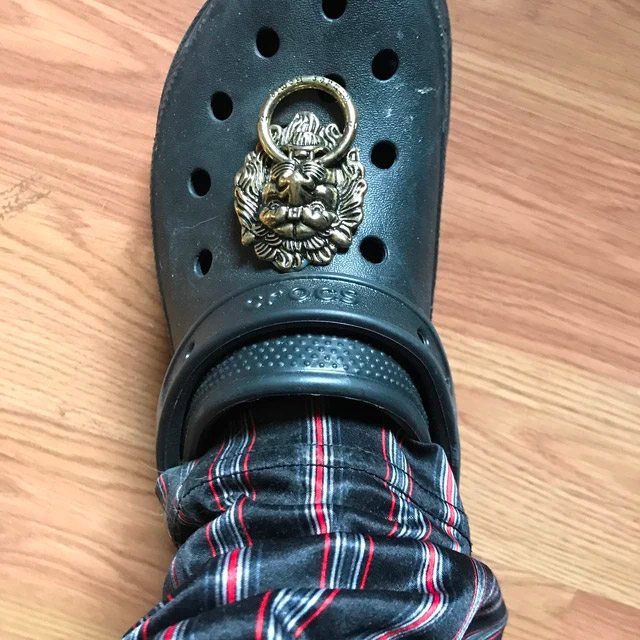 Source
As another great goth option, you can combine the metal chains in this pack with the spikes in the aforementioned one for the ultimate in a goth Crocs look.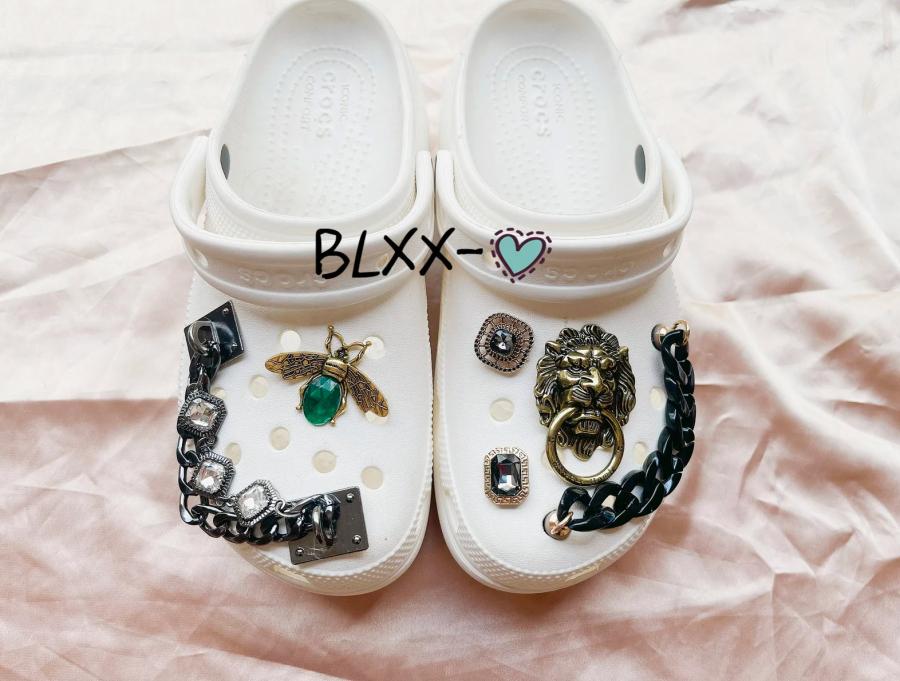 Source
In a five-star review of these punk Crocs jibbitz, Aasera Wang wrote, "Going from Goth Crocs to Baroque Crocs was a mood. the effects are sturdy and are quite stunning on foot. Definitely worth it!"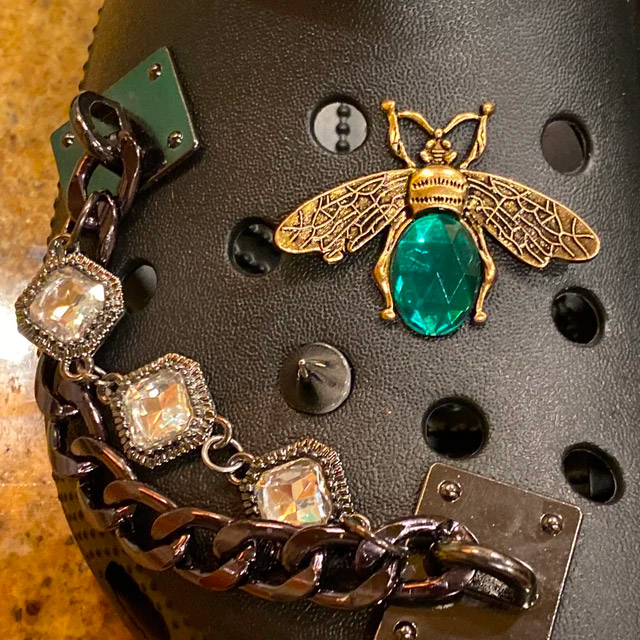 Source
This shop also warns that the small pieces from this goth Crocs charms set can be a choking hazard, best avoided by small children unless fully supervised. Instead of shipping from the U.S. like the last set of Crocs charms, these ship from China, so they take an extra few weeks to arrive for North American buyers.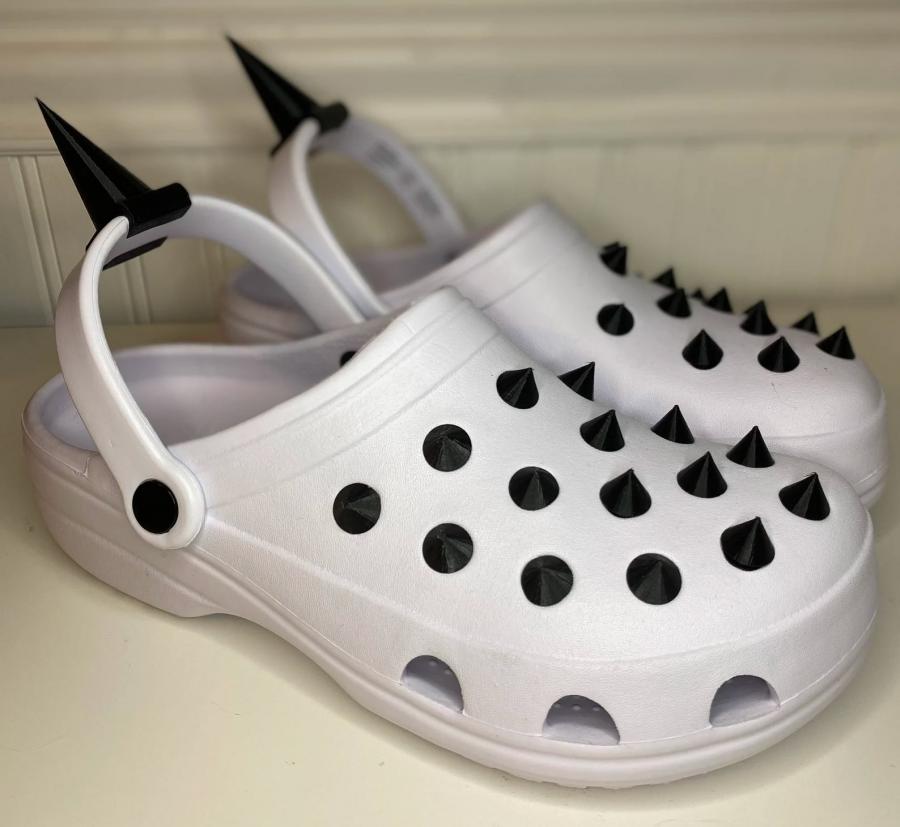 Source
You can check out a few other goth croc styles that we came across on Etsy. You can find a link to each one below each image!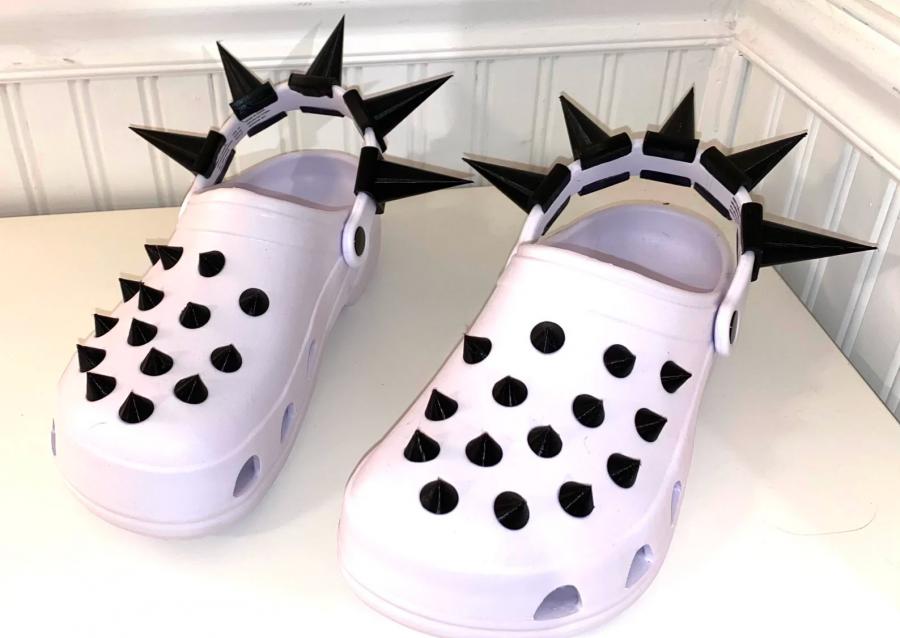 Source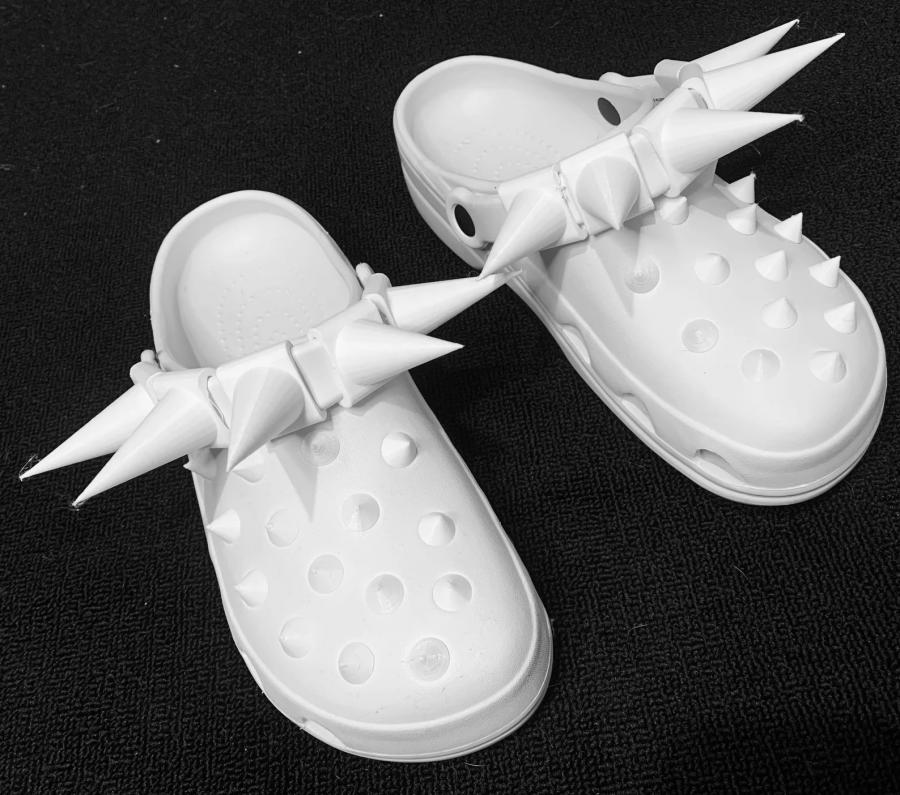 Source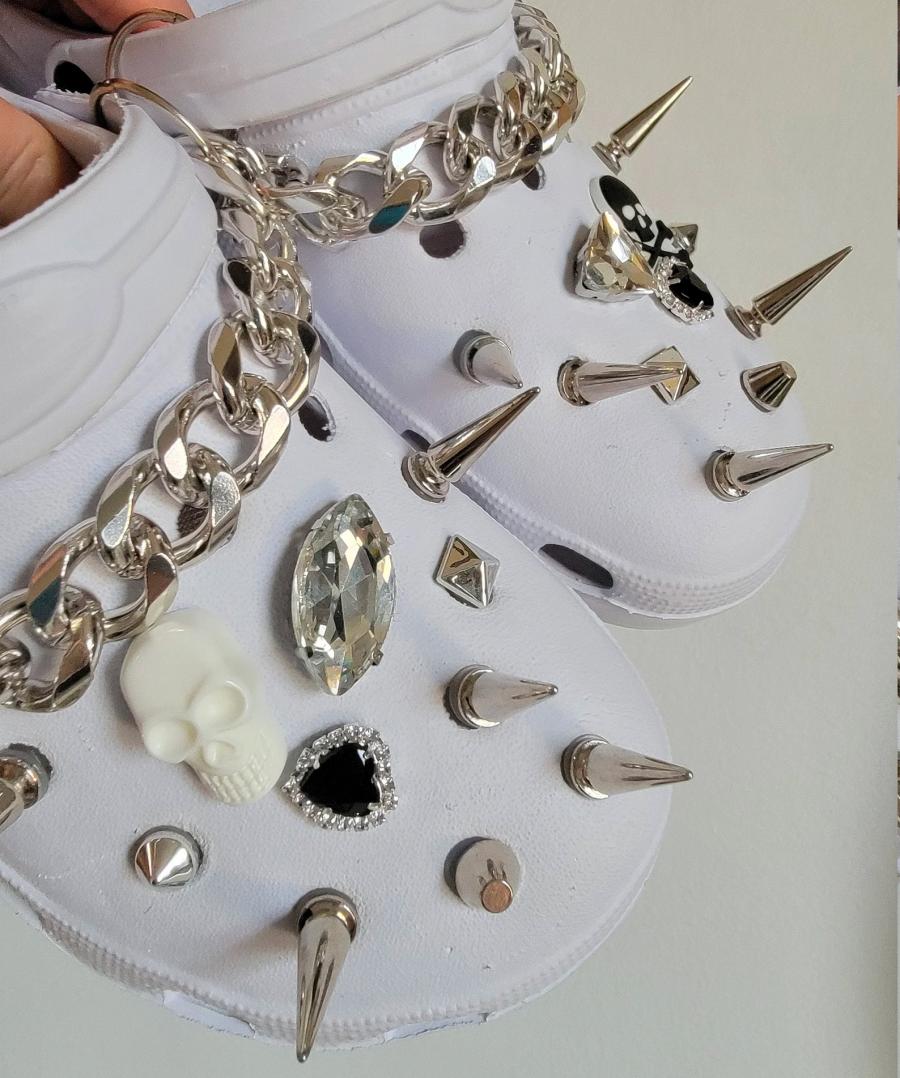 Source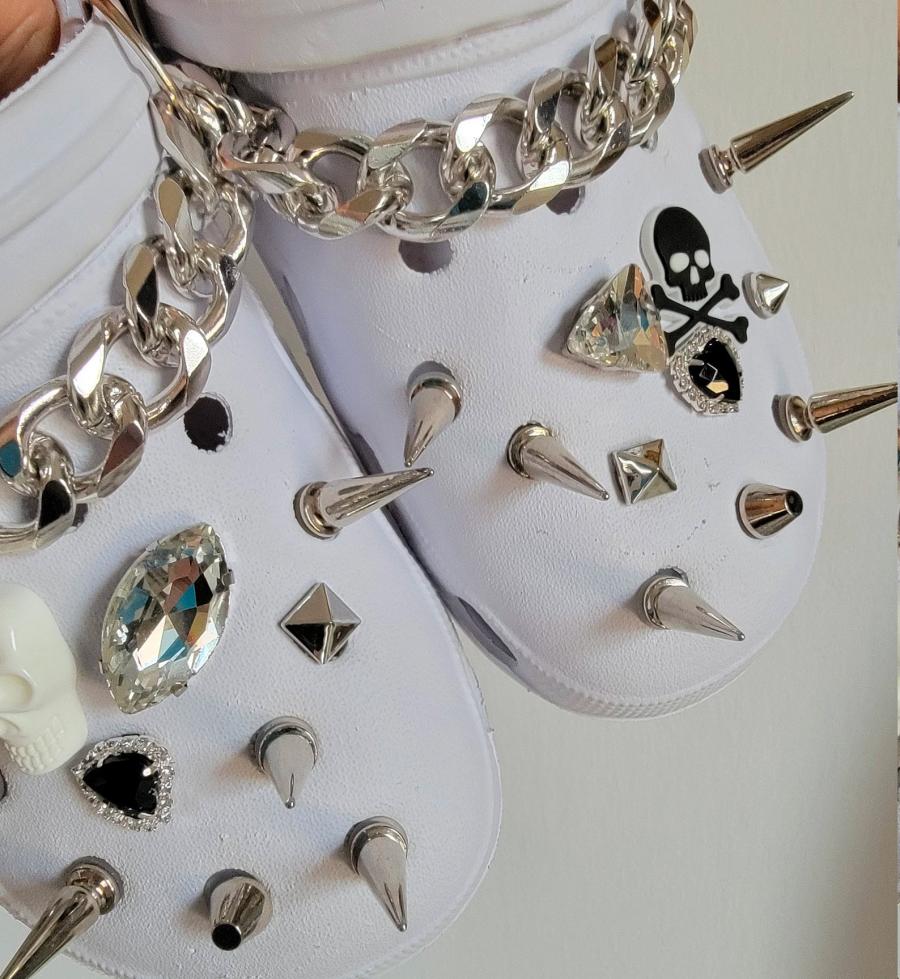 Source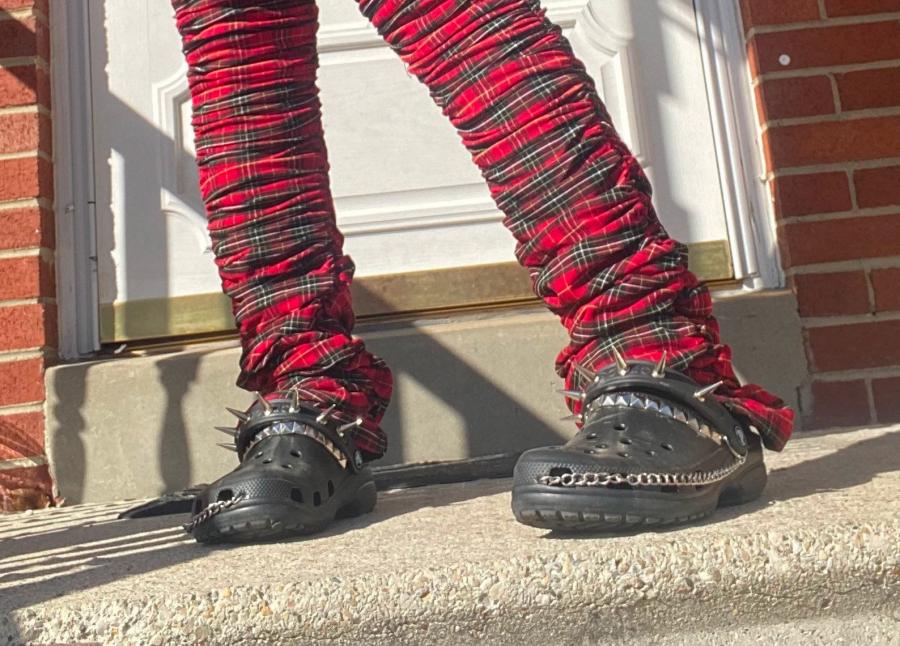 Source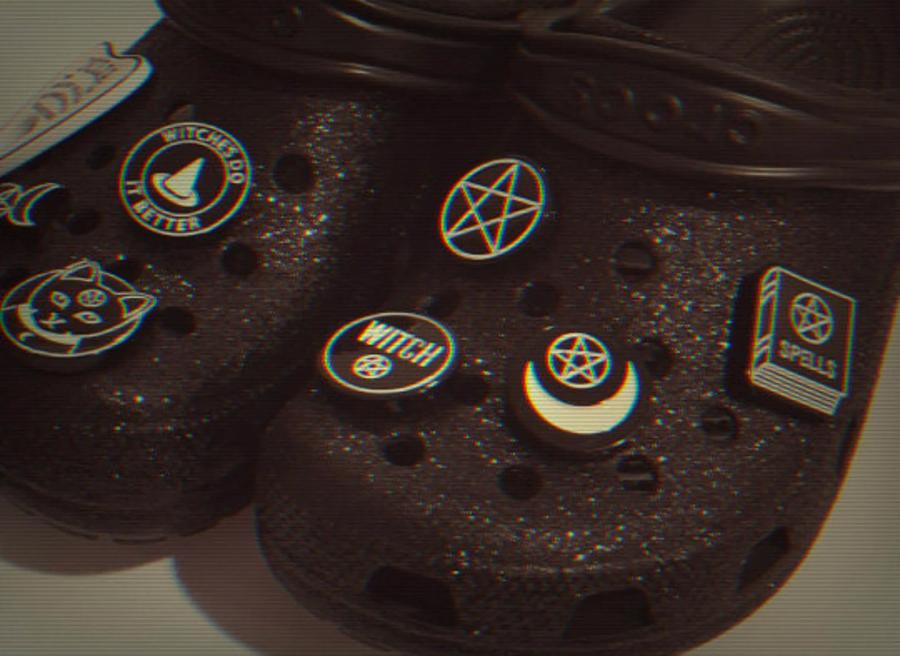 Source
You can snag most of the goth croc spikes or charms for right around $4-$8 bucks on Etsy.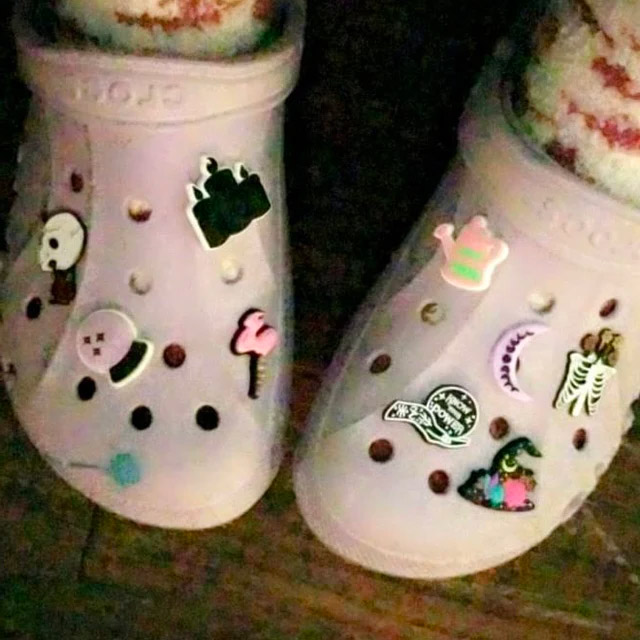 Source