Giant Pizza Towel
By Ryan on 01/15/2015 5:01 AM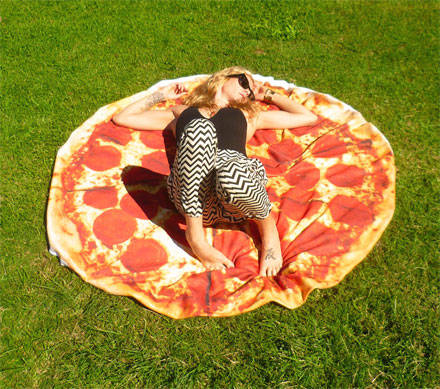 The pizza towel is a giant pizza in towel form, and is the perfect size and shape to withstand a round American body laying on top of it. Not only will you enjoy the delicious look of the pizza towel, but when you spill the pizza you are eating on the towel, no one will even notice. The only downside with the pizza towel that I see is that your round body will take up too much room so that people walking by won't be able to even notice that your towel looks like a pizza. Perfect for picnics, a day at the beach, using as a batch towel, or just putting out in your living room like a rug, the pizza towel is the perfect gift idea for any pizza lover.
The Pizza Towel is made form 100% cotton, has a high definition print that looks quite realistic, is circular in shape, gets delivered to you in an actual pizza box, and measures 4 feet 11 inches in diameter.
The pizza towel is currently only available with pepperoni toppings, but they have plans for a supreme pizza towel and a vegetarian pizza towel in the future.