Giant Cracker Shaped Pillows Now Exist, and We Couldn't Be Happier About It
By Ryan on 06/25/2021 8:29 AM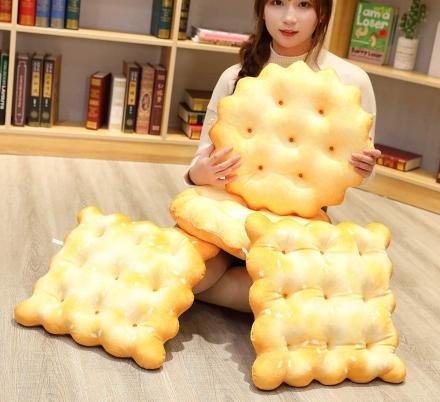 Novelty shape throw pillows are the royalty of all throw pillows. 3D printing enables one to produce novelty throw pillows shaped according to a shape one desires. This makes the throw pillows adaptable to any kind of design situation because people can come up with different objects. Novelty shape throw pillows are mainly stuffed with cotton making them soft and fluffy, good for support, perfect for decoration.
If you're looking to do a makeover to your sitting room or waiting area then adding a fair amount of throw pillows is a no-brainer. These cracker-shaped novelty throw pillows done by Yableina Kail are perfect for decoration and a little comfort. They are shaped like a huge cracker, even the contours are well seen in the design, and popping out.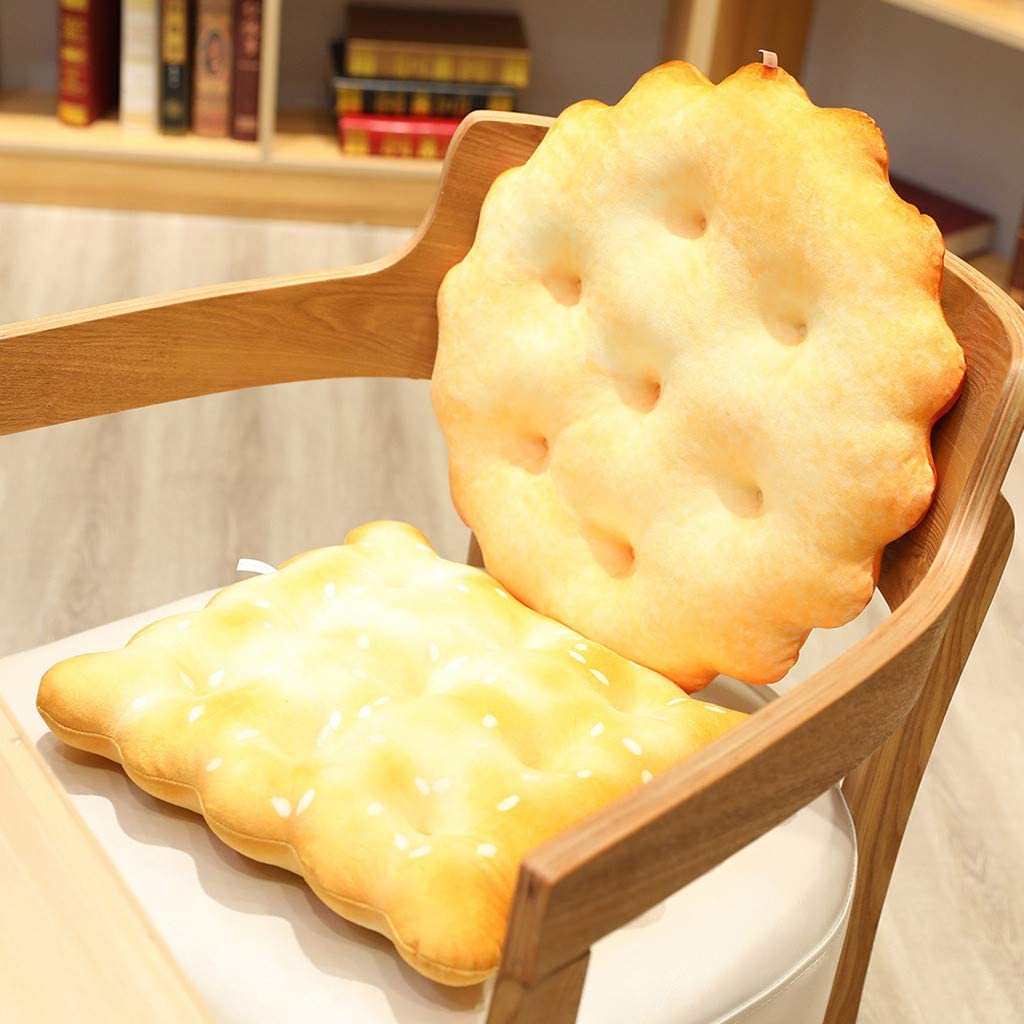 The fabric is made from high stretch short wool which is soft to touch, comfortable, and durable. PP cotton gives the throw pillows that plush feel, and exquisite finish. The infusion of these two materials makes the throw pillows more durable, elastic, soft & comfortable.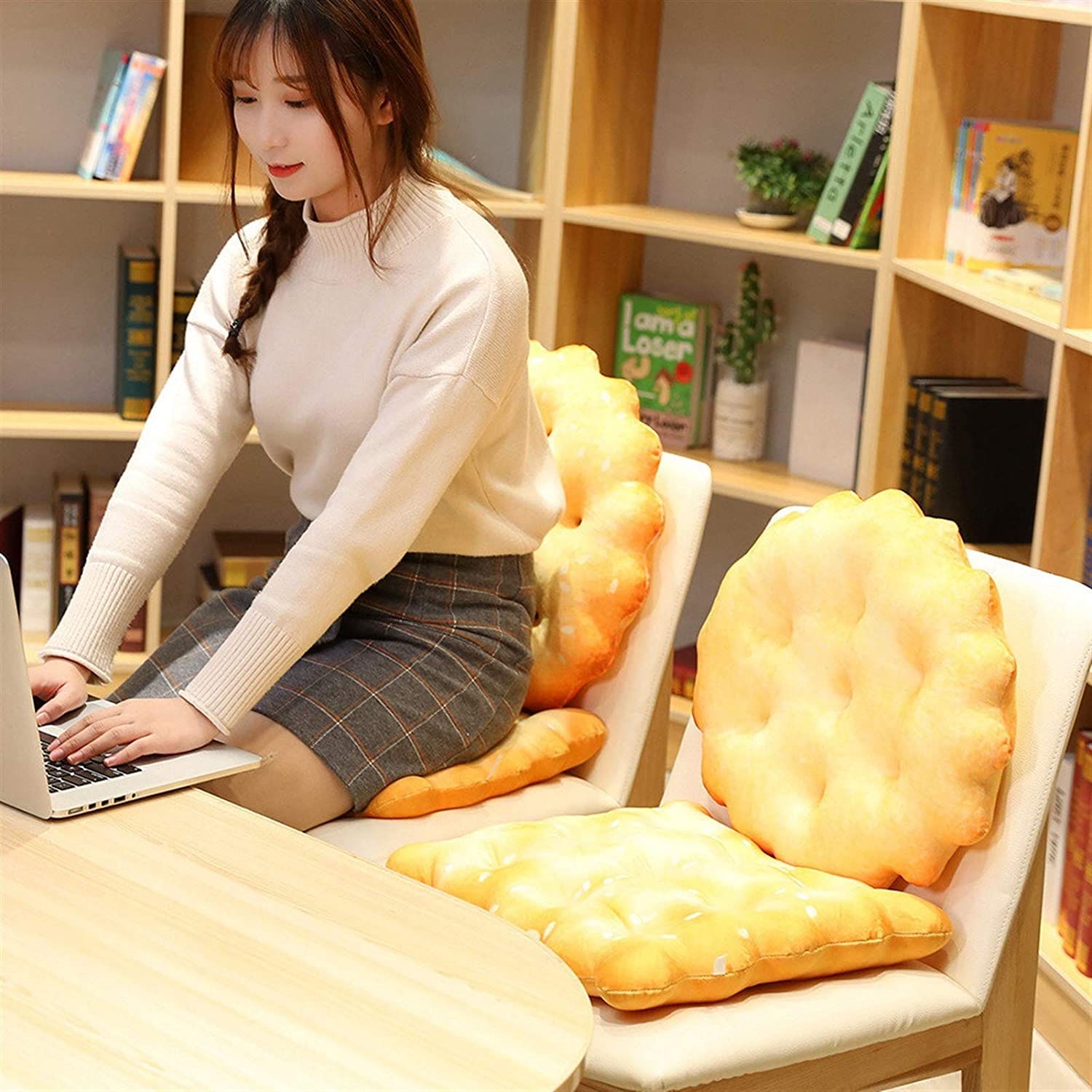 These novelty throw pillows are colorful and very versatile in terms of where they can be used. They could be used on the floor, couch, chairs, patio, office, or home office depending on how you want to use them. Home designers will love how the colors are neither too dull nor too shouting, just nothing short of perfect for infusing the designs.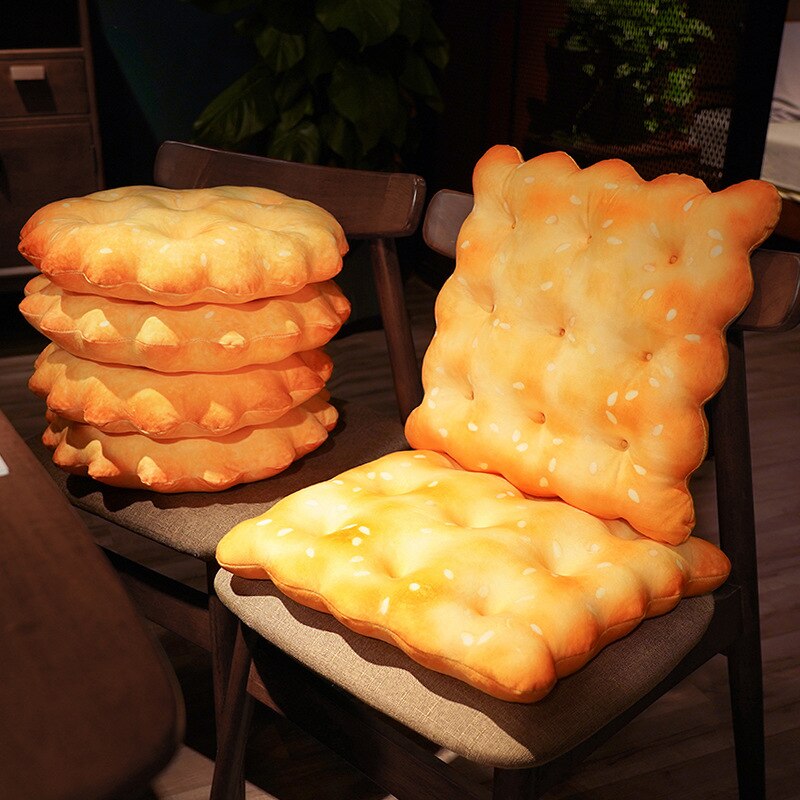 The cracker shape is incredibly cute and due to 3D digital printing, 4 different shapes could be printed. The available shapes include round regular biscuits, round sesame biscuits, square sesame biscuits, and green onion sesame biscuits. The first of the four, which is like the main design has measurements of 15.75 inches x 15.75 inches.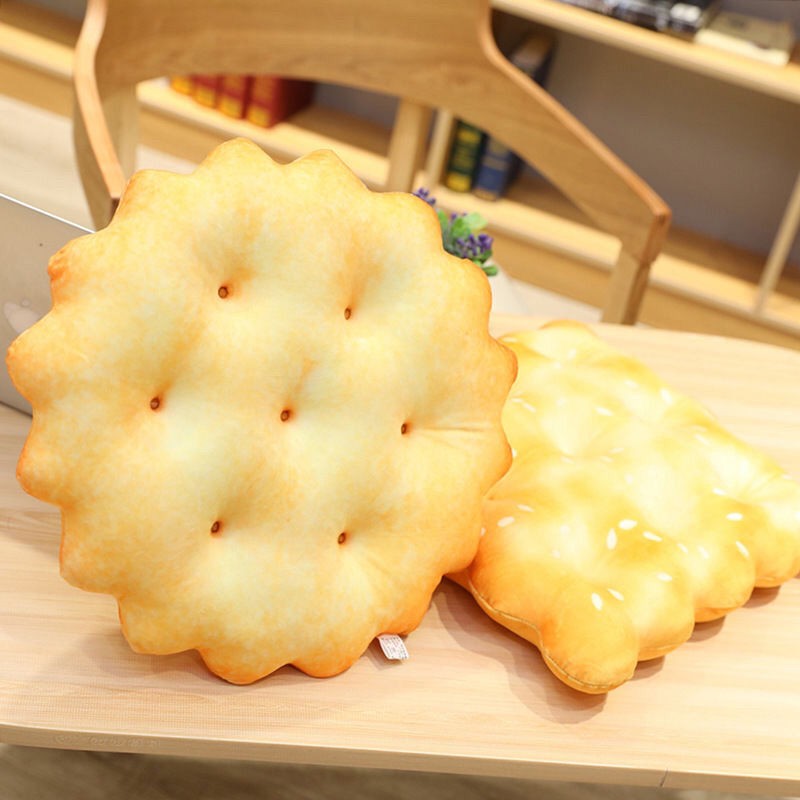 These throw pillows have a high standard of quality and buyers are guaranteed to get their money back or a free replacement in case of any quality defects on a piece they ordered. The unique design and elegant finish on these pillows will beautify any space you put them in. If you have kids, they would love hugging the giant cracker.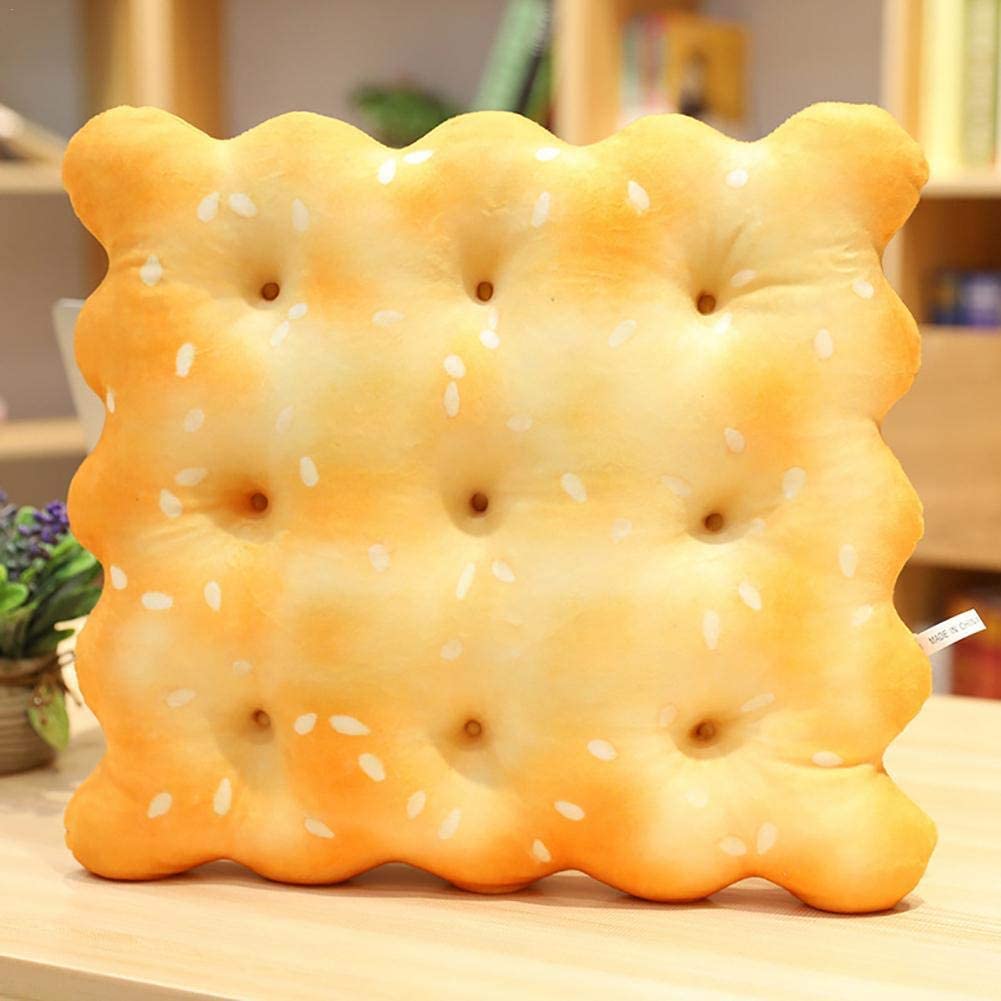 Good for the interior or exterior, they are a perfect gift for any person who loves some comfort or just interior décor. The finish looks expensive and classy, after buying one you'll definitely be back for the whole set. Use the soft and durable throw pillows for decorating your living room, courtyard, couch, or bed. The place will look good and different.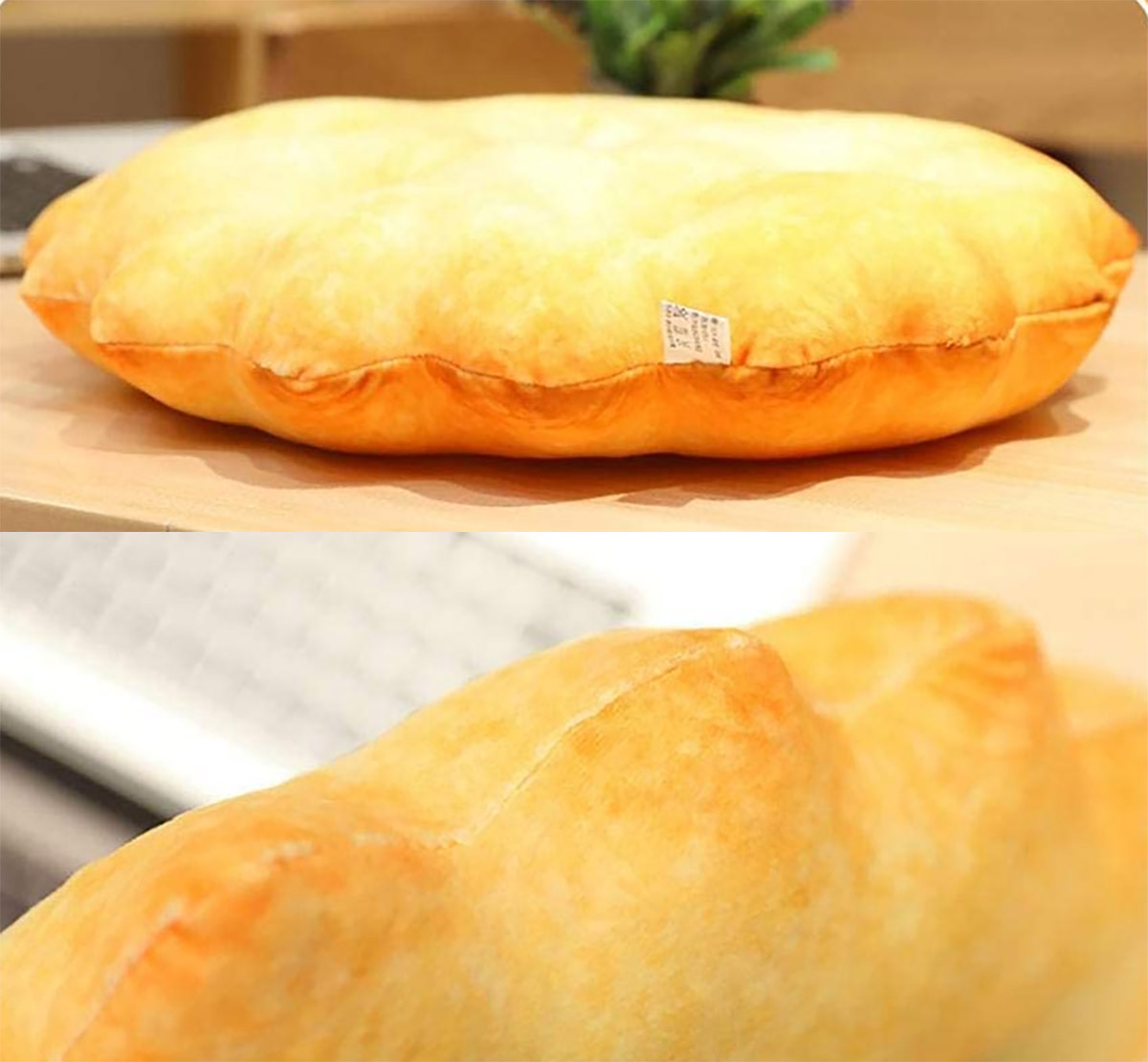 Experts are yet to decide on the recommended number of throw pillows one can have in the living room, but one thing is for sure, one pillow is not enough. The 4 pillow combination makes a great set that changes the look of any room you place them in. The different shapes and sizes complement one another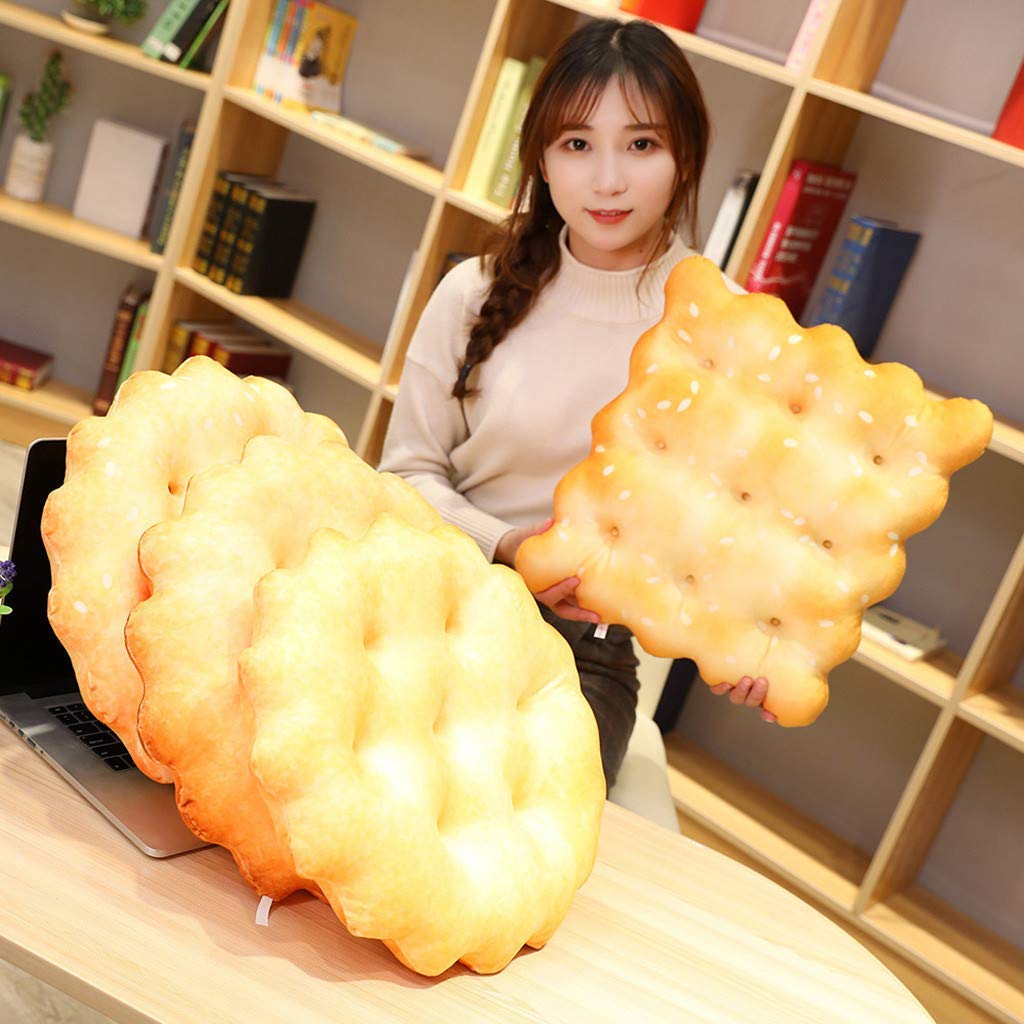 The canvas material is made from premium quality PP cotton and high stretch short wool. This keeps the shape design in place, without getting loose, deforming, and losing the shape. The PP cotton provides maximum comfort, though some people are more impressed by the softness to touch. Impress your guests, friends, and family by decorating our house with these amazing pillows. It's great for the indoors or outdoors, how you use it depends on your taste or needs at the time. This is not one of those purchases that you regret later. It will add pomp, color, and elegance no matter where you put it.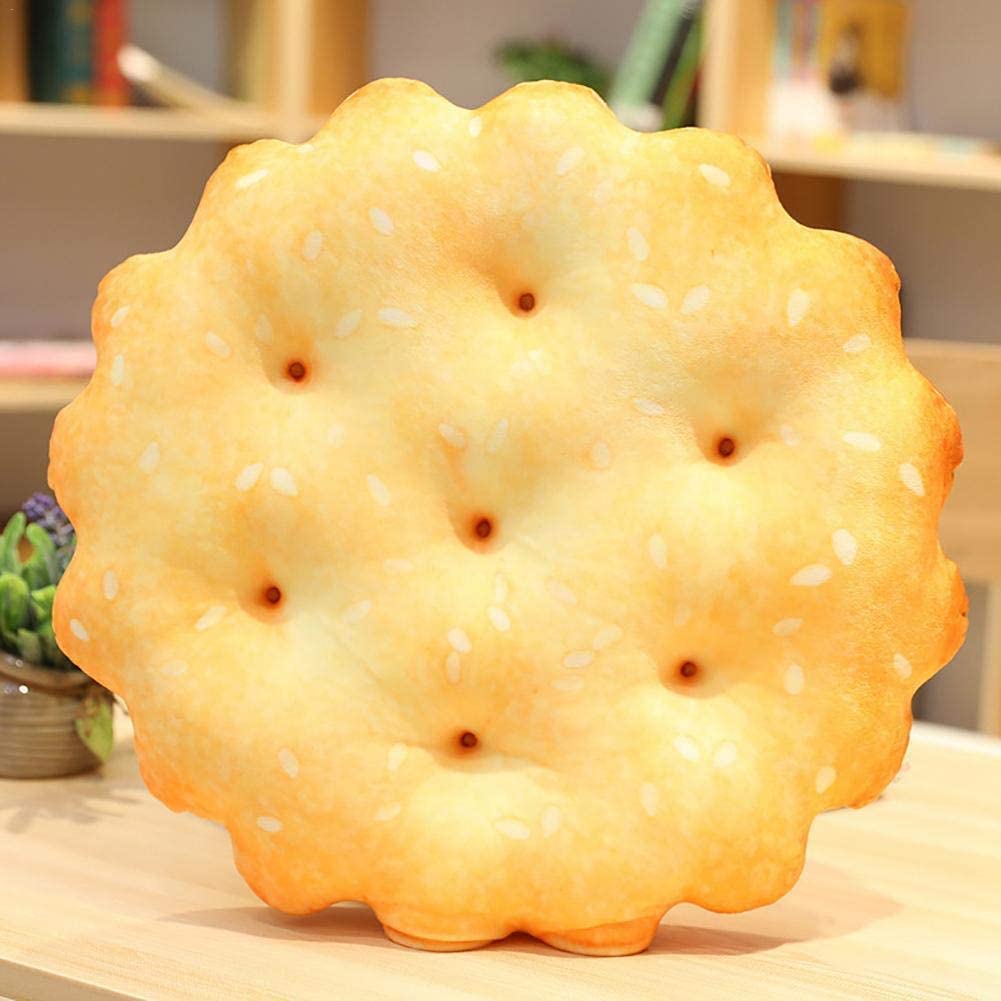 The giant cracker shaped throw pillows come in either a round or square shaped cracker, which are both fully intact with the proper amount of salt and seasoning! The massive cracker pillows are printed with photorealistic images that make them look just like the real thing, only about 30 times larger!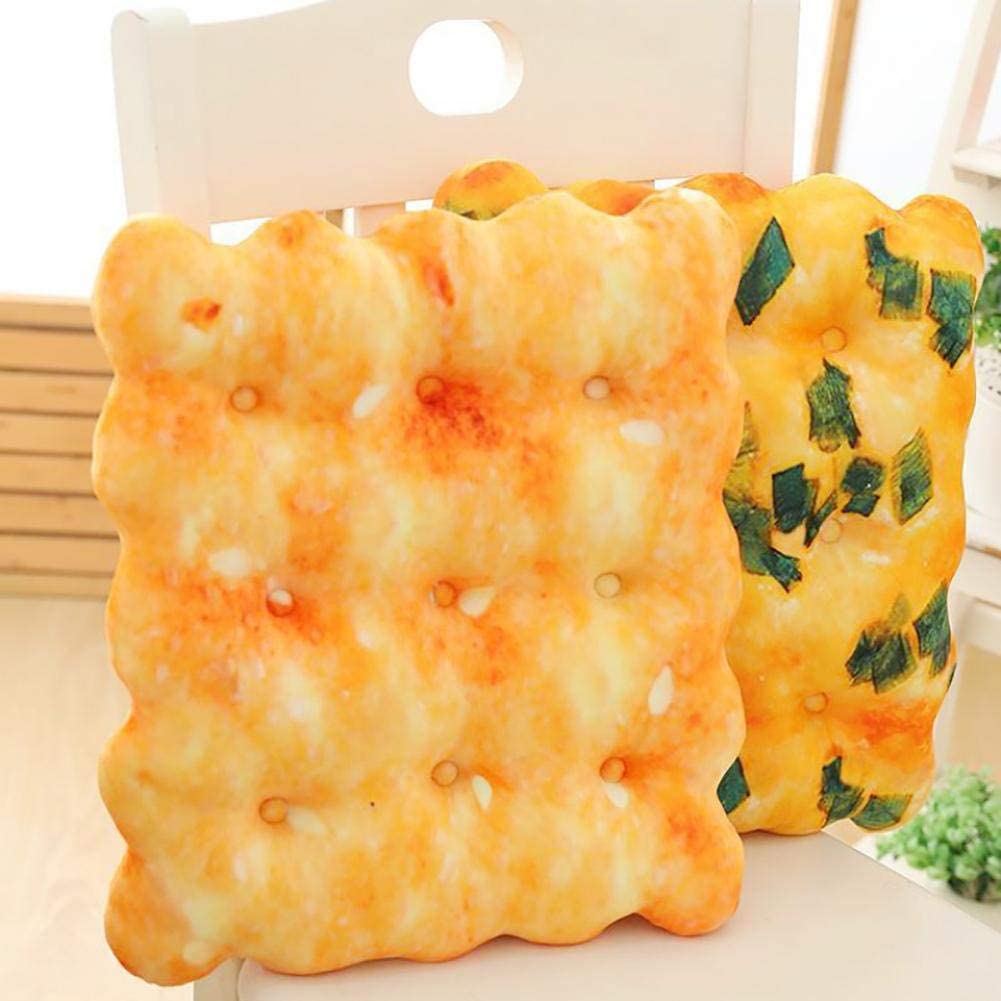 If you get two of the giant cracker pillows you can even make your chair super comfy and quirky with cracker pillows to support your bottom and back.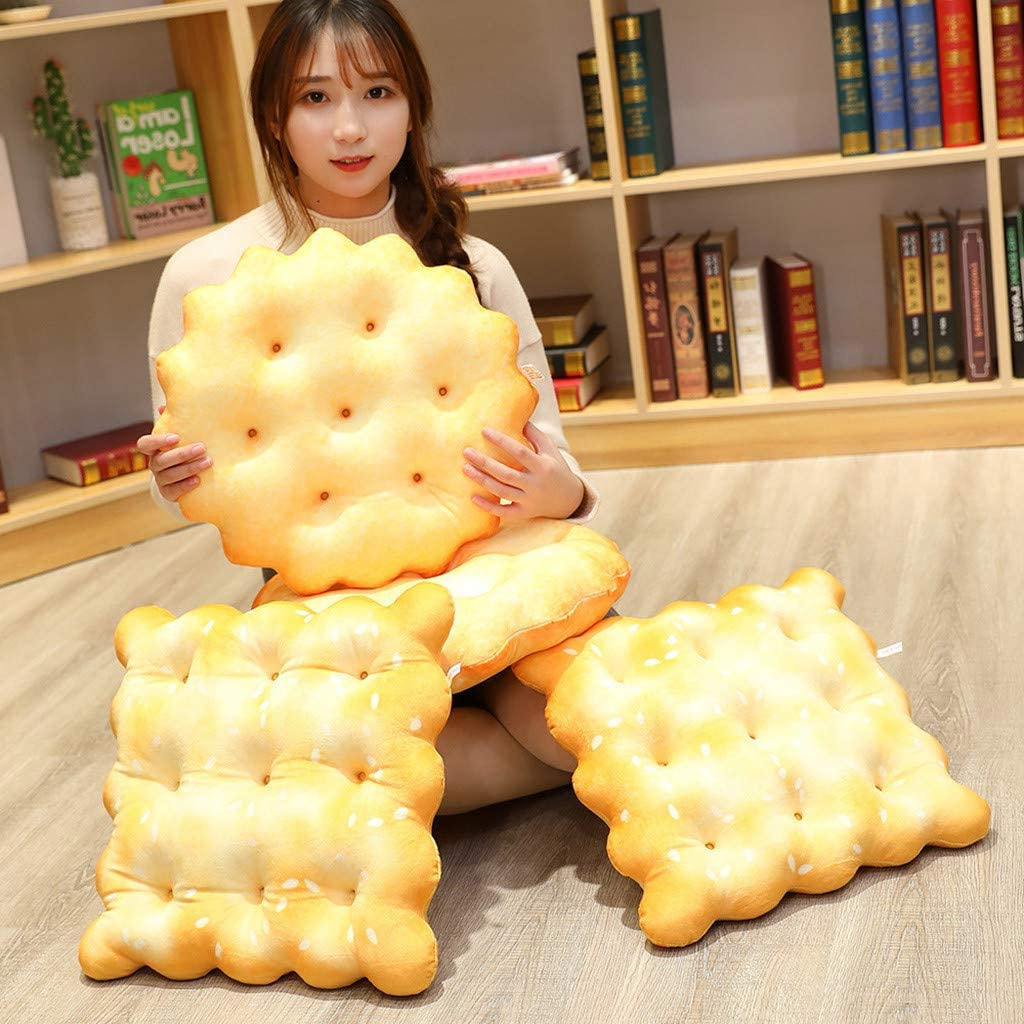 The giant cracker pillows are the perfect way to add extra cushion to any seat in your office, at home, or even in the car!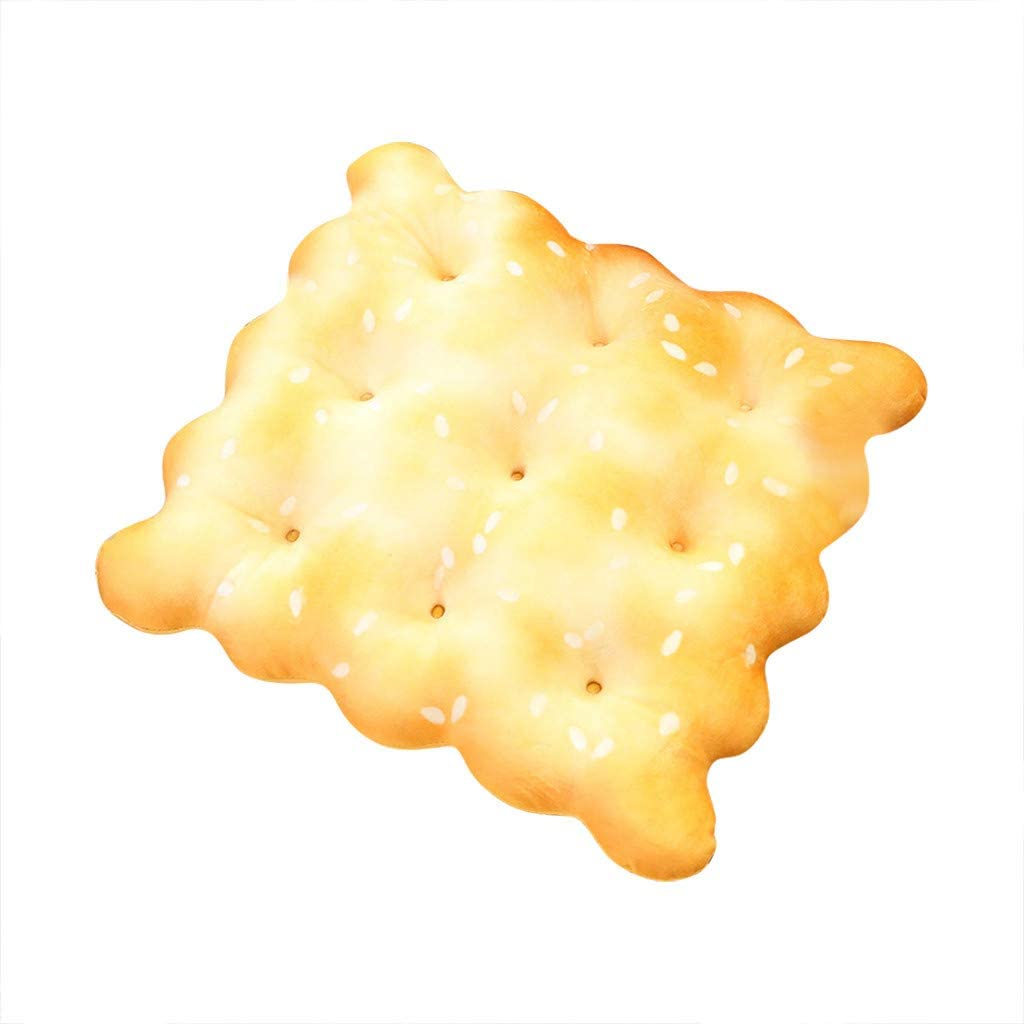 The round cracker pillow measures 15.75 inches in diameter!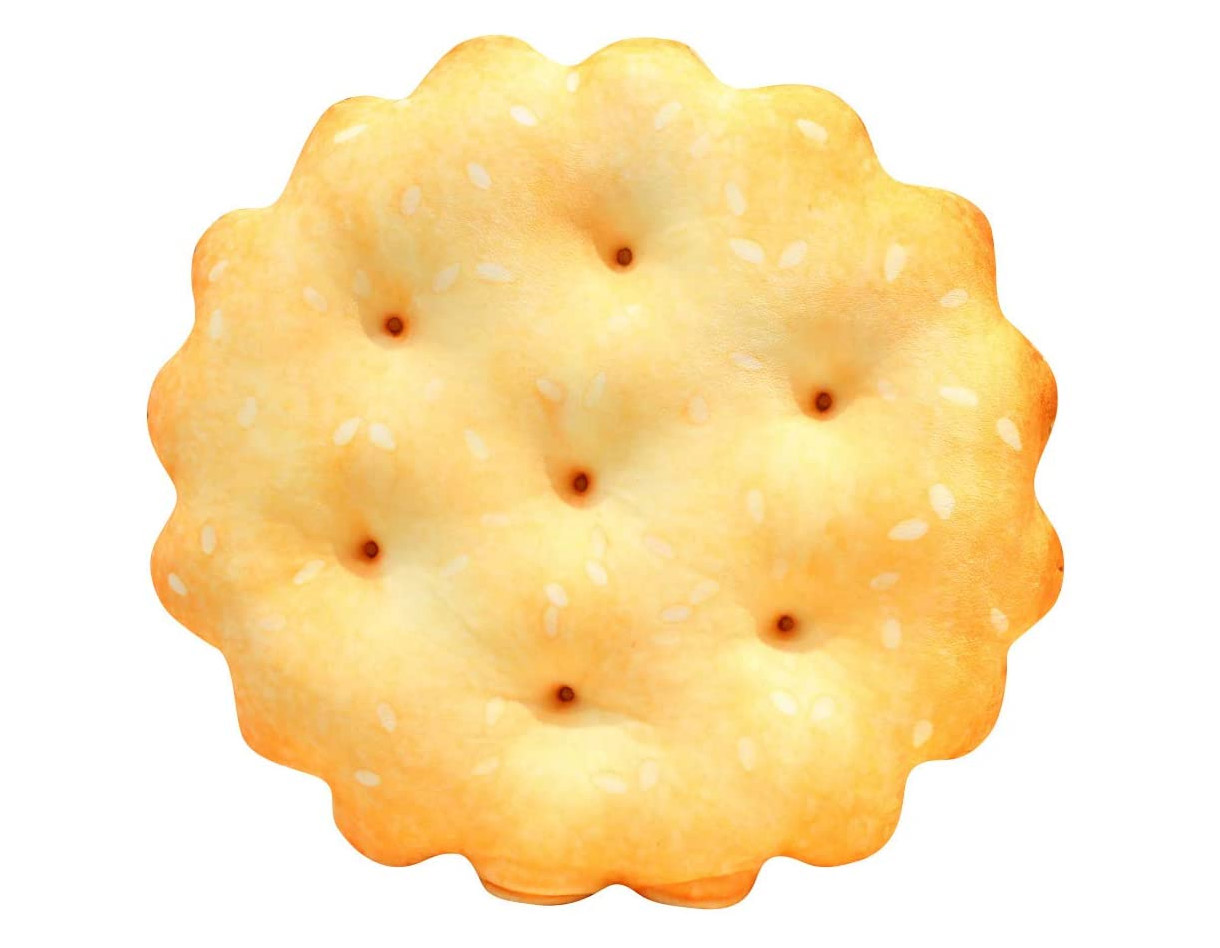 The square cracker pillow measures 15 inches long x 15 inches wide.