This Giant Clothespin Bench Is Functional Piece Of Art You Can 'Hang' Out On
By Ryan on 02/02/2023 2:49 PM
There's nothing we love more than a product that's giant, which has no business being giant, such was the case with the giant dog bed for humans, these giant crochet octopuses, or the giant 12 foot beach ball! Now we've come across yet another giant product, and it might just be one of our favorites! It's a giant wooden bench or table that's shaped just like a clothespin!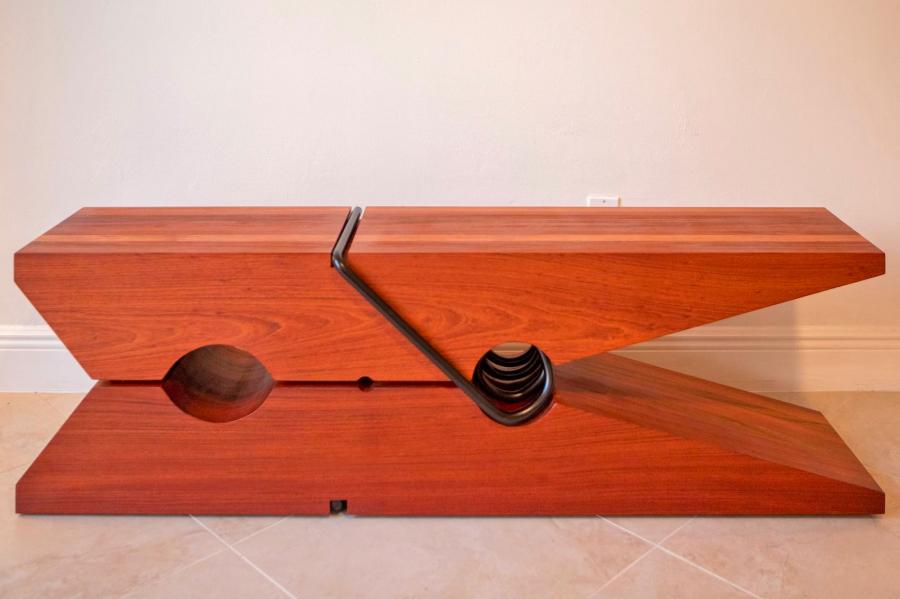 Credit: MathesonWoodwork
The Giant Clothespin Bench is not just a piece of furniture, it's a work of art! It's made from Solid hardwood Madrone and is certainly the epitome of quirkiness and creativity when it comes to woodworking!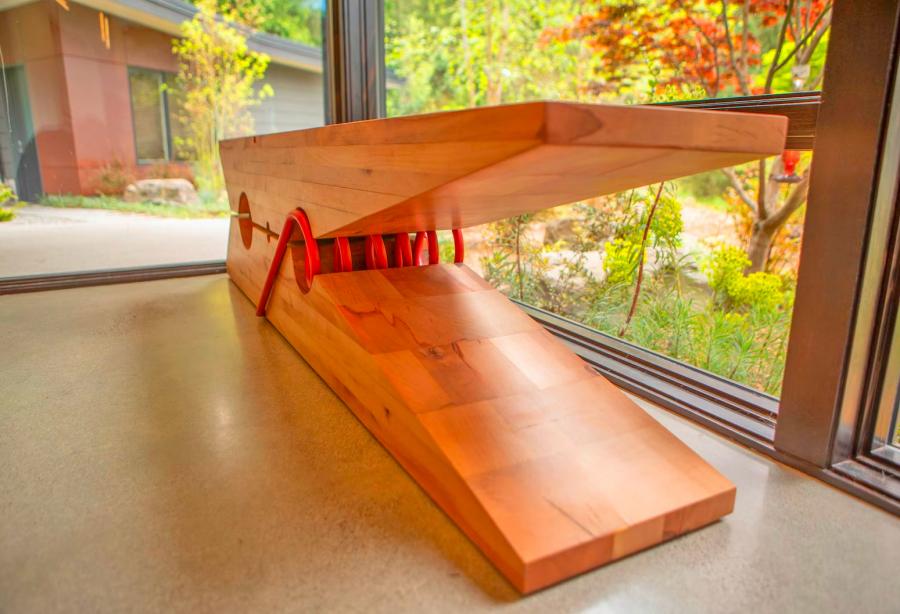 Credit: MathesonWoodwork
This massive clothespin bench measures 72 inches long 12 inches wide x 18 inches tall. The wood it's made from is also known for its durability and strength, so it won't matter where you sit on it, as it'll certainly hold your weight! Credit: MathesonWoodwork
The bench is sold by the Etsy shop MathesonWoodwork, and it's a must-have for anyone who loves unique and functional pieces of furniture. Credit: MathesonWoodwork
This bench is not your average piece of furniture, as it features a metal spring that gives it an extra touch of fun. Although the spring is non-functioning, it adds an extra pop of personality to the piece. Credit: MathesonWoodwork
The spring assembly is made of solid 3/4" thick steel round-bar and painted a custom red color, which makes the bench even more eye-catching. Credit: MathesonWoodwork
The Clothespin Bench is a custom piece of furniture, created after a client asked the makers to create a piece made from lumber found on their property. The client wanted something "different," and the bench is certainly that. It's inspired by modern and pop-art furniture and is a one-of-a-kind piece that will stand out in any room. Credit: MathesonWoodwork
The Clothespin Bench is made to order, and the makers at MathesonWoodwork take great pride in their work. They work closely with their clients to ensure that each bench is made to their specific needs and specifications. Credit: MathesonWoodwork
Whether it's the size, the wood species, or the color of the spring, the makers are dedicated to ensuring that each bench is a perfect fit for the client. Credit: MathesonWoodwork
You can choose between 6 different types of wood for the giant clothespin shaped bench, including madrone, walnut, white oak, maple, cherry, and jatoba. Credit: MathesonWoodwork
The price of the bench starts at $8,250 bucks from their Etsy shop! Credit: MathesonWoodwork
Though the price of the bench varies depending on the wood species, size, and location/shipping charges. It's a hefty price tag, but it's worth every penny for a piece of furniture that's not only functional but also a work of art. Credit: MathesonWoodwork
Although it's a high price to pay for a bench, you'll be happy knowing you're getting an extremely quality piece, as judging by their reviews, they're known for putting out a very high-quality product which all of the 5 star reviews speak for themselves. Credit: MathesonWoodwork