This Electric Inflatable Jet Ski Lets Your Kids Scoot Around The Water By Themselves
By Ryan on 09/10/2021 9:11 AM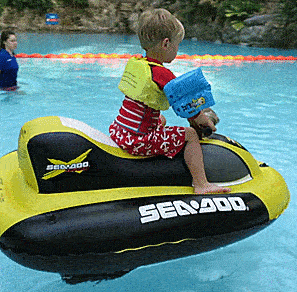 Let's paint a little picture. It's a sunny day at the lake with the fam and you're tearing it up on your hydrofoil water bicycle, while your spouse lounges and sips margs on the giant inflatable dock. Suddenly one of those annoying kids shows up and they want a turn on your ride! No way! If only there was a way to appease their little minds and get them off your case so you can go back to enjoying the day. Lucky for you, we got just the thing. Say hello to the Seadoo AquaMate inflatable jet ski!
This kid-friendly inflatable is designed to look just like a Yamaha jet ski, and it's got a battery powered motor so your kid can ride off into the sunset and leave you alone! Every purchase comes with the inflatable jet ski, a battery and charger, a puncture repair kit, and an instruction manual to help you get started.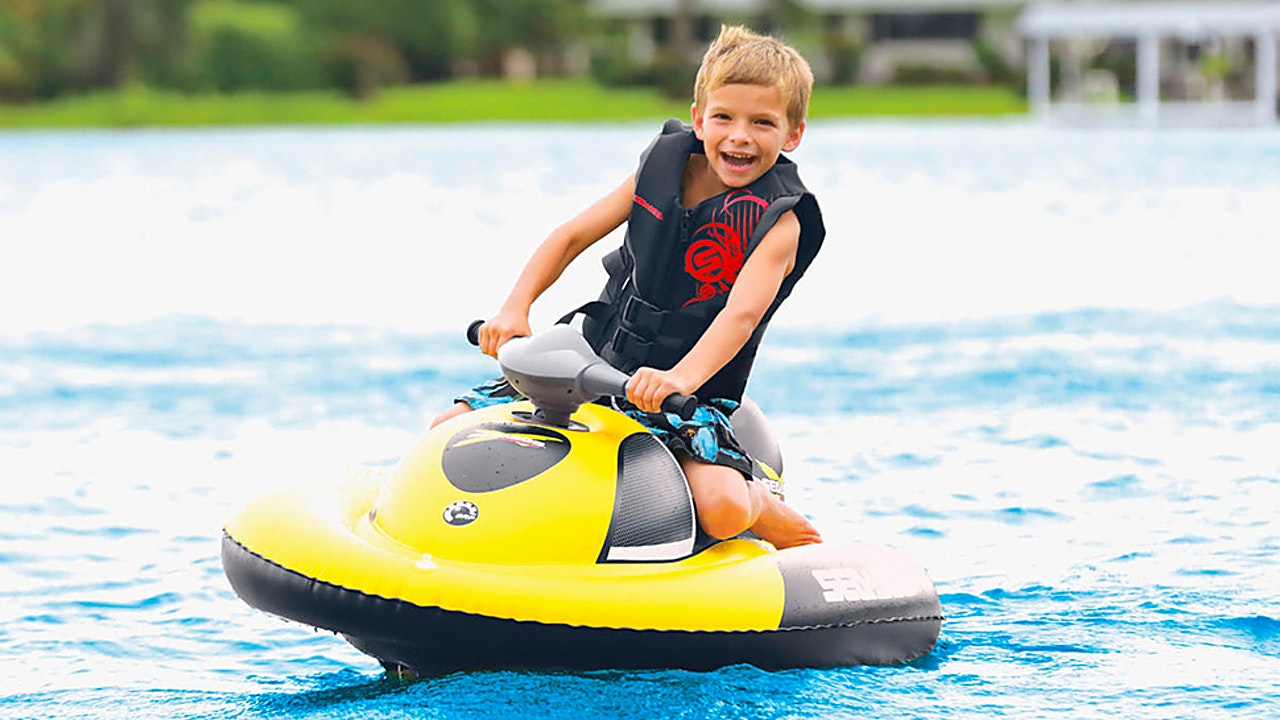 The Seadoo AquaMate inflatable jet ski can run for up to one hour on a single charge and is perfect for any kids that are 8 years old and up. The battery-powered inflatable can hold a maximum weight of 155 pounds. So tell those kids to start dieting!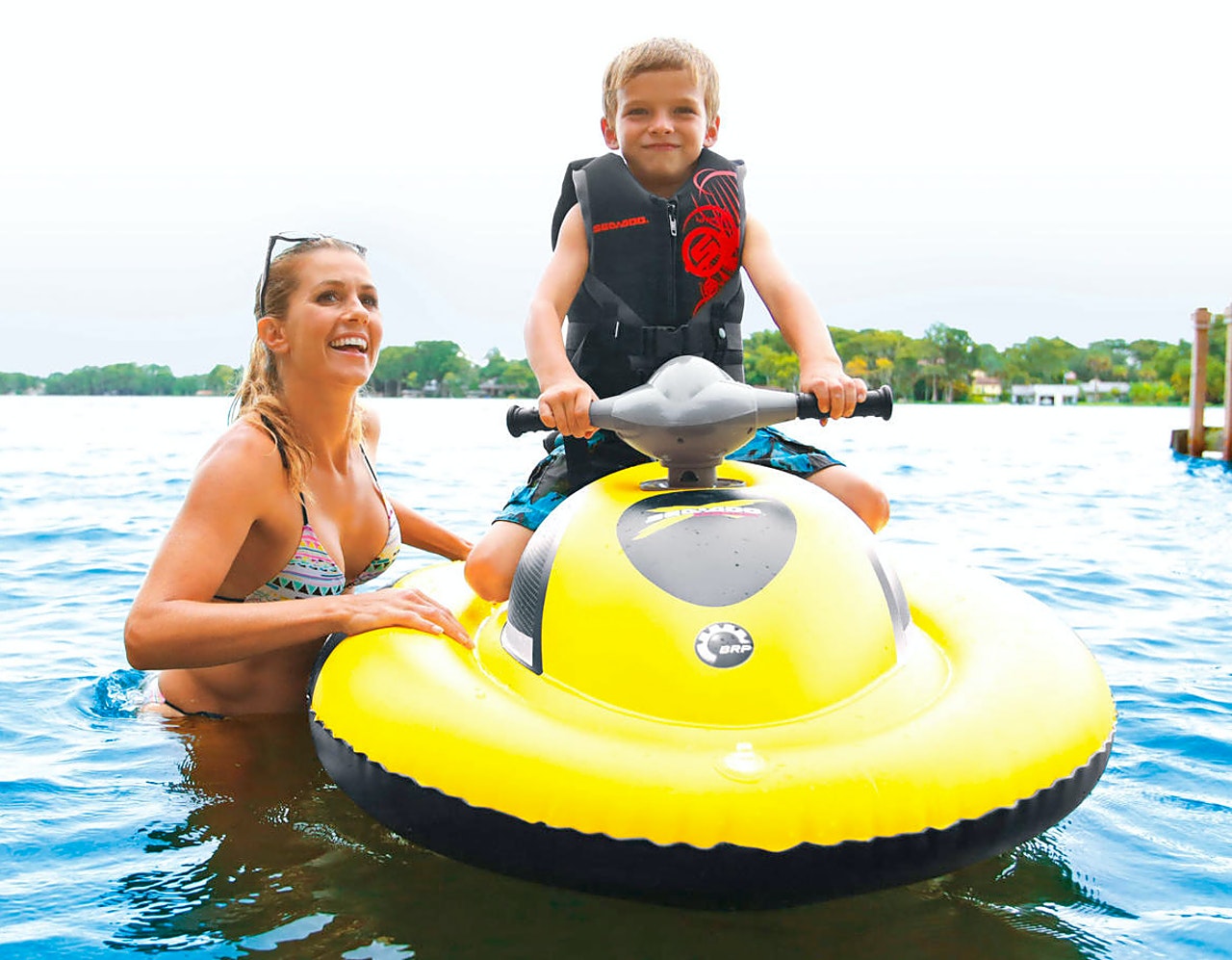 There is a long list of safety features designed into the AquaMate, including a fully caged propeller, a master switch lock and an overheating prevention system.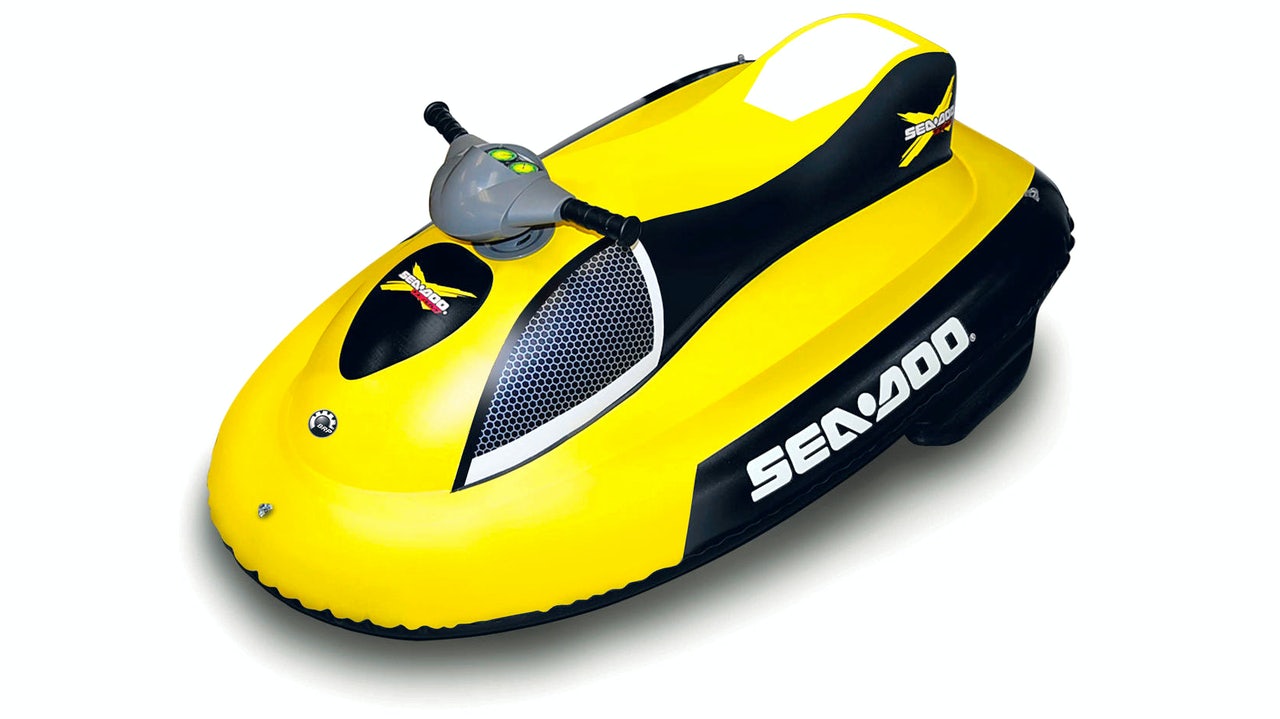 There's also a low voltage protection system, finger ingress protection system, and stall protection. There's even an auto shut off function. With all of these safety features, you can basically consider this jet ski to be an inflatable babysitter.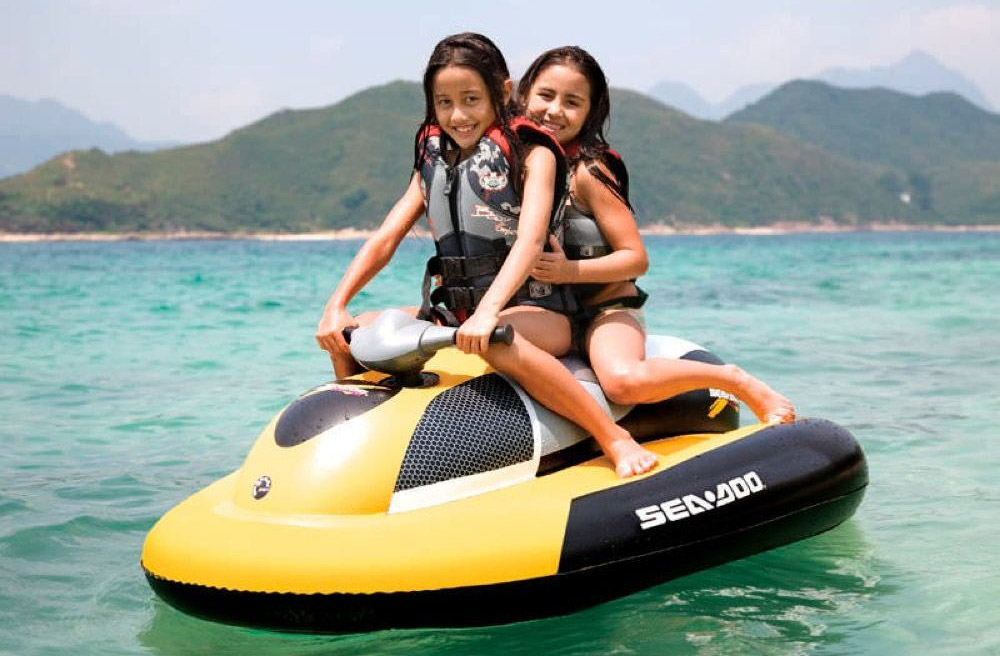 The Seadoo AquaMate inflatable jet ski only reaches speeds of 2 miles per hour, so it's not exactly a supervillain catamaran, but it's still fast enough to keep the children occupied.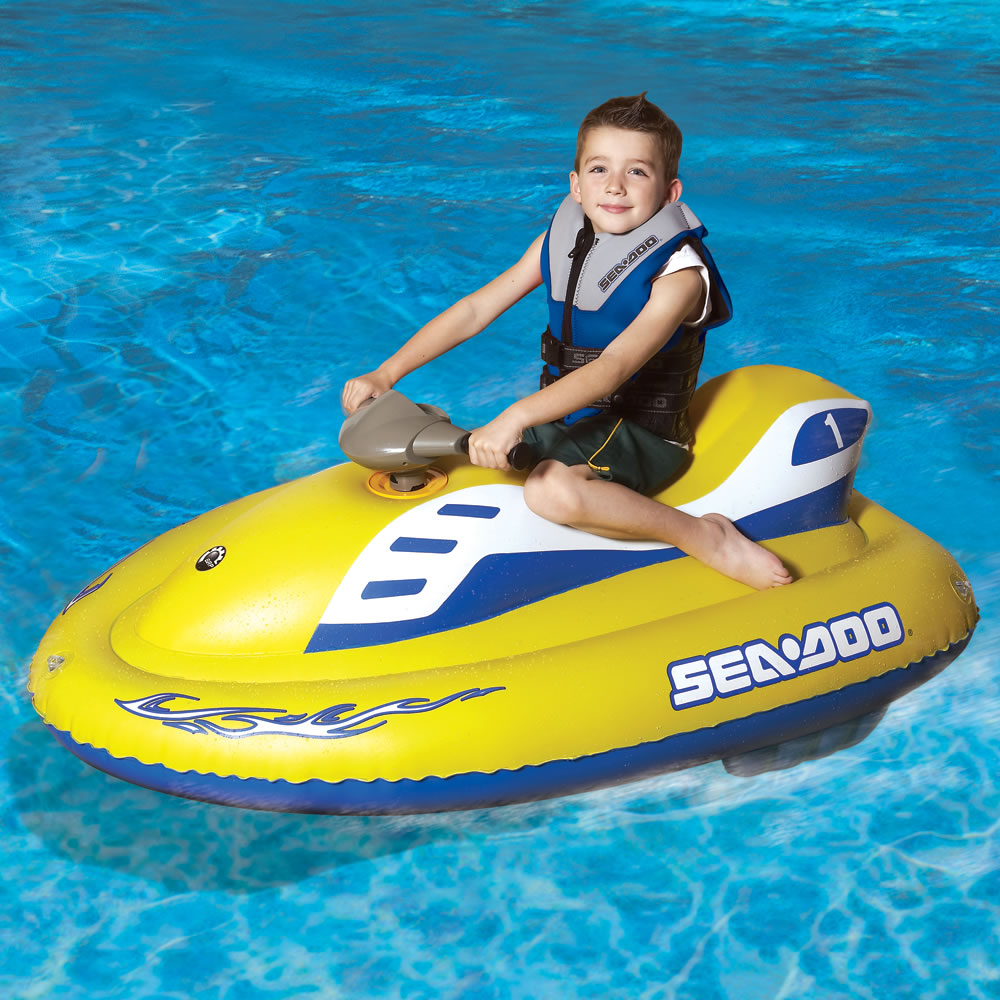 Source
The puncture repair kit is great if you have any issues with the inflatable jet ski, but if that doesn't do the trick, the company also offers a straightforward return or exchange policy within 14 days, 100 percent satisfaction guaranteed! Keep an eye out for a free shipping option too!
There's also a blue Yamaha version of the inflatable jet-ski! The Australian sellers even stock a bunch of replacement parts for the inflatable battery-powered jet ski in case something gets lost, but don't expect them to locate your missing kid when they decide to hit the high seas without you.
The Yamaha inflatable jet-ski is also powered by an internal rechargeable battery, and has a top speed of 2 mph!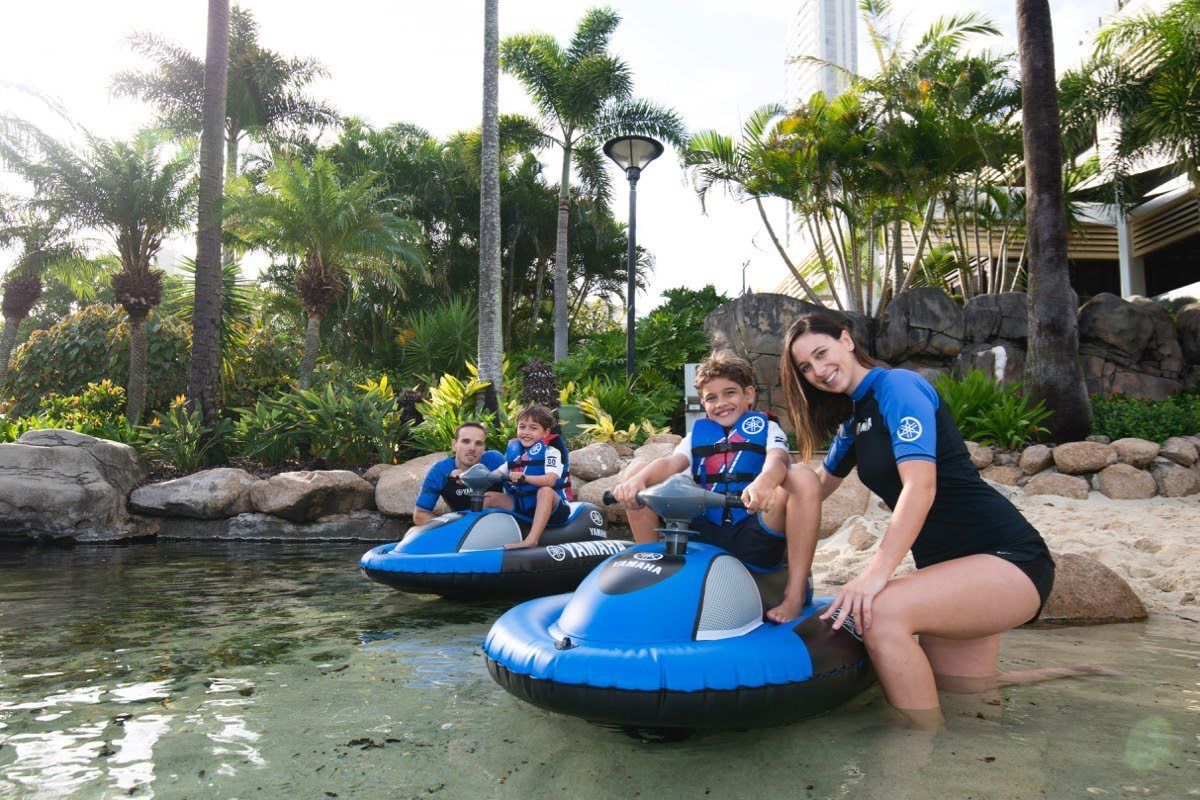 Both versions of the inflatable electric jet-ski for kids can run up to 1 hour on a full charged battery!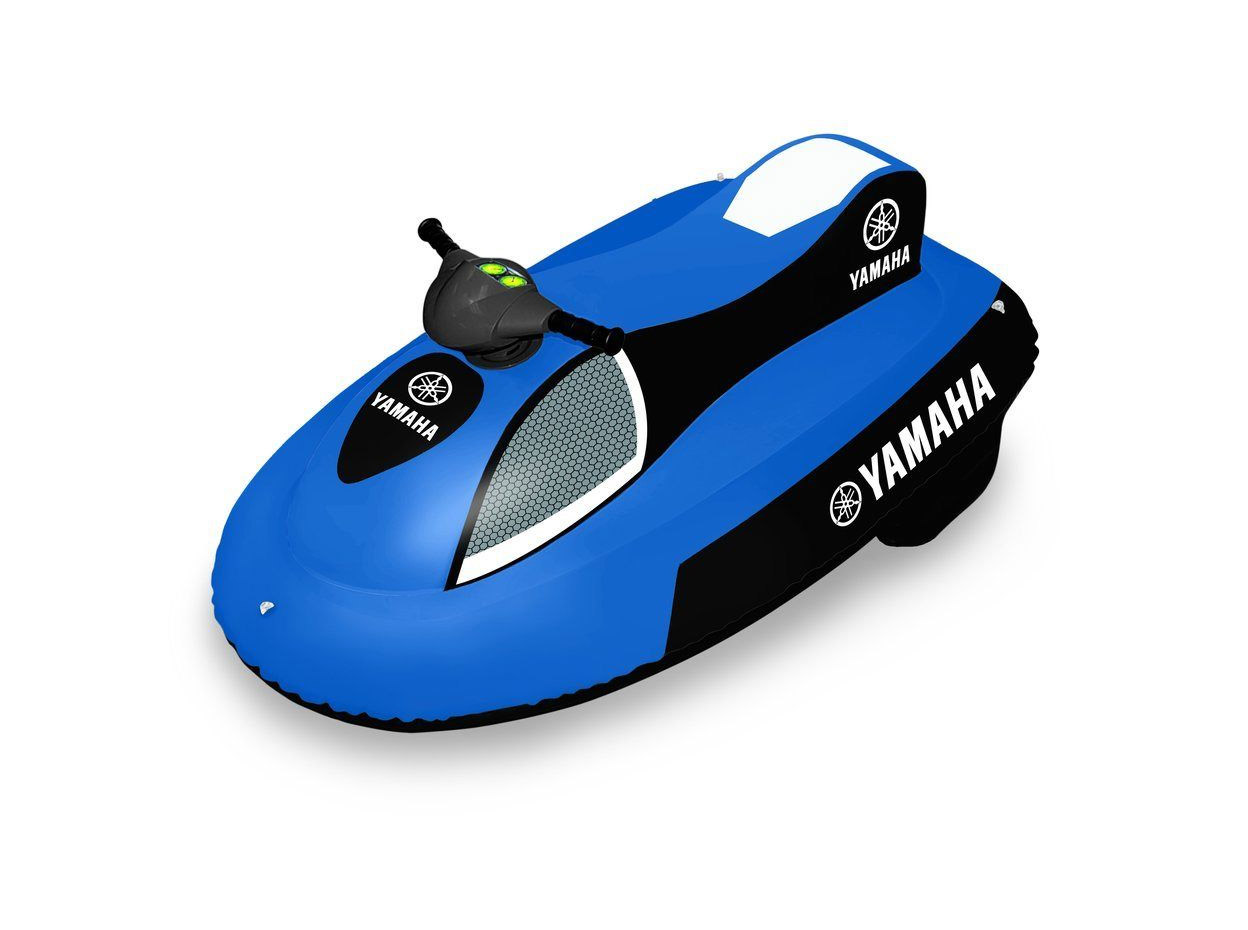 The battery powered electric jet-ski for kids is perfect for use at resorts with pools, or for use at home if you're a pool owner!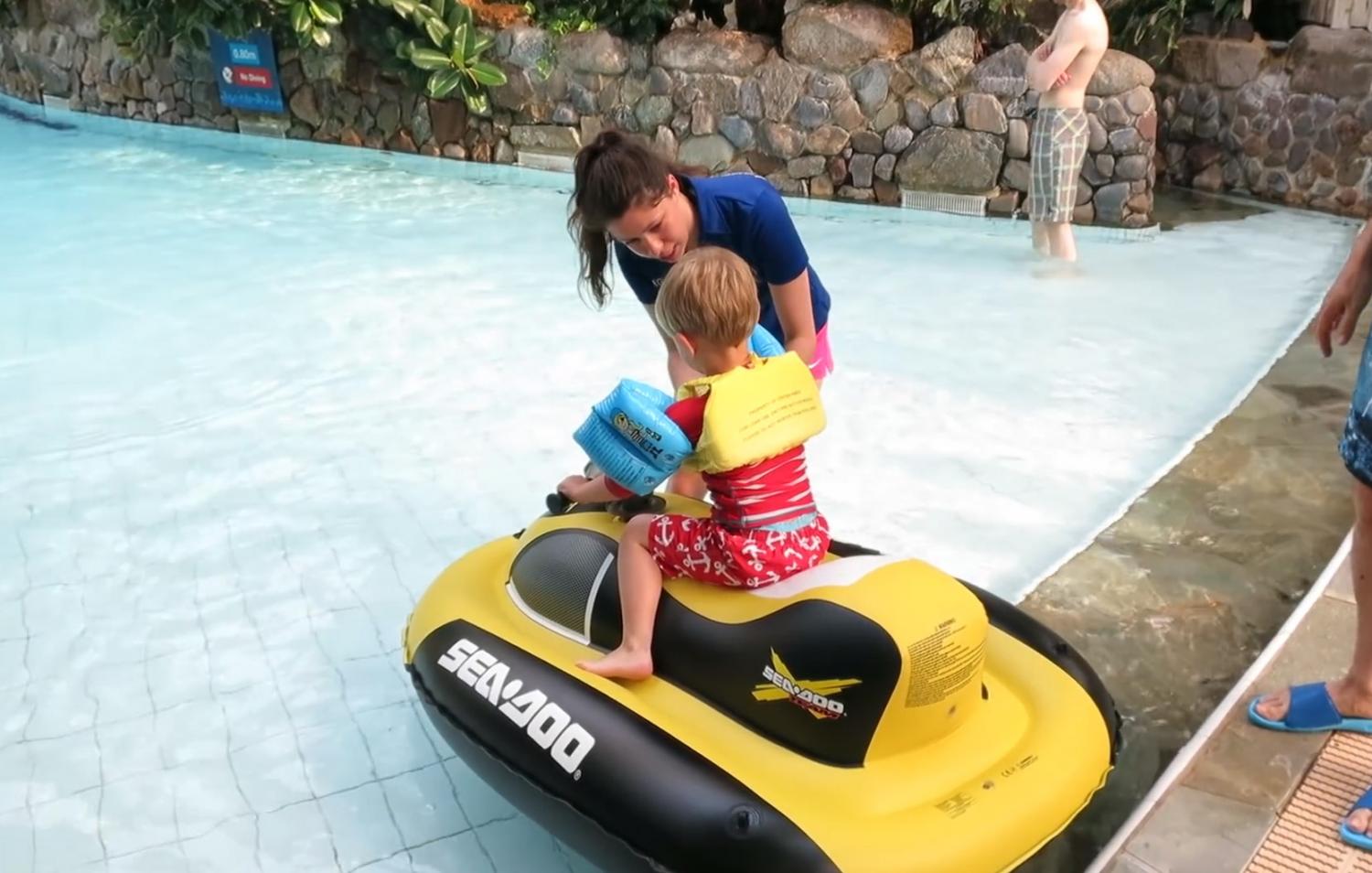 Credit: YouTube/jamesb72
Just make sure your kid wears a life jacket or some floaties while riding the electric mini jet-ski!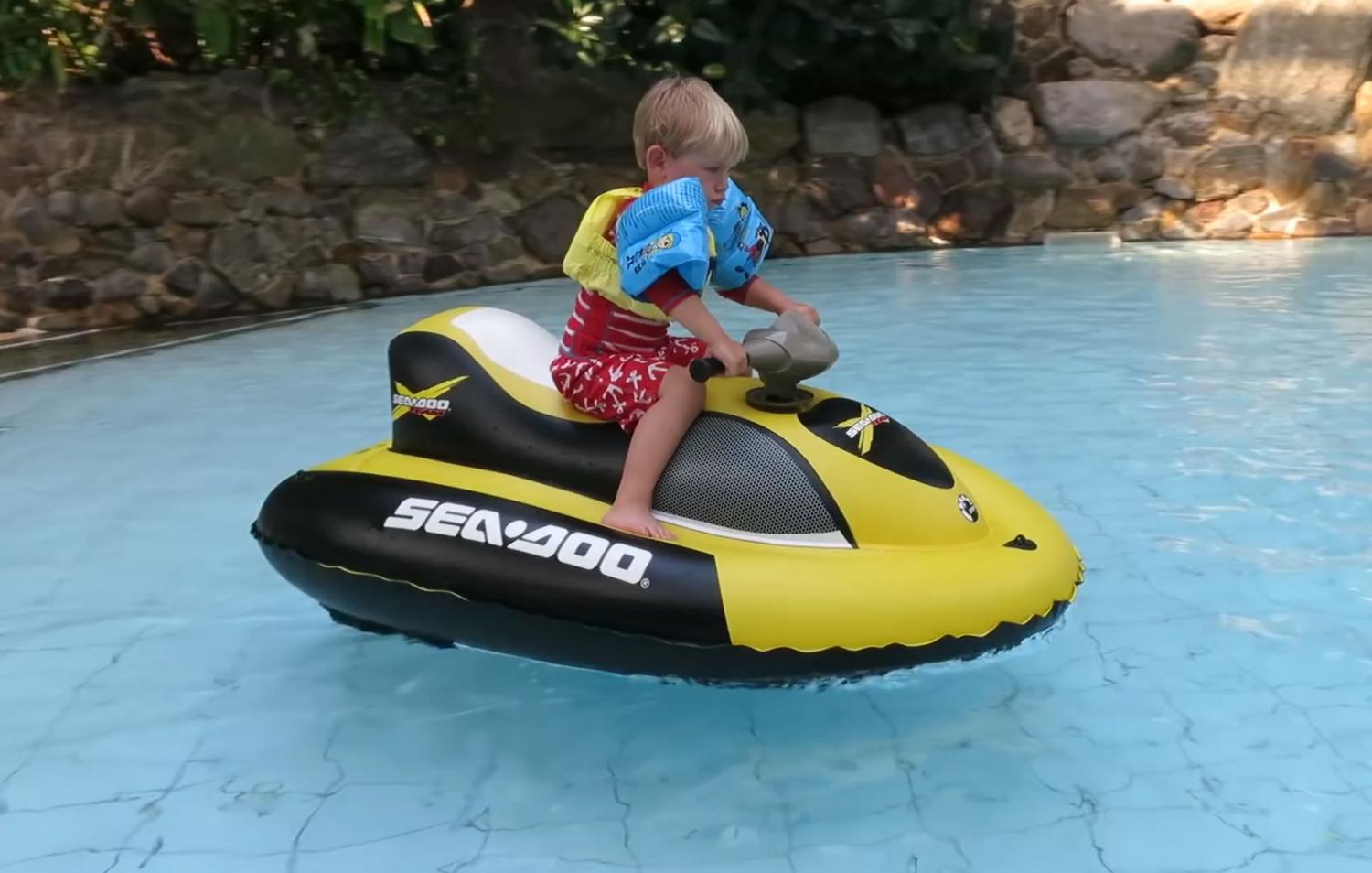 Credit: YouTube/jamesb72
If you've got a bunch of the inflatable electric jet-skis, your kids can use them like bumper boats!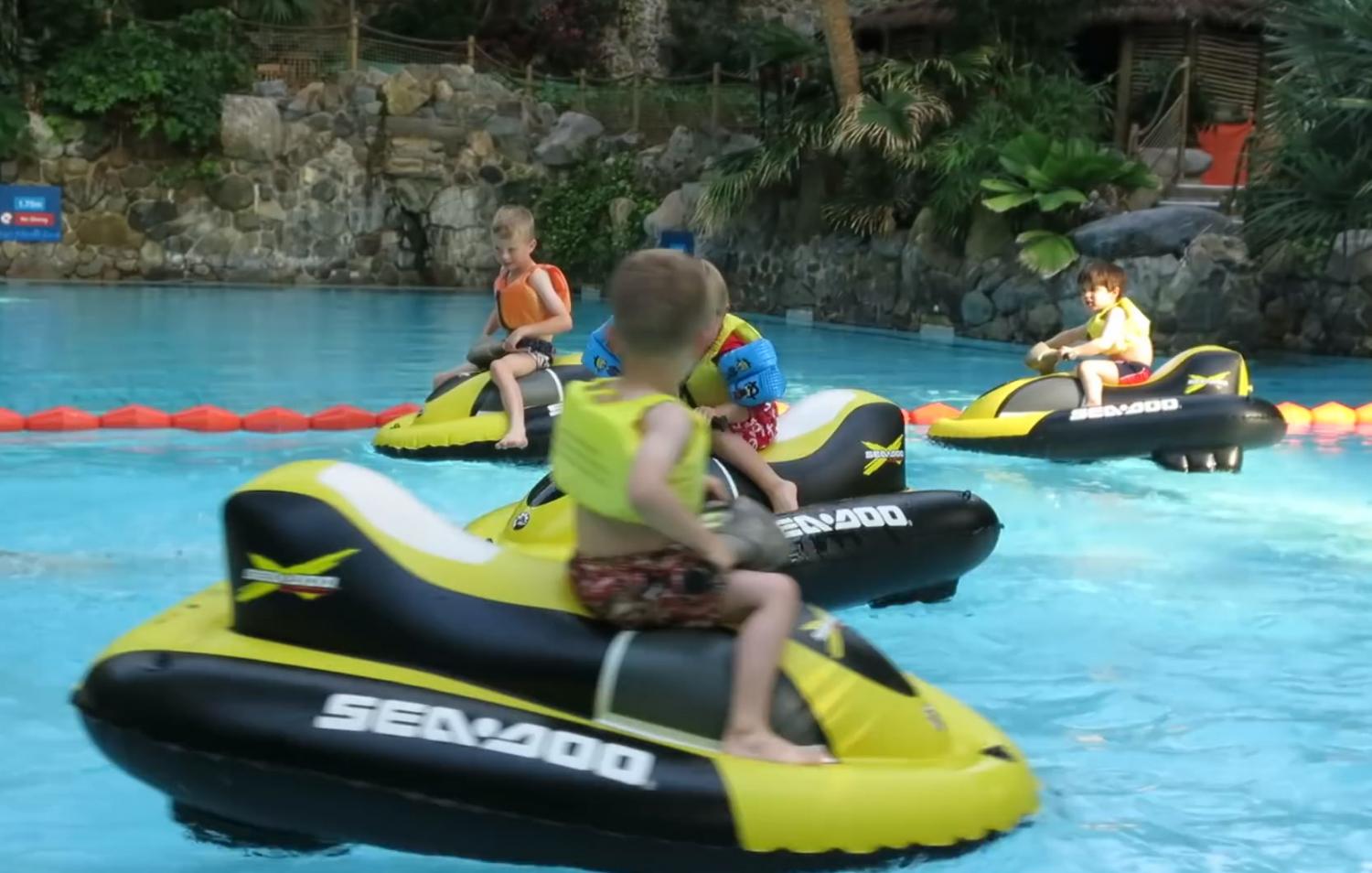 Credit: YouTube/jamesb72
The handlebars on the mini watercraft let you easily control the movement of the mini Jet-ski, plus you can also go in reverse if you get stuck!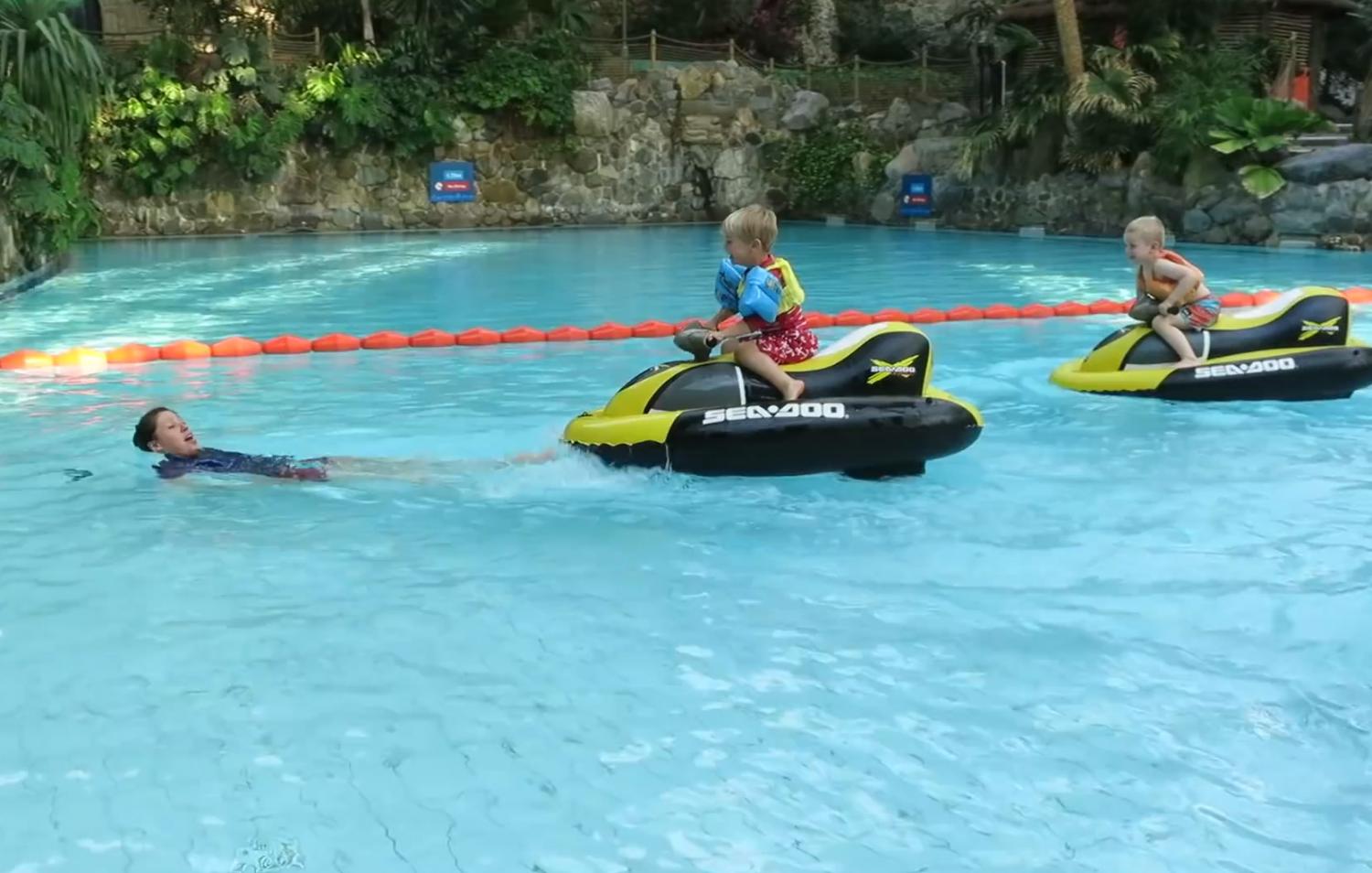 Credit: YouTube/jamesb72
Check out the electric inflatable jet-ski for kids in action via the video below.
Subscribe To Our YouTube Channel