We Found The Most Genius Japanese Gadgets You Can Actually Buy
By Ryan on 05/20/2019 3:45 PM (Updated: 05/21/2019 9:32 AM)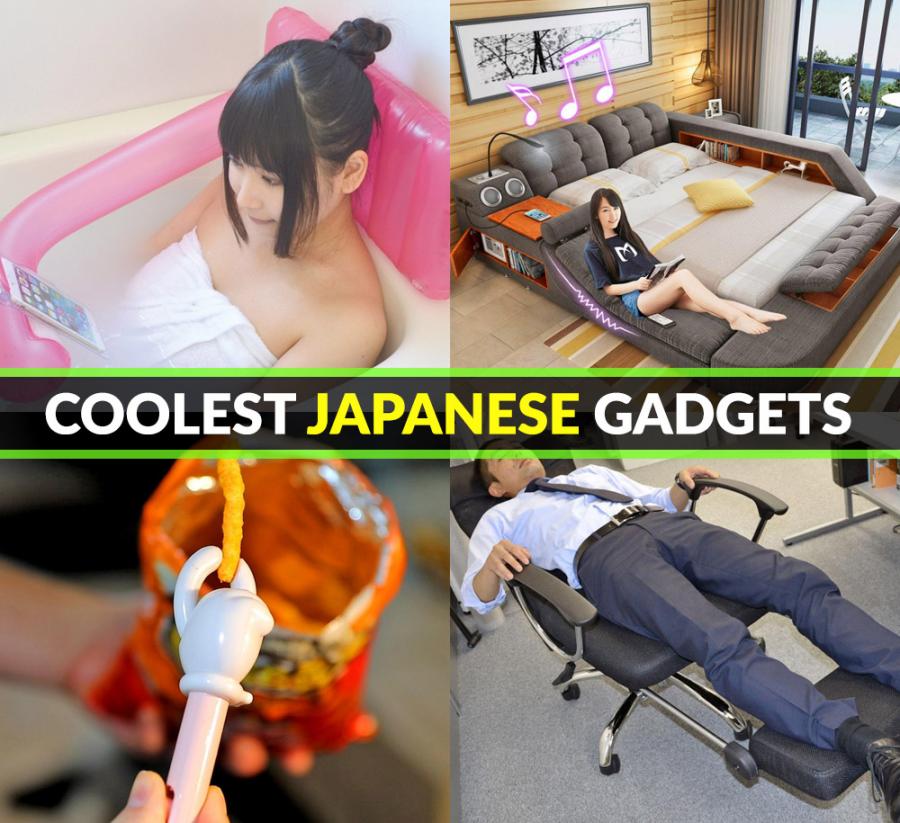 Japan will always be our spot for finding the newest weirdest gadgets on the market. Why does Japan have such an infatuation with weird unique gadgets? We may never know, but I for one welcome our new weird gadget overlords and will certainly enjoy the show as it unfolds. Below you'll find some of the weirdest, yet quite useful gadgets Japan has brought us, some new in 2019, some a bit older.
Whether you're looking to devour snacks while remaining with clean hands, keep cool and sweat-stain free on hot summer days, or just keep take a nap at the office in comfort, you'll find them all in this incredible list of the coolest Japanese gadgets.
Though, if this list is still not enough for you, be sure to check out our full gift guide of all the odd and unique Japanese gift ideas you could possibly ever want or need.
Pongtu Sticker Toilet Plunger Unclogs Toilets By Pushing Down On Bubble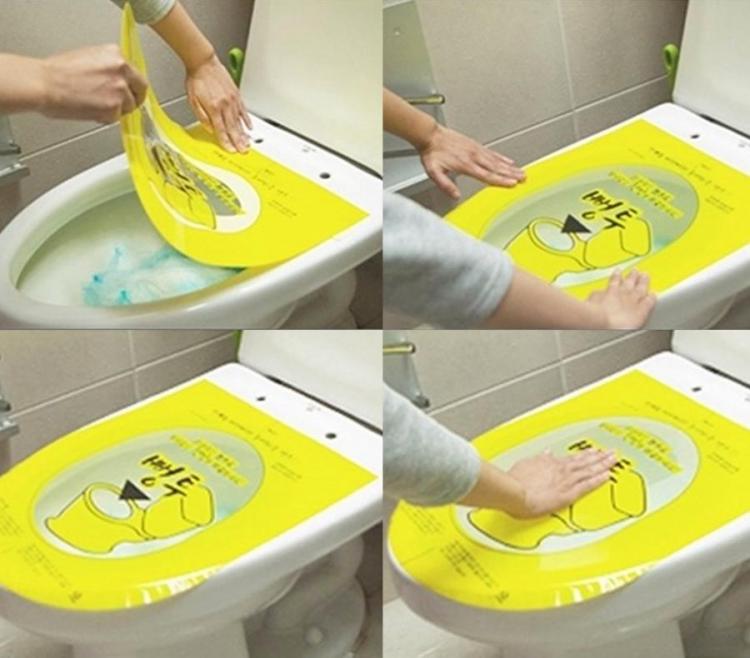 Just stick it onto your toilet and press down on the center over and over to release any clog. No more poop-juice flying up in your face compared to using a plunger.
Japanese Lay-Flat Office Chair Lets You Lay Down Flat For Naps At The Office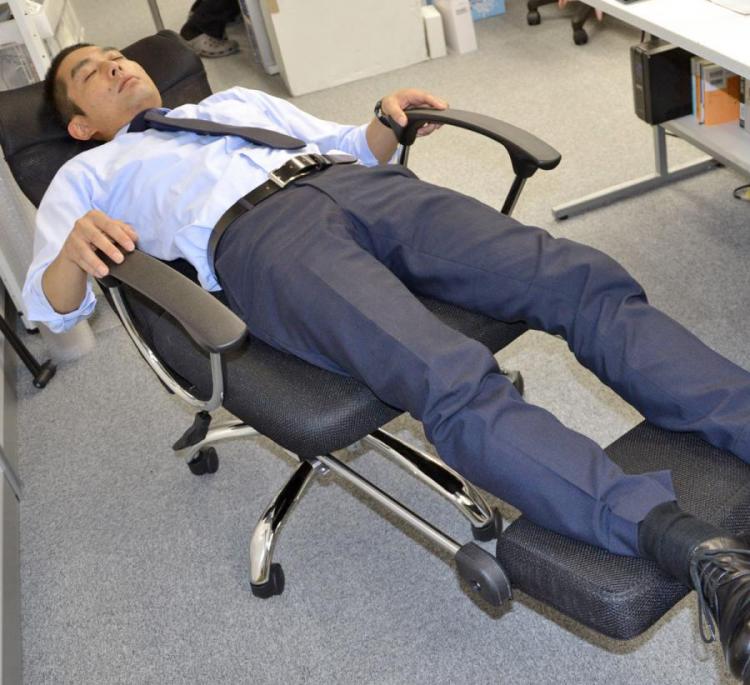 Take that boss-approved afternoon nap by never leaving your desk chair. No need to cuddle under your desk anymore.
Get it here >>> | Find it on Amazon
The Ultimate Bed With Integrated Massage Chair, Speakers, and Desk (Smart Bed)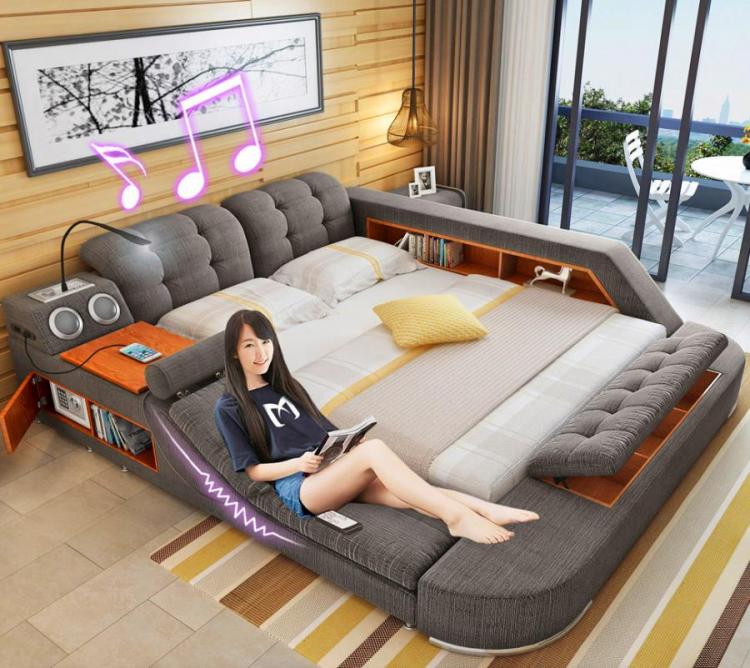 Why leave bed when you have almost anything you need right here with the ultimate bed.
Get it here >>> | Find it Amazon
Office Chair Cooling Cushion - Air-conditioned desk chair add-on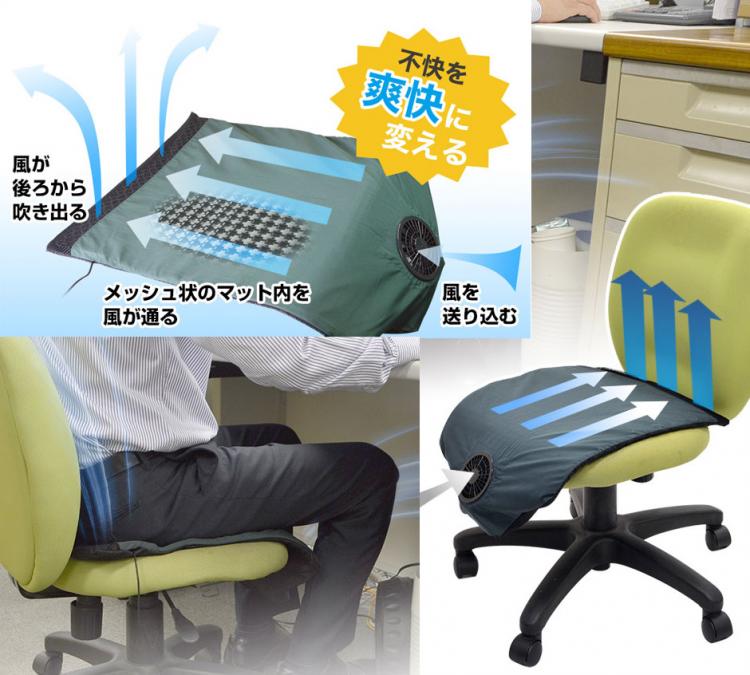 No more sweaty caboose while at work. No more embarrassment after coworkers see your butt sweat line on the way to get a coffee in the break room. It plugs right into your computer, and blows cold air under your seat and back.
Get it here >>> | Find it on Amazon
Hand Shaped Potato Chip Grabber Arm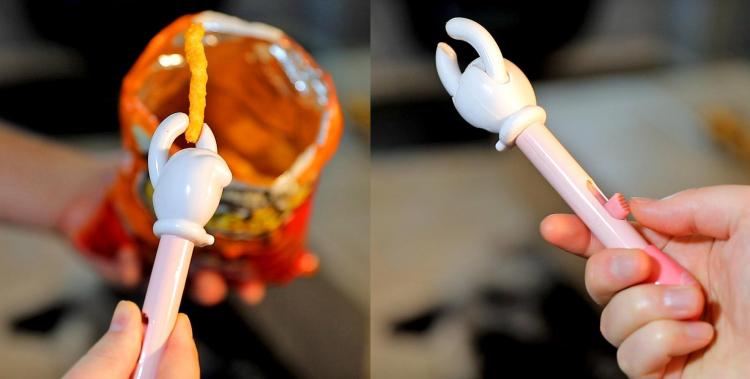 No more cheeto fingers when you have this genius Japanese gadget doing all the heavy lifting for you. Just press the button and it'll grab a chip and deliver it to your face without getting your hands dirty.
Giant Plush Teddy Bear Sleeping Bag Bed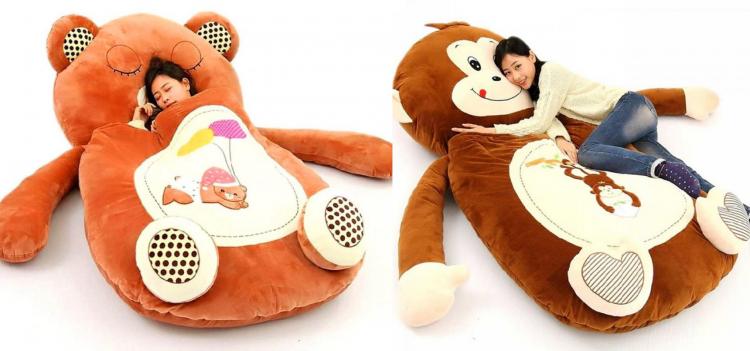 Where was this when I was a kid? A great spot to sleep during sleepovers, or out camping. Is there an adult version?
Get it here >>> | Find it on Amazon
Giant Pair Of Paints Two-person Sleeping Bag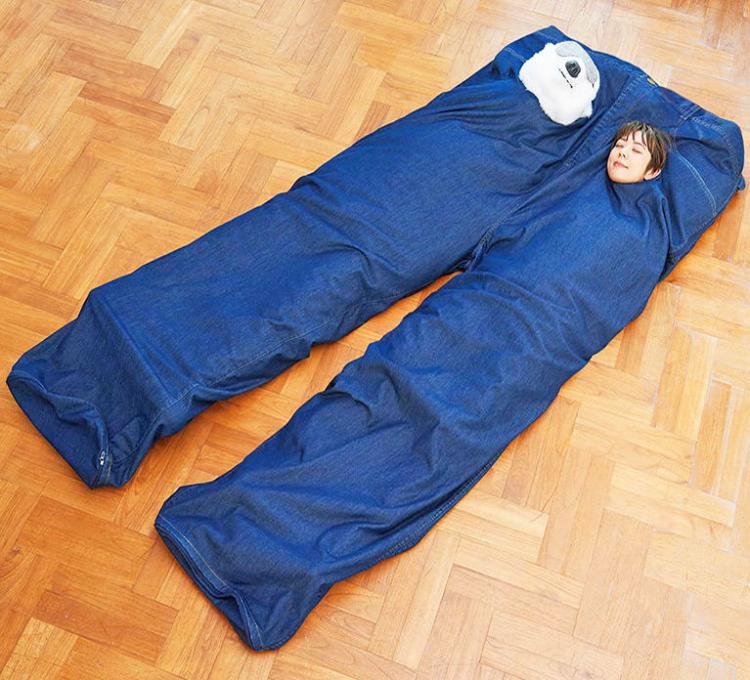 Thank you japan for being so weird. Nowhere else in the world would humans think of making a giant pair of jeans and turning them into a dual-sleeping bag.
Get it here >>> | Find it on Amazon
Plush USB Powered Mouse Pad Hand Warmer For Cold Offices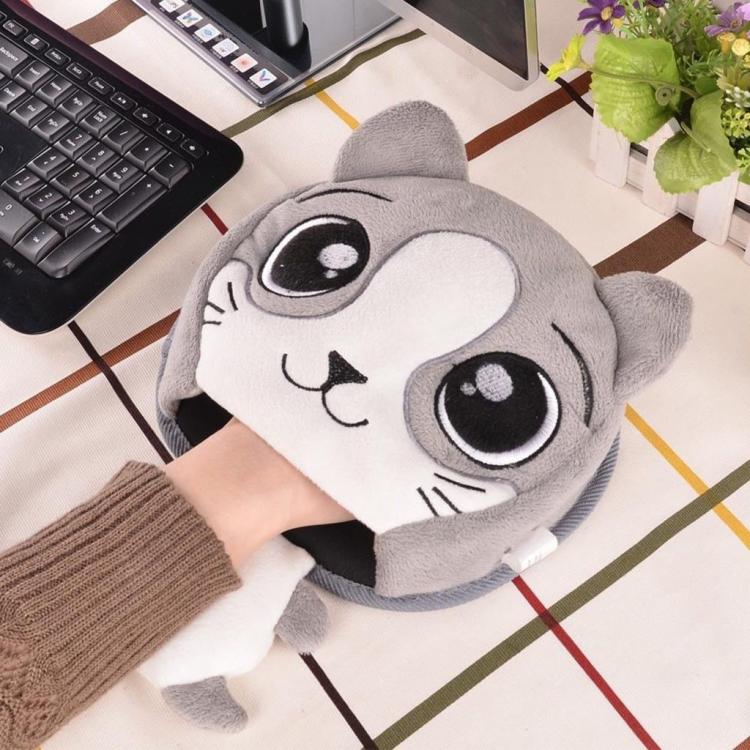 If your office is like mine, they apparently don't use any heat, and instead use the heat from bodies that consume the office to warm the building. This leaves my hands feeling like icicles in the winter, which makes using a moues or keyboard with any sort of precision nearly impossible. This unique heated mouse pad encloses your into a nice toasty cave of warmness, and it connects to your computer or laptop via USB to provide heat to the top of your hand while using your mouse.

Dual Dog Exercise Treadmill Lets You Exercise With Your Pooch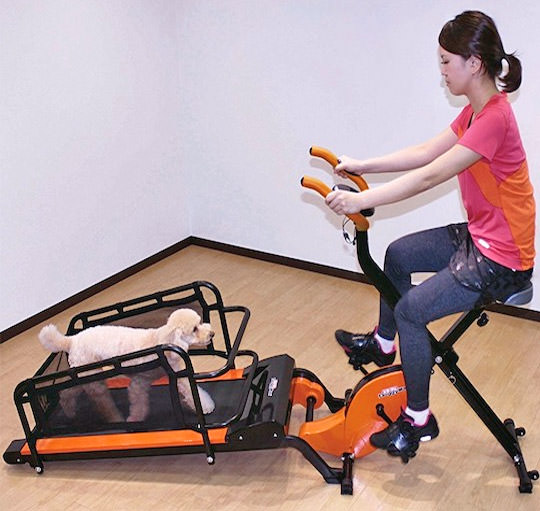 When it's raining outside, or just too hot or cold out, sometimes you just can't go outdoors to exercise with your dog on a run or a walk. This unique dual-exercise bike/treadmill lets you work-out with your dog. As you pedal the stationary bike, the treadmill will move at the same speed your pedaling, so you can easily adjust the speed of the treadmill to your dogs running preference.

Get it here >>> | Find it on Amazon
Tie With a Built-in Cooling Fan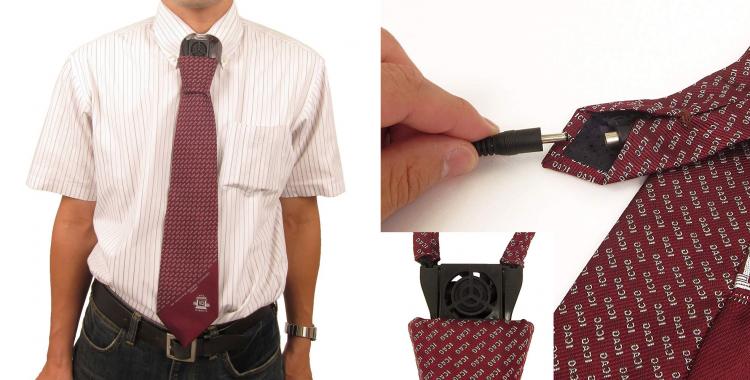 Japanese summers are hot, and if your place of work doesn't have an air-conditioned office, you may need a genius gadget that cools you down on your own. This tie has a built-in fan into the neckline that keeps you cool on those extra hot days.
Fake Seat Belt T-Shirt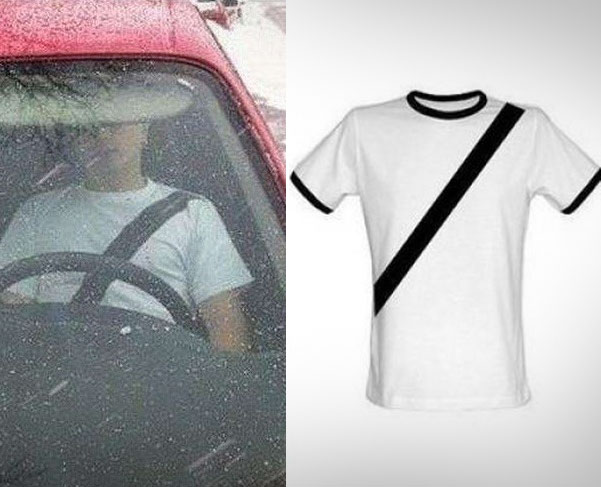 Do you enjoy the risk of death each time you drive you car? For those that just can't seem to remember to buckle their seat belt, or like to live life dangerously, this unique Japanese shirt is designed to make it look like you are wearing your seat belt when in fact you are not.
Japanese Nose Trimmer That Attaches To Your Smart Phone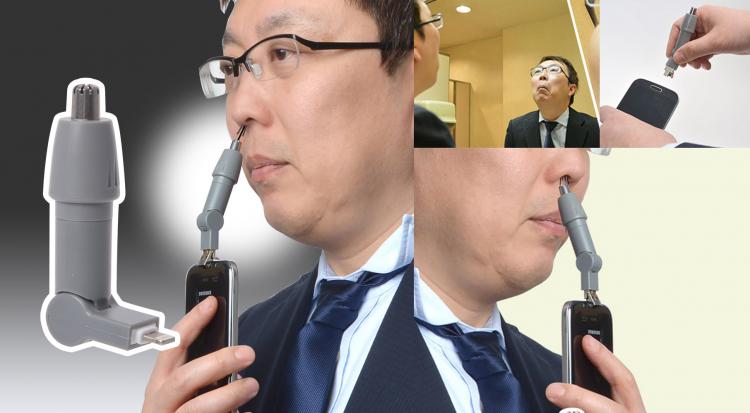 Need a nose trimming on the go, Japan has you covered with this delightfully unique gadget that attaches right to your smart phone that trims your nose hair using the power right from your device.
Get it here >>> | Find it on Amazon
Earwax Finding Endoscope Connects To Your Smart Phone For Easy Viewing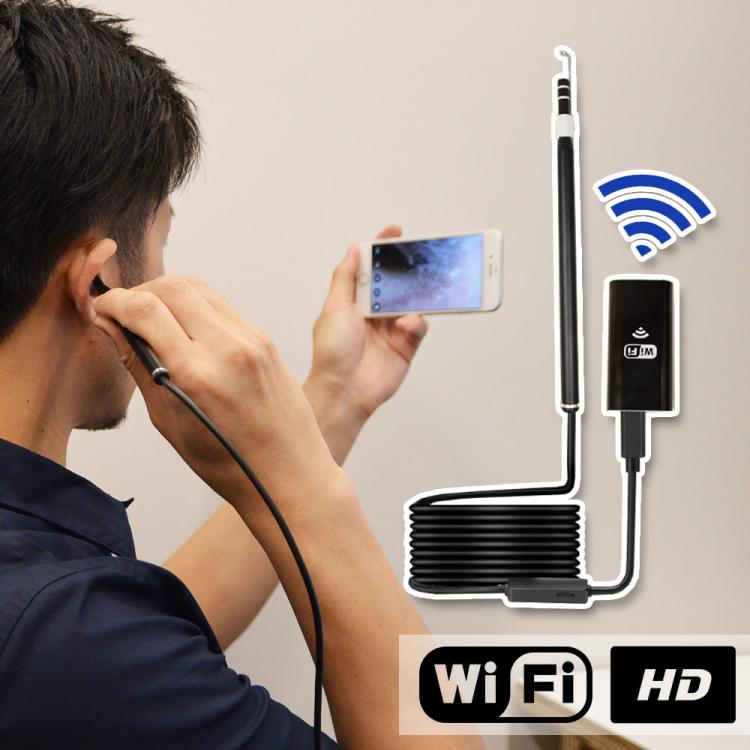 Need to get a good look at the inside of your ears? Maybe you have a build-up of earwax that needs removing, or maybe a bug crawled in there and layed some eggs... Whatever your reason is, this unique Japanese gadget helps you see just what's inside your ear and uses your smart phone as a viewing screen.
Get it here >>> | Find it on Amazon
Suction Cup Extendable Mirror Lets You See The Back Of Your Head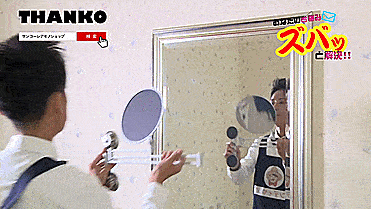 Need to get a good look at the back of your head on the go? This travel mirror uses suction cups to attach to any mirror and extends out so you can get a look at the back of your head.
Get it here >>> | Find it on Amazon
Wrinkle Removing Travel Dryer - Dries Shirts and Socks Extremely Quickly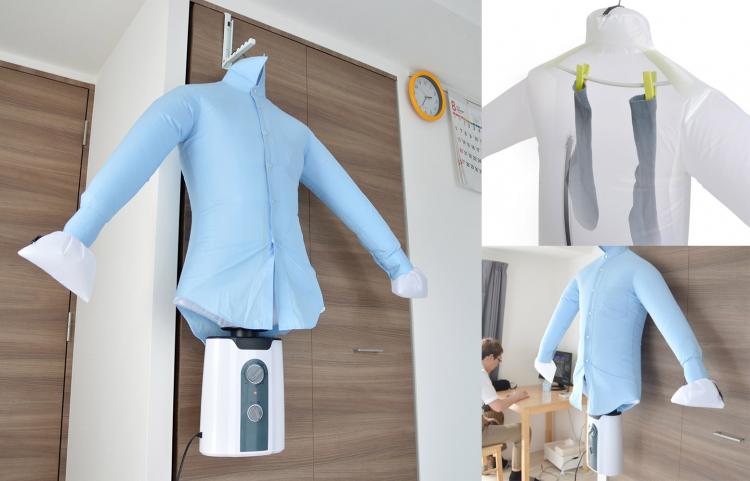 When you travel, your shirts get wrinkly. It's a fact. This unique Japanese travel gadget lets you dry your shirts and socks extremely quickly and efficiently, while simultaneously removing the wrinkles from your dress shirts.
Get it here >>> | Find it on Amazon
Japanese Cat Face Massaging Roller Tool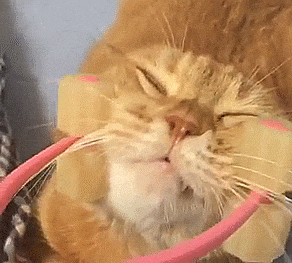 Your cats require a face massage at least once a day. That's why Japan has invented this ingenious cat face massager. It takes the work of giving your cat a face massage away from your fingers, and into this great rolling tool.
This Inflatable Bath Pillow Holds Your Phone While In The Tub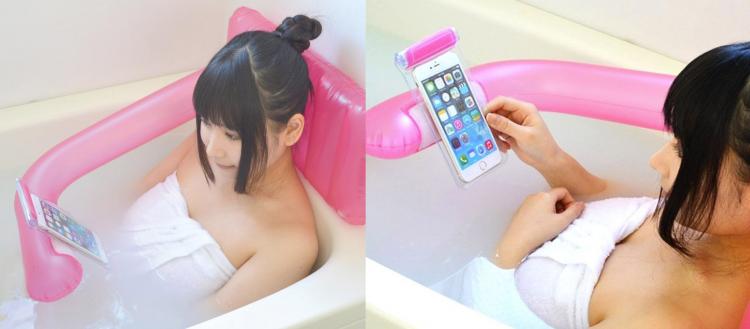 Who has the power to hold up their phone when trying to relax in the tub? No me... This unique inflatable pillow not only holds your phone in place so you can browse the internet or watch videos, bit also comes with a waterproof sleeve as to not damage your phone if it gets wet.
Get it here >>> | Find it on Amazon
Armpit Fan Connects To Inner Sleeve To Keep You Cool On Hot Days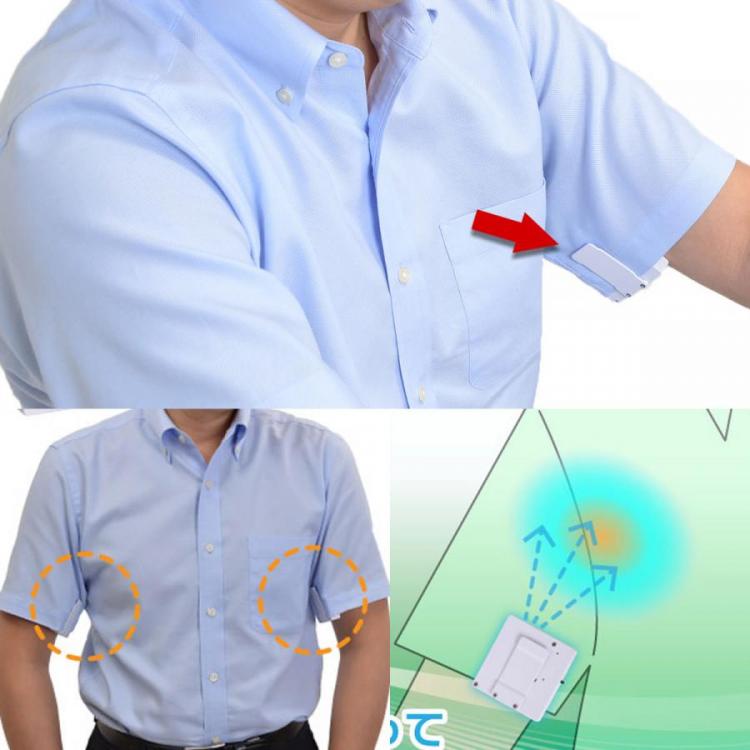 Nobody wants a puddle of sweat showing through their shirt while at work on hot summer days. Luckily Japan has brought us another great invention with these brilliant armpit fans. Would you rather look like a fool by having drenched armpits, or having two fans stuck in your pits? Your decision.
Get it here >>> | Find it on Amazon
Remote Controlled Garbage Can Lets You Bring The Trash To You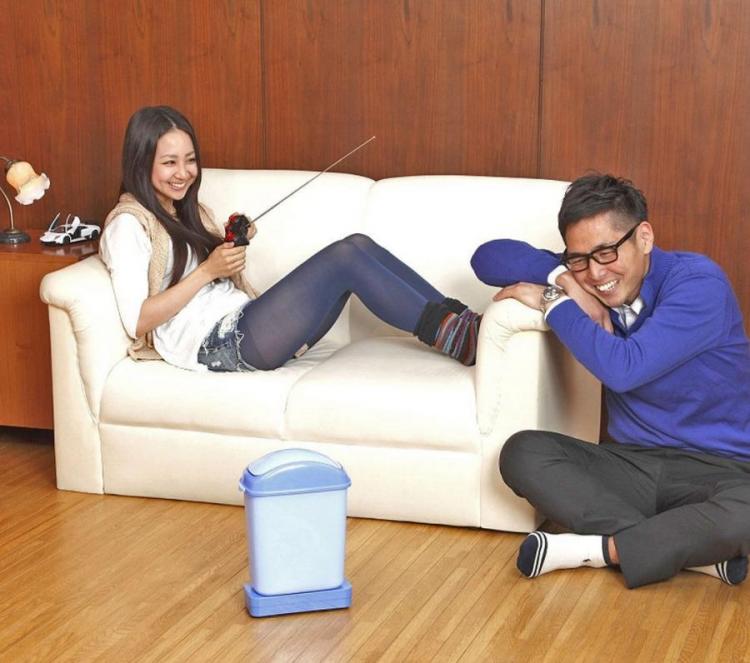 Why walk all the way to the trash when you can bring it to you. This mini remote controlled garbage can lets you delivery the trash to you on wheels using a little remote.
Easiest Sushi Rice Cube Maker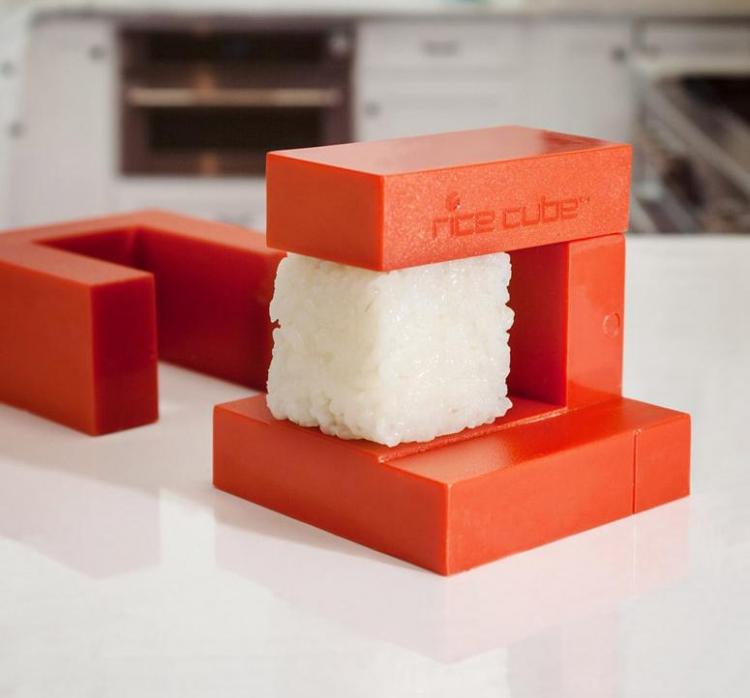 The rice cube is a contraption that will assist you in making rice in a cube shaped form, and will help you make sushi using plain rice, with no sticky rice required. This will cut down on calories and time, plus you won't need to use any nori seaweed to keep the rice in place.

Japanese Sleeping Bag With Legs Sleeping Bag Onesie Jumpsuit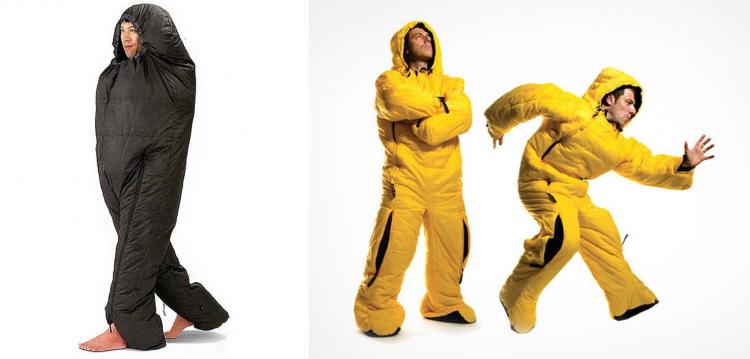 What happens when you are camping and you want to get up and walk around but it's cold out? You stand up in your sleeping bag and start hopping around, right? Well, you look like an idiot! But not anymore! The sleeping bag with legs allows you to wear a sleeping bag and walk around normally, and look cool while doing it.

Giant Tiger Head Backpack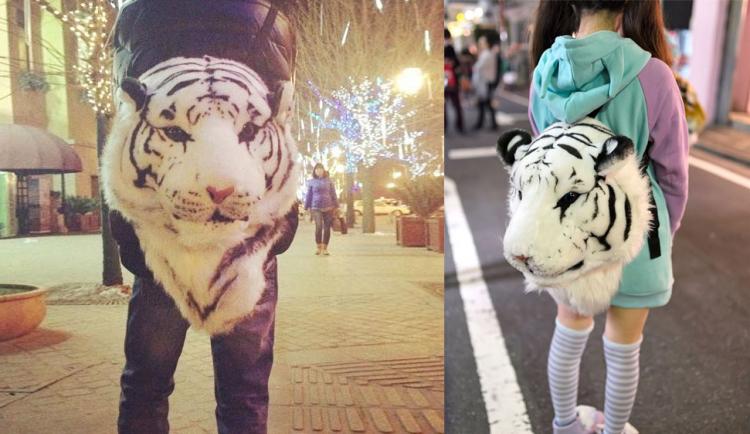 No one really needs a tiger head backpack, but who wouldn't want one? The giant tiger head backpack is a backpack that you can wear to store your tiger related goods in, and as an added bonus it doubles as a giant tiger head mask that you can wear on your face and scare people!

Hand Shaped Head Holder Makes For Better Posture and Naps At Work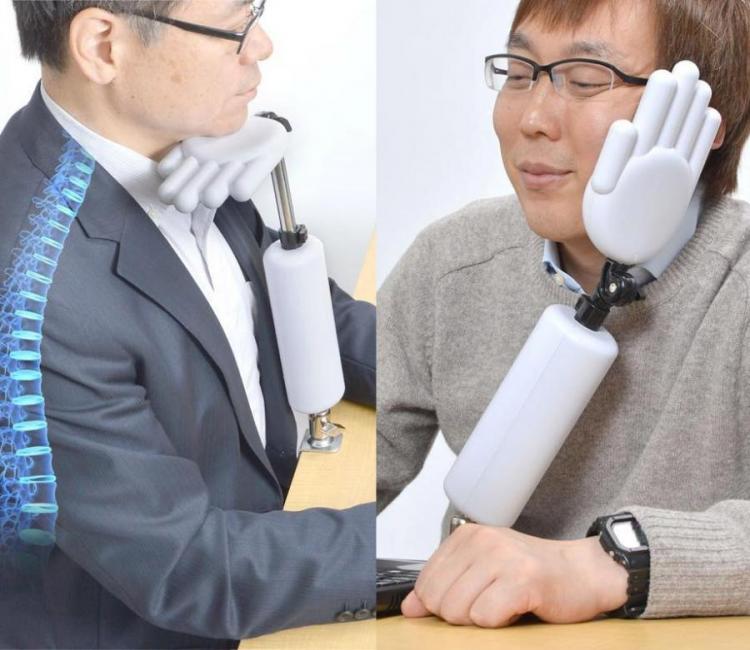 This weird little gadget from Japan attaches to your desk at work or home and will hold your head up for you while you work or take a nap. If you find yourself too lazy to hold your own head up, it would probably be recommended to stop working and take a nap as you probably won't get too much work done with that kind of energy. But if you just have to carry on, simply attach this creepy little desk hand to the base of your desk and let it float your head in the air while you nap or get some work done.

Get it here >>> | Find it on Amazon
Slice Of Bread Adjustable Chair Remember those whistle chairs in elementary school that you could sit in a bunch of different ways, and you'd look forward to them all week? Well this bread chair is really nothing like those, but for some reason made me think of them. The sliced bread chair is just that, a seat that sits right on the floor that basically looks just like a slice of bread. Better yet, the bread chair is completely adjustable so that you can use it as a chair if you'd like to sit up, or lay it completely flat if you'd like to lay down... on some bread.

Plush Pikachu Body Cushion Protects Your Wrists While You Type At a Desk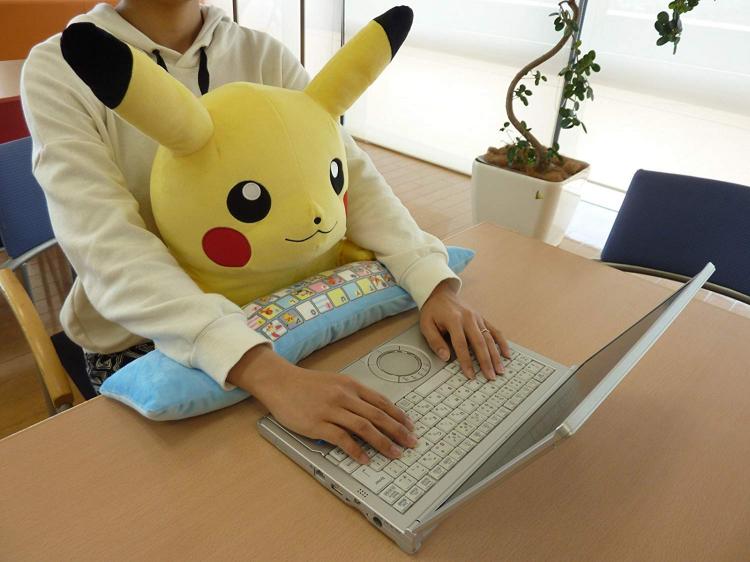 Japan is back at it again. I think they are just in a constant grind of trying to figure out the weirdest products they can bring to market. This time around it's these unique creature cushions that you're supposed to hug while you're at your computer and they're supposed to protect your wrists from getting fatigued while you type.

Easy Japanese Sushi Roller Makes Perfect Sushi Rolls Every-time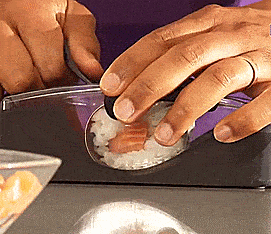 Sure, you could always go out and get some sushi that's already made, but that gets expensive. So you might as well make your own. And if you want to make perfect sushi rolls every time check out this easy Sushi Roller. In fact, you can use it for any rolled food, not just sushi.
Prank Piggy Bank Makes It Look Like You're Shredding Your Money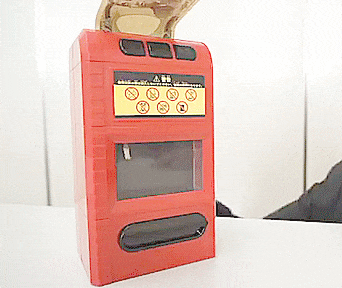 Similar to how the money maze piggy bank makes you solve a puzzle before withdrawing your money, this prank piggy bank is also a unique way to store your money, and even better if you're using it to prank a friend or family member. The way it works is, you insert your cash into a slot that electronically takes it in similar to a vending machine, meanwhile a window on the side of it will show some shredded paper falling down, which makes it look like your money is being shredded.

Japanese Air-Conditioned Clothing With Built-In Fans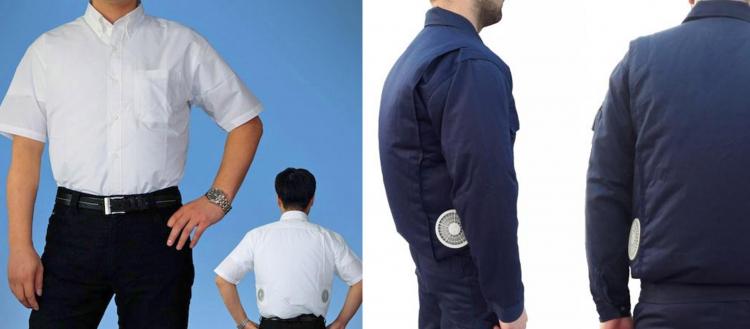 If you're like me, just reading a book makes you sweat bullets in any room above 70 degrees F. If you don't happen to have control of the air-conditioning at your place of work, or it's just an extra-hot day out, one of these unique air-conditioned shirts might be your best friend. The company Octocool (Kuchofuku) makes clothing that features integrated fans to help you keep extra cool on the job or outdoors.

Get it here >>> | Find it on Amazon
Hungry Dog Piggy Bank - Coin Eating Dog Piggy Bank
Looking for a fun and unique way to store you coins! This hungry dog coin bank is just the thing. Just insert a coin into the dogs bowl, and the hungry dog will automatically start scarfing the coin down. Meanwhile the coin falls into a storage box down below where you can retrieve them when you're ready to cash in.

Still not enough? Check out our full unique Japanese gadget gift guide.
Subscribe To Our YouTube Channel