Bowl Of Ramen Noodles Phone and Tablet Dock
Date Published: 09/17/2014 5:21 AM
If the old Ramen Bowl iPhone Dock wasn't weird enough for you, maybe this one will spark your wtf-o-meter. This Bowl of Ramen phone dock is a phone stand that actually puts your phone or tablet into a fake bowl of ramen noodles for really no reason other than to make you look like a complete weirdo, but that's apparently what you're going for, assuming you have bought this strange item. Perfect for those that embrace their weirdness, dirty hipsters who can only use things if no one else has it, or maybe you're just a huge fan of soup, the ramen noodles phone dock is an extremely realistic replica of the Tokyo Style Chuka Soba dish.
SITE ANNOUNCEMENT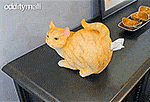 We Are Giving Away 6 Cat Butt Tissue Dispensers
The Ramen Noodle phone dock is made in Japan (obviously) from vinyl chloride and pottery, supports phones and tablets, and measures 7.9 inches in diameter x 4.1 inches tall.