This Bicycle Camper Features an Mobile Livable Space For One
By Ryan on 01/05/2023 2:35 PM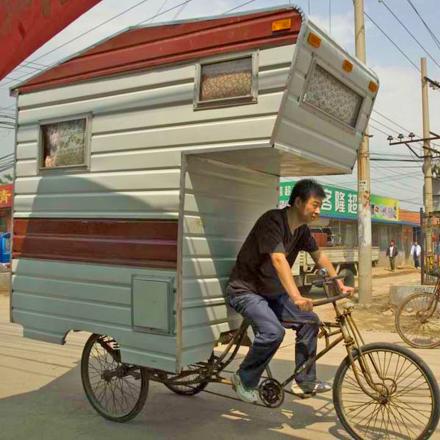 If you're a fan of both cycling and camping, you're probably going to love this Bicycle Camper by artist Kevin Cyr. This unique and innovative creation combines the fun of bicycling with the convenience of a camper, all in one package.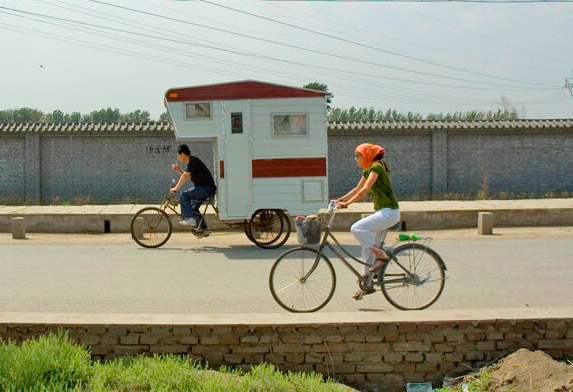 Credit: KevinCyr
The Bicycle Camper is a three-wheeled pedal bike that has a camper attached the back of it... Much like the mini bicycle camper trailer or the pop-up camper for bicycles that we've featured in the past.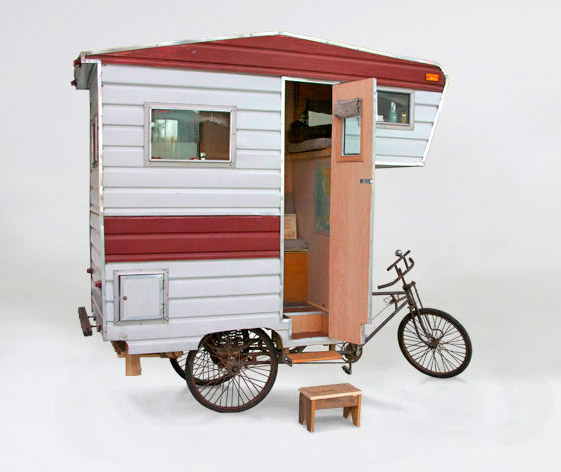 Credit: KevinCyr
If you cut the first 5 feet off the front of a 5th wheel camper and sealed up the back end, you'd end up with this cute little bicycle camper!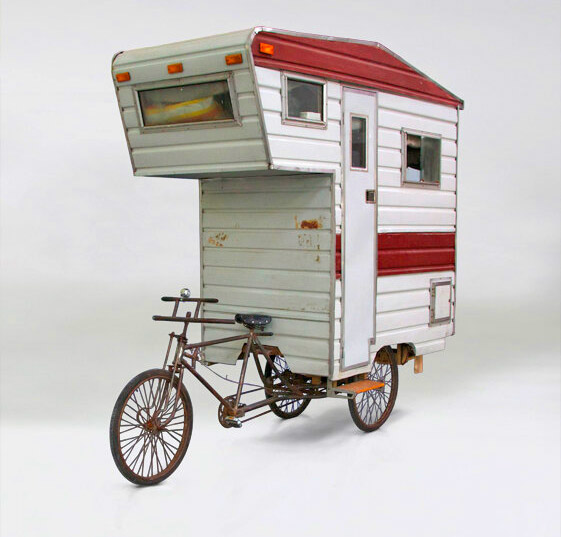 Credit: KevinCyr
The camper features two levels, with a small sleeping area on the top level and a living area on the main level. Despite being an art project, the Bicycle Camper is fully functional and can be used as a real camper for one person.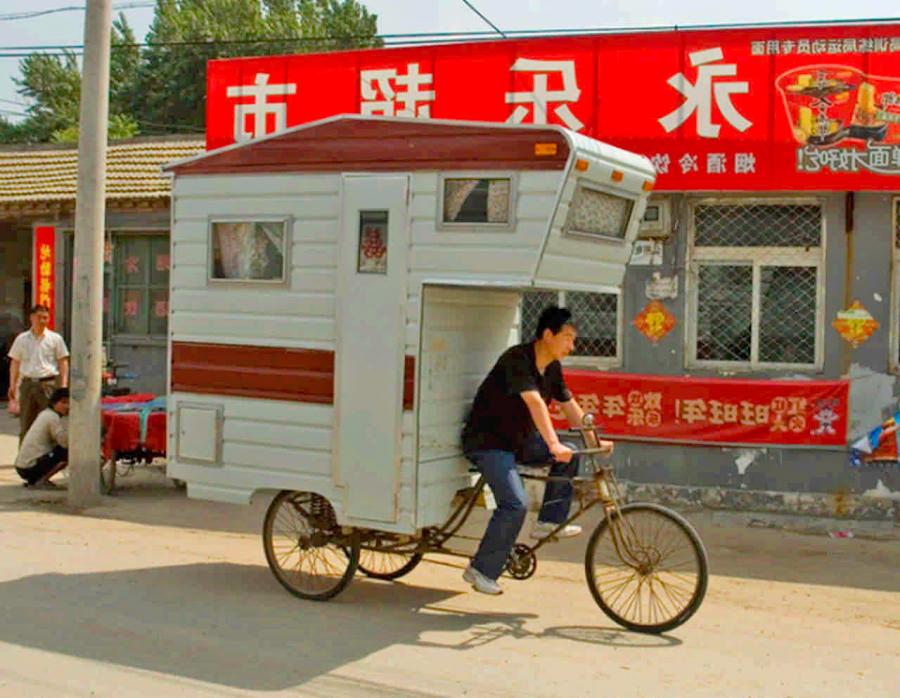 Credit: KevinCyr
The upper level of the camper is perfect for sleeping, with enough space for a single person to stretch out and get a good night's rest. The lower level is equipped with a small kitchen and seating area, allowing you to enjoy all the comforts of home while on the go.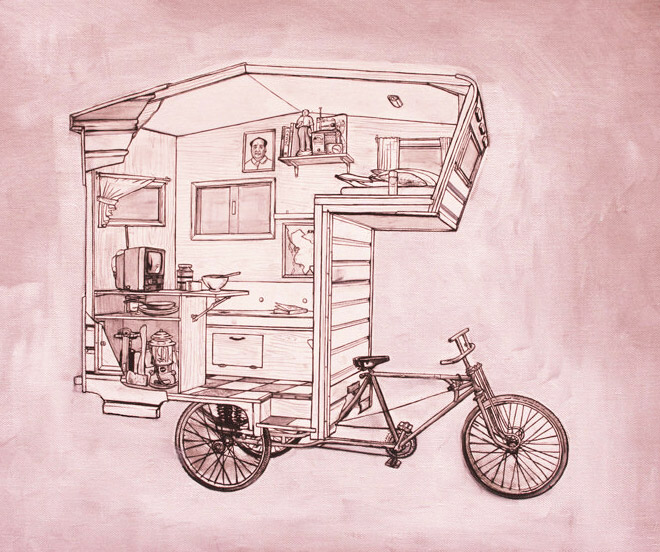 Credit: KevinCyr
One of the best features of the Bicycle Camper is its compact size. It's small enough to be easily stored in a garage or shed when not in use, yet spacious enough to provide a comfortable living space for one person.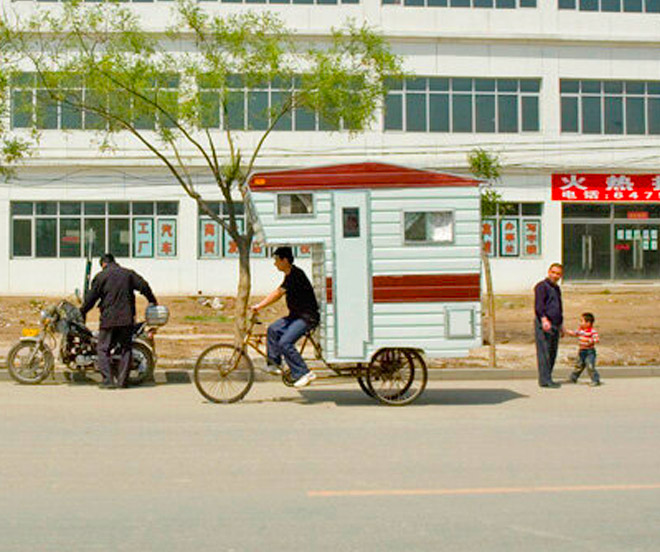 Credit: KevinCyr
Plus, with the three wheels on the bicycle camper (tricycle camper?), it's easy to maneuver and stable on the road. This also means there's no need for a kick-stand, and you can simply stop pedaling and walk away without fear of this beast tipping over! Credit: KevinCyr
Judging by the blue-prints of the bicycle camper, you can see how the interior is designed, and how you can live inside! It features a single bed on the top level of the camper, a sofa to relax and watch TV on, along with a small cabinet/kitchen area below the counter area.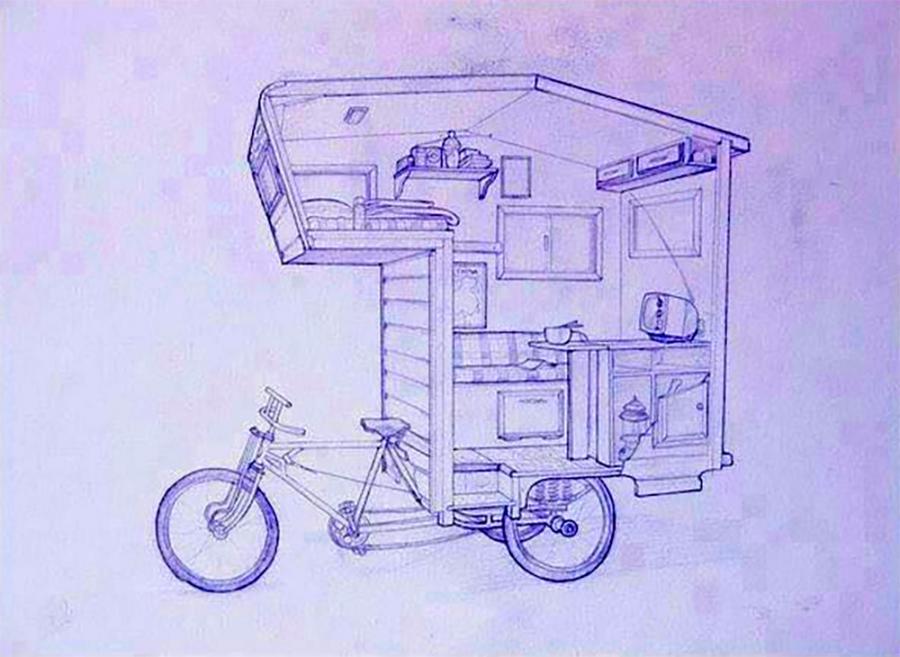 Credit: KevinCyr
It's no surprise that the bicycle camper doesn't look quite new, and actually looks quite dilapidated, as Cyr quite likes the look of rusty and dirty vehicles, which is why he designed it that way.
"I commemorate commercial vehicles inundated with graffiti and rust, working vehicles, and well-traveled recreational vehicles. I find that there is so much character in old delivery trucks and vans — especially when covered with graffiti — and in the old RVs parked off a main road. Removing them from their everyday context gives them portrait-like importance. I paint with devoted attention to every imperfection and sign of age."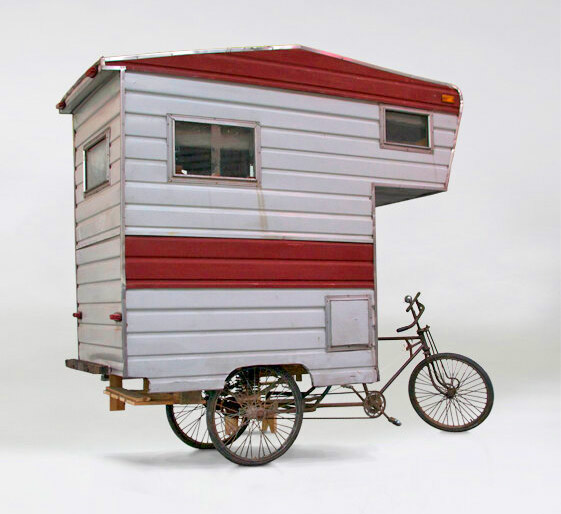 Credit: KevinCyr
Overall, the Bicycle Camper by Kevin Cyr is a unique and practical solution for anyone who loves both cycling and camping. Whether you're looking for a fun way to explore the great outdoors or just need a compact and convenient living space on the go, the Bicycle Camper has you covered.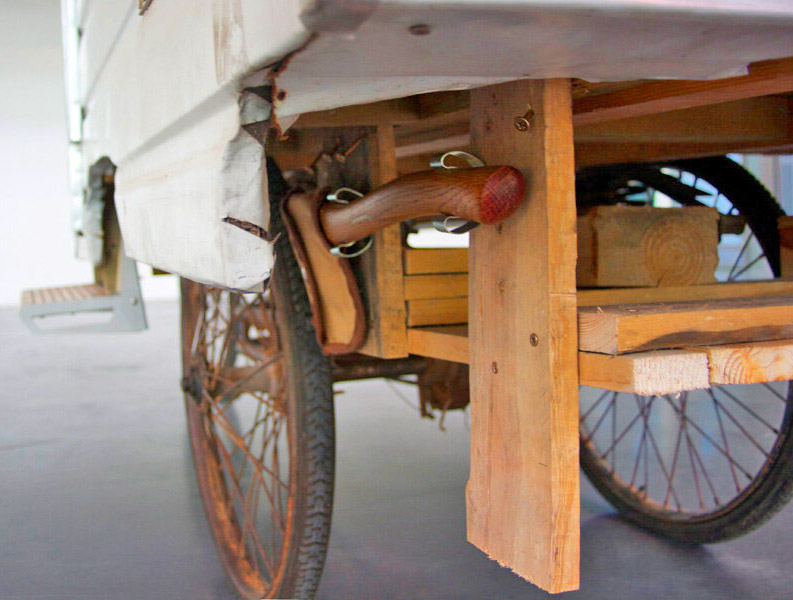 Credit: KevinCyr
Granted, this amazing bicycle camper is not for sale or made anywhere, as Cyr has described the bicycle recreational vehicle as a "stand alone sculptural piece", and is actually the subject of a series of his paintings.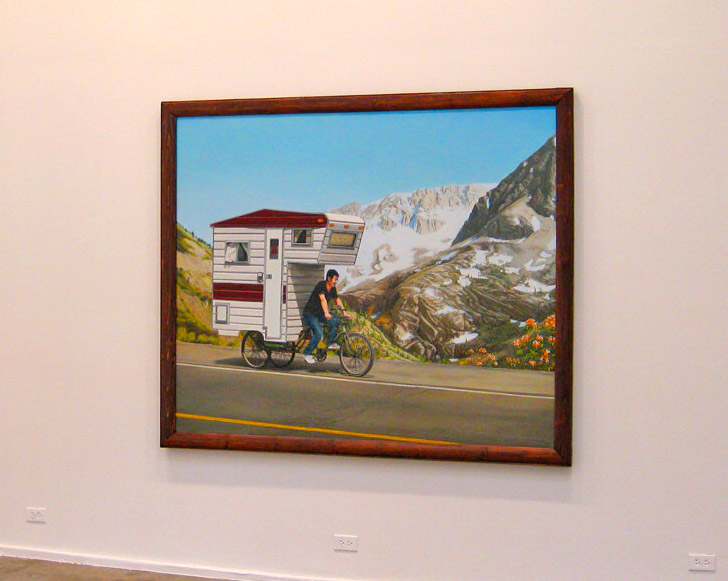 Credit: KevinCyr
The inside of the vintage bicycle camper features a cozy wooden interior that's decked-out with all of the retro objects and art pieces you'd expect by looking at the outside!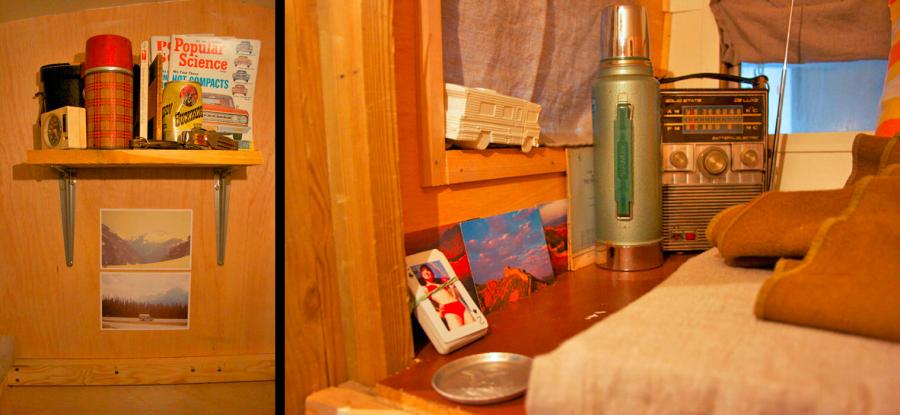 Credit: KevinCyr
If anyone was to get some funding and start manufacturing these hilarious yet functional bicycle campers, consider me first in line to get one... That is of course assuming you put some electric-assistance mechanism onto the bike to get me up some hills.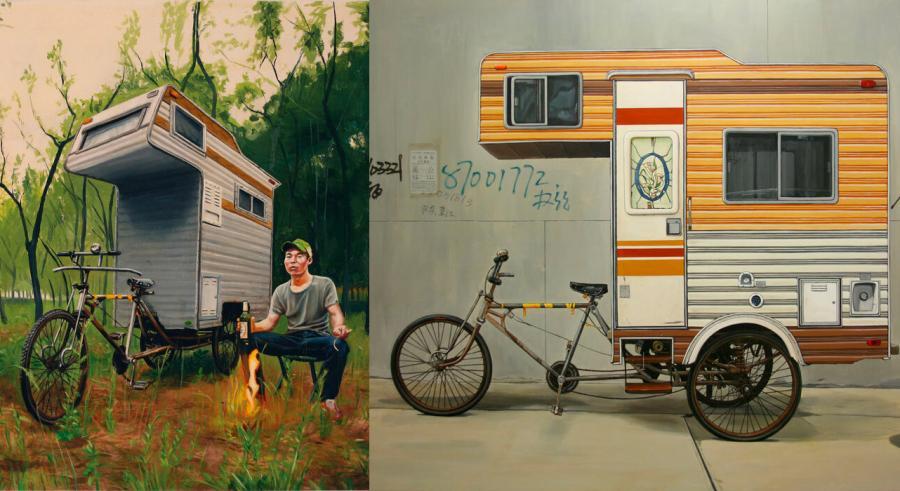 Source: KevinCyr