This Alarm Clock Breakfast Griddle Lets You Wake Up To Fresh Sizzling Breakfast
By Ryan on 10/28/2021 1:57 PM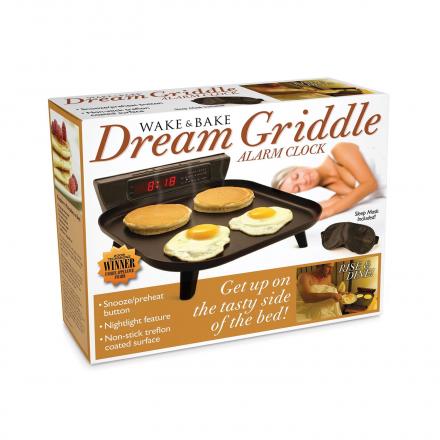 We all remember when Michael Scott from the Office had the brilliant idea of setting a Foreman Grill next to his bed and would wake up to the sweet scent of bacon cooking every morning, that is until he burned his foot. But in reality this idea isn't all that bad. Who wouldn't love rolling over in the morning to some fresh sizzling pancakes, eggs, or bacon?! Well, that's just what this alarm clock breakfast griddle does!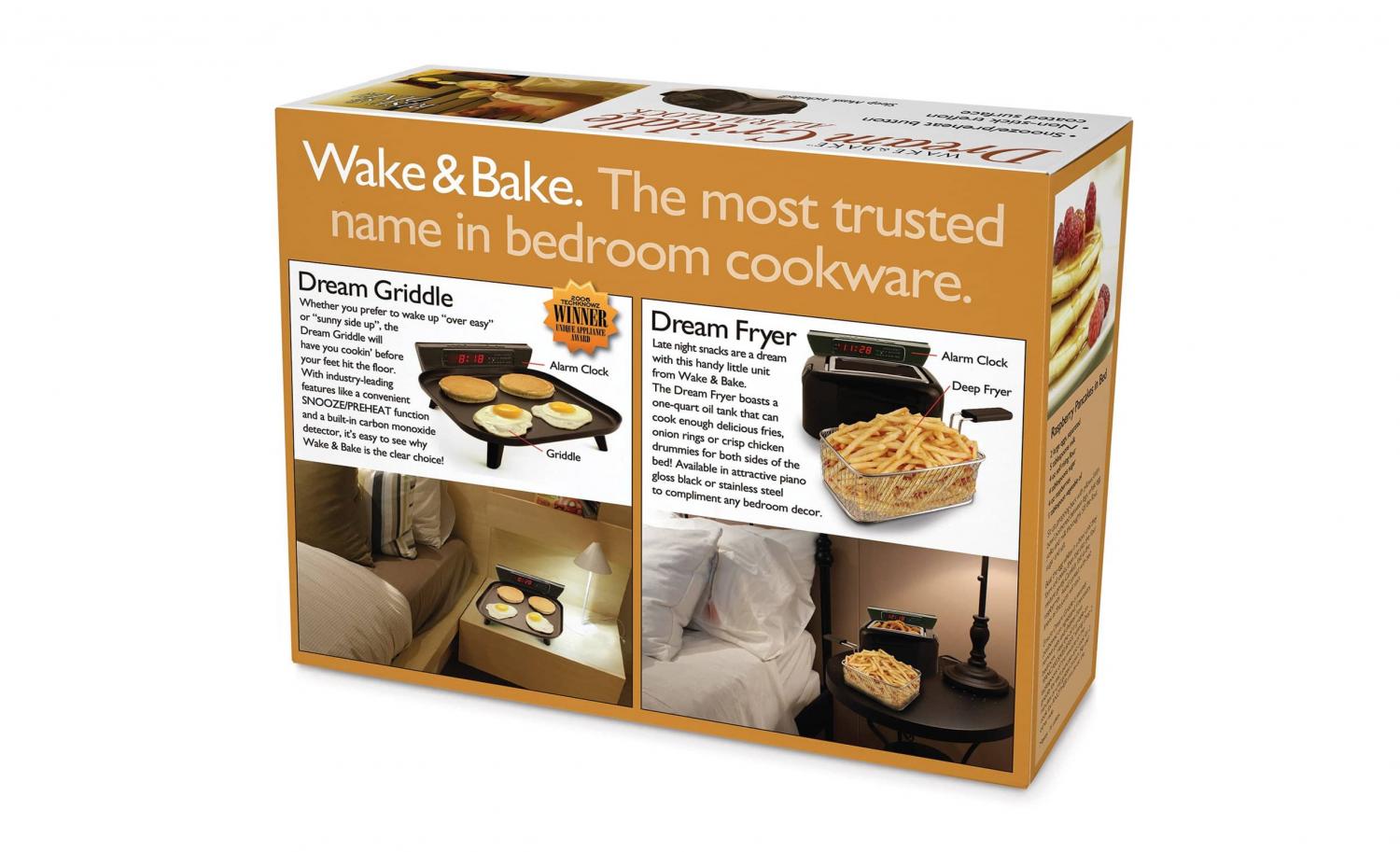 As much as we'd love to tell you how great having an alarm clock that has an attached griddle on it that will wake you up with fresh breakfast food every morning would be, I'm sad to say it's actually a prank box. The alarm clock breakfast griddle prank box allows you to put your real gift for someone inside and see their reaction as they open their gift thinking they got this for their birthday or Christmas.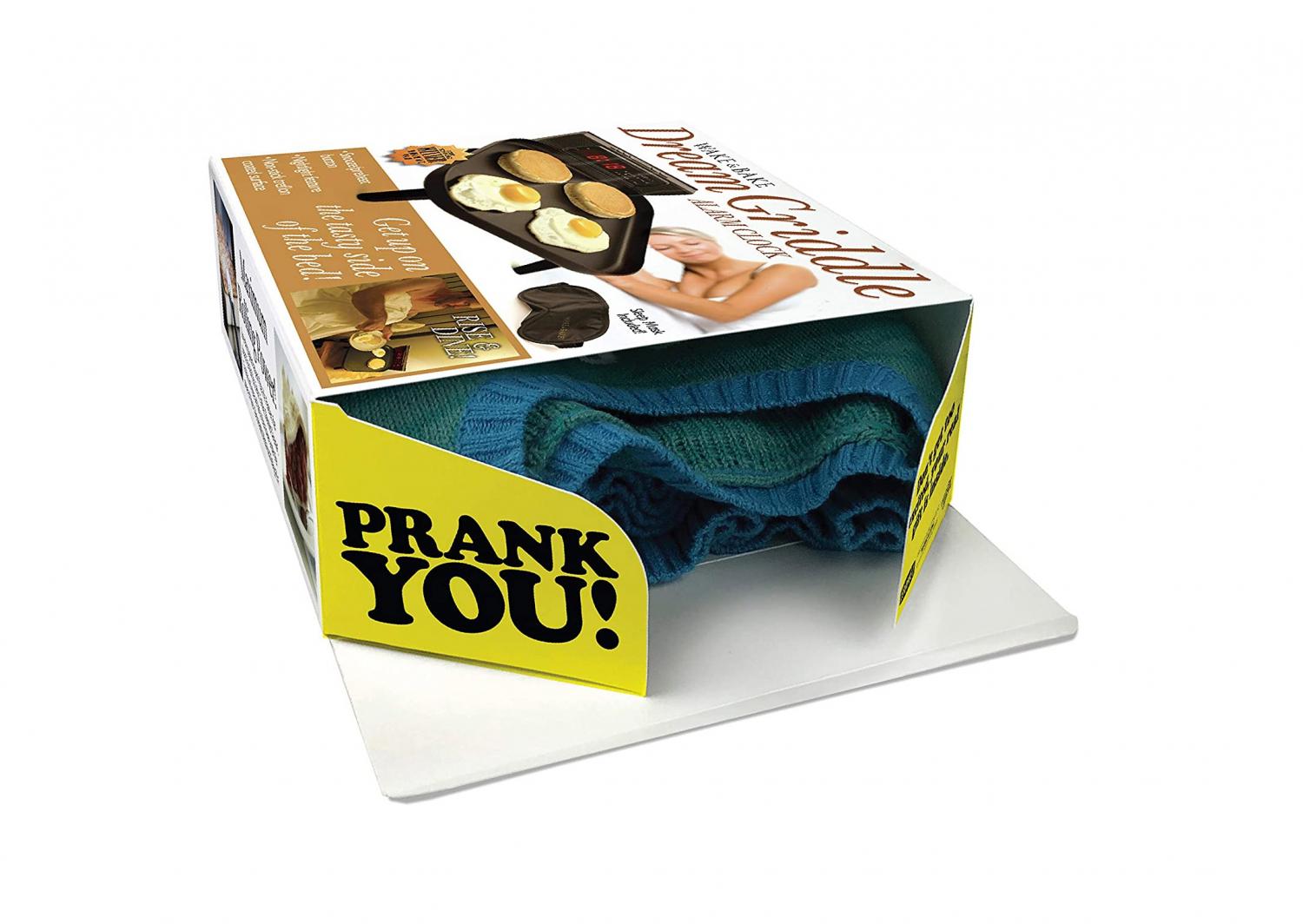 Get up on the tasty side of bed with the alarm clock breakfast griddle!
The breakfast griddle alarm clock has a plethora of incredible features that'll make mornings your new favorite part of the day. Features include a built-in carbon monoxide detector so you'll know when there's a gas leak, along with a snooze and pre-heat function that'll make sure it starts cooking your breakfast at just the right time.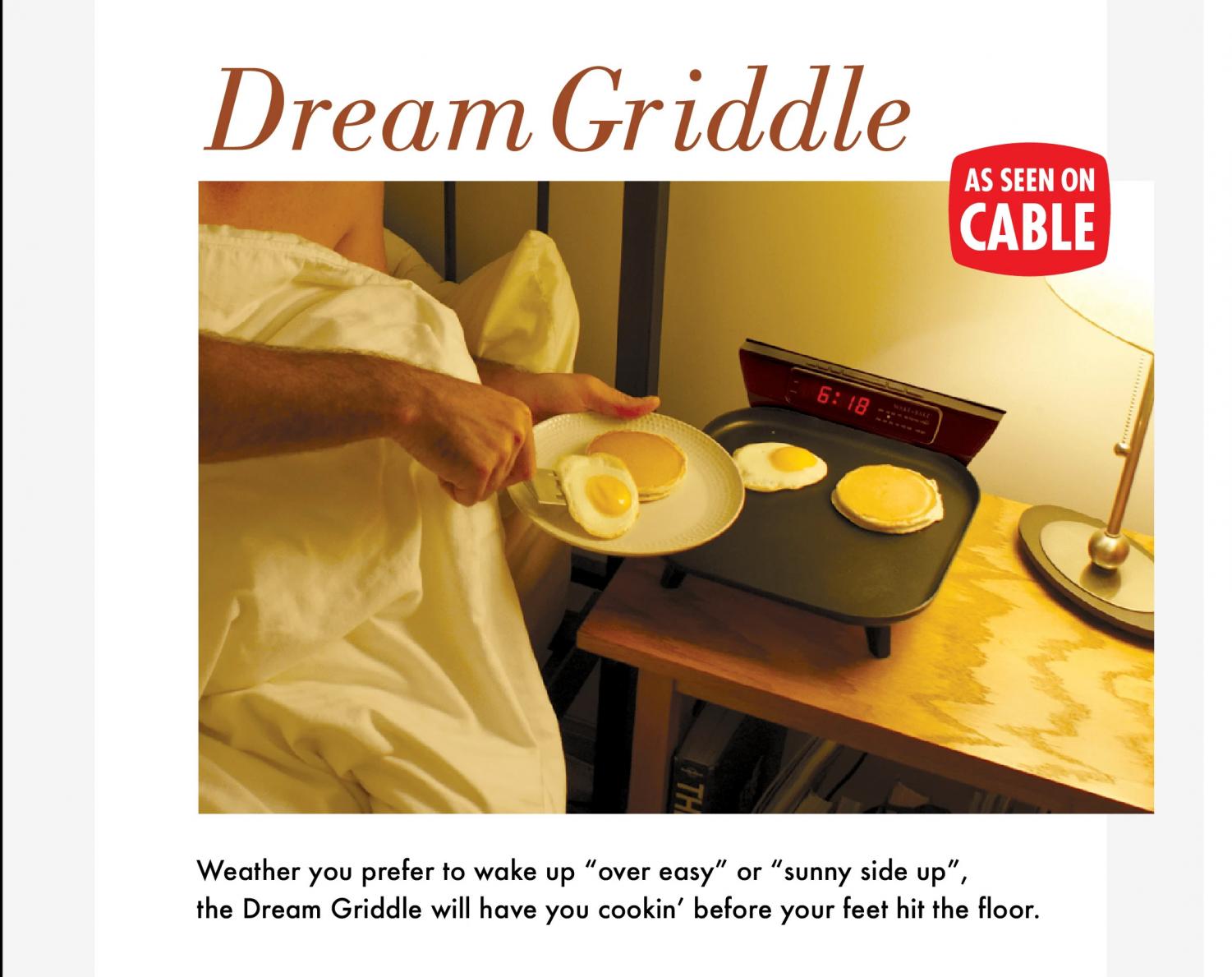 From the makers of the Dream Fryer alarm clock deep fryer!
If you're a late sleeper and looking for some lunch or dinner by the time you wake up, we got you covered! The bedside deep fryer alarm clock will ensure you have sizzling hot and fresh French fries, chicken nuggets, or onion rings whenever your alarm clock goes off! The alarm clock deep fryer comes in either piano gloss black or stainless steel options to compliment any kind of bedroom decor!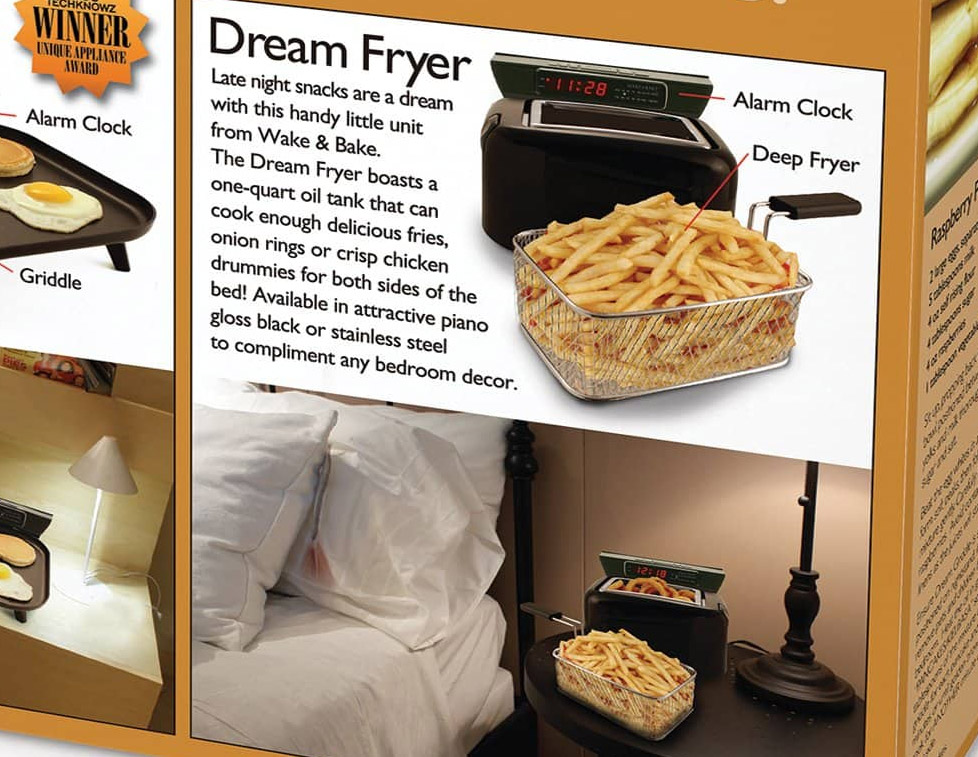 The breakfast griddle alarm clock even comes with a recipe for raspberry pancakes on the side of it, with the additional specifications as follows: "Sit up, propping back with pillows. With bowl positioned between legs, whisk egg yolks and milk thoroughly. Sift the flour, sugar, and salt."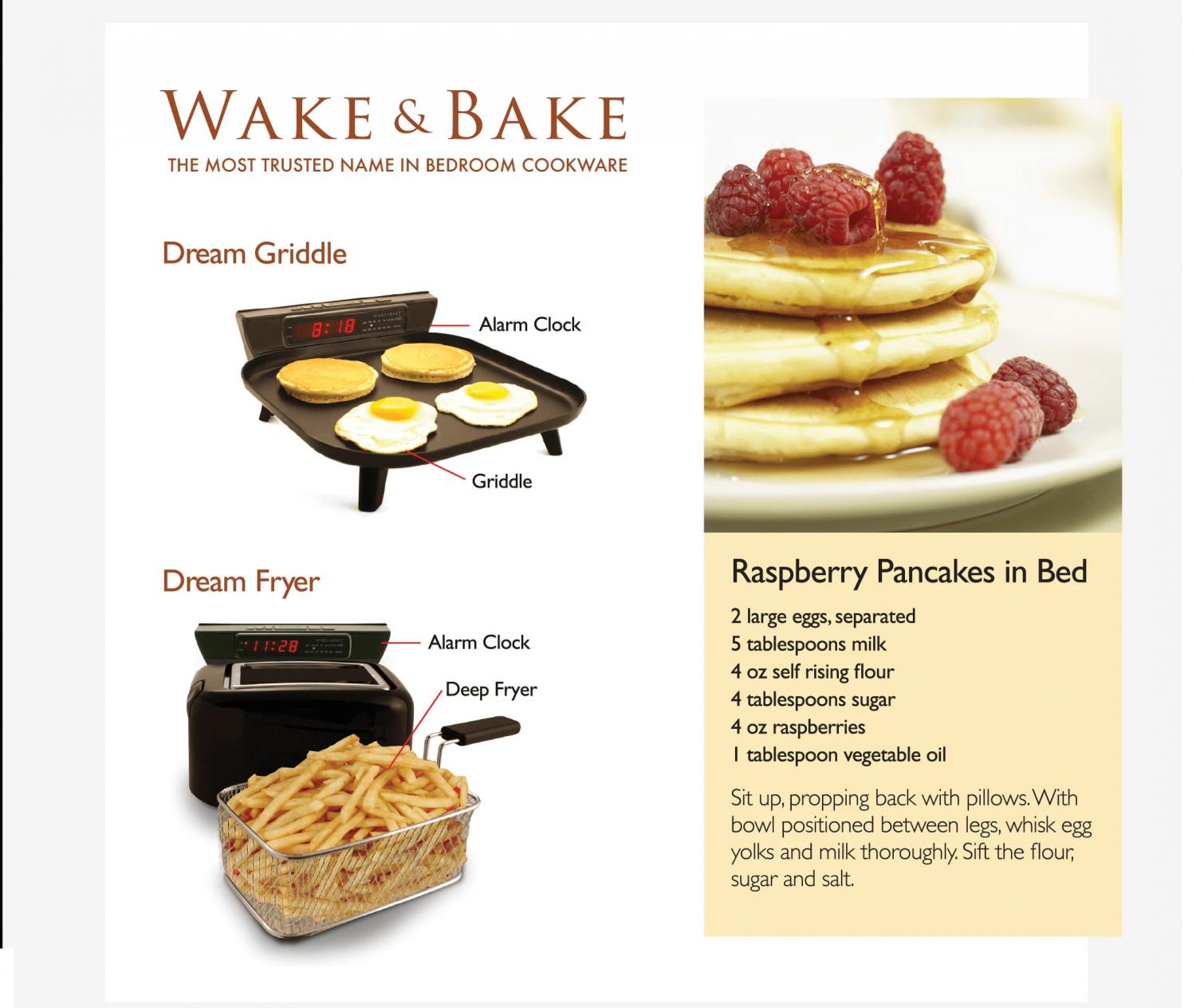 Rise and Dine, and get up on the tasty side of the bed!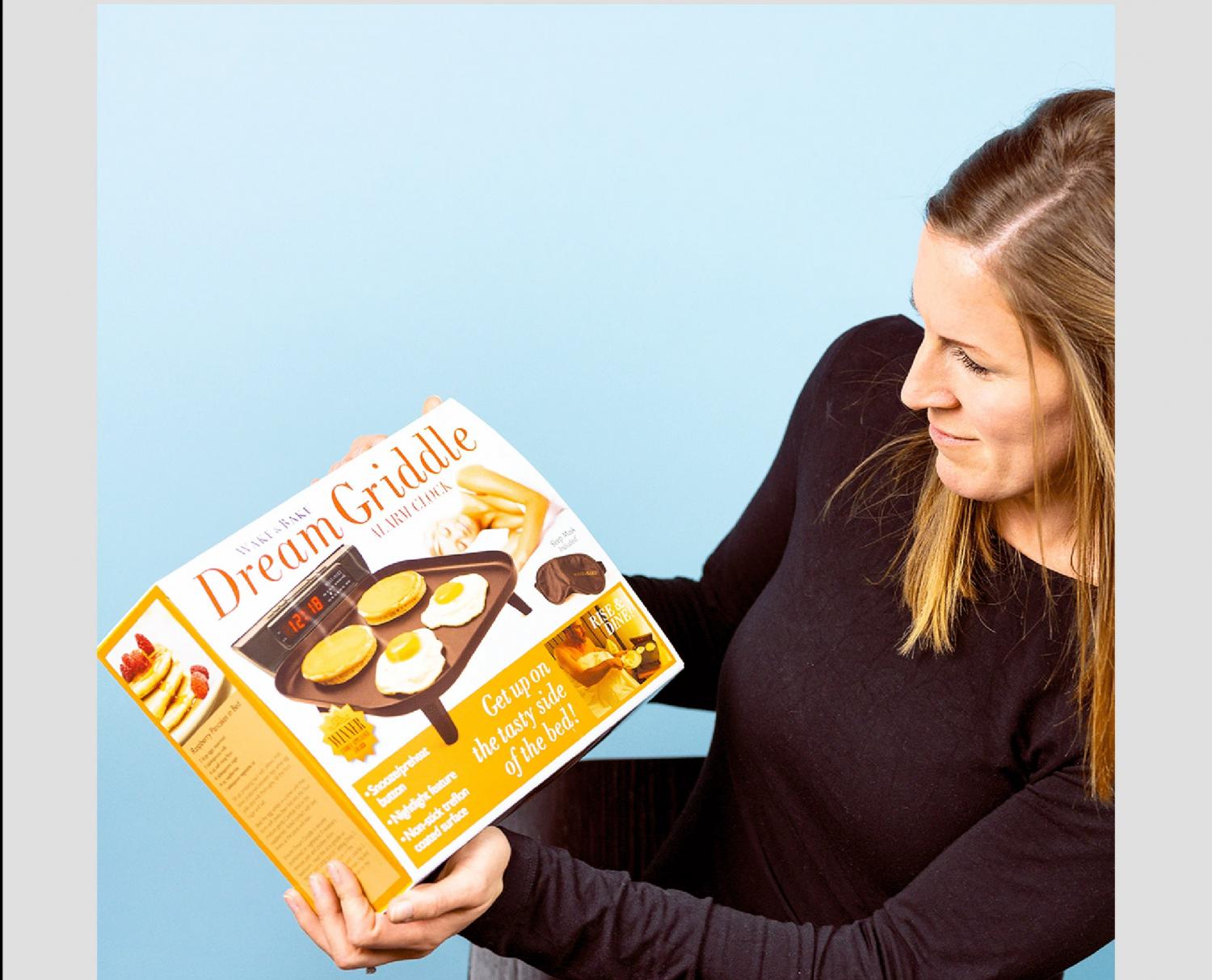 Other features of the Wake & Bake alarm clock breakfast griddle include a non-stick Teflon coated surface, an included sleep mask to thoroughly bring out the fresh smells of breakfast in the morning, a snooze, and preheat button, a working clock and alarm clock that turns on the griddle, and more. The breakfast griddle alarm clock was in fact the winner of the 2006 Techknowz Unique Appliance Award!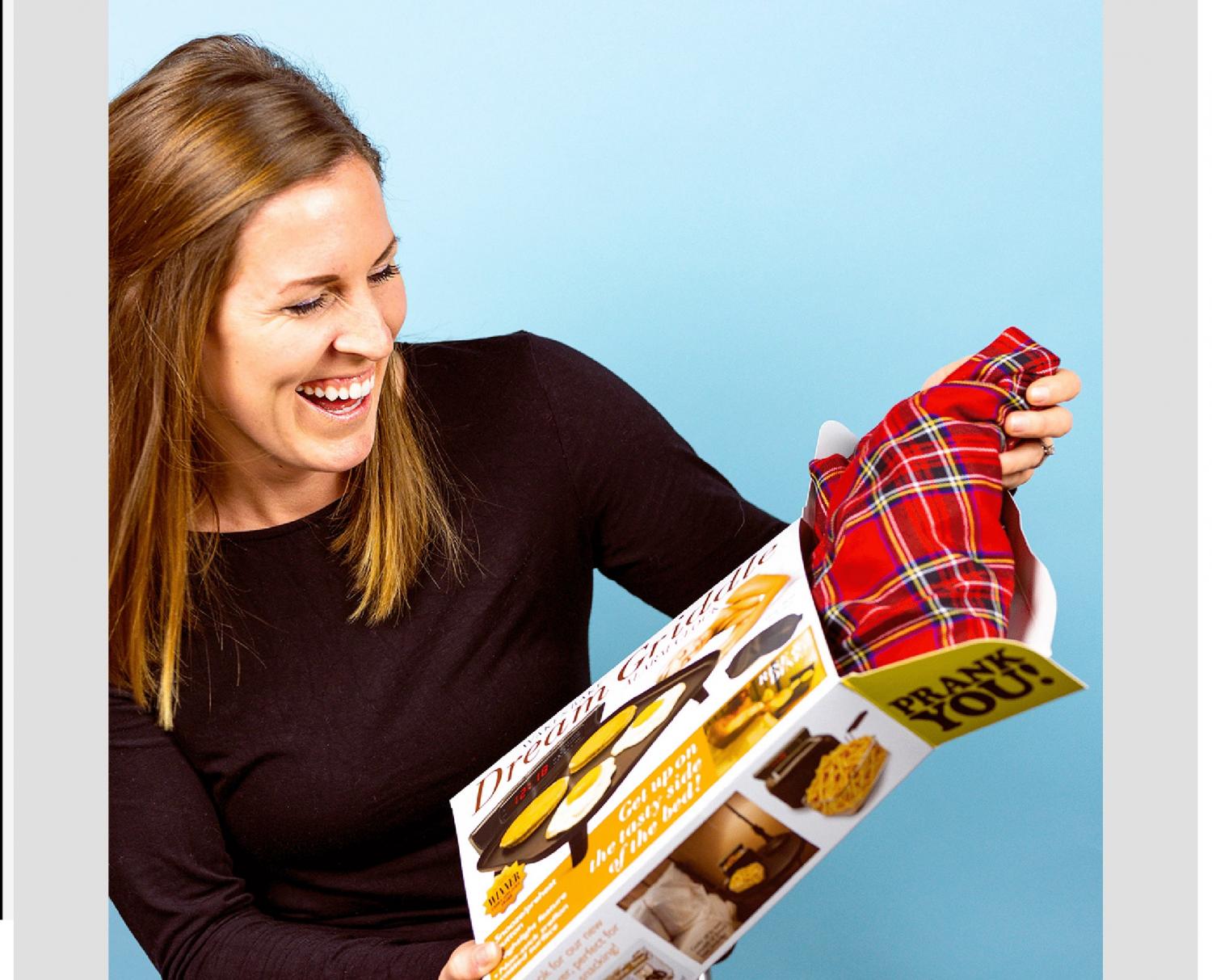 The alarm clock breakfast griddle prank box will cost you about $8 bucks, and it measures 11.25" x 9" x 3.25"!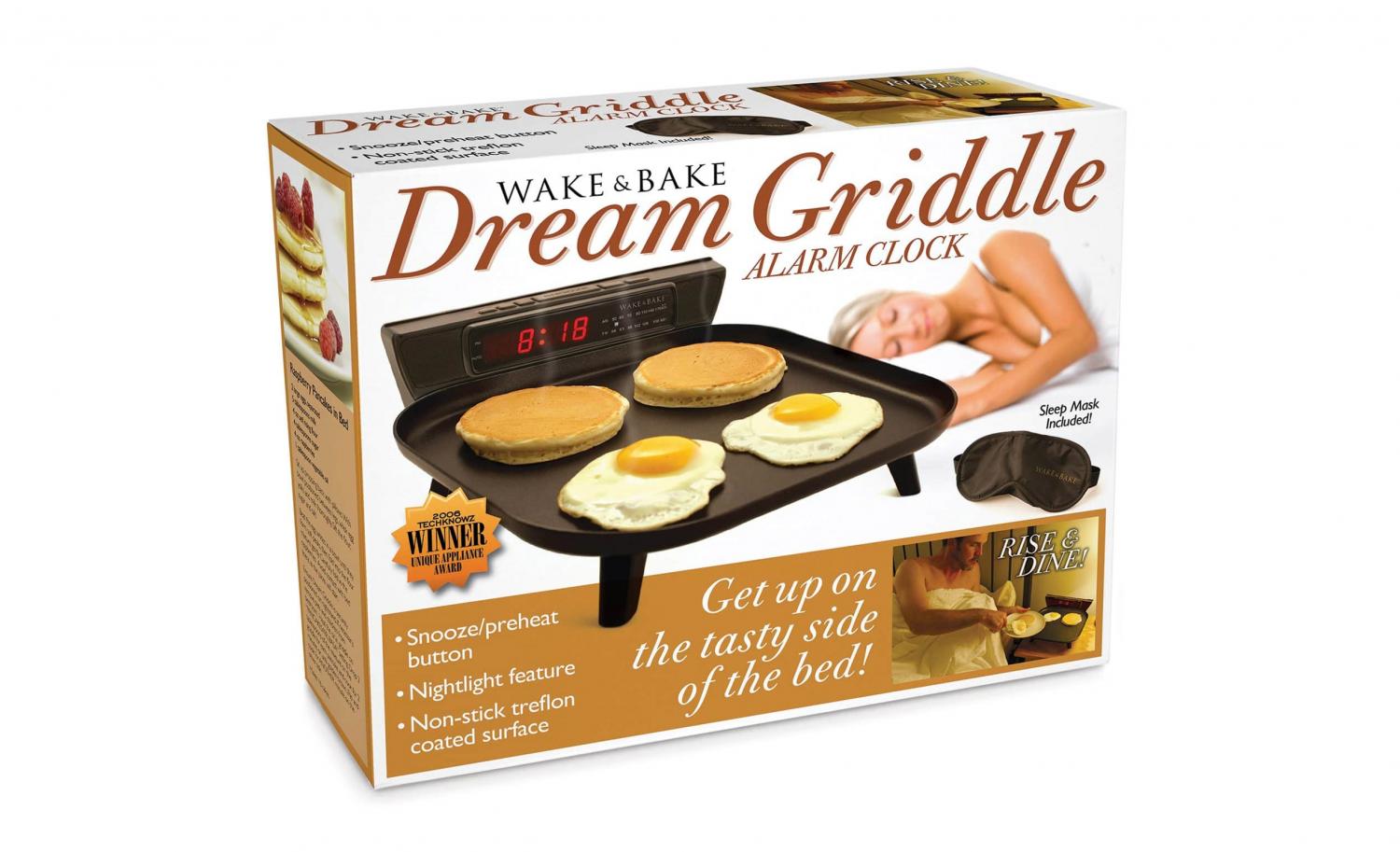 Check out some of the other hilarious prank gift boxes that we've features in the past below! Each one allows you to hide your real gift inside and get a hilarious reaction from them when they go to open their gift!
There's Now a Bluetooth Toilet Speaker That Doubles as a Toilet Sanitizer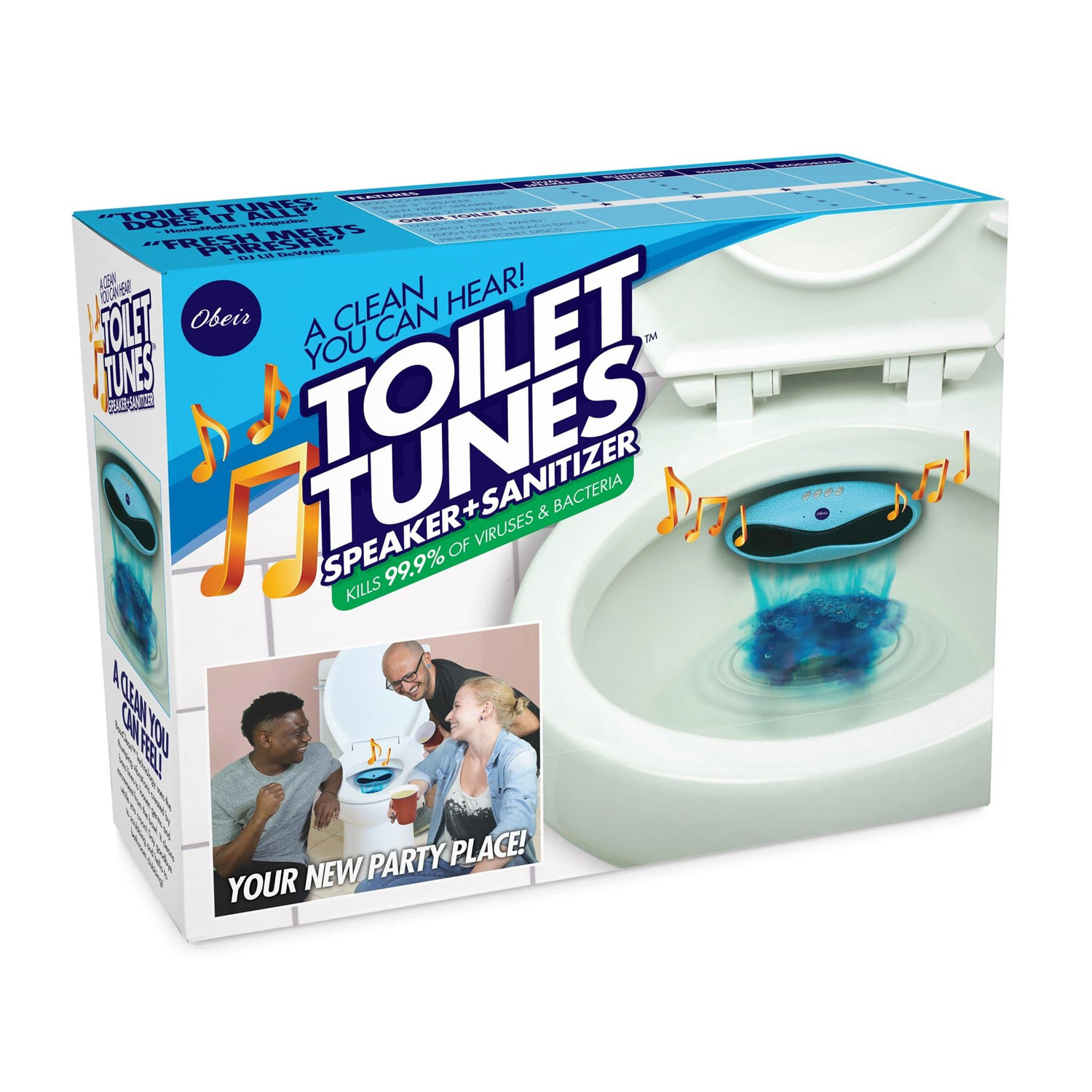 Get this one here
This Pet Swing Offers Hands-Free Pet Exercise Without Having To Step Outside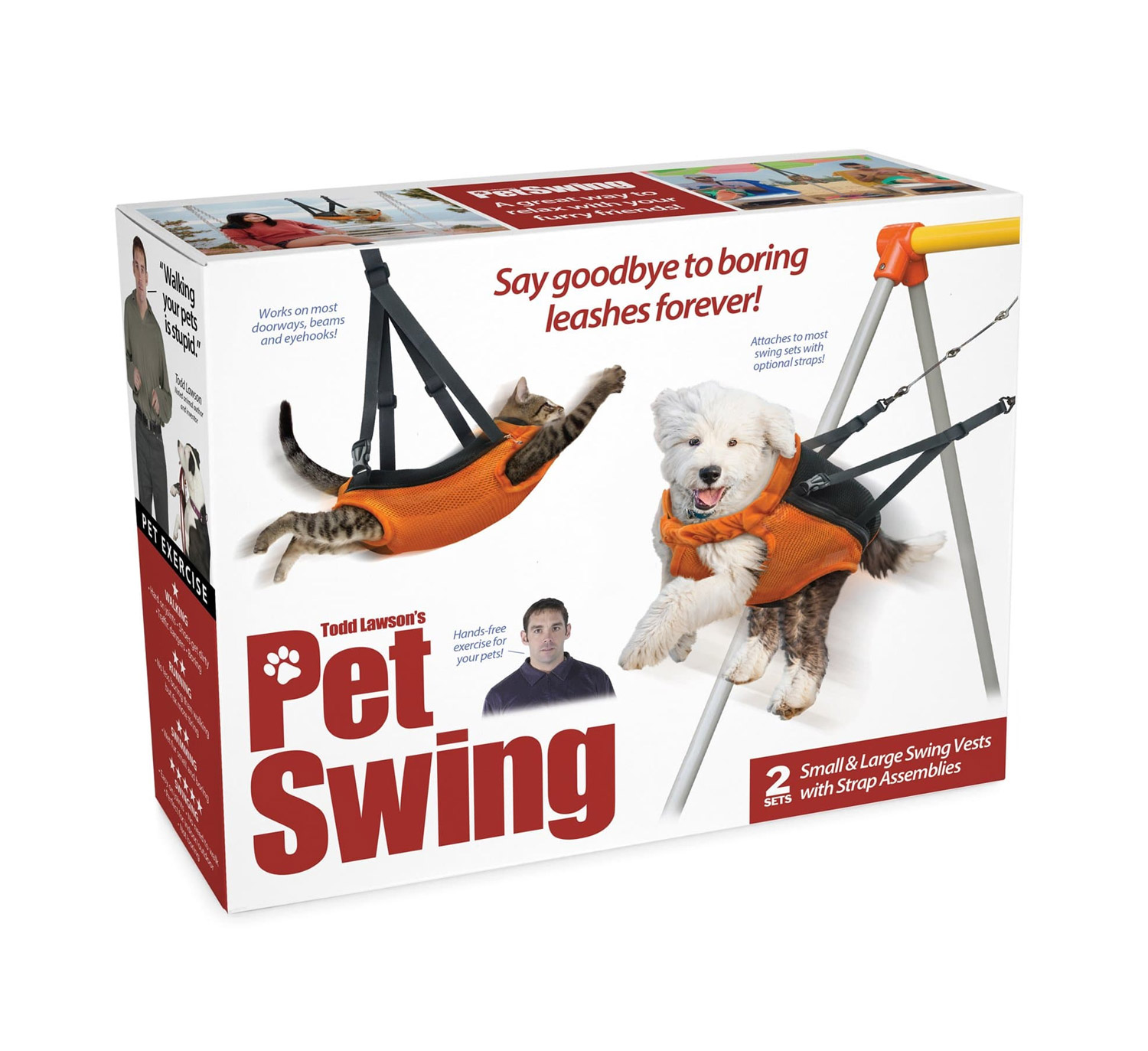 Get this one here
This Kerosene Face Heater Will Keep Your Face Nice and Toasty During Your Outdoor Adventures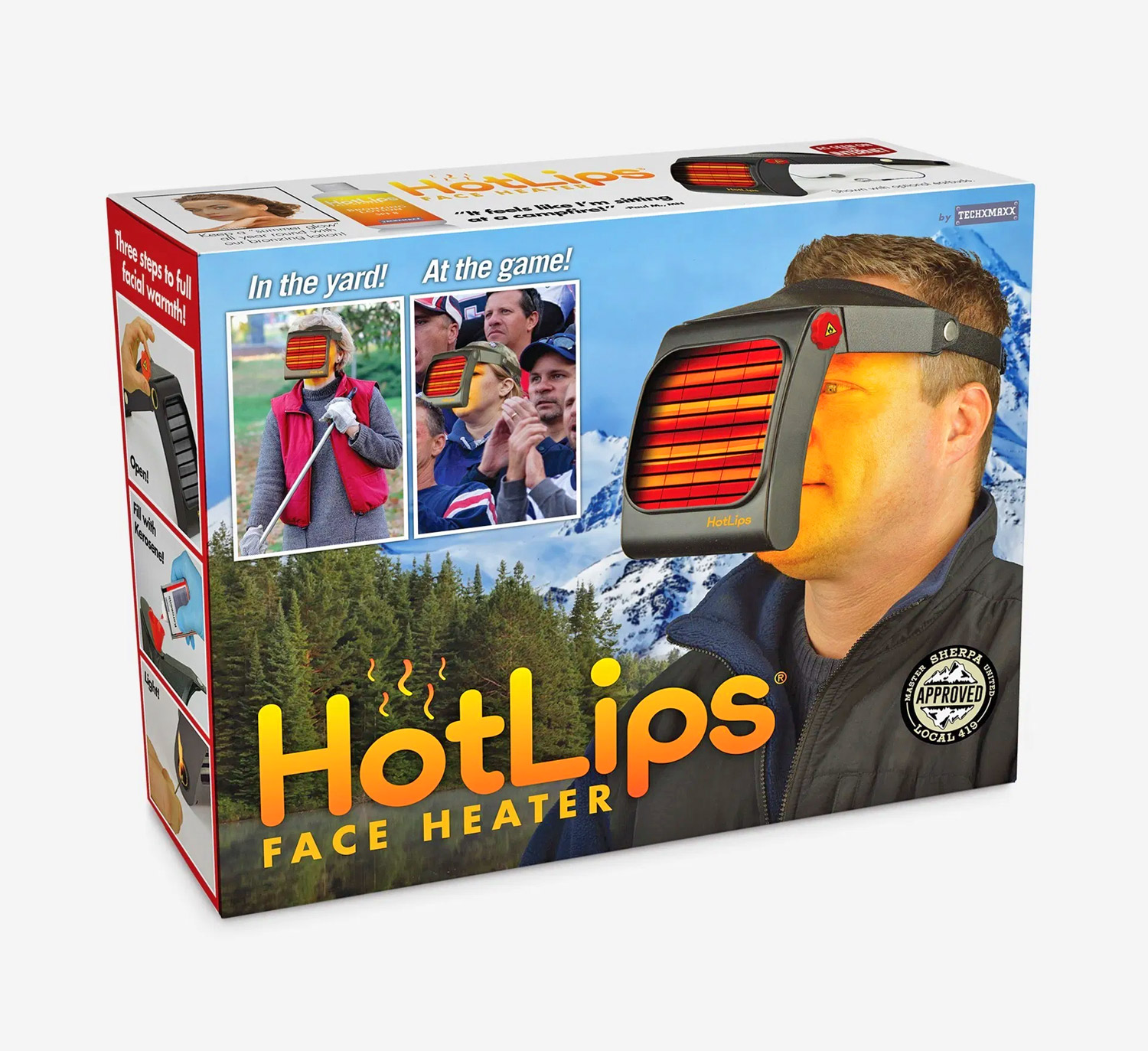 Get this one here