This Kerosene Face Heater Will Keep Your Face Nice and Toasty During Your Outdoor Adventures
By Ryan on 02/18/2020 10:17 AM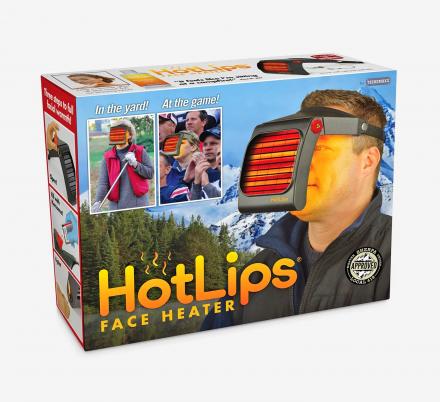 How many times have you been outside skiing, snowblowing your driveway, or at an outdoor sporting event and though to yourself, why can't there be a little portable face heater that exists which I can attach directly to my skull? Personally, I haven't thought of this before, but luckily I don't need to anymore, because it does exist after all! Well, not really, the Hot Lips Face Heater is yet again a fake prank box sold by Prank-o. Much like the DIY Vasectomy Kit, the Baby Shield and the Cargo Socks, you stick your real gift inside and wait and watch as they open the absurd gift of a face heater.
Why sit outside with a cold face when you could be enjoying life on any adventure with a nice toasty face! Stick the face heater on your kids while they go sledding, stick it to your own skull while hiking, canoeing, birdwatching, and more. Just be sure to read through the 140 page operation manual before getting started.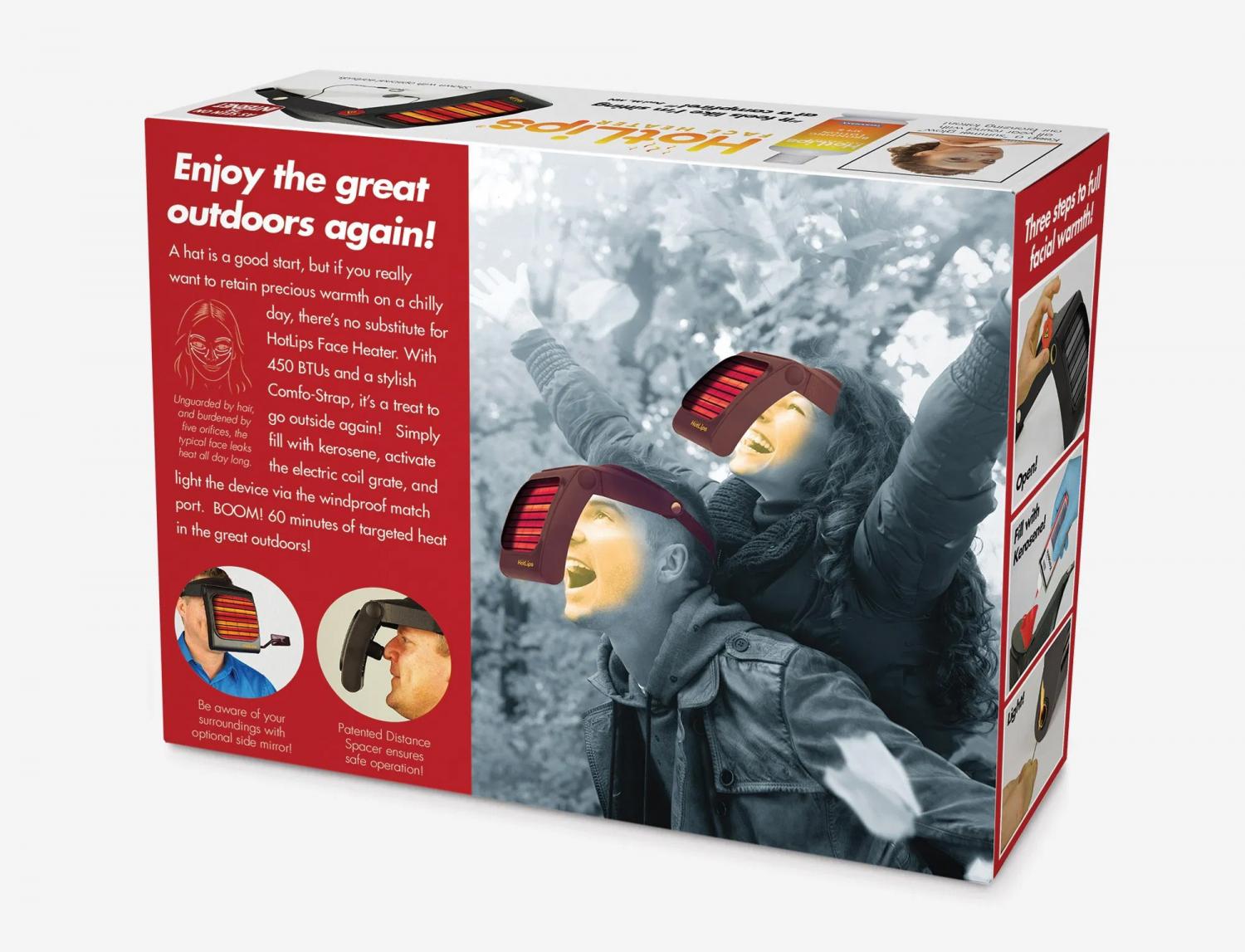 "A hat is a good start, but if you really want to retain precious warmth on a chilly day, there's not substitute for HotLips Face Heater. With 450 BTUs and a stylish comfo-strap, it's a treat to go outside again! Simply fill with a kerosene, activate the electric coil grate, and light the device via the windproof match port.BOOM! 60 minutes of targed heat in the great outdoors."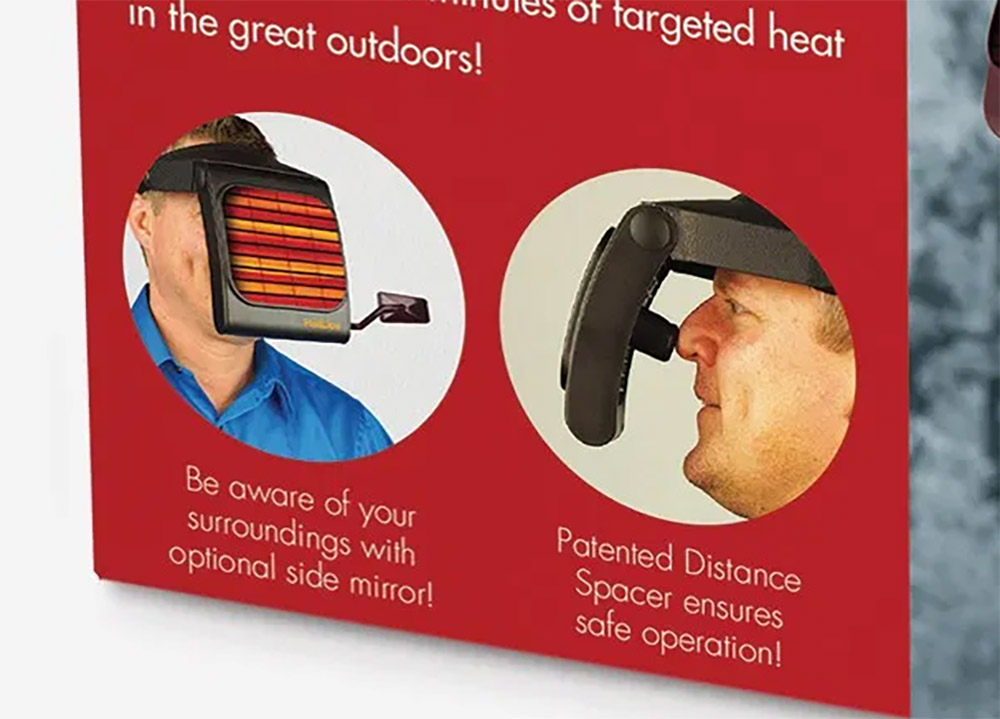 Since the head-mounted face heater sits directly in front of your line of sight, they offer an optional side-mirror to help be aware of your surroundings. Plus, a patented distance spacer ensure the blazing hot heater never gets close enough to your nose or face to permanently burn you. (1st or 2nd degree burns at best...)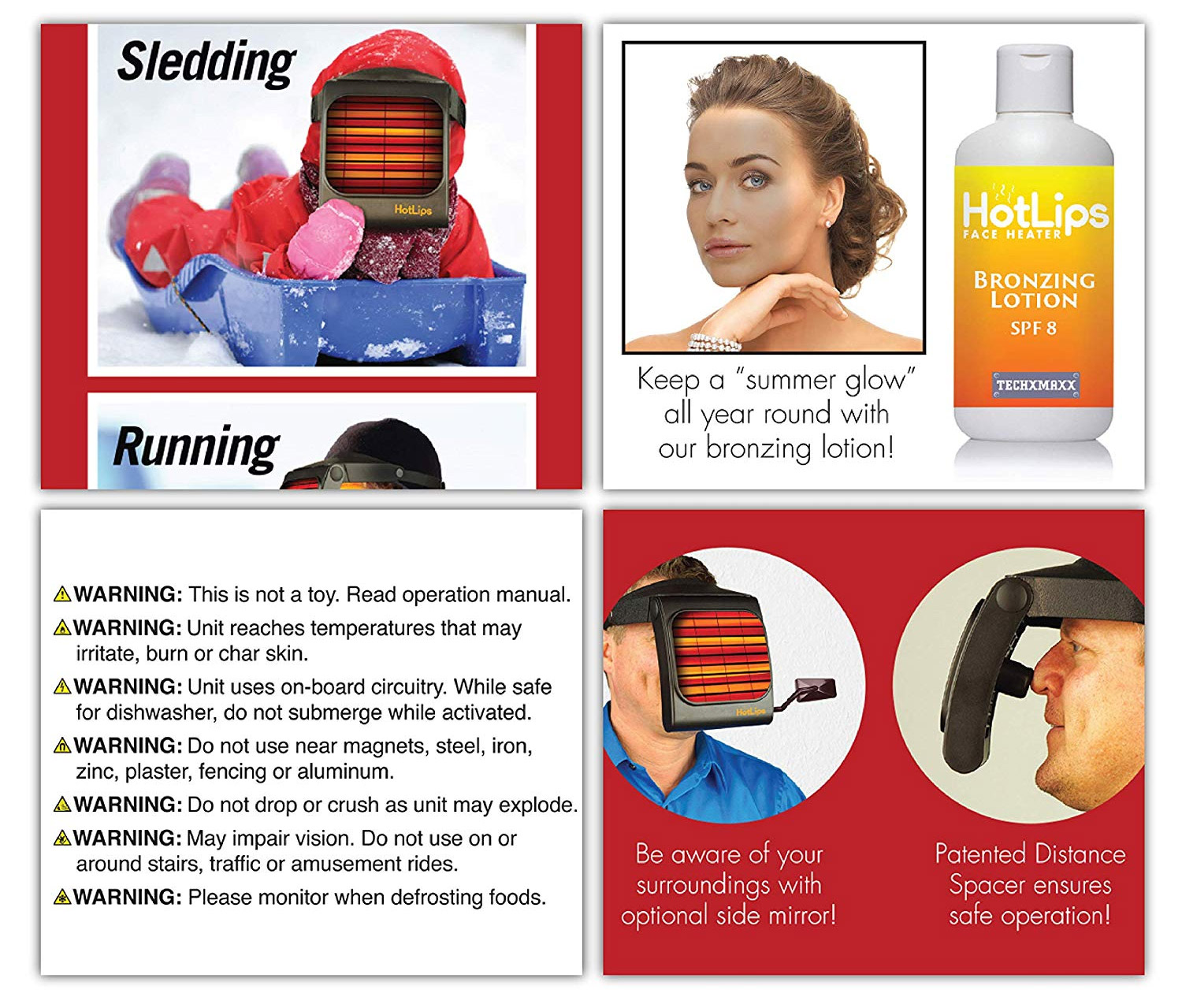 A few warnings to note before slipping on the luxurious face heater to keep your head and face toasty on your outdoor adventures:
WARNING: Unit reaches temperature that may irritate, burn, or char skin
WARNING: Unite uses on-board circuitry. While safe for dishwasher, do not submerge while activated.
WARNING: Do not drop or crush as unit may explode.
WARNING: May impair vision. Do not use on or around stairs, traffic or amusement rides.
WARNING: Please monitor when defrosting foods.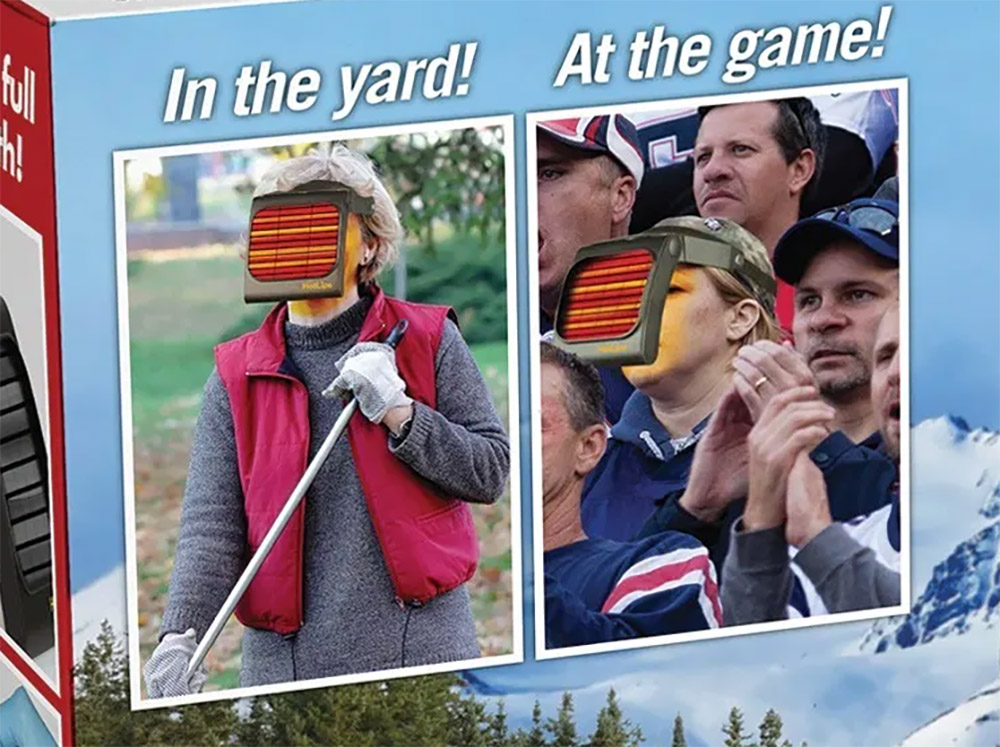 You can also get the optional bronzing lotion to keep a summer glow all year round while using in tandem with the face heater. Similar to sticking butter on a hamburger bun and placing in on a grill, your face will glow vibrantly, while others strut their pale faces around all winter long.