This Elbow Drop Rear Wiper Blade Decal Is a Must For 90's Wresting Fans
By Ryan on 05/01/2023 9:00 AM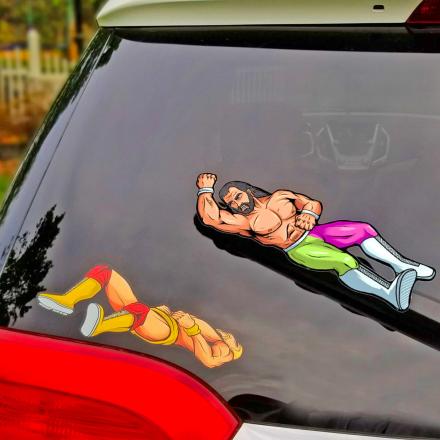 Are you a fan of the classic wrestling era of the 90s? Do you miss the days when Randy Savage and Hulk Hogan would square off in the ring? Then buckle up, my nostalgic friend, because we have the perfect accessory for your car!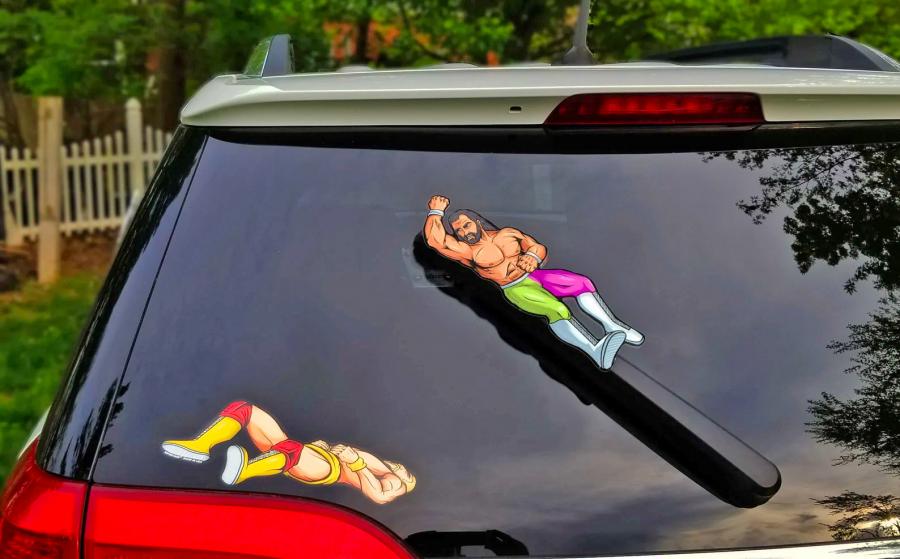 Introducing the WiperTags! These quirky decals will turn your rear wiper blade into an action-packed wrestling match, featuring your favorite wrestling icons. Now, let's dive into the nitty-gritty of this amazing product!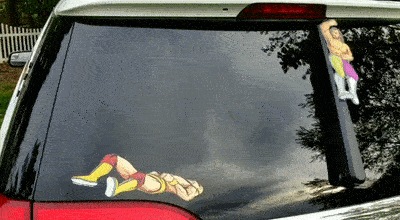 The WiperTags set comes with two separate decals. The first decal, resembling Randy Savage, attaches to your rear wiper blade. The second decal, featuring the one and only Hulk Hogan, goes on the bottom of your rear window. Together, they create the ultimate wrestling showdown! Made with high-quality plastic and UV protected inks, these WiperTags are fully weatherproof. That means they can withstand rain, snow, and even the sun's powerful rays without fading or damage. The top wrestler WiperTag is double-sided and reversible, ensuring compatibility with both left and right wiping rear wiper blades. This attention to detail means you won't have to worry about your wrestling duo looking out of place! To further enhance their durability, the bottom wrestler decal is laminated for additional protection. This guarantees that your wrestling warriors will remain in tip-top shape for a long time, regardless of the weather conditions. Measuring 11.5" x 3" for the top wrestler WiperTag and 10.5" x 3.5" for the bottom wrestler decal, they're the perfect size for an eye-catching display on your rear window. And don't worry about compatibility; these WiperTags fit any rear wiper blade size! As if these wrestling legends weren't enough, WiperTags also offers a vast array of other hilarious and creative wiper blade decals. From Forrest Gump waving to Darth Vader swinging his lightsaber, there's a WiperTag for every fandom and taste! Find this one here
But let's get back to our wrestling heroes, shall we? Imagine driving down the road with the wrestling match of the century happening right on your rear window. As your wiper blade moves, it appears as if Randy Savage is performing a jaw-dropping elbow drop onto Hulk Hogan. It's a show-stopping spectacle that will have fellow motorists and pedestrians alike grinning from ear to ear! Find this one here
Not only do these WiperTags make a fantastic conversation starter, but they're also a unique way to showcase your love for retro wrestling. Think about it: how many people can say they have a miniature wrestling match happening on their rear window? Find this one here
Installation is a breeze, too. Simply peel off the adhesive backing, stick the decals in the appropriate places, and you're good to go. No tools or expertise required! Find this one here
These WiperTags make excellent gifts for the wrestling fans in your life, or really anyone depending on which one you select. Whether it's for a birthday, holiday, or just because, your friends and family will be delighted to receive these quirky, fun decals. Find this one here
So, what are you waiting for? It's time to bring back the glory days of 90s wrestling and give your car the ultimate retro makeover! With WiperTags, you'll be the talk of the town, the king of the road, and the envy of wrestling fans everywhere. Let the wrestling nostalgia flow, and may the elbow drop action never stop! Find this one here
You can snag the wrestler elbow drop rear wiper blade decal from their shop for around $18 bucks! You can snag a wrestler leg drop rear wiper blade decal here, also for around $18 bucks! You can find all sorts of other rear wiper blade decals on their store here! Check out some of these creative rear wiper blade decals in action via the video below!
Subscribe To Our YouTube Channel