Z.A.P.S. Survival Grenade Kit
By Ryan on 11/02/2015 6:39 AM
Quite similar to the survival grenade that we featured a few weeks ago (which looks much more awesome), the ZAPS survival grenade is an emergency grenade shaped device that you take with you while hiking or camping and is filled with various survival tools. The survival grenade is kind of like a set of jumper cables, you hope to never have to use them, but you're certainly thankful that you had them when you need them. To use the survival grenade, simply pull the glow-in-the-dark pin on the top of the grenade and all of the survival tools inside will be at your disposal. The outside of the grenade is wrapped with 45 feet of cable and inside are tools such as a knife, a fishing line, fish hooks, matches, a compass, duct tape, plus a whole lot more.
Designed by a former Marine Scout sniper, the survival grenade has a carabiner on the top of it so you can easily attach it to your belt or bag while out hiking, camping, hunting, fishing, etc... Plus the grenade has over 30 tools inside of it, so that if you do end up dying while having the grenade with you, we can safely say you were a lost cause to begin with.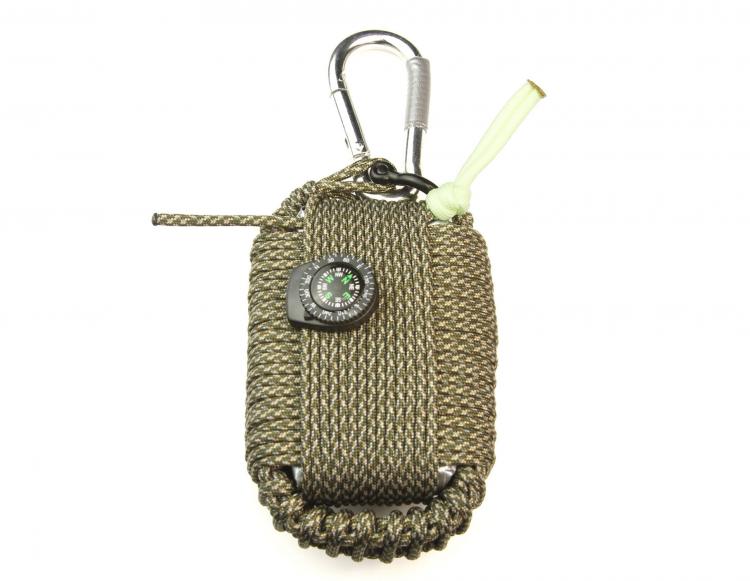 The paracord survival grenade is made in the USA, is completely waterproof, comes in either black or camo colors to choose from, weighs, just 13 oz, and measures 6 inches long x 3 inches wide x 2 inches deep. Check out a full list of tools that the survival grenade has inside of it below.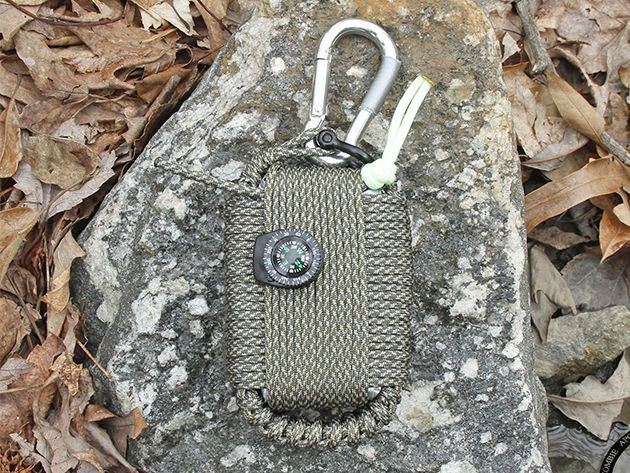 45 Feet of paracord (1 continuous piece)
Laminated user's guide
Load bearing snap link (350 lb max)
Wire saw
Compass
Several feet of duct tape
3 Wire snares with anti-escape swivels
Steel shackle
Aluminum foil (2 square feet)
1 Gallon ziplock bag
Striker for Ferrocerium fire starter (doubles as saw)
Ferrocerium fire starter
Pencil
Weatherproof paper
20 feet of thread (wound around pencil)
1 Needle
2 Candles (Glow in the dark / Approx 15 minutes of burn time)
3 Fish hooks
6 Sinkers
3 Barrel swivels
30 Feet of braided fishing line (50 lb test)
3 Cotton balls for first aid
2 Large safety pins
3 Weatherproof matches with striker
Knife blade
6 Water purification tablets
Signal whistle
Glow in the dark pull cord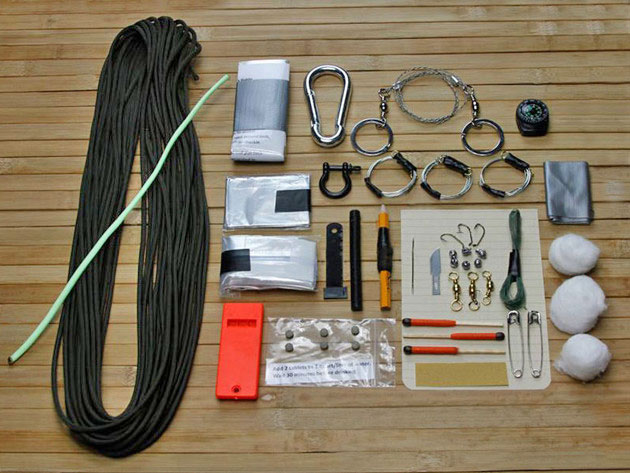 Check out a review of the ZAPS survival grenade in action via the video below.
Subscribe To Our YouTube Channel