Star Wars Child's Bath Towel With Yoda Ears Hoodie
By Ryan on 04/01/2015 2:01 AM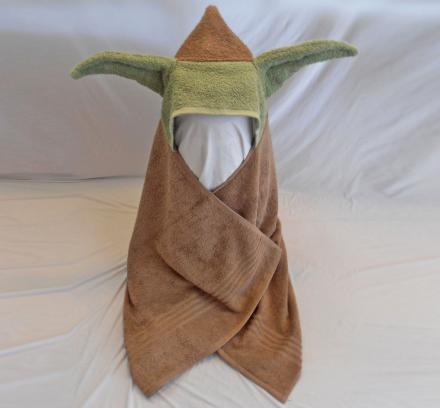 This childrens bath towel has an integrated hoodie with green pointy ears that will make your child look like Yoda from Star Wars. A perfect addition to your child's bathroom repertoire (assuming they even know what Star Wars is), the Yoda bath towel will not only dry the body, but will dry the head at the same time. No longer will your child need to wrap a towel around their head and sing Celine Dion songs into their hair brush as they get ready in the morning to dry their hair, while you're out in the living room signing them up for Football. Simply drape the Yoda towel around their body and head, and dry your child will be in no time.
Created by MiddleBrainedCanvas, a clothing and jewelry design Etsy shop, the Star Wars Yoda bath towel hoodie is hand made from 100% cotton towel that is part green and part brown, measures 54 inches wide x 32 inches long, and the hood measures 7.5 inches from the top of the hood to the neck.
Washing instructions are as follows: "Wash towel with like colors on a cold cycle with other towels or blankets (If its washed with clothing that has zippers or hooks it might get snagged). Then tumble dry on low."