This Star Trek Enterprise Bottle Opener Makes Sounds Effects With Each Open
By Ryan on 02/01/2016 5:19 AM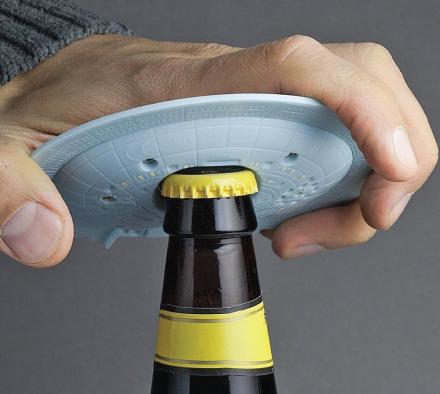 This Star Trek bottle opener takes the shape of the Enterprise ship, and instead of the old bottle opener that was just a basic chrome shape of the Enterprise, this one is much more detailed as I wouldn't be surprised if you could see Captain Picard starting out of his window pondering life's mysteries. Not only does it just open bottles of beer at warp speed, but every-time you open a bottle it gives off a Star Trek sound effect, such as the warp sound, the classic Star Trek alarm sound, and the swoosh of a door opening. Plus the bottle opener acts as a magnet, so that when not in use, you can just stick it right to your refrigerator until the next time you'd like to engage a bottle of beer.
The bottle opener actually comes in two parts, the main saucer section and the main engineering part of the ship, which detach from one another when you want to use it to open a beer bottle. This can be useful for when you use the magnet to attach it to a surface like your refrigerator so that you can simply snap off the saucer part of the ship, open your beer bottle, listen to a lovely Star Trek sound effect, and place the saucer back on to the rest of the ship that's still attached to your fridge, and be on your merry way.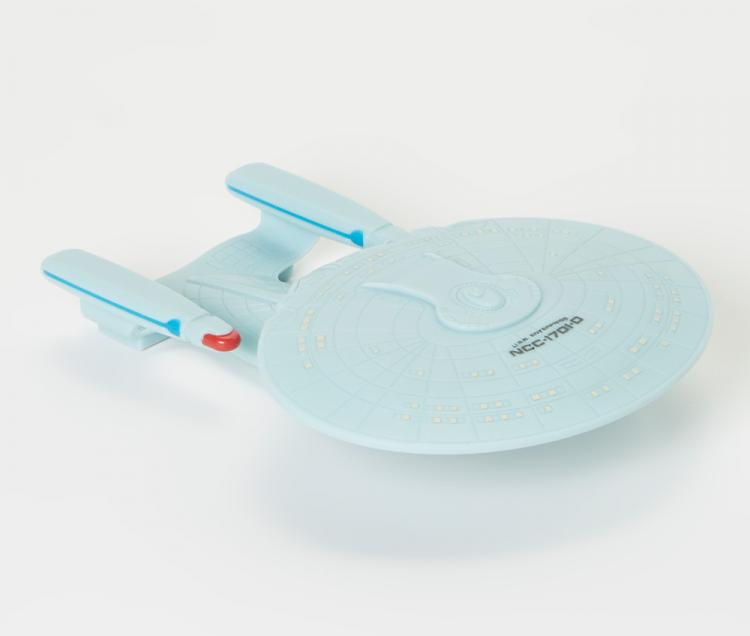 The Star Trek talking Enterprise bottle opener is officially licensed from Star Trek, is light-grey in color, is powered by 3 LR41 batteries which are included, is housed in a windowed presentation box, and measures 6 inches long x 5 inches wide.