This Shit and Split Bathroom Sign Is The Funniest Way To Speed Up Bathroom Usage
By Ryan on 02/08/2023 11:25 AM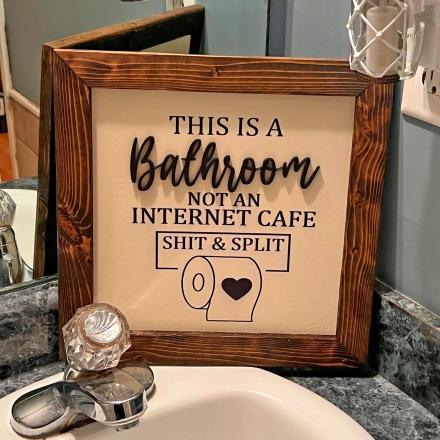 Every person poops, but the modern age has brought with it new challenges to overcome when using the bathroom. First and foremost, all of us can probably say we've gone down a social media rabbit hole or two while taking a poop, treating the bathroom like an internet cafe where we can shamelessly get lost in our phones, while simultaneously taking up the one and only bathroom.
Well, now there's a hilarious bathroom sign for this exact shared experience, and it will have your guests feeling downright pressured to make it quick in there.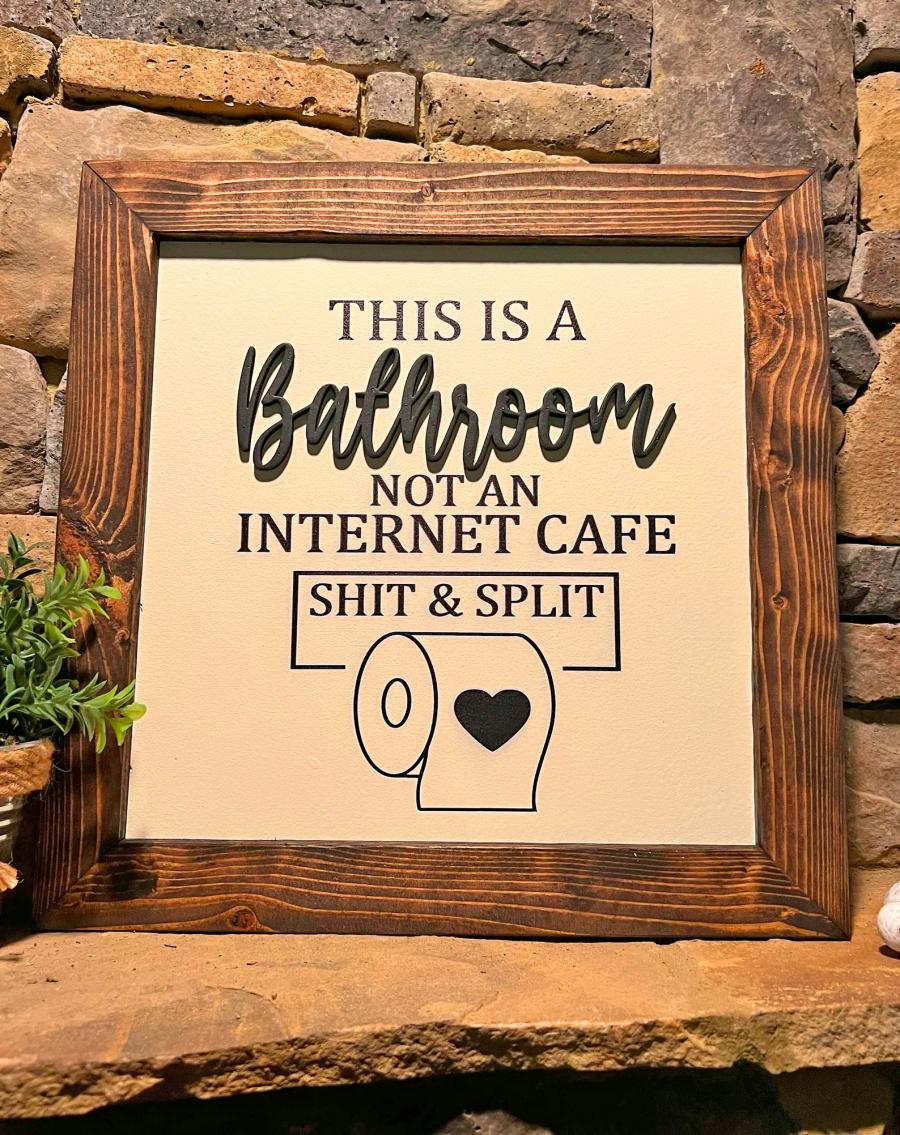 These funny bathroom signs from SouthernRootsSignsGA on Etsy are a great way to keep guests from hogging the toilet, featuring the straightforward message, "This is a bathroom, not an internet cafe. Shit and split." The restroom sign also includes the image of a toilet paper roll with a heart printed on the paper, to show that you still love your friends and family, even though they're always getting stuck on social media while pooping.
Probably the favorite feature of this sarcastic bathroom decor is the beautiful lettering of the word "bathroom," which appears to the skimming passerby to just be labeling the restroom. At a closer glance, however, they'll realize they've been on their phone for too long, before quickly wrapping up, washing their hands and nonchalantly re-entering the social situation. The word "bathroom" is also raised from the rest of the type and area inside the frame, making it stand out beautifully underneath good bathroom lighting. This funny bathroom decoration is perfect for farmhouse-style homes, single-bathroom cabins and the homes or offices of just about anyone who loves sarcastic messages in cute script lettering. It also includes a dark brown wooden frame, which is easy to match to other bathroom decorations.
These "split and shit" bathroom signs are handmade by the shop in Senoia, Georgia out of wood. The signs themselves are in the shape of a square, measuring about 12 inches wide and tall and just 1 inch thick. The shop also includes numerous other funny signs, handmade household decor and even personalized sign options in various styles, texts and overall aesthetics. The "split and shit" signs are well-liked by buyers, and the shop itself has 2,062 reviews at the time of writing, along with a 4.9-star review overall. In a five-star review of the "split and shit" bathroom signs, one buyer named Anita wrote, "This item looks just like it is pictured. I love it and will order from this company again."
Orders of the "split and shit" restroom signs take between 8 and 15 days to arrive according to Etsy's delivery estimate, and the shop does not accept returns or exchanges. Still, the product listing also mentions that buyers should contact the shop if they have issues with the order. Other great options for sassy household products that may pair well with the "split and shit" bathroom signs include this middle finger toilet paper holder, these use the force star wars sign or the Hit a Deer 250 Yards Away sign for something subtle. So if your youngest is getting stuck on their device while taking poos, this bathroom sign might be a good solution for you. At the very least, the "split and shit" funny bathroom sign will probably get a good laugh from your friends, and it's likely to make your restroom guests consider their time on the toilet a little bit more. You can snag the hilarious "split and shit" bathroom sign from their Etsy shop for around $30 bucks!