Portable Folding Water Container Made From Fabric
Date Published: 07/09/2015 2:01 AM
Buy Now

@ebay
Find on Amazon

The NatureHike Cordura is a lightweight portable water container that folds away for easy transport when hiking or camping. Perfect to wash off or to give yourself a foot bath after a day full of hiking or maybe you need to transport some water from one spot to another, the foldable water container can hold over 2 gallons of water while folding down to fit into a small pouch so you can easily have enough room for it instead of hauling around a big bucket. Made from quick drying and tear resistant Cordura fabric, the foldable water container is not necessarily for cooking but can withstand water of up to 194 degrees Fahrenheit.
SITE ANNOUNCEMENT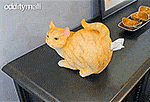 We Are Giving Away 6 Cat Butt Tissue Dispensers
The NatureHike Cordura foldable water container is made form Cordura fabric on the inside and nylon on the outside, comes with two handles to easily carry around the water when it's full, comes in a plethora of different colors to choose from, weighs just 2.8 oz, and measures 7.8 inches x 5.5 inches in diameter when packed away in it's carrying case, and measures 11.8 inches in diameter when fully opened.