Flump Face: Print Your Face On A Giant Marshmallow
Date Published: 12/03/2014 2:01 AM
Have you ever just wanted to eat your own face? Well now you can with the Flump Face, a giant flat marshmallow that you can print your face on, toast it over a nice cozy fire, and devour your face one morsel at a time. How it works is you simply upload your the photo you want printed on the marshmallow, then the mallow will get sent through a marshmallow printer (yes apparently that does exist), and then days later your delicious creepy treat will be sent to you which you can then unwrap your yummy wrinkly face to consume. Perfect for the novice serial killer, the Flump Face is a perfect gift idea for a friend, foe, family member, or maybe you just want to slowly devour them yourself in a dark room by your lonesome.
SITE ANNOUNCEMENT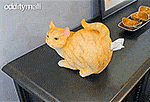 We Are Giving Away 6 Cat Butt Tissue Dispensers
The 'Flump Face' printable marshmallow is vanilla flavored, will last 4-6 weeks once opened (6 months if still sealed), contains starch of maize, sugar, water, vanilla flavoring, dextrose, Glucose-fructose syrup, and gelatine, and will measure approximately 11.8 inches wide x 8.4 inches long x 0.6 inches thick.