This Outdoor Double Doghouse Has a Deck Where Both Your Pooches Can Lounge All Summer
By Ryan on 03/14/2023 10:41 AM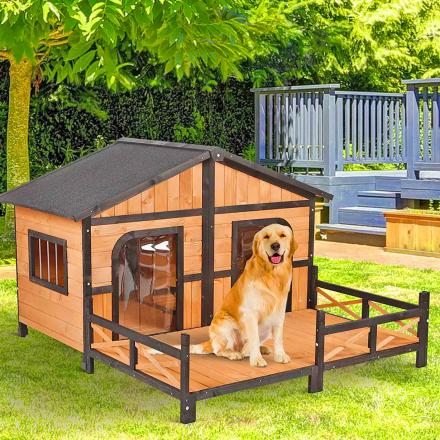 If your dog or dogs spend a lot of time outside, you probably want to invest in a dog house that they can rest in when it's hot, cold, or whenever they just feel like taking a nap inside. You can find a wide range of cool dog houses online, though few have the spacious capacity offered by this next feature, which comes with two separate dog rooms and a nice front deck.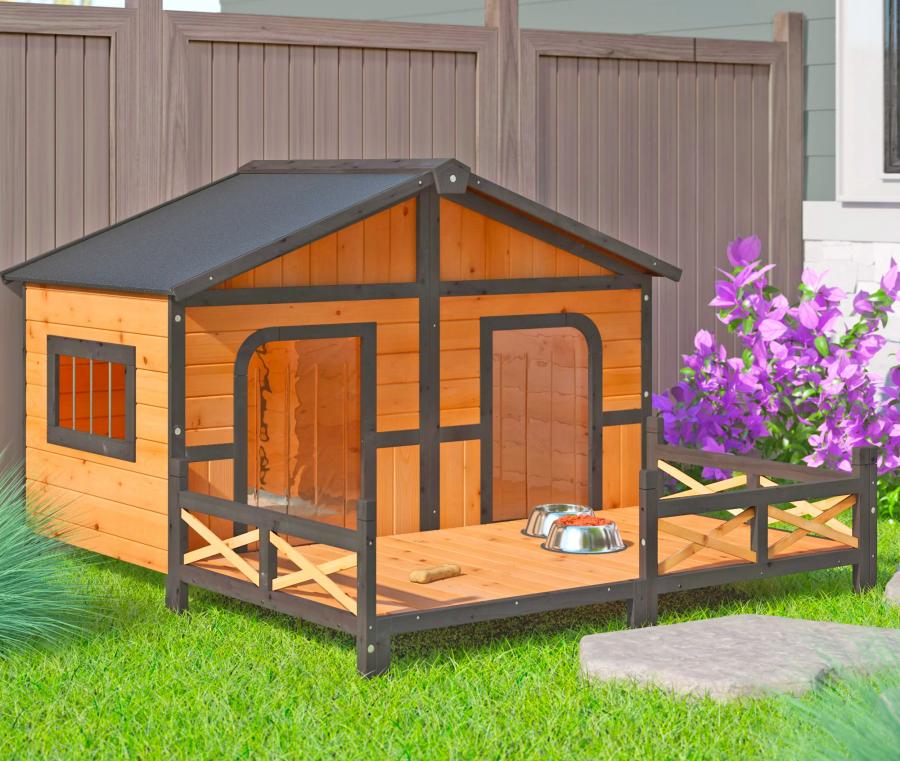 This incredible double-room wooden dog house can be found on Wayfair, offering a cozy front deck for your dogs to relax on, and two separate covered doors and rooms.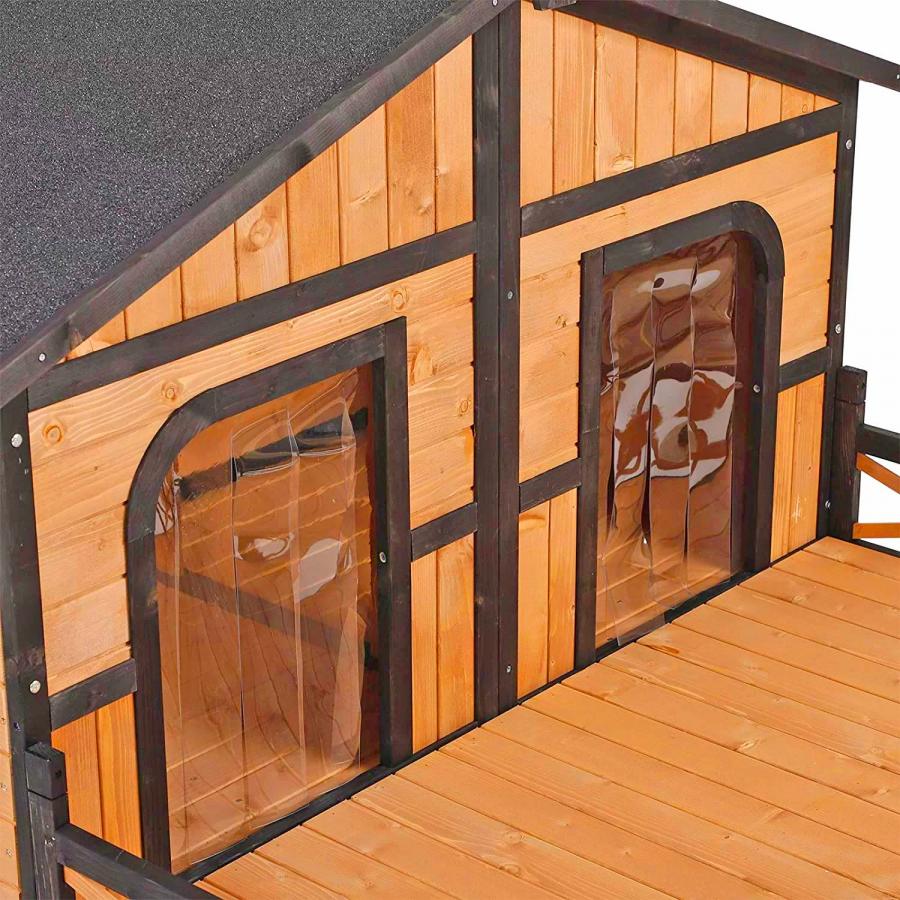 Dubbed the "Tucker Murphy Pet Campa Wood Dog House, this is a great option for multi-dog households, and its luxury will make you feel a little better on days when you have to leave your pets outside for much of the day. You can buy this double-room dog house in two different sets of colors, including an oak-charcoal and a gray-black, both featuring the design's signature front deck and side-by-side doors. The dog houses also come with convenient vinyl door flaps, which can be great for eliminating drafts when it's cold out, and keeping warm air outside the shaded area when it's hot. While inside the wooden dog house, pups can enjoy a small side window for added ventilation and a view of the yard. The wall between the two dog rooms doesn't go all the way to the ceiling, and it includes a simple interior doorway between the two rooms, so multiple pups will also be able to feel close to each other while having their own space within the dog house. Additionally, the double dog house has a maximum capacity of 176 lbs while the deck has a capacity of 110 lbs, making it suitable for most pairs of dogs to enjoy together, or one large dog to enjoy on their own. The two-door dog house measures roughly 39.25 inches tall by 63.5 inches wide by 59 inches deep (~99.69cm by 161.29cm by 149.86cm), and it weighs about 99 lbs when fully assembled. The front entryways to each room of the dog house measure about 18.5 inches by 12.75 inches (~46.99cm by 32.39cm), while the door between the two rooms is about 21.25 inches by 13.5 inches (~53.98cm by 34.29cm). The product is well-liked by past buyers, who have rated the double wooden dog house 4 stars on Wayfair. In one five-star review of the dog house, Angela wrote, "My Huskies love to lay out in the sun on the outside. Quality is very good and was easy to assemble." Constructed with solid fir wood, this durable luxury dog house with a deck is assembled by the buyer, and purchase of the unit comes with detailed installation instructions. The top of the dog house is also completely weatherproof, so your pooch can hide out in the luxury house even in the rain! In addition, buyers can also pay an extra charge to have them assembled by an expert, though past buyers seem to suggest that it's doable on one's own. Other dog houses that might interest you alongside this luxury double dog house with a deck include this simple underground dog house, these dog house sofas or the modern dog house with a grass ramp and faucet. So if it's about time to upgrade your furry friend's puppy playhouse to a full-sized doggy den, this double-room dog house might just be the way to go. You probably agree that your loving pup deserves the best, and this large dog house can offer something that your dogs are likely to enjoy. You can snag one of these double-door outdoor dog houses with a deck from Wayfair for around $420 bucks!