Nunchuck Pens Allow You To Be a Ninja and Take Notes At The Same Time
Date Published: 12/01/2015 5:54 AM
Buy Now

@Amazon
Find on Ebay

When I was in school I had such bad ADD that anything and everything would distract me from paying attention in class, including a leaf blowing on the ground outside, footsteps walking by in the hallway, or just having a pen with one of those push buttons on the end of it where you could launch the pen an inch into the air by using the force of the spring inside the pen. I couldn't imagine how much more distracted I would be if I had these nunchuck pens that you could spin around and do all sorts of tricks with, and not only distract yourself but everyone around you by how awesome you operate the mini nunchucks.
SITE ANNOUNCEMENT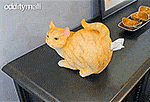 We Are Giving Away 6 Cat Butt Tissue Dispensers
Granted with the rules in place with today's schools you'll probably get expelled at the site of these nunchuck pens as they'll be considered a weapon of mass destruction by your English teacher. None-the-less, the nunchuck pens are made with 2 pens that are connected via a metal chain, the pens are medium tip ballpoint pens that write with black ink, and measures approximately 6.5 inches long x 0.9 inches wide x 0.5 inches deep.