No Head Teddy Bear Lamp
By Ryan on 04/27/2015 3:46 AM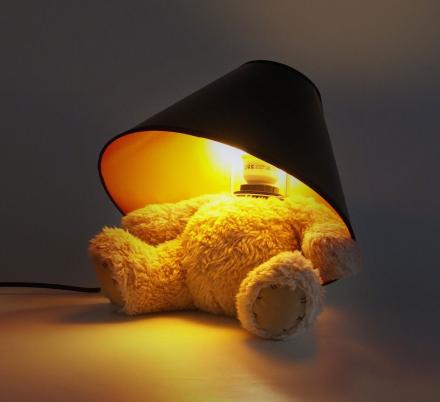 The Teddy Bear Lamp is a lamp that's made from a teddy bear but instead of having a regular snugly teddy bear head, their head was ripped off and the top of a lamp was stuffed down the body of the bear. Perfect for deranged children, dark souls that just want to watch the world burn, or maybe your child resembles Sid Phillips from Toy Story and just loves to make mutant hybrid toys. The teddy bear lamp is powered via USB so you can easily plug it into your computer or laptop, or it also includes adapters to plug it into the wall which includes US, UK, and EU type wall adapters.
Created by SUCK UK, a unique product design company based out of the UK, the Teddy Bear Lamp uses a non-replaceable LED light-bulb that will last for up to 20,000 hours of use which is included (the equivalent of a 11W energy efficient light bulb), has a plump bear body that allows you to place him pretty much anywhere, measures 11.8 inches wide x 12.6 inches tall x 11.8 inches deep, and weighs 1.6 lbs.
They say no teddy bears were harmed in the making of these lamps, but I don't believe that for a second...