Mermaid Tail Cocktail Glass
Date Published: 05/06/2015 5:36 AM
Buy Now

@Amazon
Find on Ebay

The mermaid tail is a wine or cocktail glass where the inside of the glass is shaped like a mermaid's tail fin. Whatever color liquid you pour into the glass, that's the color the mermaids tail will be. A perfect way to class up your otherwise embarrassing alcohol problem, the mermaid glass is sure to attract the attention you so desperately need. As the glass only holds 100 ml or around 3.3 oz of liquid, the contents of the mermaid tail will be best suited for shots, wine, or small cocktails.
SITE ANNOUNCEMENT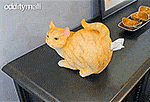 We Are Giving Away 6 Cat Butt Tissue Dispensers
The mermaid tail fin cocktail glass is handmade from high borosilicate glass, is double walled, is sold individually, holds up to 3.38 oz of liquid, and each mermaid cup measures 5.4 inches tall x 3 inches wide x 2.3 inches deep.